When I was a little girl, I always wanted the Barbie 4×4 convertible battery car. If you're of a certain age you will know it was THE toy car to have in the '90s.
A sassy shade of pink and it looked so effortlessly cool as my friends were cruising down the road.
Now that I'm a little older, I'm happy to say that my childhood dreams have finally come true. But, in the form of a hot pink fleet of e-rickshaws that have recently hit the streets of Jaipur!
If you've newly arrived in the capital of Rajasthan and are looking for a way to explore the sites of the city, you should look no further than the Pink City Rickshaw Company to show you around.
What is the Pink City Rickshaw Company
A newly formed non-profit organisation, the company aims to empower 200 women from low-income households and urban slums to earn a living wage through their Rickshaw service.
Now, if you're not familiar with India, women don't have as much status here as men do.
Let alone, driving an e-rickshaw which is primarily seen as strictly a 'man's profession.
Meaning that this company is truly paving the way to break the boundaries of patriarchy and push borders showcasing what we awesome girls are capable of; it's completely badass!
So, when I was invited to take a spin in one of these pink beauties I simply couldn't refuse.
I hopped in my royal buggy for the day, met my beautiful driver Komal and experienced a stylish heritage tour of Jaipur!
The Pink City Rickshaw Company encourages female empowerment
Traditionally in India, a woman was expected to walk behind her husband, know her place, keep herself in the home, look after children and cook.
She would work indoors to make handicrafts for her husband to sell. But, slowly (and I mean slowly) but surely, India is encouraging female empowerment and equality.
Corporate businesses are expected to reach a percentage of both genders in organisations, women have roles as security guards, have ranked in the armed forces, and have a voice in parliament.
These are all things that men didn't believe women were capable of even fifty years ago. The caste system in India also plays a massive role in your future prospects.
If you're born into a good family with a good name, you have the world served to you on a silver platter. But if you're born into a lower caste it can be a challenge to get a skilled profession.
Companies still ask you to put your caste on application forms and will rank you before they have even met you.
You could be the brightest, kindest, and most capable person of the bunch but your name will catch you out.
Coming from the West, these things can be perplexing and, although I accept that this is a culture here, I can't say it doesn't make my blood boil sometimes.
In the UK, we aren't even allowed to put our ages on CVs anymore due to hiring equality!
So, the Pink City Rickshaw Company is giving a massive opportunity to these ladies from urban slums and low-income households in Jaipur.
They can purchase shares in the company and eventually will own and run the business themselves.
It's a social enterprise that will give them a living wage and a huge boost of confidence.
The mentality here is that women cannot drive, they will steer clear and pretty much laugh at their ability behind the wheel.
When I was on my tour with Komal driving, I couldn't believe how many people were staring, heckling, and simply shocked at the fact it was a woman driving a rickshaw!
I found it hilarious being British and a female driver myself, but, on reflection, these women are truly brave for taking this challenge head-on.
A rickshaw walli (woman) is pretty much unheard of. If you were in any doubt, these ladies have undergone an extensive training programme in how to manoeuvre their e-rickshaw.
They have gained soft skills and English language training from companies like the Taj and Oberoi group to ensure they can guide tourists and have been given a swanky pink uniform.
This will ensure they are professional and provide a first-class service to you.
Exploring Jaipur in style
I simply fell in love with their hot pink rickshaw and it definitely makes a statement through the rose city streets.
It's newly designed and has a lot of features that your normal rickshaw wouldn't have. It has a mobile phone charging station, a water bottle holder, and even a locker for your valuables.
The best part, as I went during monsoon season, was the fact it has a convertible style gold canopy that comes over to provide protection from the elements.
This also came in handy to shade from the harsh sun. The fact that it's battery-powered also ensures that it is environmentally friendly and contributes to a clean and green Jaipur.
If you've been in India a while, you will know that fume pollution here is a big problem.
I felt like royalty as I was driven around the city and it was even better than the rickshaw was a statement shade of pink. It was girl power at its finest!
What tours do Pink City Rickshaw Company offer?
There are four tours that you can select from the list. If it's your first time in Jaipur I would personally pick their flagship Pink City Heritage Tour.
This will guarantee that you tick off a lot of the tourist attractions in 3-4 hours.
This will whiz you around to see Hawa Mahal, Jal Mahal, City Palace/Jantar Mantar, and Albert Hall.
You will get some time to hop off and explore each place. We were originally allocated 30 minutes for the City Palace, but actually, you will need around an hour to see the palace in full.
So, make sure you clarify what time you're given as entrance is 500 rupees a foreigner.
You want to make the most of your money and not feel rushed.
It's also good to note that this tour does not include the Amer Fort, due to the rickshaw struggling to make it up the steep incline to the top!
The other tours you can choose from are a Shop and Hop where you will be shown around the best stores for buying Rajasthani souvenirs (4 hours), The Culture Gully where you can see how bangles and handicrafts are made (4 hours), and a Wake up with Jaipur tour which would be perfect for sunrise shots without anyone in them (2 hours)!
All of the tours range from 2000 – 3500 rupees which can sound expensive if you price checks in the area.
But, a taxi will be around the same price and this isn't just any rickshaw service. You're contributing and supporting these lovely ladies and helping their livelihood.
They also offer rickshaws bookings for corporate functions and weddings, which will guarantee an event with a glamorous touch!
I'm in! How do I book a rickshaw tour with the Pink City Rickshaw Company?
The Pink City Rickshaw company is relatively new and you can now book via their website!
But, they have a Facebook page and an Instagram account to follow and you can contact them directly via siddharth@accessdev.org or phone (+91) 8233406070.
Having personally met the team and their friendly project lead Siddharth Lunkad, I can honestly say the passion that these guys have to see these ladies succeed is inspiring.
Have an amazing time and help the community
By choosing the Pink City Rickshaw Company to show you around Jaipur, you're not only adding an exciting adventure to your holiday but are contributing to a good cause too.
There are certain milestones in the history of female empowerment which are notable and, for India, this is certainly one.
A rickshaw walli may be a rarity today, but it's a stepping stone into the future and these ladies are showing us how it's done, one pink rickshaw at a time!
With thanks to the Pink City Rickshaw Company for hosting my ride. If you would like to make a booking see here. Pictures, reviews, and opinions are completely my own.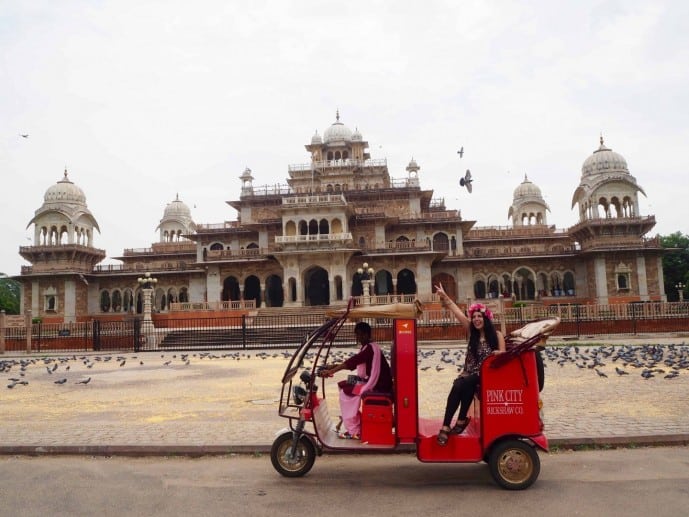 Looking for more travel inspiration for Jaipur?
I used to live in Jaipur, so I know exactly how to get around and what to do. See some of my expert travel guides below;
The most Instagrammable places in Jaipur
Why you must visit Panna Meena Ka Kund
Heading around Rajasthan? Check out these posts!
My top travel tips for Jaisalmer
A camel safari in the Thar desert
A complete guide for the Blue City of Jodhpur
Why Bundi has to be on your bucket list
Top places to visit in Bikaner
Visiting the rat temple in India