One of my favourite places I visited in Bratislava had to be the Primate Palace.
It's a pretty pink residence that is close to the Town Hall and Hlavné Námestie and is famous for its Hall of Mirrors where the Peace of Pressburg treaty was signed in 1805.
Today, it's a stunning series of courtyards, café and museums that you can visit and I would highly recommend that you do.
Here is a list of all the magical things to do in Primate Palace Bratislava and how you can visit.
Why is it called Primate Palace?
I have to admit, when I first heard the name Primate Palace it did inspire images of apes and monkeys running around the place. I guess, humans are classed as primates too!
But, it has nothing to do with animals or zoology at all. In fact, the name of this palace is derived from the title of the man whom this grand place was built for.
Joseph Betthyany became the Archbishop of Esztergom in 1776 which made him head of the Catholic Church in Hungary.
His important title was otherwise known as the 'Primate', hence why this building is called Primate Palace.
Primate Palace history
So, the story of this grand rose palace starts in 1776 when a Viennese architect called Melchior Hefele built this Neo-Classicist building as a winter residence of the Hungarian Archbishops.
It was built for its first resident Joseph Betthyany and you can see his coat of arms on the front of the building.
But, this palace isn't famous for being a home of archbishops. It was to eventually become known as a place of peace.
During the Napoleonic Wars, the Battle of Austerlitz took place aka the Battle of Three Emperors. It was the bloodiest battle that took place in the Napoleonic Wars.
The fight was between the French forces led by Emperor Napoleon Bonaparte I and the Austrian / Russian forces led by both Holy Roman Emperor Francis II of Austria and Emperor Alexander I of Russia.
When Napoleon won this decisive battle, he ordered a Peace of Pressburg Treaty to be drawn up in 1805. The fourth of its kind.
Pressburg was the German name for Bratislava when it was part of the Austrian Empire. The Pressburg Treaty was eventually signed in the Hall of Mirrors within the palace.
Fun Fact: you can find 'Rue de Presbourg' near the Arc de Triomphe in Paris. This street was named in honour of this landmark event.
Today, the Primate Palace is where the Mayor of Bratislava resides and the Hall of Mirrors is often used for musical performances and events.
But, it is also open as a museum where locals and tourists alike can admire the treasures kept inside as well as learn about Bratislava's turbulent colonial history.
Where is Primate Palace in Bratislava?
You can find the Primate Palace near the Old Town Hall / Apponyi Palace in Bratislava. It's in a place called Primaciálne námestie (Primacial Square).
This is just a few minutes walk from Hlavné námestie (main square), so it's very easy to locate in the Old Town.
The palace is a commuter route for many in the city and so the courtyards are open at all hours of the day to visit and are free.
But, if you wanted to go inside the palace and visit the museum you do have to pay an entrance fee and visit within opening hours.
Primate Palace address is Primaciálne námestie, Bratislava. Click here for a Google Pin!
Can you go inside Primate Palace?
Yes, you can. Although it is the residence of the mayor of Bratislava, you can visit the museum inside Primate Palace which is open to the public.
I visited this amazing museum and found it fascinating. The extensive portrait galleries and prized collection of rare English tapestries are well worth seeing.
Visiting the museum is also the only way to see the famous Hall of Mirrors if you haven't booked to see a musical performance.
You can purchase tickets for the museum on the day of your visit or use your Bratislava Card for free entry. It's open from 10 am to 5 pm every day except Mondays when it is closed.
Things to do at Primate Palace Bratislava
Explore the pretty pink courtyards
Even if you don't plan to visit the museum inside Primate Palace, the courtyards are well worth exploring.
On the front of the building above the tympanum, you'll find symbolic statues as well as the cardinal hat of Batthyányi which weighs over 150 kilograms!
As you make your way inside you'll find gorgeous archways, pillars, lanterns, and walls painted in a pretty blush pink colour.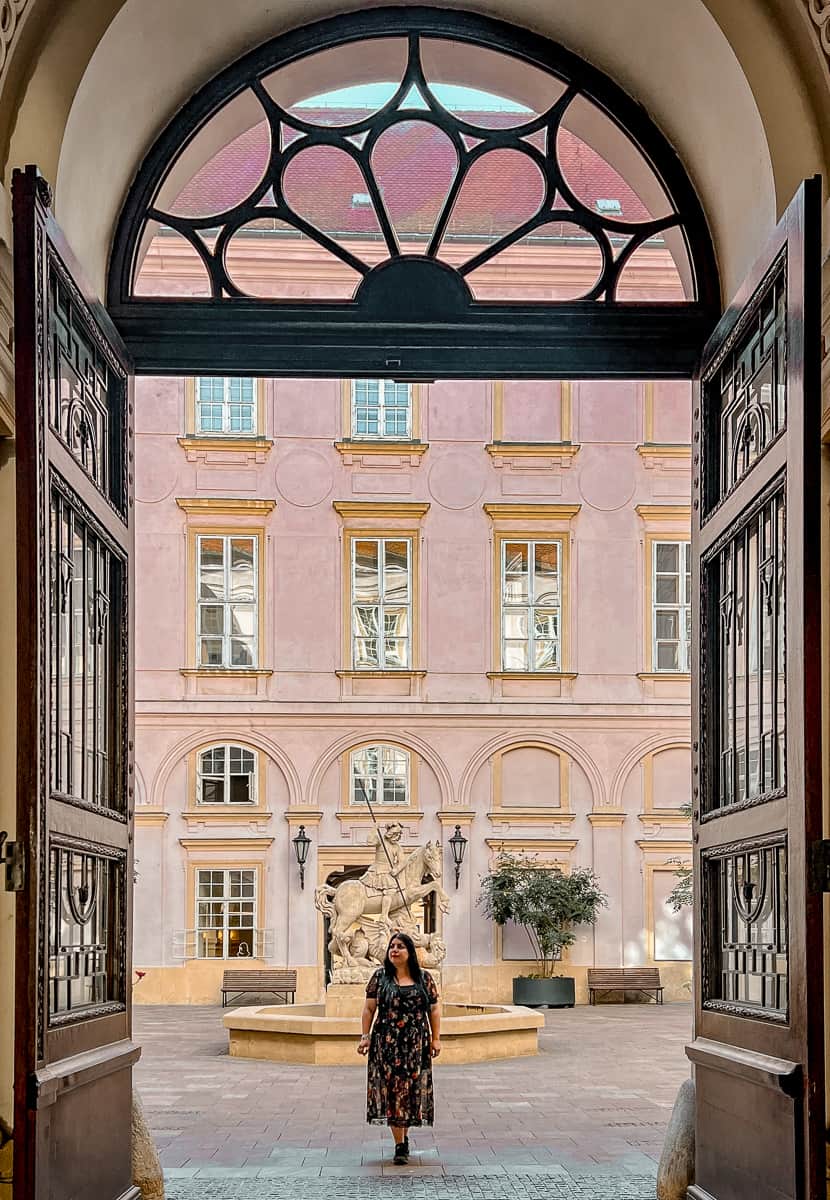 Aside from the central courtyard, there are actually a few outer courtyards that are worth exploring too and they will lead you to the central shopping streets.
You will find several statues here too. There is one of St John Nepomuk as well as the quirky Statue of Four Peeing Boys.
Visit the St George Fountain
One of the best features of the Primate Palace is the fountain of St George slaying the dragon in the central courtyard.
The legend of St George is spread far and wide across Europe and is well known to many.
The story follows the valiant knight St George who saves a virgin called Dubravka from the fearsome dragon. As a reward, he gains her hand in marriage.
There is a folktale that this stone statue comes to life each year on St George's Day. He turns on his horse and bows to the residents of Bratislava.
But, many people believe that this statue is more symbolic. It's thought to represent Archbishop Betthyany who was trying to banish Reforms from the Catholic Church in the city.
I don't think a single person walks by this fountain without taking a few pictures of it. It is a beautiful statue and does make a wonderful photo opportunity.
Visit the SRRRK Lemonade Bar
Just behind the fountain, you will find an unassuming Primacial Café called SRRRK.
It's a Limonádovy Bar (soft drink bar) that serves up glasses of freshly made lemonade as well as coffee and cakes.
They have tables inside but their outside tables have a picture-perfect view overlooking the courtyard.
As it was such a hot day, I decided to have a glass of their elderflower lemonade in the shade. It was sublime and the staff was so friendly.
Hall of Mirrors
The Hall of Mirrors is the biggest room of the palace and is now where many musical performances and events take place throughout the year.
But, it is famous due to the many landmark events that took place here in the chapters of Bratislava's history.
As well as the fourth edition of the Pressburg Treaty being signed here in 1805, there were also agreements signed here like the Abolition of Serfdom in Hungary in 1848.
It was also the place where the Hungarian Parliament used to meet to open it each year.
Staterooms, portraits, and tapestries
All of the staterooms or salons inside the Primate Palace are luxurious with sparkling chandeliers and sumptuous furnishings.
Each of the five salons is named after the colours of the walls which are green, brown, blue, red, and gold.
Each salon has a portrait gallery that is mainly of Hungarian rulers over time and notable members of their families.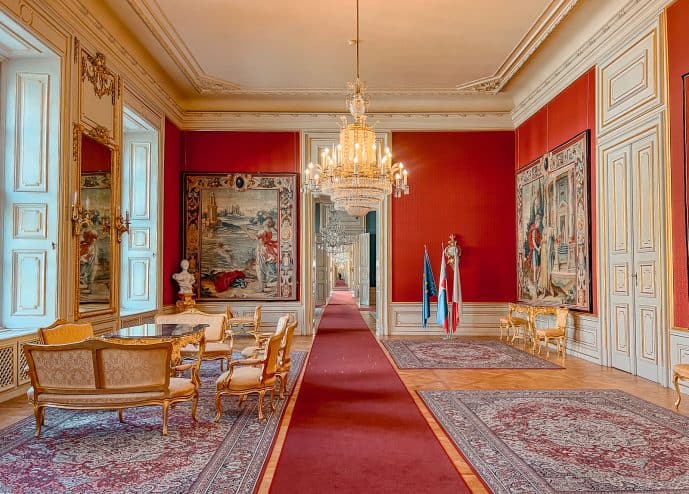 However, the true highlight is the rare collection of six English tapestries dating back to the 17th century.
They were made in Mortlake near London and tell the ancient love story of Héró and Leander.
Amazingly, these tapestries were only re-discovered in 1903 when the city was renovating the palace. During the reconstruction, they found them hidden and protected behind rolls of wallpaper.
It's the only one of four surviving tapestry sets which are fully complete. To this day, nobody knows who bought and transported them from London to Bratislava. It remains a mystery!
Chapel of St. Ladislaus
As part of your visit inside the palace, you'll get to take a peak at the circular Chapel of St. Ladislaus from above.
The palace has a 'secret' window and balcony that looks down on this historic chapel and it has an incredible interior. You'll find pink marble, gold paint, and beautiful painted murals.
St. Ladislaus was the King of Hungary from 1077. You can see a painting of him above the main altar. There are a series of intricately carved pews below for worshippers.
According to legend, he was a chivalrous knight and saved a Hungarian girl from being kidnapped by a pagan. The story is often used as a symbol of Christianity being victorious over paganism.
Primate Palace opening times
As the Primate Palace is part of a commuting route for locals, you can visit the courtyards of Primate Palace 24 hours a day.
I would visit this palace early if you wanted to get some photos of the building and fountain without the crowds.
There are many benches dotted around the palace but these quickly fill up. Especially in the summer months as the courtyards are shaded.
I would definitely recommend heading inside the museum too if you have time. It's open from 10 am to 5 pm every day except on Mondays when it's closed all day.
Primate Palace ticket prices
You don't have to pay to visit the outer courtyards of Primate Palace but the museum inside does have a small charge.
Visiting Primate Palace is just 3 euros for a basic ticket. You can also add an audio guide to your tour which may be for the best.
Fair warning, nearly all of the notice boards were in Slovakian inside the palace with no English translation at all. So, I would recommend something like the Google Translate app in order to understand it.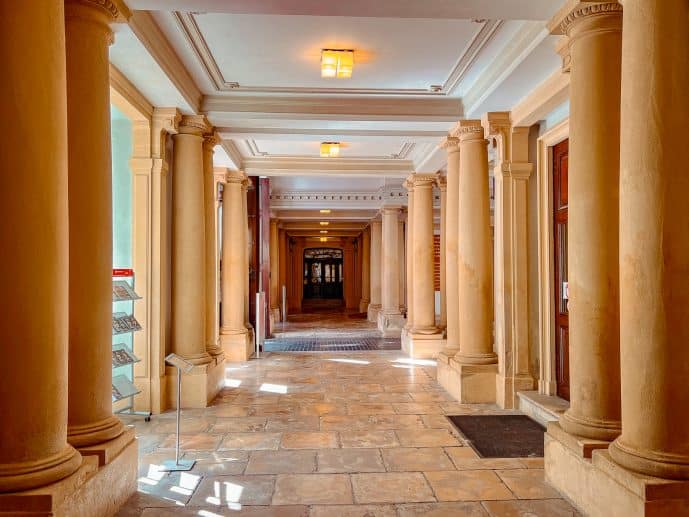 If you were visiting a couple of attractions in the city, it may be worth purchasing a Bratislava Card for your visit.
These not only allow you access to public transport but also free or discounted access to many of Bratislava's main attractions.
If you're visiting Bratislava Castle, Hrad Devin, and some of the city museums this would make it worth the price.
But, keep in mind that most of the city is very compact and walkable and the museums aren't that expensive.
This is a perfect example as the Primate Palace is only 3 euros and I could easily walk here in the old town.
So, I would always do the math before you purchase a city card to ensure you'd be getting a good deal for your money.
How long do you need to visit Primate Palace?
You don't need a very long time to visit the Primate Palace in Bratislava. It's very easy to visit as part of a day trip.
The museum tour is self-guided and will take around 30 minutes to 1 hour depending on how long you want to explore the staterooms and the Hall of Mirrors.
Add on an extra 30 minutes to admire the pretty courtyards outside. Or, plan some time to have a refreshing lemonade or a coffee from the van out the front.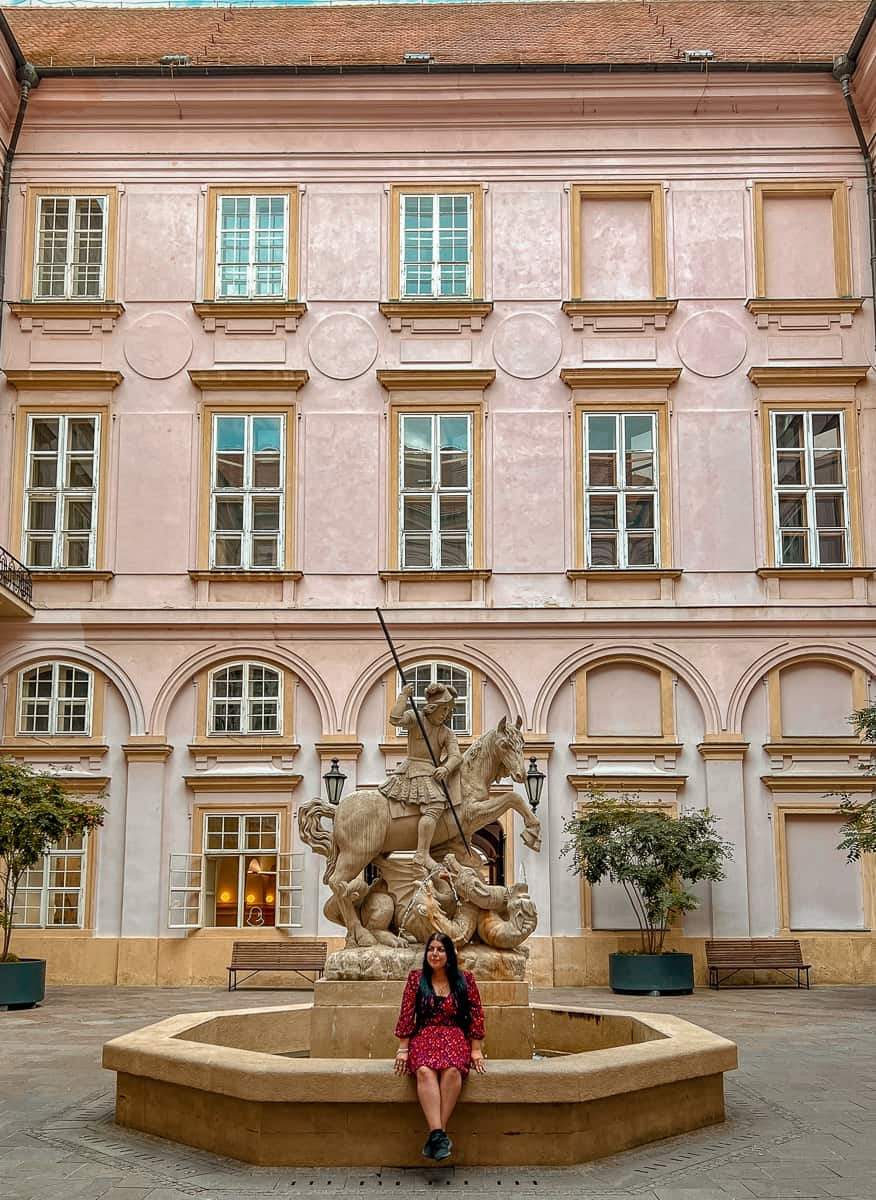 Looking for more things to do in Bratislava?
After you've spent some time in Primate Palace, there are plenty more beautiful places to visit in the city.
Just nearby you can find the Old Town Hall and Apponyi Palace. They make great museums to visit and you can head up to a unique rooftop terrace.
My favourite café in Bratislava was Konditorei Kormuth which takes you back to the time of the Austro-Hungarian Empire. It had gorgeous Renaissance murals and a plethora of antiques.
You can sip on one of their artisan espresso coffees with a freshly made cake served on fine china.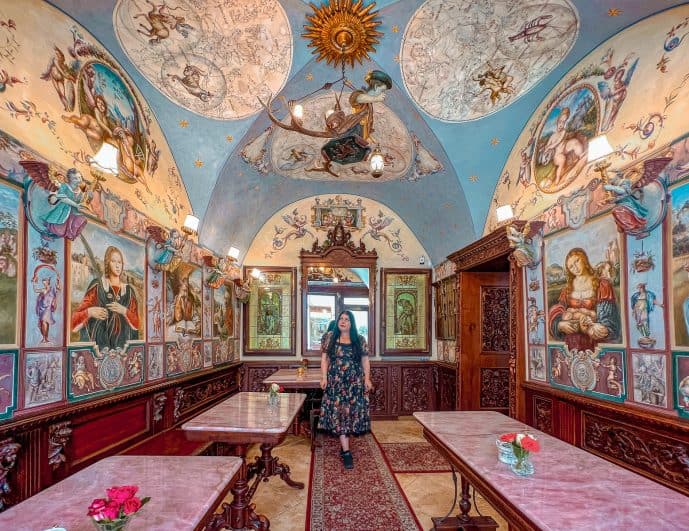 Just nearby is Hlavné námestie aka "Main Square" where there are many statues dotted around like Napoleon's Army Soldier, Schone Naci, and Čumil the man at work.
The National Slovak Theatre is worth a peek or pop along to the Blue Church of Bratislava which looks like a fairytale chapel.
Bratislava Castle is well worth a visit for its panoramic terrace. From here, you can see views of the UFO tower which sits over the Danube River.
I would recommend heading up the UFO tower for some spectacular views over the city, especially at sunset. They even have a bar for cocktails and a swanky restaurant inside.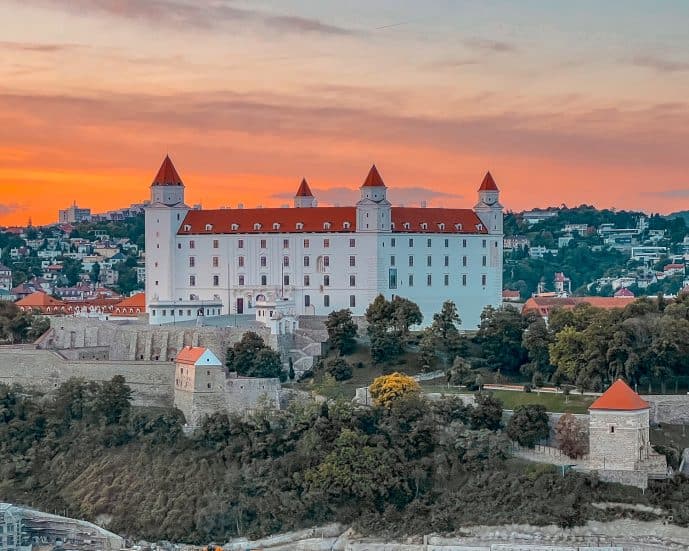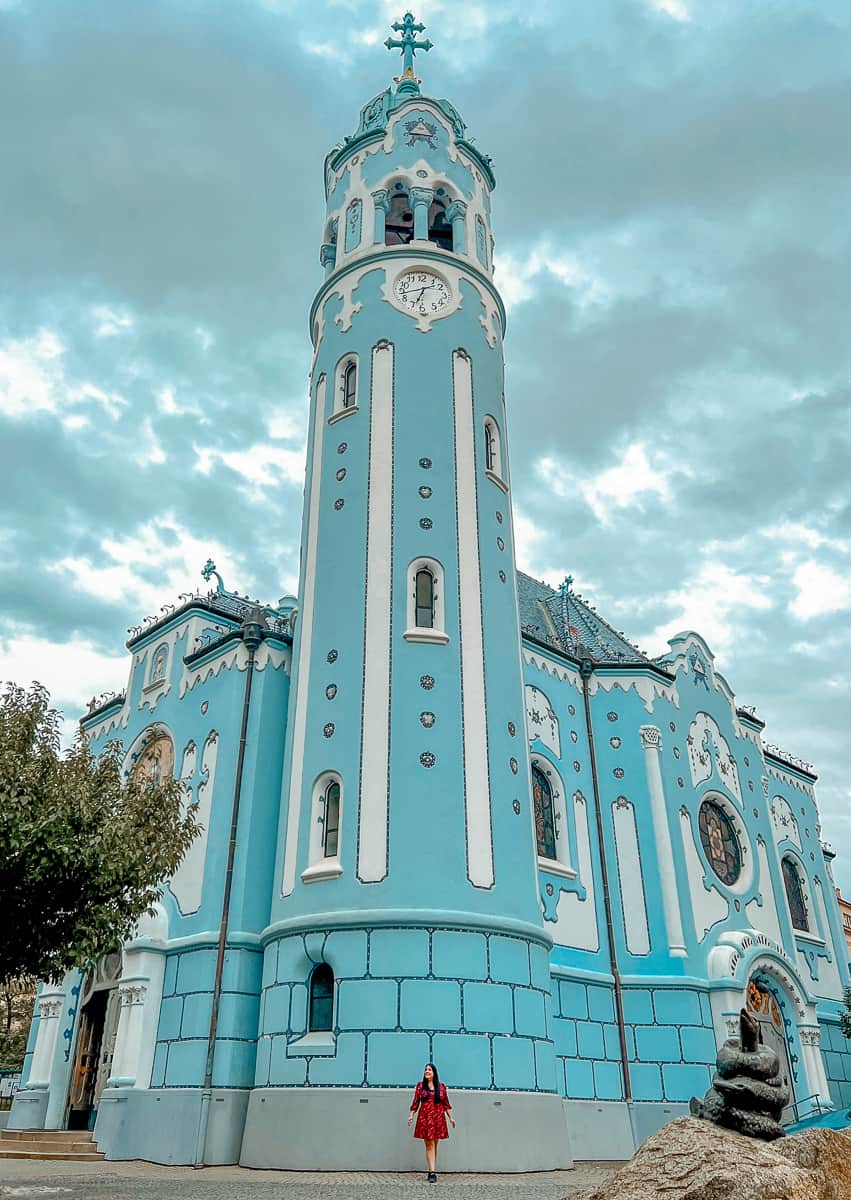 Read more of my Slovakia travel guides
Konditorei Kormuth – is this the prettiest café in Bratislava?
Visit the fairytale Blue Church of Bratislava
Čachtice Castle – How to visit Elizabeth Bathory's Castle
Save Primate Palace Bratislava for later!