One of the Seven Wonders of Wales is Pistyll Rhaeadr, a magical waterfall that cascades down a cliff in the Berwyn Mountain range.
It's a spiritual and beautiful place in the countryside that feels almost otherworldly as it's so far removed from the hustle and bustle of everyday life.
What I loved about visiting is that you don't need to do a huge walk to visit. The base of the falls is right next to a car park and tea rooms.
It makes the perfect day out in Mid-Wales and there are lots of walks nearby. Here is how to visit the Pistyll Rhaeadr, the tallest waterfall in Wales!
What is so special about Pistyll Rhaeadr?
Pistyll means a well or spout and Rhaeadr means waterfall in the Welsh language. So, it roughly translates as 'spout waterfall' in English. It's also known as Llanrhaeadr Waterfall.
It's one of the Seven Wonders of Wales and is the tallest waterfall in the country so the cascade is spectacular.
It's tucked away in the Berwyn Mountains in a lush and deep valley surrounded by the countryside. As it's in such a remote location Pistyll Rhaeadr has a magical, otherworldly feel to it.
What I especially loved about this waterfall is that the enormous cascade funnels through a natural arch in the middle.
So, it looks like something from a fantasy world like Middle Earth in Lord of the Rings.
In fact, there are plenty of legends about giants and dragons found here, even tales of King Arthur and Morgan Le Fay.
Pistyll Rhaeadr history & legends
This waterfall has a huge Celtic history with lots of legends and the Berwyn mountains are even related to the Arthurian tales.
There are two rocks underneath Pistyll Rhaeadr called ffedoga which means the 'giant and the giantess's apronful'.
There are many stories of the giants told here and them building a house together or their Druid's Bowl love story.
It's also considered a sacred and spiritual place of the ancient Berwyn people who were Celts. Ley lines and spiritual energy can be felt here in these waters.
There is also a local legend of a Pistyll Rhaeadr dragon called Gwybr of Llanrhaeadr who lived in Llyn Luncaws in the mountains.
He was ferocious and terrorised the villagers until they fought back and finally took him down *sniff*. You can visit the ancient red Pillar Coch and the tumuli mound where this event happened nearby.
How tall is Pistyll Rhaeadr waterfall?
Pistyll Rhaeadr is over 240 feet high or just over 80 metres which makes it the tallest waterfall in Wales.
It is widely debated but many say that this is the tallest single drop-waterfall in Britain. However, others argue it's not a single drop as it falls in stages.
There are many cascades that claim to be the tallest single-drop waterfall around the UK such as the Devil's Appendix in Cwm Idwal and High Force in North Pennines.
Regardless, the water from Afon Rhaeadr falls in three stages over high cliff face in the Berwyn Mountain Range and it's very dramatic.
Where is Pistyll Rhaeadr located in Wales?
Pistyll Rhaeadr waterfall can be found in a lush valley within the Berwyn Mountains near the town of Oswestry and the village of Llanrhaeadr-ym-Mochnant in Mid-Wales.
It's 16 miles from Oswestry (30-minute drive), 30 miles from the town of Shrewsbury (1-hour drive), and around 30 miles from Pontcysyllte Aqueduct in the Clwydian Range And Dee Valley AONB (1-hour drive).
It's in quite a remote location in the Welsh countryside but it's very easy to visit once you arrive.
The best part is that you don't have to complete a lengthy walk to see the waterfall. There's a car park right next door.
Pistyll Rhaeadr postcode is Llanrhaeadr-ym-Mochnant, Oswestry SY10 0BZ. Click here for a Google Pin!
How to visit Pistyll Rhaeadr
Pistyll Rhaeadr is best visited by car as it's in quite a remote location in Mid-Wales. It's near a lovely village called Llanrhaeadr-ym-Mochnant in Powys.
From the village, turn down Waterfall Street and you'll be driving around 4 miles on a very narrow single-track road through the valley with passing places. So, proceed with caution.
Make sure to be courteous and give away to cars in passing places on your way down when it makes sense to do so. Not doing that can cause serious bottlenecks in the road and no one wants that.
Also, don't park in passing places as this is what causes hold-ups with vehicles trying to get through. Only park in dedicated parking areas.
There is a bus stop in Llanrhaeadr-ym-Mochnant with services from Welshpool that has a train station.
But, once you get to the village, you would need to walk the rest of the way to the waterfall for around 4 miles.
Pistyll Rhaeadr parking options
Once you arrive in Pistyll Rhaeadr you have two options for parking one is paid and one is free.
Pistyll Rhaeadr free parking
The free parking spaces can be found in a lay-by at the end of the long road. It's around 5 minutes walk from the paid car park.
Places here are limited and it's open 24 hours a day. The spaces have been overused with time and so there are lots of potholes and dips into the verges. Make sure to park with consideration.
If the free parking area is full, please do not park on the roadside, in passing places, or on grass verges. Only park in dedicated parking areas and don't block the road.
Paid parking
If you arrive and the free parking is full, you can head over to the paid parking area which is open from 8 am – 5 pm. This is £5 to park during the week and £10 on a weekend for all vehicles.
After the paid parking area closes, your only option is to park in the lay-bys and walk over. But, it's not a far stretch.
Don't try to drive your car up this road outside of the paid parking opening times or you'll need to do a rather ridiculous 50-point turn in the road as there is no turning space (as I found out!).
They block the road with a temporary sign and you don't realise it's blocked until you turn a tight corner and it's a tiny road indeed.
Thankfully, Septimus (my steed and cute pink Ford Ka) is very small. But, bigger cars and camper vans will be stuck unless you reverse out. Not easy when there are lots of people.
Do you have to pay to visit Pistyll Rhaeadr?
No, the amazing thing about visiting Pistyll Rhaeadr is that it's completely FREE to see the waterfall and enjoy the walks around here.
The only thing you would need to pay for is the parking but if you manage to snag one of the free parking spaces it won't cost you a single penny.
It makes a great budget activity in Mid-Wales and a fun-free day out for all the family.
Pistyll Rhaeadr opening times
The waterfall is *technically* open 24 hours a day so you can visit anytime you like! But, I wouldn't recommend visiting in the dark.
The only thing that has opening times is the car parking area (8 am – 5 pm) and the Pistyll Rhaeadr tearooms at Tan-y-Pistyll.
Other than that, you're free to visit the waterfall and Berwyn countryside at any time.
I would recommend visiting earlier or later in the afternoons to avoid crowds, especially on weekends.
I visited the waterfall around 8.30 pm in the summer on a weekday and there was no one here at that time. I pretty much had it to myself even though it was a sunny day.
It was very peaceful and meant I could take lots of lovely photos. Plus, there were places to just sit on the rocks and chill out with an amazing view.
The waterfall was so refreshing after a warm day and the shade the valley provided was a nice respite.
Pistyll Rhaeadr walks – two choices
So, there are many options for how to visit Pistyll Rhaeadr when you arrive. You can head to the base of the waterfall or to the very top.
The base of the waterfall is the most popular option but getting to the top can be an adventure if you're up for it.
Easy – Visiting the base of the waterfall (5 minutes)
What I loved about visiting Pistyll Rhaeadr is that the waterfall could be accessed in around 1 minute from the paid parking area on an easy pathway with a few steps to the bridge.
If you're visiting from the free parking area, it will take you around 5 minutes from the lay-by.
You will need to walk along the main road, up some steps, through a gate, and then a small forest area to reach the waterfall viewpoint.
It's not a hard walk but it's not flat either with rocks, steps, tree roots, and uneven ground. So, I wouldn't recommend bringing pushchairs and mind your step if you struggle with balance.
Once you arrive, you can watch the dramatic force of Pistyll Rhaeadr crashing over the cliff face.
There is a bridge to view the cascade from, rocks to perch on, and short walks through the forest up to a slightly higher viewpoint.
Challenging – visiting the top of the waterfall (30 minutes)
Once you're finished admiring the waterfall from the base, you can head back the way you came through the forest and find a path that will lead you to the top of the waterfall.
This walk is challenging and can be very steep as it's mostly uphill but it will be well worth it for the views.
The hike to the top of the cliff will take you around 30 minutes. You can then see the water as it cascades from the cliffs along with views of the Berwyn Mountain Range.
For me, I didn't do the walk as I always feel the best views of the falls are from the base and it was getting dark.
If do decide to visit the top, make sure to use caution if you approach the cliff edges.
I saw some kids on my visit who were very close to the edge. Or, it looked that way from the bottom of the waterfall and it was scary to watch.
It didn't help they kept screaming into the valley as part of a prank. Almost gave me a heart attack as I thought someone seriously hurt themselves.
I don't need to tell you the dangers you could face if you fell by stepping too close to the edge. But, just be cautious as there are no barriers up there.
Take in the magic of Pistyll Rhaeadr!
I absolutely loved visiting this magical waterfall. It's placed in an emerald valley, surrounded by mountains, and looked like something from a fantasy world. I was in awe.
You can always look at pictures online but seeing it for yourself was spectacular. It almost didn't feel real.
I'm a huge fan of Lord of the Rings and this honestly felt like I had stepped into Middle Earth.
I loved watching the waterfall from the bridge and there were some places to take a seat and enjoy the view.
You could walk right up to the base with a small pool and see the water crashing down. Or, you could walk through the forest to an upper viewpoint if you were feeling adventurous.
Lots of people bring picnics or drinks here but remember to take rubbish home with you. Also, remember to bring your bathers as it makes a great wild swimming spot.
Can you swim at Pistyll Rhaeadr?
Yes, there is a small pool at the bottom of Pistyll Rhaeadr that makes a great swimming spot, especially in the summer as the rainfall is low at that time.
There is a natural dam in the river too with huge logs at the end of the pool so the water is contained.
It makes a refreshing place to visit on a warm and sunny day as the water is freezing. It's not very deep in the warm season so it may just be a paddle.
In the rainy months, it will be deeper but the force of the cascade may be a little too strong for swimming.
Pistyll Rhaeadr tearoom – Tan-y-Pistyll
The Pistyll Rhaeadr café is called Tan-y-Pistyll and it means 'little house under the waterfall'.
You can enjoy lunch or afternoon tea in their cosy and rustic tearooms near the parking area. It still retains many of its 18th-century features.
There is both indoor and outdoor seating and you'll be surrounded by the countryside.
They serve up hot and cold drinks, light lunches, homemade cakes, and ice cream throughout the day.
Opening hours are 9.30 am – 5 pm in summer and 10 am – 4 pm in winter.
Other Pistyll Rhaeadr walks
Beyond the waterfall, there are many Pistyll Rhaeadr walks you can take through the Berwyn Mountain range.
These all start at Tan-y-Pistyll tearoom and vary drastically in range and difficulty so always check the routes before you set out. You should also wear suitable footwear;
Berwyn Ridge – this is a very hard and steep walk where you climb the Berwyn mountain ridge along a track and it's around 7 miles.
Old Lead & Silver Mines – This is a 3-mile walk around the East Llangynog silver mine that is moderate along a set path.
Llyn Lluncaws – this is a 4-mile walk that takes you to the gorgeous Llyn Lluncaws which means 'the lake of cheese'. It was once home to a legendary dragon and is featured in an Arthurian tale about a wise fish who lives there.
Pistyll Rhaeadr accommodation
Did you know that Pistyll Rhaeadr has many accommodation options near the waterfall?
They have some ensuite hotel rooms at Tan-y-Pistyll and some of them overlook the cascade with a private balcony.
But, if you have your own campervan or tent, you can also make use of their campground as part of their membership scheme.
Click here to find out more and how to book
Things to do near Pistyll Rhaeadr waterfall
After your visit to Pistyll Rhaeadr waterfall, there are many places you can visit nearby in Mid-Wales that make a great day out.
Here are all the places you can visit;
Llanrhaeadr-ym-Mochnant village
As you have made it all this way, I would recommend looking around Llanrhaeadr-ym-Mochnant village after your visit.
It's a small place so there's not a wealth of attractions. But, you'll find a church, a few shops, a café, pub, and some cafés.
The Market Square Fish & Chips in the village is a great place to grab a quick dinner.
Lake Vyrnwy
Lake Vyrnwy is a peaceful retreat in North Wales that is also found in the Berwyn Mountain range.
It's an artificial reservoir and most people visit the lake to cross over the man-made dam that was completed in 1888.
You can see the Gothic Revival Straining Tower that looks like something from a fairytale. But, there are reams of activities around this area too.
You can fish, go boating, cycle, star gaze, or visit some attractions nearby like Powis Castle.
Why not extend your stay at the spectacular Lake Vyrnwy hotel & spa?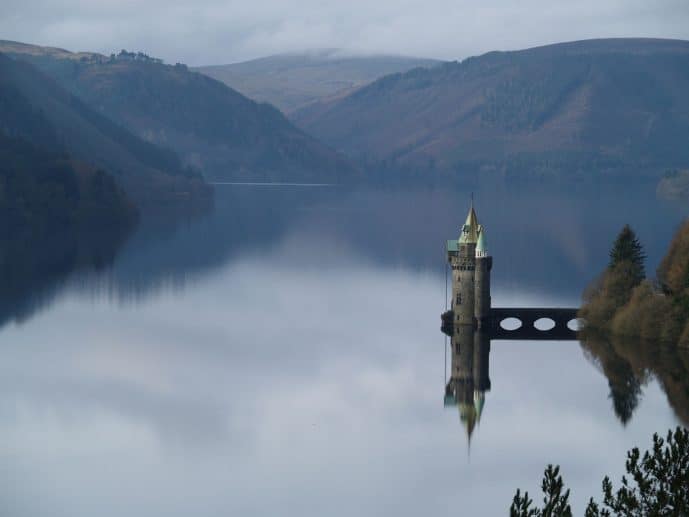 Pontcysyllte Aqueduct
One of the most popular things to do in Mid-Wales is Pontcysyllte Aqueduct (pronounced Pont – ker – sulth – tay) which is known as the 'stream in the sky'.
It's a UNESCO world heritage site and forms part of the Llangollen Canal Path and spans two countries.
Canal boats, bikers, kayakers, and walkers alike can cross this 39-metre-high water bridge that is around 300 metres long. You will be so high up that you can see for miles on a clear day!
You can visit the museum, take a boat ride or relax in the tea room. The canal path stretches for 11 miles and so there are also lots of walks to extend your visit.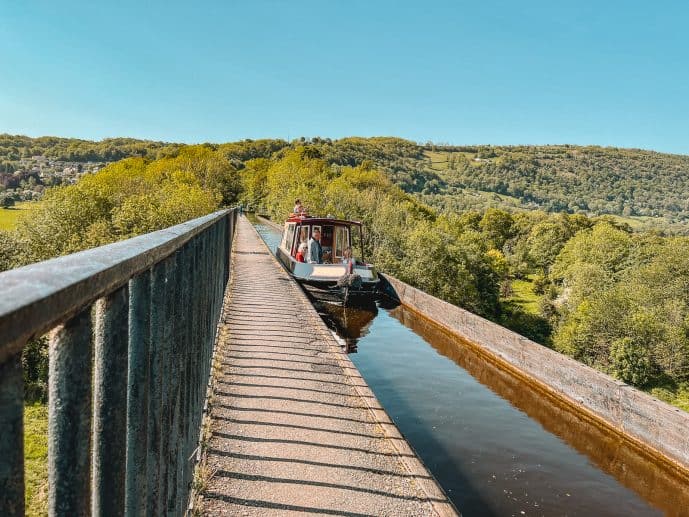 Clwydian Range And Dee Valley AONB
Many people visit this area of Mid-Wales for the Pontcysyllte Aqueduct. But, there are plenty of amazing things to do nearby as part of a day out.
I particularly liked my visit to Chirk Castle which was a medieval fortress turned renaissance estate. There's so much to see here including planned gardens, medieval towers, and staterooms.
After, you can visit the Oak at the Gate of the Dead near Offa's Dyke which is one of the only remains of the Battle of Crogen between England and Wales.
Llangollen is a huge canal town that has lots of attractions such as Plas Newydd, Valle Crucis Abbey, Castell Dinas Brân, and the Llangollen Railway station.
Or, you can visit other attractions like Horse Shoe Falls, Horse Shoe Pass, and Bryn Owain Glyndŵr.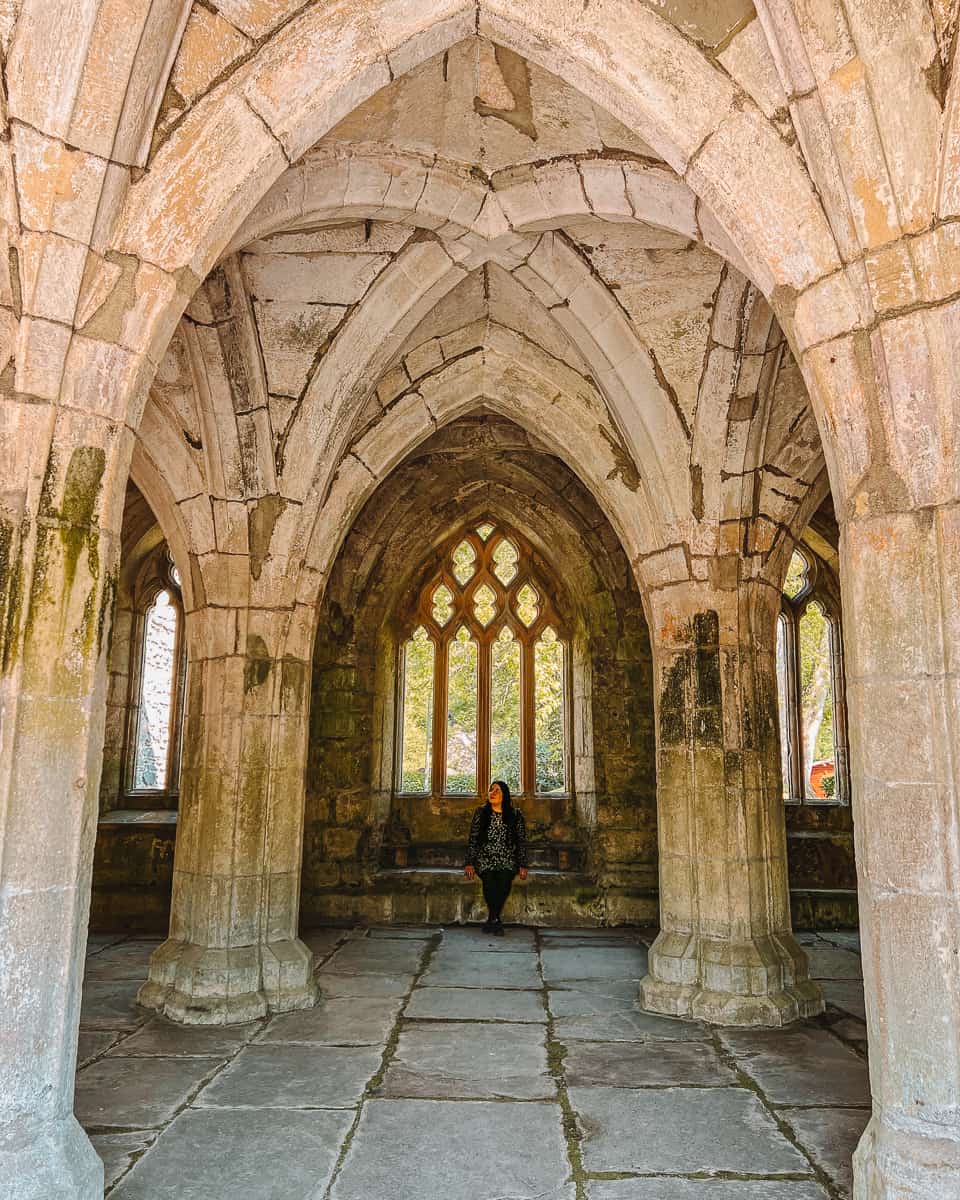 Gladstone's Library
I actually visited Pistyll Rhaeadr as part of my stay at Gladstone's Library, the only residential library in the UK.
That's right, you can sleep on the library grounds and make use of their historic reading room and facilities.
You can stay for as long as you like as a retreat, to study or complete some writing projects. Or, use it as a hotel base as I did.
They have a restaurant onsite and you can meet fellow guests to discuss and debate. It's a great place to stay in Mid-Wales.
Read my Gladstone's Library hotel review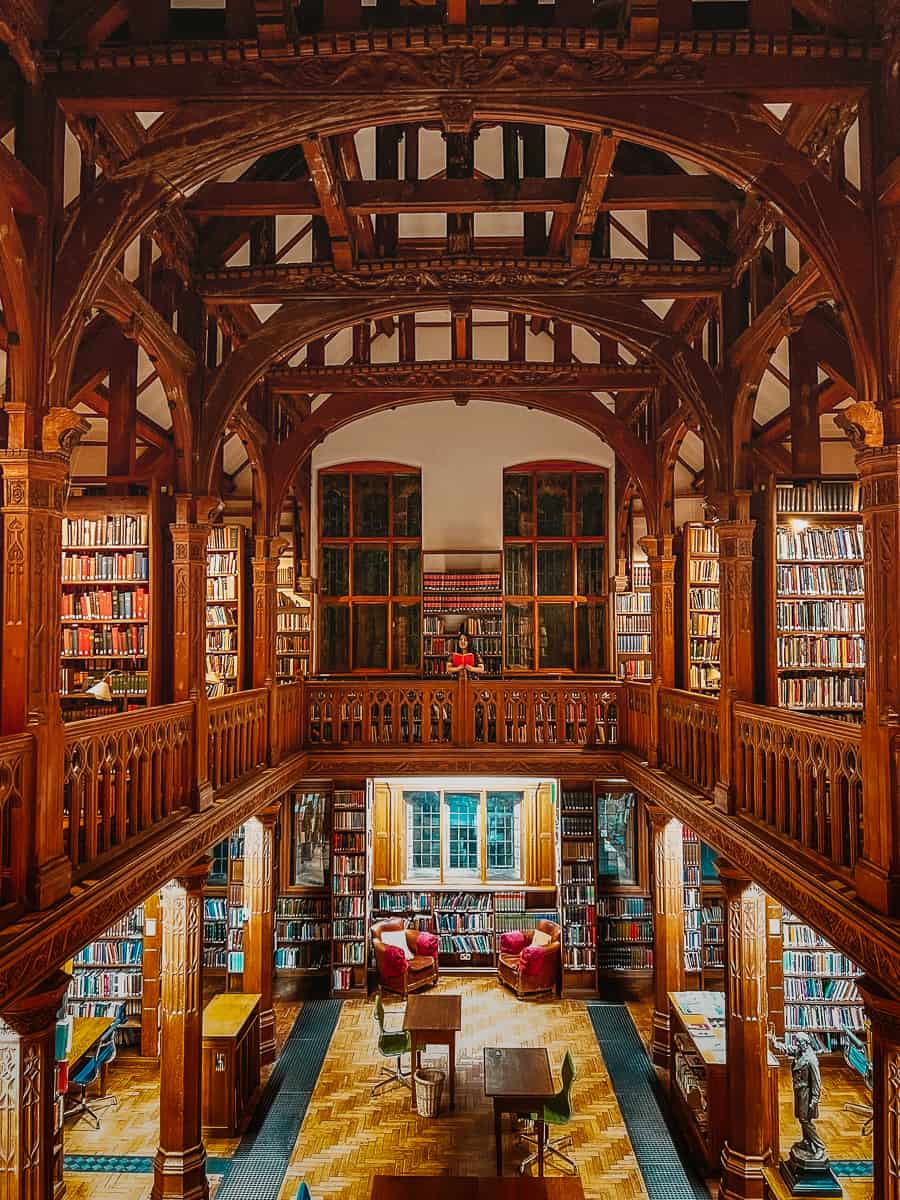 Pistyll Rhaeadr FAQs
Are there toilets at Pistyll Rhaeadr? Yes, these are chargeable at 50p. Also, if you pay for the tearoom you can use the facilities there for free.
How long does it take to visit Pistyll Rhaeadr? It's around 1 minute from the paid parking area to reach the base of the falls. Super easy and the waterfall is spectacular.
What does the name Rhaeadr mean? It means waterfall in the Welsh language. Pistyll means "well" or "spout" so Pistyll Rhaeadr means 'spout waterfall'!
What's the best time to visit Pistyll Rhaeadr? After a few days of heavy rain for the best cascade. Also, earlier in the morning or later in the evening for a quiet visit. It can be heaving on weekends.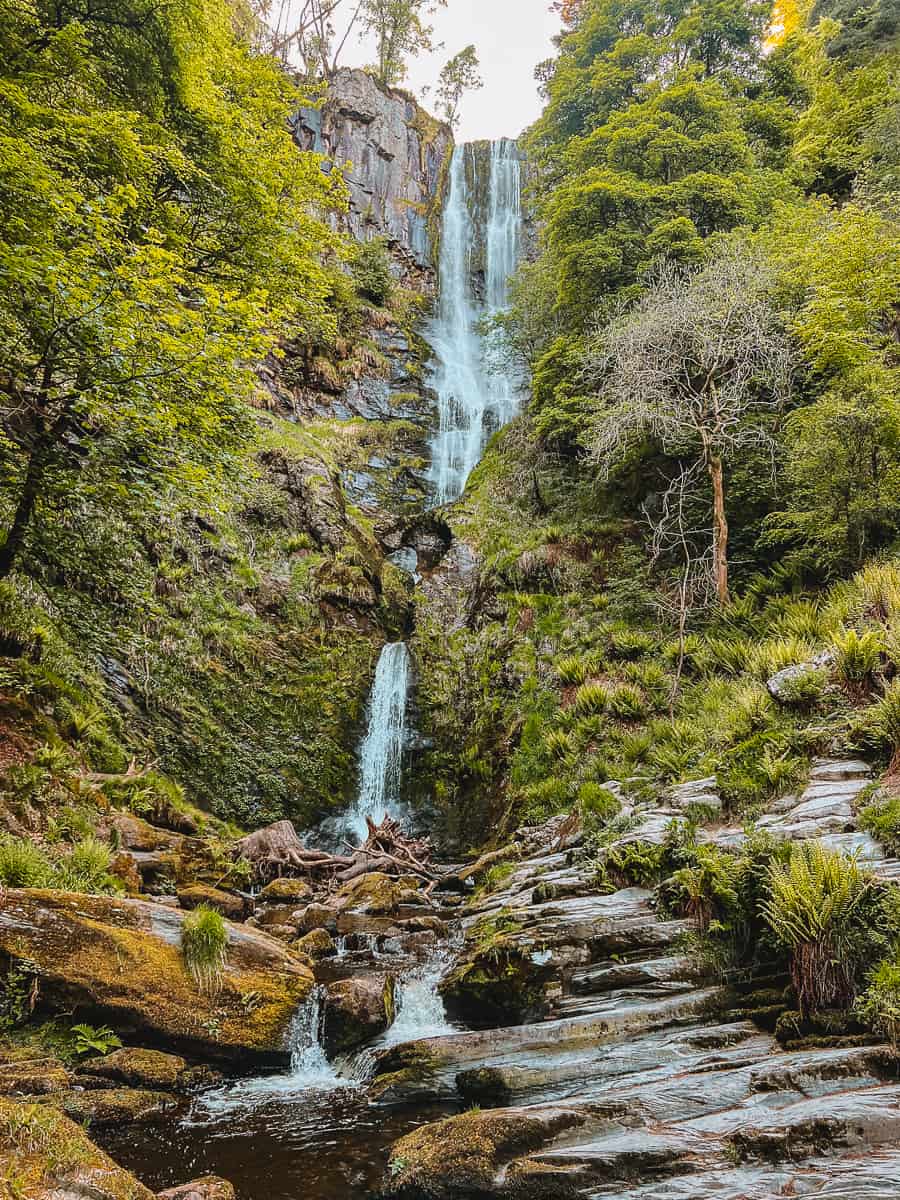 Read more of my North and Mid-Wales guides
How to visit the Aber Falls walk
Look inside the Smallest House in Great Britain!
A complete guide for the Cwm Idwal walk
Penmachno Roman Bridge photography location
Why is the Ugly House called Ugly?
When does Tu Hwnt I'r Bont turn red?
The legend of Gelert & how to visit his grave
The top places to visit in Beddgelert
Visiting the Cauldron Waterfall of Pont-y-Pair
How to find Sappers Suspension Bridge
A complete Swallow Falls guide
Why you MUST visit the Fairy Glen Gorge
A complete Conwy Falls & cafe guide
A complete guide for the Dinas Emrys Walk & Dragon legend
Save Pistyll Rhaeadr waterfall for later!