Please, don't skip Amman when you visit Jordan! There are so many places to go in Amman that you won't regret visiting this beautiful bustling capital.
It may be a little hectic compared to Petra and Wadi Rum but Amman is full of history, culture, shopping, and foodie delights. Plus, you'll most likely be landing here anyway so you don't have to go out of your way to stick around and explore.
I didn't really come to Amman with any expectations, in fact, I hadn't really ever thought of visiting. Plus, a lot of blogs and information told me to skip it as it wasn't worth my time. After leaving Amman, I think they're wrong and I'm going to tell you why.
I came away loving Amman and actually appreciating the diversity of Jordan. It's always a good balance to visit a busy city and then escape to a quiet place for some relaxation.
Here are some phenomenal places to go in Amman and why you shouldn't skip this amazing city!
Things you need to know before you visit Jordan
You will need a Visa to enter the Hashemite Kingdom of Jordan. I would highly recommend investing in a Jordan Pass for your visit. Click here to read my review! Not only does this include your Jordan tourist visa fee ($40USD), but it also includes a visit to Petra and all the main attractions. To put it into perspective, Petra costs $90USD per day. My Jordan Pass cost me $90USD which included my visa fee, and many attractions around 3 days in Petra. To me, it was a no-brainer and saved me a packet! Make sure you apply a few days in advance.
Jordan uses the Jordanian Dinar (JOD) and at the time of writing 1JOD = 1GBP approx. (well technically 1.07GBP, but it was easier for me to just think it's 1 = 1 lol!)
Don't forget travel insurance! I always choose World Nomad's as they have some of the best value policies for your money.
As a predominantly Islamic country, it's wise for women to pack clothes that respect the culture. Also, men should consider trousers over shorts. In the main tourist hubs of Petra and Wadi Rum lots of tourists wore leggings/sports clothes and dresses. Also, by the Dead Sea, it's perfectly fine to wear a bikini in private resorts. But, in the cities like Amman and small villages you pass, I would stick to covering up.
I found a lot of Jordanians spoke English, especially in the tourist trade. So, you won't have much problem with a language barrier. But, it's always a good idea to practice some Arabic for your travels, and remember, a smile is a worldly language;
Hello = Samaal Ali Kum
God willing = Inshallah
Thank you = Shukran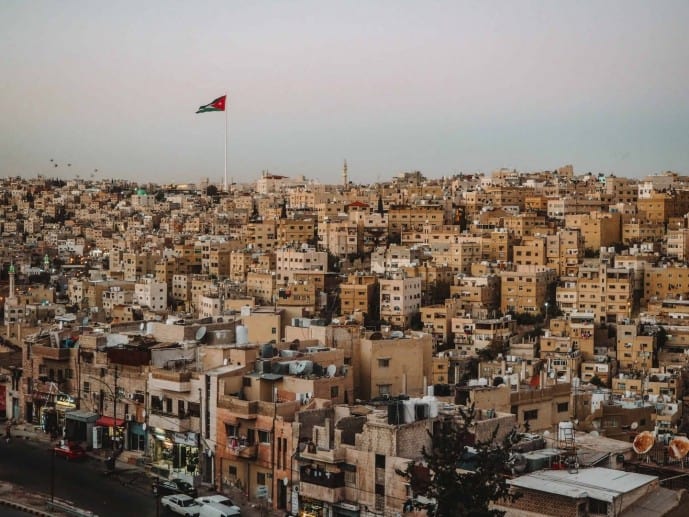 Here are the 12 phenomenal places to go in Amman
1. Be wowed by the views from Amman Citadel
The Amman Citadel really is the jewel in this city, the remains of an ancient Roman fortress.
Located high on a hillside, locally known as Jabal al-Qa'ida, it rises 850 metres above sea level. The birds-eye views from here are outstanding and you can glimpse the jigsaw of houses below.
It's actually had inhabitants since the Bronze and Iron Ages, but most of the highlight remains come from the Roman and Umayyad periods.
The Temple of Hercules is evidence of the Roman Period built-in 162-166AD at the same time as the reign of Emperor Marcus Aurelius (cue Gladiator theme music!).
It was connected to the Roman Forum (Amphitheatre) back in the day. Now, all that is left are the columns and the elbow of Hercules.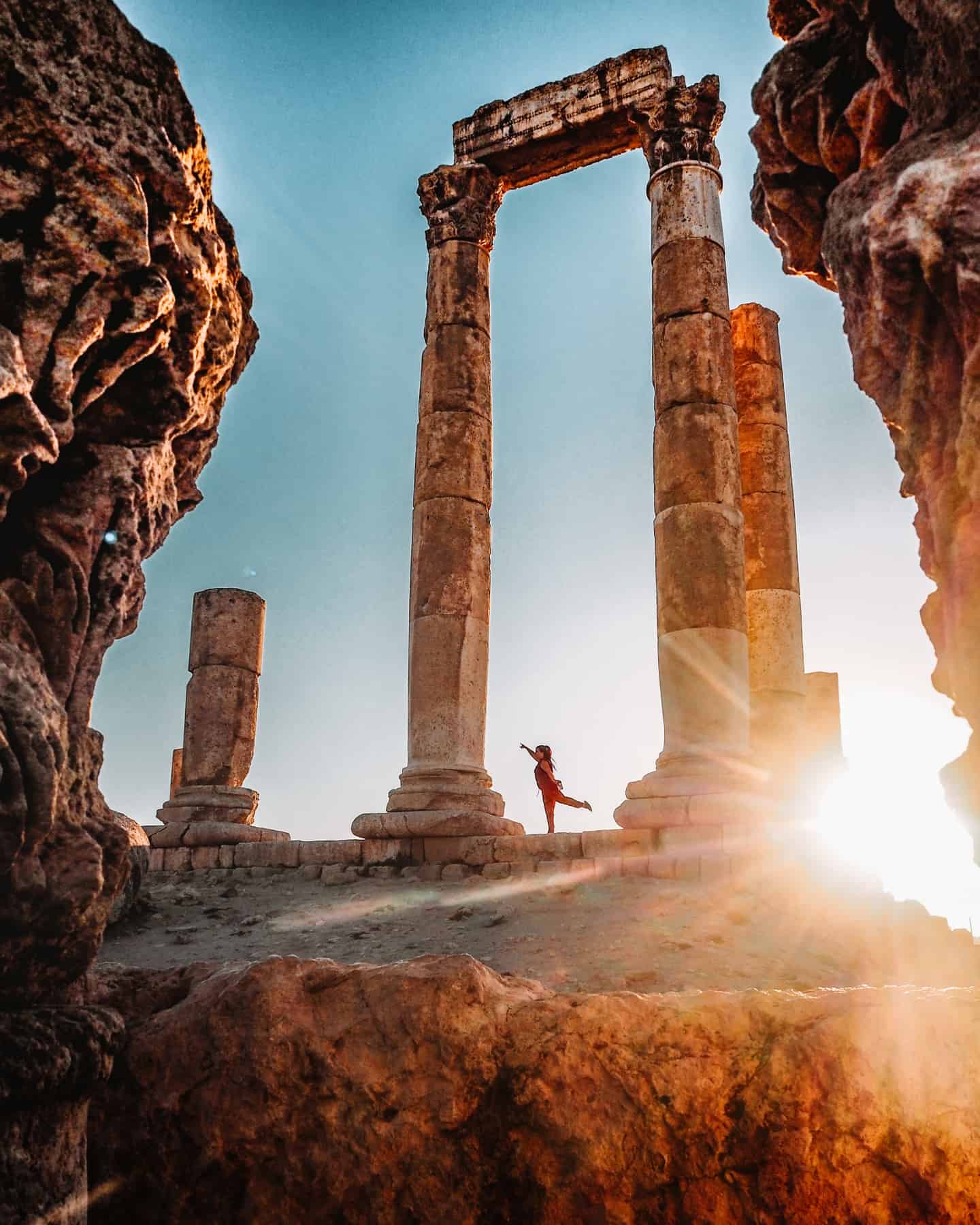 The Umayyad Palace is another highlight which was built in 720AD as a palace for Umayyad Arab royalty.
This was eventually destroyed in an earthquake a few years later and never rebuilt. The dome we see today at the top of the building is actually a reconstruction.
It's really impressive when you walk inside and you can still see a lot of the carving work in the stone.
Don't forget to take in the views of the city while you're here, you can't really miss them!
The hill provides 360-degree views of Amman and beyond. I loved listening to the Adhan, the Islamic call to prayer, it sent such positive energy into the air along with a gorgeous sunset. The best way to end the day.
The best way to reach the citadel is to grab a taxi from the bottom of the Roman Forum, it should cost no more than 1-2JOD.
The best time to visit is at sunset when the lighting shines through the temple of Hercules and the sky sets on fire for a wonderful view. If you're coming here to take pictures, I would get here just a bit before sunset as it gets really crowded.
The Amman Citadel is open from 8 am until 6 pm in winter (Nov-April), 8 am-6.30 pm in Summer, in April and May from 6 am-6 pm and in Ramadan, it's open from 8 am-3.30 pm. Entrance tickets are free with a Jordan Pass but costs 3JOD without.
2. Munch on falafel and mint tea at Hashem's
Hashem's is one of the oldest and most famous restaurants in Amman that still serves up its local Jordanian cuisine today.
Serving since 1952 in downtown, many royal family members and celebrities have eaten here.
It is hectic but extremely popular with tourists and locals alike and you may have to queue at peak times.
However, it's cheap and tasty food that will make you come back for more. It's prepared indoors but you'll be eating outside which is much more fun!
There's actually no menu, so you can't tell prices, but you will see everyone tucking into falafel, bread, and some side dishes.
You can have Humous, Tabuleh etc., and even fries if you're feeling it. It's really good value for money. My six pieces of falafel, a side order of bread, humous, diet coke (lol don't judge me), fries, and tea came to around 5JOD (£5).
Finish off with a hot cup of mint tea, pronounced Ché in Arabic, with tonnes of sugar like the locals do.
Hashem's is in Downtown Amman and is open 24 hours according to Google!
3. Climb up the Roman Theatre in leftover ancient Philadelphia
I was surprised to find out that Amman used to be called Philadelphia in Roman times which translates to 'brotherly love'.
The Roman Forum in Amman is similar to what you would find in Rome, a lasting legacy of that period is leftover columns, statues, and a lot of rubble from their time.
The Roman theatre in Amman is the most impressive part of this legacy. You can see the amphitheatre from the roadside before you even step inside and it's huge!
I found this place well worth a visit and loved climbing up to the top row. You could see everything, including an awesome view of Amman.
I did wonder how it managed to survive through the centuries unlike the citadel above. But, later found out that although It was originally built in the 2nd century AD, in the reign of Antoninus Pius, most of what you can see now is a reconstruction from 1957.
This theatre would have been used for religious performances, animal bating, and the famous Gladiator battles (although there is no evidence of this ). The rulers of the city would sit at the bottom row close to the action, the military above them, and then the crowds of subjects would sit in the Gods above.
The Roman Amphitheatre is included in the Jordan Pass but 2JOD without. Opening times are 8 am til 6 pm in Nov-April, in Summer 8 am-6.30 pm, 6 am-6 pm in April and May and 8 am-3.30 pm during Ramadan.
4. Stroll down Rainbow Street (Jebel) for ice cream at Mr. Lollies
One of the places that people and guides recommended over and over again was Rainbow Street.
It's a popular side of town for locals and tourists with shops, art galleries, restaurants, and cafés.
This is one of the oldest parts of Amman so you must stop and admire some of the old stone houses and villas in the area.
I loved the thriving atmosphere down this street and the boutique shops and galleries were luring me in. Note that many of the shops are closed in the evening time.
The best place I stopped here, however, was Mr. Lollies! It was an incredible ice cream parlour with ice creams in all different colours, quite fitting for Rainbow Street.
The way it works is you choose your lolly flavour, then you can choose to have it dipped in chocolate, and then add lots of sweets, colourful cereal, or sprinkles!
I decided to go for a Rasberry lolly, dipped in milk chocolate with colourful cereal! It was honestly delicious and this vibrant tasty snack didn't break the bank at 2.50JOD (£2.50).
Mr. Lollies is open from 11.30 am – 12 am each day on Rainbow Street.
5. Visit the King Abdullah II Mosque
Located a little far out of the centre, the King Abdullah II mosque is well worth the journey. Constructed in 1989, it was built as a memorial by King Hussein for his grandfather.
It can hold up to 10,000 worshipers at once; 7000 inside and 3000 out at capacity.
You will need to enter through the visitor centre and pay to enter. This is not included in your Jordan Pass but it only costs 2JOD (£2) and proceeds go towards the upkeep of this holy place.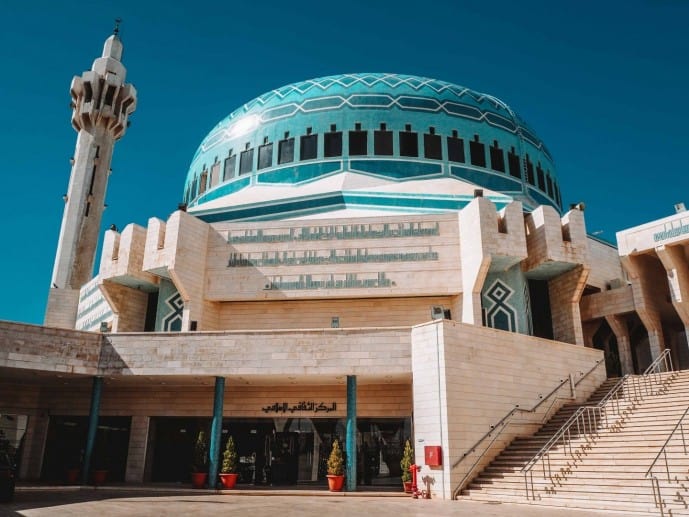 The kind ladies in the visitor centre will greet you and make sure you have a robe that covers you from head to toe! Ladies, make sure your hair is hidden under the hood to show respect.
You will then be ready to explore. You probably already know this but you will also need to take your shoes off to enter the mosque itself and there's a row of shelves outside.
I think my jaw hit the floor when I saw the ceiling of this place! You will see a large blue dome painted with lines of gold and stained glass windows. I loved the mosque lamps that hung from the ceiling and the whole room had a lovely aura to it.
Don't forget to check out their lovely shop and help yourself to a complimentary tea!
The King Abdullah II Mosque is open from Saturday to Thursday from 8 am – 11 am and then 12.30 pm – 2 pm. It's closed on Fridays.
6. Go shopping in Downtown Amman in Al-Balad
Al-Balad is the shopping district in downtown Amman and it's like a labyrinth of shops that is perfect for those all-important souvenirs.
Jordanian scarfs, Amman magnets, marble, incense, Jordan dresses, and suits, it's all here to purchase!
The shop owners here are quite entertaining with their tactics to reel you in. People will say hello all the time and call you over to visit their shop!
I was proud to win a game of paper, rock, scissors and got myself a 'Visit Jordan' pin badge (the prize would be a hug if I lost lol).
I actually decided to buy my Jordan scarf here as I knew that Petra prices would be through the roof.
There are many different kinds of scarves by quality so I would choose wisely. I was told that you can tell the quality of a Jordan scarf from the fabric, sewing design, and trim around the edges.
I didn't go super fancy, or dirt cheap, I went for a middle-range red Jordan scarf which had a lovely trim and tassels that cost me 4JOD (£4).
The shops in Al-Balad are usually open from around 9/10 am until 10 pm. These may shut on Fridays as it's a holy day.
7. Treat yourself to traditional cuisine at Sufra restaurant
I always love sampling local cuisine and Sufra, at the end of Rainbow Street, does Jordanian food really well. I have to admit, I struggled big-time with choosing what I wanted from their menu. There was simply so much choice!
In the end, I sampled their Gallayeh, a spicy tomato stew with diced lamb and onions. I actually ordered it to be medium spicy and it blew my head off!
The guys felt so sorry for me when they saw the tears running down my face, they offered me some yoghurt to cool it down haha. Typical Brit! I had a lime and mint cooler with it which was refreshing and needed.
I got lucky with a table and must have got there at just the right time. It's usually packed and after I sat down people were waiting for a table to be free or were only sat by reservation. So, I would reserve if you don't want to go hungry.
Also, Jordan doesn't really have any indoor smoking rules. So, you may be in a cloud of tobacco smoke or the end of a shisha pipe. If you have a problem with smoking while you're eating, I would request to sit in their non-smoking section.
Sufra Restaurant is open from 12 pm – 11 pm Sunday through Thursday and 1 pm – 11 pm on Fridays and Saturdays. Booking is recommended.
8. Sample Kanufa at Habibeh Sweet Shop
Another foodie stops you must make while in Amman is Habibeh Sweets. Established in 1948, Al-Haj Mahmoud Habibah decided to move from Jerusalem to the city of Amman with his Kunafa shop.
Kunafa is a dessert that dates back to the 10th Century and is made up of mild goat's cheese with a wheat topping in sweet syrup, sometimes topped with pistachio. It's warm and pretty delicious, although your teeth will feel like they're rotting with the sugar!
It's extremely popular with locals and there are many variations of similar sweets in store. They also had Baklava but, unlike Turkey and Greece, it had goat's cheese in it too.
It was a really cheap deal and my slice cost me around 70 Dinar cents (70p)!
Habibeh Sweets can be found near Hashem's in Downtown Amman in the Marwan Madi Complex. It's open 9 am – 12 am seven days a week.
9. Splurge at the Four Seasons in Amman
The Four Seasons is a luxurious property in Amman and you will be mesmerised by this hotel as soon as you walk in the door.
If you were debating on staying here then I think it's worth the splurge. The rooms are spotlessly clean with huge soft king beds and the fluffiest of pillows.
The best part is the fact that the rooms are up high, so you can catch an amazing glimpse of the city and world down below. During my stay, I enjoyed a spectacular breakfast with a view from my room.
The outdoor pool was closed when I visited but, I was able to enjoy their indoor heated pool with a jacuzzi.
They also have a fitness gym and spa if you fancied getting a treatment to unleash your inner zen.
If you're not staying here you can still visit their many facilities including their boutique shopping arcade, speakeasy bar SIRR, or the French restaurant La Capitale.
Click here for dates and rates for the Four Season in Amman
10. Dine at La Capitale in Amman
La Capitale restaurant at the Four Seasons in Amman is extremely popular so you will need to make a reservation in advance. It's set in a traditional brasserie style and serves up a wide range of choices on the Menu du Jour.
I decided upon the Souris D'agneau which was the lamb shank but the portion came up small. The chef told me that he would like me to try more so he brought me some more 'photogenic' dishes to the table for me to try!
Then, when I ordered my dessert I received two! One was the Gateau du Chocolat and the other was a New York Cheesecake which wasn't on the menu.
Both were delicious but I was so stuffed from all the food I felt sick and had to take them away with me.
11. Visit Duke Diwan
Duke Diwan is Amman's oldest residence in the soukh's downtown on King Fasal Street.
Established in 1924 by Abdul Rahman Madi, it was protected in 2001 as a place to recognise the city's heritage.
The name "Duke" was named after its benefactor Mamdouh Bisharat the 'Duke of Mukheibeh" and "Diwan" is the Arabic word for a room of the house that is always open for guests.
It is now a meeting space for artists and creators to appreciate the time capsule of 1920s decor.
You can actually attend art events and concerts inside here at certain times of the year. Enjoy tea with the Duke who will be more than happy to spill the beans on a few tales about the place.
The Duke's Diwan is open from 9 am – 7 pm. Entrance is free by donation.
12. Take a day trip to the Dead Sea, Ma'in Hot Springs or Jerash
The great part about basing yourself in Amman for a few days is your proximity to other great places for a day trip!
You can drive up North one hour to the ancient city of Jerash, which is one of the best-preserved remains of a Roman citadel outside of Italy.
As you cross through Hadrian's gate you can make your way through the colosseum, the temple of Zeus, the masses of columns, and the Temple of Artemis. Free with a Jordan Pass.
Or, why not tick floating in the Dead Sea off your bucket list?! The Dead Sea is only a forty-minute drive from Amman and you can pay to float on a public beach or buy a day pass for one of the more fancy resorts.
I loved my stay at the Kempinski Ishtar Dead Sea, it has eight pools and private access to the Dead Sea. I loved the complimentary natural mud mask they gave you!
There are also the Ma'n Hot Springs which are also around forty-five minutes from the centre. These hot springs are where John the Baptist and King Herod (from the Bible) used to bathe due to the healing properties in the water. This water gets temperatures of up to 65 degrees, so be careful!
You can also stay overnight in the Ma'in Hot Springs and Spa Resort if you fancied more relaxing. You actually get exclusive early access to the springs if you're a guest.
How to reach Amman in Jordan
I flew into Jordan from Egypt and there are many internal flights provided by Egyptair if you're following the same route. From the UK, there are daily flights to Amman with the likes of British Airways and Royal Jordanian. I always use Skyscanner to check for the best deals.
From Amman Queen Alia airport you will need to drive 20 miles south to reach the main hub of the city and downtown Amman.
For my travels in Jordan, I decided to rent a car. Driving yourself is the most cost-effective option for getting around.
Jordan's public transport is not the most convenient or accessible and taxis can prove to be extremely expensive.
For example, from Amman to Petra it can cost you over 250JOD (£250) and my rental car cost me around that for ten days!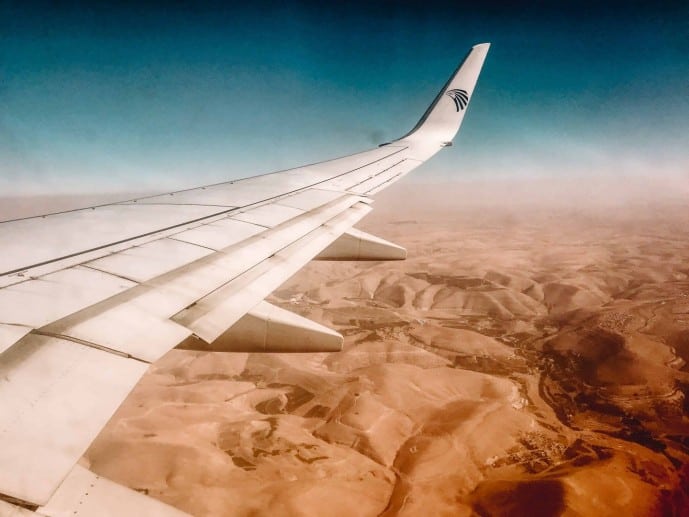 How to get around Amman
Driving in Amman
Driving into and around Amman is CRAZY! The traffic here is chaotic and there will be a five-car stretch in a three-lane highway.
People don't really give way to you so prepare to stop A LOT, the nicest car gets right of way half the time and there will be people, bikes, and traffic everywhere.
There aren't really any rules so just take your time, turn on the radio, have your wits about you and try not to have a heart attack.
It was my first time driving on the right-hand side of the road and boy, did I pick a place to start!
But, seriously though, now I've driven in Amman and survived I think I could drive anywhere. Next time, I would skip driving in Amman and rent a car after I leave for Petra and beyond.
For more tips on driving and renting a car in Jordan, see my detailed post here
Explore Amman by foot
Deciding not to play with fire, I decided to walk to the majority of sites around Amman city as it's quite accessible.
It may have been a waste of a day's rental car but I'd rather that than the stress it caused haha!
Taxis and Uber in Amman
There are many local yellow and green taxis that you can hail down if you wanted to get somewhere quick (make sure they turn on the meter!). There is also Uber in Amman and works pretty well.
I used both and preferred Uber.
It's a battle to get the meter turned on in local taxis here as a tourist. At least with Uber, I knew what I was paying!
Where to stay in Amman
There are so many places to stay in the city but I'll warn you Amman, and Jordan, in general, is not a budget-friendly destination!
Here are a few options to help you choose
Luxury: The Four Seasons in Amman
The Four Seasons in Amman is located in the upmarket 5th circle, where most of the fancy hotels are.
It's 5 stars of pure luxury and your room will be high above the city for an incredible view.
Boasting an outdoor pool, wellness spa, fitness gym, speakeasy bar, and top-rated French restaurant La Capitale; you'll be spoilt for choice during your stay.
Click here to book your stay at the Four Seasons Amman!
Budget: Zaman Ya Zaman
Zaman Ya Zaman is a hostel and boutique hotel right in the centre of Downtown Amman within walking distance of the Roman Philadelphia and Amphitheatre.
You can even eat your breakfast while admiring the view!
As this is a central property by the main road, it isn't the quietest but the cost for location and friendly staff more than makeup for it.
Click here to check availability for the Zaman Ya Zaman
Make sure you check out some more amazing places to go in Amman
So, that's a small list of all the amazing places to go in Amman. It really only scratches the surface of this amazing city. There is so much more to do if you have the time!
You can head up to Mount Nebo, visit the Folklore, Royal Automobile, and Jordan Museum or stop off at the ancient Ahl Al Kahf.
You can shop until you drop with high street brands at the City Mall, visit the Galley of Fine Arts, or admire more Islamic architecture and mosques!
I loved my visit to the busy capital of Amman, minus driving through it, and wouldn't hesitate to go back and explore more! I felt extremely safe walking around here, even at night, and the locals are really friendly.
Don't miss out on experiencing all the amazing things that Amman in Jordan has to offer you!
Save these places to go in Amman for later!