If you're looking for all the amazing places to visit in Bikaner then you've come to the right place.
A lot of tourists who visit Rajasthan in India always choose the main cities of Jaipur, Jodhpur, Jaisalmer, and Udaipur. They don't even think to consider this incredible city to the North West of the state.
Admittedly, I also was in that exact same boat and I am kicking myself now for not visiting sooner!
Bikaner is an incredibly underrated city.
It has all the vibrance of Rajasthan with its historic forts, colourful buildings, saris, turbans, and the desert.
But, it's also far less touristy than the main cities making it the perfect place to see some of the 'real' Rajasthani charms.
From exploring temples that worship rats, walking around historic Haveli's, visiting camel research centres, and dancing in royal palaces; I had an absolute blast here and I'm sure you will too.
Here are the most fun and unique places to visit in Bikaner!
Where is Bikaner in Rajasthan?
Bikaner is located North West of Rajasthan and, you may be surprised to know, that it's only around 100 kilometres from the Pakistan border!
It's located in the middle of the Thar Desert, similar to Jaisalmer, and so the temperatures can reach highs of up to 50 degrees in April, May, and June.
It's easily accessible from the likes of Jaipur, Jodhpur, and Ajmer and you can reach there within around 5 hours.
Is Bikaner worth a visit?
I would 100% recommend that you add Bikaner to your list, you won't be disappointed!
Bikaner has so much to offer visitors in terms of forts, palaces, temples, food, sweets, shopping, and the mysteries of the desert too!
Plus, you won't get FOMO as there are such incredible buildings full of colour, desert experiences that are no different Jaisalmer, and some of the tastiest food that the region has to offer.
It's got its unique flavours which I'm sure you will love.
The top 12 places to visit in Bikaner
1. Junagarh Fort
Now, I know what you're thinking, not ANOTHER fort in Rajasthan. But, hear me out. Bikaner fort has something unique to offer you when you visit.
Junagarh Fort currently stands in the middle of the modern Bikaner city. It was constructed in 1589 and was called Chintamani fort in years gone by.
When the royal family decided to switch locations to Lalgarh Palace in the 20th century, they renamed the fort Junagarh Fort meaning "old" fort.
Don't forget to climb to the top of the fort to see some of the fantastic views that it has to offer. You can see the whole city from here and it's effortlessly picturesque.
What is inside Junagarh Fort
There are so many different eras to this fort. Of course, there are the 16th-century parts that are still in amazing condition today. But, there are also modern parts to the fort too that were added in the 19th century.
I fell in love with the mix of architecture here. From Bikaner's signature red sandstone walls to marble facades in Mughal design. Each courtyard had something new to see.
Inside the fort are numerous palaces and rooms to fall in love with. Personally, my favourite was Chandra Mahal which was filled with gold and jewels on every surface! It was almost blinding with all that glitz.
Also, I loved this corridor that had the most ornate window carvings with stained glass in all different colours of the rainbow!
There are also gorgeous rooms that were painted head to toe in clouds to represent the rain as Bikaner doesn't see much here.
I guess in those days they didn't have TV so this was as close as they could get to see some rain in action.
There are also museums where you can learn about the royal family in Bikaner and see their extensive collection of cars and vehicles.
The great thing about exploring this fort in Bikaner is that it's not as busy as the other forts in Rajasthan. So, you can pretty much have the place to yourself, even in peak season!
Junagarh Fort is open from 10 am – 4.30 pm and costs 50 rupees for Indian tourists and 300 rupees for foreign tourists.
2. Rampuria Haveli
Out of all the places to visit in Bikaner, this has to be the most iconic.
I don't know about you but I love to stalk locations I'm going to visit on Pinterest! Bikaner had some amazing photos on there and one of the locations that would constantly show up was its historic Havelis in the Old Town.
These buildings are a jewel in the crown of the Walled City and have been here since the 15th century!
There are over 400 havelis that have survived through the centuries and you can really see the Rajput, Mughal, and British Colonial influence.
The most famous of these buildings is the iconic Rampuria Haveli which can be found on Joshiwara street. The famous author Aldous Huxley called this building "pride of Bikaner" and he's not wrong, it is the most picture-worthy spot.
Nowadays these are mostly empty and owned by wealthy families who moved to Mumbai/Delhi.
But, some of these buildings have also been transformed into museums. So, if you were feeling nosy to look inside, I'd say go for it!
All of the Havelis are made of the signature red sandstone in Bikaner with exquisite carving work. I could have spent all day taking photographs of them.
Unfortunately, you cannot go inside Rampuria Haveli, but it is a beautiful homestay you can book here. You can visit the outside of the Havelis 24 hours a day. Definitely best paired with a walking tour of Bikaner Old Town.
3. Streets of Bikaner Old Town
One of my favourite parts of my guided tour of Bikaner was exploring the old town or the walled city.
Bikaner was founded in the 15th century, so there's lots of history to unfold around this area, you cannot miss it!
As well as the labyrinth of beautiful Havelis that are here, there are some gems to be found in these tiny streets.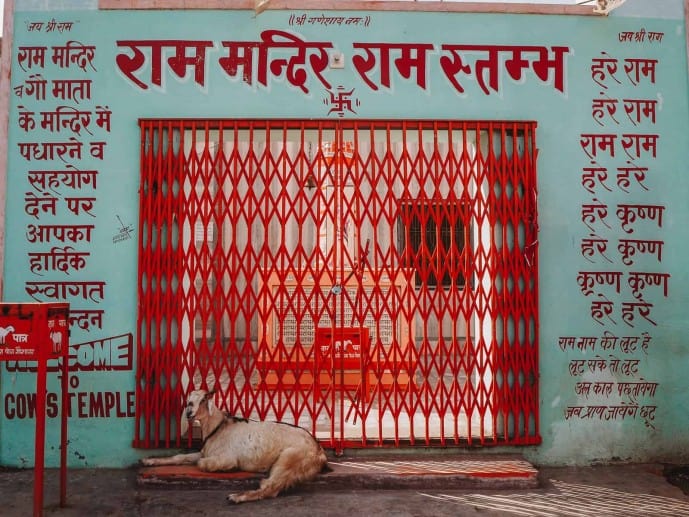 Bhanwar Niwas Palace
Bhanwar Niwas sits in the walled city of Bikaner in Rampuria Street. It was the largest and grandest of all the havelis in the area and belonged to the Rampuria family.
Built in 1927 for Bhanwarlalji Rampuria, the design is very much of the period with a deco feel. The rooms are filled with gold furniture and it has a beautiful courtyard that sits right in the middle of it.
Today, it is known as Bhanwar Niwas Palace and is open to the public to stay for a few days. We popped in here just for a look into some of the rooms and it was an oasis of calm. Even though you're only a few metres away from the old city!
You can have a look at booking your stay at Bhanwar Niwas by clicking here.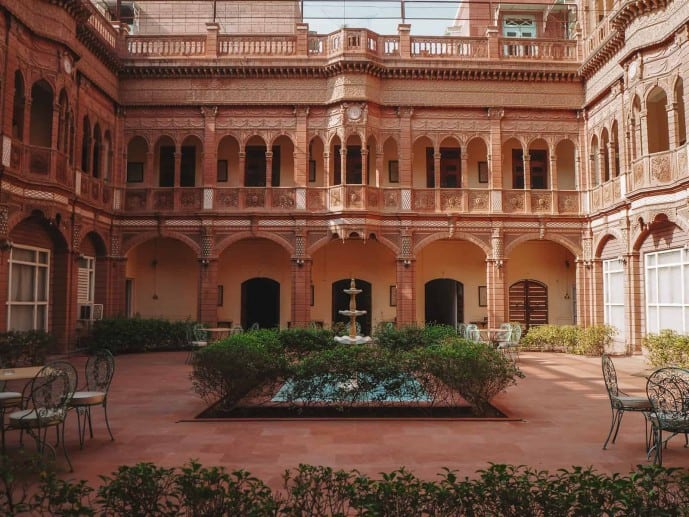 The man with the long moustache
When we were exploring what felt like endless streets, my guide Salender brought us to a blue house. The sign above the door was of a man pulling his moustache and all of a sudden it hit me, I had seen him before!
When I went to the Pushkar Camel Fair a few years, I saw a competition where they were measuring the best moustache. There were long ones, finely groomed ones, thick ones, and all sorts of other amazing tashes.
Amazingly enough, he recognised me! Which was a lovely surprise. We got talking and eventually, he showed me his moustache which I believe is a few metres long.
I took some fantastic photos here and I definitely think it's worth meeting him and having a chat. Of course, I gave him a small tip for the photos as it's how he makes a living.
If you did want to want to read more about the Bikaner camel festival read here.
Read more: My complete guide to the Pushkar Camel Fair
Street Food & shopping
Bikaner is famous for its Namkeen, a snack kind of like Bombay mix, so you can find this being sold here in the old town in lots of places.
But, the most famous shop is Bikharam Chandmal if you were looking to sample or buy souvenirs.
Also, Bikanervala, a company that is now massive in Delhi as a sweet and Namkeen shop, had its humble beginnings in Bikaner. It started as the sweets and namkeen shop Lalji over 115 years ago!
Also here you can find many tasty street food stalls and shops selling all sorts of souvenirs and textiles.
Although Bikaner is not as famous for its textiles as Jodhpur, there are still plenty of stalls to browse and buy some beautiful gifts.
4. Bikaner Camel Research Centre
The ICAR-National Research Centre on Camel is a unique venture in India and one of the most interesting places to visit in Bikaner.
The centre has dedicated its research to studying different breeds of camel including their health, psychology, eating habits, and healing properties of their milk too. This is to further understand and protect them.
Unfortunately, due to the harsh conditions of the desert, camels are prone to skin diseases so here they get the help they need.
There are five types of camel that are protected here, the Bikaneri Camel, the Jaisalmeri Camel, Kachchhi Camel, the Mewari Camel, and the Jalori Camel.
When you visit the centre, make sure you take a good look around in all the pens at all the different camels and see if you can tell the differences between them.
My guide explained to me that Bikaner camels are the darkest, fluffiest, and have really long eyelashes.
If you're lucky, you can also catch their milking and feeding time too. I was quite sad as some of the babies didn't have mothers to suckle on. But, the staff are there to protect them and feed them from their own bottles.
Try camel milk kulfi!
So, as well as cooing at all the incredible camels (and BABIES) in the centre, the one thing you must try before you leave is some camel milk products.
They have camel milk chai or coffee, but the best thing is their kulfi! It's camel milk mixed in with saffron and it makes the tastiest of treats.
You can find them being sold outside the centre right next to the ticket desk! I love ice cream and, to me, didn't taste that different. But, I'll leave the taste test to you.
The Bikaner Camel Research centre is open daily for visitors from 12 pm-6 pm
5. Laxmi Niwas Palace / Lalgarh Palace
If you're into your history and love snooping in on rich family houses, then you have to check out Laxmi Niwas Palace and Lalgarh Palace nearby.
Lalgarh Palace, was built in the 20th century and still has a wing that is home to the Bikaner royal family. Laxmi Niwas Palace was built in the 19th century and used to be owned entirely by the Maharajas of Bikaner.
Now, both palaces in the same area have been converted into heritage hotels. So, anyone can explore and feel like a queen, or king for the weekend.
Even if you're not staying here, it's still worth having a look around as the place is almost like a museum.
Some of the rooms have great exhibits about the royal family and the area. But, I will warn you that there is a lot of taxidermy on the walls from hunts that the Maharaja used to go on.
Click here to book your stay at Laxmi Niwas Palace, or check rates for Lalgarh Palace here.
Enjoy a royal dinner at Laxmi Niwas
Even if you're not staying at either of the palaces, it's still worth heading here for a dinner fit for a maharaja.
They serve up the most fantastic tahli in their restaurant and also have an alfresco BBQ that you can attend. This even is lit by candlelight in the gardens of the palace with traditional Rajasthani music and dancing!
I had the pleasure of visiting both in the day and the evening to these palaces. Narendra Bhawan, the sister property, had organised a special dinner just for us in the Swan Mahal room.
Every wall was decorated in blue and golds and we had their expert chefs serve us some of their finest menu.
The whole place is truly fit for royalty, so make sure you schedule some time to enjoy it in Bikaner!
6. Bhanda Shana Jain Temple
I didn't explore many temples in Bikaner but Bhanda Shana Jain Temple stood out to me as the most underrated.
This unassuming temple hidden in the old town was built in the 15th century, making it one of the oldest in the city. It was constructed by a man named Bhandasa Oswal.
This is a Jain temple, which is a different religion from Hinduism and is dedicated to the 5th tirthankar Sumatinatha. Apparently, there is a legend that says that 40,000 kilograms of ghee were used when the temple was built!
Although the temple appears small from the outside, the inside will amaze you! Inside, you will find the most beautiful paintings all over the walls. There is gold paint on the columns and intricate stories to be told from the artwork here.
Like most temples in India, this will get very busy in the evening time for prayer. I would recommend visiting during the day to appreciate the art.
Bhanda Shana Jain Temple is FREE to visit (but remember to give a donation), it's open 24 hours a day!
7. Bikaner Royal Cenotaphs / Devi Kund Sagar
Just outside the city of Bikaner is the picturesque Royal Cenotaphs or, to locals, the Devi Kund Sagar.
This beautiful area filled with the finest examples of Mughal architecture is actually the cremation ground of the royal family so it's important to remain respectful on your visit.
Make sure that you take your shoes off if you want to climb on one of the cenotaphs and you may have to pay a tip to take photos in the area.
It only costs around 10 rupees to enter and it's incredibly worth it, especially at sunset.
On the grounds of the cenotaphs, is a small pink temple dedicated to Karni Mata. Here I met some of the locals who were sitting around the temple meditating or who had came to pray.
Karni Mata is known as the miracle goddess (more on that next) and so you'll find lots of little trinkets and offerings made to her for wishes to be granted.
The Bikaner royal cenotaphs are open to the public Monday to Sunday – 10 am – 7 pm.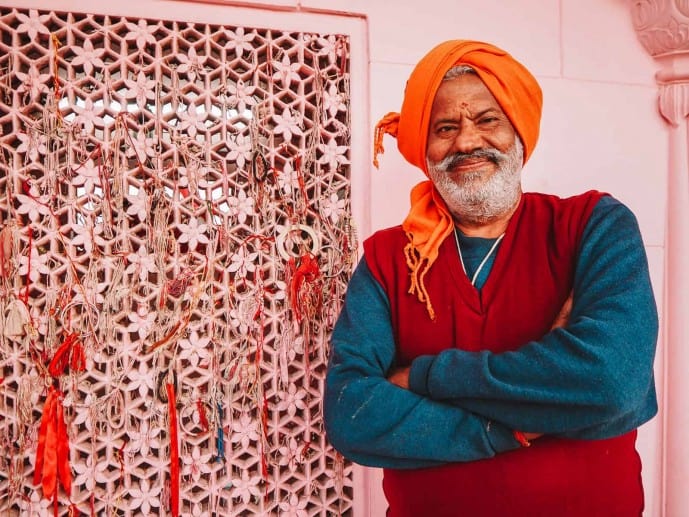 8. Karni Mata Temple
Before I even got to Bikaner, I knew I wanted to visit this temple! It's famous for being the only temple in the entire world that worships rats.
Dedicated to Karni Mata, who was a sage and mystic in the 14th century, many people believe that she was a reincarnation of the Goddess Durga.
There are thought to be over 25,000 rats that live and are worshipped at this temple. But, why?
Well, the legend goes that Karni Mata's son Laxman was drinking out of a pond and drowned. Karni Mata begged the God of Death, Yama, to revive him from the dead.
At first, Laxman refused but then after some convincing, he relented. He allowed Karni Mata's son and all her male children to be reincarnated as rats. So, people believe that these rats are her reincarnated clan.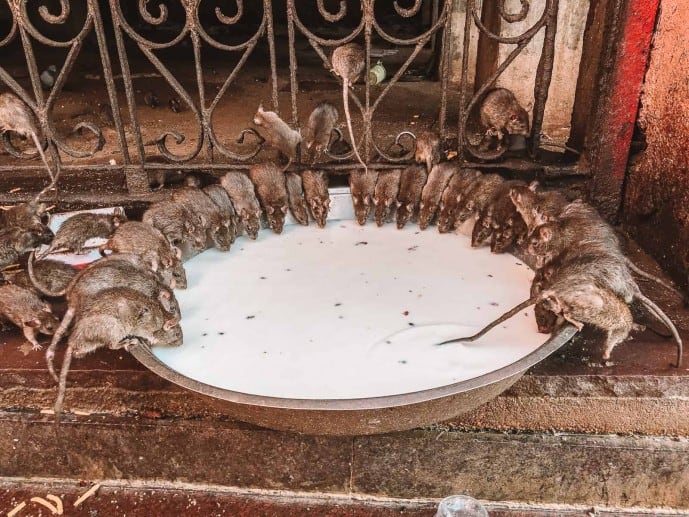 Although potentially meeting so many rats may seem intimidating, it's not as scary as it sounds. There's a big different between sewer rats and rats that are worshipped at a temple!
I personally was fascinated by my visit and couldn't stop staring at all of them! Make sure you lookout for the white rat which is meant to bring you good fortune.
It's located around a little far out of the city in the town of Deshnoke but there are trains that run there every four hours and journeys only cost 100 rupees.
The station is just outside the temple. Also, you can get a private taxi for around 2,000 rupees for a return journey.
Karni Mata Temple is FREE to visit but to take photos you'll need to buy a photo pass. It's open from 4 am – 10 pm at night.
Read my complete guide about what to expect at this amazing rat temple here!
9. Bikaner Miniature Arts Gallery
As well as Bikaner being home to the only rat temple in the world, there's another spot that breaks a world record too!
Shiv Swami, the founder of Bikaner Miniature Arts, is a Guinness world record holder for the world's smallest paintings.
He won the title two years in a row for the most items that have been included inside a miniature painting. It's the size of a postage stamp and contains animals, trees, and even 1,200 individual leaves (can you imagine the immense job of the judging panel to count them all?!).
I looked at the painting myself through a magnifying glass and the detail is truly captivating.
As part of my visit to his workshop, he showed me some of his art and also gave me a sample of his work on one of my fingers! It brush was so tiny, I could hardly feel it being applied. But, when I took a look, I was shocked.
Not only had he written my name, but also painted a small temple, birds, and blades of grass too. It was pretty impressive.
Some of his art here, especially the smaller pieces, take months to do. He sells many of these pieces in his workshop, so if you're looking for a truly unique gift to take home, I'd pop along and check it out!
They also do painting classes and courses for those who are interested, take a look at their website for details.
Swami Arts is open from 6 am – 9 pm and you can meet the artist Shiv Swami inside who'll be happy to chat with you about his work!
10. Chunnilal Tanwar (Sharbat) syrup shop
Another thing that is a famous favourite with locals in Bikaner is Chunnilal Tanwar's natural syrup shop. They serve up a number of organic syrups made with flowers to sample in their terracotta pottery.
The owner is so famous, he's even been featured in international newspapers!
You can try rose syrup mixed with water or coca-cola, saffron syrup mixed with milk, Sandal syrup with iced water too, and many others!
By far my favourite syrup was Jasmine. It was made with filtered water and crushed ice and I have never tasted anything so refreshing in the Rajasthan heat.
I loved this syrup water so much that not only did I have three when I was here, I also continued to drink it at my hotel afterward! I wish I could have taken a bottle home but I had such limited space :( .
It's cheap, tasty, popular with the locals, and incredibly revitalising so I would highly recommend a visit.
Chunnilal Sharbat is open from 11 am – 11 pm Monday to Sunday.
11. The Thar Desert
Similar to Jaisalmer, Bikaner is located in the middle of the Thar desert near Pakistan. So, you're never a few kilometres away from discovering the mysteries of the sand dunes!
If you're not planning on heading to Jaisalmer while you're in Rajasthan, make sure that you book a trip into the desert while you're in Bikaner.
Trips to the desert come in all sorts of itineraries. You can book a sundowner at the dunes for one evening, enjoy a camel safari into the desert, camp overnight there, or enjoy dinner there in the evening too.
As part of my trip with Narendra Bhawan, we enjoyed a romantic evening under the stars in a private part of the Thar desert just for us! It was entirely lit by candlelight and was an absolute dream.
We had a private bar set up, a grill, and a chef making expertly prepared food, sofas, and cushions to perch on. All accompanied by our own private performance of a Rajasthani band with traditional dancing.
I felt incredibly lucky to experience it. If you would like to check out Narendra Bhawan's experiences see here.
Make sure you read my top tips for an Indian desert safari here to know how to prepare!
12. Narendra Bhawan
There are many royal palaces in Bikaner that are now luxury hotels but the one you should bookmark for your visit is Narendra Bhawan.
This Haveli was the palace of the last reigning Maharaja of Bikaner, Narendra Singh Ji. He was born in 1948, just a year after India's independence so was inspired by the Bombay Art Deco movement and traveled extensively throughout Europe.
In 2003, after he died here, the palace was transformed into a high-end hotel for all to visit. It now has over 82+ rooms, so it's cosy enough to feel like home.
The rooms are spacious and all have an Art Deco feel to the design. I almost sunk into the mattress it was so soft!
As well as being a cosy retreat to get some well-needed rest, Narendra Bhawn also has one of the most spectacular pools on the strip. It's located on their highest floor and you can see the whole city from up there.
They also have a spa where you can treat yourself to some pampering or they can organise some incredible experiences for you while you're here. They do sundowners at the pastures, private dinner events, journeys into the desert and much more.
I was also obsessed with the food here at their signature restaurant Pearls & Chiffon (P&C). They had an international menu and both the local and international dishes were mouth-watering. I'm already dreaming of going back!
Read my full review of my wonderful stay here or click here to book in for the night
How to get around Bikaner in Rajasthan
The old town of Bikaner is easy to access on foot, so if you're located in and around the walled city you can reach attractions in less than a few kilometres.
But, to access the new city, Karni Mata temple, or the Royal Cenotaphs, you will need a means of transport to get around.
Unfortunately, there are no Uber or Ola cabs in Bikaner just yet. But, there are plenty of rickshaws in Bikaner for short journeys.
However, if you are planning to visit a couple of attractions or places outside the city, I would hire a car for the day to make travelling around a lot easier.
Narendra Bhawan arranged a complete personalised day tour for me with a tour guide, Salender, and a luxury air-conditioned car.
I couldn't believe it also came with a friendly driver who was also on BUTLER duties! Every time we would stop he would serve little bottles of Coca-Cola or water. It was a dream with the heat.
How to get to Bikaner in Rajasthan
Bikaner is easily accessible by public transport when you're in the state of Rajasthan.
Plus there are direct flights to Bikaner if you're coming from cities outside of the state, so it makes the perfect place to spend a weekend!
Direct Flights to Bikaner
Bikaner has a domestic airport which is located around 15 kilometres from the city.
There are currently direct flights that run from Delhi and Jaipur and the prices are pretty reasonable. From Jaipur, I found tickets for less than 1,500 rupees (£17!) for one way!
I always price compare my flights with Skyscanner!
Trains to Bikaner
Bikaner has a railway station, Lalgarh Junction. This connects you with the main cities like New Delhi, Mumbai, Jaipur, Jaisalmer, and Kota.
I always use Cleartrip to book train tickets in India as usually, the IRCTC (Indian Railway Catering and Tourism Corporation) website is annoying to use if you're not from India.
Trains are comfortable but not necessarily the quickest option to travel to Bikaner if you're in Rajasthan.
Check out my best India Train Travel tips here!
Buses to Bikaner
It may surprise you but actually, the quickest way I could find to travel from Jaipur to Bikaner was by bus!
The RSRTC (Rajasthan State Road Transportation Corporation) has a luxury AC bus that runs from Jaipur bus station straight to the Bikaner bus stand.
It only took four and a half hours on the way there and it was really comfy. We even got free water too!
Regular bus tickets cost around 650 rupees. But, ladies get a discount on tickets in Rajasthan and so my ticket cost a mere 510 rupees (£6)! Not bad.
Click here to access the RSRTC Bus website to book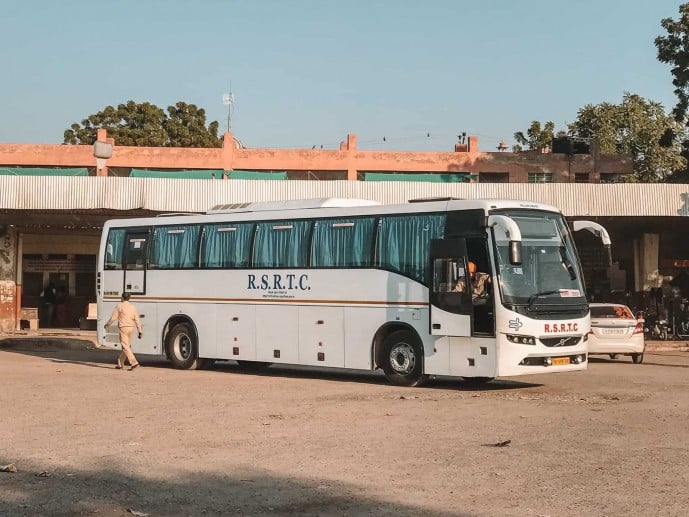 Need more inspiration for Rajasthan?
So, that's all the amazing places to visit in Bikaner. But, if you're heading to more cities in Rajasthan after Bikaner, I have plenty of informative guides about the main cities there. Also, I have visited some less-visited cities and places too!
I have travelled on and off in India for three years now and extensively in Rajasthan. I also used to live in Jaipur, so I know my way around pretty well.
My ultimate itinerary for Rajasthan
Things you need to know before you visit Jaipur
A photography guide for Jaipur
Why you will fall in love with Pushkar
Why Bundi should be on your list
The best things to do in Udaipur
My top travel advice for Jaisalmer
The cheapest (but awesome) tiger safari in Rajasthan
A luxury guide to Jodhpur
Top tips for the blue city of Jodhpur
Save these places to visit in Bikaner for later!