As part of my month-long stay in Arunachal Pradesh, I visited some incredible places and met some of the loveliest people on my travels. One of those amazing stops was the unexplored Namshu village.
Arunachal Pradesh is one of the least visited states in the whole of India, which means that many parts of the region are untouched. In fact, some of the dense jungle around here is uninhabited and remains a mystery.
So, it's the perfect offbeat destination to choose for your adventures in India and you can learn about the culture in the tribal villages.
Namshu village (Namsu Village) is the largest Monpa village in West Kameng and offers a lot to any tourists who visit.
From historic Buddhist monasteries, jaw-dropping views, friendly hospitality and even a yearly festival, it's worth adding to your list.
Here are all the unexplored places to visit in Namshu Village, Arunachal Pradesh!
Do I need a permit to enter Arunachal Pradesh?
100% YES! Before you even think about visiting the gorgeous mountains of Arunachal Pradesh, you will need to first organise a permit!
For domestic tourists, you will need to purchase an Inner Line Permit (ILP). You can purchase this online here, offline at the Arunachal border, or through a travel agency in Guwahati. You will need a passport photo and identity proof.
This is valid for 15 days and costs 100 rupees. You have a lot more freedom here than foreign tourists with this permit (i.e. Bumla Pass Chinese Border).
For foreign tourists, you will need to purchase a PAP (Protected Area Permit) to enter the state.
This permit is a little more restricted than the domestic permit and will allow you to travel on certain tourist routes. It costs around $50 USD and will allow you to enter Arunachal Pradesh for one month only.
You can only purchase this at a tour operator of Arunachal Pradesh (like Holiday Scout) or at the Visa office in Guwahati and you will need a passport photo, visa, flight ticket and passport ID. It will take around 2-5 days to process.
Note: solo travellers have a restricted permit so ask the agency about 'joining' other travellers (you're added to a group permit). DO NOT try to enter the state without a permit or you could be deported from India. This permit is necessary due to border security. On that note, make sure you have a couple of printed copies of your permit for the numerous border controls while travelling.
Where is Namshu Village in Arunachal Pradesh?
Namshu Village is located around 8,800 feet above sea level in the West Kameng district. It falls part of the wider Dirang circle and you can easily access Namshu via the roads from Dirang.
A lot of tourists visit the neighbouring historical village of Thembang on their travels. So, if you have that already planned, Namshu is only a few kilometres from there.
The roads to reach Namshu Village are like many roads in Arunachal Pradesh, steep, winding and bumpy. So, make sure you have a good means to transport to get there!
How to reach Namshu Village
From Dirang, Namshu is around 14 kilometres drive up the mountain roads, so this will take you around 40 minutes to get there by car.
In Arunachal Pradesh, it is a lot easier to access villages and attractions by having your own car or motorbike. Backpacking Arunachal Pradesh can be a little confusing with public transport.
If you don't have a car, you can organise a private taxi to take you there from Dirang. You can enquire about hiring a taxi in the main city. Unfortunately, Uber is not in Arunachal yet!
It may also be worth enquiring if there are any shared taxis or sumo jeeps that will be heading that way. Mostly, Sumo Jeeps only hit up the main cities in Arunachal Pradesh but it's worth a shot.
If you have no idea what I'm talking about when it comes to shared jeeps, make sure you check out all my public transport tips for North East India.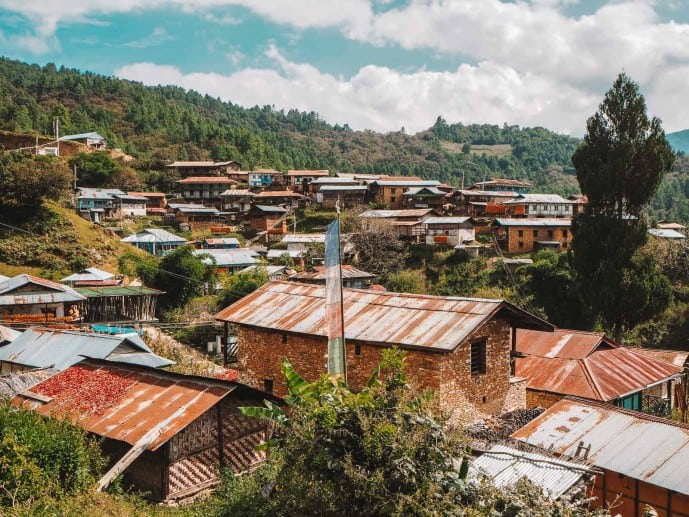 6 unexplored places to visit in Namshu Village
As soon as we arrived in the village, we met Sange's friend Lobsang who is trying to promote and encourage tourists to visit.
He invited us into his beautiful home and we got chatting about all the wonderful ideas that the locals have had to encourage people to visit there, including the new festival celebrating Losar in November.
His family cooked up the most incredible traditional cuisine for us to dig into including the famous yak cheese curry.
So, we filled up our stomachs and then headed out to explore the beauty that is Namshu village in the mountains! I was so excited.
1. Ritshow Gompa (Gonpa)
We took the car along the track roads to visit our first stop which was Ritshow Gompa. This stunning Buddhist Monastery dates all the way back to the 9th century!
Unfortunately, while we were here it was under construction in preparation for the festival but I was content enough just to admire the outside of it.
The whole area was filled with prayer flags, stupas, fountains, prayer wheels and so much vibrance and colour. Not to mention that from the front of the Gompa you could take some of the breathtaking views of the mountains.
It really made me appreciate just how high we were in the Himalayas.
While we were here, we got to meet some of the locals who were working on the construction and some Buddhist pilgrims who were stopping off to pray like this dear old lady.
She was wearing a traditional Arunachal silk woven cardigan. Even in the winter, many Monpa ladies wear traditional silk clothes and do not wear western clothing!
I'm sure that once the construction has finished that the inside of this monastery would be spectacular. Make sure that you pay a visit to find out its secrets inside.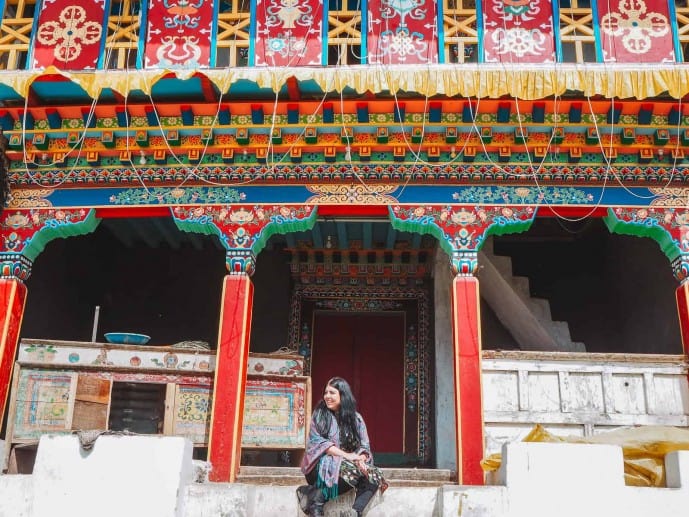 2. Namshu Viewpoint
If you're looking to take in some of the most spectacular photoworthy views of Namshu, then I would encourage you to drive over to Namshu viewpoint just a little further along the track road from Ritshow Gompa.
The road towards the main hill viewpoint was blocked off due to the road being covered in potholes, so we decided to stop off and admire the views from where we stopped!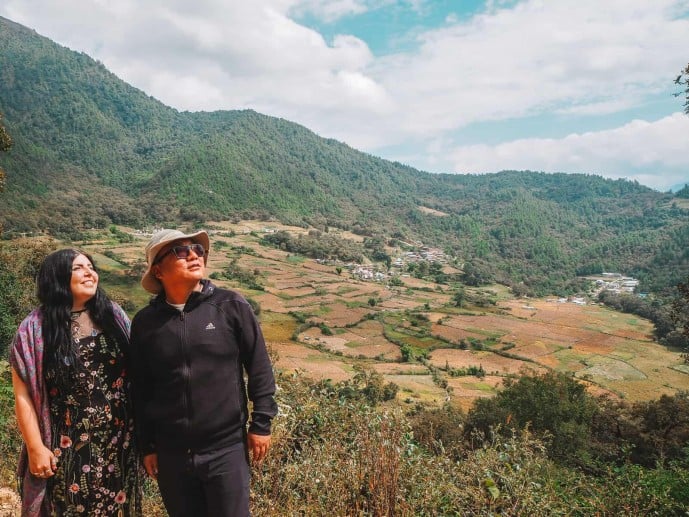 The view was pretty enough from the road but, as we approached the edge of the hill, we looked down and saw the most incredible phenomenon of bright pink flowers that had grown in the fields.
My guide Lobsang explained that these were Cosmos flowers that grow here each year. They were just picture perfect and so we instantly climbed down to get some photos.
Let's just say we spent a LONG time taking as many photos and videos as we could shoot here. We had so much fun with picture-perfect views in the backdrop. All we needed was a picnic and it would have sealed the deal.
3. Trashi Rabten Gompa
On the track road back from the viewpoint towards the village, we saw the dramatic Trashi Rabten Gompa perched on the side of the mountain.
Unfortunately, this was also closed when we arrived in preparation for the festival. So, we didn't make the journey down to the monastery to save time.
This gorgeous Buddhist monastery also dates back to the 9th century and is of significant importance to the locals in the area. As a religious temple and to the community.
This is the main meeting ground if there are any important calendar events throughout the year and the main location for Namshu festival!
4. Walking tour in Namshu village / Namshu Dung
We then parked up the car and decided to explore the historic village of Namshu Dung on foot.
The village was a labyrinth of traditional Arunachal houses and I could have spent all day looking for something new. The whole village has around 500 lucky people who live there.
Along the way, we met locals who were growing vegetables outside in their gardens or drying chilis in the sun, curious children who wanted to say hello and resident cows and horses.
It was a great chance to explore the local culture in Arunachal Pradesh and how people live their daily lives in the mountains.
You got a chance to meet people as opposed to just tourist attractions, I absolutely loved it.
My guide Lobsang would explain more about each place as we went on our way and more and more I understood why the village had remained so untouched.
It works so well as it is and there's no need to change what's already a thriving community.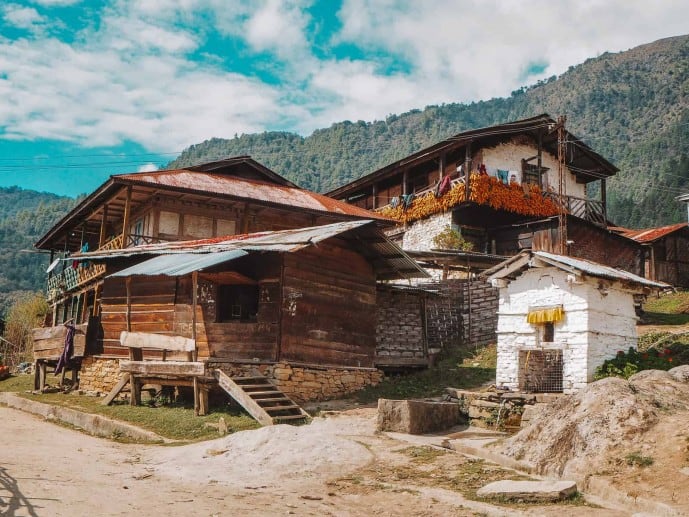 5. Meet the Monpa locals for butter tea!
While we were exploring the village, a friendly mother and her daughters waved to us and invited us in for some tea at their house.
In West Kameng in Arunachal Pradesh, you will always find the friendliest locals who pride themselves on hospitality.
They're curious to know about you and where you've travelled from. So, make sure you schedule some time for a chat and leave room in your stomach.
We were treated to some steaming hot butter tea. They kindly made me some red tea as I can't stomach it and they offered us some of the organic millet snacks that they eat. It's organic corn that's dried out and it's so addictive to eat!
I couldn't get over how kind it was of them to invite us into their home and treat us like friends when it was only our first meeting.
Just a note, don't sit with your legs crossed like me in the photo below. I didn't know this but my guide Lobsang informed me it's disrespectful to block the walkway.
The locals wouldn't want to upset their guests so they didn't tell me. I'll remember for next time!
6. Attend Namshu Festival – a celebration of Losar
Namshu Village holds a major festival each year to celebrate the 15th day of Losar Dodam-Tonga, which is a signature event for the community and attracts more tourism here.
The date is decided each year based on the lunar calendar and the last one took place in November.
As part of the festival events, there are religious ceremonies, traditional dancing and singing, fashion shows of Monpa traditional dress and lots of delicious traditional food prepared by the community.
During the festival, the village opens its doors to domestic and international tourists and many of the houses in the area will open up as homestays during this time.
I would highly recommend you try to schedule your visit alongside this festival as there will be so many amazing people who visit and the vibe will be just incredible.
Where to stay in and around Namshu Village
There is a plan to open up a Homestay in Namsu in the near future. So, watch this space when I receive the details.
In the meantime, there is a Monpa Homestay which is located in the government village of Thembang a few kilometres away.
However, if you're looking for a place to sleep with a little more infrastructure, I would recommend using the main city of Dirang as a base to explore.
Dirang Boutique Cottages is a brand new hotel for 2019 that has opened up in Dirang. It has eight spacious rooms in traditional Brokpa (shepherd) huts.
As well as the rooms having the comfiest beds and a shower that actually pumps hot water (a luxury!), it's also located in the mountains on a farm.
So, you have trees growing fresh fruit, butterflies munching on colourful flowers and you can hear the sounds of the Dirang Chu river over the way too.
It's honestly the perfect retreat for your visit and you can read a detailed review of my stay at Dirang Boutique Cottages here.
Looking for more information on Arunachal Pradesh?
I know first-hand how frustrating it can be not to be able to find information about Arunachal Pradesh.
Lonely Planet is out of date and there isn't much online either. The first time I went, I was lost and confused.
So, I created some informative guides to help your travels around North East India and especially Arunachal Pradesh that you can read below;
What is 108 Stupa?
Top tips for driving along the Sela Pass
Visiting the ancient Chaksam Bridge
Why you MUST visit the magical Jang Falls
Why Arunachal Pradesh will ruin your life
Discover Arunachal Pradesh' best-kept secret
These photos will make you book a ticket to Tawang
With thanks to Lobsang for showing me around your wonderful village and Sange from Holiday Scout for getting me there! Although I was a guest, all opinions and photos are my own.
Like it? Pin it!