The Plönlein in Rothenburg ob der Tauber is a magical street that looks like something from a fairytale.
With its cobbled floor, colourful timber framed buildings, and historic towers, you will feel like you stepped back in time to a bygone era.
It's one of the most photographed streets in all of Germany and is an international superstar as the view inspired the setting for Walt Disney's Pinocchio.
You can't help but be enchanted and it's a must-visit when exploring the Romantic Road.
Here is a complete guide for the Plönlein in Rothenburg ob der Tauber, a fairytale setting in Germany.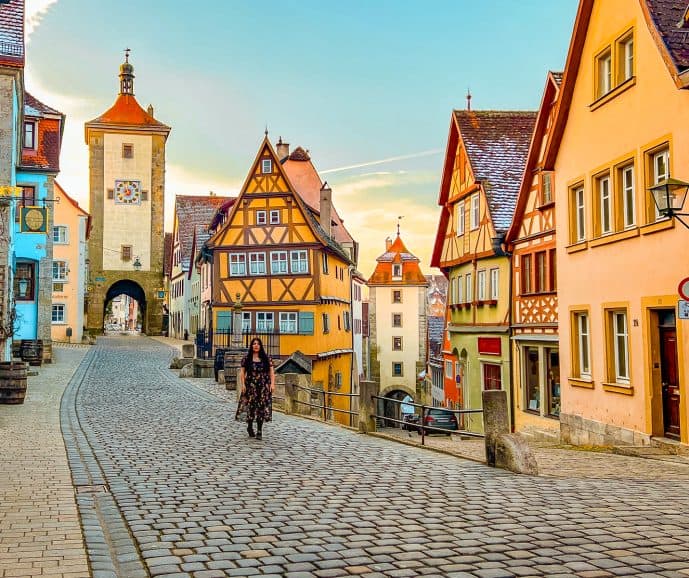 What is the Plönlein in Rothenburg ob der Tauber?
When people think of the Plönlein, they often believe that it's just the crooked yellow timber framed house that's in the centre.
But, you may be surprised to know it's actually an entire square in the town and it's made up of lots of buildings.
You'll find shops, hotels, restaurants, wine bars, and a historic fountain that sits in the middle too.
It's also a meeting of two roads. One is Spittalgasse which leads you under Siebersturm and takes you to the historic Spiral Quarter.
The other is Koboldzellersteig which takes you by the Kobolzeller Turm and leads you down to the Tauber Valley.
It's now Rothenburg's most popular landmark and one of the most photographed streets in all of Germany.
What does Plönlein mean in English?
Plönlein in English roughly translates to 'Little Square' or 'Small Square at a Fountain'.
It's a very literal description as this is a meeting of two roads that forms a small area surrounding, you guessed it, a historic fountain. It used to be a popular water well but is now fenced off.
The 'square' actually stretches further to include many buildings and the two historic towers of Kobolzeller Turm and Siebers Tower.
Did the Plönlein inspire Walt Disney?
Yes, at least Das Plönlein inspired the setting for one of his best-loved classic animations Pinocchio which was released in 1940.
The crooked mustard yellow house was used to illustrate Geppetto's home. He's a woodcarver who creates a living marionette who wants to become a real boy.
It could be considered a strange choice as the Pinocchio village is actually based in Tuscany, Italy. But, the historic architecture in Rothenburg was chosen to establish a European medieval scene.
It's no secret that Walt Disney was inspired by Bavaria. He made a visit to Neuschwanstein Castle and used the fortress to create Sleeping Beauty's Castle.
Beyond Pinocchio, the entire time I was here I felt like Belle from Beauty and the Beast exploring this 'little provincial town'.
Every street is enchanting and looked like something from a fairytale. It almost doesn't feel real, like you're exploring a movie set.
Fun Plönlein facts
The Plönlein is Rothenburg's most popular landmark and one of the most photographed houses in Germany.
The translation means 'Little Square' or 'Small Square at a Fountain'.
This street features on the cover of Lonely Planet's Germany travel guide
The Plönlein was used for scenes in Walt Disney's Pinocchio released in 1940.
The town of Rothenburg was used to film Chitty Chatty Bang Bang (1968).
This street appears in the Tekken Tag Tournament 2 video game.
Although not released in the final films, scenes for Harry Potter and the Deathly Hallows Part I & Part 2 were filmed here. It is thought to have been used as the setting for Godric's Hollow.
It features in the music video for LilDicky's Earth.
The scene features as a backdrop in the Japanese anime series A Little Snow Fairy Sugar.
Where is the Plönlein in Germany?
You can find the world-famous Plönlein in the historic quarter of Rothenburg ob der Tauber.
Also known as the walled city, it's a well-preserved medieval town and a popular stop on Germany's Romantic Road.
It can be found just two hours' drive away from Munich. But, if you're not heading here by car you can take a bus or train.
There are also many guided tours that visit here from the city. You can book a tour from Munich here.
I actually travelled here by train from Munich and it took around 3 hours with multiple changes.
It was a very long journey with some tight train connections that were a little stressful with luggage.
But, it's so worth it as this entire place is enchanting and I have been wanting to see the Plönlein for years.
Although it could be done on a day trip, I would recommend staying overnight if you're making such a big journey.
Important: there are two places called Rothenburg in Germany and they are both in Bavaria! Make sure to plan your trip to 'Rothenburg ob der Tauber' not 'Rothenburg'.
How to visit the Plönlein in Rothenburg ob der Tauber
It's very easy to find the Plönlein in Rothenburg of der Tauber as it's just a few minutes walk from the main market square.
From the town square head down Schmiedgasse passing by the Teddy shop, Medieval Crime Museum, lots of colourful houses, and eventually Hotel Goldener Hirsch.
You'll see the postcard-worthy spot right in front of you and the view only gets better as you get closer!
The entire area looks like you're walking through the pages of a storybook and there are so many places to take a gorgeous photo.
Das Plönlein address is under Schmiedgasse, 91541 Rothenburg ob der Tauber, Germany. Click here for A Google Pin!
Plönlein things to do
After you've taken a snap of this famous street, don't rush off just yet.
Before you leave, make sure to check out some of the shops, restaurants, and attractions surrounding this square too. There's a surprising number of things to see.
Here are all the Plönlein things to do in Rothenburg;
1. Admire the crooked house & fountain
The crooked mustard house that sits in the centre of the Plönlein is one of the prettiest houses in the town.
It's mustard yellow with timber frames and decorated with blue shutters. In the spring/summer, they have flower baskets that give it a pop of colour.
True to its translation you'll see a historic stone fountain right in front of the house.
Although it used to be a water well for residents, it's now fenced off and the structure is simply there to look pretty.
2. Try Franconian wine at Glocke Weinladen am Plönlein
Rothenburg ob der Tauber is in Bavaria but the town identify as Franken.
It's a famous wine-growing region of Germany and so you'll find lots of bars and restaurants that feature Franconian wine and delicacies on the menu.
One of those is Glocke Weinladen am Plönlein which can be found right next to the crooked yellow house.
They have bottles of wine for sale and run tastings in their cellar. But, it's also a hotel with a popular restaurant. I would recommend reserving a table in advance.
3. Feel like Belle in Die Büchertruhe bookshop
Beauty and the Beast is my favourite Disney movie of all time and Rothenburg ob der Tauber felt like I was walking through the streets of Belle's village in France. I couldn't stop humming 'Little Town'.
So, I was delighted to find a bookshop right next to the Plönlein called Die Büchertruhe.
Many books here were printed in German but they had some antiquarian books, art, and other things for sale too.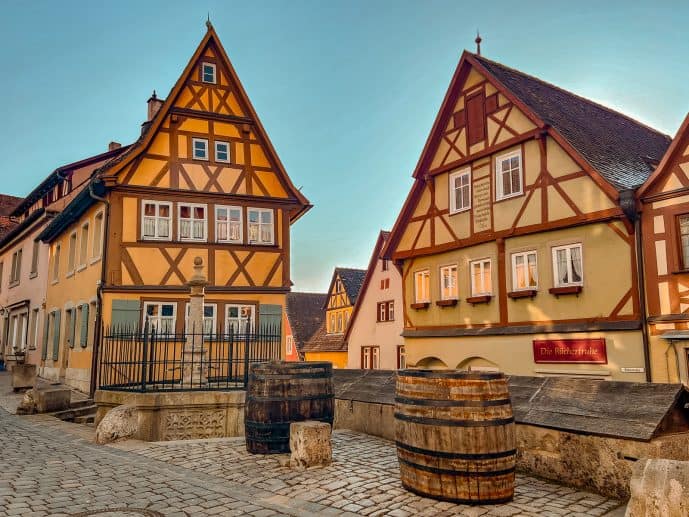 4. Siebers Tower
Siebers Tower is the clock tower that can be seen behind the yellow house that was constructed in 1385.
It used to be the main entrance to the city before the Spital Bastion was constructed in the 16th century.
It's now a museum and you can climb up the tower for just a few euros. From the top, you get magnificent views of the Plönlein and the historic streets below.
5. Indulge at Grand Cru Chocolaterie
If you head towards the Siebers Tower, you'll eventually find Grand Cru Chocolaterie.
It's a luxury chocolate shop and patisserie founded by Anna Kaerlein-Seip.
They have stores in Rothenburg and Hochbach and you can buy some of their handmade artisan truffles inside. The entire place smells delicious.
6. Kobolzeller Turm
If you're facing the Plönlein, you'll find the Kobolzeller Turm Tower Gate on the right-hand side.
It was built in 1360 and if you take the path under the archway it will lead you down towards Tauber Valley.
This walk is beautiful as it takes you to the Tauber River with highlights like the Double Bridge and Toppler Castle.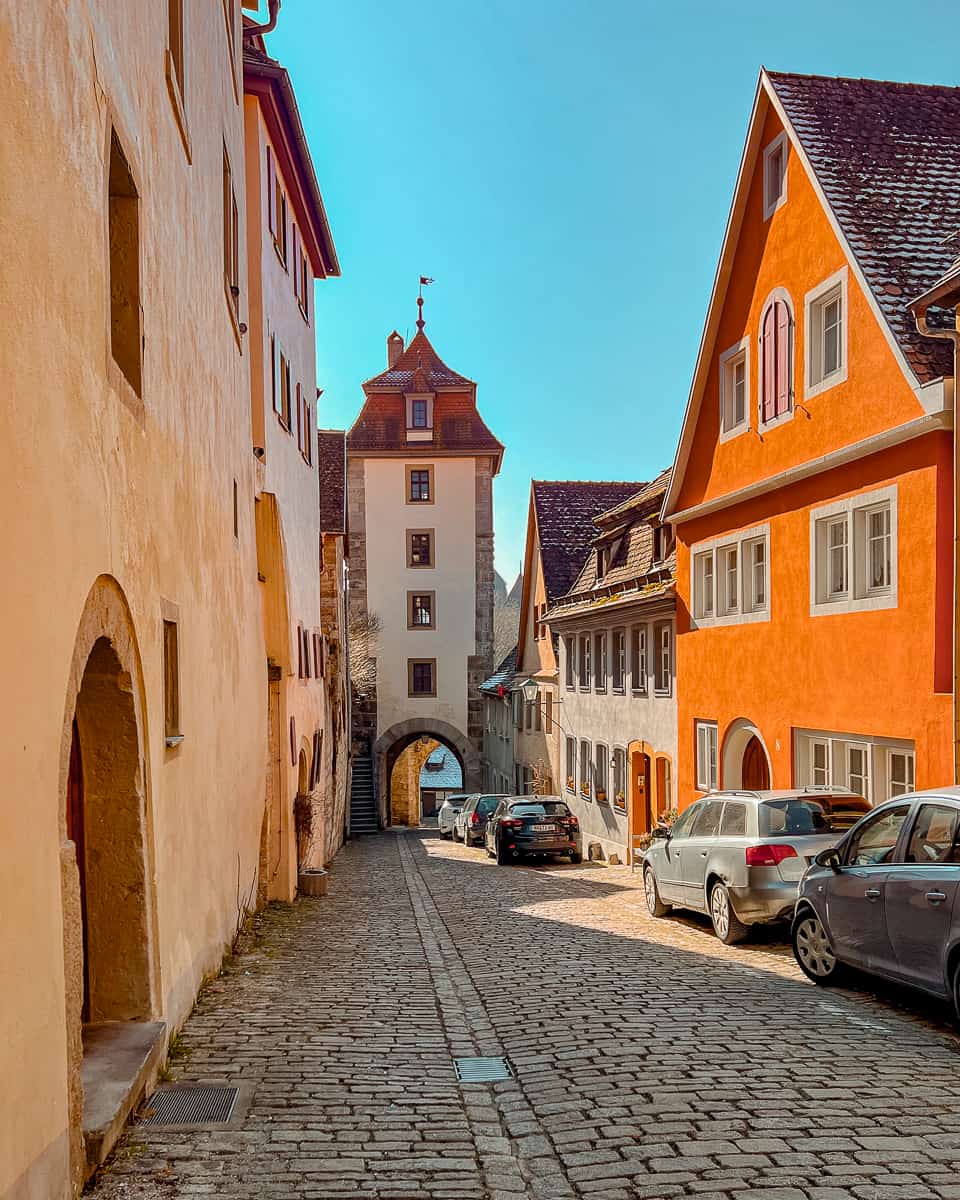 7. Visit Plönlein at night
When I first arrived at Rothenburg ob der Tauber from Munich, it was at night time.
But, as soon as I arrived, I just had to see this fairytale street. I've been dreaming of seeing it for so long.
Even in the evening, this magical area looked ethereal. It was a clear night so there were stars in the sky, a crescent moon, and street lamps to light the way.
Although it is great for a quick photo stop, I would spend the night in Rothenburg if you can. It's so peaceful in the evenings once the day trippers have left.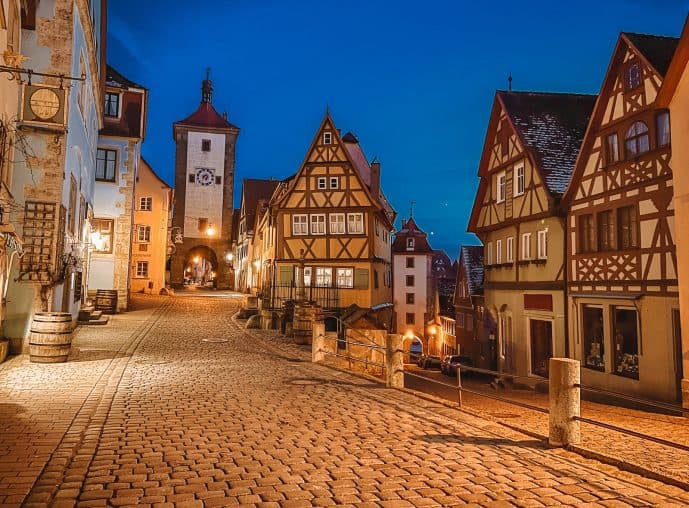 Plönlein opening times and ticket prices
As Das Plönlein is a residential street so you can visit 24 hours a day, 7 days a week.
I would always recommend visiting early morning around sunrise or later in the evening for sunset for fewer crowds. It also looks amazing at night time with the old street lamps.
It doesn't cost a single euro cent to experience the magic either. It's completely FREE to visit.
Top tips for visiting the Plönlein
Visit early – As one of the most photographed streets in Germany, I would visit early to avoid the crowds or later evening. Most people make a quick stop here for a photo and tour buses usually start to filter in around 10 am.
Cars drive down this road – Something that no one ever mentions is that this is a road that cars can drive down. Although it's meant to be 50 km/h here, cars drive super fast. So, watch out when taking photos especially if you're setting up tripods.
It's not just one house – there are lots of things to do around this area including taverns, museums, restaurants, and shops. Make sure to snoop around!
Wear comfy shoes – Rothenburg has an olde medieval charm but it's very cobbly so make sure to wear something comfortable on your feet.
Is the Plönlein worth visiting?
YES, in fact, many people visit Rothenburg ob der Tauber just to visit this street on Germany's Romantic Road.
It looks like you have been transported back in time or you have walked through a portal to a fantasy realm.
You cannot miss this enchanting street when visiting Bavaria. Make sure to add Rothenburg's Plönlein to your bucket list.
What else is there to do in Rothenburg ob der Tauber?
I must stress that Rothenburg ob der Tauber is way more than just the Plönlein.
Most people only visit for a quick photo but I would highly recommend exploring the rest of the town as well. There is so much history and lots of gorgeous attractions to uncover.
You can take a walk around the defence walls, visit the medieval crime museum, admire St James' church, climb the town hall tower and visit the Rothenburg museum.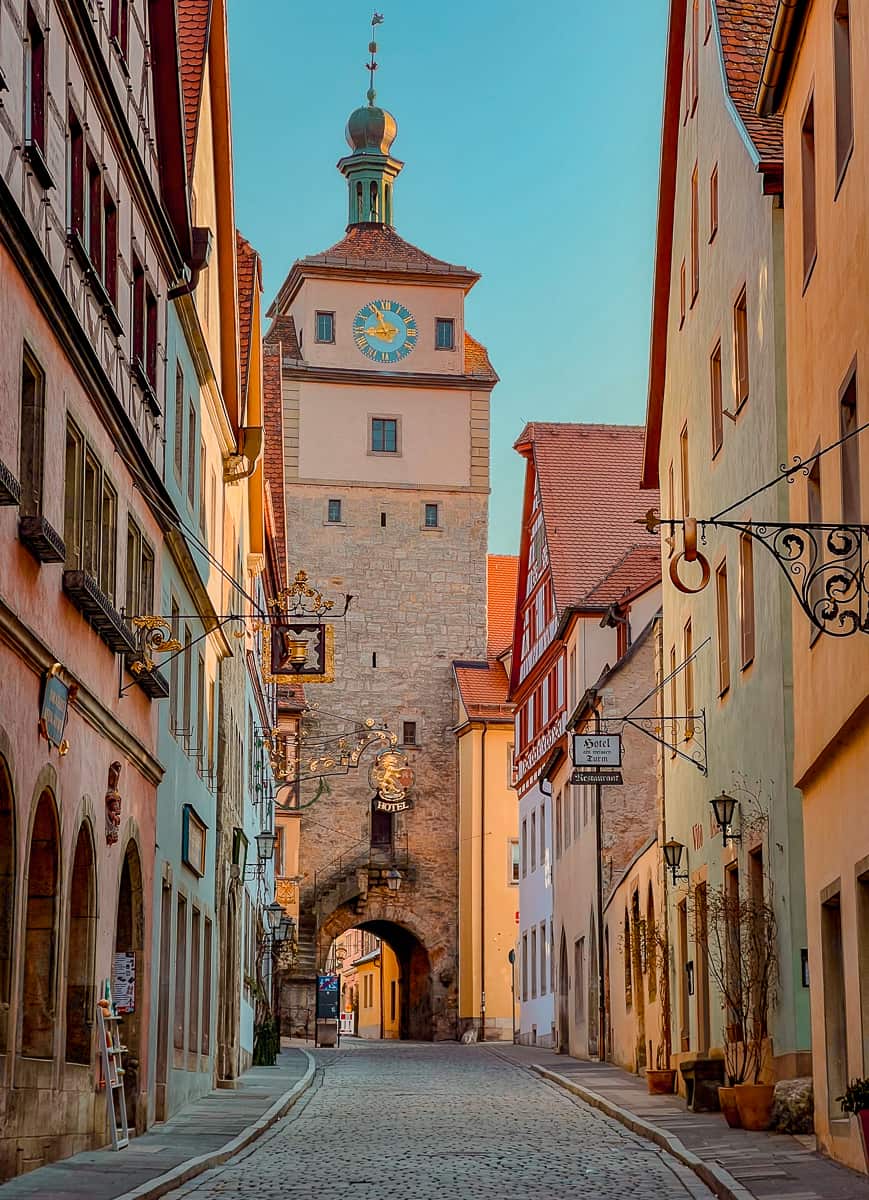 If you're looking for places to eat, you can go to Hell! And by that, I mean Zur Höll of course!
It's a tavern with cellars that date back to the 10th century and serves up amazing food with Franconian wine.
Or, you can head to Reichsküchenmeister aka Imperial Master's Kitchen to try Flammkuchen. It's an Alsace delicacy that's like a pizza. You can wash it down with a stein of local beer.
You can also get amazing views from the Castle Gardens, visit the Double Bridge or the Toppler Castle.
In the evening, make sure to join the Night Watchmen walking tour. You'll follow him on his rounds as he guards the city.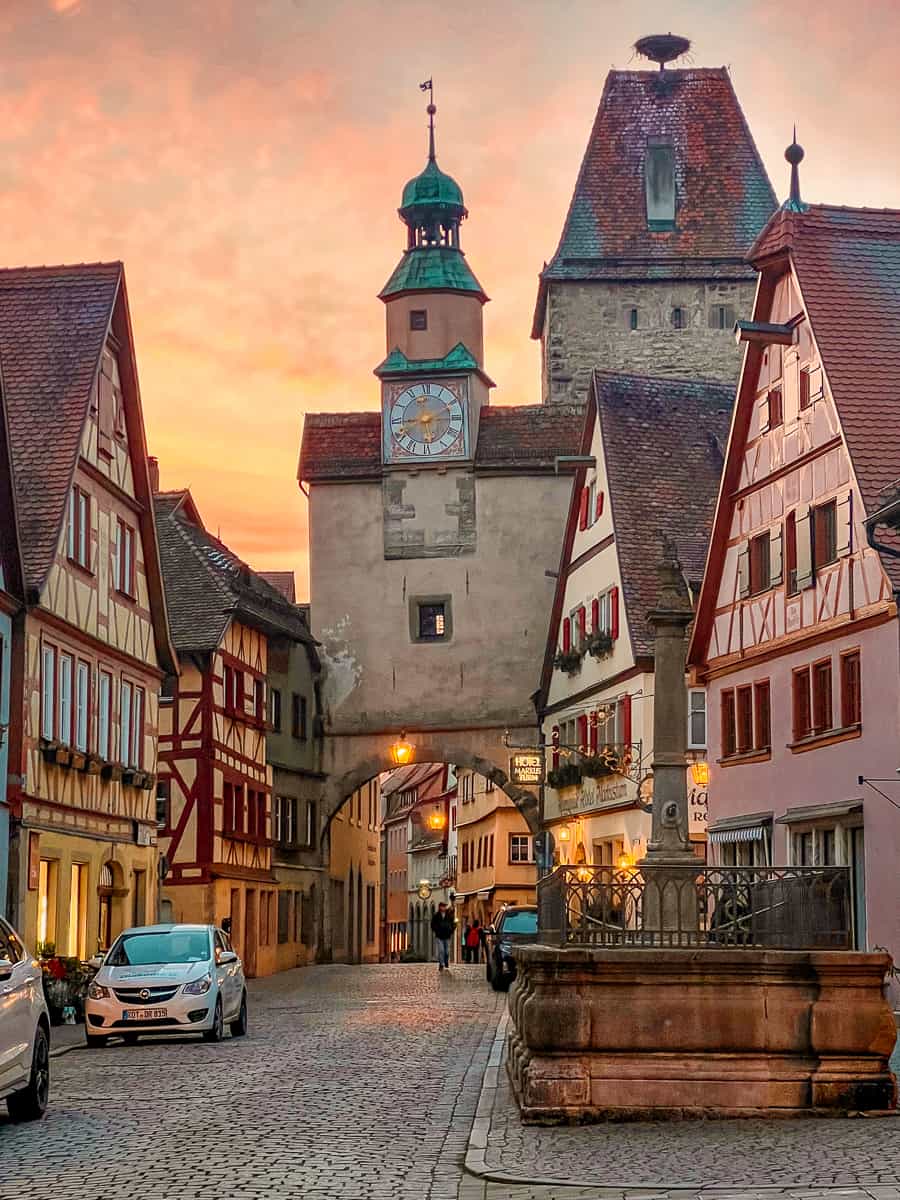 Plönlein FAQs
What is the most photographed house in Germany? The Plönlein in Rothenburg ob der Tauber, although it's not just one crooked yellow house it's an entire square.
What is the oldest walled city in Germany? Rothenburg ob der Tauber!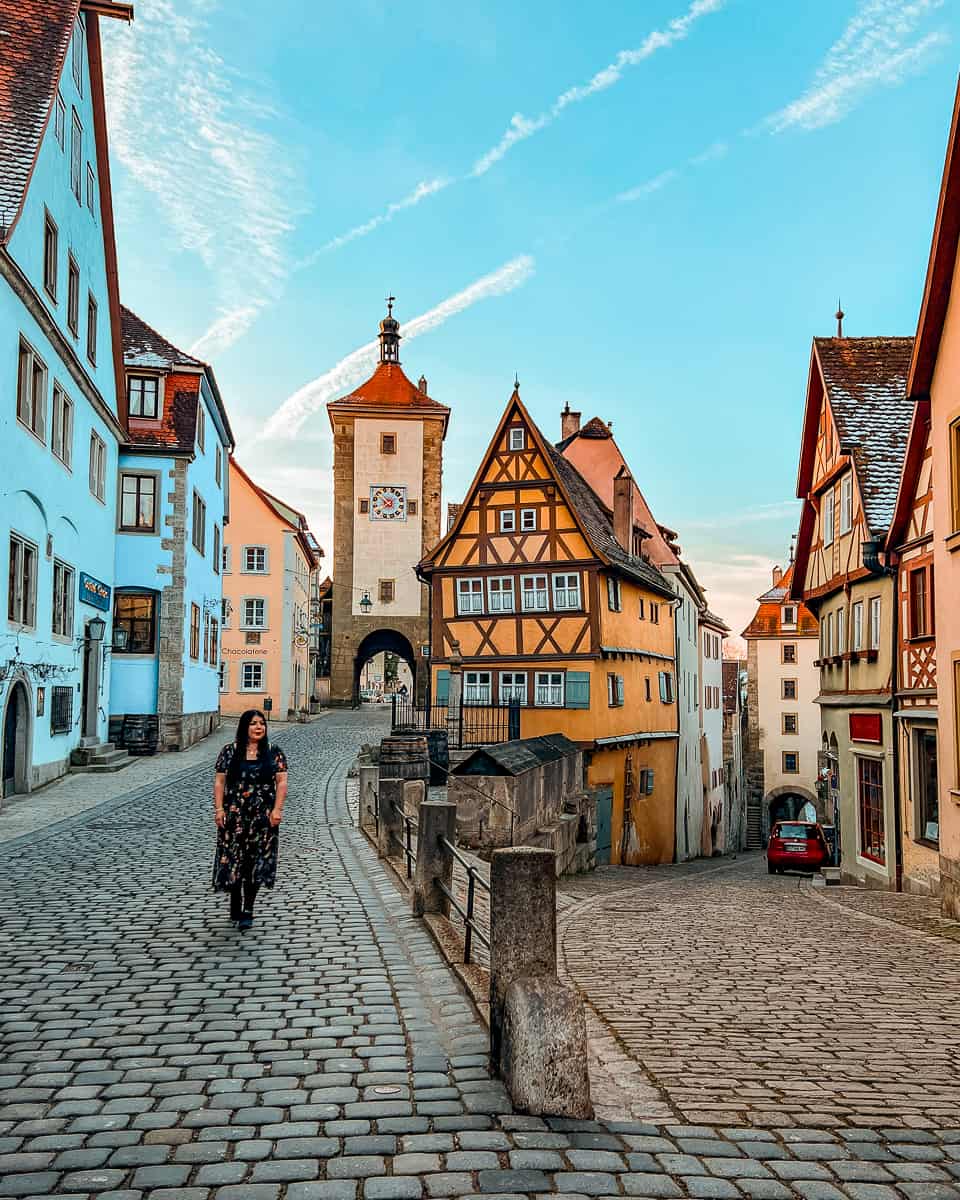 Read more of my Germany travel guides
Discover the Baroque Asamkirche in Munich
A complete guide for the Justizpalast in Munich
How to visit the fairytale Wiblingen Abbey library
How to visit the Munich Law Library
Discover Nymphenburg Palace in Munich
is visiting Neuschwanstein Castle in winter worth it?
Is Hohenschwangau Castle worth visiting?
Save the Plönlein in Rothenburg ob der Tauber for later!