One of the hidden gems you can visit in Yorkshire is a planned garden called Plumpton Rocks near Harrogate and Knaresborough.
Built around a series of gritstone rock formations, you'll find a man-made lake, woodland walks, and hidden gorges to walk through.
Originally known as 'Plompton Rocks' this garden was where J. M. W. Turner painted one of his first commissioned oil paintings.
Today, the gardens are open to the public and I would highly recommend adding them to your Yorkshire bucket list.
Many production crews have visited this natural beauty spot and most recently they filmed parts of Swallows and Amazons and Netflix's The Witcher here.
Here is how to visit Plumpton Rocks in Yorkshire including opening times, prices, and things to do.
Plumpton Rocks history
Before the planned gardens, this grand estate was home to an extensive range of quirky gritstone outcrops. Plompton is an Old English word for 'woodland place'.
A landscaped garden was formed in this 30-acre park around the rocks in the 1760s. The design by Daniel Lascelles included a man-made lake, a boathouse, and woodland trails to appreciate the views.
Later, John Carr extended the lake by building a dam. He was also the architect in charge of designing Plompton Hall & Harewood House.
Edward Lascelles, 1st Earl of Harewood owned the estate at the time and hired J. M. W. Turner to paint the park and its romantic scenes. The portraits are now on display at Harewood House.
It was one of Turner's first landscape oil commissions and he charged the earl just £32. Decades later, when he became a famous artist, he charged a lot more.
During Turner's time, this park was known as 'Plompton Rocks'. Queen Mary of Teck visited this park and called it 'Heaven on Earth'.
It's had many renovations made to it over the years and is now a tourist attraction open to the public in North Yorkshire.
What is The Witcher Plumpton Rocks connection?
Plumpton Rocks were featured in The Witcher Series 2 and it was the filming location of an epic battle scene between Geralt and a Chernobog. A flying monster who attempts to attack them.
They filmed these scenes in Plumpton Rocks Lake and it's here that Geralt uses his Aard sign (a blast of Telekinetic energy) to ward the monster away. But, it doesn't work.
Eventually, Geralt and Ciri hatch a plan to lure in the Chernobog using Ciri as bait. They discuss their plans in the Crusader's Gorge and Geralt then drinks one of his potions to fight.
Ciri ascends up to one of the Plumpton Rock formations and acts as the bait. As the Chernobog descends on Ciri, Geralt leaps out of nowhere with his sword and kills the monster in mid-air!
Click here to watch the Chernobog Fight Scene from The Witcher
It's honestly one of the best battle scenes of the series and it's so cool knowing you can visit where it was filmed at Plumpton Rocks.
I'm a huge fan of The Witcher TV series on Netflix and The Witcher 3: Wild Hunt video game. So, I was in my element here. Geralt is one of my heroes.
Love Geralt and The Witcher series? Click here to read some more of my Witcher filming location guides. The Witcher was filmed in both the Lake District and Yorkshire for series 2.
Where are Plumpton Rocks in Yorkshire?
Plumpton Rocks are located near Plompton Hall Estate in North Yorkshire in Nidderdale. This is close to the market towns of Harrogate and Knaresborough.
It's also close to the thriving cities of Ripon and York and it makes a fabulous day trip from either.
It's a planned garden hidden away in the countryside but it is easy to access via car and public transport.
Plumpton Rocks' address is Wetherby Road, Harrogate, North Yorkshire, HG5 8NA. Click here for a Google Pin!
Plumpton Rocks opening times and prices
Plumpton Rocks are only open on weekends and bank holidays in the UK 'summer season' from April – October from 11 am – 6 pm.
You cannot book tickets online, you can only pay for entry at the ticket desk on the day of your visit. Cash and contactless payments are both accepted.
Ticket prices are £5 an adult and children under the age of 16 go inside for FREE. Your entry fee includes the lakeside, woodland trails, and parking.
How to visit Plumpton Rocks
The easiest way to visit Plumpton Rocks is to drive. You'll find the gardens on the A661 or Wetherby Road which is close to Knaresborough.
Once you enter the site, you'll be driving towards Plompton Hall on the estate. You'll drive through the estate entrance gate and then the garden entrance is a very sharp left almost straight after that.
This entrance is pretty hidden and I only knew it was there as I followed another car inside. So, make sure to drive slowly so you can make the turning.
If you're not driving, there is a bus stop on Wetherby Road called 'Plumpton Rocks'.
The 7 service from The Harrogate Bus Company stops here from Leeds City Centre on its way to Wetherby & Harrogate.
It's a special stop near Woodlands Corner so make sure to alert the bus driver that this is where you want to get off.
Once you reach the entrance of Plumpton Rocks, a volunteer will take your payment at the shed.
You'll then receive your entry ticket, an information leaflet, and a QR code you can scan for a map to guide you on the trail.
Plumpton Rocks parking
There is a car park available beside the entrance gate that's included in the price of your ticket.
It's a very 'natural' car park in the woodland so there isn't really much order to it at all. But, there's lots of space.
It's also quite muddy so just be prepared for that if it's been raining. There were quite a few deep puddles.
You'll find an information board and map at the start of the trail. But, make sure to scan the QR code on your ticket to see a map of the route. It's on Google Maps.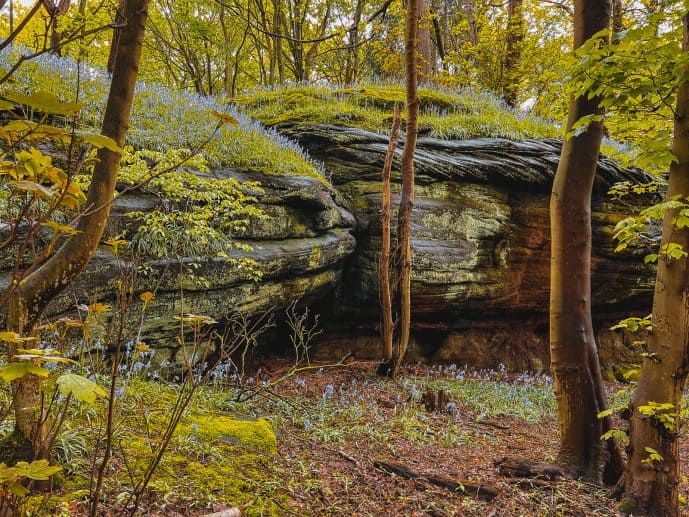 Things to do in Plumpton Rocks
1. Walk around the lakeside
The Plumpton Rocks walk is a simple trail that takes you around the man-made lake and through the woodland.
Although there is a map to guide you, it's very easy to navigate the trail as long as you keep near the water.
Along the way, you'll find many rock formations, gorges, woodland trails, benches, and trees to explore.
2. Visit The Dam & J. M. W. Turner Portrait corner
When you first enter the site, you'll walk down to the historic Dam that was built by John Carr in the 18th century.
If you make your way along here, you'll eventually reach the place where J. M. W. Turner stood to paint his portraits.
This corner of the lake faces the Lover's Leap of Plumpton Rocks and gives you an incredible vantage point.
Years ago, there were benches and seats placed along here for visitors to appreciate the romantic views.
3. See the Plumpton Rocks bluebells & rhododendrons
Every year, the woodland at Plumpton Rocks is blessed with a beautiful carpet of bluebells.
They are perennial flowers and only bloom once a year in late April and May. You also have to be quick to see them as they wither in just a few weeks.
It's never a guarantee when the bluebells will appear as it depends on a variety of factors but, you can look out for updates.
They are native flowers and protected so remember not to intentionally pick or trample on them.
After the bluebells, you'll find that the woodland has lots of colourful rhododendrons growing here in summer. So, there's a reason to visit all year.
4. Ancient Yew Tree & Cave bench
As you make your way around the lake, you'll come across a huge ancient yew tree that sways over the rocks.
Beyond that, there is a small bench carved into one of the gritstone rocks that you can perch on.
This made such a cool picnic spot to sit and relax for a while in the shade!
5. Head through Crusader's Gorge
One of the best parts of visiting Plumpton Rocks is the mystical gritstone gorge that you can follow in the woodland.
It's called the Crusader's Gorge and it seems to go on for miles. You'll pass ancient yew trees and wildflowers as you walk.
The gritstone appears almost green but if you look closely you'll see that it has lots of different colours in the rock.
As there is limited daylight in this area, the gorge feels very mysterious and like something from a fantasy.
It will eventually lead you to the boat house area where you can climb up on some of the rocks.
6. Visit the Boathouse
On the east side of the lake, you'll find the remains of the historic boathouse at Plumpton Rocks.
Years ago, this would have stowed a row boat for pleasure rides or fishing on the lake. J. M. W. Turner's 'Plompton Rocks' clearly shows a couple rowing a boat in his portrait.
Today, it's no longer used for that purpose but it's worth a look. The entrance to the boathouse is hidden in the gritstone and is caged off.
You cannot go inside but it's surrounded by gnarled trees and looks very romantic. You can peer in and see some views over the lake.
7. Visit the many Plumpton Rock formations
Plumpton Rocks is a planned garden but the gritstone formations that give the gardens its name were here for centuries beforehand.
You'll find many of them around the lakeside and in the woodland and the larger formations have different names.
You can climb up rocks called the Lion's Den, Lover's Deep, and the Needle's Eye amongst others whilst you're here.
The larger rocks by the water make great locations to relax awhile if the sun is shining or you have your picnic. Just remember to take rubbish with you, there are no bins on the trail.
8. Find The Witcher Plumpton Rocks filming locations
So, if you are a fan of Netflix's The Witcher series you will love being able to visit some of the filming locations here starring Geralt, Ciri, and the Chernobog.
They first filmed the monster scenes in the lake and you can get a great view of where Geralt stood from the J. M. W. Turner corner.
The Crusaders Gorge is where Geralt and Ciri make their plans to lure the monster in and Geralt drinks his potion.
Finally, the rock formations near Lovers Leap are where Ciri stood whilst Geralt comes to slay the monster!
All the filming locations are very easy to find on the lakeside trail and I was honestly so excited to visit.
Knowing that Henry Cavill stood by the rocks in the Crusader's gorge was just…*chefs kiss*. We are not worthy.
9. Swallows and Amazons filming locations
Swallows and Amazons is a famous novel by Arthur Ransome written in the 1930s and is set in the Lake District around Windermere.
It's an adventure based on the Walker Children who are on a family holiday. They want to camp on an island off the lakeshore so they board their boat Swallow and sail off.
They soon discover that they aren't alone on the island and the Blackett Children or the "Amazons" have set up camp on the island too. So, a battle of Swallows vs. Amazons begins.
In 2016, a movie was made of the book and they chose Plumpton Rocks as a filming location! The walker children are warned away from trespassing on the "Amazons" turf.
10. Relax in nature & spot wildlife
Although there are lots to see here on a Plumpton Rocks walk, there are also many places to relax and take a break.
The lakeside has lots of benches and rocks to perch on where you can look out over the water and enjoy the reflections and views.
In spring, the bluebells will be out, and later rhododendrons. There are also lots of birds and wildlife to spot around the woodland as well.
If you're a keen angler, Plumpton Rocks also offer fishing permits so that you can set up and fish on the lakeside.
Is there a Plumpton Rocks café?
No, there are no facilities like a tea room, coffee van, or café at Plumpton Rocks. The only facilities are a parking area and a port-a-loo toilet at the entrance.
But, you're only a quick drive away from the likes of Harrogate and Knaresborough. Both towns have many restaurants and cafés to offer.
Personally, I would recommend visiting Knaresborough as it has so much history and character. It's one of my favourite places in Yorkshire. The Mother Shipton Inn does fabulous food.
You can also visit Mother Shipton's Cave, Knaresborough Castle, and the Chapel of Our Lady of the Crag by the River Nidd.
My top tips for visiting Plumpton Rocks
Accessibility – is not great here. Getting down to the park from the car park is quite steep and muddy. Be careful as you go. There are also lots of uneven surfaces.
Wear sensible shoes – on that note, I would wear proper walking boots or wellies as the ground here can get very mucky, especially near the lakeside.
Bugs – quite a few here in spring/summer. Bring bug spray if you're the type that they like.
Toilets – there is a small port-a-loo toilet by the ticket desk for use. But, none in the park itself.
Come early – parking in the woodland can be limited so I would arrive as soon as they open at 11 am to guarantee a parking space. It's only open on weekends so it's quite busy.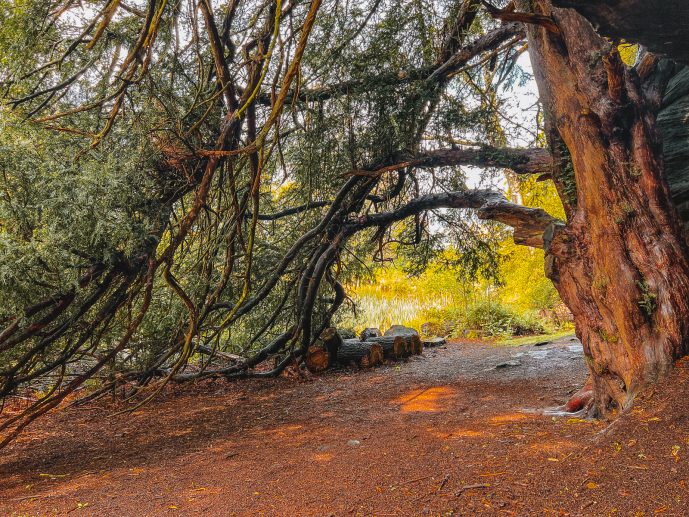 How long do you need to visit Plumpton Rocks?
You could do the short walk around the lakeside in around 30 minutes if you just kept walking and didn't stop to appreciate any of the sights.
But, personally, I would recommend spending around 1-2 hours at Plumpton Rocks as it's such a lovely beauty spot. You could easily spend half a day here.
There are many places that you can explore in the parkland, rocks to perch on, flowers to admire and wildlife to spot. You don't want to rush your visit.
Is Plumpton Rocks worth visiting?
100% YES! It's a stunning place that has been attracting tourists for centuries as it's a romantic, picturesque location in nature.
J. M. W. Turner visited to paint one of his first oil canvases and Queen Mary described this place as 'Heaven on Earth'.
Many film crews have decided to film at Plumpton Rocks as it has such a dramatic setting and you can't help but wander around in awe at the rock formations and gorges.
For me, I love The Witcher TV series and it was worth a visit just to see where they filmed the Chernobog fight scene.
There is plenty to do here for all the family, lots of walks, woodland, and places to relax. Just make sure to come prepared with a sense of adventure and a good pair of boots!
Read more of my Yorkshire guides
Complete Ribblehead Viaduct Walk guide
A complete guide for Janet's Foss Waterfall
How to visit The Druid's Temple in Masham
How to do the Malham Cove Harry Potter walk
A complete guide for the Gordale Scar walk
How to visit the Fountains Abbey Witcher filming location
Brontë things to do in Haworth
How to visit the Brontë waterfall
A complete guide for Pendragon Castle
Goathland Station Harry Potter guide
Dracula things to do in Whitby
Things to do in Robin Hood's Bay
Save Plumpton Rocks Yorkshire for later!