If you're looking for all the Pollok Country Park Outlander locations, this guide will show you where to find them!
Pollok Country Park featured in seasons 1, 2, and 4 of Outlander doubling up for locations in the Scottish Highlands, Paris, and the USA too.
As well as being an Outlander film set, it's a FREE family park just a few miles out of Glasgow. So, it's a great budget day out with lots to do for solo travellers, couples, and families.
Here's a guide to all the Pollok Country Park Outlander scenes and their exact locations!
Pollok Country Park and History
Pollok Country Park is the largest and only country park in Glasgow covering over 360 acres. It has won awards for being Britain's Best Park and the Best Park in Europe.
The lands were previously owned by the Maxwell Family on the Old Pollok Estate. The Stirling Maxwell's lived on the estate for over 700 years. Sir John Maxwell is known as the 1st of Pollok who was knighted in 1243.
Pollok House which sits on the estate was designed in 1752 by the famous architect William Adam.
Interestingly enough, the 10th Baronet of Pollok, Sir John Stirling Maxwell, was one of the founding members of the National Trust for Scotland.
He was passionate about the benefits of green places in a city and was determined to make Pollok House and the estate a public area for people to enjoy. So, I guess we can thank him for this gorgeous space today.
His wish was honoured after his death when the park was sold to the council in 1966 by his daughter, Dame Anne Maxwell Macdonald. She sold it on the promise it would be a public space for people to enjoy.
I guess we take for granted a lot of public spaces that we can enjoy today. Not even 100 years ago, half of the land we can enjoy now was privately owned.
Pollok Country Park Outlander locations
The Outlander Locations here are quite spread out, so I will do the best I can with showing you directions. But, you may need to leave a few hours to explore.
The best plan I would recommend is to park up and wander around the park on foot. Although, you can drive through the park too!
It really is a wonderful space and best enjoyed outside to breathe in the country air!
1. The grounds of Castle Leoch for The Gathering
In series 1, episode 4 'the Gathering', it opens up with Claire playing a game with some of the children from Castle Leoch.
Although this seems like an innocent game, she's actually planning her escape by scouting out the guard's movements and tying ribbons so she knows her way out.
The grounds for this game and 'The Gathering' of MacKenzie clansmen camps were shot on the grounds of Pollok Country Park.
I can't give you an exact location of where this was shot, but you're welcome to scout it out for yourself!
2. The Gypsy Camp in 'The Search'
In series 1, episode 14 'The Search' Claire and Murtagh travel around villages in the Highlands. Claire performs as The Sassenach in the hopes that it will lure Jamie out from hiding to find them.
Eventually, Claire and Murtagh find a Gypsy camp, and some performers visit the camp that has copied their act. Claire pays the Gypsy money so that he will stop singing the song as not to confuse Jamie.
This was also shot on the grounds of Pollok Country Park.
3. Where Claire drives her carriage through Paris
In series 2, Claire is in pursuit to stop the duel between Jamie and Black Jack Randall. She asks one of the servants to take her through Paris in their carriage to the spot.
One of the scenes where the carriage is being driven is through Pollok Country Park and is easily recognisable from the footbridge heading over the river!
This bridge is easy to locate as it's almost opposite the grounds of Pollock House. You can walk towards the walled gardens to take a few photos by the riverside too.
4. The spot where Jamie and Black Jack Randall have their duel
In the same episode, Jamie and Black Jack Randall are duelling away from the Jean Dame in Paris. This location can be found in Pollok Country Park.
This spot is a little harder to reach, especially in summer when the cows are grazing in the fields. But, it is still visible from the pathways if you can't walk inside.
The easiest way to see this location is by locating the waterfalls opposite The Saw Mill. You will see a waterfall nearby. The location is over the river next to the waterfall.
Walk over the footbridge and then you will be a sty. Climb over the sty and walk towards the waterfall and through the crop of trees. This is the exact location.
Unfortunately, when I visited there was a warning to not enter due to animals grazing so maybe next time.
5. The path where Jamie and Murtagh stage a robbery on the way to La Havre
Located on the grounds of Pollok Country Park is the pathway where Jamie and Fergus ride out to plant the smallpox concoction on Comte Saint-German's men.
This is also the spot where Jamie rides back with the cargo and Murtagh stages a robbery for the cargo from Comte Saint-German.
This pathway can be found near the Burrell Collection.
6. The grounds for the Scottish Festival in North Carolina
In series 4, Bree and Roger attend the Scottish Festival in North Carolina.
The festival grounds including the tents and the showground were set up in Pollok Country Park. Although you can't visit the festival while you're here, it's just a field, you can have a look if you wish.
The best place to access this is to head towards the Riverside Carpark and it's just next door.
Fun fact: the Outlander production team used this car park as a setup for their vans, green room area, and equipment!
If you would like to spend a night in the cabins that Brianna and Roger stayed in, you can find them at River Edge Lodges in Perthshire!
I had the pleasure of staying in the cabin that was used for the series, see my full review of River Edge Lodges here.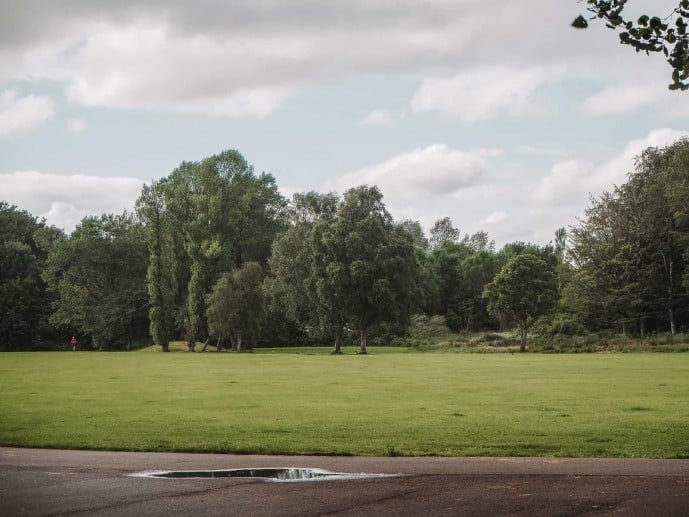 Other things to do in Pollok Country Park
Beyond an Outlander location, Pollock Country Park is full of amazing things to do. The space has frequently won awards and it's easy to see why; it's absolutely stunning!
It's a wide-open space covering a huge area, so best to leave enough time to explore. Whether you're a history buff, a sports enthusiast, a nature lover, or want to take your family on a free day out, there's something here for everyone.
1. Visit Pollok House
I was a little upset that when I arrived at Pollok House it was closed for an outdoor cinema event. But, I have to admit it did look like a lot of fun!
Pollok House was built in 1752 by William Adam and was home to the Stirling Maxwell family. The family has a history on the estate for over 700 years and today you can visit the property as it's open to the public.
Run by the National Trust for Scotland, you can meander from room to room taking in magnificent art, staterooms with works from Raeburn and Guthrie, and servants' quarters.
Outside on the grounds, you can admire the Tudor Knot Gardens too! There is a theory that part of these gardens was used as the herb gardens in Castle Leoch but I'm not convinced.
These actually are in Culross Palace Gardens you can see my complete Culross Outlander guide here.
Find out more information about visiting Pollok House here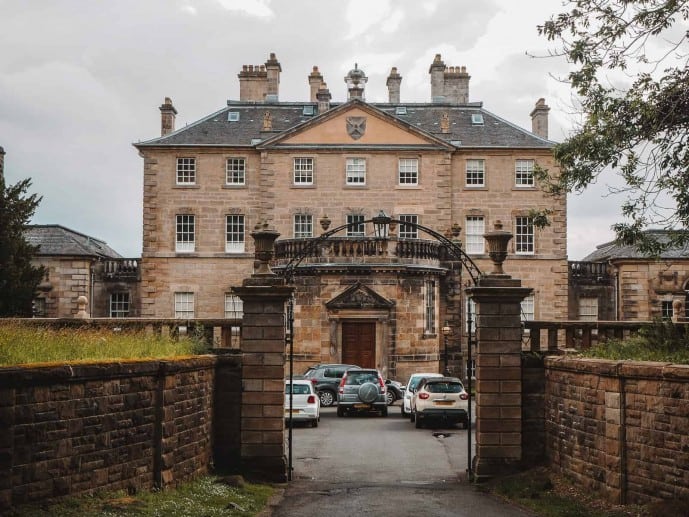 2. Browse the Burrell Collection
Again, the Burrell Collection was closed for renovations on my visit (as you can see my visit was far from successful!).
It's meant to be one of the top attractions in Glasgow, so if you visit and it's open I'd grab the opportunity with both hands.
The Burrell Collection is a museum showcasing treasures from Sir William Burrell's collections. The exhibits are artifacts collected from all over the world.
It has one of the largest and oldest collections of Chinese Art in the UK spanning over 5,000 years, has portraits from the likes of Manet and Cézanne, and holds one of the finest collections of Medieval tapestries.
It's completely FREE but donations are appreciated. While it's closed you may want to visit Kelvingrove Art Gallery and Museum on the West End of Glasgow. Visit here to check for updates.
3. See the gorgeous Pollok Highland Cows
Did you know that Pollok Country Park was famous for its Highland Cows? I certainly didn't!
In fact, I found out that the park has an award-winning fold of Highland Cattle. So, if you weren't heading up to the Highlands but wanted to some of these adorable creatures now is your chance.
I have to admit it did feel strange seeing Highland cows in the city, but I'm not complaining. They were free to roam in a huge space and absolutely gorgeous!
Look out for Una Ruadh, 49th of Pollok, who is an award-winning Coo-mama that won a medal in the Royal Highland Festival.
Also, you can Coo at all the Baby Highlands cows as well…be still my beating heart!
Where to eat at Pollok Country Park
Located inside Pollok House is the quaint Edwardian Kitchens Restaurant and Café.
Inside the restaurant, they serve up some amazing afternoon tea accompanied by homemade scones, cakes, and tray bakes to satisfy your sweet tooth!
As well as indulgent teas they serve up savoury options like yummy soups, sandwiches, and bagels too! See more here.
Save time and book a tour!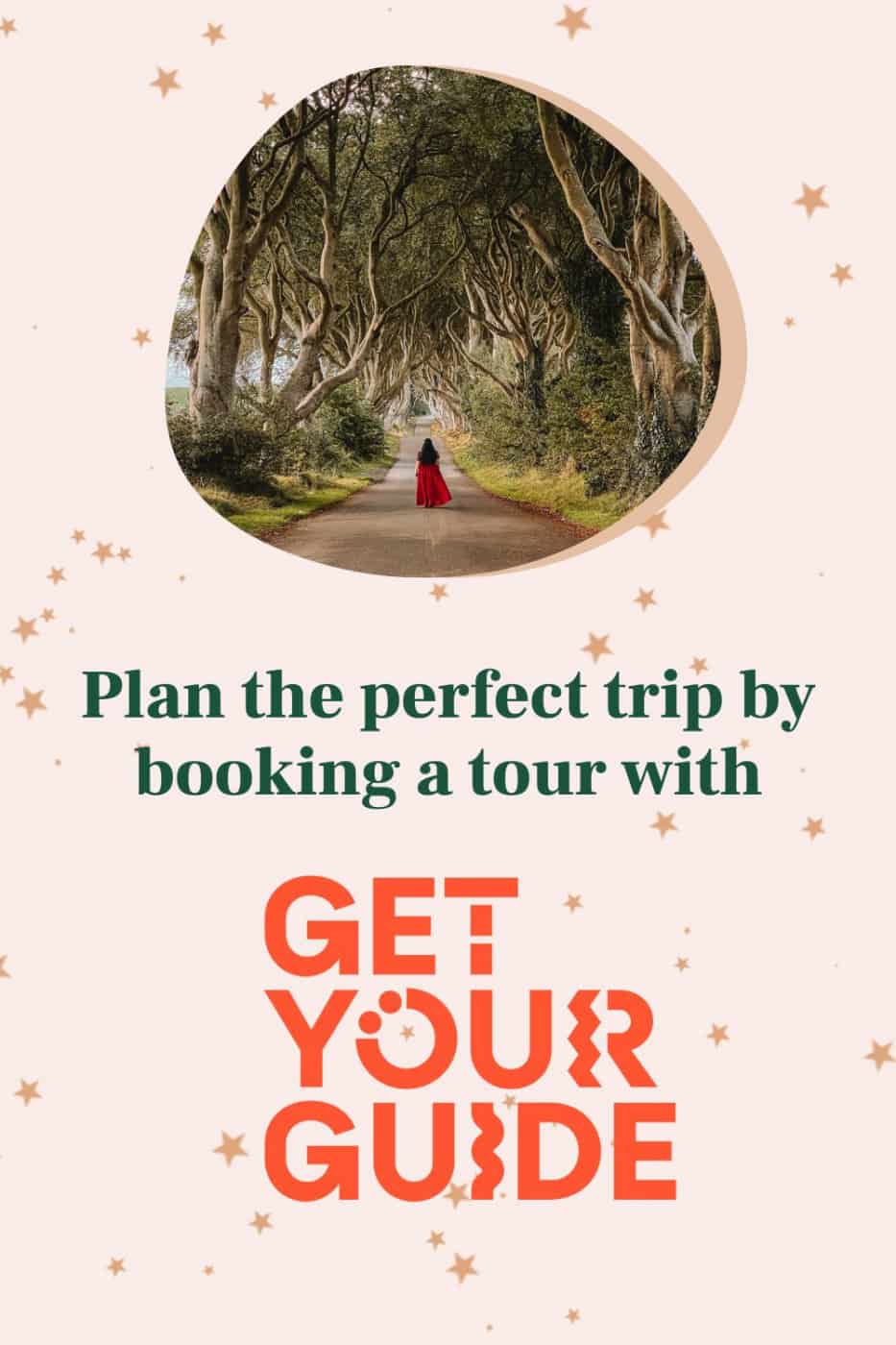 Book tours & tickets for Glasgow!
How to get to Pollok Country Park
Pollok Country Park is located just 5 miles out of Glasgow. From the city centre, it will be around a 15-minute drive but more if there is traffic. Parking is FREE and there are lots of places dotted around the estate.
If you're heading here on public transport, there is a train station located at Pollockshaws West. From here, you can catch a bus to the park or walk the twenty-minute stretch.
Buses run from the city centre, for example, the 57A SimpliCITY.
Use Travel Line Scotland to help you with your travel plans.
Pollok Country Park opening times and prices
Pollok Country Park is open 24 hours a day, but some of the attractions inside of the park such as Pollok House and the Burrell Collection (currently closed) have certain opening times.
As a public park, it's completely FREE to visit and you could easily spend a whole day here. So, it's a great budget day out with lots to do.
Looking for more Outlander locations in Glasgow?
Glasgow has plenty of Outlander locations and you'll need at least a day to explore them all, you can find a whole list of Outlander locations in Glasgow here.
Visit the ancient University of Glasgow to find Havard University where Frank was a professor in Boston. Or, visit Kelvingrove Park to see where Claire pushes Bree in her pram.
You can visit L'Hopitale De'sange from season 2 at the Glasgow Cathedral and take a walk up Dowanhill street to find Claire and Frank's house on Furey Street in Boston.
George Square is the spot where Claire and Frank get married and Dean Castle Country Park featured in the Fox's Lair.
Or, head an hour out of Glasgow to visit the Devil's Pulpit, a fairytale cavern in the countryside.
Further out why not visit Troon beach, Dunure Village, or Hunterston House that all featured in the series too.
You can read my ULTIMATE list of Outlander locations in Scotland here, or read my Outlander in Edinburgh guide here
Where to stay in Glasgow
If you're looking for a hotel that's centrally located in Glasgow, then the uber-modern Motel One is your best choice. As it's only opened a year ago, everything is still super fresh.
Although it's centrally located, it's well soundproofed so you're actually guaranteed to get a good night's sleep.
It's chic with a drop-dead gorgeous design that is well worth the asking price. They also set you up with an organic breakfast to start your sightseeing day in the right way.
After you're done exploring the city, you can chill out with a drink in their One Lounge or watch the world go by from your hotel room.
Click here for my full Motel One Glasgow review.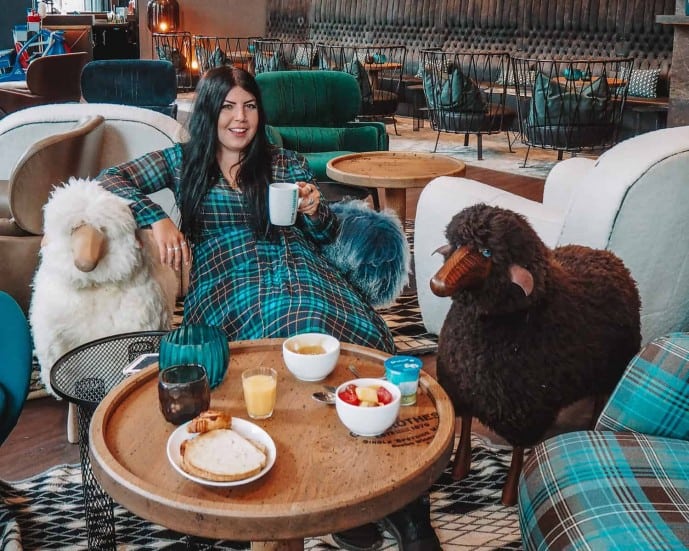 Save this Pollok Country Park Outlander Guide for later!