Pondicherry was like a dream. A beautiful dream that was full of clean sandy beaches, laid back colourful streets and European architecture.
I kept asking myself 'am I in India or France?'.
It's quite a bizarre feeling seeing all French on street signs, cafés and from people's mouths here! But, the food was to die for. A perfect taste of home and welcome comfort food.
They even had a mini Notre-dame, but here it was a lovely shade of salmon pink and was framed with palm trees.
It was like it had its own mood, a rhythm. As you walk around the laid back atmosphere is catching.
The people are so friendly and it's far less touristy than Goa in the West. This was one of my favourite places in South India.
So without further ado, here's the ultimate Pondicherry travel guide!
How to reach Pondicherry in India
If you're travelling from Delhi, your best bet is to fly. The nearest major airport that runs flight services daily is Chennai. From here, you can grab a taxi from the airport straight to Pondicherry.
Always leaving things to the last minute, I ended up getting a pre-paid taxi from the airport but this had a hefty price tag of 3000 rupees! (ouch) You will pay more for air conditioning.
I would highly recommend booking via an online cab service in advance to ensure you don't have the same dent in your wallet.
I also misjudged how long it would take. Google maps will tell you around 2 hours and a half but it was actually more like 3 hours and a half!
If you're heading here from Bangalore, they run daily flights to Puducherry airport which will save you some time and money.
It is also well connected via rail services from Chennai, Bangalore and Mumbai which run three times a week. New Delhi and Kolkata have weekly trains which run here – but it will take you 3 days!
According to the official Pondicherry tourism board, the road is your best option. It is well connected by bus from most major southern cities like Bangalore and Chennai.
Where to stay in Pondicherry
Pondicherry has a wealth of suitable hotels to stay in, whatever your budget!
I decided to stay in White Town which is a heritage area. Being a history buff this suited me perfectly.
It was right next to the rock beach by the sea and all major attractions were within walking distance.
I booked a cute heritage hotel called Le Dupleix. It was a quaint little place with friendly staff and they only had 14 rooms available.
They also had a really good restaurant which served up authentic French cuisine. After 9 months of living in India, it was heavenly and my tummy was very happy.
For available dates and prices for Le Dupleix check here.
Things to do in Pondicherry
Explore White Town
White Town is like every photographer's dream. The typical Pondicherry scenes were vintage bicycles perched up against vibrant yellow walls with oil lamps.
All the electric blue street signs will begin with 'Rue' and palm trees will sway on nearly every road! It's truly a feast for your eyes if you've been used to seeing Indian architecture.
I simply enjoyed just walking around the streets here. Seeing all the effortless beauty of the buildings and the life which was going on around them.
The Tuk-Tuk drivers taking it easy, the fruit stalls and the smell of the patisseries baking in the air. As I say, like a dream.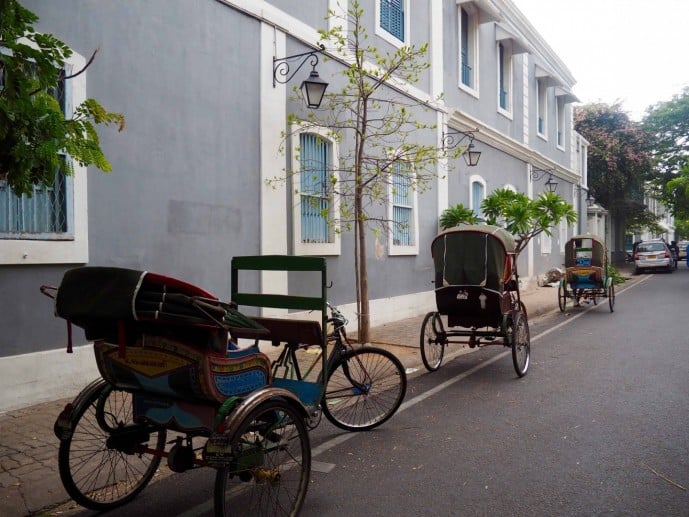 Take a snap outside Cafe Des Artes
One of the coolest and most 'Instragrammable' walls of Pondicherry is the famous Cafe Des Artes'.
When I visited the cafe it was closed, presumably because of the monsoon season.
But, their beautiful wall was still there for some fantastic picture opportunities! I guess Instagram locations are that way for a reason, right?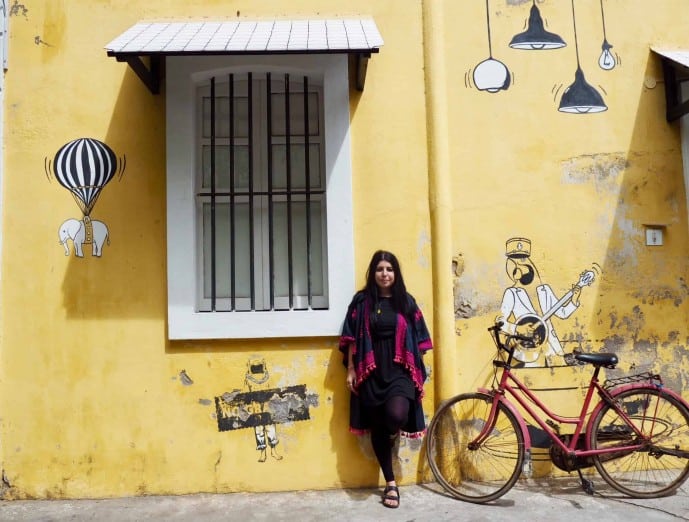 Visit Arulmigu Manakula Vinayagar Temple
One of the famous temples in this area is the Arulmigu Manakula Vinayagar Temple.
Its colourful dioramas of Hindu religious scenes are beautiful but most notably it draws visitors for a daily blessing from the Lakshmi elephant.
Shamefully, I did pay for a blessing of this elephant when I travelled there two years ago. But, I would encourage you NOT to do it.
Although I would never attempt to try to assume Hindu culture and how the temple treat their animals (when I visited she seemed healthy).
From recent research on PETA it seems that Lakshmi's health and well being has fallen into decline.
Lakshmi attends certain 'rejuvenation camps' each year for her 'wellbeing' according to the government in Tamil Nadu.
But, there seems to be a blatant disregard for her health recently. She has a foot fungus and this is not being treated properly for it.
Despite all this, no wild elephant should be kept in a temple for profit or entertainment. This treatment is barbaric.
Take a stroll to Rock beach
I love being by the sea and when I reached the water's edge in Pondicherry, it brought it home just how much I missed the ocean air.
Although this beach isn't as sandy as others in the area, it's still a really nice place to visit and stroll along the promenade.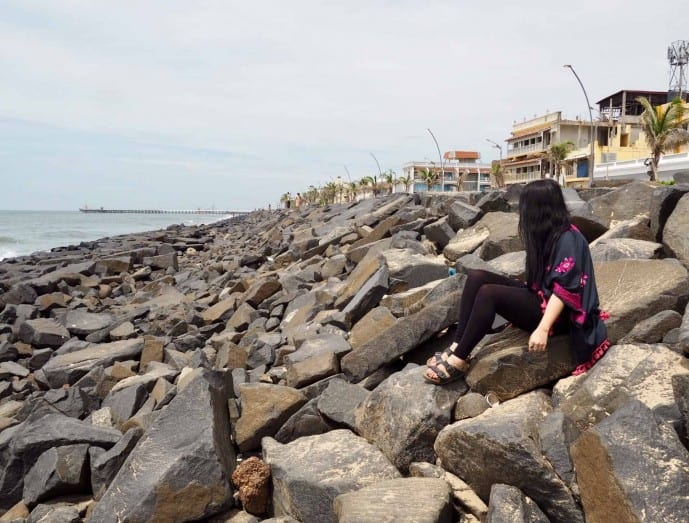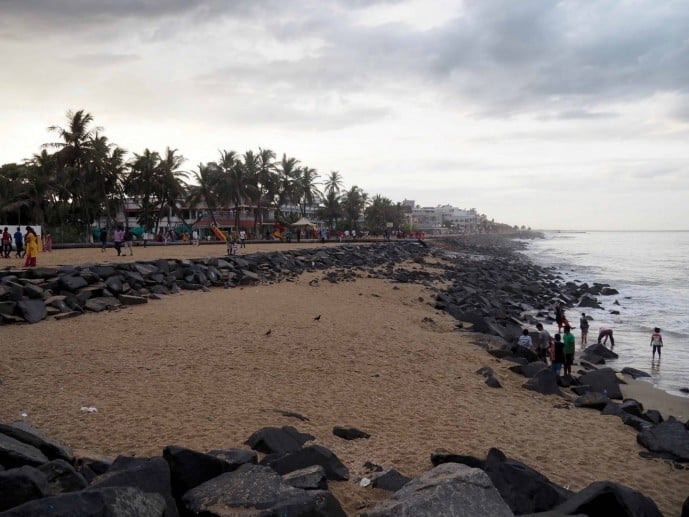 Have a coffee in Le Cafe
This beach is a great place to wander at any time with the best being at sunset.
Make sure you visit the famous 'Le Cafe' which is open for the finest south Indian coffee 24 hours a day!
I sipped an iced coffee on the rocks while enjoying the view. This is White Town's only waterfront cafe, so make sure you pay it a visit.
Visit the Pondicherry Promenade
The Promenade is lined with famous attractions and statues.
The most notable being Gandhi Ji.
You'll see locals taking selfies and in the evening there was a brass band playing which draws in a huge crowd!
Visit one of the many churches in Pondicherry
Being a French colony all those years ago, their legacy has left a lot of French culture in Pondicherry.
Along with the French language, patisseries and signs, they have also left a lot of churches with a European influence.
Being from the UK, churches in India aren't really my bag. I get enough of them at home and I came to India to experience a culture that isn't my own. But, these churches were different.
They were so colourful and had some glorious architecture inside.
You can visit the Church of the Sacred Heart, the Notre-dame des Ange and the Immaculate conception cathedral to mention a few. Mass and services are still read in French.
Take a trip to Serenity beach
My favourite place in Pondicherry was Serenity Beach. It's one of the cleanest beaches in the area and the scenes are just perfect.
You can reach here via an auto, motorbike or taxi and it's around 20 minutes away from the main town on the East Coast Road (ECR to locals).
Fishing boats line the shore, with fishermen sewing and preparing their nets for the catch of the day.
The palm trees, colourful guesthouses and cabanas all contribute to making this the perfect place to spend an afternoon.
The community here are very conscious of making sure this beach remains clean and they're doing a pretty good job.
Littering is a constant struggle in India wherever you go and beaches, even as pretty as this, aren't immune to it.
But at Serenity, there's hardly any rubbish and so it's just clean sands to enjoy.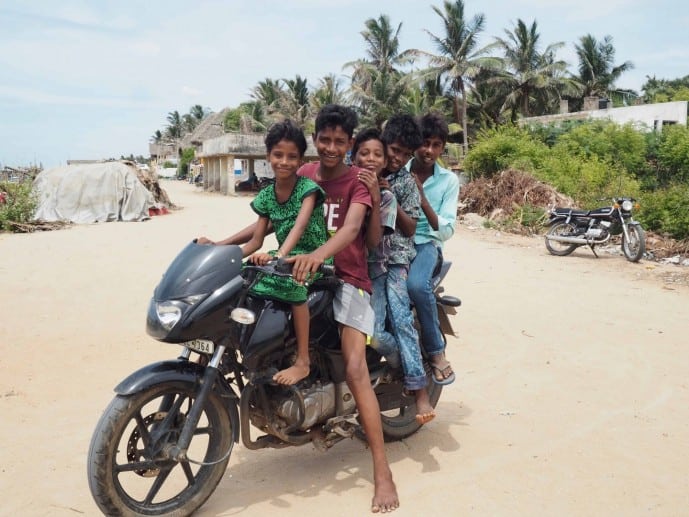 Take a day trip from Pondicherry to Auroville & the Matrimandir
Auroville is an experimental township in India.
The land was bought by "The Mother" or Mirra Alfassa in 1968 and today, it is a community where everyone of all creeds and class is welcome.
Here, you can visit the 'soul of the city' their famous Matrimandir.
The orb made of gold is a symbol of spiritual significance to those who practice integral yoga, a philosophy which was practised by Shri Aurobindo and "The Mother" here. It took 37 years to build.
If you're only here for a couple of hours, you can obtain a free pass from the visitor centre to walk to the viewing point. This is open daily to visitors and only in the morning on Sundays.
If you're a first time visitor and would like to enter the temple for concentration, all bookings must be made in person and on an individual basis (no group bookings). You will be issued a pass one day in advance.
The locals say you can feel the energies in your blood if you meditate here and it's recommended to spend some time doing so.
Once you've finished make sure you pay a visit to their restaurant. Using mainly organic ingredients from the Auroville farms in the area, they serve the best mix of South Indian and European cuisine. Their cakes are also some of the best I've had in India.
It can be a little bit of a mystery getting here as it's deep in the Pondicherry jungle. But, if you ask any of the taxi drivers in the area, they will know where you want to go!
To read more about Auroville and the reasons to visit, see my article here.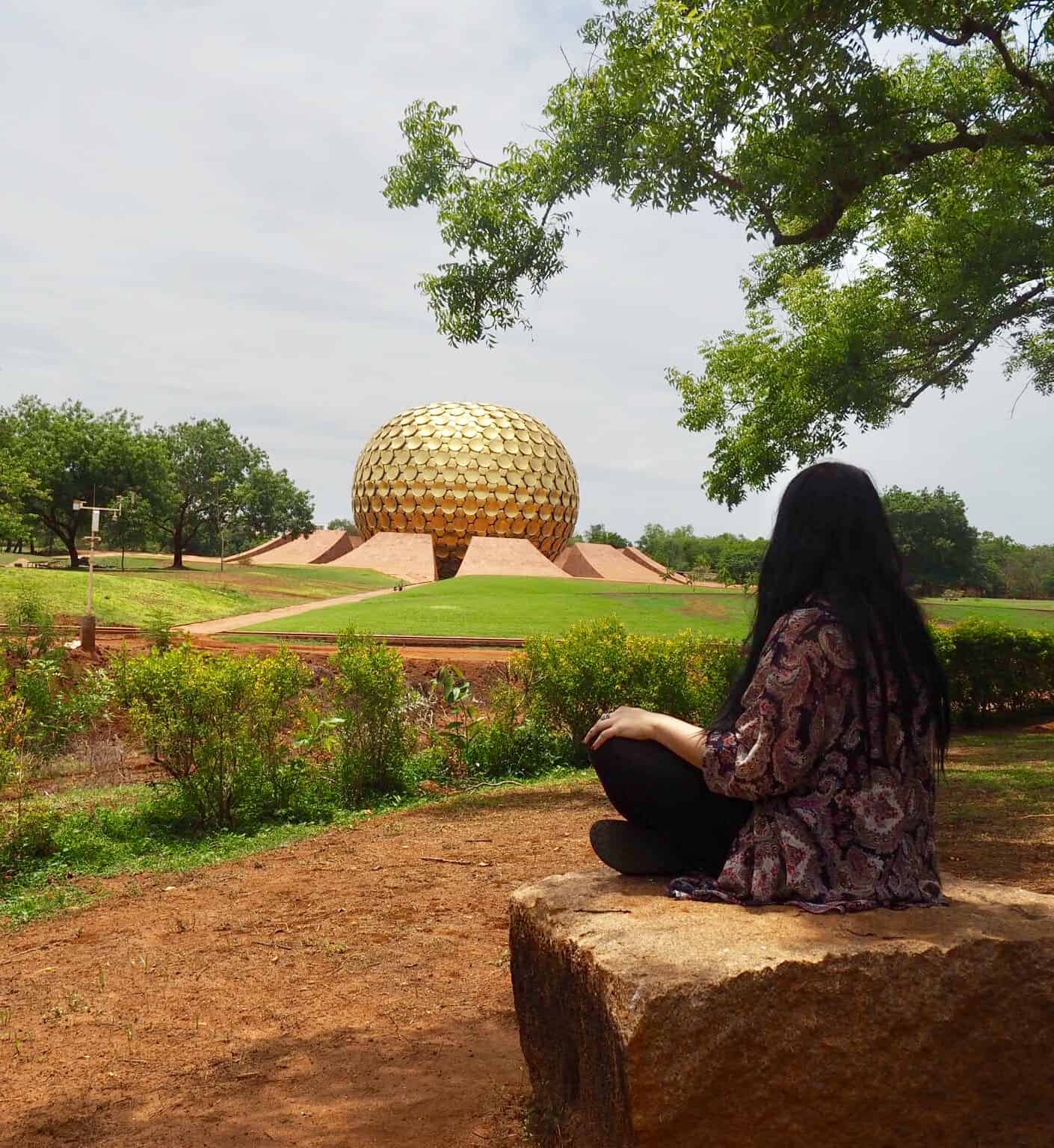 So, that's my Pondicherry Travel Guide!
Pondicherry, for me, was simply perfect. It had everything.
Beaches, culture, history, yummy food and friendly locals.
I was sad to leave this place and the amazing cakes behind, but I'm sure I will be back in the near future.
Make sure you add Pondicherry to your South Indian adventure! You honestly cannot miss it.
Heading around the south of India? Read more of my articles!
A first-timers guide for Mumbai
My one week in Kerala Itinerary
Amazing things to see in Alleppey
A guide for the Kerala backwaters
The best Munnar tea plantations
Save this Pondicherry travel guide for later!