One of my favourite places I visited in Barcelona was El Pont Del Bisbe, a gorgeous Neo-Gothic bridge in Barri Gòtic.
It can be found on a narrow street that leads you to Barcelona Cathedral. But, there is more to this bridge than meets the eye. There are many secrets, myths, and legends that surround it.
According to local lore, there is a curse placed on this bridge in the form of a skull piercing a dagger.
Gazing upon it could give you bad luck or make your wildest dreams come true. All will be revealed in this post…
Here is how to visit the Bishop's Bridge in Barcelona and the secrets of Pont Del Bisbe!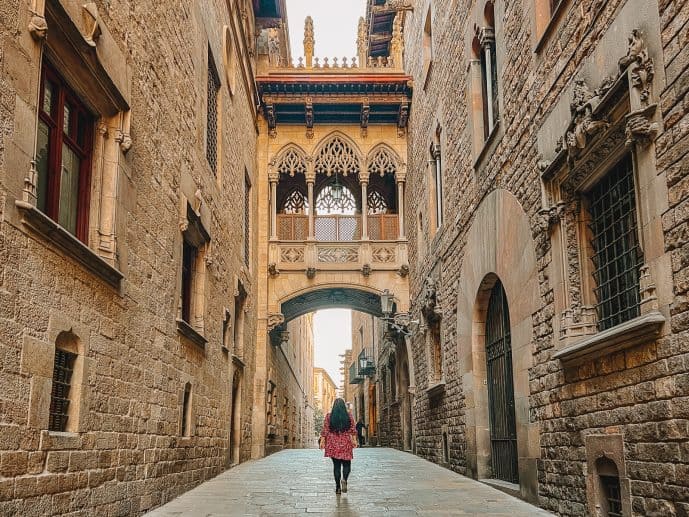 What is the famous bridge in Barcelona Gothic Quarter?
The most famous bridge in Barcelona is El Pont De Bisbe, a Neo-Gothic flyover that connects Palau de la Generalitat to La Casa dels Canonges over a narrow street.
It's made of marble and decorated with tryptic carved windows, oil lanterns, and gargoyles that peer over and snoop at passersby.
Although it looks ancient and from the Middle Ages, you may be surprised to learn that this ornate bridge was actually only built under a century ago!
There is an interesting story about the architect who built this bridge. It is said near the end of completion, he was so incensed that he placed a curse on it under the archway!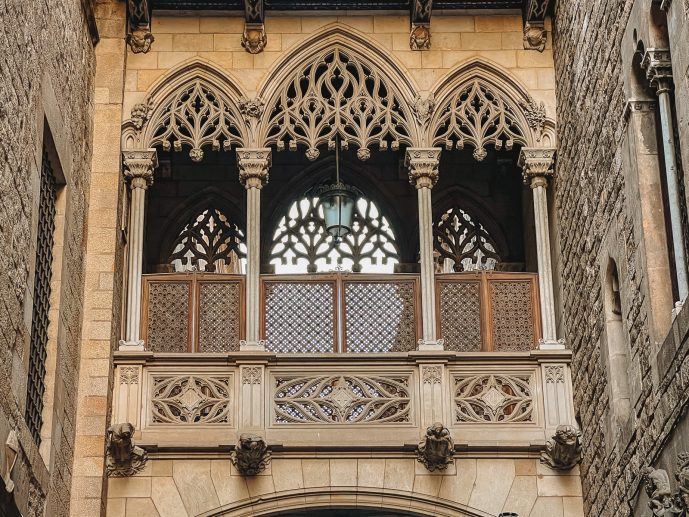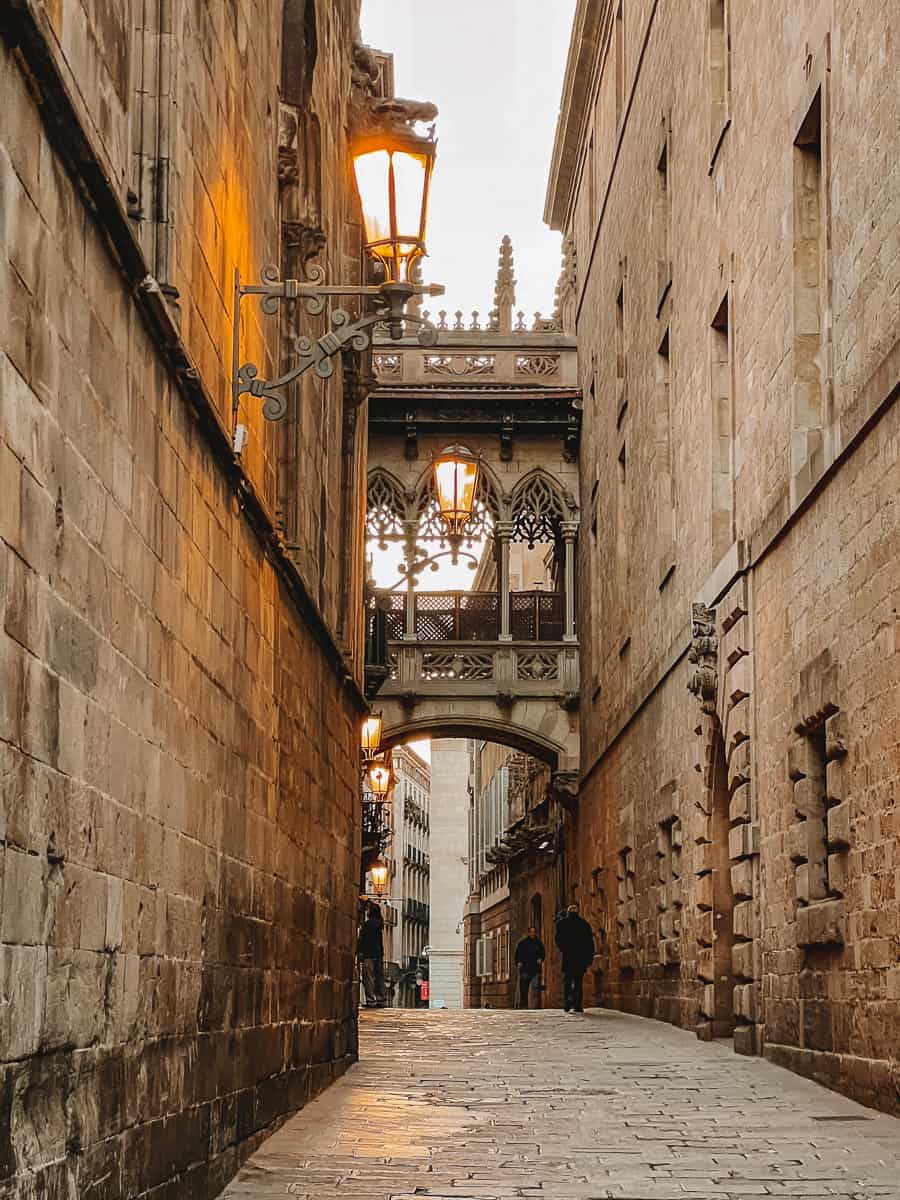 Pont Del Bisbe history
The Bishop's Bridge was built by Joan Rubió i Bellver in 1928 in a Neo-Gothic style to complement the rest of the neighbourhood.
He was an apprentice of Antoni Gaudí and the bridge was built in preparation for the Barcelona International Exposition which took place in 1929.
But, Bellver didn't want to stop at this just building this bridge for the expo. He had a vision for the entire Gothic Quarter of Barcelona.
His dream was to knock down many of the modern buildings that surround Barcelona Cathedral and then rebuild them in a Neo-Gothic style.
Of course, the council wasn't very happy about this and so rejected his plans. Joan Rubió i Bellver was even chastised for his ideas in local satire magazines!
So, when finishing Pont Del Bisbe, he decided to carve a skull pierced with a dagger underneath as a curse…
Pont Del Bisbe skull and dagger!
That's right, if you walk under the archway of the Bishop's Bridge and look up, you'll see a skull and dagger motif under there.
It is said that whoever gazes on this skull will be cursed with bad luck!
Also, there is another legend that says that if the dagger was to ever be removed from the skull, the city of Barcelona would fall and be destroyed.
There are many who believe that this skull is not made of stone but is real. But, most just believe he placed the carving here to mark his displeasure at his ideas being rejected by the council.
I guess Joan really did have the last laugh though as this bridge is now one of the most famous and photographed attractions in the entire city!
Walk backward and make a wish
If you have happened to gaze upon the cursed skull and dagger, don't fret. There is another legend that says you can make a wish here to reverse your fate.
All you have to do is gaze upon the skull and walk backward underneath the bridge.
Whilst you're retreating, make sure to think of a wish and only think of your heart's desire.
According to legends, this will make your wish come true! But, are you willing to risk it? I guess only time will tell…
Where is Bishop's Bridge in Barcelona?
Pont Del Bisbe can be found on Carrer del Bisbe which is a narrow street in Barcelona's Barri Gòtic or Gothic Quarter.
I always feel like this street and bridge acts like a portal back in time from the modern shops of La Rambla.
Once you pass under this bridge, you'll enter a truly ancient part of the city where many of the buildings date back to the Middle Ages.
Bishop's Bridge address is Carrer del Bisbe, Barcelona. Click here for a Google Pin!
How to visit Pont Del Bisbe in Barcelona Gothic Quarter
The great thing about Barcelona's Gothic Quarter is that it's mainly car free so you can enjoy the attractions without worrying about dodging traffic.
The easiest way to explore Barcelona would be to mix walking with using the local metro service.
The closest Metro station is Jaume I on the yellow Line 4 (L4). It's then just a two-minute walk to Pont Del Bisbe bridge.
I would recommend purchasing a Hola Barcelona travel card for your travels around the city!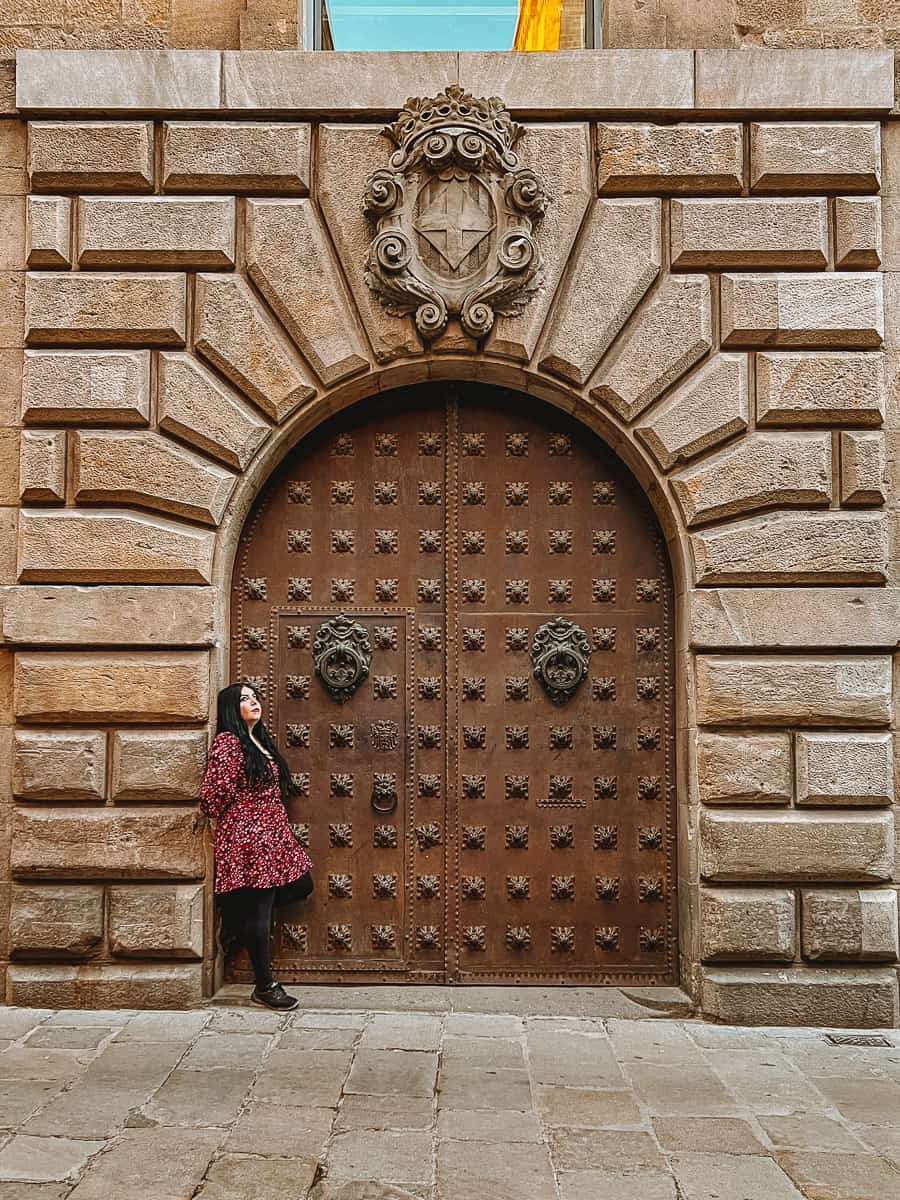 What's the best time to visit Bishop's Bridge?
Pont Del Bisbe along with Carrer de Bisbe is one of the most photographed places in Barcelona!
As it's located in the bustling Gothic Quarter, the most popular part of the city, you can expect this street to be crowded and busy all day.
In my opinion, the best time to visit would be early morning around sunrise. This way you can admire the bridge and enjoy it with fewer crowds.
As I visited in winter, I got here around 8 am when the old street lamps were still lit and it was so beautiful to see it like this.
Once the sun rises, the oil lamps turn off and the natural light will be shining through the bridge. It's stunning to behold. Plus, you can take some great photos.
But, if you value your sleep and are not bothered by crowds, this Neo-Gothic bridge is a delight to visit at any time of day. It's close to many of Barcelona's major attractions.
The Bishop's Bridge is open 24 hours daily and is completely FREE!
Pont Del Bisbe photography tips
Visit early for a quieter experience – This is a commuter street and a very popular attraction in Barcelona's Gothic Quarter. Visit earlier for fewer crowds. Sunday early morning would be ideal.
Both sides of the Bishop's Bridge are symmetrical – but I preferred the side leading into the Gothic Quarter as there were gargoyles in the background.
Watch your belongings – Make sure you don't leave your belongings unattended. There are many pickpockets in the city and people like to grab stuff on bikes. Also, don't step too far away from your camera/phone if it's on a tripod. You don't have to cling on for dear life, not everyone is wanting to rob you, but be a bit streetwise is all.
Try long exposure – if you can't get this place empty, try long exposure to minimise crowds. They will appear as 'ghosts'. This can be done on the latest iPhone or a big camera with a tripod.
Visit at night – in the evening, the street lamps are lit and it makes for a beautiful nighttime photography location!
Things to do near the El Pont Del Bisbe
Once you've finished admiring El Pont Del Bisbe and you've made your wish to the skull and dagger. What now?
Well, there are many amazing attractions near to this bridge in Barri Gòtic.
Here are some suggestions of things to see and do near Barcelona Bishop's Bridge!
Barcelona Cathedral
As you pass under the Pont El Bisbe Bridge, you're in touching distance of Barcelona Cathedral.
After all, it was Joan Rubió I Bellver's vision that all the buildings here were changed in a Neo-Gothic style to suit the medieval surroundings of this very cathedral.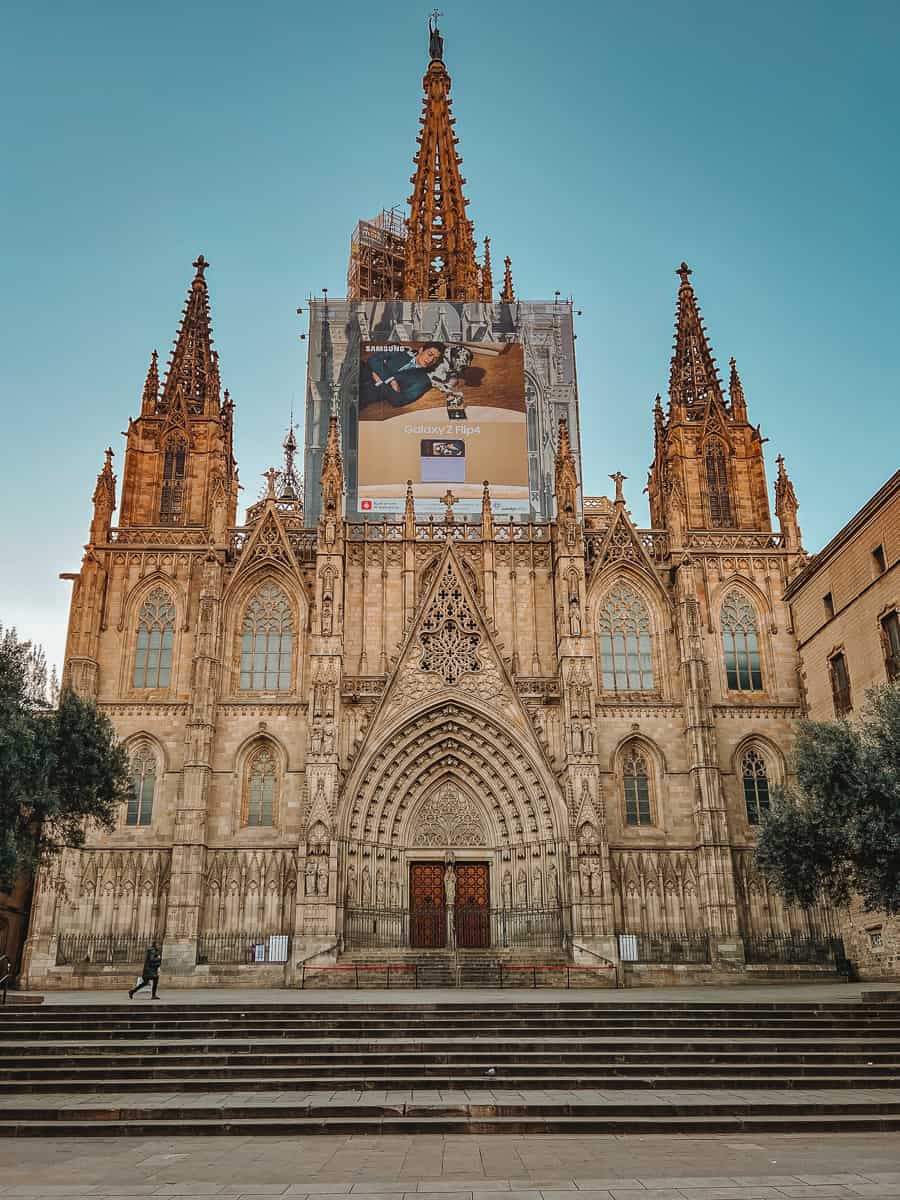 Catedral de Barcelona is the seat of the Archbishop of Barcelona and it has a history since the 5th century!
I would recommend buying a cathedral and museum ticket that gets you access to the rooftop! You can see the entire city skyline from here.
The Kiss Mural
The Kiss of Freedom or the World Begins With Every Kiss is a mural that can be found near Barcelona Cathedral.
It's a ceramic artwork that shows a passionate kiss but on closer inspection, it's made up of 4000 tiny photos.
The photos are of local residents and they were told to send in something that represented freedom to them.
It came about on the 300th anniversary of the Siege of Barcelona during the War of Spanish Succession.
It's well worth stopping here to admire this amazing puzzle artwork and/or take a cheesy selfie.
Click here to read my complete guide for Kiss Mural Barcelona!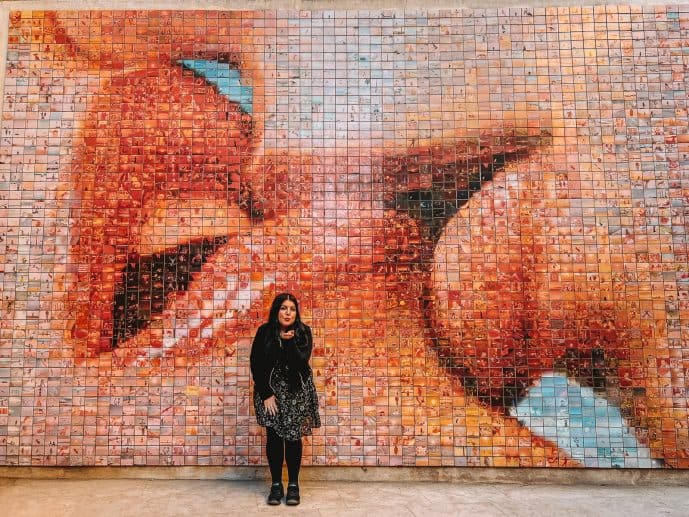 El Born
Barri Gòtic is busy most times of the day. But, its quirky neighbour El Born has some amazing history with fewer crowds.
You'll find a delightful labyrinth of old buildings, hidden alleyways, shops, and local restaurants here.
El Born is also known as Picasso's old stomping ground and you can check out his works in the Pablo Picasso Museum.
If you're finding Barcelona Cathedral a little busy, try to visit the Basilica Santa Maria del Mar. It's the finest example of Catalan Gothic Architecture and not as well known.
This ancient place of worship was built in the 14th century and was once home to a Roman Amphitheatre!
Palau de la Música Catalana
One of the most beautiful buildings I visited in Barcelona was Palau de la Música Catalana.
It's one of the only Catalan Art Nouveau concert halls to be listed as a UNESCO World Heritage Site and it's a must-visit.
It was built between 1905 and 1908 by Lluís Domènech i Montaner for the Orfeó Català chorus society.
Although you can watch a concert here, taking a self-guided tour is also an incredible experience.
You can explore their mosaic balcony and admire the incredible artwork that makes up the theatre!
Click here to read my Palau de la Musica Catalana guide
Pont Del Bisbe FAQs
What is the most photographed bridge in Barcelona? El Pont Del Bisbe in Barcelona Gothic Quarter
What Bridge in Barcelona has a skull? El Pont Del Bisbe! It's located underneath and there are a few legends about the skull pierced with a dagger.
Why is it called the Gothic Quarter? From the Gothic Architecture. It was a popular style in Europe from the early Middle Ages.
Where to stay in Barcelona
On my visit, I stayed in the magical Sercotel Rosellón which was located right beside the Sagrada Familia and had one of the best views of the city.
Not only do most of the rooms face the Sagrada but they have an incredible rooftop terrace where you can sip a drink and enjoy tapas with this breathtaking view as well.
The rooms were very clean and comfortable and it was close to most of the city centre attractions.
Also, the metro was just a minute's walk away which links you with the rest of Barcelona!
Click here to book your stay at Sercotel Rosellón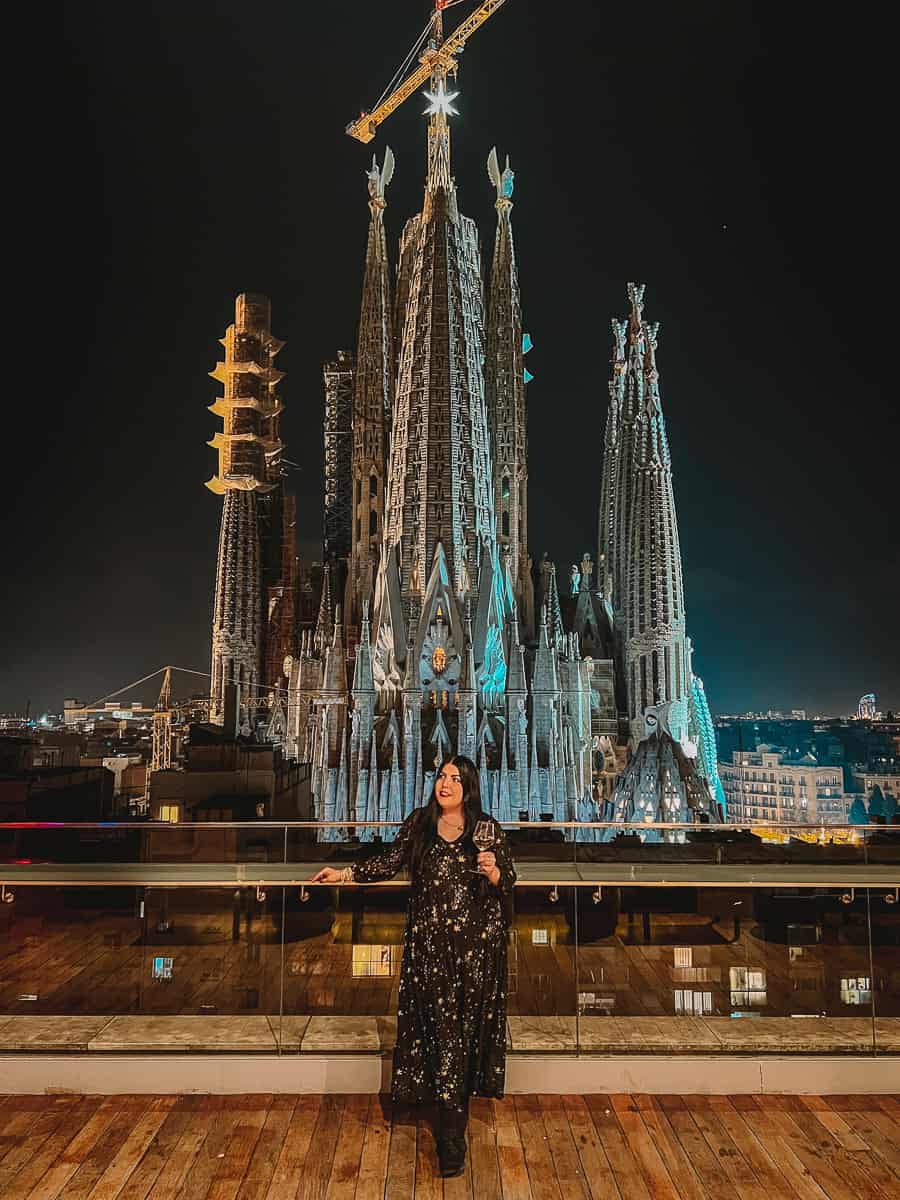 Save time and book a tour!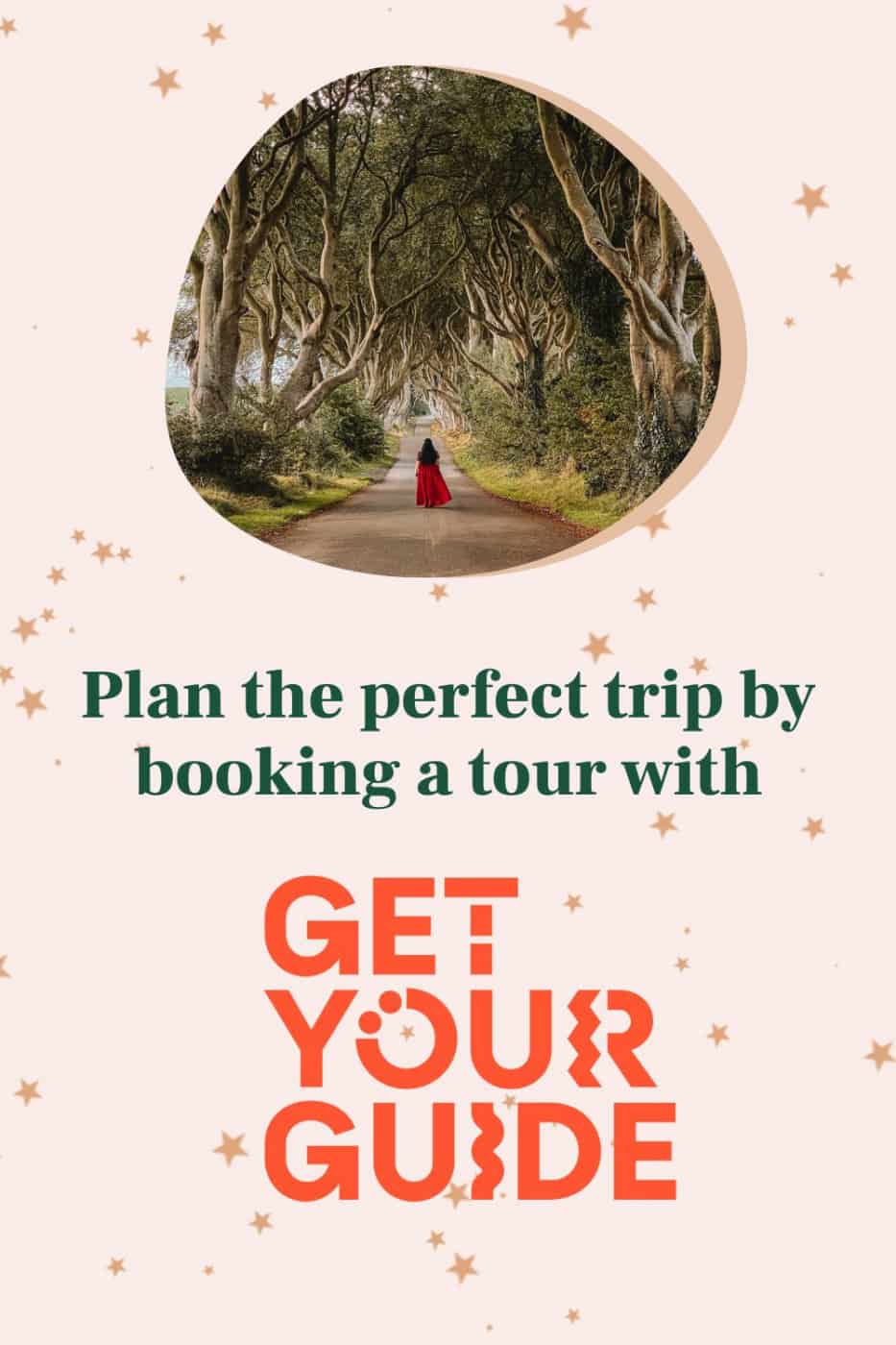 Book tours & tickets for Barcelona!
Read more of my Barcelona travel guides
30+ Instagrammable Places in Barcelona
Visit El Bosc De Les Fades – Fairy Bar Barcelona
Visit Gaudi's Fountain or Cascada Monumental
Magical Sant Pau Recinte Modernista guide
How to visit the Barcelona Bunkers del Carmel
Save El Pont Del Bisbe aka Bishop's Bridge Barcelona for later!