Are you looking for where the Lallybroch Waterwheel was filmed that featured in the Outlander series? The location is actually Preston Mill and, good news, it's open to the public!
Located just 25 miles from Edinburgh, you can take a drive out of the city to East Lothian and travel back in time to the 18th century to learn about this amazing historic mill.
It's the perfect day out for Outlander fans, although no red-haired highlanders are guaranteed to be there!
Here's a complete guide to Preston Mill Outlander locations and Phantassie Doocot.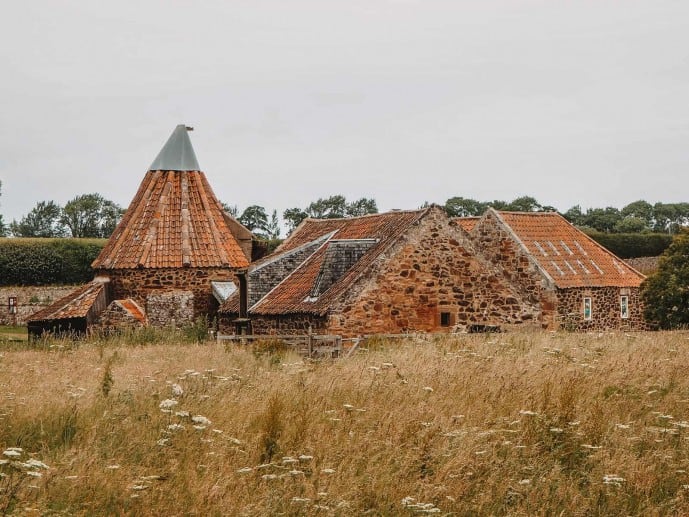 What is Preston Mill and Phantassie Doocot?
Preston Mill is the last remaining 18th-century watermill that lies in East Linton, encompassed by East Lothian, in Scotland. It gets its name from Preston Hamlet that sits nearby.
It has a Dutch Canonical style to it so it almost feels like a fairytale as you're walking around. Add in the fact that you can see wild otters, herons, and birds here, it's like a dreamland!
As it's tucked away in the countryside, it's the perfect escape for a day trip and you can learn something about the millers in the area and the hard work they used to put into making oatmeal.
It sits nearby the picturesque River Tyne, which powers the water wheel with its flow downstream!
Its also surrounded by Preston Parish Church, the Smeaton Hepburn Estate, Smeaton Lake, and Phantassie Doocot.
Preston Mill History
There has been a mill here since the 16th century, but, the Preston Mill we see today is a Category A listed building from the 18th century.
Historically, the mill produced Oatmeal which was and still is a popular breakfast choice in Scotland! Although we call it porridge today.
Andrew Meikle was an engineer and millwright who looked after the mill in the 18th century and it ran commercially until 1949 when a flood wiped out the premises.
In 1950 it was handed over to the National Trust for Scotland and renovated. Today, we can take a tour of the mill to see how people used to perform the art of milling all those years ago.
Phantassie Doocot
Phantassie is an agricultural farming hamlet that sits in East Lothian
The Phantassie Doocot, which is also a National Trust for Scotland property can be accessed over the River Tyne nearby Preston Mill.
It is dated from the 16th century and can house up to 500 pigeons! It's known for its unusual parapet in the shape of a horseshoe.
It's also a Category A listed building and was donated to the National Trust in 1961.
Preston Mill floods
Preston Mill is just as famous for its floods as its mill wheel. As it sits on the River Tyne and has a mill pond nearby, it's prone to floods every year.
Look out for the bricks that have the flood levels carved into the stone! You can find water levels through the Mill's history!
What is the Preston Mill Outlander location?
In season one, episode 12 'Lallybroch', when Jamie returns home to Lallybroch, he learns that the Lallybroch mill is not working and so goes to investigate and fix it himself.
While he is trying to attempt to fix the mill, a band of redcoats arrives and Claire and Jenny try to distract them. Jamie is underwater with the mill and one of the redcoats tries to fix the mill.
Thankfully, Jamie fixes it and pretends that a shirt was caught in the wheel. It's this wheel that you can visit at Preston Mill!
Where is Preston Mill and how to get to there
Preston Mill and Phantassie Doocot sit on Preston Road, in East Linton. It's located in the wider county of East Lothian. It's a tiny place, but it's well signposted with brown tourist signs as soon as you approach from the A1 road.
If you're driving up to Edinburgh on the A1, it may be an idea to visit Preston Mill on the way to the city as a stop-off point. Likewise, if you're driving out of Edinburgh down to England, this is a good stop off to visit as well.
If you're coming from Edinburgh, it's around a 24-mile journey or a 40-minute journey by car. From Glasgow, its' 70 miles or 90 minutes drive.
If you don't drive, there is a 253 bus service, or X7, to Dunbar from Edinburgh Bus Station that takes you straight to 'Phantassie Farm'. It's then a ten-minute walk, use this Scotland Journey Planner to organise travel.
Preston Mill opening times
As I was driving into Scotland through Northumberland, my original intention was to visit Preston Mill on the way to Edinburgh. But, there was one problem. When I arrived it was closed!
Of course, the mill itself is part of a permissive pathway and popular hiking trail so it is still there if you want to take a look without a ticket on closed days. But, I would highly advise visiting when you can take a tour inside.
The opening days and times are;
1st October – mid-April: CLOSED
Mid April – 30th September: Thursdays – Mondays 12.30-5pm.
Tuesdays and Wednesdays CLOSED.
Preston Mill Tour Ticket Prices
The ticket prices for Preston Mill include a tour inside the 18th-century mill and the museum which has an informative exhibition about life as a millworker and the mill through time.
Adults: £6.50
Concessions: £5
Family Ticket: £16.50
One Adult Family: £11.50
Preston mill grounds are dog-friendly and they even have water bowls and some treats for your furry family members! They must be kept on a lead around the grounds.
Parking at Preston Mill
There is FREE parking available at the mill but it's in short supply I'm afraid. If you do struggle to find a parking spot, there are some spaces outside on the main road before you enter the Mill.
The parking is in an accessible place and it's flat ground to reach the mill which is right outside of it.
Preston Mill Outlander locations that you can't miss
The waterwheel at Preston Mill has been nicknamed the Outlander wheel as it has grown so famous from the series, even the staff joke about that!
It's proud of its status as an Outlander film location and welcomes Outlander fans as well as those who wish to learn the history of the mill.
The staff is on hand to answer any questions you have and they even have a little Outlander section of the museum with some photos of filming and signatures from Sam and Caitriona to browse.
This sign tells you lots of behind the scenes including how they got 150 people onsite! It's an extremely small area so it must have been a struggle.
1. Lallybroch Mill
First up, we see Claire by the Mill trying to convince Jamie to not go through with fixing the mill. This is to the side of the waterwheel.
The first thing you will notice when you visit is that Preston Mill has lots of wooden gates around for health and safety and in the series they obviously do not as it's meant to be in the 18th century!
It's still pretty and you can instantly recognise the mill area from the 'Lallybroch' episode.
2. Lallybroch Waterwheel
The water wheel is what ALL Outlander fans want to see and the good news is that it's exactly the same as in the series.
Up until quite recently, the mill was not working and there was a huge fundraiser to try and fix it (see below). Luckily, it works now but it can get stuck from time to time.
I asked permission to get near the water wheel for my visit for photos and vlogs but as a disclaimer, this is strictly not allowed.
It's still amazing to see but I'm afraid Jamie isn't home for a visit.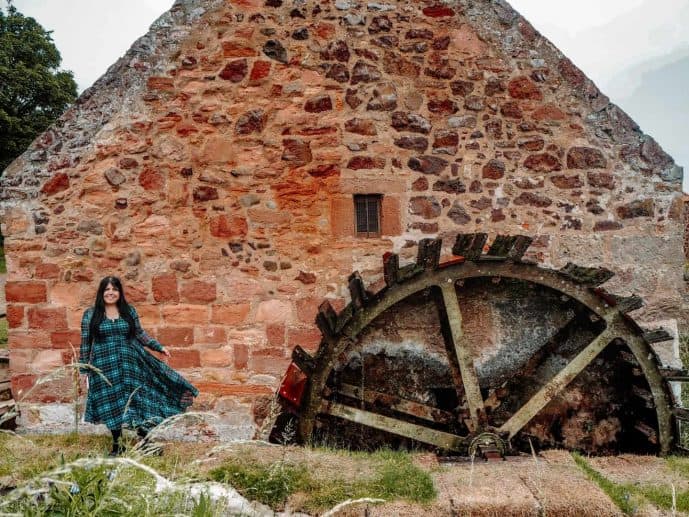 3. The field where Claire and Jenny talk to the redcoats
In the episode, Jenny comes to try and find Jamie and Claire to warn them about the redcoat patrol that is marching past the mill.
It's too late as Jamie is in the river trying to fix the mill and so Jenny and Claire try to distract the redcoats and sit on Jamie's clothes opposite.
This scene takes place opposite the mill. Although, when I visited in summer it was quite overgrown.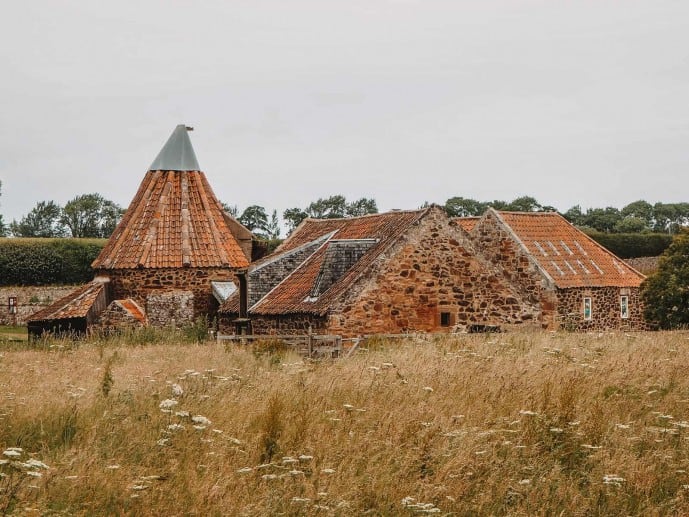 4. The river where Jamie hides
When the redcoats stop to speak to Jenny and Claire, Jenny mentions that the mill isn't working. So, one of them decides to investigate as he is familiar with mill wheels.
He approaches the mill to see if it's going to work but Jamie fixes the mill before he has a chance to discover him.
The redcoats leave and Jamie swims out into the river and asks Jenny to turn around as he's naked. This is the river right next to the water wheel.
5. The back room in the courthouse during the Witch Trial
In series one, episode 5 'The Devil's Mark', Geillis Duncan and Claire are on trial in Cranesmuir Church for Witchcraft.
The church or courtroom where the filming takes place for those scenes is actually in Tibbermore Parish Kirk which is in Perthshire.
During the trial, Ned Gowan holds council with Claire and Geillis to discuss that one of them should admit they're a witch and that should be Geillis.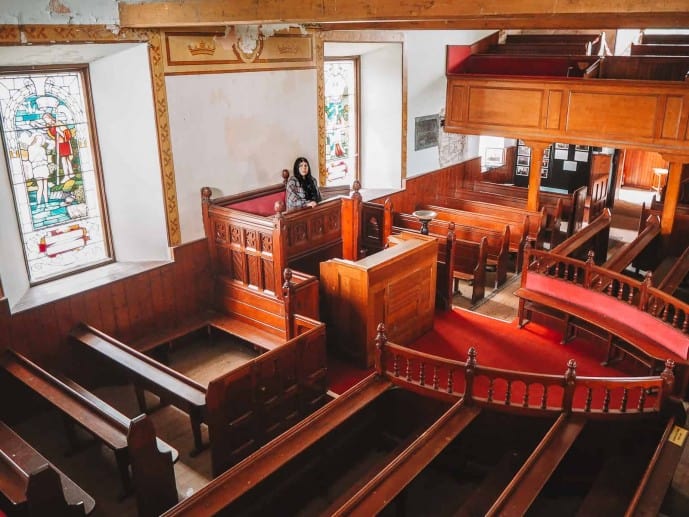 I looked everywhere for that room in Tibbermore Parish Kirk on my visit and presumed it was in a studio.
But, on my trip to Preston Mill, discovered that it was actually in their museum exhibition room! Who knew?!
If you did want to read about where Cranesmuir was filmed in the series I have a whole guide on Culross here, the palace there and the Back Kirk.
Click here to find out how to visit Tibbermore Church and the Outlander filming locations there
Preston Mill Tour – what you can learn
Beyond an Outlander location and that wheel, there is so much to do, see and learn at Preston mill by taking a guided tour.
Taking a tour is the only way that you can enter the mill and in the process, your guide will tell you all about milling.
They will explain how people would cultivate farms for the miller to make his oatmeal, the process of milling and the dangers farmers used to face of mice, dust, and floods!
It's incredible to see how everything works and the system where everything was done by hand.
You can also learn a lot at the museum too and the local area during those times.
Personally, I'm a big history fanatic so I was fascinated by the process. It does make you think of how hard the work would have been back then and how little pay you would have received.
Preston Mill funding, how you can help
You may have seen Sam Heughan, that plays Jamie in Outlander, calling out for funding to fix the Preston mill as it had stopped turning. It's now fixed but still needs constant repair. This fundraiser helped to raise the funds.
Of course, your ticket price helps Preston Mill a great deal by contributing to the restoration of the Mill and ensuring that it keeps running for everyone to enjoy.
But, if you did feel like donating some more money to a great cause you can find out more here.
Also, purchasing some Outlander products from the National Trust for Scotland website is also a great way to make a donation.
I bought my Outlander shawl from their shop in Gladstone's' Land on the Royal Mile!
Preston Mill walks
On my visit, I saw lots of hikers that were passing Preston Mill for a break. A lot of walkers take the John Muir Way from North Berwick to Dunbar that has Preston Mill as a stop-off point in the middle.
This is a popular coast-to-coast route over 15 miles and you can pick and choose your hiking duration.
The whole journey takes the average walker 5 hours but for some, it will take more, See more walking routes here.
Where to eat near Preston Mill
There isn't a tea room as such in Preston Mill but they do have a small shop selling cans of pop, hot drinks, water, and ice cream. Also, there are some Scottish treats like fudge and shortbread you can buy. But, there isn't a tea room.
There are picnic benches if you wished to pack a picnic but if you wanted anything hot or more substantial a visit to one of the nearby villages would be your best option.
East Linton isn't too far and there are a few options. The Linton Hotel and Steakhouse, The Crown and Kitchen or the Smeaton Nursery Gardens and Tearoom are all great choices.
Looking for Outlander locations around Preston Mill?
If you're in East Lothian there are some Outlander filming locations nearby that would be the perfect add-on to a day out.
You can read my ULTIMATE list of Outlander locations in Scotland here
Gosford House in East Lothian was featured in 2 series of Outlander. In series 2 it played the Royal stables at Versailles and in series 3 it doubled up as Helwater Estate and the Earl of Ellesmere's House. Open days are held throughout the year, find more here.
Newhailes Estate is another National Trust Property that featured in season 4 as Governor Tyron's home and Arniston House featured as the theatre in North Carolina where Jamie and Claire attended a play in Wilmington with Governor Tyron. This is also where Claire saves Edward Fanning's life.
Roslin Glen has some gunpowder mills where he says 'you're ripping my guts out Claire' and Glencorse Old Kirk is the church where Jamie and Claire were married.
Craigmillar Castle as you head into the city centre of Edinburgh featured as Ardsmuir Prison in series 3. As well as an Outlander location it's a great castle to visit which is a lot quieter than Edinburgh Castle.
Outlander locations around Edinburgh
You can read my complete list of Outlander filming locations in Edinburgh here, or read more below;
Also in the city is Summerhall which is featured as the lecture hall that Claire studies in Boston with Joe Abernathy.
On the Royal Mile, you can have an afternoon tea at the Colonnades which also featured as the Governor's Mansion in Jamaica.
Relive the scene where Jamie and Claire reunite at the print shop on Bakehouse Close or close by is Tweeddale court where Claire and Fergus meet once more. Or follow their footsteps to The World's End where they save Mr. Willoughby.
Read more: Outlander walking tour of the Royal Mile (with Map locations!)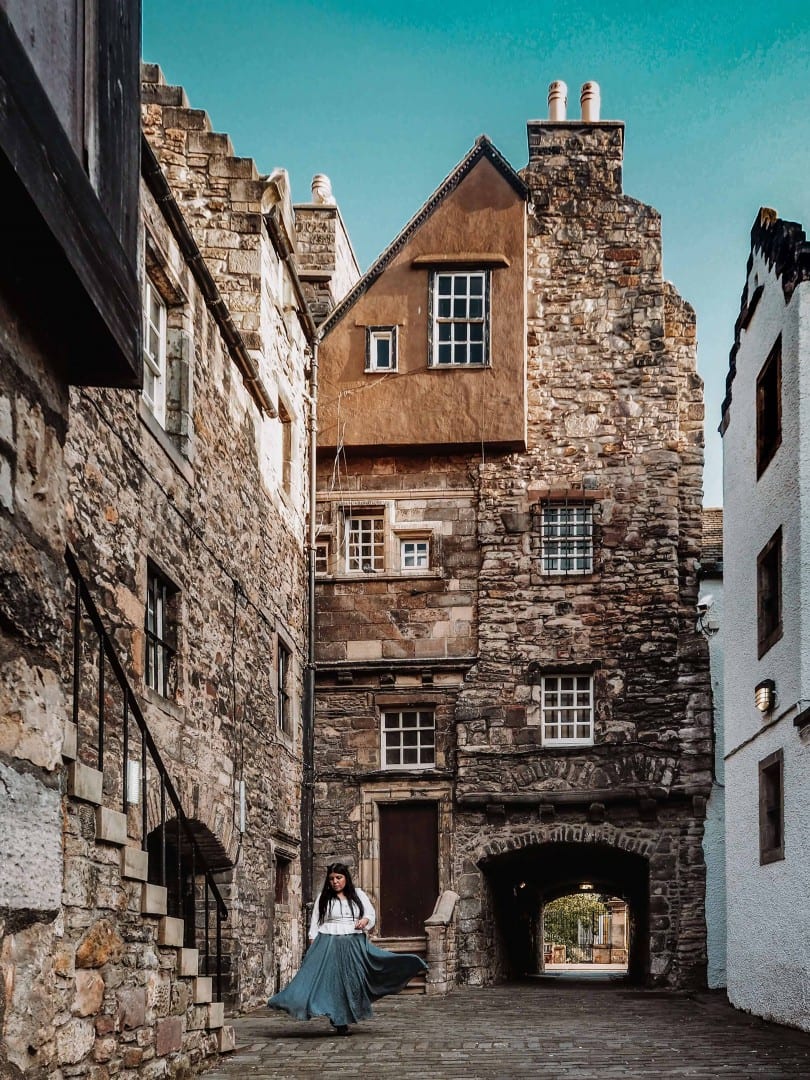 You can visit Lallybroch, home of Laird Broch Tuarach, for yourself at Midhope Castle, Abercorn Church that featured in season 4.
Hopetoun Estate has over 17 Outlander locations onsite including the Duke of Sandringham's home.
Blackness Castle was where Jamie was flogged at Fort William and Wentworth Prison features scenes from Linlithgow Palace.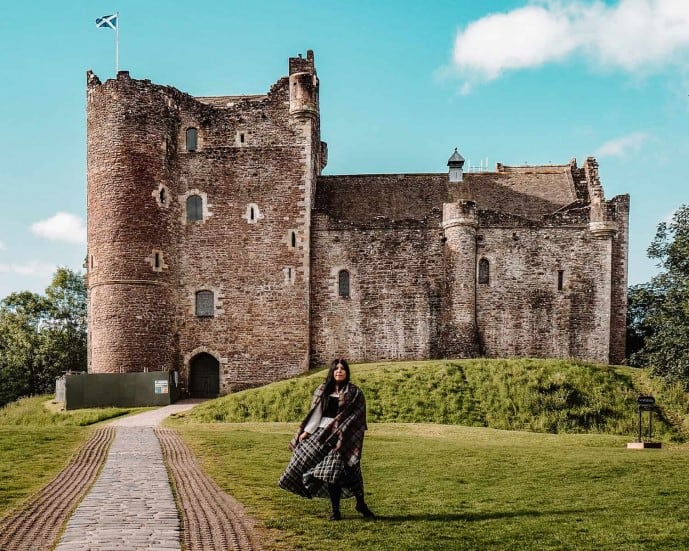 Visit Bo'ness Station to see where Claire and Frank said goodbye or take a Deanston Distillery tour to taste some fine whisky and visit Jared's wine warehouse in La Havre. You can also visit Versailles at Drummond Castle Gardens too.
Culross featured as Cranesmuir, with its Palace and Black Kirk and Doune Castle was the Clan MacKenzie Castle Leoch.
The village of Falkland played Inverness in 1945 with the Covenanter Hotel as Mrs Baird's B&B.
Read my complete list of filming sites for Outlander in Glasgow here!
With thanks to the National Trust for Scotland for sponsoring my visit to Preston Mill and Phantassie Doocot. Although I was a guest, all photos and opinions are my own.
Save this Preston Mill Outlander guide for later!