North East India transport has many challenges as a backpacker; the guide books and prices are years out of date, wifi is touch and go in remote areas and transport is somewhat a mystery.
I travelled through this part of the world as a solo female traveller and relied almost totally on public transport in each state.
Every time I was planning a route it was like a puzzle I had to solve.
There weren't many travellers so I was mostly with locals who were friendly and at hand to help. On that point, I relied on locals 95% of the time.
I probably inhaled more dust than humanly possible (highly recommend a Vog mask – I'll link in this post), had all my bones and head rattled, my patience tested, and questions left unanswered but it was also a challenge I relished.
Trying to work out a transport route is a favourite pastime of time.
In this guide I'll take you through the different types of transportation in North East India, prices, routes, and the good, bad, and downright ugly of travelling there!
Where is North East India and do I need permits to travel there as well as my normal Indian visa?
North East India is made up of the seven sister states of Assam, Arunachal Pradesh, Manipur, Meghalaya, Nagaland, Mizoram, and Tripura. There is also one brother to the West of Sikkim.
You must have a tourist visa to enter India, you can't enter the country without it.
The only states in NE India that you need permits for before you enter are Arunachal Pradesh and Sikkim.
Although these can be arranged at the border, getting one in advance will save you a lot of time!
In Arunachal Pradesh, there are different permits for foreign tourists (PAP) (you have to arrange in Guwahati or on the border) and domestic tourists (INP). (NOTE: this link is ONLY for Indian tourists)
If you're travelling solo in Arunachal Pradesh you're also limited as to where you can go.
I chose to tour with Holiday Scout and am so glad I did. All my visa arrangements were taken care of and that meant I could explore more off the beaten track places and was safe in doing so.
On that note, North East India is extremely safe in general for women. I'm going to create a solo female travel guide soon -coming up!
Click here for my complete review of my tour with Holiday Scout!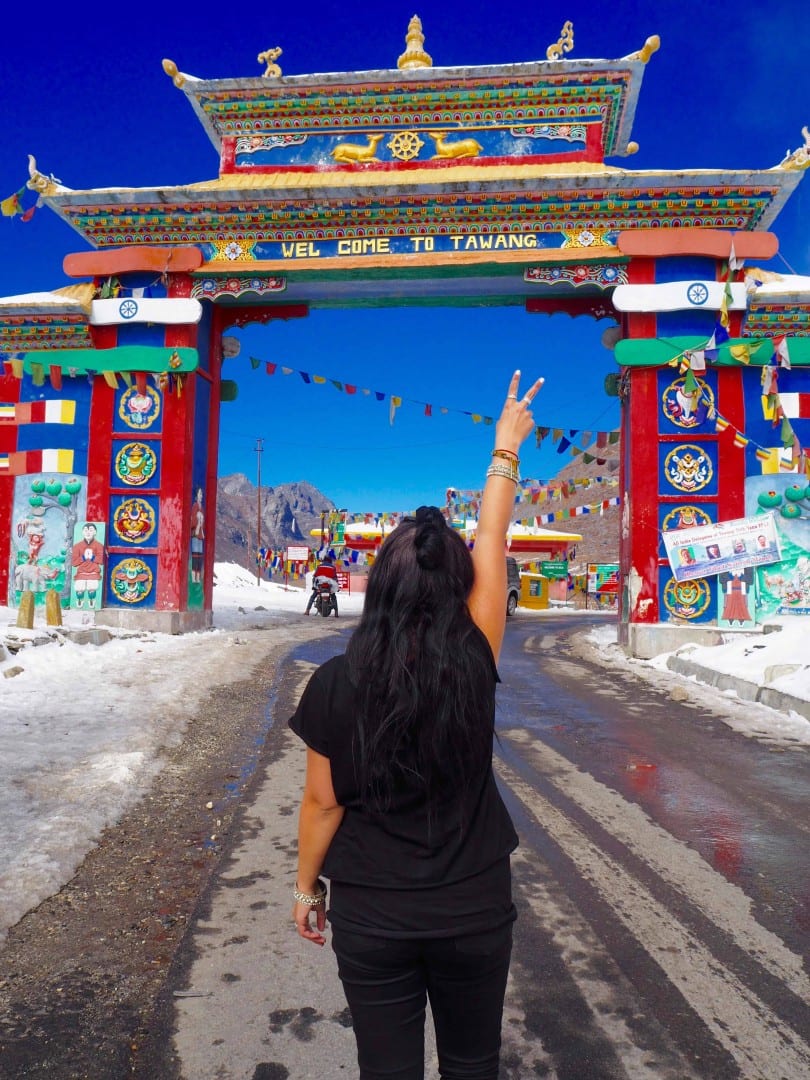 My best public transport in North East India tips
1. The state of Assam has the best transport Networks
You'll probably start out in Guwahati and that's in the state of Assam.
Quite honestly, I cheered for joy when I crossed through Assam on my travels. Big Buses that ran regularly, with lots of space, that ran past 11 am? No way! What a treat.
Make the most of the comfort of having these buses around. Assam can connect you pretty much with all seven sisters' states so make sure you use them!
The main tourist spots of Guwahati, Tezpur, Kaziranga National Park, and Jorhat for Majuli island can all be accessed by the Assam State Road Corporation.
Check out their website for routes. In Guwahati, you can head to Paltan Bazaar as the main bus stand. Jorhat and Tezpur also have big bus stands that can connect you to parts of Assam further afield.
Related post – a complete travel guide for Guwahati, Gateway to North East India!
2. If you're travelling solo, always try to get the single seats
Most of the buses ran on a 2-1 basis. What this means is that one side is double seats, and one is single.
Perfect if you're travelling alone or as a female traveller. This is also a seat you want to get for night buses!
3. Be prepared for the Sumo in North East India!
What is a Sumo in North East India I hear you cry? Well, they are Sumo sharing Jeeps that are the main form of transport here in North East India. You'll get into the groove of them very quickly.
How it works is you need to wait for 10 people to fill the jeep up. Once it's full, you all leave.
If it's a sharing jeep you don't have a ticket for those who don't run on any sort of schedule so it's only when it fills up you leave.
If you're the first in the jeep you could be waiting at least an hour to take off so bring distractions! Also factor in waiting times into your travel plans.
4. Most Sumo jeeps don't run after 11am in some states
In Arunachal Pradesh and Nagaland, sumo Jeeps run from around 6 am until 11 am. Jeeps run every hour and you have to buy a ticket in advance from the sumo counters.
I can't tell you how fast these run out. This is the only form of transport that the locals have to get around so when the tickets are gone they're gone! If you've left it til on the day, you may struggle to find a seat.
You should also consider that If you need to get 2 jeeps in one day for your location, you may have to stay overnight somewhere if you arrive past 11 am.
5. Start off your journey as early as possible
Although North East India should be in a different time zone in geographical terms, it's still in Indian time. This means that it gets dark around 3.45 pm in winter (peak season).
The roads are pretty dangerous here and more so in the dark – so try to start off as early as you can. If you have a long journey (Bomdilla to Tawang/ Tezpur to Tawang) start on the first Sumo at 6am.
6. Try to get the front seats of Sumo Jeeps
For women especially, this will be more comfortable. The jeep is meant to only really fit 8 max but as the jeeps are few and far between you'll be squished to use all the available space.
It's incredibly claustrophobic, especially in the back where there isn't a door. As I'm claustrophobic, it was too much for me so I always requested front seats.
These do go the quickest so you have to get there early for them. To put it into context I would wait another day. If you have a long journey, sitting in a cramped jeep with no leg room or space can be uncomfortable.
Not to mention the roads will be incredibly bumpy.
7. Prepare for some crazy roads
If you thought that the roads were bad in India, you haven't met North East India roads yet.
Although the roads from Guwahati to Cherrapunjee and Kaziranga/Jorhat are new due to the increased tourism. The roads in Arunachal Pradesh and Nagaland are a challenge.
You'll find winding rocky roads that twist around the hills, potholes, landslides, gravel; throw health and safety out the window!
I jest, the drivers are used to it and certainly know what they're doing! But, it won't be a comfy ride.
The Sela Pass was my most challenging as we had heavy snow. We made our way up the roads in 3 hours and then had to turn back. Not fun.
Related post – places to stop on a road trip to Sela Pass!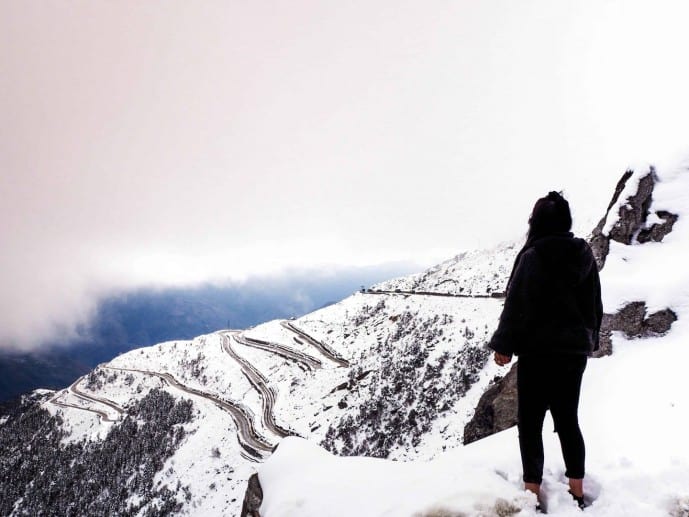 8. Your bags may be tied on top of the jeep – make sure it's tied down!
I was riding on a sumo jeep from Bomdilla to Tezpur and when I got in the jeep my bag was in the van and safely at the back.
But, as we were moving along suddenly my sumo stopped.
He got out of the van and all I saw was my backpack that had fallen off the top van and was lying on the road. It fell off the van. I didn't think this was possible.
Luckily all my breakables were in my day pack so nothing was broken. Thank goodness!
The moral of the story is, if it's a long bumpy journey and your bag is going to be on the roof, make sure that it's got a rain cover over them and tied down.
The last thing you want is dusty or wet luggage If the rain comes. Don't get in the jeep until that happens.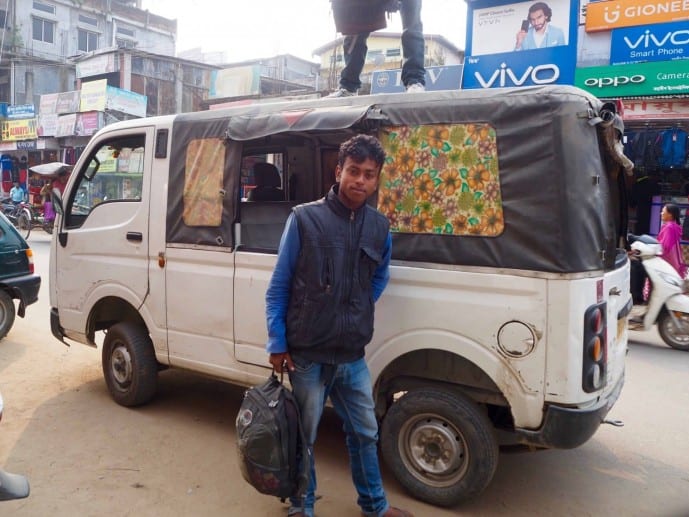 9. Be prepared for delays, lots of delays, or turning back all together
When I was heading up to Tawang, our jeep got stuck in the snow and we had to head back down the road for a few days until the snow passed.
When I was heading back from Bomdilla to Tezpur they were blasting the road and shut off both ways for six hours meaning we just had to wait around.
When trying to leave on the Majuli Island ferry, I got stuck for 3 hours due to freak fog.
From Jorhat going back to Guwahati, the tea pickers were lying in the road and protesting. Meaning no buses for the foreseeable. As I had a flight the next day, I had to get a train (thankfully there was a seat).
You'll almost certainly be delayed on your journey so it's best not to book everything you want to do in advance.
10. Landslides are common and you'll see the road being built in front of you
The roads up the hills can be really sketchy in terms of landslides.
The mountains aren't always secure and rocks falling could happen at any moment.
A lady in Arunachal Pradesh was literally watching the rockface and giving cars the okay to pass at one point. Our jeep was struggling to get through the muddy roads. The jeep couldn't get any traction so it was like sliding from side to side on the way over.
Not great when the other side of the road is a steep fall.
When a landslide happens the highways agency will always try to clear it and rebuild the road and you can even watch it being built before your eyes!
11. Getting from state to state means crazy journeys and delays
Getting from Arunachal Pradesh to Nagaland took me 24 hours with a jeep and two buses.
Getting from Nagaland to Assam took 14 hours with 2 jeeps and 2 buses.
Getting from Kohima to Longwa in Nagaland took over 18 hours with an overnight bus then a jeep.
Some of the journeys you'll take to get around transport limitations are insane. But, to make the most of your time, you'll have to power on through. Not to mention your connecting villages or towns won't have tourist guest houses.
So, you have no choice but to keep going. If you can!
When I was travelling to Jorhat through Tizit we were told 'no buses'.
But, with quick thinking and a Tuk Tuk ride, I hopped on a bus to the big town of Shiv Sagar and there were plenty of buses heading to Jorhat.
You just have to work out the puzzle and have some faith.
12. It can get pretty dusty
As there's no air conditioning in the jeeps and it's full of people, the windows usually are open.
This means that all the dust from the roads gets in and you'll be covered in a thin line of dust. Plus you'll be breathing it in.
Usually, I would wear a scarf over my head to protect my hair, sunglasses to protect my eyes, and a vog mask. What do you get with this combo? Darth Vader! But hey, it's better than a chest infection.
You can buy really cheap ones here for 100 rupees but it won't get all the bad stuff out of the air you're breathing. A vog mask has filters so you can breathe easily and know the air you're breathing is somewhat fresh. I would highly recommend one for your journey in North East India;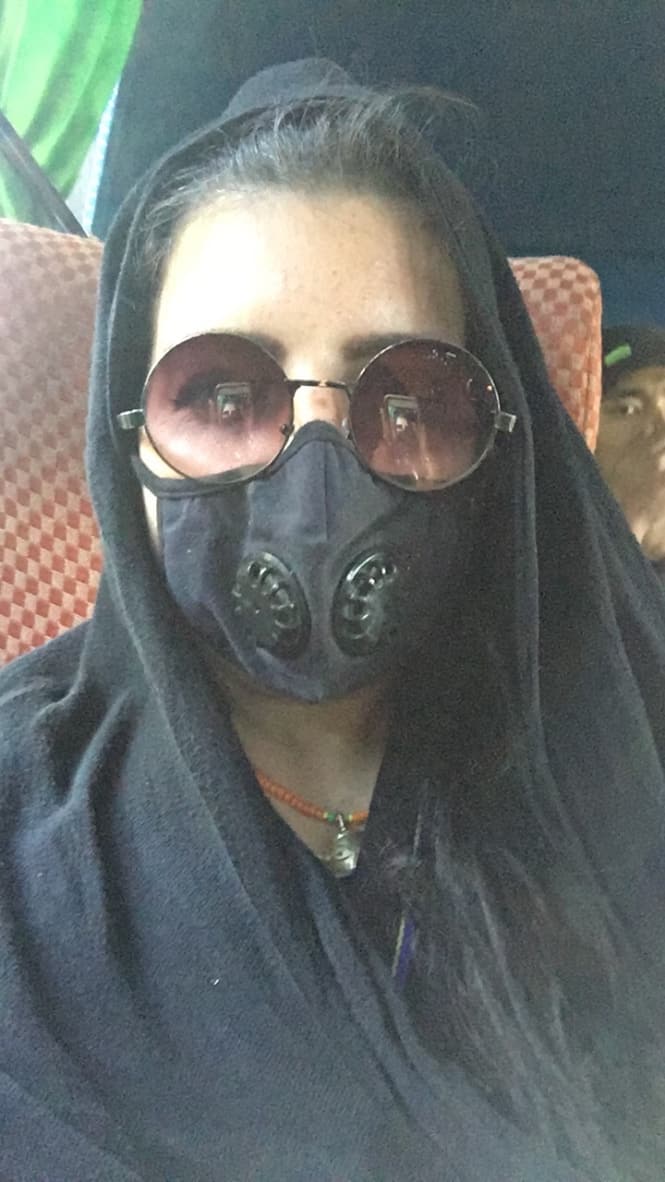 13. It's safe for women who are travelling solo
I was a little concerned about my safety as a solo female traveller but I honestly had nothing to worry about.
I found the people friendly, polite and would help wherever they could. People would help me with my bags and make sure I was safe.
No one would bother me and there was always single and priority seating for women. I found that people treated you with the utmost respect.
The most that people were concerned about was my safety and that meant everything.
14. It's ridiculously cheap
Despite having some journeys that were over 24 hours, the cost of travelling is dirt cheap. Some of my longest journeys cost a little over £5. I'll list some typical journeys and prices for you;
Sharing car to Shillong from Guwahati (3 passengers, 2 hours) – 300 rupees
Sumo from Tezpur to Bomdilla (10 passengers, 4 hours) – 350 rupees
Bus from Guwahati to Kaziranga National Park (30 passengers, 5 hours) – 280 rupees
Ferry from Jorhat to Majuli Island (unlimited passengers, 1 hour) – 15 rupees
Bus from Tezpur to Demipur (30 passengers, 8 hours) – 300 rupees
Sumo from Mon to Longwa (10 passengers, 2 hours) – 250 rupees
Bus from Kohima to Mon (30 passengers, 16 hours) – 700 rupees
Train from Jorhat to Guwahati (Exec Chair Car, 7 hours) – 540 rupees
The cost of travelling by public transport is low, but you have to balance that with your time limits. Don't underestimate the time it takes you to travel!
15. It's all about the journey, not the destination
Nothing could be more true about travelling in North East India. You will learn to love the crazy journeys and transport routes, have your faith in humanity restored by the locals who show you the way, and miss the bumpy, pot-holed roads keeping you up at night.
Yes, you will have wasted some time, but you will be armed with some awesome travel memories and stories to take home.
Happy travels and take care on the road!
Life is about the journey, not the destination!
Read more of my North East India articles!
Top things to do in North East India
A complete guide for Hornbill Festival
Best places to visit in Arunachal Pradesh
My ultimate Tawang travel guide
How to find the double-decker root bridges in Meghalaya
A complete travel guide for Guwahati
A complete Kaziranga Safari guide
My top North East India travel tips