Get ready for your ultimate Pushkar travel guide. Pushkar is one of my all-time favourite places to visit in Rajasthan.
Its peaceful vibes and friendly locals are the things that make me come back more – 3 times over in fact. My first time was the Pushkar Camel fair, Holi festival, and now in August during monsoon 'offseason.
I instantly fall for places that have a good feeling and make me feel relaxed and Pushkar ticked all the boxes on that front.
I feel completely safe walking around as a solo female traveller and locals say 'namaste' (or 'shalom' as they think I'm Israeli!) with a smile.
Although it is called a holy 'city' it's actually quite urban which provides an awesome opportunity to witness village life and see some of the 'real' people of Rajasthan.
Gipsy tribes, Colourful saaris, jingling anklets, bangles, and turbans all thrown in.
It's a relatively small place and so you don't really need a strict itinerary here, you can just go with the flow and discover Pushkar's amazing hospitality for yourself!
Here's my ultimate Pushkar travel guide & 10 reasons why you will fall head over heels in love with Pushkar.
Why you NEED to visit Pushkar
1. Pushkar is a hidden gem in Rajasthan
Pushkar is tucked away in the Rajasthani hills and the easiest way to reach it is to pull into the city of Ajmer.
You can catch a train to Ajmer straight from Delhi or Jaipur via the Shatabdi express trains which run daily. It leaves around 6 am from Delhi station and arrives in Ajmer city around 1 pm.
From Jaipur, it's an easy 3-hour journey to Ajmer. So easy, I decided to get the local bus for 110 rupees (so cheap!).
Then, it was an easy switch to the local bus heading to Pushkar.
You have to head up and over a mountain pass road to reach Pushkar and Tuk-Tuk drivers will charge quite a lot to take you there.
A big tip would be to get the local bus from the bus stand as it's only 12 rupees a ticket! It's actually a safer option out of the two.
The buses do look like they're going to fall apart but they'll get you there safe and sound.
2. You can stroll around the beautiful Pushkar lake
My favourite pastime when I visit Pushkar is to gravitate and stick around its gorgeous holy lake!
Although the constant onslaught of people offering you blessings and a Pushkar passport red thread can get a little annoying (especially if you've already had one) it's a beautiful place to sit and relax.
You have to take your shoes off to walk around it as pretty much all the buildings surrounding the lake are temples and Ghats which lead down to the lake for washing in the holy waters.
You'll soon know if you've overstepped the mark as the locals will shout at you to remind you to take them off!
You can carry them with you, just don't let them touch the floor.
DO NOT get into the lake if you are not local, it's prohibited and best left to those who are praying.
Pushkar is one of the pilgrimage sites for those who practice the Hindu faith and is one of the cities that they should visit and offer blessings in their lifetime.
Maha Aarti Pushkar
One of my favourite memories here was witnessing the famous Maha Aarti.
The flames, throwing of colourful rose petals, and songs were really moving. Will you just look at that spectacular sunset!!
3. Pushkar has the only Brahma temple in the whole world
That's right, you'll get to see the only Brahma temple in the world here.
It's closely linked to the Pushkar lake as legend has it that during a battle with a demon, Brahma was using his weapon of a lotus flower. As he fought, petals fell and created the gorgeous lake!
You'll need to hand your shoes, phone, and camera into a locker as photography is strictly prohibited.
Be careful of your things and make sure they are locked away securely.
I also had to wash my hands and feet in the rose water given to cleanse before I made my way up the stairs.
4. The Savitri temple trek is incredible
The most incredible sunrise trek I have been on to date in India is the Savitri temple hike.
You can see the temple perched on top of a hill from all over the city and it's just asking for you to climb it! You start off in complete darkness and make your way up the steep stairs to the temple.
I have absolutely no grace whatsoever and fell on my ass quite a few times on my way up and down for that matter! Also, beware of the monkeys!!
There were so many causing mischief all around the hillside and top. They're mainly sniffing out food so make sure you don't have any in your bag!
Despite all this, the views at the top are outstanding.
You get an incredible panoramic view of the city and in winter, Rajasthani sunrises create an amazing orange glow. So worth the sweaty painful walk to the top.
5. You can get lost in the desert on a camel safari
Possibly the coolest part of visiting Pushkar is the fact you can ride into the desert with furry camel friends!
Camel safaris are running all year round, including the off-season but in monsoon, you may wonder where the desert has gone as everything is completely green.
When I visited during the camel fair, it was miles of sand and dunes but in monsoon, it was swept over with plant life! I literally had to ask my driver to find me the one village which was still sandy for a photo.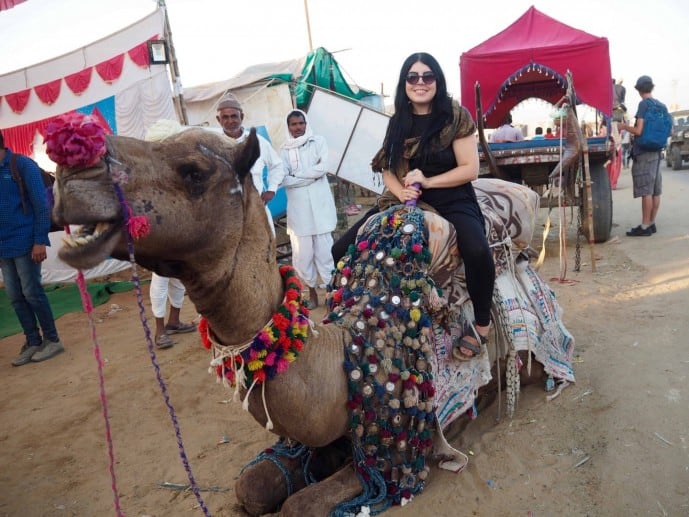 You usually pay these guys by the hour and in the low season, I paid 300 rupees. You can ride on the top or in one of these cute little Rajasthan carriages!
During the camel fair, prices hike up through the roof so make sure you negotiate a good price!
If you want to watch this sunset on the camel, I would suggest getting one for 2 hours.
Although beer is banned in the holy city, in the desert it's completely fine! You'll find these guys delivering beer on a scooter – perfect timing to watch the sun go down.
You can also do an overnight safari which includes a camel ride to a 'gypsy' camp, dinner with a dance show, and a night sleeping under the stars!
Make sure you clarify what's included and research your company to be safe.
Read my Indian desert safari checklist here
6. Shopping in Pushkar is SO cheap!
Pushkar has some stupidly cheap prices for leather bags, wall hangings, shawls, handicrafts, and jewellery!
If you're waiting to buy souvenirs I would splurge here as you'll get more for your money.
I bought a beautiful mandala blanket/towel for 200 rupees, which was a steal compared to the prices back home.
Make sure you haggle for a good price. Don't get impatient and cave, take your time and discuss prices over chai.
A lot of the stalls here have chains in Goa, Manali, and beyond so some shops have a guarantee policy.
One guy selling jewellery promised a 2-year guarantee and if I found myself in Goa I could get something fixed or replace for free, cool huh?
7. Falafel is life in Pushkar
Pushkar is a pure city, pure vegetarian and nonalcoholic – that means eggs too although there are restaurants that have 'secret' menus if you ask.
The amount of times someone sketchy asks me in the street 'you want beer?' is untrue. Although I know I'm a Brit, I'm not THAT desperate for beer haha.
The best food in Pushkar is the falafel wallas (vendors) on the main market street. Catering for the masses of Israeli tourists that flock here.
Someone told me it's most probably because they can smoke copious amounts of weed without consequence. Either way, the Israeli market is big.
There's Israeli on menus, signs, hotels etc. The falafel stalls serve up a huge wrap with falafel, fries, salad, and cheese filling for 80 rupees!
It's tasty, hygienic, filling, and entertaining. You'll always see these guys having banter with all the tourists who walk down the street. They also give you a little falafel ball to taste, even if you're not hungry!
8. The U-turn café provides a birds eye view
My absolute favourite place to escape is the U-turn café above Coffey temple.
Providing incredible views of the lake and Savitri temple, you'll always catch me in here with lemon, ginger, honey tea basking in the sun and spying on the activity going on below.
Cheap eats, friendly staff, and a good vibe make this one of the best cafés to visit in Pushkar. Make sure you drop by!
9. Its peaceful vibes in Pushkar are addictive
Many travellers find a haven here in Pushkar due to its Shanti Shanti (peaceful) atmosphere.
Rajasthan can be chaotic, crazy, dirty, and busy but this holy city makes you forget all that.
It's a moment of calm on your holiday adventure! Don't be surprised if this place makes you want to stay for longer than planned, it has that way about it.
Sometimes I feel I could just make it home and live there. I simply love it!
Some friendly warnings for Pushkar
I also love the friendly locals and many will be willing to chat or help you out.
But, I would warn you to watch out for dodgy people trying to drag you off to the lake to 'share the energies'.
Not everyone is dodgy, but use common sense. If you feel uncomfortable in a situation, just say no.
It took me a while to get over my embedded British politeness here. Now, if I don't like something I say so straight out. This includes people touching me or my hair and trying to drag me in their shop to see the same crap.
No, I don't want to give you my number or have a drink with you, sorry!!
Yes, I smile and I'm nice but that doesn't mean I want a future with you haha. I've also started joking around about charging for selfies with guys now, I'm just done with it. Being here for 12 months it starts to take a toll.
It starts out as one picture then turns into 10 with 4 other friends who want one too. God knows where some of my pictures have ended up!!
Of course, I'm not evil. I take pictures with families and ladies if they want one as they're not as seedy!!
10. It hosts the annual Pushkar Camel Fair
The main draw of tourists is to attend the annual Mela, the famous Pushkar camel fair.
Here, people from all over Rajasthan attend to sell Camels, horses, bulls, and trade all sorts of stuff.
What I loved was seeing all the traditional Rajasthani farmers and ladies who come and stay here. The life force, colours, and characters are incredible.
For tourists like you and me, it's photography gold and there is even a competition for 'frame of the fair' which could bag you $5,000!
You can do camel riding, get a birds-eye view via hot air balloon or ride a Ferris wheel at the funfair.
There's so much going on every day including free music concerts and competitions that westerners can enter like turban tying, a moustache contest, cricket games, and water pot racing.
Be aware that prices during this time go up threefold and finding a room can be a challenge if you don't prebook.
When I was at the camel fair I stayed at a heritage camp a little further out from the noise.
It's also packed but that's what makes it special, it's hustling, busting, and a hell of a lot of fun! This was my first taste of Pushkar and it made me want much more.
For more information see my post 'The Ultimate Guide to the Pushkar Camel Fair'.
Save my Pushkar travel guide for later
I guarantee that if you visit Pushkar this peaceful little city of Brahma, it will stay with you forever.
It will always be in my heart and I hope to keep coming back year after year.
It's a retreat into stillness amongst the madhouse of this desert state. Don't skip it on your way through, stay a while and relax.
Where to stay in Pushkar
5* Luxury:
Mid-range:
Budget Range:
Heading around Rajasthan? Check out these posts!
My complete guide to the Pink City of Jaipur
A photography guide for Jaipur
My top travel tips for Jaisalmer
A camel safari in the Thar desert
Why Bundi has to be on your bucket list
Top places to visit in Bikaner
Visiting the rat temple in India