Queen Mary's Bath House Edinburgh is a curious turreted residence that lies abandoned on the boundary walls of the Palace of Holyrood House in Canongate.
This quirky house is a 16th-century building that has long been associated with Mary Queen of Scots when she was on the throne.
Queen Mary had a short and turbulent reign and her rise to power was quickly followed by a tragic downfall. Her time spent in Edinburgh was also constantly mired in rumours about adultery, murders, and plots in her court.
One of the more odd myths about Mary was that many people believed she would bathe in sweet white wine in this very house. But, how much of that is true?
Here is a complete guide to Queen Mary's Bath House in Edinburgh and whether Mary really did bathe in wine!
Who was Mary Queen of Scots?
Mary Queen of Scots, Mary Stuart or Queen Mary I of Scotland, was Queen of Scotland from 1542 until she was forced to abdicate her throne in 1567.
King James V died when Mary was just six days old, so she spent most of her childhood in France while the country was ruled by regents.
She married the Dauphine of France, Francis II, at just 15 years old. They went on to become King and Queen of France but Francis died of an infection and so she returned to Scotland to take her position on the throne.
Mary only returned to Scotland as Queen for six years. But, that short reign was a dramatic and turbulent one.
The religious divide between Catholics and Protestants meant that the political waters in Scotland were hard to navigate as she had been away for so long.
She married for the second time to her half-cousin Lord Darnley (Henry Stuart) and they had a son together who would be the future James VI of Scotland (James I of England).
Mary also had a rumoured lover, her confidant Daniel Rizzio who would dine with her in her private chambers. One day, Lord Darnley burst in with several other lairds and murdered him right in front of Mary's eyes.
A while later, Lord Darnley's residence was destroyed and he was found murdered in the gardens. Many blamed Mary for this and believed she secretly plotted his death in Craigmillar Castle.
It didn't help matters when she married James Hepburn, the 4th Earl of Bothwell, and the two were thought to have conspired together.
The country was in uproar and so Mary was imprisoned in Lochleven Castle. Her third husband was executed, she suffered a miscarriage of twins and she was forced to abdicate her throne in favour of her son James who was just three at the time.
She made an escape and fled the country looking for protection from her cousin Queen Elizabeth I. But, Mary was perceived as a threat to the English throne. Many considered Mary Stuart to be the legitimate sovereign.
The death of Queen Mary
For eighteen years, Elizabeth had Mary confined to different houses and castles. But, she didn't rough it, she had 16 people in her household and was made 32 plates of food every evening served on silver platters!
The Rising of the North rebellion happened during this time when the Duke of Norfolk wanted to replace Queen Elizabeth with Mary Queen of Scots. So, Mary became even more of a threat to her English cousin.
It is believed that Queen Elizabeth's advisors arranged for letters to be smuggled to and from Mary in her captivity in order to incriminate her in plots to kill the English monarch.
Queen Elizabeth I then had her cousin tried at court although Queen Mary declared there was no court who could judge an anointed Queen. Regardless, she was found guilty and executed at Fotheringhay Castle.
She wore crimson robes of Catholic Martyrdom and the executioner missed her neck several times. The axeman held up her head but it fell out of his hands as her red tresses were in fact a wig!
Elizabeth was resentful and said she didn't mean for her cousin to be killed with the death warrant she signed. In a rage, she had the counsellor who arranged the execution arrested and jailed for two years.
Before her death, Mary requested to have a Catholic burial and to be buried in France where she was so happy with Francis II. But, Elizabeth refused and had her buried at Peterborough in the protestant style.
When Elizabeth died and handed over the crown to James I. He had her body exhumed and reburied in a beautiful alabaster tomb at Westminster Cathedral next to her cousin Elizabeth and other English monarchs.
Mary Queen of Scots legacy
Although her reign was short-lived, Mary Queen of Scots is now one of the most famous Scottish monarchs in history and her story still lives on today.
She was the mother of James VI who then became James I of England after Queen Elizabeth I died. This united the two rival countries of England and Scotland without bloodshed.
Her character has been both demonised and romanticised through time. She's wildly portrayed in literature and movies as this menace who would bring a country to its knees.
But, many factual chapters of her history are largely unknown and have now disappeared with the passing time. So, sadly we may never get to know the true story of this fascinating woman.
A lot of what has been created about her and what we understand her character to be is based solely on stories, accounts, opinions, and myths.
Not to mention the fact that it's 'HIS-story' and many of the historical accounts we read today were made by men and based on the misogynistic views of women having power over men.
Was she demonised because she was truly 'bad'. Or, was she just not a man in power?
Why do we celebrate King Henry VIII in schools for having six wives, beheading divine monarchs, being a tyrant, and bankrupting religious buildings for ultimately his own selfish gain?
Oh yes, because a King was expected to have affairs with other women, be vicious, and demand war without consequence or questioning.
God forbid a Queen would expect the same type of privileges and keep her place on the throne without being called a monster… it reeks of hypocrisy!
What is Queen Mary's Bath House in Edinburgh?
Queen Mary's Bath House is a small building on the old boundary walls of the Palace of Holyrood House.
It sits on the pavement of Abbeyhill in Canongate and today many pass by this quirky residence without paying any mind to it or knowing what it is!
The small lodge has a bulging and crooked shape and that's what draws attention to it the most. Inside, it has two floors and the roof is capped with turrets.
It's stands abandoned and no one lives inside, I'm not sure anyone has been inside this place for years! You'll find doves and pigeons that have made a home here instead.
The reason why it is famous is that this mysterious medieval building has long been associated with Mary Queen of Scots during her reign in Scotland!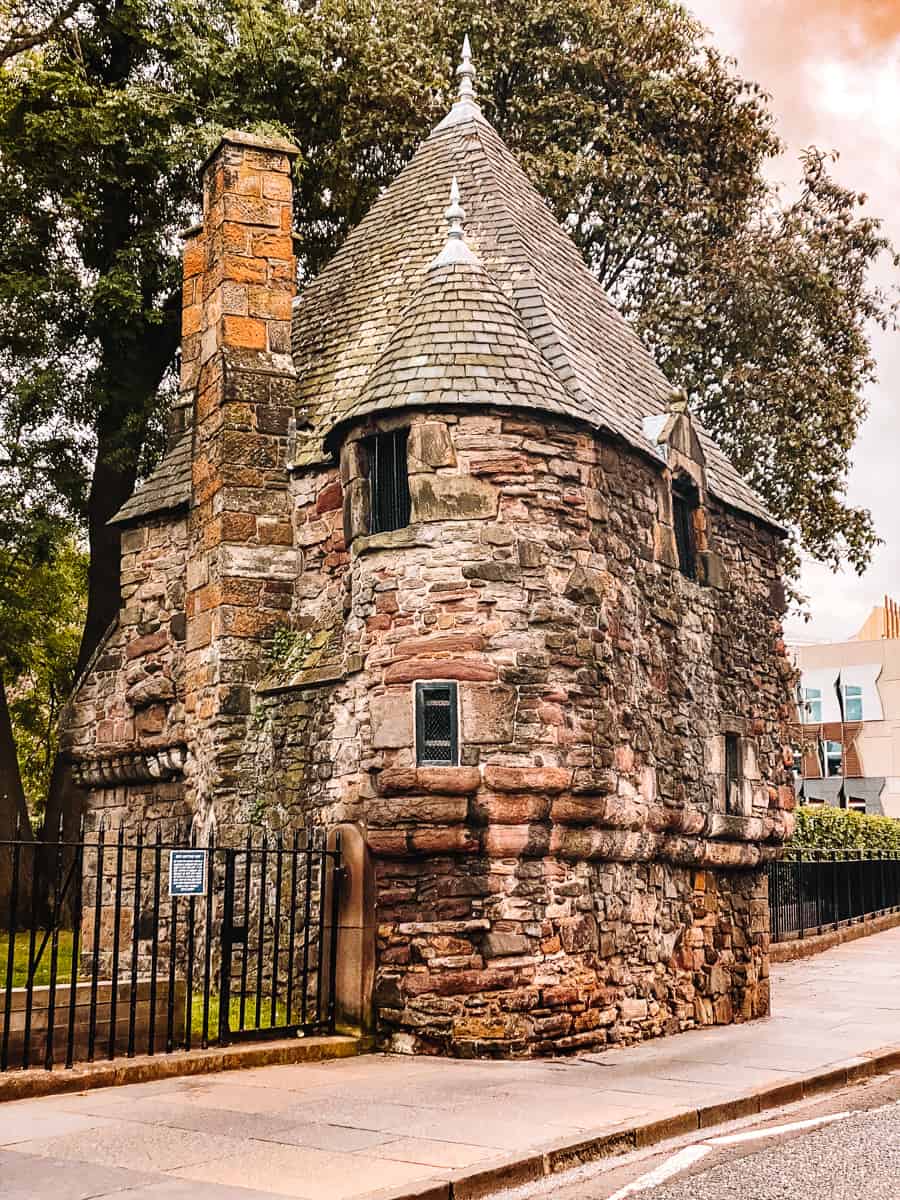 Queen Mary's Bath House history
Queen Mary's Bath House is thought to have been built sometime in 1565 which is when Queen Mary was in power in Scotland.
During Mary's time, Holyrood Palace looked a lot different than it does today and the lands around the house stretched further.
It was originally located on the boundary wall of the palace that would lead to the king's privy gardens. The royal family and court would spend time here in the sunshine when the weather was fine.
It was thought to have been built as a summer house or Tudor tennis pavilion and many believe this is the oldest tennis pavilion in the world!
There are also theories that this was used as a dovecot and an intimate banqueting house. It was eventually restored in 1852 and it's around this time that it was made into a tourist attraction.
Today, many associate this quirky residence with Mary Queen of Scots and her reign. It is said that this pavilion contained a bath and Mary bathed in sweet white wine here!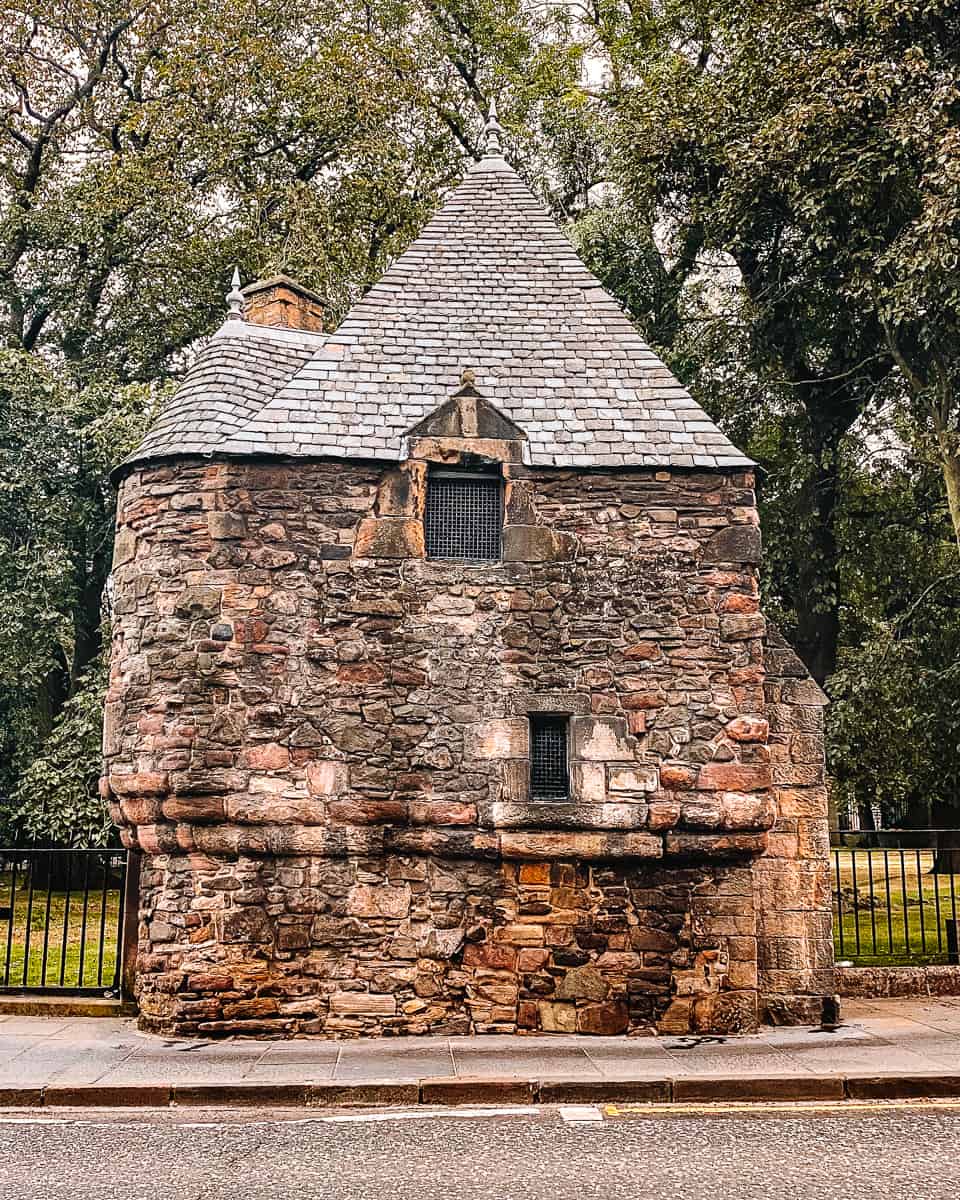 Did Mary Queen of Scots really bathe in sweet white wine?
It is rumoured that Mary Queen of Scots wouldn't bathe in mere water but in sweet white wine as she believed it to be good for her complexion.
She wouldn't touch a drop to drink but she preferred to have her wine stores poured in her bathtub to make her look pale and beautiful. Also, a form of pain relief.
Many believe that this tiny residence on the outskirts of Holyrood House contained a bath and it's here that Mary would have her boozy bathing times.
But, there are no official records that this actually happened. In fact, there wasn't a single account that reported that Queen Mary's Bath House even had a bath inside!
This legend about Mary is believed to have has been attributed to John Pinkerton. He was a Scottish Antiquarian who wrote about Craigmillar Castle in 1776. This is almost two hundred years after her death;
"The chamber, where the Queen, whose charms divine, Made wond'ring nations own the pow'r of love, Oft bathed her snowy limbs in sparkling wine, Now proves a lonely refuge for the dove."
Just like Elizabeth Báthory who supposedly bathed in the blood of virgins, this strange gossip has stuck through the ages and people still question if it really did happen today.
The rumours of Queen Mary's Bath House also conveniently re-emerged in the 19th-century to attract tourists to the site. Indeed, a sign was placed on the gate nearby for passers-by.
So, I guess we'll never know whether Mary Queen of Scots really did bathe in wine here. But, it's still pretty cool to think that she did! She was a Queen after all.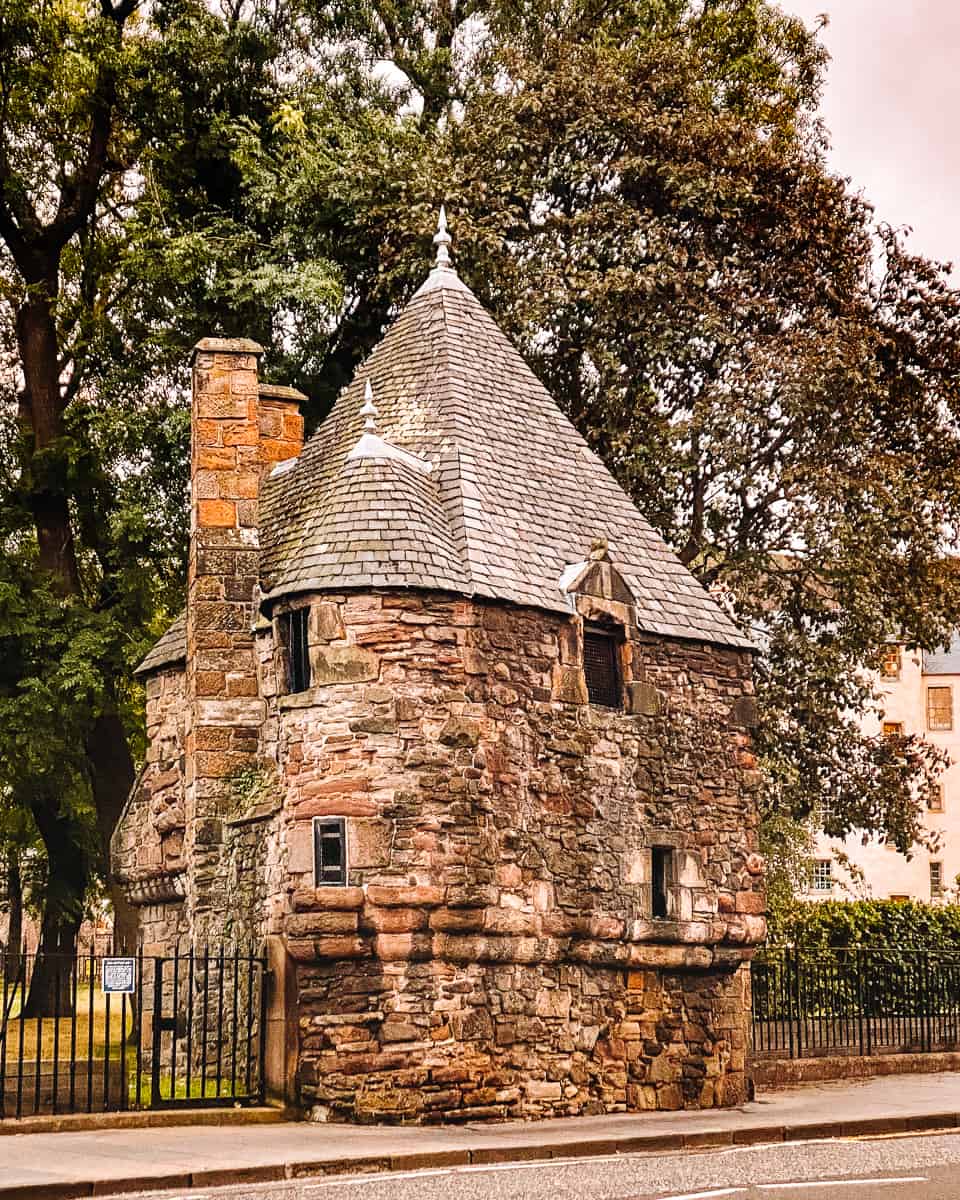 How to visit Queen Mary's Bath House in Edinburgh
If you wanted to visit this unusual attraction in Edinburgh, it's extremely easy to do so from the Royal Mile.
If you walk down to Canongate and stand opposite the Palace of Holyrood House, take the path to the left on Abbeyhill and keep walking straight.
You'll eventually find Queen Mary's Bath House spilling over on the pavement here!
The closest place to park would be the car park by the Palace of Holyrood House in Holyrood Park. It's free to park here after 6 pm and on weekends.
Queen Mary's Bath House address is 3 Abbeyhill, Edinburgh EH8 8DY.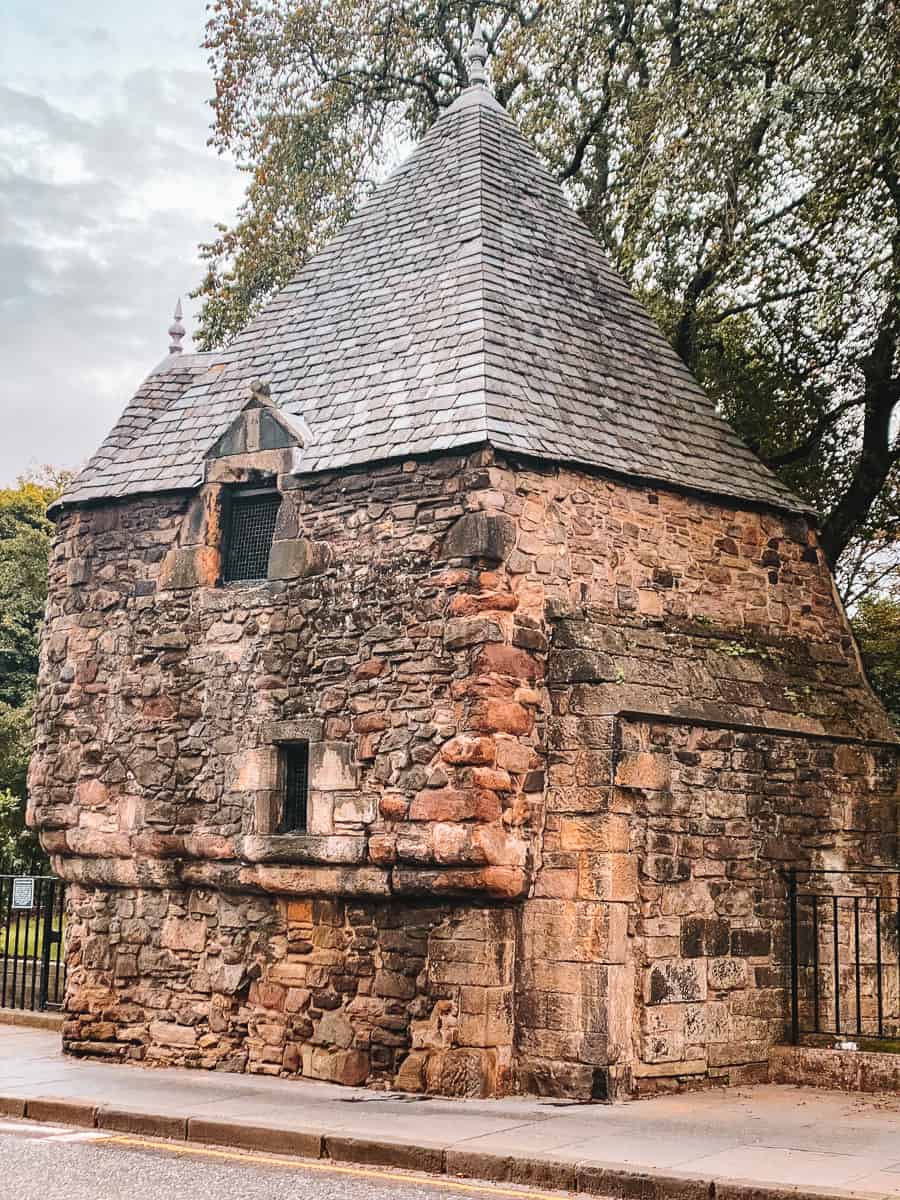 Can you go inside Queen Mary's Bath House?
No, unfortunately, you cannot go inside Queen Mary's Bath House as it's an abandoned building on the Palace of Holyrood House grounds. You can't even enter the gate with the sign as it's private land!
I tried my best to put my phone up to one of the lower windows and capture something inside but it was pitch black and you can't see a single thing. I could hear birds though and smell them, haha.
There also seems to be very little imagery or photos of what's inside the house online. Not even by Historic Scotland which is unheard of.
I'd love to see what lies inside here and follow where Mary may have visited! I guess we will never know until the royal family decides to restore it and reopen it.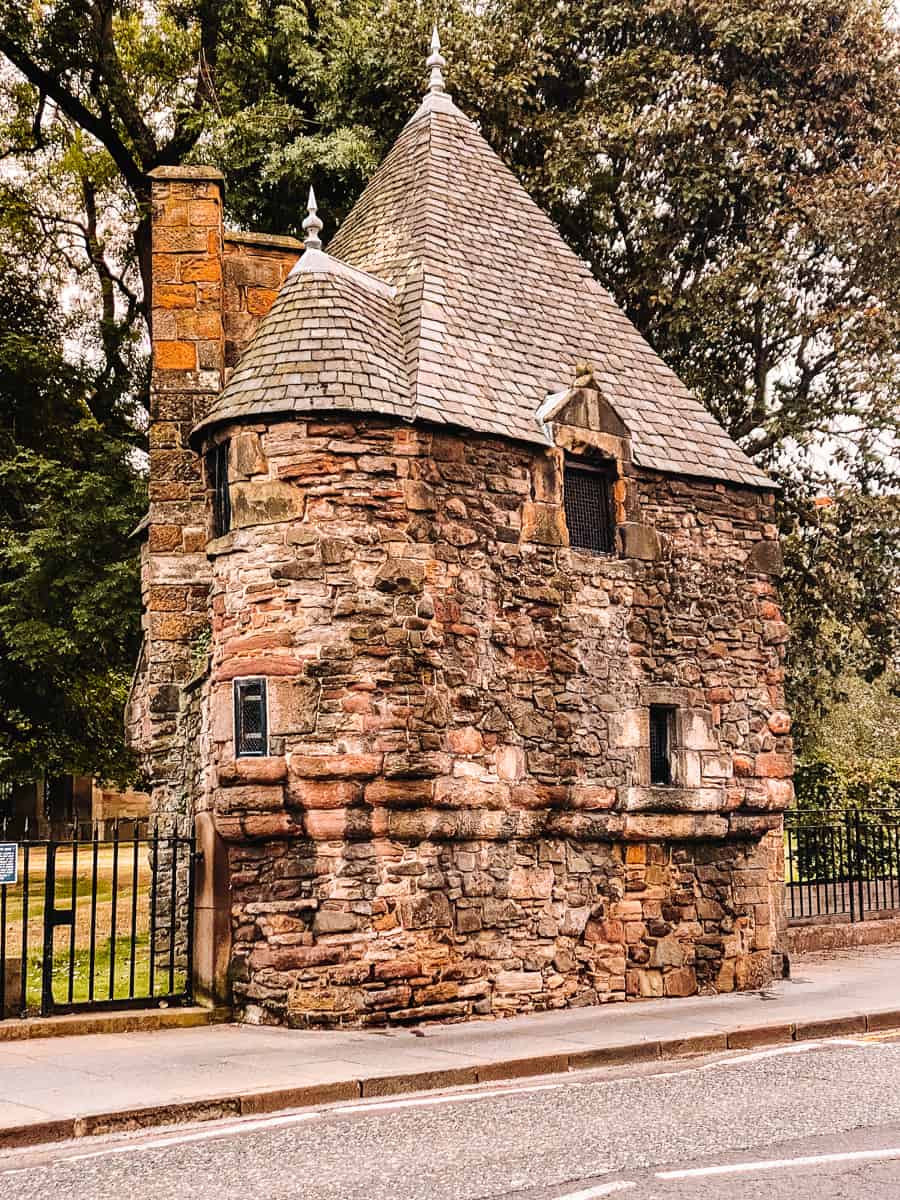 Visit the Palace of Holyrood House or Holyrood Palace next!
I would highly recommend making a pitstop at Queen Mary's Bath House as part of a visit to the Palace of Holyrood House.
This historic royal residence is located at the bottom of the Royal Mile in Canongate. It lies opposite the Scottish Parliament Building and at the foothill of Arthur's Seat in Holyrood Park.
Canongate is by far one of my favourite parts of Edinburgh and years ago this actually wasn't even part of Edinburgh at all! The boundary lines of the city ended at The World's End pub.
As well as Edinburgh Castle, Holyrood House used to be a historic seat of the Scottish Royal family. But Holyrood Abbey was founded much earlier in the 12th-century.
Today, Holyrood Palace is Queen Elizabeth II's official residence in Edinburgh that opens as a tourist attraction that you can visit. It's well worth seeing and you can explore many of the royal apartments, abbey ruins, and grounds.
Click here to book your tickets for the Palace of Holyrood House
Even more Mary Queen of Scots things to do in Edinburgh
If you were interested to learn more about Mary Queen of Scots, there are plenty of castles and attractions that you can visit in and around Edinburgh.
I would always recommend visiting Edinburgh Castle first which is the historic seat of the clan of royal Stewarts who ruled Scotland from 1371 and 1603.
They ruled from Edinburgh and used Stirling Castle as a royal retreat. Stirling was also a childhood home to Mary Queen of Scots along with Falkland Palace.
One of my favourite castles in Edinburgh is the historic Craigmillar Castle which has huge two yew trees growing in the entranceway. It looks like a fairytale and featured in Outlander but this was rumoured to be the place where Queen Mary plotted to kill her husband.
Linlithgow Palace is the birthplace of Mary Queen of Scots and it is highly impressive. It has many floors and is a labyrinth to navigate.
Also, you can visit Blackness Castle which is nicknamed the 'ship that never sailed'. Mary never visited but she was meant to and one of her guardians lived here. This amazing place was also featured in the recent Mary Queen of Scots movie.
Lochleven Castle is also the famous prison of Mary Queen of Scots where she made her escape. You can visit on a short drive from Edinburgh. You'll need to catch a boat over to the castle.
Click here to read all about this Mary Queen of Scots filming location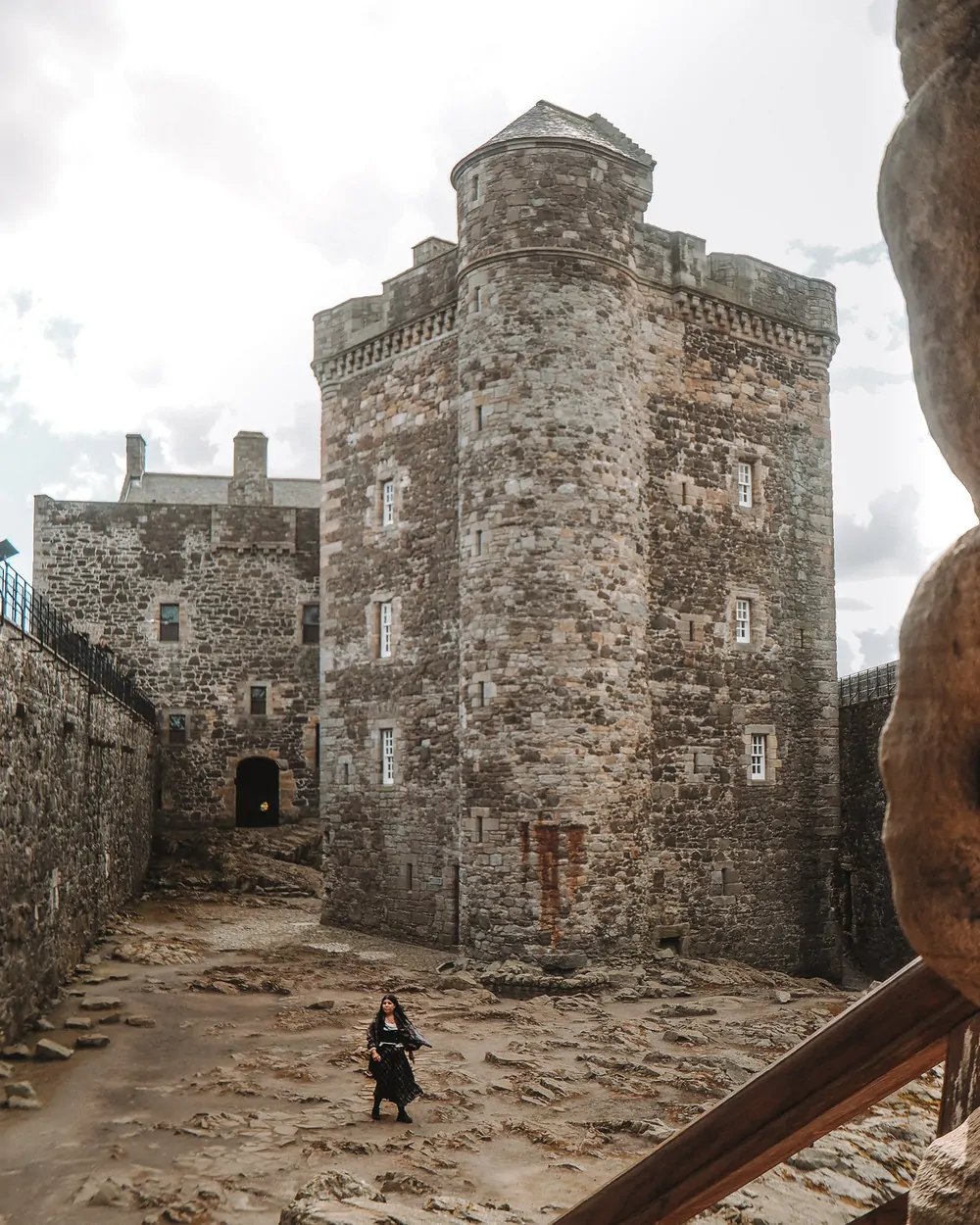 Read more of my Edinburgh travel guides!
The ultimate list of experiences in Edinburgh
Harry Potter locations in Edinburgh
The best viewpoint in Edinburgh
A complete list of Outlander film sites in Edinburgh
Why you must visit Bakehouse Close
A complete guide to the Vennel
Topping & Company Booksellers Edinburgh review
The hidden gem of Tweeddale Court
Why Craigmillar Castle has to be on your list
Afternoon Tea? The Colonnades & The Balmoral are the best!
A fairytale visit to Dean Village
Lady Stair's Close & The Writers' Museum in Edinburgh
How to find the old Stockbridge market arch
The mystery of the Burke and Hare Coffin Dolls
Scottish National Portrait Gallery review
Discover Liberton Kirk in Autumn
Save Queen Mary's Bath House Edinburgh for later!