Thousands of people visit the Palace of Versailles every year but have you heard of the Queen's Hamlet or Hameau de la Reine?
It's a rustic village on the Estate of Trianon that was commissioned by Marie Antoinette as a retreat and you can visit it as part of your tour.
The Versailles Hamlet is filled with quaint cottages that appear frozen in time and it feels like you're strolling through a scene in a painting.
It's a dreamy village that's been plucked from the pages of a fairytale and I wouldn't skip it. This was easily my favourite place on the grounds as there was barely anybody there.
Here is a complete guide for the Queen's Hamlet Versailles and the story behind Marie Antoinette's village.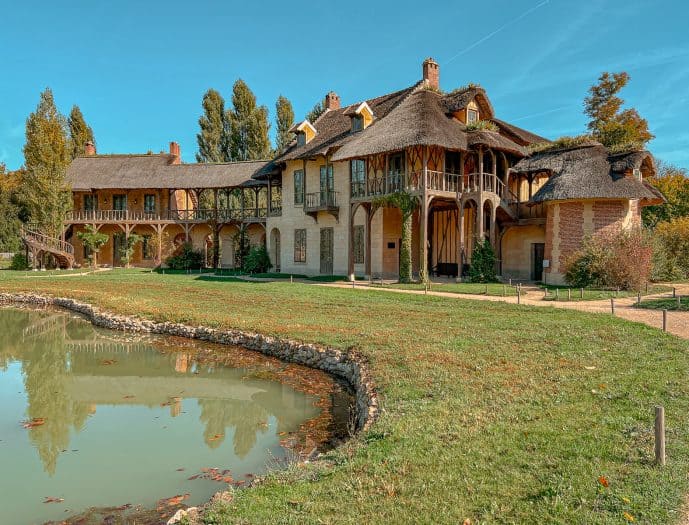 What is the Queen's Hamlet in Versailles?
The Queen's Hamlet is a small settlement on the Estate of Trianon in Versailles that is made up of 10 rustic-style houses.
It's an idyllic village built around a grand artificial lake and consists of the Queen's House, a Boudoir, Watermill, Marlborough Tower, Dairy, and more.
Hameau de la Reine was commissioned to be built by Marie Antoinette in 1783 behind her residence in Petit Trianon.
The French architect, Richard Mique, was told to build a hamlet that would return visitors back to nature which was in vogue at the time.
The rustic buildings were inspired by architectural drawings of painter Hubert Robert. It doesn't have a particular style but has both Norman and Flemish details.
It was also influenced by the Hameau de Chantilly but the size and complexity of the Queen's Hamlet meant it became famous throughout aristocratic Europe.
Why did Marie Antoinette build her Hamlet?
It's no secret that Marie Antoinette used Petit Trianon as a sanctuary away from the Chateau of Versailles.
As queen, Marie was constantly surrounded by courtiers and her role at court was very demanding.
So, she built Hameau de la Reine as a rustic retreat where she could escape in peace and be surrounded by friends.
Not only that, she wanted the village to be a classroom where she could educate her children on agriculture and working the land.
Each house had a small cottage garden and fruit trees but she also ordered for a working farm and dairy to be built on the estate.
What was the Queen's Hamlet used for?
As a refuge for Marie Antoinette, Hameau de la Reine was a place where she would take private walks, host small parties with friends, and even have late suppers.
But, it was also a passion project where she would throw herself into managing the estate and discuss plans with the gardeners and head farmer Valy Bussard.
Here, she could drop the frivolous French formal dresses of the court and wear simple clothing like a sun hat and muslin dress or chemise.
There are lots of myths that Marie Antoinette dressed up as a peasant or shepherdess whilst she was here. But, there is no evidence to support that.
Marie was constantly scrutinised for every move she made during her reign and became an easy target to blame for the decline of the financial situation in France.
Not only was she an Austrian queen but she was known for her lavish parties and expensive wardrobe.
The public opinion of her rapidly declined and it was thought that she was frivolous and ignored the struggles of her people outside of the palace walls.
Hameau de la Reine was seen as yet another selfish amusement. But, ultimately her private sanctuary was a working village that had many practical uses for the palace and still does to this day.
Can you go inside the Queen's Hamlet at Versailles?
Yes, you can. Despite Hameau de la Reine suffering damage during the French Revolution, it was renovated by Napoleon I and has continued to be reconstructed over time.
It has been beautifully preserved and you can visit in the grounds of Versailles as part of your tour.
You can't go inside many of the buildings but you can wander around the quaint village and admire this French hameau that appears frozen in time.
I felt like I was walking through a Disney movie set like Beauty and the Beast.
If you plan to go inside the chateau, make sure to buy a passport ticket that grants you access to the Palace, Gardens, and the Estate of Trianon which includes the Queen's Hamlet.
Things to do in Hameau de la Reine
Despite it being a small area of Versailles, there is a surprising number of things to see in the Hameau de la Reine.
A path circles around the lake and it will take you on a journey around the settlement.
Although you can't go inside many of the buildings, you can still admire them from the outside.
Every cottage has a garden, and there were lots of flowers and vegetables being grown here. It was wonderful.
Here is what you should look out for in Marie Antoinette's village.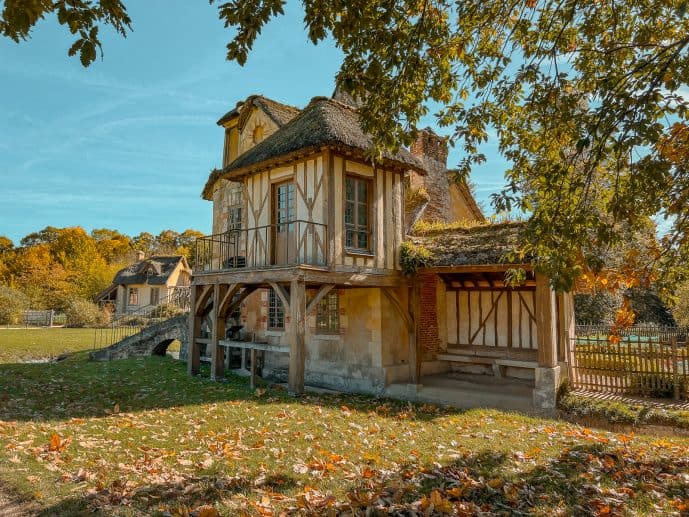 1. The Mill
The windmill in The Queen's Hamlet was my favourite building in Hameau de la Reine and looked like something from a fairytale.
Despite it being powered by waterwheels using the small stream by the lake, it didn't actually grind any grain as there was no mechanism built inside.
It was constructed purely for decoration and was specially painted to look deteriorated from years of use.
Sometimes they add flowers on the staircase and it looks like a dream.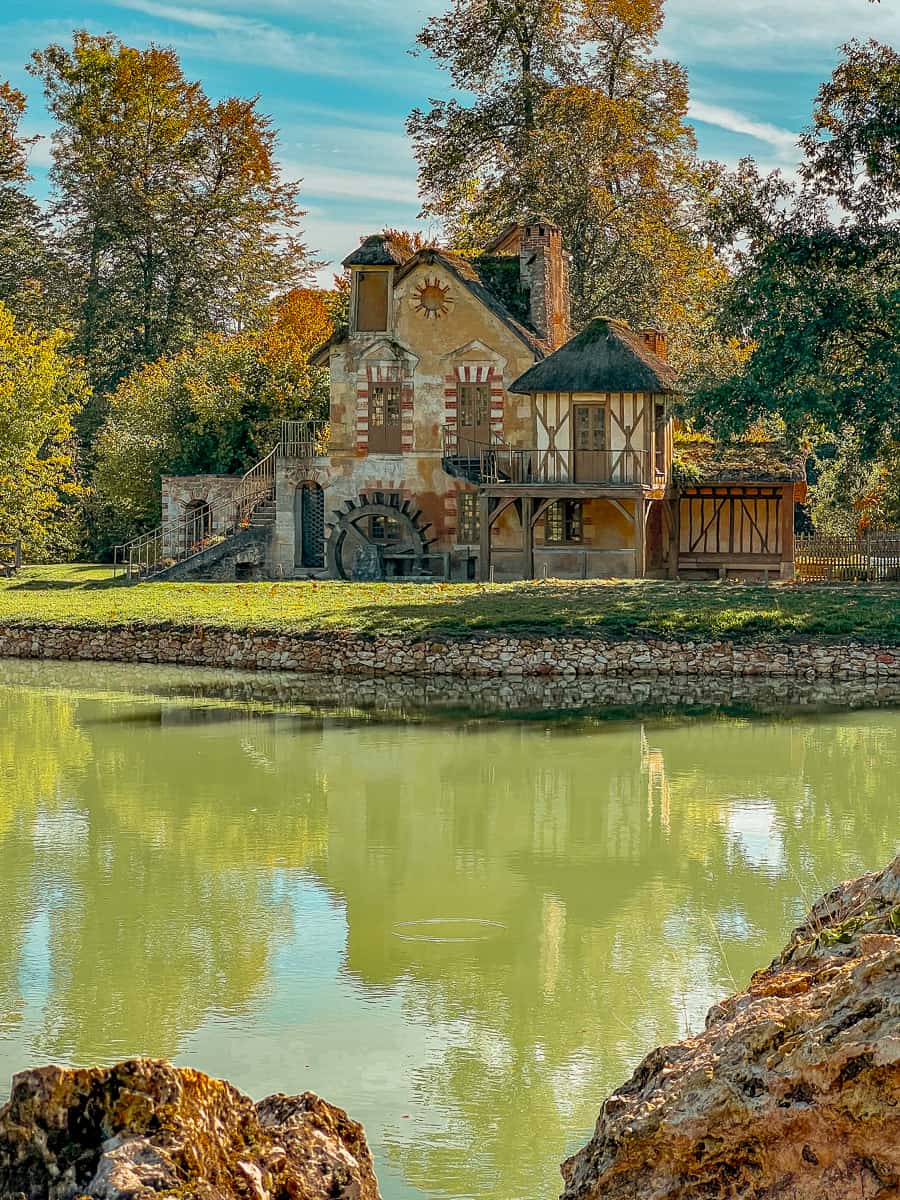 2. Maison de la Reine / The Queen's House
The Queen's House is the largest building here and was Marie's private residence. Only the queen could use it.
It has a covered gallery, spiral staircase and contains rooms like her private salon and bed chamber. There is also a dining room, backgammon area, and billiards room.
It's technically two buildings that can be accessed via a mezzanine gallery at the top.
Most of Marie Antoinette's furniture was stolen and dispersed during the French Revolution. But, they have refurnished the interiors today with some original pieces and replicas.
You can go inside but only if you pre-book a guided tour and these are provided in French.
3. Warming Room & Boudoir
As Marie liked to host small gatherings and suppers in Hameau de la Reine, the Warming Room was used to keep plates warm from Petit Trianon.
But, it also had a fully functioning kitchen where meals could be prepared onsite. There was a huge fireplace, meat spit, bread oven, portable stove, and vegetable garden.
The meals would be served in her Boudoir where she would dine with close friends in an intimate setting.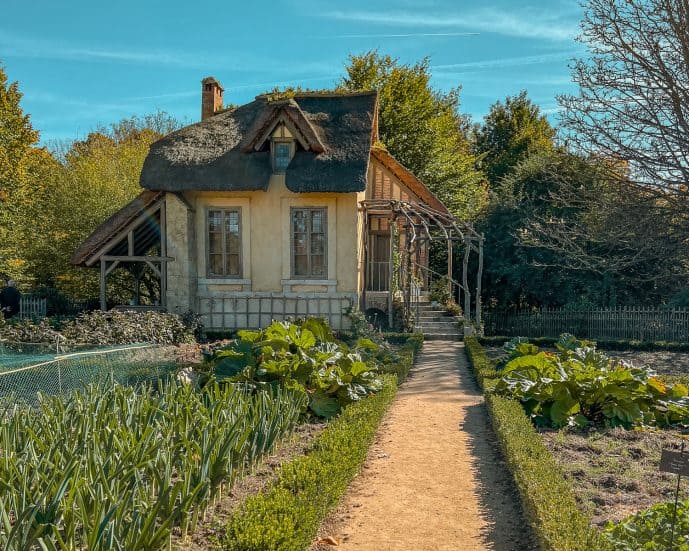 4. Marlborough Tower
Above the Fishermen's Cottage you'll see Marlborough Tower which almost looks like a lighthouse.
It was named after a famous song that marked the death of the English General Marlborough in 1722.
It's in the same tune as 'He's a Jolly Good Fellow' and you can listen to it here if you're interested.
Pierre Beaumarchais included the rhyme in The Marriage of Figaro and so it became very famous.
Madame Poitrine, who was the Dauphin's nanny used to sing the song to please him and his mother. So, Marie named the tower after it.
The cottage was used to store fishing equipment for the lake and you can see a small wooden boat bobbing nearby.
Although you can't climb the tower, it's a beautiful building in the village that is reflected in the water.
5. Guardian's House
Marie Antoinette was heavily guarded both day and night when she was inside the palace, in Trianon, or strolling the grounds.
When Hameau de la Reine was first built there was no fence to prevent access to it. So, a Guard House was built on site for the queen's safety.
This house was a place where her Chief Guard, Jean Bersy, could stay when she was in residence. It had a secret passageway underneath so he could patrol the hamlet covertly.
6. The Dairies
Surprisingly, there are two dairies or laiteries in Versailles Hamlet. A model dairy and a working one.
The working dairy was where dairy products were made using the farm but the model dairy is where the Queen and her entourage could enjoy tasting them.
Fromage blanc, creams, and butter were all available to sample in Hameau de la Reine.
In the 18th century, milk became fashionable as many believed it had health benefits so lots of aristocratic parks had dairies installed.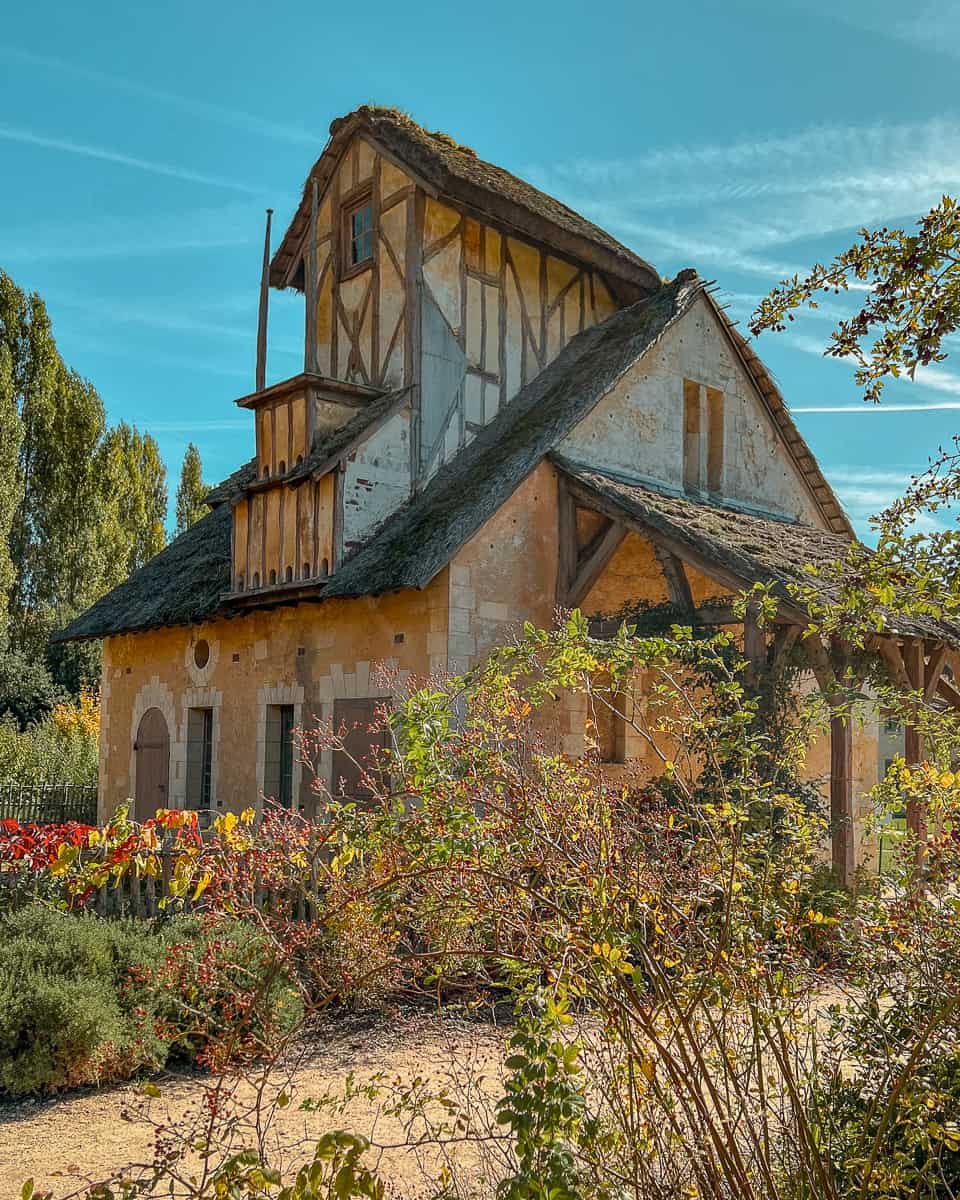 7. Dovecote
The pigeon house or Dovecote was home to lots of birds that were hand selected by the queen.
You could find pigeons, hens, roosters, and chickens inside. Plus, a poultryman who lived inside to rear them.
It's a beautiful building by the lake and has its very own vegetable garden that was used to experiment with planting.
8. The Farm
One of my favourite parts of the Queen's Hamlet was the farmstead. It's a little bit of a walk from the main buildings but it's definitely worth checking out.
When Queen Marie commissioned the farm, she tasked Valy Bussard to make the hamlet come to life with real agricultural activities.
There were labourers working in the fields and you could find farm animals too. The royal children were able to visit to learn about living on the land.
Today, the farm is still a working area and I loved meeting all of the animals that were here! I saw ducks, chickens, goats, rabbits, pigs, horses, and a donkey. Kids especially will love this part of the estate.
Make sure to use the Chateau of Versailles audio guide
As you wander the village make sure to have the Palace de Versailles app open. It has a map, important information, and audio tours for your visit.
You can access a section that explains the story of the Queen's Hamlet and the buildings you're seeing.
Although you need an internet connection to download the app, you can use it without a connection on the day.
It can be played in many different languages and there are even kids audio tours. Just bring your own headphones.
Tip: You can actually use this app with or without a ticket. So, you can listen at home too.
How long do you need at Hameau de la Reine?
Although it's a small place, I would make sure you leave at least an hour to visit Marie Antoinette's village.
There are lots of buildings to see here, places to relax and the farmstead has many animals that you can meet.
True to its original purpose, Hameau de la Reine is a great way to escape the crowds of the palace and step into nature for a while.
It was so peaceful taking a stroll around here as there were next to no visitors. I would leave lots of time as you may not want to leave!
Visit Petit Trianon next
After you've finished strolling around the fairytale that is Hameau de la Reine, you must explore Petit Trianon.
Marie Antoinette moved into the statehouse in 1777 and she renovated it to act as her own personal sanctuary away from the palace.
You can explore two floors and a mezzanine inside. The Honour Staircase makes a grand first impression.
On your tour, you can explore the Billiards Room, Chapel, Warming Room, Dining Room, Reception Room, Boudoir, and Bedroom apartments.
Queen Marie also commissioned landscaped gardens to be built behind the house.
The most impressive feature is the Temple of l'Amour in the English Garden. It's a neoclassical folly that was built by Richard Mique in 1778. Marie could see this from her bedroom window.
Other highlights of the grounds include Marie Antoinette's Grotto, Le Rocher et le Belvedere, and Orangery Jussieu.
Have lunch in Angelina Petit Trianon
Just outside of Petit Trianon, you will find the restaurant Angelina which has both indoor and outdoor seating.
Similar to the Angelina Café at the palace, they have a range of hot and cold lunch options, drinks, and delicious cakes. There is even some amazing ice cream!
I love Angelina's pastries with one of their luxurious hot chocolates and I'm happy to report that their quiche with a salad was also very tasty.
Angelina's is not the cheapest place to eat but it's very classy. Versailles provides the perfect setting for a decadent afternoon treat.
Let them eat cake!
…Too much? Oh, don't come for me. I know Marie Antoinette didn't really say it!
Is visiting Hameau de la Reine worth it?
Yes, it is so worth visiting. I repeat, do not skip a visit to this rustic retreat of Marie Antoinette!
This is definitely a bit of a hidden gem as it's tucked away in a far corner of the estate but it was easily one of my favourite places on the tour.
It's so quaint and felt like you were walking through a fairytale village or you have stepped back in time.
The palace and the formal gardens can be spectacularly crowded with thousands of visitors every day but Hameau de la Reine provides a welcome respite.
How to visit Queen Marie Antoinette's Hamlet
Hameau de la Reine can be found behind Petit Trianon which is also worth seeing.
Marie Antoinette's village is not free to visit. It's included as part of the attractions in and around the Palace of Versailles.
You must have a valid ticket in order to go inside the Queen's Hamlet, whether that's a Versailles Passport or the Estate of Trianon ticket.
The grounds surrounding the Palace of Versailles are around 800 hectares and the hamlet sits in a far-flung corner of the estate.
From the palace, the walk to Petit Trianon / Queen's Hamlet is 2.6 kilometres and will take roughly 30-45 minutes.
But, there are many ways that you can visit Hameau de la Reine that don't include a long walk.
There is the option of cycling, hiring one of their pricey electric golf carts, or the Petit Train Versailles.
Versailles Petit Train
An option for visiting the Hameau de la Reine is to do what I did and take the Versailles Petit Train.
It's a little electric train where you can hop on and off at different stops like the Grand Canal, Grand Trianon, and Petit Trianon.
It was so cute and they even played some Baroque music. It may not be a fancy carriage but I definitely felt like royalty being escorted through the grounds.
If you have limited time, if it's bad weather, or if you just don't fancy walking for so long, this is ideal.
Tickets are 8.50 euro and for me, in the heat, it was worth every penny.
You can buy tickets in advance online (there are combo tickets) or you can buy them on the day from the golf-buggy ticket booth. They didn't sell tickets on the train on my visit.
The only thing to be aware of is that the queues at each stop can be long so sometimes a train will arrive and it's already full.
Trains run either 10, 15, 20, or 30 minutes depending on the season. Always check the schedule on the day and don't miss the last train or it's a long walk back to the palace!
Hameau de la Reine opening times
The Queen's Hamlet has the same opening times as Trianon and it changes with the seasons. I would always check the current opening times for the day of your visit online.
In the low season (November – April), the hamlet is open from 12 pm and closes at 5.30 pm.
In the average seasons (May/June, September/October), it will be open from 12pm to 6.30 pm.
In high season (July/August), the opening time is brought forward to 10 am and closes at 6.30 pm.
The last entry for Trianon is always 30 minutes before closing time. Also, remember that Versailles is completely closed on Mondays.
Discover more of Versailles
After Hameau de la Reine and Petit Trianon, there is plenty more to discover in Versailles.
You can visit Grand Trianon where the King liked to escape court for some private time alone. It's a miniature version of the main palace and even has its own Hall of Mirrors.
Highlights of the gardens include the Musical Water Fountains and the Grand Canal where you can hire boats in the summer.
And, of course, you must visit the Palace of Versailles. The grand residence of Louis XIV, the 'Sun King'.
The whole palace is the finest example of 17th-century French architecture and one of the grandest homes on Earth.
The Sun King's palace was the envy of the aristocratic world and plenty of royal families in Europe and beyond based their palaces, mansions, and gardens on Versailles.
It's opulent, spectacular, and lavish and there are hundreds of rooms to explore on your tour.
The best room of them all is the Hall of Mirrors. It's a stunning gallery filled with thousands of glass mirrors, gold statues, chandeliers, and lavish paintings by Charles de Brun.
Click here to find out how to get an empty Versailles Hall of Mirrors photo!
Read more of my travel guides for France
How to visit Merlin's Castle at Chateau de Pierrefonds
Starbucks Opera – Is this the prettiest Starbucks?
Pink Mamma Paris Review – is it worth it?
How to find Colonnes de Buren in Paris
A complete guide for Saint-Chapelle
Medici Fountain in Jardin de Luxembourg
50+ Instagrammable places at Disneyland Paris
25+ Things to do in Disney Village Paris
Don't miss the Disneyland Paris Dragon
Captain Jack's Restaurant Review
How to eat at Bistrot Chez Remy Ratatouille Restaurant
How to find Jim Morrison's Grave at Pere Lachaise Cemetery
Save how to visit Marie Antoinette's Hameau de la Reine in Versailles for later!