Good news for Outlander fans, you can visit Craigh Na Dun for real in Scotland and I'll show you how to do it!
Now, I will warn you, it's not quite the same as the series which I'll go into below. But, you can visit where Claire went through the standing stones in the show.
For me, visiting this place was surreal. Having read the book and watched the TV show a hundred times, actually standing on Craigh Na Dun was like a dream come true.
In this guide, I'll give you the exact location and some top tips on how to visit and what to be wary of!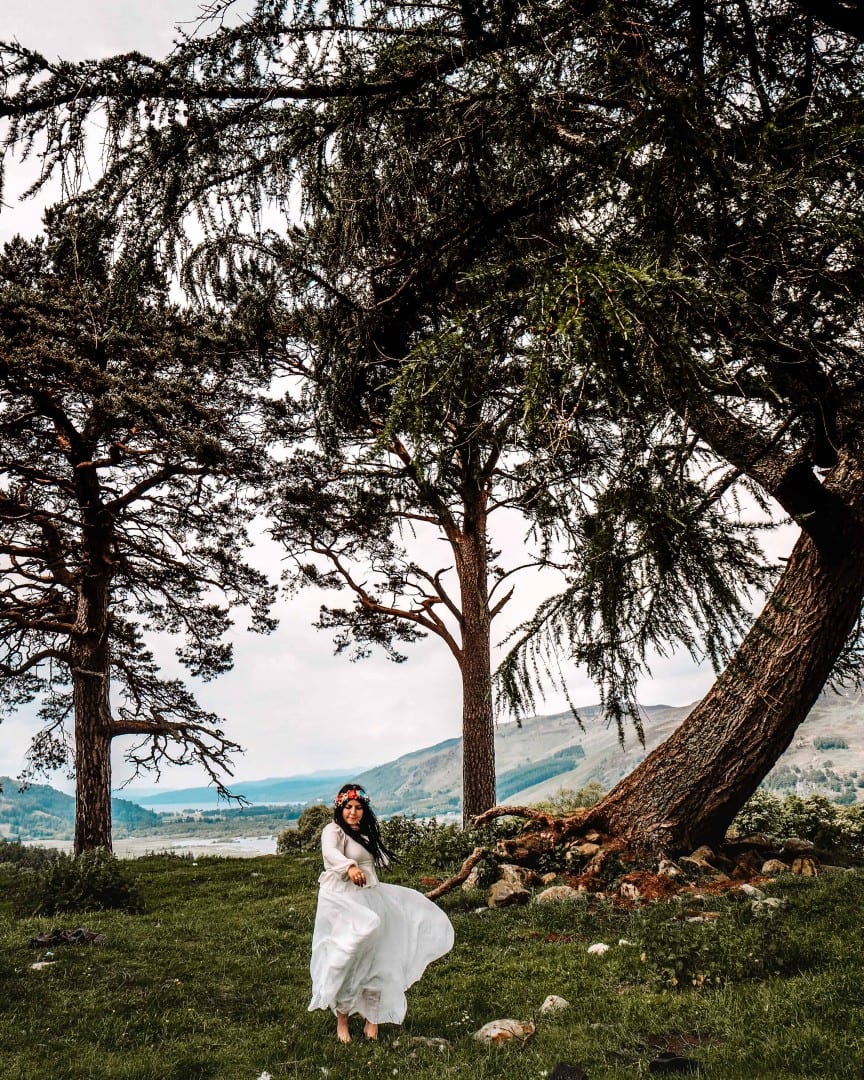 What is Craigh Na Dun?
So, unless you've been under a rock watching Outlander, or stones for that matter (bad joke), Craigh Na Dun is a prehistoric stone circle in Inverness, Scotland.
It's where Claire Randall and then Fraser as she becomes, travel back in time from 1945 to 1745. That's right, the stones allow her to travel back in time by 200 years to Jacobite Scotland!
This is where the Outlander tale begins and plays a massive part in the story to follow.
It's also where many an Outlander fan would love to visit and travel back in time to meet their Jamie Fraser ;) if only…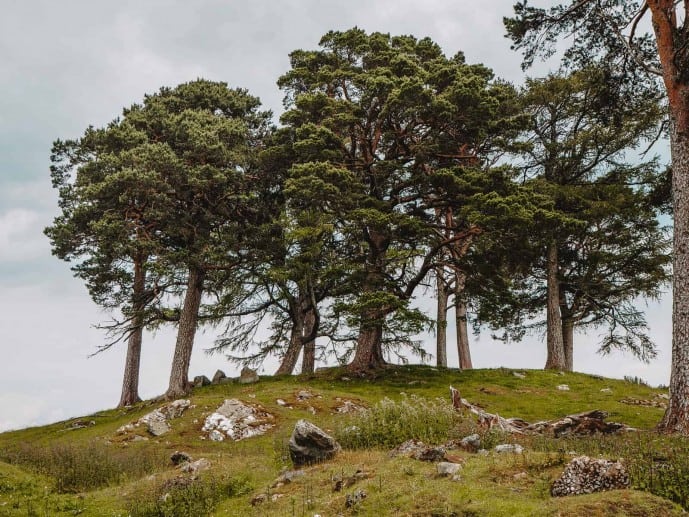 Is Craigh Na Dun a real place?
Unfortunately, no, it's a work of fiction for Outlander. There isn't a place in Scotland called Craigh Na Dun.
But, there are places you can visit in Scotland that are an inspiration for the prehistoric standing stone circle in Scotland (see below).
It's also good to note that when you visit the Craigh Na Dun Outlander film location, there won't be any standing stones there either.
It's a shame to be sure, but at least fans can visit the film location in Scotland.
Related post – A complete Clava Cairns Stone Circle Outlander guide!
Can you visit Craigh Na Dun in Scotland?
YES! Well, you can visit the area where the standing stones were placed for the series. But, don't expect to be able to see any standing stones while you're there.
It may spoil the magic for fans, but the standing stones at Craigh Na Dun were also made for the show out of polystyrene (or something similar).
However, you can still visit the picturesque location where they filmed Craigh Na Dun in Kinloch Rannoch Moor in Perthshire.
If you want to visit similar standing stones that look similar to the stones in the series, you can visit Clava Cairns near Inverness or Callanish Stones on the Isle of Lewis.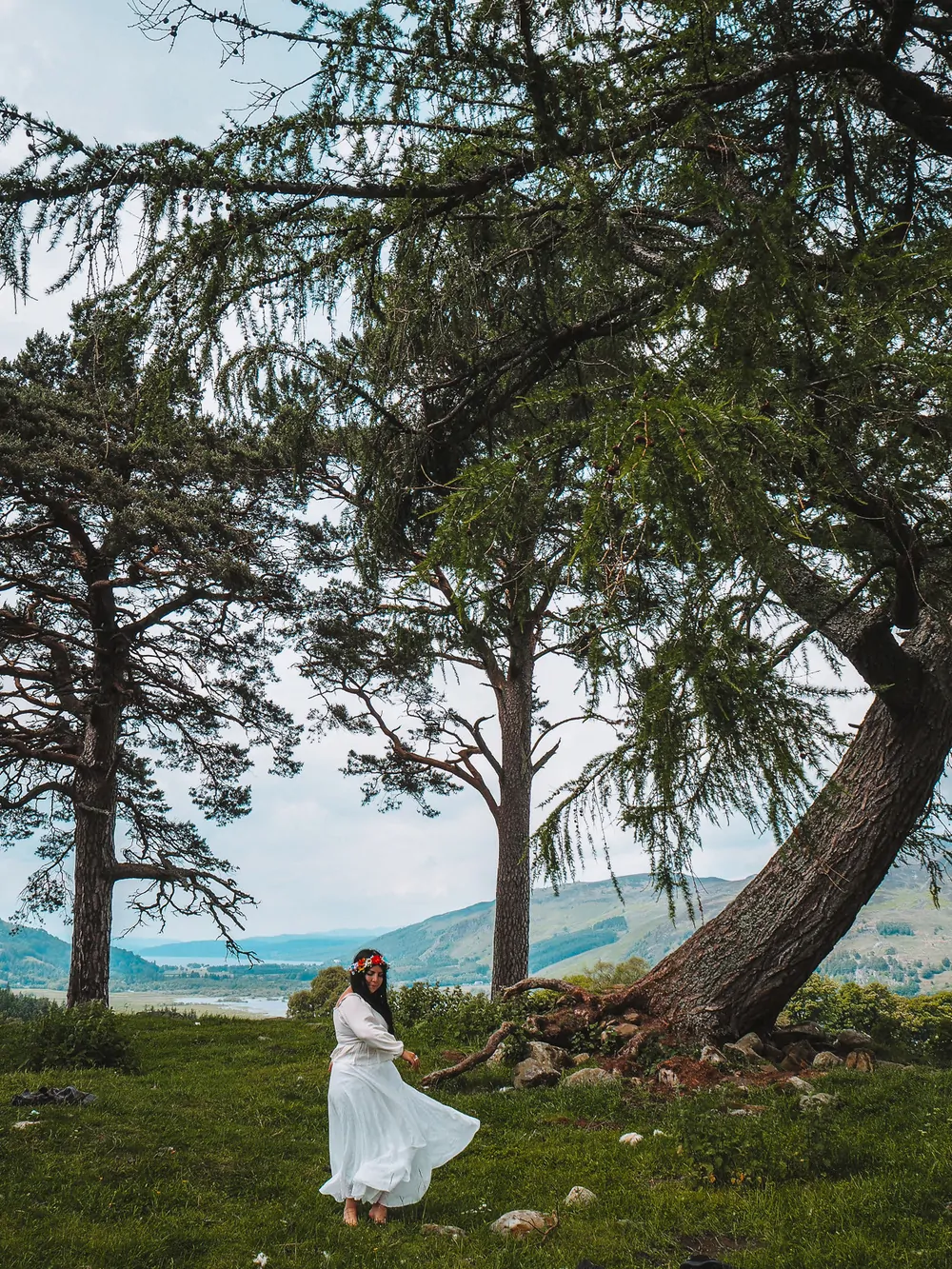 Where is Kinloch Rannoch Moor or Craigh Na Dun?
Kinloch Rannoch is located in Perthshire, but you will actually want to visit Kinloch Rannoch Moor which is a little further on up the country switchback roads.
It's a working farm and private property, but luckily for fans, the family has been kind enough to install a car park and let fans check out the location.
How to get to Kinloch Rannoch in Scotland
I'm not going to lie, it's quite a stretch of driving and in a remote part of the countryside, It's also far away from the main heart of Scotland and other Outlander film locations. But, totally worth it for fans in my opinion.
The most convenient way to get to Kinloch Rannoch is to drive. There are no bus stops within miles of this location. But, if you head into Kinloch Rannoch, you can walk around an hour to Rannoch Moor. Use Scotland Travel Line to see if there is a route available.
It will take you around 2 hours to drive from Edinburgh, 90 minutes from Perth, and around 1 hour and 40 minutes from Stirling.
I would personally recommend Google Maps or a SatNav to guide you. There is even a Google pin called 'Outlander film location (Craigh na Dun)' on Google Maps. I've linked it below.
The exact Craigh Na Dun address for the Outlander filming location is Lassintullich, Pitlochry PH16 5QF. Click here for a Google Pin!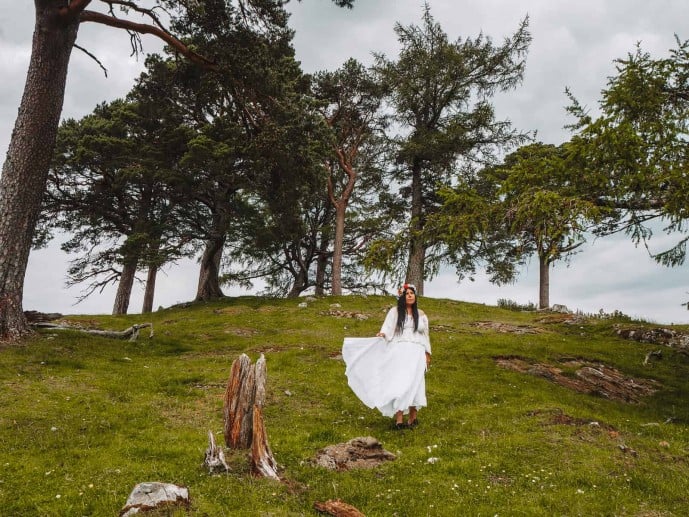 Tips for visiting Kinloch Rannoch Moor or Craigh Na Dun;
Now, I'm not gonna lie, visiting this place was downright beautiful. You can see the trees, the hills, even the loch is the same as in the series.
I had so much fun recreating the scenes of the dance of the druids and twirling around. Probably, with a few curious stares from those on a road trip, haha!
However, although it is an incredible location for Outlander fans, I wanted to give you a few tips on what to expect while you're here and how to ethically visit this location too.
1. Be respectful of the land
First and foremost, be aware that this is private property. Just because you're an Outlander fan, doesn't mean you're entitled to trespass. It is law in Scotland that you can walk on private land but, does that make it right?
Before my visit, I had heard a lot of people say that the Outlander effect had made the farmer shut off the location for fans and turn people away. So, I was fully prepared for that to be the case for me.
So, I was quite surprised and pleased when there was a dedicated note for Outlander fans when I arrived. It welcomed me and gave me some rules to follow when visiting. But, this may not be the case forever.
Always be respectful of property owners and their land. If the owners ask you to turn away. Do it, it's a matter of respect.
2. Use the parking spaces provided
The note when I arrived advised me to keep to the parking spaces outside. There were two or three spaces for cars and only one other person while I was here so, it was easy to park up.
Don't try to enter the property with your car over the cattle grid if you're visiting the Craigh Na Dun location. That is for the farmer and the property owners only.
The walk from the car park to the location is less than five minutes so it's no hard stretch.
3. Keep to the designated pathways
It's also good to note that you should stick to the designated gate and walking pathway to get to Craigh Na Dun. There is a cattle grid road entrance, but for your safety and the safety of the wildlife, it's best if you stick to the pathway.
It's really flat and easy to follow. You can see the location directly in front of you, so respect the farmer's wishes.
4. Respect the wildlife grazing
As the property is a working farm, you will no doubt see some amazing wildlife in the area. Cows, sheep, and goats/rams roaming around.
Always make sure you're mindful to stay away from the animals here. Don't approach them or scare them away.
They usually are grabbing in the field and don't want to be disturbed. Admire them from afar.
5. Watch out for debris and poop…lots of poop!
Naturally, any working farm that has animals also has a lot of poop. This is not a tourist attraction and so there has been no care or work to prepare for visitors. It's nature and therefore it's important to be mindful of health and safety.
To get up to the mound where the stones are, there's a lot of twigs, stones, potholes, and poop everywhere! I took my shoes off for photos and was inches away from a juicy cow pat between my toes.
There are also lots of flies around and it's very natural. So, be careful as you go and be on the lookout for dung!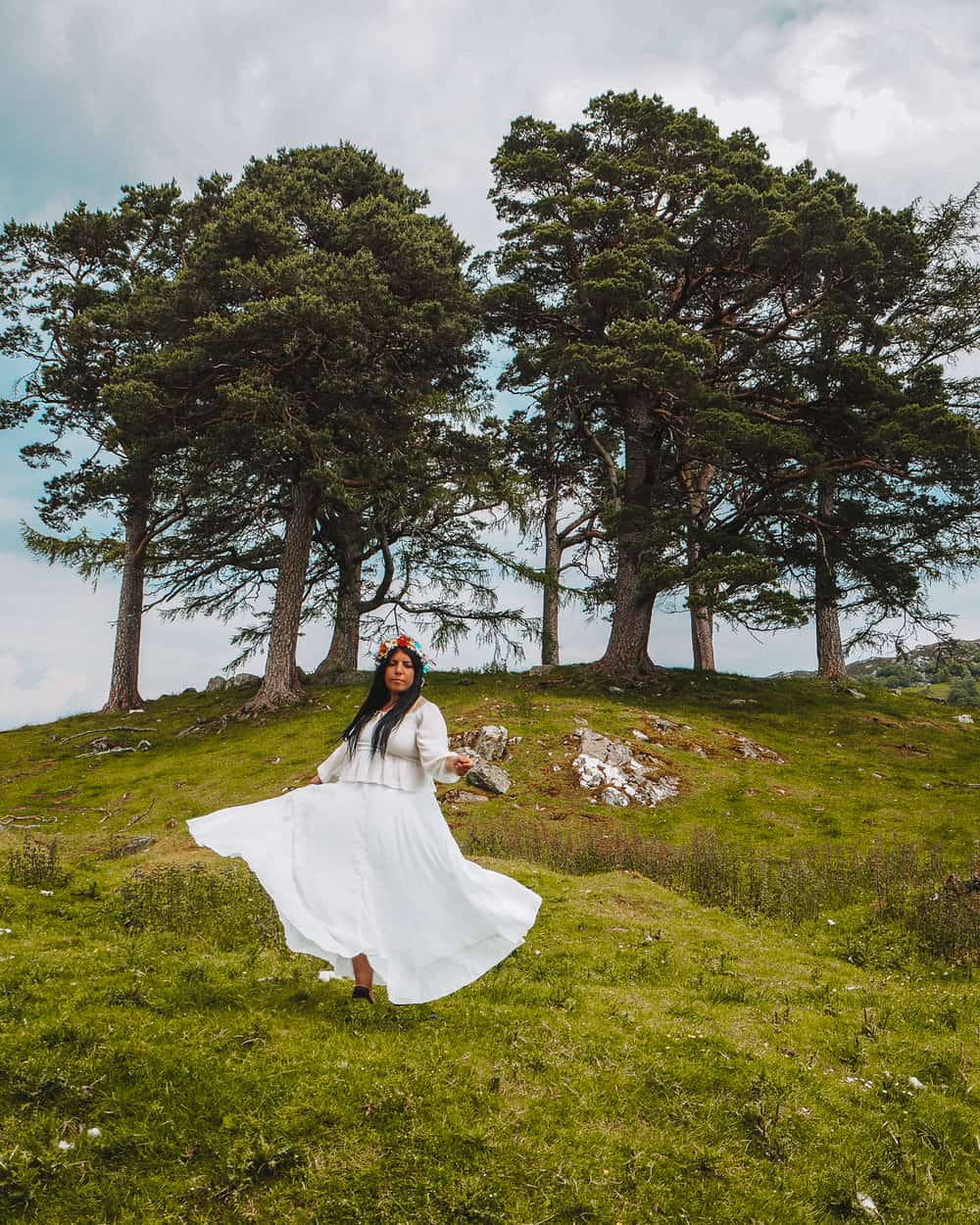 6. There are no facilities nearby or phone signal
As I mentioned, this is not a tourist attraction. There are no bathrooms, no cafés, services and not really any infrastructure nearby.
It's in the middle of the countryside and so to reach any sort of toilet, restaurant or facilities you would need to turn back into Kinloch Rannoch.
So, I would bring what you need with you (snacks, water) and make a toilet stop before you arrive.
There is also barely any phone signal in this location either, so make your preparations before you visit. Save and follow the Google Pin before you go or use a SatNav to get here and away to your next location.
Craigh Na Dun Sign location
If you're looking for the Craigh Na Dun sign location, I'm afraid there isn't a real sign. But, you can visit the location where they shot the Craigh Na Dun sign that Frank passes in his car in Inverness.
From Kinloch Rannoch Moor, head up the country road to the Brae of Foss Car Park. This stone bollard is where they stuck on the sign.
I actually decided to make my own for my visit. Too extra? Or, not extra enough ;)
Where to stay near Craigh Na Dun
I actually had no idea about this until I arrived, but stuck to the Kinloch Rannoch Moor gates was a sign advertising a hotel in the area that Outlander fans may want to check out. I didn't stay here, but I thought I'd include it so you can check it out.
It's called 'Dunalastair Estate' and they have some luxury holiday cottages to book for a night or two. It looks like a castle!
Here's the link to make some enquiries about staying the night!
What is Craigh Na Dun based on?
Although Craigh Na Dun is a work of fiction, there are a few locations in Scotland that inspired the prehistoric stone circle in the Outlander series.
Outlander fans can visit some of these for themselves while in Scotland. One is easy, the other will take some serious planning.
Clava Cairns in Inverness
Clava Cairns in Inverness, just a few miles from Culloden Battlefield, is thought to be the real inspiration for Craigh Na Dun from the series.
It's a prehistoric standing stone circle that is FREE to visit and gives you some excellent insight into life in Neolithic times.
As well as visiting the fascinating temples and houses thought to be inhabited in the prehistoric era, there is one stone that Outlander fans visit above all!
This standing stone looks similar to the one that Claire travels back in time through, make sure you stop for a photo opportunity. I had some fun making a video where I disappear to haha.
Click here to read more about visiting Clava Cairns in Inverness
The Callanish Stones, Isle of Lewis
In my opinion, the Callanish standing stones on the Isle of Lewis looks the most like Craigh Na Dun. But, getting there requires a lot of planning and extra cash.
The Isle of Lewis is in the Outer Hebrides and is miles out of the way above the Isle of Skye.
There are only a few ferries that run daily and require a booking a few weeks in advance. It's also expensive to travel there and hotels can be sold out in peak season.
I recently went on a trip to the Outer Hebrides and it was so magical getting to visit the 'real' Craigh Na Dun!
Click here to read my complete guide for visiting the Callanish Stones
Other Outlander locations to visit in Scotland
If you're planning on an Outlander pilgrimage of Scotland, a lot of the series was filmed on location.
So, you can plan a whole trip to visit some of the film locations for yourself.
Here's a list of my favourite Outlander locations and each has a helpful guide to help plan your trip there. Or click here to read some of my epic lists;
1945 Inverness / Falkland
This was one of my favourite Outlander locations and the places that started it all. If you're curious as to where they shot the iconic scenes of 1945 Inverness it was actually in Falkland village in Fife.
Here you can visit the Bruce Fountain where the ghost of Jamie stares up at Claire and even stay in the same room as Claire and Frank did in the series.
I have two guides to help you plan your visit here;
Lallybroch / Midhope Castle
If you are on the hunt for Outlander locations, who could forget the ancestral home of Laird Broch Tuarach, Lallybroch!
Fans will be glad to know they can actually visit the famous Lallybroch at Midhope Castle on the Hopetoun Estate.
It is abandoned so you can't go inside, but just seeing the castle from the outside is a treat in itself.
Read more about how to visit Lallybroch Castle here.
Castle Leoch / Doune Castle
Doune Castle is famous for many reasons. Monty Python, Winterfell in Game of Thrones, and now it's famous for being the seat of the Clan MacKenzie, Castle Leoch.
You can head to Doune Village near Stirling to visit the castle ground and explore the inside that was used for filming too.
Audio guides have the voice of Sam Heughan, that plays Jamie Fraser, to take you on a guided tour of some of the Outlander scenes. Plus, you can dress up in traditional Scottish dress!
Read more about visiting Castle Leoch from Outlander here!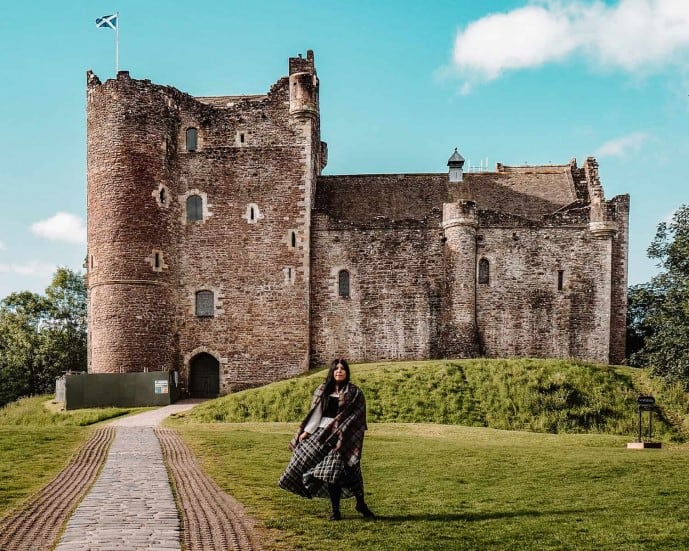 Versailles / Drummond Castle Gardens
One of my favourite locations was also Drummond Castle Gardens that doubled up as the Royal Gardens of Versailles.
It's where Jamie challenges Black Jack Randall to a duel and it's effortlessly picturesque.
You can wander around to admire the flora and fauna. Just close your eyes and it almost feels like you're in King Louis' Court.
Read my complete guide on visiting Drummond Castle Gardens here
Culross / Cranesmuir
The previous royal borough of Culross is one of the finest preserved Burgh's in Scotland that we can still visit and admire today. But, did you know that a lot of the village was used in 3 seasons of Outlander?
In series 1, it played Cranesmuir featuring scenes from Mercat Cross and Culross Palace. Also, the Back Kirk was the West Kirk nearby.
In series 2, it featured some of the rooms of the palace in the Jacobite risings, and in series 4, it was used for Laoghaire's house.
I have 3 Outlander guides on Culross for you to check out;
The Devil's Pulpit / Liar's Spring
The Devil's Pulpit is up there as one of the more remote Outlander locations to visit and has come under fire a lot.
It's quite hard to locate and even harder to get to. But, if you're feeling brave and you're prepared it's one of the most magical places I think I've visited in my life!
The Devil's Pulpit or the Finnich Glen featured as the Liar's Spring in season one where Dougall asks Claire to drink from the river to prove if she's being truthful.
Click here to find out how to visit the Liar's Spring from Outlander!
Bakehouse Close / Carfax Close
A new popular favourite with Outlander fans can be found on the most popular street in Edinburgh, the Royal Mile.
Outlander fans who have read 'Voyager', or watched Outlander season 3, will know this place as Carfax Close. But, in reality, it's Bakehouse Close.
This is one of the finest preserved closes on the Royal Mile, so it's only natural it was picked as Alexander Malcolm's Print Shop.
As the romantic moment where Claire and Jamie reunite after twenty years apart, is it any wonder it's popular?
Here's my complete guide for visiting Bakehouse Close. Or, why not check out my self-guided Outlander Outlander walking tour of the Royal Mile for more locations?
Even more Outlander locations in Scotland and beyond!
If you're looking for even more Outlander inspiration, I've got you covered.
On my recent trip to Scotland, I visited (nearly) all of the locations from all 5 series to date and have been putting together some helpful guides for you to visit with top tips.
You can read my ULTIMATE list of Outlander locations in Scotland here, or read my Outlander in Edinburgh & Outlander in Glasgow guides
In the city centre as well as Bakehouse Close, you can visit Tweeddale Court where Claire and Fergus reunited.
Or, if you're peckish you can grab a bite to eat in the World's End Tavern where Mr Willoughby got into a brawl, or the Colonnades has an afternoon tea where you'll be transported into the Governor's Mansion in Jamaica.
Craigmillar Castle in Edinburgh is also one to visit as it doubled up as Ardsmuir Prison or visit Summerhall to see the lecture hall where Claire met Joe Abernathy.
Roslin Glen featured in 'The Reckoning' in Season one with its gunpowder mills and Glencorse Old Kirk was where Jamie and Claire were married!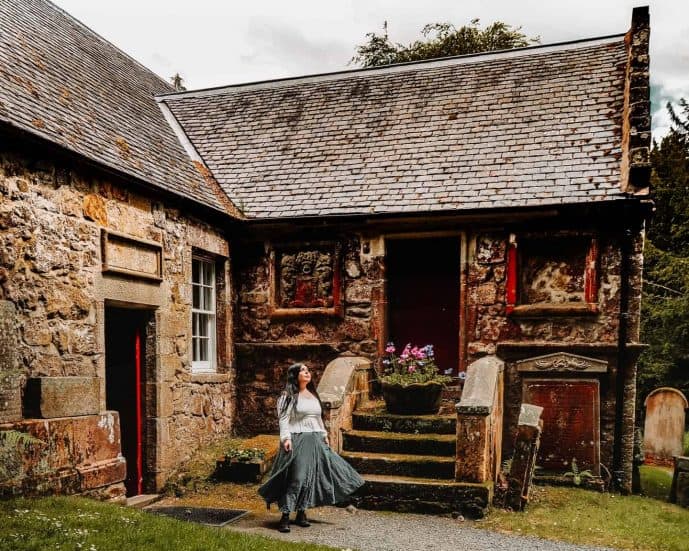 In East Lothian, you can visit Gosford House that featured as Helwater Estate, or Lallybroch Mill in Preston Mill. Tibbermore Church also featured as the Witch Trial location.
You can visit Deanston Distillery for a whisky tour to see Jared's storehouse in Le Havre, or visit Le Havre port at Dysart Harbour. Nearby is Aberdour Castle that was the Abbey in Scotland where Jamie recovers after Wentworth Prison.
Wentworth Prison can be found at Linlithgow Palace and Blackness Castle was where Jamie was flayed. Bo'ness is also where Claire and Frank say goodbye.
Hopetoun Estate, as well as Lallybroch, has many Outlander locations onsite like Maison Elise, the Duke of Sandringham's red room and Abercorn church that featured in season 4.
Click here to see How to find the Outlander Witness Trees from Fraser's Ridge
Save how to visit Craigh Na Dun from Outlander for later!