If you're looking for reasons why you should visit Alexandria in Egypt then this is the post for you.
I can't believe that I had been putting off a visit. Once I arrived, I realised just how wrong I was to doubt going.
It's a stunning city full of amazing things to do based on the North coast of Egypt. It felt so good to breathe in the fresh air and you could see the Mediterranean sea for miles. Thousands of years ago, Alexandria was a famous and powerful city.
Originally founded by Alexander the Great, all the world's scripted knowledge at that point in time was held in the Great Library of Alexandria.
It used to be the largest library in the world before it was reduced to ashes by a great fire after Julius Caesar was besieged!
The lighthouse, which was destroyed in an Earthquake much later, also used to be one of the seven wonders of the ancient world.
Today, Alexandria is Egypt's second-largest city and boasts a thriving port along its 32 kilometres of coastline. It is home to the medieval Citadel of Qaitbay, the royal Montazah palace, Bibliotheca library and lots of other gems to explore.
Here's why you should visit Alexandra Egypt and why it's worth it!
Things you need to prepare before you visit Egypt
You will need a tourist visa to visit Egypt. You can buy these at the border for $25USD or apply in advance online. I've created a post all about how to acquire a tourist visa for UK citizens here, but this applies for most countries.
Don't forget about travel insurance for Egypt! It's easy to get sick here, you can find really good deals with World Nomads.
At the time of visiting, 22 Egyptian Pounds = 1 British Pounds. So, don't get shocked if you're a Brit when they tell you that taxis are a couple of hundred pounds!
It is advised to dress to respect the culture when in Egypt. I've written a whole post about what to pack for your visit with lots of outfit inspirations and toiletries/medicines you must not visit Egypt without.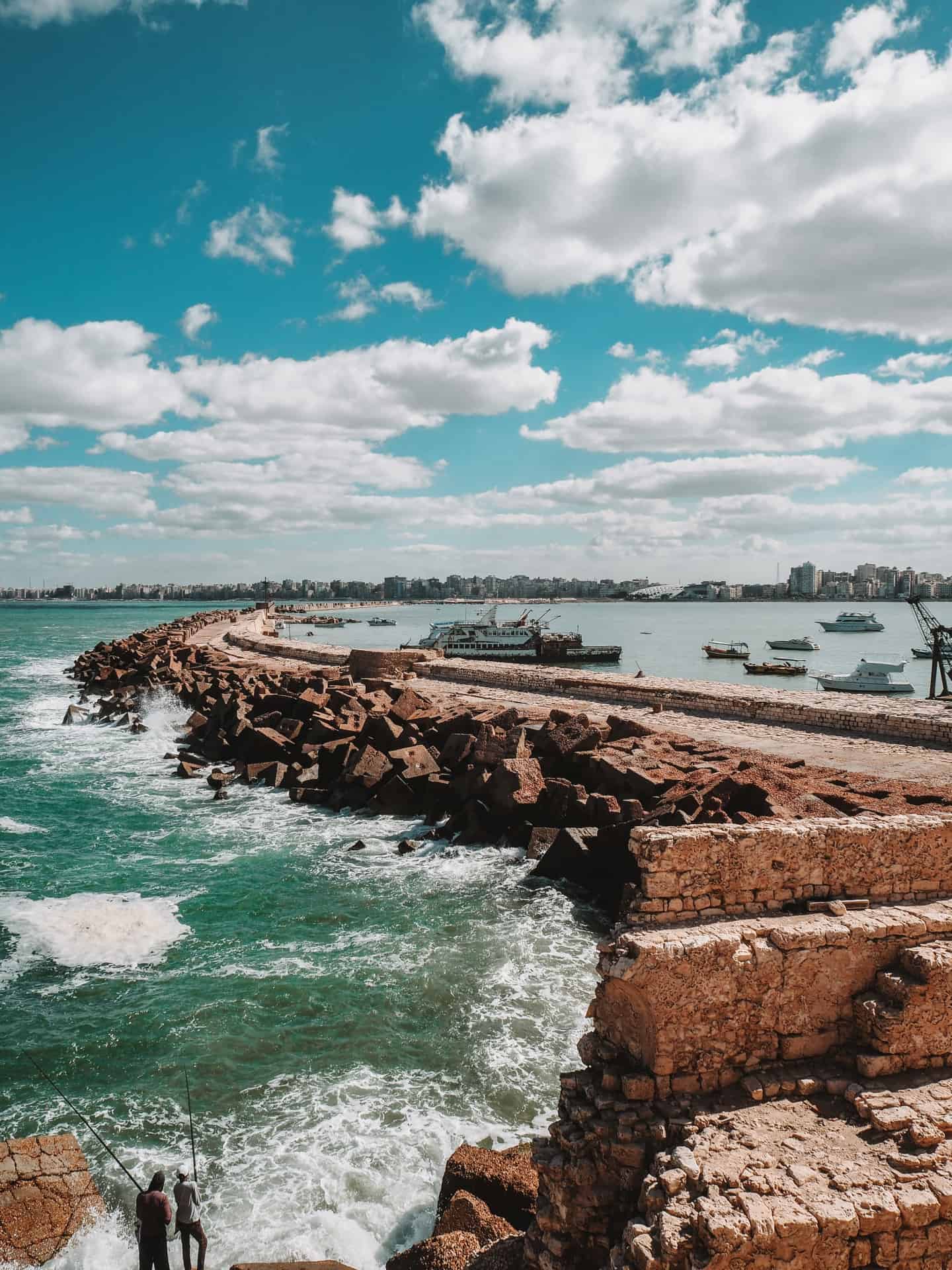 How to reach Alexandria from Cairo
There are a couple of options on how to visit Alexandria from Cairo;
Cairo to Alexandria by Plane – You can fly to Alexandria but as the journey is only 3 hours by car it hardly seemed worth it to me! Flights are from $50USD one way. I always use Skyscanner for the best deals.
Cairo to Alexandria by Bus – I had heard that the mini buses from Cairo to Alexandria were a death wish! So, I decided to book with GoBus. They are a reputable company, popular with locals and are more like plush coaches. You can book online or through their nifty phone app. Some seats are leather reclining with a personal touch screen TV and snacks. My journey was only £150£EGP (£5GBP). Click here to read my review.
Cairo to Alexandria by Taxi – you can organise a private car to take you from the capital to Alexandria but I would be mindful of which company you choose! I had read reviews that the drive down can be quite dangerous, especially if the driver is a little speed happy.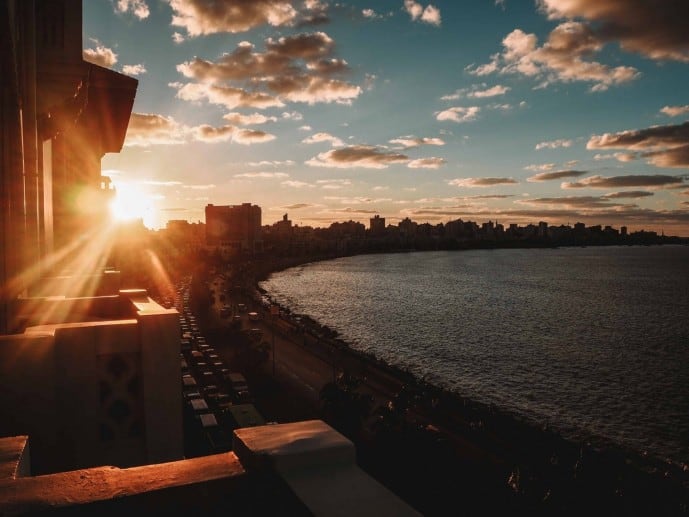 Where to stay in Alexandria
As a lover of boutique and historical hotels, there was only one hotel I knew I wanted to stay in here; The Cecil hotel.
A historical landmark bang slap in the middle of the Corniche. Throughout history, it has welcomed famous guests such as Winston Churchill and Omar Sharif a famous Egyptian movie star! I actually stayed in his suite while I was here.
Today it's called the Steigenberger Cecil Hotel Alexandria and, despite a modern makeover, it's stayed true to its roots.
The rooms are massive with traditional high ceilings. Some of the rooms have a balcony with epic views of the ocean, Corniche, the Citadel of Qaitbay and beyond.
I particularly enjoyed their birdcage elevator, it really added a historical touch to the place! As it only had 3 sides, you could see the floors as you travelled up and down each day.
As it's in a central location, make sure you try to book a room on a high floor. Although the windows are soundproofed, the traffic down below can be extremely noisy as the cars honk all night!
To check dates and rates available at the Cecil Hotel see here
How to get around Alexandria
As there are 32 kilometres of coastline in Alexandria, it would be wise to make sure you have transport to get around the city.
Some places are central and it's easy enough to walk along the Corniche to access them. But some attractions like the Montazah palace are further afield.
The local taxis are great for shortstops but if you're planning on visiting a few attractions, I would hire a private car to take you around for the day.
I hired a driver to take me to Montazah Gardens, Pompey's pillar, the Catacombs of Kom El Shoqafa and a few other places for around £500EGP for the whole day (£22GBP). I did negotiate though and promised I'd use his service for a drop off at the bus station the next day as part of the deal!
You can also take a horse and carriage around the city for short journeys and Tuk Tuks (three-wheelers).
Here are all the reasons why you should visit Alexandria Egypt
1. It's a stunning city on the coast of the Mediterranean sea
Having been inland in Egypt for so long, I forgot how refreshing it is to be beside the sea!
To breathe in the fresh air and feel the salt on my face. I made it to the city just before sunset and seeing the sun makes its way down over the horizon was pure magic.
When I think of a city in Egypt, I always imagine lots of high rise buildings and industry. But, having the sea here in Alexandria made it a little more special to visit.
Watching the boats pull into port, riding around the harbour to chase the catch of the day. Seagulls flying overhead. It was a great scene, I couldn't help but marvel at it.
2. It's home to one of the biggest and most famous libraries in the world Bibliotheca
Alexandria used to be home to the largest library of the ancient world until the great fire consumed the Library of Alexandria (amongst other factors).
It was where most of the world's knowledge at that point in time was kept and so it was a massive setback once it was destroyed.
The old library of Alexandria was not just a library, it was a cultural learning centre for the arts and philosophy.
A landmark that paved the way forward for worldly education, not just in scripture, but in thought, mind and human existence too. A place of understanding of people around the world.
That's why Alexandria decided to honour its ancient namesake by building the new library; the Bibliotheca. Inaugurated in 2002, it's now the largest library in the Middle East and has the same aim; to be a learning centre with a spirit of openness.
I always find it humbling and exciting to be around so much knowledge! Don't miss it while you're here.
3. You can still visit the ruins of the original Library of Alexandria
The ancient library was built in 246BC and owned around 400,000 scrolls in its library at its peak. Although the great fire of Alexandria was partially to blame for its demise, it was actually a number of factors;
Ptolemy VIII Physcon came into power, becoming king of the Ptolemaic dynasty, and he then expelled most of the scholars from Alexandria in 182BC.
Julius Caesar was captured in 48BC, with his soldiers setting fire to his fleet of ships. The fire spread to the city and to the library. But, much of it survived.
Finally, Emperor Aurelian, tried to capture Alexandria. In the process, he destroyed the Broucheion quarter, taking the library with it.
You can still visit the ruins of the Old Library of Alexandria today. All that is left of this great learning centre is the storerooms underneath the ruins of the Serapeum. Which is under Pompey's Pillar!
I'm not going to lie, I was creeped out down here! Lots of noises and extremely dark.
4. You can visit the Citadel of Qaitbay
This is one of the things I was most excited to see. The Citadel of Qaitbay is a 15th-century fort on the edge of the Mediterranean sea.
It's considered one of the most important defence strongholds and was built under the rule of Sultan Al-Ashraf Sayf ad-Din Qa'it Bay (a bit of a mouthful!).
Located on Pharos Island, it lies on top of the exact location where the Lighthouse of Alexandria was built, one of the ancient wonders of the world. It was used to defend Egypt against the Turks in the Ottoman empire.
Nowadays it's just a shell of what it used to be but it's extremely pretty! You can climb up four floors to the very top and each floor has a magnificent view of the ocean. You can see the waves crashing on the rocks and the fisherman out to claim their catch.
I was told on Google this was going to open at 8 am, but it is actually 9 am. Don't show up too early like I did or you'll be sitting around for an hour!
5. It has lots of street art to entertain you
Just beyond the Citadel on Pharos Island near the entrance, you can see the most colourful mural made of seashells.
I was really taken by the colours and the fact that the art represented the city. It's made of recycled seashells from the shore made into mosaics.
The only issue was that it was near a car park! So, if you want a good snap, you will need to go early. Otherwise, you'll be standing behind the bumpers of cars.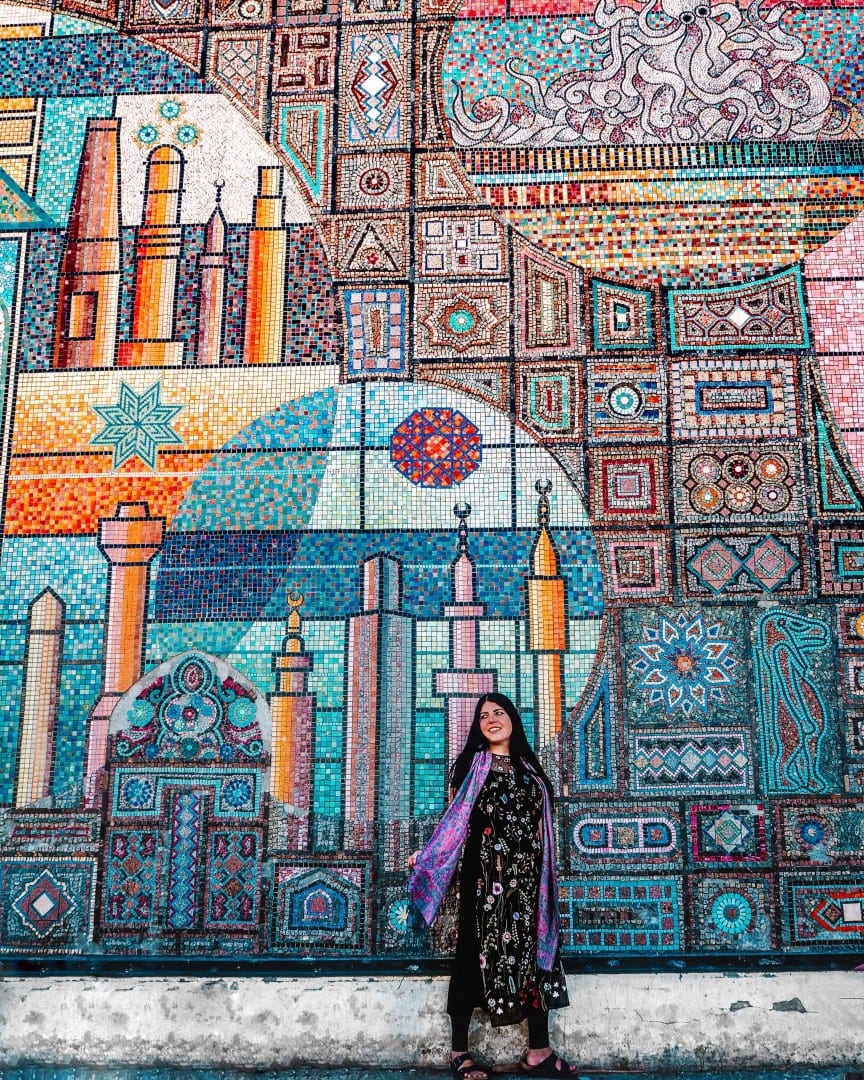 6. You can join the locals and walk along the Alexandria Corniche
Most of the time in Egypt, I didn't walk. It's quite hot, dirty, people bother you and some of the temples are quite far apart. So, I was grateful for a few days of being able to simply walk!
The Corniche is extremely popular with locals, especially in the evening time. You'll find couples canoodling, people serving coffee or roasting corn, fishermen looking to catch some dinner, friends meeting up for a chat. It was lively but extremely safe.
Unlike most of Egypt, I was happy to just be a ghost here and blend in! No one bothered me to sell me something or catcalled me. No one intimidated me. It was lovely to stroll along the sea. Best paired with sunset.
7. Alexandria has an amazing café culture
I was particularly surprised about the café culture in Alexandria. There were so many trendy cafés along the strip and in the city.
Locals and tourists alike chat over a coffee or shisha pipe, have dinner or sample something from the scrumptious bakery.
As I was wandering around the city looking for a bite to eat, one of the cafés I was taken within particular was Trianon.
It looked like something from the 1930s with its Art Deco style. It opened its doors in 1905 and was a famous haunt of the Greek poet Cavafy.
It serves up some delicious sandwiches and cakes from their bakery.
But be warned, there aren't any smoking laws in Egypt. There isn't even a no-smoking area in here either!
Everyone in this café smokes cigarettes and shisha. I had a chest infection so I ate on their tables ate outside. But even if I didn't, the smell of smoke, while I'm eating food, is pretty grim.
8. A boat ride along Alexandria harbour has to be done
One of the most beautiful views of the city skyline can be found on a ship sailing around the harbour.
It isn't a regular tourist attraction, but you can hire a boat privately if it takes your fancy.
I saw a couple on my walk around the Corniche taking a boat ride so I decided to do it myself!
It was a beautiful view but don't take it on a choppy day as I did. I've not got the best sea legs and I have to admit I felt a little nauseous as we were sailing around. I honestly felt like we were going to go over at one point.
The sailor and my tour guide found it hilarious to watch me squirm and joke by pretending to fall out of the boat lol. I was not impressed!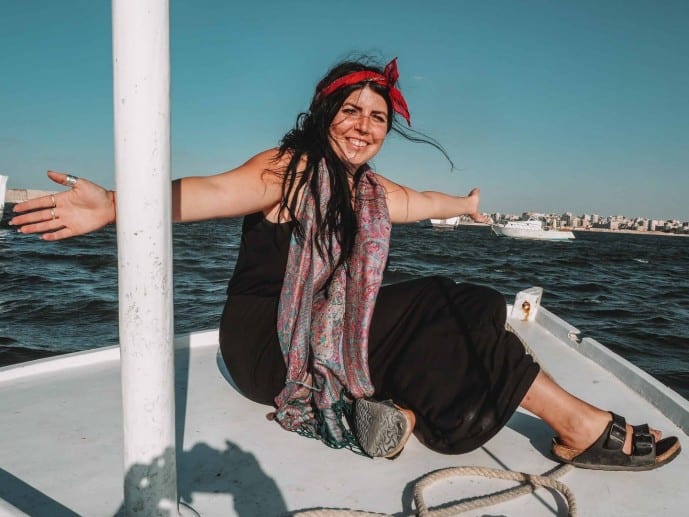 9. You can visit the catacombs of Kom El Shoqafa
One of the seven wonders of the medieval world, the Catacombs of Kom El Shoqafa started in the 2nd century AD.
Legend has it that in 1900, a donkey pulling a cart fell down a hole underground which led to their discovery!
The name translates to 'Mound of Shards' as there used to be lots of broken pottery in this area. It's quite unique as there is a mix of Egyptian, Roman and Greek carving styles.
It's still an active dig site and they continue to make new discoveries with the excavation. You can visit these tombs for £80EGP and you're not technically allowed to take photos inside. But this is Egypt and everyone was doing it!
10. Learn about Pompey's Pillar and visit more tombs
Pompey's Pillar was originally built as a victory column by the Romans.
These pillars would usually be built after winning a great battle. In Alexandria, it was built to honour Emperor Diocletian's win over a revolt in the city.
It was one of the largest ancient monoliths ever erected at 26.85 metres high.
Along with the column, you can see two Roman copies of the sphinx statue. It's a huge archaeological site but when I paid a visit, there was no one there!
I almost missed a visit to the underground storerooms which are the only remains of the Old Library of Alexandria until the security guard reminded me.
It was pretty cool to go inside but I was also extremely creeped out going in alone. It's dark with temperature control so there's lots of noise and statues lit up. So, if you're scared, don't go in alone! Tickets are £60 EGP.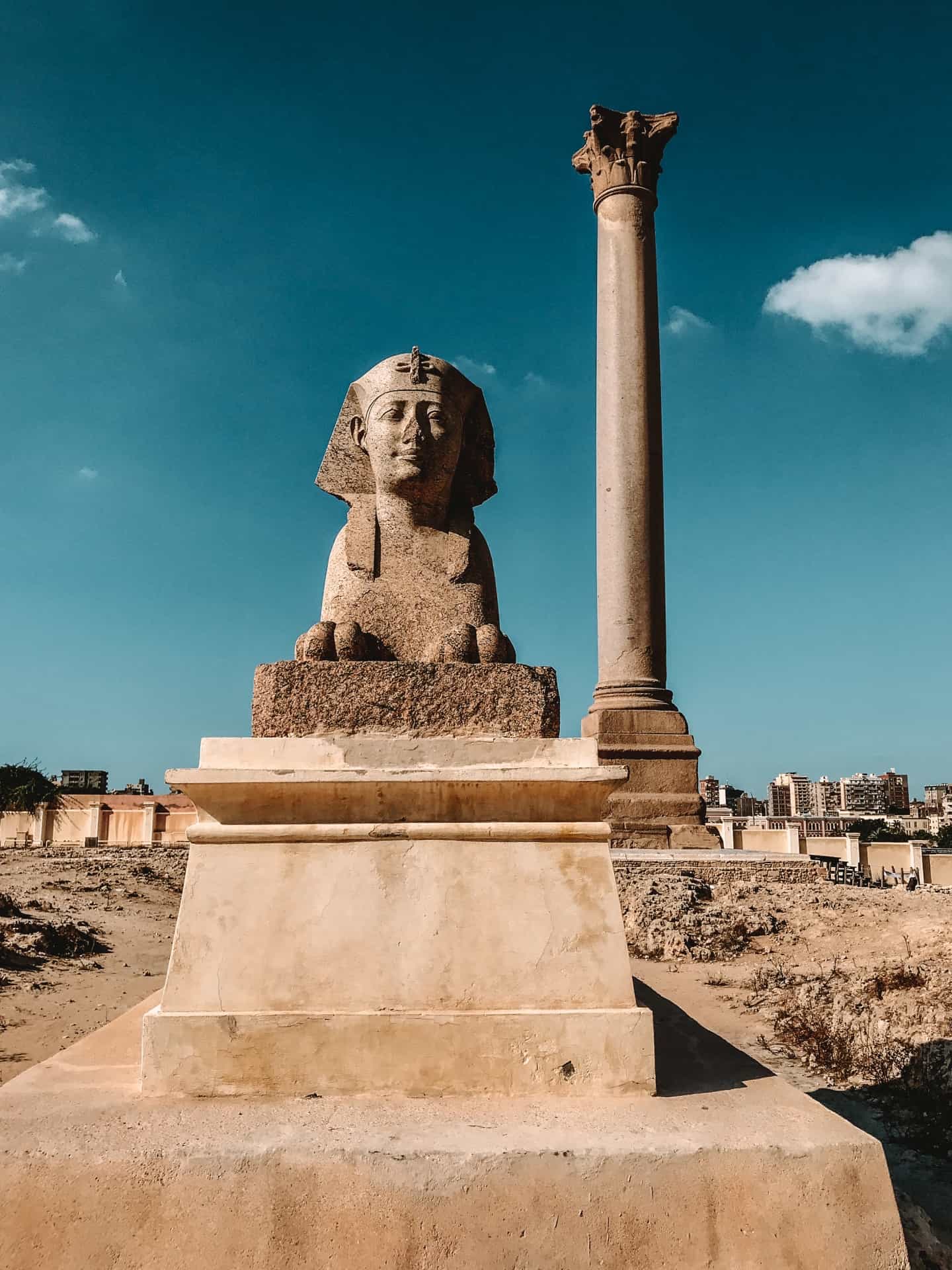 11. Feel like royalty in the Montazah gardens
The Montazah Gardens are a must-visit if you're in Alexandria. These perfectly kept gardens cover 150 acres and are full of Islands to explore, swaying palm trees, royal palaces, lighthouses and more!
The entrance is free for pedestrians but you need to pay £30EGP for a car pass.
I personally had my driver take me around the main sites, it's a large area! Coach trips visit here often from the cruise ships offshore so prepared for it to be packed with people.
The highlight for me was walking over to Tea Palace Island. Not only because the name sounds so intriguing, but it is actually an island that you walk over a bridge to.
It's a little swanky as there is a boat club and some restaurants around for the rich and powerful. But, we peasants can walk around and enjoy the views of the lighthouse and the sea for free. Lots of fishermen come here so you can take a snoop on their buckets and see what they caught!
12. Visit the luxurious Montazah palace
The highlight of the Montazah gardens is the palaces that were built in the 19th and 20th centuries.
Salamlek palace was built in 1892, but not for royalty. It acted as an old hunting lodge. Today it has been converted into a luxury hotel & casino.
Montazah palace or Al-Haramlik, was built in 1932 by King Fuad I, and was built as a summer palace for the royal family. It is now a museum and casino displaying arts and Muhammad Ali history.
When I was here it wasn't open to visitors, in fact, my tour guide told me this acts as a presidential residence too.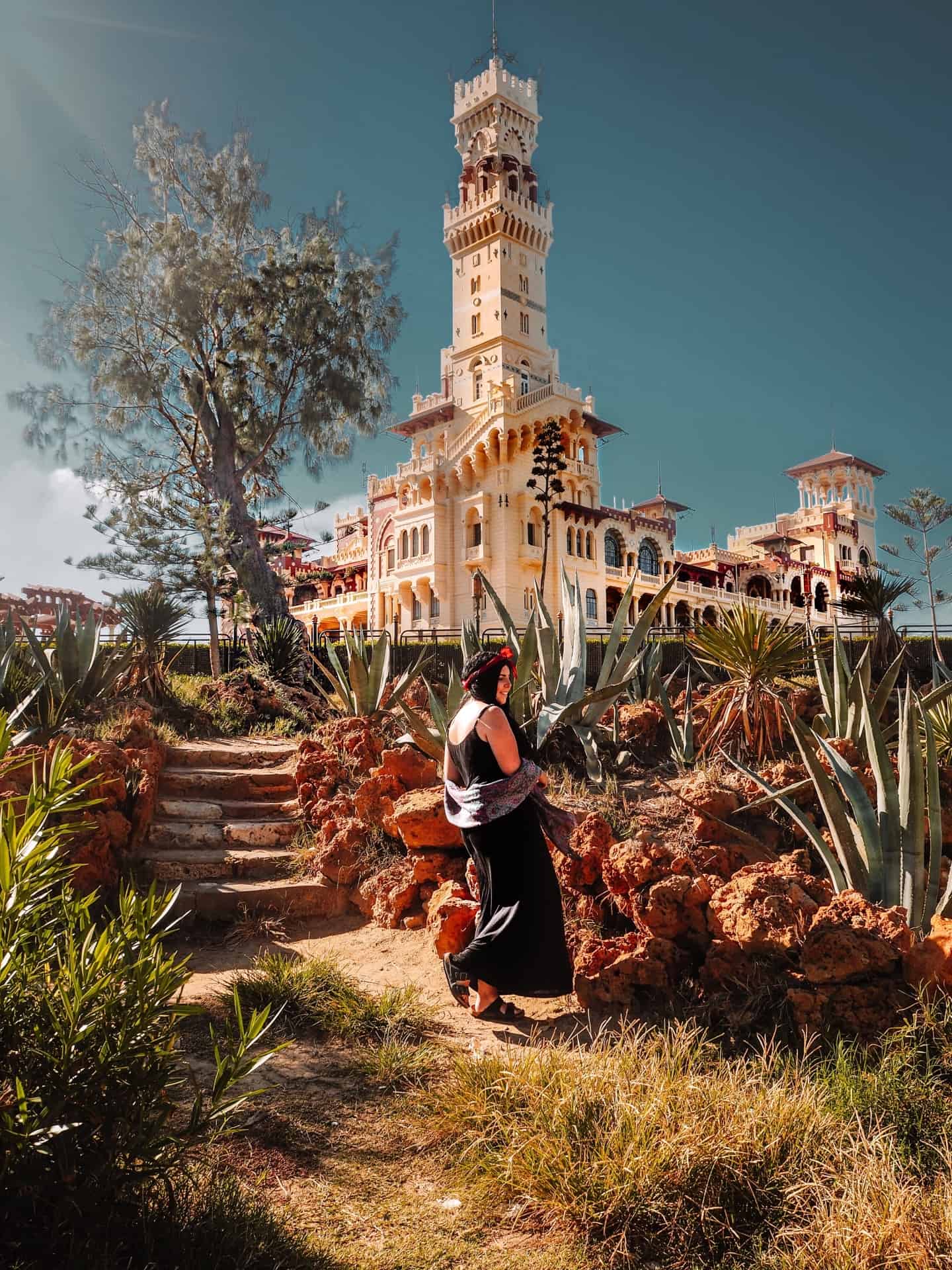 13. Alexandria rooftop bars provide the most incredible views
I loved the rooftop bars in Alexandria, there was really nothing better than a drink overlooking the city at night. The twinkling city lights under the stars had a certain magic to them.
As the rooftop bar at the Cecil Hotel was closed, I was recommended to visit the Windsor Palace Hotel.
Their Sky Roof was said to be the best in town. I really didn't rate that place but the Blue Harbour Café underneath it was incredible.
How it works is you buy a ticket for £250EGP which gets you drinks/meals up that price. Sort of like a cover charge but you get your money back in drinks and food. After you've reached £250EGP you pay the extra.
It was pretty chilly up on the roof so I was happy to welcome the fire which they put next to me. They also had some great entertainers here singing ballads and acoustic guitar.
The highlight for me was that it served one of my favourite beers; Desperados! The only place in Egypt I had seen it. So, naturally, I came back a few times to enjoy it.
14. Sample fresh fish from the Fish Market in Alexandria
It could almost be criminal to come to Alexandria and not sample some of the fish. It's so fresh here and a lot of the restaurants are ocean to table! Personally, I was excited to try as I love all sorts of seafood!
One of the most famous places to eat in Alexandria is the Fish Market or locally known as "Halaket El-Samak". It's not hard to locate as it stands proud on the Corniche with garish neon lights after the sunsets!
Popular with locals and tour groups alike, you choose your fish from the display and are charged by the kilo. Then you choose your extras like rice, breads, potatoes. They also did some really tasty starters and puds!
The fish market has been here for over 200 years and you'll see lots of portraits and pictures of famous celebrities who have eaten here.
15. It's extremely calm compared to Cairo
The thing I liked the most is how relaxed it was here, thankfully it's nothing like Cairo.
No one bothered me, tried to rip me off or catcalled me down the street. The air is fresher, not as polluted and the people are friendlier. There's room to breathe!
I think that Alexandria became my favourite city in Egypt for many reasons, not just the incredible depths of its history but the people and culture there too. Being by the sea is always good for the soul, so I relished in it for a few days.
Don't miss all the things that Alexandria has to offer you. There is so much that makes this wonderful city worth a visit!
Read more of my Egypt articles
My perfect 2 weeks Egypt Itinerary
The perfect Egypt packing list
Why do you need to visit the West Desert in Egypt
The most Instagrammable places in Egypt
My guide to the Valley of the Kings
The ultimate 4-day Nile Cruise
Top places to visit in Luxor at night
The perfect guide for Abu Simbel
My survival guide for the pyramids
Top tips for riding a hot air balloon in Luxor
Save these reasons to visit Alexandria Egypt for later!