Are you looking to see if the I Amsterdam City Card is worth it in 2023? I totally understand.
Every time you visit a new city these days, there is always a pass advertised and it can be hard to know whether buying one is worth the price tag.
But, I have to admit that both times I have visited Amsterdam and used the I Amsterdam City Card it has been worth the splurge.
Not only does it get you access to over 70 attractions in Amsterdam and the wider area but also full use of the public transport so you can explore the city with ease.
However, if you need more convincing make sure to read this detailed review as it will cover whether purchasing the I Amsterdam City Card is worth it or not with the pros and cons.
What is the I Amsterdam Card?
The I Amsterdam City Card is a great way to explore Amsterdam as it gets you free access to over 70 museums, a canal cruise, and bike rental.
It also allows you to travel the city car-free as it includes city-wide public transport including buses, trains, trams, metro and ferries.
You can buy 24, 48, 72, 96, and 120-hour cards depending on your holiday time and preferences. Then, you're free to explore the city as you wish.
Some attractions do need you to prebook your visit, so make sure to do that before you arrive. But, many allow you to go straight in.
How much does an I Amsterdam card cost?
The price of the I Amsterdam pass depends on the duration of your stay and the current prices are as follows;
As you can see, it definitely becomes more cost efficient to buy a pass for a longer duration. Plus, it gives you more time to access many of the attractions that are included.
What type of city card do I need?
You can buy a 1, 2, 3, 4 and 5 day pass in Amsterdam. But, always remember you don't have to buy a pass for the entire duration of your trip.
Personally, I would do the math before you purchase a card based on what types of attractions you'd like to visit.
Make a list of all the things you'd like to see in the city and add those entry fees up. If the pass price is less than the value of your most-wanted list, make sure to buy one to save some money.
If you're in Amsterdam for 3 days but only wanted to see a couple of museums, I would consider buying a card for just 1 or 2 days to visit those instead of a 3 day pass.
But, if you're like me and want to see as much as possible during your visit. Definitely, buy a pass for your entire stay as there are over 70 attractions in central Amsterdam and beyond.
How do I get an I Amsterdam card?
There are a few ways to purchase an I Amsterdam card which work around your preferences.
You can purchase a physical card at the central office in Amsterdam Centraal Station or you can purchase your card in advance online.
If you purchase your card online, you can opt to collect a physical card in person or I would recommend having a virtual pass emailed to you that you can use via their I Amsterdam City Card app.
This app will have QR codes for each attraction that you can scan for entry and you can plan your trip by booking time slots to attractions.
Click here to download the I Amsterdam City Card app
How to use your city card
If you have bought a physical pass, you can simply show this on entry to many of the attractions and have it scanned to get your ticket.
Some of these attractions do require you to book a time slot online like the Rijksmuseum.
So, when booking make sure to select that you will be using the I Amsterdam City Card. You will then need to show your card at entry along with your e-booking.
If you have a virtual I Amsterdam City Card you can use it via their app. You will receive a QR code to scan at attractions. Or, you can book a time slot in advance and show your card alongside your booking.
The app is great as it also allows you to save favourite attractions and all the locations are pinned on a map.
So, you can always see what city card attractions are closest to you when you're exploring the city and get directions.
Note: the city card is activated on your first public transport trip or entry to an attraction.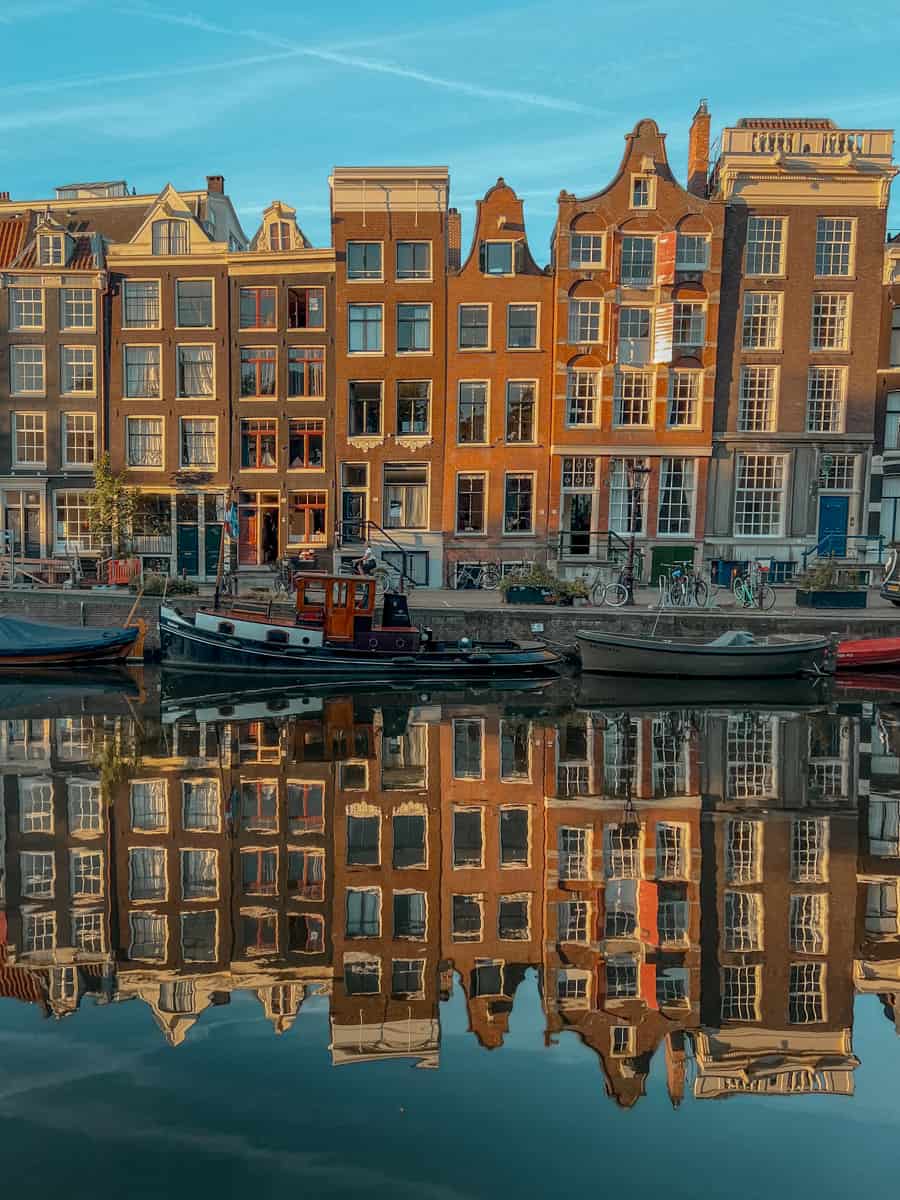 Things to do with the I Amsterdam City Card
So, there are over 70 attractions included in the I Amsterdam City Card and you also get access to public transport, bike rental and canal cruises.
You won't have time to do everything and it can be quite a hard choice to prioritise what attractions you'd like to see.
So, I'll include a couple of my top recommended attractions below to give you some ideas to add to your favourites list!
Note: you only get one-time entry to all of these attractions below. If you wanted to visit a second time you have to pay. So, make sure to plan accordingly and don't miss your entry time slots!
1. Rijksmuseum
If you only have time to visit one museum in Amsterdam, it has to be the Rijksmuseum. This is one of the most important art and history museums in Amsterdam and the entire Netherlands.
It receives well over 2.5 million visitors every single year and it's home to some of the most famous paintings in the world.
In their galleries, you can expect to see Rembrandt's Night Watch, Vermeer's Milkmaid, The Threatened Swan by Jan Asselijn and Van Gogh's Self-Portrait.
Also, don't leave without visiting the Rijksmuseum Library! It's a hidden gem within the museum that most people miss. It's a magical space that reminded me of Hogwarts Library in Harry Potter.
As the Rijksmuseum sees so many visitors, you do have to book a time slot online. I would recommend an early one as it can get really busy inside the galleries.
Read more – discover the magical Cuypers Library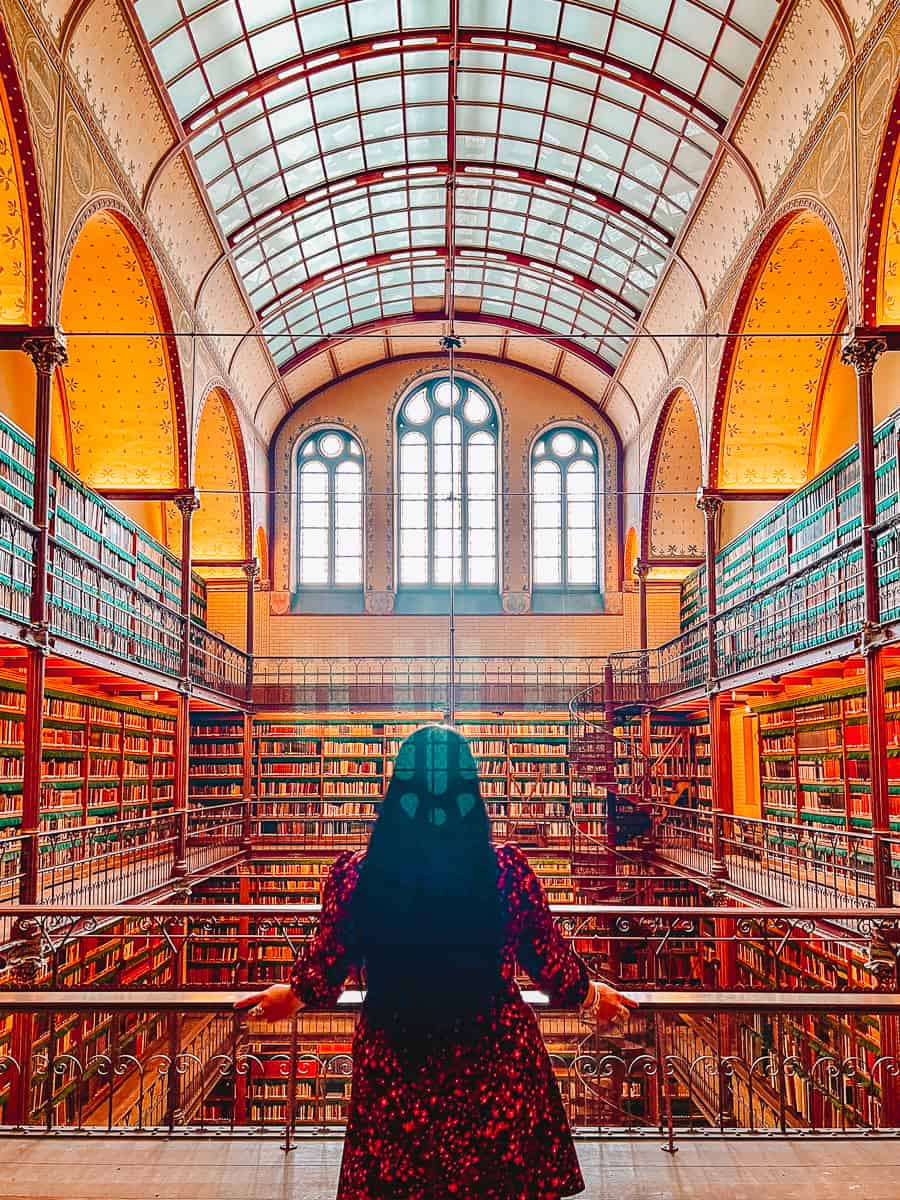 2. City Canal Cruises
It could be considered a crime not to take a cruise along the canals of Amsterdam and, fortunately, your city card gets you access to one for free!
Lovers Cruises office can be found near to Amsterdam Centraal station and you should book your cruise time in advance to avoid disappointment. It's a very popular experience.
When you visit their office, you can ask for a time that suits you and they will give you a ticket for your cruise. These usually run every 30-60 minutes throughout the day depending on the season.
After you board the boat, you'll be treated to a scenic 60 minute cruise along the 17th century canal ring.
You'll be given headphones to listen to an informative audio commentary about the sights you're seeing. These can be accessed in many languages.
Although it is quite touristy, it's something that has to be done. Every time I sail along these canals I see something new.
3. Moco Museum
The Moco Museum is a popular modern art museum here in Amsterdam and they also have one in Barcelona.
Inside, you'll find a range of modern and visual art from popular contemporary artists like Banksy, Damien Hurst, Marina Abramović and more.
I particularly loved their Digital Immersive Art Rooms by Studio Irma and Andrés Reisinger. They were super trippy and made great photo opportunities.
After your visit to the museum, make sure to explore their Moco Garden filled with creative sculptures.
4. Eye Filmmuseum
The Eye Filmmuseum can be accessed in the north side of the River Ij and you can take a free ferry outside of Amsterdam Centraal Station to access the Noord museums.
The Eye Filmmuseum has over 54,000 films from all genres and four halls of permanent exhibits. There are also temporary exhibitions and educations halls to explore too.
This space not only celebrates the history of film but also has rooms on how film can be used to create art as well.
I particularly loved their permanent exhibit, Film Catcher. It's like a Hall of Fame and you can use their machines to point to a clip and then it will show you more details on the screen.
After, make sure to have lunch in their popular restaurant where they serve coffee, lunch, drinks and dinner.
Their seating area has beautiful panoramic views of the River Ij as well as some artistic exhibitions to decroate the space. I loved the lamps designed by artist Olafur Eliasson.
5. Bike rental
One thing you'll notice about the Netherlands is that cycling is a very popular way to travel and there are endless cycle lanes in this city.
Your I Amsterdam City Card gets you access to FREE bike rental with Yellow Bike and it's definitely worth taking advantage of this.
You will need to book a time slot online and then you can collect your bike to explore the city and visit the attractions. Or, you can pay extra to book one of their cycle tours.
It's good to note that you only get 24 hours rental included in your pass no matter the duration and this is only possible once per card.
6. Willet Holthuysen House
If you wanted to know what life was like living in a 17th century canal house then you must visit the Willet Holthuysen House.
This double mansion of Herengracht allows you to step back in time and explore the life of the eccentric Louisa Holthuysen.
Louisa and her husband Abraham Willet lived quite a controversial bohemian lifestyle where they travelled the globe, collected art and threw wild soirées.
The house was originally built for Jacob Hop who was a mayor of Amsterdam in 1685 and then it was refurbished in the Louis XIV style.
Much of the house is a reconstruction but they have many period rooms with sparkling chandeliers, works of art by Jacob de Wit and an impressive garden to explore.
It's a great place to escape the crowds of the canals for a while and imagine what it would be like to live like the bourgeoisie.
7. Amsterdam City Archives
One of the places I was most impressed with in Amsterdam was the City Archives which is a bit of a hidden gem.
The building is home to over 750 years worth of documents, personal data, images and stories that tell the story of Amsterdam.
Located below ground, you'll find the archives presented in several exhibitions behind the huge metal doors.
The Treasure Room which was created in 1926 looks like something from a Wes Anderson movie with it's old lamps and colourful tiled floors.
Inside, you can see lots of drawings, documents and photographs. There are cases where you to learn about Rembrandt or see some historic medieval charters!
Entry to the Treasure Room is free as well as some of their permanent exhibitions. But, you can use your I Amsterdam City Card to access their Exhibition Hall that usually has a 10 euro charge.
Make sure to visit the popular Café De Bazel after you've finished exploring the exhibitions. They are open for a delicious breakfast, lunch and dinner throughout the week.
8. Fabrique des Lumières
One of my favourites things I did with the I Amsterdam City Card is visit Fabrique des Lumières, an audiovisual experience.
The building used to be an old gasworks called Amsterdam Westergasfabriek but has has been transformed into an immersive art space that showcases some of the world's most famous artists.
On my visit, they were presenting works by Antoni Gaudí and Salvador Dalí. The entire room was decorated in their art with projected video effects along with creative music.
I could have spent hours inside here just watching the show and listening to the music. It was mesmerising.
There are several smaller rooms you can enter too which had mirrors so it felt like you'd entered a different dimension!
As the event is so popular, it can sell out on the day. So, it's best to book your time slot in advance online.
9. Hortus Botanicus
Did you know that one of the oldest botanical gardens in the world is in Amsterdam? It's called Hortus Botanicus and was established in 1638 as a physic garden for medical healing.
These plants were especially useful during the plague which saw thousands of victims needing treatment.
Many of the exotic plants, like the coffee plant, we see here today were shipped to the city during the 17th century by the Dutch East India Company.
Today, the Hortus Boticus has over 6,000 different plant species in its garden. You'll find desert cacti, Amazonian lily pads, palm tree collections, and all sorts of rare flora and fauna.
It's a great place to find some peace and fresh air in the big city. You can wander around their greenhouses filled with palm trees or their three climate greenhouse filled with sky walkways.
Or, if you'd prefer, you can take a stroll in the peaceful gardens outside. It's a huge place so leave enough time to explore.
Related post: these are all the secret hidden gems you can visit in Amsterdam
10. Foam Museum
If you're a lover of photography, then an interesting museum you can visit in Amsterdam is Foam located in a historic canal house.
It's a photography museum that explores captured images in all forms and is also a radical experiment that showcases historic photographs as well as modern day visual exhibits.
What I loved is the fact that Foam makes photography accessible to everyone and encourages conversation and connection.
The museum regularly change their galleries throughout the year and so there is always a reason to go back.
On my visit, we saw an intriguing gallery called 'Sleeping Beauty' by Carlijn Jacobs.
They also have a bookshop, cafe, gallery and creative spaces to explore as well on your visit.
11. NXT Museum
The NXT Museum is another exhibition space that explores the opportunities and discoveries of new-age media and digital art.
It has several galleries of multi-sensory exhibitions which are designed to open your mind and be accessible.
Every gallery is designed to provoke a reaction and explores our relationship with technology and how technology sees us.
The exhibitions change regularly but on my visit there were several exhibitions by Random International.
The Swarm Study XIII was the most immersive one in my opinion. Based on starling murmurations, they created beams of light that looked like bars of a prison cell.
It was so weird because I felt trapped by them even though they were just light rays – I felt like I couldn't move.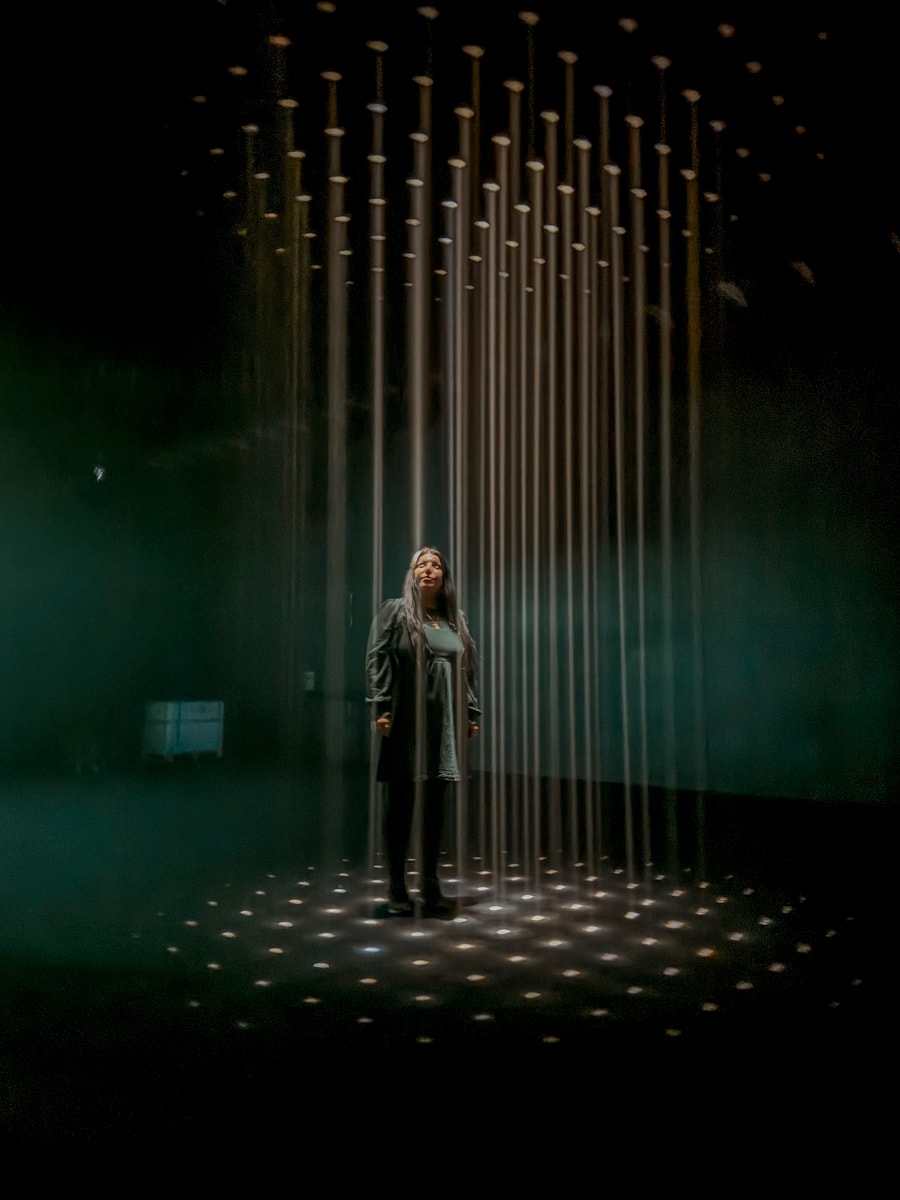 12. A'dam Lookout Tower
You should definitely take the chance to visit A'dam Lookout Tower with its top-floor observation deck which has unrivalled, spectacular views over the whole city.
You'll travel up to the top floor in their elevator with a funky light show at the beginning and the end.
There's a sky deck, restaurant, Heineken bar, interactive exhibition, and free audio guide about Amsterdam's history and culture. Plus, lots of photo opportunities.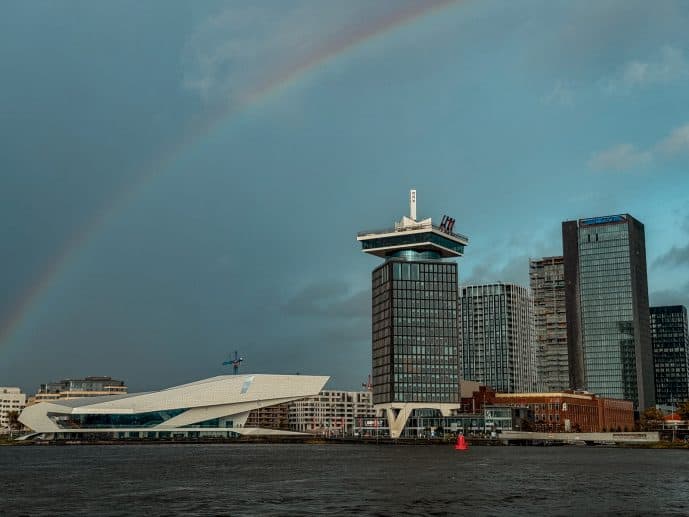 But, the one thing you must do is their Swing Over the Edge! You'll be lifted up over the edge of the building and you'll get to swing over the top. It's a little scary but really, really fun.
I did this at night time and absolutely loved it as the moon and stars were out. You should give it a try as the views are incredible.
Your I amsterdam City Card gets you free entry to the tower but tickets cost 6 euros extra to swing.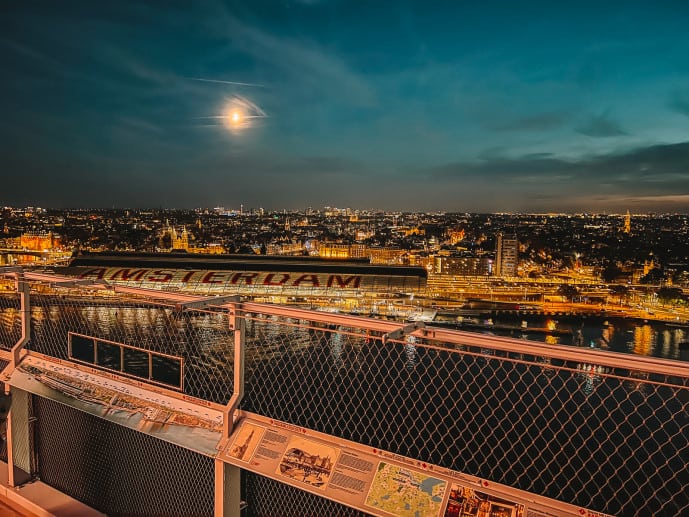 13. Museum Ons' Lieve Heer op Solder
Located in a 17th-century canal house, you can walk through the narrow corridors through a historic merchant's house up to the top floor which reveals an attic church!
You see, in the 1600s Catholicism was banned and so people had to find alternative places to practice their faith. These are called "schuilkerk" which translates to clandestine church.
Ons Lieve Heer op Solder was commissioned by a wealthy merchant called Jan Hartman. It was here that Catholics in the city would secretly attend mass.
It opened as a museum in 1888 and it's a great place to learn about religious tolerance. There are also some spectacular views to be had from their top tower.
14. Rembrandt House Museum
Rembrandt Harmenszoon van Rijn is probably the most famous Dutch Golden Age painter. But, he was also a printmaker, and draughtsman.
You may have already seen some of his famous works like the Night Watch and The Return of the Prodigal Son. But, how much do you really know about the man and mind behind the paintbrush?
The 17th-century Rembrandt House Museum is the only place in the world that is completely dedicated to Rembrandt and is a residence where he lived for 20 years. So, you can quite literally follow in his footsteps.
You can see where he slept, his studio, what he used to eat and a selection of his favourite places in the city. It will give you a completely new perspective of this world famous artist.
As the house is small and has a limit on visitors, it's best to book your time slot in advance to avoid disappointment.
Other attractions worth visiting with the I Amsterdam City Card
Madame Tussauds Amsterdam
Things to do outside of Amsterdam
Did you know that the I Amsterdam City Card is also valid for attractions in the wider Amsterdam area?
You can take a day trip to any of these locations and use your card for FREE entry to many of the attractions there.
Amsterdam can see millions of tourists flock here and so getting outside of the city is a great way to escape the crowds.
The only thing to note is that regional transport is not included with the pass. You can upgrade with the I Amsterdam Regional Travel Ticket which includes transport to Schiphol Airport.
Here are some of the things you can enjoy with the card outside of central Amsterdam;
Haarlem
One of the cities I had the pleasure of discovering this year was Haarlem which is only located 20 minutes from Amsterdam by train but has a fraction of the crowds.
It used to be one of the most important cities in the Netherlands and became an extremely wealthy one due to the tolls it would collect from traders using the Spaarne River.
There are plenty of things to do in Haarlem that make it worth visiting such as its amazing gastronomic scene, shopping streets, museum district, and access to the beach.
One of the main attractions here is the main square of Grote Markt and St Bravo Church.
But, you can use your I Amsterdam City Card to gain access to the Frans Hals Museum as well other museums in the city.
Frans Hals is a famous painter of the Dutch Golden Age and the museum house many of his most famous works.
Read more: read all the amazing things you can do in Haarlem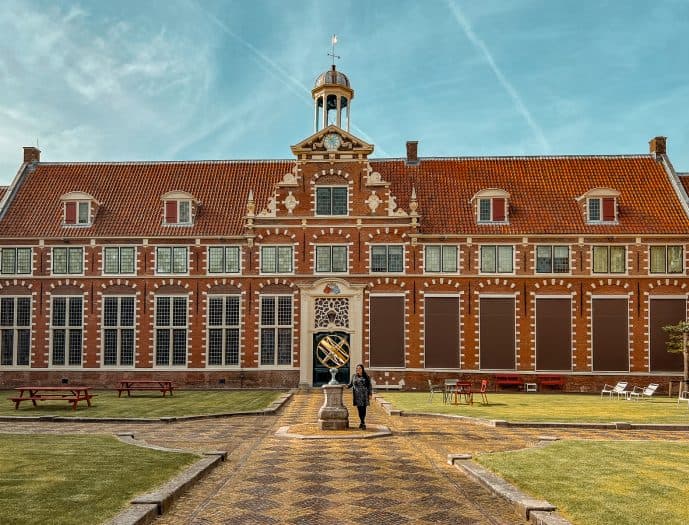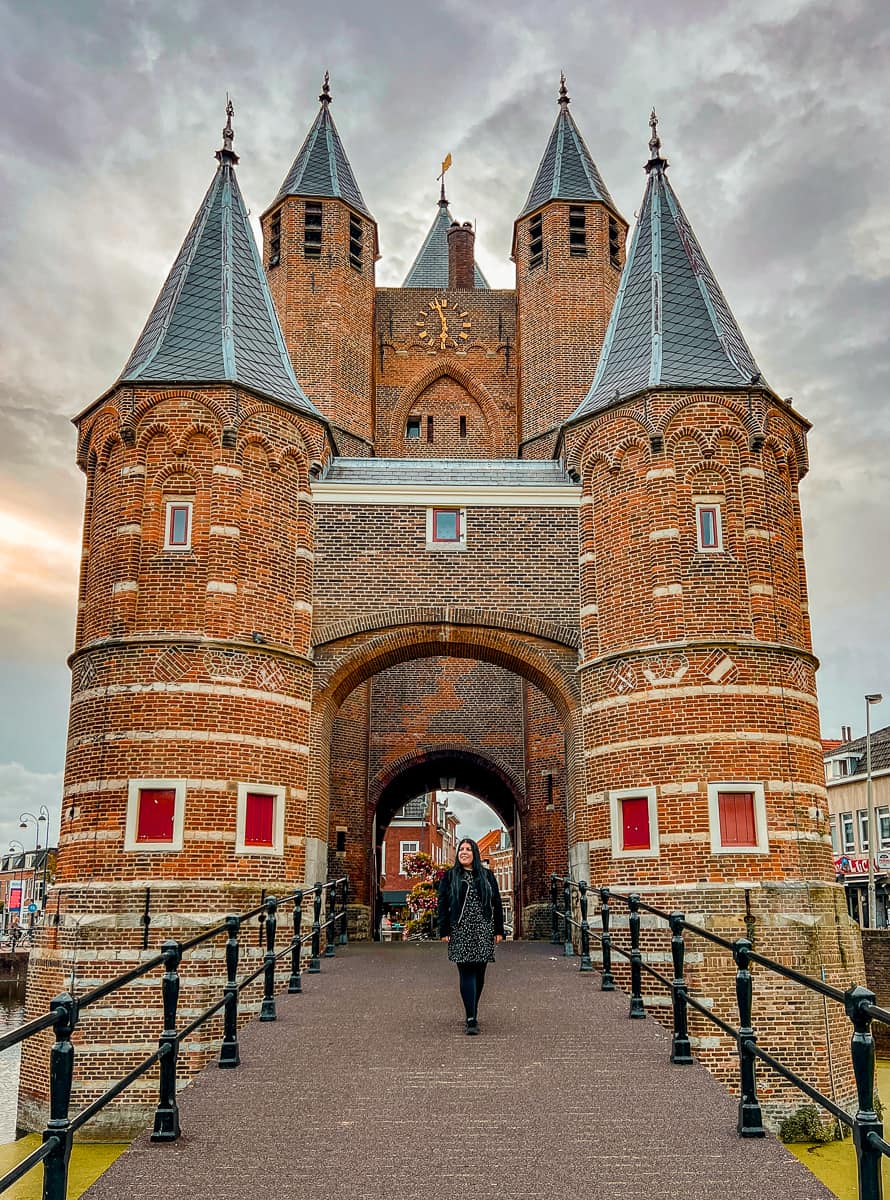 Muiderslot Castle
I absolutely love castles and one of the best castles in the Netherlands can be accessed with the I Amsterdam City Card.
Muiderslot Castle is located in the quaint city of Muiden and is a beautifully restored castle that has a history since the 13th century on the River Vecht.
It was constructed by Count Floris V who built a fortress when he gained command of the See of Utrecht.
Today, it's a museum and has been beautifully restored to represent what life was like here in the 17th century.
You could honestly spend hours wandering around the winding towers with it's Great Hall, Kitchens and Armoury.
There's also a cosy café, gift shop, an incredible planned garden and river walk around the old moat.
Muiden itself is a gorgeous place on the river, so plan to spend a day in this area. You can either go by train/bus (55 minutes) or by ferry to get here (only in the summer months).
Click here to read my complete guide for Muiderslot Castle
Zuiderzee Museum
The Zuiderzee Museum can be accessed in one hour from Amsterdam by train and is located on Wierdijk in the historic centre of Enkhuizen. Entry is free with your card.
It's a living history museum that will transport you back in time and is devoted to preserving Dutch cultural heritage and maritime history of the old Zuiderzee region.
You'll take a ferry from the ticket office to the outside museum where you can explore old houses, lively harbours, sweet shops, cafés, fishing equipment and windmills.
The interesting thing about this museum is they actually dismantled a lot of the historic houses that were going to be demolished and rebuilt them here!
After you've explored the outside museum, it's well worth seeing the inside museum as well. It has an entire shipyard of boats and artefacts.
You can expect to spend the day here so make sure to visit one of their restaurants like the Pepper House or Hindeloopen Pub.
Zaanse Schans
Another place you can visit in around 15 minutes from Amsterdam is Zaanse Schans. It's a gorgeous area on the water that has a range of windmills, shops and museums.
Its a residential area but you can explore it on the water by using their ferries or on a bike. The highlights are the historic windmills you can enter and explore like the De Kat (The Cat).
But, there are also clog warehouses, traditional bakeries, a cheese factory, barns and workshops.
Make sure to visit the Pancake restaurant nearby called De Kraai. It's been around since 1976 and you can have huge traditional Dutch pancakes inside.
It makes a wonderful day trip from Amsterdam and you can get entry to the Museum Zaanse Tijd (Zaan Time Museum) as part of your city pass.
What isn't so great about this city pass?
Okay, so not every city card is going to be perfect and there's always going to be things that people won't like. Here are a few of the cons of the I Amsterdam City Card;
The Anne Frank Museum and Van Gogh Museum aren't included – yep, these popular museums are not included on the city card and require you to buy separate tickets.
Booking time slots in advance – sometimes museums can sell out and so you must book in advance. This isn't ideal for the 'on-the-go' spontaneous traveller who doesn't like pre-planned fun.
No transport to and from Schipol airport – you will still need to buy train tickets to and from the airport with the card. Luckily, they have a regional transport ticket you can add on.
I would say there are very few downsides to purchasing this card. The city is very compact and so you can easily plan your day around attractions close to each other to make the best use of your time.
So, is the I Amsterdam City Card worth it?
Again, this completely depends on your preferences and what you personally want to see as part of your visit to Amsterdam.
But, I would say that the I Amsterdam City Card is worth the money. There are over 70 attractions included including a canal cruise and bike rental.
These attractions are so diverse and include art galleries, immersive experiences, historic museums, beer and cocktail tastings and exhibitions – there has to be something on the list you would enjoy.
Not to mention that this card gives you easy access to travel around using the huge range of public transport.
What I think is great is that there are a few attractions outside of the city as well. So, you can explore a new area of the Netherlands without breaking the bank.
The entrance fees for museums and attractions in Amsterdam definitely start to add up and can be quite costly. So, you can save lots of money by buying an I Amsterdam City Card.
Click here to purchase an I Amsterdam City Card for your trip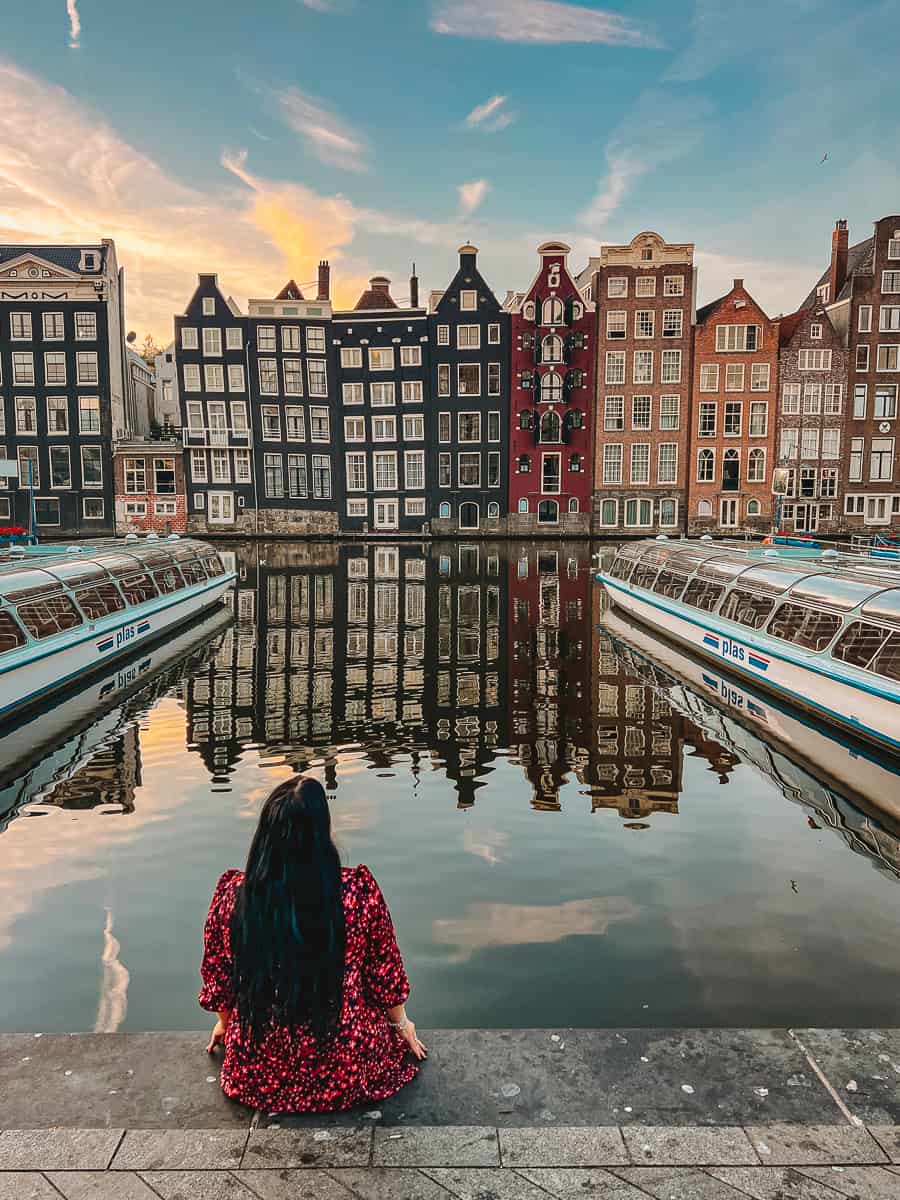 Where to stay in Amsterdam?
If you're looking for a cosy, centrally location hotel in Amsterdam then definitely check out The Manor Hotel which is part of the Eden Hotel Group.
It used to be a historic hospital and district office but it has recently been transformed into a boutique hotel with a range of deluxe rooms and suites.
My room was really spacious and had one of the highest ceilings I think I've ever had in a hotel room.
It had all the comforts you would expect like a comfy mattress and pillows, espresso machine and super clean bathroom.
They are situated on the east side of the city and it's easy to access them via trams and buses.
Definitely check out their modern bar and pop-up restaurant A Beautiful Mess that serves up a range of tasty Middle Eastern and African dishes.
They have a wonderful catering concept developed by a Refugee Company. All of the dishes have been inspired by the chef's homeland and so each dish has its own unique story to tell.
I Amsterdam City Card FAQs
Is the Anne Frank Museum included in the I Amsterdam City Card? No, this is one of the museums not included with the card. If you want to visit, I would recommend booking at least 5-6 weeks in advance.
Does I Amsterdam card include Van Gogh Museum? It used to but no longer. This museum is incredibly popular so you need to book a few weeks in advance.
Where can I pick up my Amsterdam City Card? There is an office in Amsterdam Centraal station but it's far easier to purchase online and use their app! You'll receive your card instantly and use QR codes to scan into attractions.
Can you skip the line with the I Amsterdam Card? Yes, in some attractions you can skip the line so you can save time and visit even more places!
Save this I Amsterdam City Card Review for later!
With thanks to Amsterdam&Partners for gifting me my I Amsterdam City Card in exchange for this honest review. Although I was a guest all opinions are my own.