As my second visit to Morocco, I was really looking forward to being able to splurge a bit this time.
The first time I went to visit Marrakesh I was on a backpacker budget and was staying in a hostel-type Riad and, although that experience wasn't terrible, I couldn't contain my excitement when I booked in at the Riad Fes Relais & Chateaux.
Riad Fes which is a hotel under the Relais & Chateaux brand is a luxury 5* riad in the centre of the Fes souk.
So, it's an ideal location to base yourself without sacrificing any comforts on your travels here. I personally loved my stay, but at £200+ per room, per night it can be hard to fully justify the hefty room rate!
So, in this honest Riad Fes Relais & Chateaux review, I am going to go through all my experiences and let you know the verdict at the end. Is this worth the price tag? Well, let's see…
How to reach Riad Fes Relais & Chateaux in Morocco
Riad Fes Relais & Chateaux has its own recently renewed Aeroport Fes Saiss which receives international flights daily.
I always use Skyscanner to compare flight prices and I managed to get a pretty reasonable flight price from London Gatwick to Fes with Air Arabia Maroc.
To my delight, it was pretty much empty (not sure if that's good or bad on reflection) and I had a whole row to myself. Security and immigration were pretty slow going when I touched down in Fes and when I left, so don't plan too much directly after your flight and arrive in plenty of time!
You can organise an airport pick up with Riad Fes for around 300 MAD (£25) or organise a taxi pick up yourself from the airport. Prices are usually around 150 MAD for a taxi to reach the airport to Fes medina.
I personally caught a red taxi directly from the CTM bus station on my return from Chefchaouen. These are your best options for getting around the newer parts of the city, just make sure they are put on the meter!
Although taxis cannot enter the old city Medina, the drop-off point is within a 5-minute walk to Riad Fes Relais & Chateaux.
For a complete travel guide to Fes, you can read my article here.
First impressions of Riad Fes Relais & Chateaux
Honestly, this Riad was like an absolute oasis compared to the busy chaos of the Fes souk outside.
My jaw dropped at the beautiful detail in the architecture, the pops of pink in the lobby sofas, the smell of jasmine filling the air, and the music that was like a lullaby. I was in a Moroccan paradise!
I was greeted with a smile and asked to take a seat and all I could do was look around dumbfounded.
I handed my passport over for check-in and just soaked it all up! After my pretty chaotic time in Morocco, I knew then that this was my cue to slow down and relax.
The check in process at Riad Fes Relais & Chateaux
After I took my seat to wait for the check-in process to begin, I was handed a hot towel.
It was pretty cool as it was like one of those you had as a kid. You know the ones that expand when they are put in water. It was so refreshing to receive after a long dirty bus journey.
I was also given a welcome drink of a mixed fruit cocktail and a cake tier (yes it had layers) of dates and a selection of cookies! I literally squealed with excitement. It was such a nice treat to receive and I hadn't even entered my room yet. I could tell I was going to like it here!
My room was ready and I was super impressed with the service; my bags were already placed in my room. The whole check-in process was efficient and seamless and I hardly noticed the wait.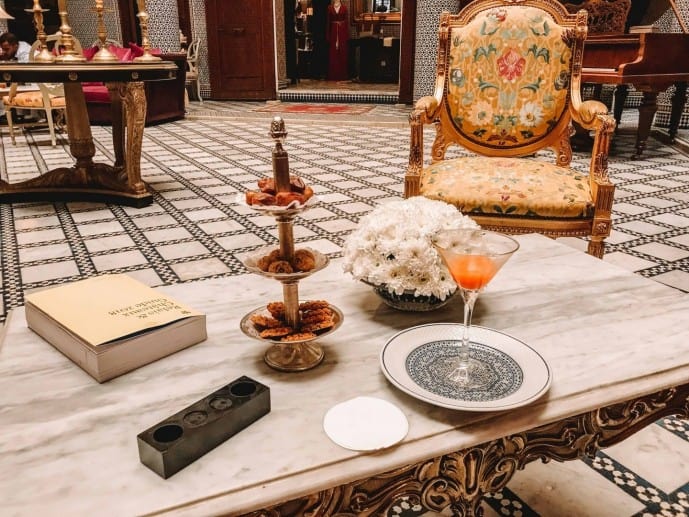 The rooms at Riad Fes Relais & Chateaux
The host escorted me to my room ad I was really happy to find out that I had been upgraded to a suite!
It was a huge bedroom, with a ginormous bed and even a TV in the middle of the floor! I fell in love with the paisley decor as I have a massive crush on India.
The room let in lots of light which was refreshing and the air con was powerful and a good temperature to combat the heat outside.
I felt spoilt as I had been left some dried fruits in tagines, crisps, and bottles of water in a glass bottle (super fancy).
Then, I went and checked out the bathroom! It was gigantic with a double bath, double sinks, and double walk-in shower (even though I was a solo traveller, lol) and it was all just so beautiful.
Even the fluffy robes and slippers had Riad Fes sewn on them.
For me, I need complete quiet to sleep and darkness so this room and the blackout curtains and soundproofing were my best friend. I slept so well!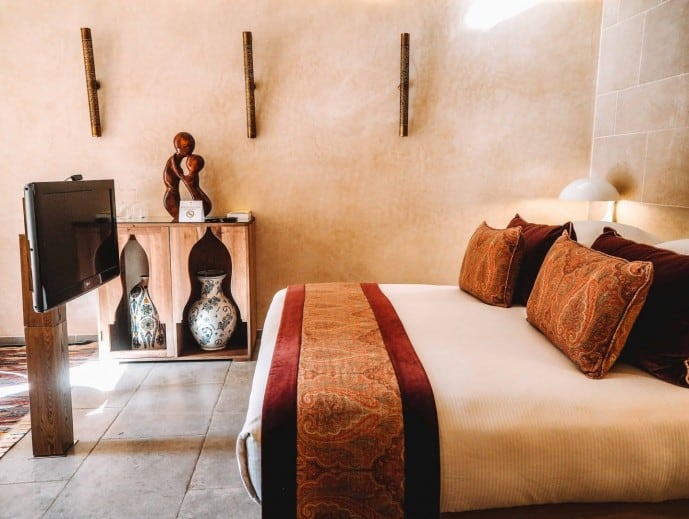 Chilling by the pool
You really can't miss a moment in Morocco to jump in the pool and escape the searing heat.
The pool at Riad Fes Relais & Chateaux was like a siren calling me in and I just had to try it out. The poolside area had pretty sunbeds with straw hats to use but there was one problem; there was no sun! Well, at the time I went down around 10 am.
Eventually, the sun poked his head out around 1 pm so I would try and use that time as before then, the pool was freezing. Another bonus was that no one else was there, so it was just nice to relax in the quiet.
The rooftop terrace
I have to admit, this was by far the part that made checking into Riad Fes Relais & Chateaux for me.
The view from the alfresco rooftop terrace was immense! You could see the whole city from there and it was best paired with sunset.
Make sure you grab a prime seat early, I made sure I got here at least an hour before sunset and I'm glad I did. By the time the sun was meant to go down the whole rooftop was packed and there were hardly any seats with a front-row view.
The call to prayer or Azan at sunset time is a beautiful time of day. Watching the lights of the city turn on, with the sound of all that positive energy filling the air over the city was breathtaking. It really can't be missed anywhere you are from Morocco.
Riad Fes has an epic drinks menu and happy hour deals at certain times of the day. I decided to treat myself to half a bottle of Rosé wine from the menu. I was shocked when it came in its own ice bucket!
The waiter was also lovely and wouldn't let me pour it myself. Such a lovely way to end my week of travelling through this beautiful country.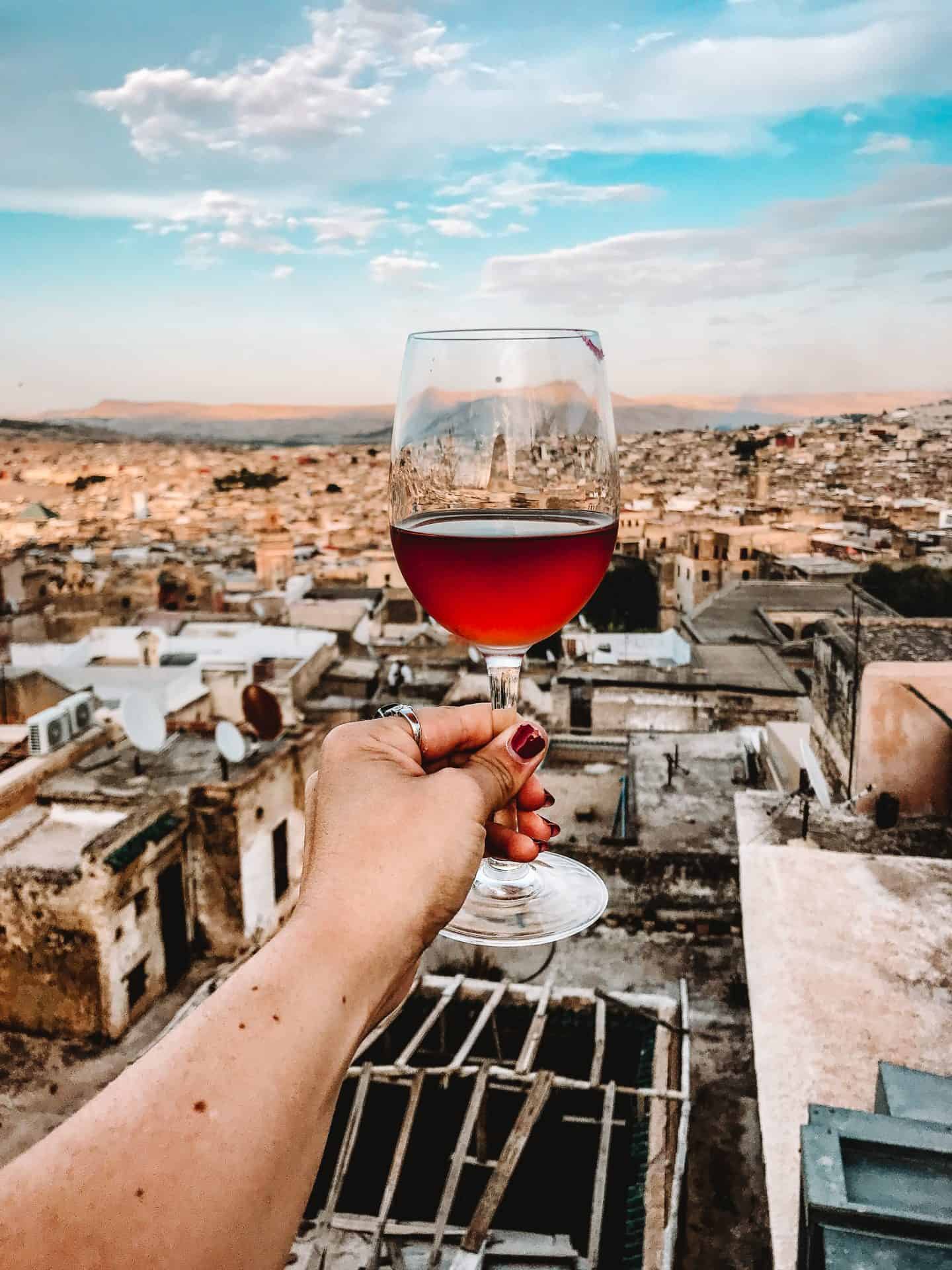 Riad Fes Relais & Chateaux restaurant
As I didn't want to leave my little oasis in Fes for the night, I decided to check out their signature restaurant l'Ambre.
It was located in a beautiful setting by their Andalusian patio and fountain and I got a great seat to see the artist playing traditional music on an Oud which is a type of Moroccan guitar.
I treated myself to a glass of wine and a chef speciality of L'hame Mhamer, a dish of lamb, onion jam, and caramelised carrots.
Even though it was quite a small dish, It was totally mouthwatering. As they say, good things come in small packages!
My sweet ending at L'ambre was their Cheesecake Riad Fes but in all honesty, even though it was beautifully decorated it wasn't that tasty! Next time, I would have picked something like the Chocolate fondant.
The food was quite expensive but I guess that's expected for a 5* Raid. It was very good food but I think I tasted better in the souk outside.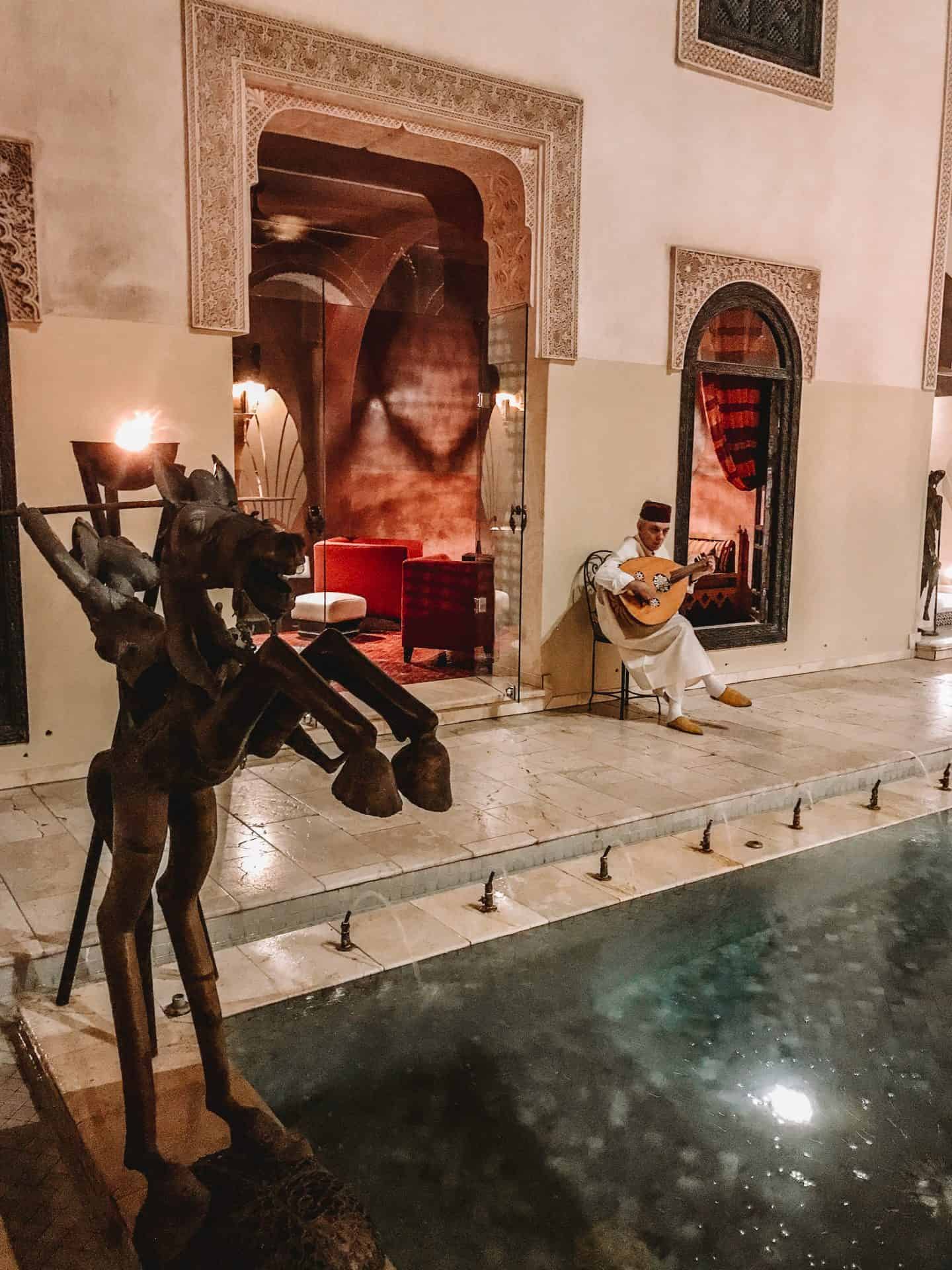 The verdict: Is Riad Fes Relais & Chateaux worth the price tag?
So, the final verdict; was it worth the hefty price tag?! Personally, I think so. Especially if it's only for one night. The whole experience from start to finish was luxurious and you really felt like you were staying in an oasis compared to the busy souks of Fes!
The only thing I would do differently is go out to eat, the food was tasty but not worth the money in my opinion.
But, that's a small factor when you're a resident of one of the finest Riad's in the Fes medina. It's definitely somewhere I would recommend staying if you find yourself in this crazy city and I wouldn't hesitate to check myself in again.
To see all of Riad Fes Relais & Chateaux dates and rates available, see here or If you did want to read my complete travel guide to Fes you can do so here.
Read more of my Morocco articles
My ultimate 2 weeks in Morocco Itinerary
How to avoid scams at Fez Tannery
Visiting the Golden Doors of Fez Royal Palace
Trying a Camel Burger in Morocco
15 unique and fun things to do in Chefchaouen (that people don't really talk about)
A complete guide to Chefchaouen
19 essential tips I wish I knew before I travelled to Morocco
14 important safety tips for solo female travel in Morocco
What to wear as a woman in Morocco
Save this Riad Fes review for later!