"You have two eyes and but one mouth, let this be a signal and take heed…not to talk here, but to read!" – Pierre Cuypers
One of the most beautiful libraries in the world has to be Rijksmuseum Library which feels as though you've stepped back in time.
The book collection looks exactly as it did in the 19th century with its Gothic architecture, stained glass windows, and winding staircases. It's a bibliophile's dream and it will take your breath away!
For me, it felt like I had stepped into Belle's library from Beauty and the Beast or the Hogwarts Library in Harry Potter. It was so magical.
Here is a complete guide on how to visit the Rijksmuseum Library or Cuypers Library in Amsterdam.
What is the Rijksmuseum Library?
The Rijksmuseum Research Library is the largest and oldest historical art library in the Netherlands that sits within the famous Rijksmuseum.
It's also called Cuypers Library after Petrus Josephus Hubertus Cuypers or simply "Pierre" Cuypers.
He was a Dutch architect that designed both the Amsterdam Central Station and Rijksmuseum in the 19th century. That's why the two buildings look so similar.
This Gothic book haven has a huge vaulted ceiling with a skylight that bathes the entire library in sunlight.
You'll also find colourful handed painted walls, oodles of bookshelves on steel balconies, and a giant winding staircase. It's a history lovers' paradise.
Inside, you'll find a vast collection of books dedicated to the arts and history as well as catalogues, auction records, and information on art pieces that have been stored here since 1885.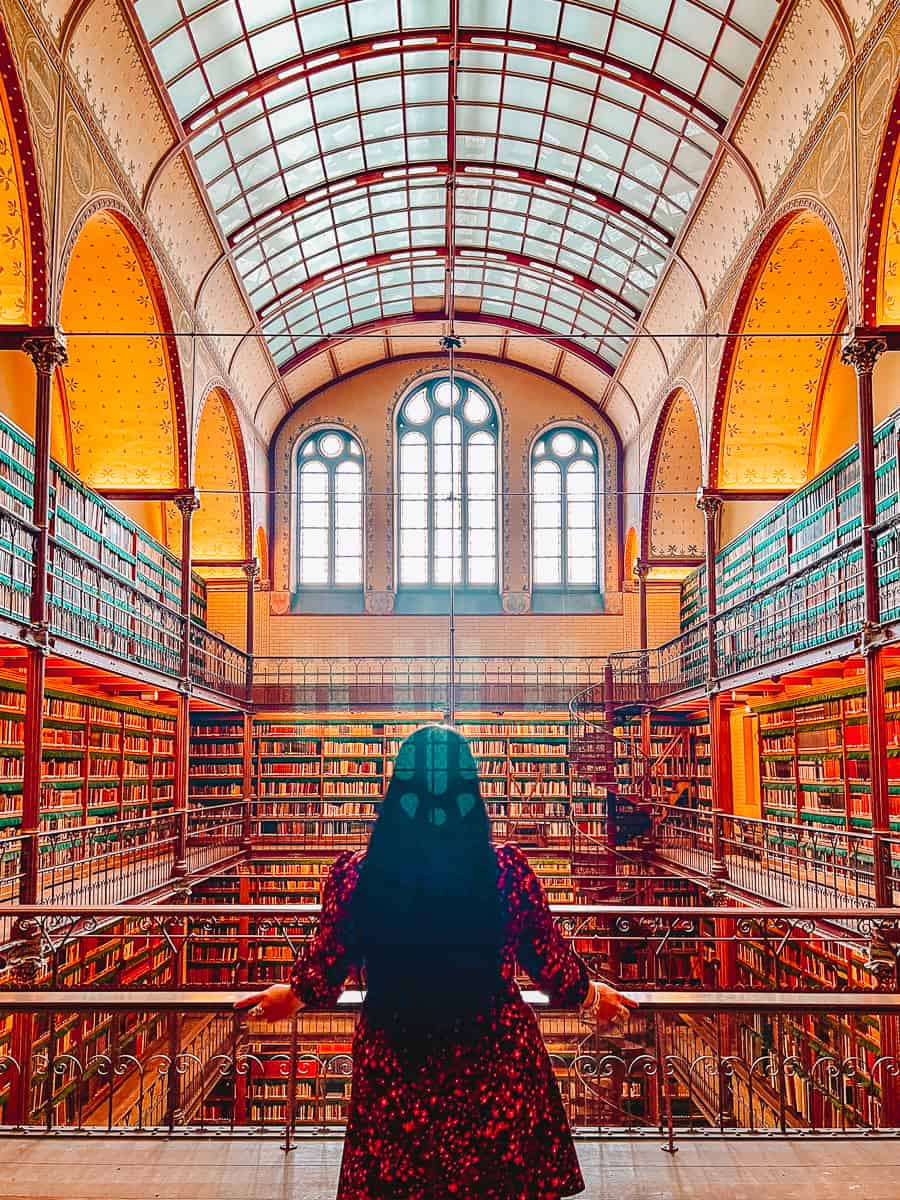 Cuypers Library history
The Rijksmuseum was originally founded in The Hague in 1798 and eventually moved to Amsterdam 1808.
The enormous art collection was moved inside the Trippenhuis in 1817 but eventually, it became too small.
Vincent Van Gogh even commented in a letter to his brother that the museum was so small and the paintings were so crowded, you couldn't see them properly.
It was obvious that the city needed a larger building and Pierre Cuypers won a competition to design it. The 'new' Rijksmuseum started construction in 1876.
The library was personally overseen by Pierre Cuypers and he made sure that it was an architectural marvel using the latest innovative techniques.
It officially opened as the Rijksmuseum library and catalogue for the art collection in 1885 but was mainly only for staff.
After the museum had a huge renovation in 2004 it finally opened to the public as a research library.
Today, as well as printed books on display, there are over half a million volumes in the online collection.
It's made up of thousands of monographs, periodicals, and art sale catalogues that stretch back over a century!
Can you visit the Rijksmuseum library?
Yes, ever since the Rijksmuseum has been restored, the Cuypers Library has been opened up to the public as a research area.
You'll find both a reading room and study room equipped with free WiFi and iPads. Here, you can browse all the books, records, and catalogues of the Rijksmuseum's extensive art collection.
But, you do have to make a reservation in order to visit and register as a user with ID. Click here to book a workspace in the Rijksmuseum Research Library.
Unfortunately, even if you book, I don't believe you can climb up the spiral staircase although that would be a dream come true.
Most of the collection is accessed online and so you'll be browsing on a screen downstairs.
If you just wanted to see Cuypers library, you don't need a reservation for this and it's included as part of your museum ticket.
All you have to do is head up to level 2 of the museum for an incredible view of this magical place.
Where is the Cuypers Library in Rijksmuseum
The entrance to the Cuypers Library is on level 1 of the Rijskmuseum near the 1.13 Goya Gallery and Science Room if you're visiting for research. You will need a reservation.
From the first floor and the atrium, follow signs for 'Bibliotheek' and walk through the Waterloo room.
But, if you just wanted to visit as part of your museum tour or for photography you don't need a reservation for this.
The easiest way to locate it would be on the 2nd floor of the Rijksmuseum. From Rembrandt's Night Watch Gallery (Nachtwacht), walk through the 2.15 William Rex Gallery (the one with the ship model).
You'll eventually find a glass door at the end labeled 'Bibliotheek' to let you inside the 2.16 Coins and Medals exhibit. Here, you can take a peek at this magical book trove!
Depending on when you visit, it may be really busy inside the library viewing room. But, luckily, the library is viewed over a mezzanine balcony so you won't have anyone in your photos.
Cuypers Library rules
Although this library is beautiful to visit, there are some rules that you have to follow when visiting the Rijksmuseum library.
Large bags, suitcases, and backpacks should already be placed in lockers before you explore the museum. This is a free service you can take advantage of at the visitor reception.
The Cuypers Library requires you to be silent as there are people researching on the bottom floor of the library. Or, at least talk in hushed voices out of respect.
You shouldn't eat or drink anything in the room. Even when observing at this level!
Also, you cannot take photos of the library from the ground floor. Photos are only allowed from the second level of the library. Like most museums in Amsterdam, tripods and selfie sticks are banned.
Highlights of the Rijksmuseum
Beyond this magical Rijksmuseum Research Library, the Rijksmuseum is arguably one of the most famous art museums in the entire world.
You can expect to find 80 galleries and 8000 artifacts on display. They range from Amsterdam's Golden Age through to the modern era!
Here are some of the highlights at the Rijksmuseum that you cannot miss;
The Night Watch by Rembrandt van Rijn (1642) – Rembrandt's best-known masterpiece! It's a large-scale portrait that has its very own gallery. If you only see one painting let this be it.
The Milkmaid by Johannes Vermeer (1654) – his only painting of a domestic servant and his most recognised work alongside Girl with a Pearl Earring.
The Threatened Swan by Jan Asselijn (1650) – On the surface, this painting looks like a swan protecting its nest. But, the symbolism actually represents Jan Asselijn fighting enemies of the state. The swan has become a symbol of Dutch national resistance since then.
Vincent Van Gogh Self-portrait (1887) – Although most of his work is housed in the Van Gogh Museum, you can find a few pieces here including a self-portrait painted in 1887.
Dolls' house of Petronella Oortman (1676) – a 17th-century antique doll house. Back then, these weren't for children but for wealthy aristocrats! The miniature dollhouse pieces are made of real silver, brass, glass, and china.
Rijksmuseum bicycle passage – In typical Netherlands style, Amsterdam has a vaulted bike passage that runs underneath the museum. This is free to visit outside the museum entrance.
Rijksmuseum Gardens – another masterpiece designed by Cuypers completed in 1901. There are now fountains and sculptures to enjoy here. These are free to visit too!
Where is the Rijksmuseum in Amsterdam?
Although the Rijksmuseum is a very popular museum in the city, it's not anywhere close to Amsterdam Central Station. It will be a 30-minute walk to reach there.
It's best to use a mix of the Amsterdam tram network, buses, and walking to see the main attractions in the city.
The Rijksmuseum is located on Museumstraat and the closest tram stop would be Vijzelgracht. It's then a 3-minute walk.
You can buy an Amsterdam public transport card to travel around on buses, ferries, and trams.
Instead of buying a ticket by journey location, you buy a ticket by the time limit. So, you can purchase a 1-hour public transport ticket, 24-hour ticket, 48 hours, 72 hours, etc.
You can either buy a transport card at Amsterdam Central Station or on the trams/buses themselves (card payments only).
Even better, if you buy an I Amsterdam card you will get free public transport included plus access to the main tourist attractions like the Rijksmuseum!
The Rijksmuseum address is Museumstraat 1, Amsterdam. Click here for a Google Pin.
Rijksmuseum ticket prices and opening times
The Rijksmuseum is open every day of the year, including public holidays if you can believe it.
It's open daily from 9 am – 6 pm and I would always recommend visiting earlier in the morning for a quieter visit.
It's one of the most popular attractions in Amsterdam so you can find it busy most of the year.
You do have to book your ticket in advance of your visit at a specific time slot. This applies even if you have a museum card with entry included in your pass.
If you don't have a pass, adults pay 22.50 Euro to enter and anyone under the age of 18 can enter the museum for free.
Click here to book your Rijksmuseum ticket
Amsterdam City Card
If you're planning on visiting the Rijksmuseum when in Amsterdam and some of the highlight attractions then it's definitely worth considering purchasing the I Amsterdam card.
It gets you free access to over 70 museums, city-wide public transport, a canal cruise, and bike rental.
There is even an app that you can download to your phone. You can plan your journey and book time slots for attractions that make it even easier to explore!
You can buy 24, 48, 72, 96, and 120-hour cards depending on your holiday time and preferences. Then, you're free to explore the city as you wish.
It's important to note that even though you have the I Amsterdam City Card, you will still need to prebook your Rijksmuseum visit. So, make sure to do that before you arrive.
Click here to buy an I Amsterdam City Card!
Looking for more hidden gems in Amsterdam?
Millions of tourists visit the city of Amsterdam every year so it can be hard to avoid the crowds around the main attractions.
So, I've put together a list of hidden gems and alternative tours that you can visit instead as something to consider.
In this guide, you'll find hidden away secrets like ancient book markets, miniature houses, magical passageways, botanical gardens, and alternative boat tours!
Click here to read my guide on hidden gems & alternative tours in Amsterdam.
Save the Rijksmuseum Research Library for later!
Third Eye Traveller was kindly sponsored by Iamsterdam as part of their Sustainable Amsterdam Campaign. Although I was invited, all opinions are my own.