Many people make a visit to the spectacular Stanage Edge every year but not many people know about the secret Robin Hood Cave that is hidden away here in the cliff face.
It's a mysterious cave that has been named after the notorious outlaw but has seen human settlers for well over a millennia!
I have to admit, this cave is a bit of a hidden gem and not easy to find or to climb into. But, in this post, I will give you some detailed directions for locating it.
Here's a complete guide on how to find Robin Hood Cave in Stanage Edge and what to expect!
What is Robin Hood's Cave?
Robin Hood Cave is a secret cave that has been carved out in the cliff face of Stanage Edge in the Peak District National Park.
The highest point of Stanage Edge is High Neb which is around 458 metres or 1,503 feet above sea level.
To get to Robin Hood's Cave, you need to head down a pathway on the cliff face which can be hard to find, and then scramble your way inside the cave.
But, once you do, you'll be greeted with some incredible views and a unique perspective of the countryside!
Did Robin Hood ever visit Robin Hood Cave?
Ah, the legends of Robin Hood spread far and wide across this country and it is believed that the name of this cave came from the legendary outlaw visiting this cave himself!
If you didn't know, Robin Hood was an outlaw who robbed from the rich and gave to the poor along with his band of Merry Men.
Although Hollywood does centre many of the stories of Robin Hood around Nottingham and Sherwood Forest, the medieval ballads also mention Yorkshire and Derbyshire too.
Indeed, there is a theory that Robin Hood was in fact a nobleman called Robert of Loxley which is in South Yorkshire. The borders of Sherwood Forest were much larger in his day and stretched as far as Derbyshire and Yorkshire.
Also, it is believed that Little John was from Hathersage which is just nearby here. There is another theory that Lud's Church in Staffordshire was another of Hood's hiding places.
So, although it has never been proven, Robin Hood and his Merry Men could have very well used this cave as a hide from their enemies. What do you think?
Related post – how to visit Little John's Grave in Hathersage!
Where is Robin Hood's Cave in the Peak District?
Robin Hood's Cave is located on Stanage Edge in the Peak District National Park which is in the North of England.
The nearest city to Stanage Edge is Sheffield and it's located in Hope Valley which is near to Castleton and Hathersage.
Stanage Edge is in a remote part of the Peak District so the best way to arrive here is by car.
But, there is a regular 257 bus service that runs to the Peak District from Sheffield that can drop you off in Hathersage. See here for details.
How to find Robin Hood Cave at Stanage Edge
In order to find Robin Hood's Cave in the Peak District, you'll first need to navigate your way on top of Stanage Edge moor as the cave is hidden away in the cliff face there.
There are no signs pointing you towards Robin Hood's Cave at all, so I will try to provide some directions below on how you can find it.
Although there are some longer Stanage Edge walks in the Peak District, the directions I'll provide below is the quickest and easiest way to visit Robin Hood Cave.
It will take you around 20-30 minutes in total from the car park but I'd allow a lot longer as you'll want to explore Stanage Edge and take photos.
Plus, climbing in and out of the cave will take some time as it's quite awkward and you may have to wait your turn if there are lots of people.
Here are directions on how to find Robin Hood Cave on Stanage Edge!
Robin Hood's Cave directions
1. Where to park for Robin Hood's Cave – Hook's Carr Car Park
The closest parking area to Robin Hood's Cave is Hook's Carr Car Park which lies right in front of Stanage Edge.
It's a large car park that can take up to around 20-30 cars. But, I would always try to get here early to secure a space as Stanage Edge is really popular. This is especially important on weekends and Bank Holidays.
Stanage Edge parking charges are FREE all day in Hook's Carr but it is nice to pay a donation in the honesty box at the start of the walk.
From this car park, you simply have to walk up the ridge on a steep hike for 10-15 minutes until you're up on the moor.
The Hook's Carr car park for Stanage Edge postcode is S32 1BR and here is a Google Map pin to help you locate it.
Alternatively, there is the Hollin's Bank Car Park further down the road but this does come with a parking charge of £5 all day. This only takes coins so have cash in hand. They have toilet facilities there as well.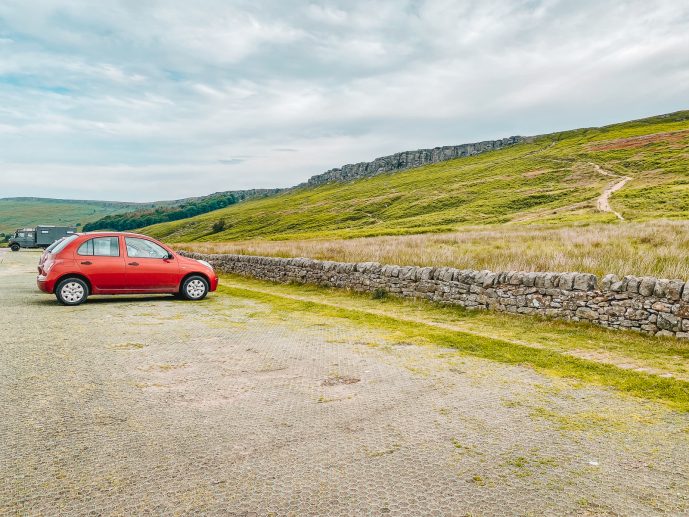 2. Walk up to Stanage Edge on a short, steep hike
You'll easily be able to see Stanage Edge from the car park and a well-beaten trail leading you up the ridge to the moor. Just keep following the path towards the overhanging gritstone on the escarpment.
The trail splits up multiple times but they all lead the same way upwards. There's no right or wrong way to get up onto Stanage Edge.
Although a short walk, getting up here is very steep and requires a bit of a scramble at the very end to get up onto the rocky moor!
But, it's the easiest access route and you'll be up on Stanage Edge within 10-15 minutes which is perfect if you're stuck for time.
3. Head along Stanage Edge until you see a distinctive capstone rock
Once you've made it to the top of Stanage Edge, you will be amazed by the views you can get from up here! You'll be standing around 1,500 feet above sea level and on a clear day, you can see for miles.
Once you're finished taking photos, I'd head left from the path you took up here. Keep walking forward along the path by the gritstone edge.
Eventually, you'll see a capstone rock on your left. This is quite distinctive and the only one I saw like this on the moor for miles! You can't miss it.
Once you see it, keep heading beyond the capstone until you see a gap in the rock face on your left with a beaten path leading downwards.
4. Walk down the path in that gap and you'll have found Robin Hood Cave in Stanage Edge!
Once you follow this small path in the gap, you'll find Robin Hood Cave straight in front of you!
There may be rock climbers here at work so just make sure you're not in their way and don't bother them as they are concentrating on the safety of their group.
But, you've now made it to Robin Hood's Cave…all that's left is to climb inside which is an adventure in itself.
What NO ONE tells you about entering Robin Hood Cave
Okay, so now you have found Robin Hood Cave you are probably thinking…where is the actual cave and "how on earth do I get in there?!"
Well, I'm here to give you the ugly truth about how you actually get inside Robin Hoods' Cave at Stanage Edge.
No one mentioned this on any of the blog posts I read and the walk inside is really is not as romantic as the name!
Once you reach Robin Hood's Cave, you'll need to hop on top of the rocks that lead into the rock face. You'll notice a very low natural ceiling that requires you to crawl low.
You'll see a tiny gap in the rocks and below that a rock that slopes downwards with a tiny hole at the bottom. Yes, you need to head through that tiny hole!
To get into Robin Hood Cave, you need to pretty much lie flat or scramble your way down and then crawl through that tiny hole…kind of like Alice in Wonderland when she squeezes through that tiny door!
Mind out for all the mud and dirty puddles too at the bottom. I'd try to place your bags somewhere that won't get mucky as you make your way down.
Also, make sure you're wearing clothes that you don't mind getting dirty as you'll be scrambling.
Once you've got through the hole, you'll have then entered Robin Hood's Cave! It's not as easy as people make it look but it's worth the effort for the spectacular views.
Just be careful and take your time getting in. I would not recommend this if you're claustrophobic because there are some very tight gaps and low rock ceilings which could make you feel very uncomfortable.
What to expect in Robin Hood Cave
So, once you're inside the cave, it's time to explore and have a look around. It's quite a small and round cave which has just enough room for a few people inside!
On my visit in summer, it was still quite wet so watch out for the mud and puddles. In winter, it can get really flooded in here so have a pair of waterproof shoes on.
Once you're inside, there will be a tiny hole that you entered the cave in behind you, then you can head over to a larger hole that takes you out on a scenic balcony ledge.
Once you're out on the balcony, you get some of the most unique and amazing views of the countryside and Stanage Edge! You're literally on the cliff face which is mind-boggling.
I loved having this place to myself for a while to take it all in. There were a few rock climbers but barely any crowds which made it a little more relaxing especially as the climb in here was quite stressful!
Although not what I expected, it was still a great place to visit and a fantastic photo opportunity in the Peak District. I'd highly recommend visiting if you can.
My top tips for visiting Robin Hood Cave
Visit early – Stanage Edge is one of the most popular walks in the Peak District, so if you wanted to visit with fewer crowds I would come during the week and before 9am! I got here around 8am.
Facilities – there are no toilets at the start of this walk at Hook's Carr Car Park. But, the Hollin's Bank Car Park further down does have some toilets you can use.
Wear appropriate clothing – you'll be climbing and scrambling over rocks so this isn't the place for fresh white tees or Nikes. I would come prepared in clothes you don't mind getting dirty or ripping.
A good pair of shoes – although this is a short walk, I would still take some good ankle supporting shoes. The surface of Stanage Edge can be uneven and muddy.
Take bottled water and snacks – Stanage Edge is in a remote part of the Peak District. So, bring bottled water and food supplies with you. But, don't leave rubbish in the cave. On my visit, I saw a used BBQ which has been left over and bottles. 1. This is not allowed and 2. It's simply disrespectful. Don't do it!
Phone signal – actually amazing up here. I used the Google Pin for Robin Hood Cave to guide me along the edge until I found the entrance.
Camera – don't miss the amazing opportunity to grab pictures of Stanage Edge. It's honestly spectacular and on a clear day the views are fabulous!
Ready to explore more of Stanage Edge?
After Robin Hood Cave there is plenty more to see of Stanage Edge! It runs for miles and you can make the walk as long as you'd like!
I carried on a bit further down to see the famous Pride & Prejudice film location. If you didn't know they filmed the movie here in 2005.
At the beginning of the movie, Keira Knightly stands on a ledge at Stanage Edge in her gorgeous dress that's flowing in the wind.
You can visit this ledge just a little further down and you can stand where she stood! Although, I don't personally recommend standing on the ledge in a huge linen dress though.
After that, you could head over to the likes of Bamford Edge and Ladybower Reservoir which is just a few miles away.
Or, many people like to walk from Hathersage to Stanage Edge. It's a gorgeous village in the Peak District that's famous for its outdoor swimming pool.
Robin Hood's Little John is also buried there too and you can read my complete guide on how to find his grave at Hathersage churchyard here.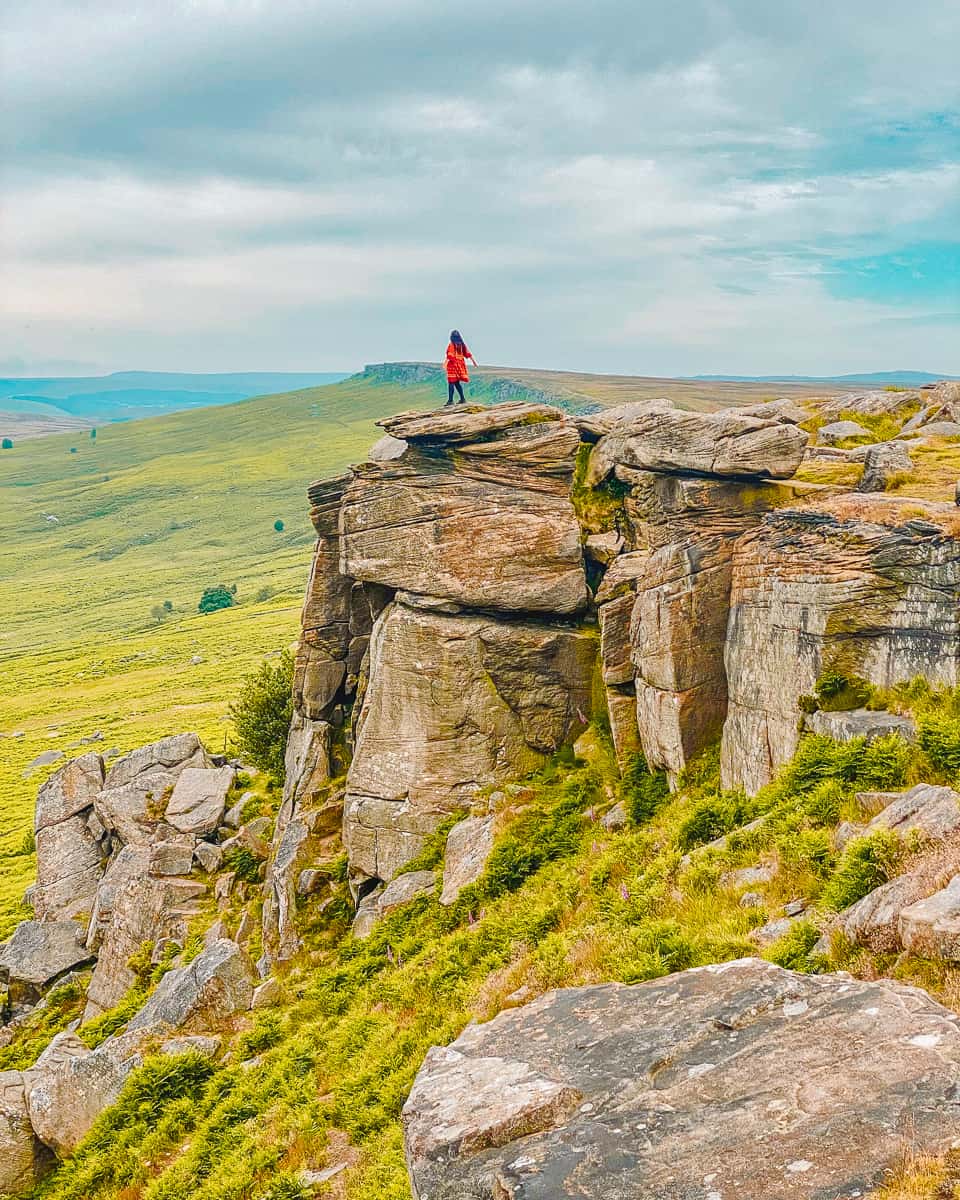 Where to next in the Peak District?
After Stanage Edge, you're in the perfect place to explore more amazing places in the Peak District.
I would highly recommend that you visit Bamford Edge next, it's another short walk and a similar outcrop which provides some incredible views! I have a complete walking guide for Bamford Edge here.
Then, you could head on over to Hope Valley and the gorgeous village of Castleton through Winnat's Pass.
Castleton is famous for its Castleton Caves and Peveril Castle. But, I would also recommend stopping at Peakshole Water as it's so photogenic.
No visit to Castleton would be complete without a hike up to Mam Tor summit, or the Mother Hill, near Edale Valley.
Further on you can visit even more amazing locations like Chapel-en-le-frith, Padley Gorge, and Eyam Plague Village.
Read more of my Peak District travel guides
How to Visit Mr. Darcy's Pemberley aka Chatsworth House
An easy Solomon's Temple walk in Buxton
The best things to do in Milldale
How to visit Bamford Edge & the ledge!
How to find and cross Dovedale Stepping Stones
The easiest way to visit Lud's Church
Why you need to visit Peakshole Water in Castleton
Visiting Malfoy Manor in real life!
Why you must visit Monsal Head Viewpoint
Longnor Pride and Prejudice Location
An easy way to find & visit Thor's Cave
Best things to do in Ashford in the Water
Chee Dale Stepping Stones walk
Why you must visit Scrivener's Books in Buxton
Things to do in Eyam Plague Village
How to visit Ramshaw Rocks from Pride and Prejudice
Save how to find Robin Hood Cave in Stanage Edge for later!