Did you know that there is a whole journey in the UK you can make to discover the legend of Robin Hood? Yep, it's called the Robin Hood Trail!
A whopping road trip taking in a lot of the places where Robin Hood is meant to have visited or are related to his merry men.
When I was driving home from Northumberland, I suddenly found my road trip home to Wiltshire extremely tiring.
Rather than risking it and falling asleep at the wheel, I decided to break up my journey halfway in Nottingham. That's when I saw the sign for Sherwood Forest, I was in Robin Hood country again!
Sherwood Forest is the legendary stomping ground of Robin Hood. So, I decided to make a small Robin Hood day trip to find the legend and that's when I found out about the Robin Hood Trail online.
I'm never one to do things by half measures, so I decided to take the map and hit up (pretty much) all the spots on the list.
In this post, I'm going to take you through all the amazing Robin Hood places to visit on the Robin Hood trail, with a map to follow and what to expect too.
For many of the most important locations, I have created a separate post with even more information – make sure you read these to be prepared for your road trip!
Who is Robin Hood?
If you don't know who Robin Hood is, where have you been?!
Although mainstream Disney cartoons and the Hollywood movie scene have changed the way we see Robin Hood's character, he actually started out as a character in medieval folktales.
Robin Hood is mentioned in ballads as far back as the 14th century as a legendary heroic outlaw who was a skilled archer and sword fighter.
He is meant to have robbed from the rich and given back to the poor!
He was famous for protecting villagers from attacks and fighting battles against corrupt noblemen like his arch-nemesis the Sheriff of Nottingham.
Is Robin Hood real?
Robin Hood is thought to have been born in 1160 in Loxley as a Saxon nobleman. But, the only evidence of him existing is from ballads and stories that have drastically changed him over time.
Some say his name was Robin or Robert of Loxley, others say it was a pseudonym and there are even theories that he represented a pagan character of the "Green Man".
However, most of them follow a similar pattern that he eventually falls outside of the law, becomes an outlaw, and recruits a band of merry men.
At its very peak, there were thought to be over 150 outlaws living with him in Sherwood Forest.
But the main Merry Men we hear about most in the tales are Little John, Will Scarlet, Friar Tuck, Much, Alan-a-Dale, and his sweetheart Maid, Marian.
Together they plot to take money from the authorities in Nottingham, help villagers and hide out in Sherwood Forest.
He's now one of the most popular stories ever told! So, you have to decide whether he is real or not.
Where is Robin Hood from?
This is a widely debated topic and in fact, there's a heated dispute between two counties of Nottinghamshire and Yorkshire.
Nottinghamshire is officially known as Robin Hood country and there are countless Robin Hood tales that mention the city of Nottingham and around the area too.
But, some locations in Yorkshire are mentioned just as much in the ballads.
Many of the legendary tales place Robin Hood in Nottingham and Sherwood Forest throughout his life. He even announces in the early tales that the Sheriff of Nottingham was his main enemy, not the Sheriff of Yorkshire!
However, if he is the Lord of Lockersley this is located in South Yorkshire. I believe Nottinghamshire definitely has the strongest claim (sorry!) with the most popular tales featuring their fair city and Sherwood Forest.
Plus, nearly every film and TV show centre all the stories around Nottingham Castle just like in the ballads!
Although he may be just a legend, thousands of tourists visit Nottingham every year to follow in the footsteps of Robin Hood.
What is the Robin Hood Trail?
The Robin Hood Trail is a fun road trip that aims to include many of the Robin Hood places to visit in Nottinghamshire.
Nottinghamshire is officially known as Robin Hood country and there are plenty of places around the area that have ballads and tales of him visiting.
It starts off in the city of Nottingham and takes you up and around the area of Sherwood Forest and beyond finishing at Southwell Minster.
Along the way, you'll visit amazing attractions like Nottingham Castle, Sherwood Forest, Newark Castle, ruined palaces, historic churches and can enjoy some of the beautiful countryside too!
The Robin Hood Way
The Robin Hood Trail is not to be confused with the Robin Hood Way. Although, essentially, they cover the same route and locations.
The Robin Hood Way is a whopping 105-mile walking trail that runs from Nottingham Castle to Southwell Minster.
There are 14 circular walking routes included. The Robin Hood Trail is a road trip that you can take around the countryside to hit up all the Robin Hood places. So, it's much quicker.
It really depends on your interest and energy levels. But, if you're on a holiday in the UK or weekend break, The Robin Hood Trail road trip is the best choice!
Things to do before you head out on the Robin Hood Trail
Check opening times and if attractions are open – many of the attractions in the list and churches have specific opening times. It's best to check these before you head out to not be disappointed. I'll include these beneath each location.
Fill up your tank with enough petrol! – you'll be hitting remote areas where petrol stations are few and far between.
Take a SatNav/GPS & Map – a SatNav is best as there's limited signal in the Nottinghamshire countryside for Google Maps. You can download an offline map from Maps.Me but as its split across different areas, you'll need to download a few. It's also a good idea to have a physical map of spots too in case your phone dies. I've created a map online below you can print off.
Have a rental car or your own – This really isn't the sort of trip that you can do relying on public transport. Many locations don't have bus routes! If you would rather do some of the attractions on public transport see below.
Bring some road trip snacks – although there are plenty of cafés, pubs and restaurants to eat along the way, it doesn't hurt to bring some munchies with you just in case!
Have spare change – most of these attractions below are FREE or have a very small cost. But, you will need some spare cash for car parks.
Can I do the Robin Hood Trail with public transport?
Parts of it, yes, but this trail is specifically made as a road trip type journey. Some of the locations are in remote areas of the countryside with limited infrastructure and infrequent or no bus service.
It would need lots of time and considerable planning. Nottingham has lots of transport options around the city and an Arrow Service that runs from Victoria bus station to Sherwood Forest. From here, Edwinstowe is a short walk.
After that, it's best to head back to Nottingham where you can get a direct train or bus service to Newark Castle or Southwell Minster.
Who is the Robin Hood trail NOT for?
People who don't like Robin Hood – seriously, there is no point in even attempting it if you're not a fan.
Those that don't have a lot of time – this road trip will take you at least one to two days. So, make sure you plan enough time. If you are on a limited itinerary, see below for essential locations.
People who find history boring – A lot of these places are historic or ruins and sometimes require a little bit of imagination and a passion for ancient things. It's perfect for a history nerd (like me) but if you find history a yawn, this definitely isn't for you!
How long do I need to complete the Robin Hood Trail?
The Nottinghamshire council advises that you'll need half a day to complete the Robin Hood Trail, but I would say that's almost impossible.
In order to do that, you'd pretty much just drive by the locations and not stop to look around. The route from Nottingham Castle up towards Sherwood Forest and the loop around to Southwell will be around 65 miles.
I'd say you could easily hit up most locations on a day trip in the spring and summer as that's when there's the most daylight. I completed this road trip in just one day, but even then I felt it was a little bit rushed!
To make the journey more comfortable for you and to not be tearing around the countryside on your holiday, I'd split the Robin Hood trail across two days.
A half-day morning in Nottingham, an afternoon at Sherwood Forest and then a road trip around the different locations in Nottinghamshire the day after. But, it's completely up to you!
If you don't have that much time and aren't really too bothered, see below for the essential Robin Hood places you cannot miss.
What are the spots I cannot miss on the Robin Hood Trail?
There are lots of locations on the Robin Hood trail, and more beyond if you are a real enthusiast.
However, ticking off every spot on this road trip isn't for everyone.
Many of these locations are in remote areas of the countryside and can take some time to find. I'm just one of those people that has to tick off everything on a list!
If you're a tourist that is on a limited time frame or you don't have your own means of transport, it's best to select only a few of the main Robin Hood places.
The most famous locations that feature Robin Hood and have tourist attractions related to him are in the city of Nottingham, inside Sherwood Forest and Edwinstowe village.
These are the most important spots that feature Robin Hood and also have some infrastructure like cafés and hotels.
Make sure you visit these amazing places on the Robin Hood Trail
So, here are all the amazing Robin Hood places to visit on the Robin Hood Trail. This list is split into the following sections;
Nottingham – there are many attractions and landmarks in the city that were included in the tales and ballads of Robin Hood. This is the best place to start off your journey.
Sherwood Forest/Edwinstowe – Next is the long drive up towards Sherwood Forest in Edwinstowe. This is the longest route you'll take in one go.
Nottinghamshire – After Sherwood Forest, you'll head around towns and villages in Nottinghamshire that are associated with Robin Hood.
Nottingham
So, let's firstly explore the incredible city of Nottingham that is the official home to Robin Hood!
There are countless ballads and tales that place Robin Hood in and around the city. You can easily take the many buses and trams around Nottingham to access these locations or walk around the city on foot.
Legend has it that Robin fell out of the law when the "bad" King John took over as regent from Richard the Lion Heart. The Sheriff of Nottingham captured him and he used Nottingham Castle as his stronghold.
Robin Hood was kept prisoner underneath Nottingham Castle in the gaol. He eventually managed to escape and ran to Sherwood Forest, using it as his hiding place.
He would often return to the city in disguise to fight the authorities and to save some of his men from the noose.
In one of the folk tales, the Golden Arrow competition was held here in the city by the Sheriff to lure Robin Hood out of hiding.
Click here for all the things to do in Nottingham to discover the legend of Robin Hood!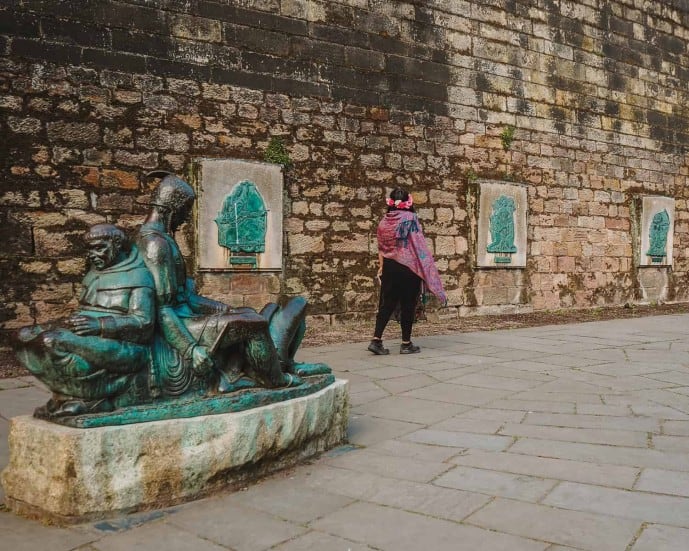 1. Nottingham Castle & Caves
Nottingham Castle was built by William Peverel on orders from William the Conqueror in 1068. This is how the Norman stronghold got its original name of Peverel Castle.
It's built on top of the 130-foot sandstone cliff that's now known as "Castle Rock".
In the medieval era, it was also a royal residence for many powerful monarchs like Richard I and "Bad" King John in Robin Hood's time. Later it was a residence for Henry II, Edward II & III.
It's just recently reopened in 2021 after three years of closure! I would definitely make an effort to visit as they have introduced a brand new immersive Robin Hood exhibition. It brings Sherwood Forest right to the heart of the city!
Plus, you can take a guided tour of the caves beneath and see the Gaol where Robin was kept! Look out for Mortimer's Hole.
Click here for more information on how to visit Nottingham Castle!
2. The Robin Hood Statue in Nottingham
You really cannot visit to Nottingham without snapping a few photos with the famous outlaw.
There is a commemorative statue of him right outside the castle walls that was built in 1949. It's now Grade II listed and one of the most photographed landmarks in the city.
It is quite a controversial statue due to the hat he is wearing! Many people want a pointed hat and feather from the movies. But, he is shown wearing a traditional medieval foresters cap. The council still receives complaints about this all the time!
Although the main statue is the most famous, Castle Lawn actually has a series of statues and plaques associated with his merry men and notable events in his life.
It was placed outside of the castle to keep in line with Robin's outlaw character and he is aiming his bow and arrow at the authorities inside!
Related post – how to find the Robin Hood Statue in Nottingham!
3. Ye Olde Trip to Jerusalem
The Ye Olde Trip to Jerusalem dates all the way back to 1189 and stakes a claim to be England's oldest pub.
'Trip' or 'Trypp' in medieval terms used to mean a halt on a journey. It's believed that crusaders would stop here on their way to Jerusalem, or the Holy Land, hence where the pub got its unusual name.
King Richard I, the Lionheart, is thought to have drunk here on his way to Jerusalem as he was a commander in the Third Crusade.
Some of these caves beneath the pub lead directly in and out of the castle as it was the location of the old castle Malthouse. This is how Robin Hood escaped the gaol and hid out here away from the authorities!
There are many myths, legends, and even ghost stories to uncover here. You have to pop in and visit!
They also have a tasty menu with some pub favourites and a choice of locally brewed ales like their own premium ale "Olde Trip".
Related post – hidden secrets of the Ye Olde Trip to Nottingham!
4. St Marys Church Nottingham
Although Robin Hood declared the fact that his enemies were corrupt bishops, archbishops and the Sheriff of Nottingham – he was actually very spiritual and is meant to have prayed every day to the Virgin Mary!
In fact, he vowed he would never attack anyone group that had a lady in tow.
In the medieval tale, "Robin Hood and the Monk", Robin Hood is said to have attended mass at St Mary's Church. He was recognised by one of the monks inside and the monk then alerted the Sheriff of Nottingham.
A huge sword fight took place right inside the church and Robin Hood's sword broke in two.
He eventually surrendered and was held captive somewhere in King John's dungeons. Later, he was rescued by Little John. After this, Robin Hood would only enter the city in disguise.
5. Old Market Square
The Old Market Square in Nottingham is the largest public space in the UK after Trafalgar Square in London.
It's nicknamed the 'beating heart' of Nottingham and is easily one of the busiest parts of the city.
It was established by William Peveral, who built Nottingham Castle, as a market. This was an attempt to build a truce between the Saxons and the Norman communities.
Floggings, animal bating and even a Goose Fair's took place in the square.
According to legends, this is also the place where the Golden Arrow competition was held on orders by the Sheriff of Nottingham.
This was an attempt to lure Robin Hood out of hiding – and it worked! He knew he wouldn't be able to resist showing off his archery skills and he won the arrow.
Today, the Old market square it's a meeting place of shopping streets and there are plenty of stores and cafés to drop into.
6. St Nicholas' Church
St Nicholas' Church is another location associated with Robin Hood on Maid Marian Way.
Although the current church dates back to the 17th century, there was an earlier Saxon church that stood here before that.
According to legend, Robin Hood is meant to have prayed here and also used it as a hideout from the authorities.
In Robin Hood's time, this was the Saxon part of town. As Robin Hood was a Saxon he would have felt safer here and people were more sympathetic to his cause.
7. Weekday Cross
Robin Hood would regularly enter the city of Nottingham in disguise so he wasn't detected by the Sheriff's men.
He would enter the two most popular markets places in the medieval city, Weekday Cross & Hen Cross.
Robin Hood is known to have wandered through Hen Cross as a chicken vendor and Weekday market as a butcher. This is so he could spy on the goings-on in the city.
You can still visit the Weekday Cross in Nottingham where they use to make announcements.
Most people just sit on here for a rest or having a bite to eat! Hen Cross was removed years ago.
8. National Galleries of Justice Museum
Robin Hood became an outlaw and so there were serious consequences for being outside of the law. It usually meant death by hanging.
The National Justice Museum sits on the site of 'Sheriff's Hall' from the Norman era which was where the Sheriff of Nottingham's used to run his high office.
His role was to keep the peace, collect taxes, and convict criminals. If you committed a crime, you were sent here and tortured then hanged outside in public the next day.
There is a pit underneath the museum you can visit called the Oubliette. This is a French term meaning "to forget".
This is supposedly where Robin Hood was tortured and left to starve to death.
The museum here is an incredible place to visit and it takes you through the history of criminal justice, prisons, and eventually prison reforms.
Click here to find out more and how to visit!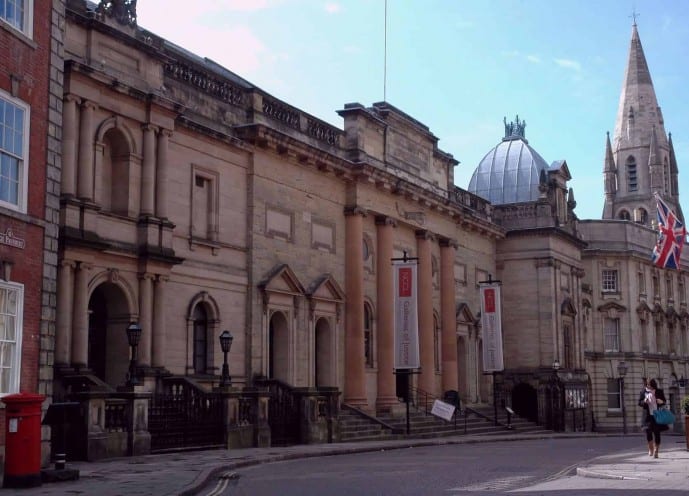 Sherwood Forest and Edwinstowe
Once you've finished exploring all the amazing attractions in Nottingham involving Robin Hood, it's time to make our way up to Sherwood Forest.
Although it does seem like Sherwood Forest is just a hop, skip, and a jump away from Nottingham in the movies. It's actually around a 45-minute drive away from the city centre.
Being a popular UK tourist attraction, it's really well signposted with brown tourist signs and you'll need to head out on the A60.
If you don't have your own car, make sure you take the Arrow Service from Victoria Bus Station. There is no train station in Edwinstowe/Sherwood Forest.
9. Sherwood Forest
According to the legends, when Robin Hood escaped and became an outlaw he ran away to Sherwood Forest and used it as his hideout.
He would camp out here with his band of merry men, hunt in the forest, and rob any nobleman passing through.
The most famous place where he used to hide was in The Major Oak. This is the largest oak tree in Britain that's thought to be 800-1100 years old!
It still stands today and you can easily walk to see it from the Sherwood Forest Visitor Centre.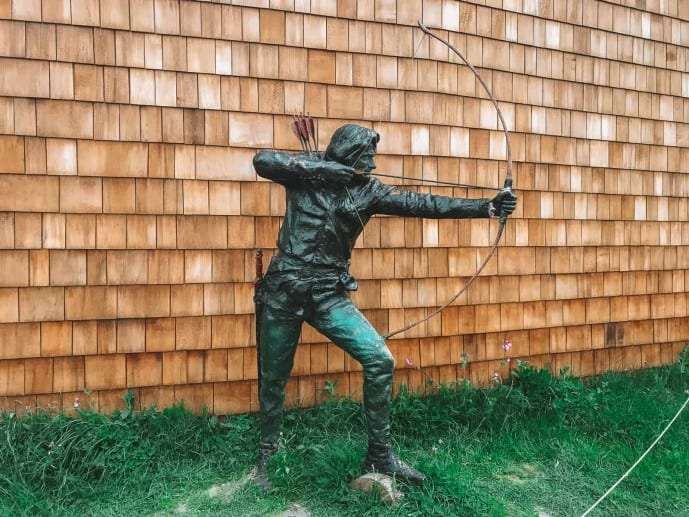 How to visit Sherwood Forest from Nottingham
Although in the movies it looks like Nottingham is really close to Sherwood Forest, it's actually around a 40-minute drive there. So, it would have taken a long time on horseback for Robin Hood!
Thankfully, there is car and bus travel now.
If you don't have a car, there is an Arrow Service that runs from the Victoria Bus Station daily to Sherwood Forest. It will take around an hour to reach.
Click here to find more Robin Hood things to do in Sherwood Forest
Robin Hood Festival
The legend of Robin Hood lives on each year in the annual Robin Hood Festival at Sherwood Forest.
It's been running for well over 36 years now every August and it's a week-long event of re-enactments, jousting, ballads, storytelling, sword fighting, and all sorts of adventures with the man himself.
There are plenty of awesome food and drink stalls, craft centres, and places where you can join in.
10. The Major Oak
No one really knows how old the knarled The Major Oak tree is. It's estimated that it's between 800-1100 years old.
It weighs 23 tons, has a trunk circumference of 33 feet wide and its branches stretch over 100 feet – that's a whopper of a tree!
As well as its size, it is most famous of all for being the hiding place of Robin Hood. Apparently, his merry men used to sleep in the tree and Robin Hood would hide in its hollow trunk.
Over 350,000 tourists see it each year, so make sure you pop along and check it out.
Related post – Amazing facts about the Major Oak!
11. St Mary's Church in Edwinstowe
The Parish Church of St Mary's is a chapel that has been here since St Edwin of Northumbria died in 633AD. This is how Edwinstowe got its name.
After dying in the battle of Hatfield Chase, he was buried in a clearing at Sherwood Forest.
This church was built over the site once his remains were moved to York. The stone building dates back to 1175.
It draws thousands of tourists here every year as this is the legendary spot where Robin Hood and Maid Marian were married!
In ancient tradition, the ceremony took place just under the archway of the entrance door. This is because Robin Hood and Maid Marian were outlaws.
Inside the church is a lovely Robin Hood display with lots of history and information about his life.
It's a great replacement for the Sherwood Forest Visitor Centre which doesn't have much about him anymore.
Click here to find more about this wedding location of Robin Hood and Maid Marian!
12. The Robin Hood and Maid Marian Statue in Edwinstowe
If you walk into the beautiful village of Edwinstowe, you'll find another amazing statue here.
Right outside the library, there is a life-size version of Robin Hood proposing to Maid Marian! It was made by Neale Andrew who was a British sculptor and they were unveiled in 1998.
I don't know why but I love this statue most of all, it's quite thought-provoking and tells more of a story!
After their wedding at St Mary's Church, Marian joined Robin in Sherwood Forest.
Locations around Nottinghamshire
After you've explored the charming Edwinstowe village and Sherwood Forest. This is the time to decide whether you want to carry on the Robin Hood Trail.
From here, you'll be visiting some ancient castles, churches, ruins, woodlands, countryside and some gravesites too.
So, if you're a keen historian, a Robin Hood fan, or just want to finish what you started, I would definitely carry on the outlaw adventure around Nottinghamshire.
The winding country roads will take you over some breathtaking scenery and quaint villages in the countryside. It's quintessentially English!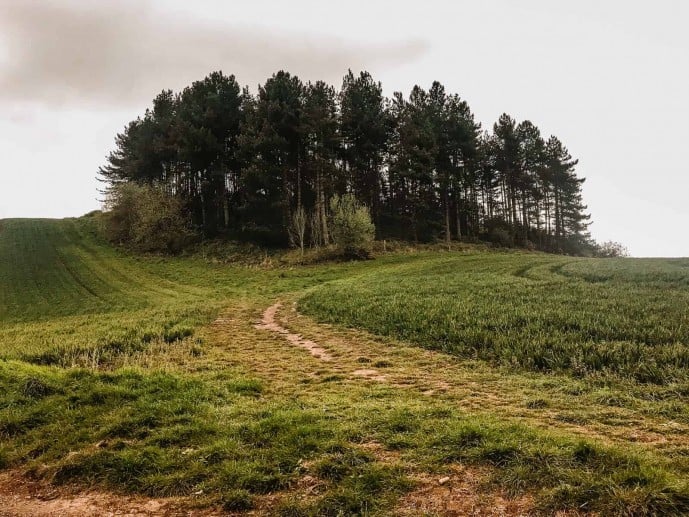 13. St Swithin's Church, Wellow
The ancient St Swithin's Church sits in the small village of Wellow in Nottinghamshire.
It's a Grade II listed building that dates all the way back to the 12th century, around the time that Robin Hood was alive. So, this is the very same church he would have known.
According to the legends, Robin Hood is meant to have made staves for his bow from the ancient Yew Trees in the churchyard.
This church used to form part of the Rufford Estate until around the 1970s.
Beyond St Swithin's Church, Wellow is famous for the Well Maypole used for Maypole dancing! It is one of the few permanent maypoles left in the country
14. King John's Palace, King's Clipstone
King John's Palace is an ancient royal residence that sits in a field in King's Clipstone. Robin and his men are said to have liberated some prisoners in the dungeon there.
It gets its name from "Bad" King John visiting the palace, although many suggest this was only once for nine days on a hunting trip!
It only received the name King John's Palace from around the 18th century, previously it was known as "Kings Houses" as it was a medieval royal residence.
Through various excavations, there are meant to have been eight monarchs who used the palace from Henry II in the 12th century to Richard II in the 14th.
Unfortunately, the palace fell into decay and is now a ruin. Only a small part of it remains in King's Clipstone. But, you can stop by and check it out only a few miles drive from Edwinstowe.
There is a small lay-by to park nearby and it's FREE to visit open 24 hours. Click here for my complete guide for King John's Palace!
15. Thieves Wood
Even the name of Thieves Wood sounds like it comes with a little danger and mystery in tow.
There are a few theories of how this woodland got the infamous name.
Some say this was a popular hideout of outlaws and criminals and others say it's a romantic gesture after the connections with Robin Hood. It's quite ironic but the timber used to build Nottingham Castle was taken from Thieve's Wood!
Either way, you'll be thankful to know that this place is a beautiful woodland and completely safe place to visit nowadays.
It's said that Robin Hood and his men were alerted of a band of robbers who had been harassing the villagers of Ravenshead. So, the outlaw and his merry men drove them away!
There are lots of pretty walks that you can take through the woodlands here and picnic benches for a lunch shop. Or, you can stop by at their refreshment centre for a drink and a bite to eat!
Parking is FREE and the Thieves wood is open 365 days a year, 24 hours a day
16. The King's Great Way
The King's Great Way was an important highway in medieval times. It would link London with Nottingham and eventually York. Three of the most important royal strongholds in England.
It was almost like a modern-day motorway and you'd find carriages, horses, and pedestrians of royalty, businessmen and peasants alike travelling this road.
There are many places that this route stops near the King's Great Way including Papplewick and Newstead but the most important for Robin Hood fans runs through Thieves Wood.
In the Robin Hood tales, this is Walton Gate which connected Nottingham to Papplewick. This is also included in the Robin Hood Way.
Here, Little John, Much, and Will Scarlet, are said to have stood and "looked South towards Brimsdale"
17. Newstead Abbey
There is a very loose connection between Robin Hood and Newstead Abbey which dates back to the 12th century.
In fact, a lot of people believe that a group of outlaws attacked the abbey with the nuns inside and claimed to be the merry men.
However, from what we know of Robin Hood he was very spiritual and used to make daily prayers to the Virgin Mary.
He also said he would never harm a woman. So, it could never have been Robin Hood who attacked the nuns! However, a more modern celebration takes place here every year to honour Robin Hood on the grounds.
Robin Hood Live, previously known as the Robin Hood Pageant, has been running for well over 38 years now.
It's an immersive experience where you will be transported back to 12th century Nottingham. You'll meet Robin Hood, some of his merry men, and even the sheriff of Nottingham!
There are lots of re-enactments, food stalls and merry-making to be had. Click here for more details.
Close by is also the famous Robin Hood's Chair. A series of rocks over the hills between Kirkby in Ashfield and Newstead. This is where Robin Hood and his men would sit viewing the road below to rob from the rich!
18. Fountain Dale / Friar Tuck's Well, Lindhurst
Fountain Dale in Lindhurst used to be the location of a Holy Well.
This is where Robin Hood met Friar Tuck, so it sometimes has the nickname Friar Tuck's Well.
Local legends suggest that Friar Tuck lived in his hermitage on the remains of a moat just before the spring head of the well. He also is said to have cursed the springs and made them dry for seven years at a time!
This well was said to be used by the locals to collect water as well as being a pagan site.
Unfortunately, this place has seen better times. It's extremely overgrown and hard to find and there hasn't been much effort to preserve it which is a real shame.
At the site, you can see the mossy stone steps where the water used to cascade, the well chamber, and sometimes a small body of water where it would have been. Although some believe the curse still stands which dries it up!
Robin Hood is also thought to have met Little John nearby for the first time. This is where they had their legendary fight on the bridge!
Friar Tuck's Well is FREE to visit and open 24 hours a day – you may have to walk a while into the grove to look out for it!
19. Papplewick
There are two connections in this quaint village of Nottinghamshire with Robin Hood. In Robin Hood's time, Papplewick was almost like the headquarters of the medieval foresters guild.
The first is St James' Church which sits on the grounds of Papplewick Hall. It's another churchyard that has ancient yew trees and Robin Hood is meant to have used to make staves for his bow.
There is also a legend that Alan-a-Dale, one of Robin Hood's men, was married here.
The legend goes that Robin Hood helped him out as his betrothed, Ellen, was promised to another man! Friar Tuck then married them both.
The second is a cave cut into sandstone nearby which has been nicknamed the Robin Hood's Stables. This is meant to be the place where Robin would keep his horse which he would ride along the King's Great Way!
20. Will Scarlet's Grave, Blidworth
Will Scarlet was one of Robin Hood's most trusted Merry Men and is mentioned in many of the early tales along with Friar Tuck and Much the Millers Son.
Some ballads say he is Robin Hood's nephew. The local legend goes that Will Scarlet was killed in a battle with the Sheriff's men.
As he is from Blidworth, they buried him in the churchyard of St Mary of the Purification Church.
The current church that stands here was built in 1739 and the tower dates back from the 15th century. However, this newer building replaced a Norman chapel that would have been here in Robin Hood's time.
The old church spire marks the spot in the graveyard where he is meant to have been buried. But, it is unmarked.
Some also believe that Blidworth was the home of Maid Marian and she lived in a cottage nearby. Will Scarlet escorted her to Edwinstowe to marry Robin Hood!
21. Robin Hood's Hill, Oxton
Robin Hood's Hill, or Robin Hood's pot, is a bronze-age hill located in Oxton in Nottinghamshire.
A fun fact is that this was actually known as Robin Hood's "piss-pot" and it was even referred to as that on maps of the area!
But, the stiff-upper-lipped Victorian's changed the vulgar name to simply Robin Hood's Hill.
This area of the countryside is actually a 3,000-year-old burial mound or barrow and excavations place the Romans here too in an encampment.
It was recorded that there used to be a stone basin at the top of the barrow. But, whether Robin Hood used it as his personal loo is unlikely.
However, people do believe that this is the spot where Robin Hood buried his treasure and his loot is somewhere in the area.
Robin Hood's Hill is in an extremely remote area of the countryside on farmland. It's a public walking path and you can access it from the nearby village Oxton on the Robin Hood Way.
There is no official parking but there is a lay-by by a small entrance gate to the field you can fit a small car. However, be considerate and don't block the entrance gate when parking!
Entry to Robin Hood's Hill is FREE and open 24 hours
22. Southwell Minster
Southwell Minster dates all the way back to the Saxon times. It is well over 900 years old and before a church sat here it was a Roman settlement.
Their Norman Nave is one of the best-preserved in all of England.
Inside the church, they also have the 13th century Chapter House that has ornate carvings of plants, animals and "green men" known as The Leaves of Southwell.
One of these is the "green man" which is a pagan symbol. A god that is worshipped for the woodland and fertility before Christianity took hold.
This refers to an early interpretation of what Robin Hood would have looked like years ago.
The Southwell Minster is open 365 days of the year and is FREE for all with donations welcome. Opening times are from 8 am to 7 pm. Guided tours are available at a cost on request.
23. Newark Castle
"Bad" King John died at Newark Castle in the year 1216. As a king consort for Richard the Lion Heart he was an evil and corrupt man, not very well-loved by his people (hence the nickname).
Although the official records show Dysentery as a cause for his demise, a local legend says that it was Friar Tuck who plotted to kill him.
The story goes that Friar Tuck poisoned King John as revenge for the murder of Maid Marian.
Newark Castle is a 12th-century fortress that sits on the banks of the River Trent.
Although much of it was destroyed during the Civil War, what is left has been beautifully preserved with gorgeous formal gardens surrounding it. It is said to have the 'finest gatehouse in England'.
The grounds of the castle are open all year from dawn till dusk but there are guided tours you can take inside the ruins by one of the rangers.
Guided tours of the castle take place in summer on Wednesdays, Fridays, Saturdays, and Sundays and they cost £5.50 an adult. Please see here for more information. There is a pay and display car park opposite.
Other Robin Hood places to visit in the UK
Beyond the official Robin Hood Trail in Nottinghamshire, there are plenty of places in the UK that stake a claim to having a connection with the legendary outlaw.
Lincolnshire, Derbyshire, and Yorkshire all have some spots that are worth checking out if you're a die-hard fan of Robin Hood.
The good news is that these aren't too far away from Nottingham if you're heading North on your travels. Plus, they also make some amazing day trips if you're using the city as a base.
Lincoln Cathedral and Lincoln Castle
Lincoln was a thriving medieval city in the Midlands and you can still visit the amazing Lincoln Castle square that has been preserved.
Lincoln Castle was built by William the Conqueror in 1068 as part of the castle collection he was building across the country.
It also has a copy of the famous Magna Carta which "Bad" King John signed and is one of the only existing copies in the world.
As well as this stronghold, it was a wealthy settlement as it used to produce cloth. The clothes that Robin Hood and his merry men wore were made of cloth in Lincoln Green colours!
A fifteenth-century manuscript of Robin Hood is held in Lincoln Cathedral called "Lytell Geste of Robyn Hode". It was the first ballad to ever tell the full story of Robin Hood and his merry men.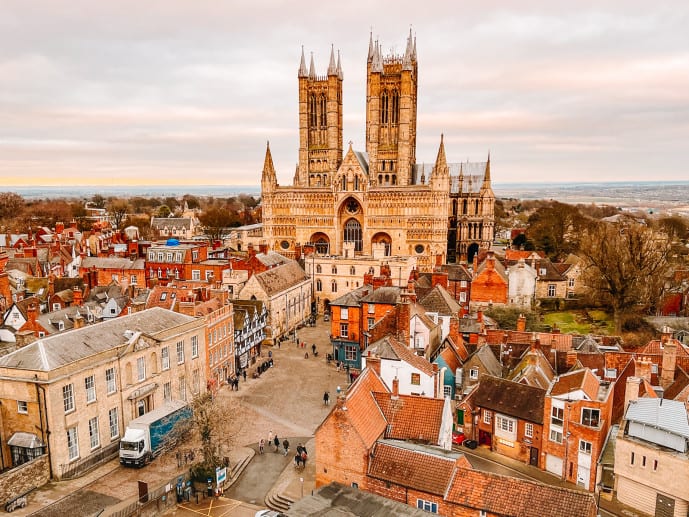 Loxley, South Yorkshire
A rightful claim that Yorkshire have is being the birthplace of Robin Hood.
He was thought to be born in 1160 in Lockersley, or modern-day Loxley, South Yorkshire. He was known as Robin of Loxley and he owned Loxley Chase which was a huge woodland in the 12th century.
It used to be connected with Sherwood Forest which was a lot bigger back then at 100,000 acres!
Today, Loxley is a village and suburb of Sheffield. It's a tiny area with very little to do there and the birthplace is currently unknown.
Apparently, a local teacher found a mark of his birthplace on a stone in Little Haggas Croft but it hasn't yet been verified.
Barnsdale Forest, West Yorkshire
In some of the early medieval ballads like the ones from Lincoln Cathedral, Robin Hood is meant to have used Barnsdale Forest as his base.
Wentbridge also has a small plaque to mark the bridge that crossed over the River Went. This is another suspected home of Robin Hood.
A small square stone structure marks the spot of Robin Hood's Well in Skellow just off of the M1 dual carriageway in South Yorkshire. This is nearby the village of Burghwallis.
There is also meant to be a Little John's Well here. It used to be a natural watering hole until the Georgian architect John Vanbrugh, covered the area in the 18th century. Apparently, years ago there was even a Robin Hood Inn!
Robin Hood's Grave in Kirklees Priory
Kirklees Priory in Yorkshire has a sad connection with Robin Hood as this is supposedly where he shot his last arrow and died.
According to legend, Robin Hood visits his cousin Elizabeth de Staynton who is a prioress at Kirklees Priory. He asks her to bleed him as he is ill.
Back then, bloodletting was a form of medical healing.
She purposefully takes too much blood as revenge and ensures that he is going to die. In his last moments, he shoots one last arrow in the meadows and asks to be buried where it lands.
Little John who was by his side wanted to avenge him but Robin forbade it as he would never harm a lady.
The only part that remains of Kirklees Priory is a ruined gatehouse. This is on the private land of Kirklees Estate in Clifton near Brighouse.
The grounds only open up to the public one weekend a year for walking tours, so you'll need to plan a visit around that time. Click here for more details.
Little John's Grave, Derbyshire
Little John was anything but little! He was apparently over 7 foot tall, which was TALL back in medieval times. He was also Robin Hood's second in command.
When he died he was thought to be buried in his home of Hathersage in Derbyshire on the grounds of Saint Michael's Church.
It's a huge gravesite and there is also a modern headstone in the graveyard that is marked with Little John's name. It's open to the public to visit all year round.
Hathersage is a small quaint village in the spectacular Peak District National Park.
Read more – How to visit Little John's Grave in Hathersage
Robin Hood Cave at Creswell Crags, Derbyshire
Creswell Crags is an incredible limestone gorge that sits in between the two counties of Derbyshire and Nottinghamshire.
Inside is a series of caves including the Robin Hood Cave. Legend has it that the outlaw used this spot as a hideout.
During the various excavations of the caves, archaeologists found Robin Hood Cave Horse. This has the image of a horse's head engraved onto a piece of horse rib bone.
There is no charge to visit the Creswell Crags, lakeside walks, or the café. But, there is a small museum and they run cave tours which have a small charge. Click here to find out more.
Robin Hood's Bay
Okay, I'll probably get some flack for this BUT hear me out. How could I have a list of Robin Hood places to visit in the UK without mentioning Robin Hood's Bay?!
Of course, there is not a scrap of evidence to suggest that Robin Hood ever visited this pretty coastal town in North Yorkshire. But, that doesn't mean to say he didn't go.
The town is famous for smugglers and bootleggers, so who says that he wasn't amongst them hiding his loot in the cliffs?
No one can really pinpoint how the coastal village got its name, but as you can see there are theories Robin Hood did make it as far north as Yorkshire.
Robin Hood's Bay is home to Captain Cook and one of the most beautiful spots in the UK with spectacular scenery!
So, whether he was there or not, the name evokes a sense of intrigue and mystery and you should definitely check it out.
Click here to read my complete Robin Hood's Bay guide
Recommended Robin Hood Trail Hotels
Nottingham – If you're looking for luxury accommodation you can check in to Lodge at Ruddington, or St James' Hotel is a premier midrange property in the centre of town. For backpackers, there is the Igloo Hybrid which is a favourite.
Save the Robin Hood Trail for later!