Driving in India is crazy by most western standards.
Six cars in three lanes within an inch of each other, motorbikes seem to play Buckaroo with how many family members they can pile on and the roads aren't always safe with potholes and gravel.
But, the one that trumps all the road safety standards in India is the mighty Rohtang Pass.
Rohtang Pass – India's highest and most dangerous road
The Rohtang pass is one of India's highest and most dangerous roads which can be a challenge for any vehicle to pass through.
Winding bends, steep drops down with no barrier, rockfalls, and landslides all create a recipe for disaster.
I was a little scared at first to attempt it as I wasn't sure what the roads would be like during monsoon season in August.
Plus, I had heard the safety record wasn't great, so was kind of bricking it!
But, never one to give up a challenge I decided to go for it and head on up the mountain road. Here's a quick guide to tackling the Rohtang Pass.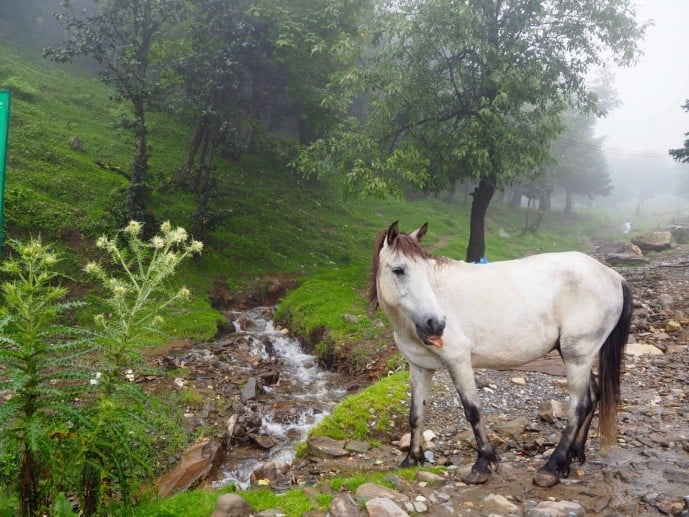 When is the best time to visit Rohtang Pass? When is the Rohtang Pass open?
The Rohtang Pass is only open from May to November due to changeable weather conditions.
The government has even started a tunnel to cross underneath as an alternative to limit the number of accidents!
The best time to visit the Rohtang Pass is from May – July during the summer before the monsoon season. At this time, it's dry. But, it's also peak season with more traffic on the roads.
By August – September, it's monsoon season and the Rohtang Pass is wet. I went in August and I admit I was nervous.
The rains are very heavy in India and some of the roads start to cave due to the rainfall. But, luckily it was fine.
October – November it's winter and it will be FREEZING. Plus the road is icy and you may see snow up on the pass.
Although not impossible to travel over it during this time, it's quite treacherous.
Is the Rohtang Pass dangerous?
The Rohtang Pass has seen more accidents than any other road in India and the Rohtang Pass is famous for the fact it's the highest and most dangerous road in India. But, hundreds of buses and vehicles travel over it every day.
The Rohtang Pass is shut during the winter season, but the roads are fine when the Rohtang Pass is open.
Driving over this pass takes great skill as it's winding, turning roads, with cars on each side and a steep drop below.
But don't worry, the drivers along this route are very familiar with the Rohtang Pass as their job and so you shouldn't face any issues.
I would personally recommend driving over it yourself unless you're a very confident driver.
1. There are many ways to reach the Rohtang Pass
Rohtang Pass from Manali to Leh
The nearest town to the Rohtang Pass which is where the majority of tourists stopover is Manali, the hippie Himalayan town of Himachal Pradesh.
This is also where people will hire motorbikes to take the long journey to Leh. If you're not planning to head to Leh Ladakh from here – you may miss out on seeing this fantastic bit of roadway.
I know the road sounds boring, but it's the scenery surrounding the road which is the most beautiful!
It's honestly jaw-dropping with tall mountains, icy waterfalls, wild horses, and Himalayan yaks which I was dying to meet.
You can read more about the Manali to Leh bus here
Rohtang Pass by Taxi from Manali
If you did just want to head up to the Rohtang and back, you can hire a return taxi from the main Manali union stand.
A private taxi should be no more than 3000 rupees.
If you head down Manali's mall road to the travel booking offices, you can get a shared minibus taxi up for 500 rupees per person. But, you won't have the luxury of stopping off where you want to.
Of course, you can take a more challenging route to self-drive by hiring a car or motorbike!
You will need a permit for the Rohtang Pass. There is a checkpoint before you take on the road and the pass is mandatory.
Rohtang Pass by motobike
You can also cycle up the Rohtang if that's your bag.
You'll need a strong set of legs and lungs and it will take you a while but if you're a cycling nut this should be no problem for you!
The ride back down should be easy, peasy.
2. The Rohtang Pass road is crazy!
Well, this may be an obvious point but best to warn you.
As you turn on the narrow chicanes up and around the hill, you'll see amazing mountain views…and a steep drop down!
Unlike western roads, there are absolutely no barriers and so it's just a drop into the abyss.
There were so many times it was just a single-track road with massive boulders just hanging over the car roof.
The first time that we made our way up the hill in the morning time it was completely shrouded in mist.
This sounds great as we couldn't see the steep drops but it meant that we couldn't see traffic coming the other way!
Luckily, the sun put his hat on halfway through the drive which made way for clear views. Some of the roads are just literally gravel and are quite dangerous to cross if there are vehicles on the other side. My anxious mind was put at ease as we were in safe hands with our driver.
Most of the local drivers will know how to handle the pass as they have grown up here and driven along with it for years as part of their job.
Make sure that you stop your driver to take a look at where you've got to – the views are stunning as you look down and all around you. Happy snapping!
3. The scenery of Rohtang Pass is spectacular
This is what makes the drive so worth the money and the risk, on every turn I wanted to take a photo as the backdrop was simply stunning.
There were green mountains as far as the eye could see.
The thing that I actually loved the most on this journey was all the colourful wildflowers that grew around and created a colourful blanket on top of the green dewy grass.
Our driver told us that the strong grass here had medicinal properties and we could see people picking the wildflowers to make medicine and natural beauty products.
We stopped our driver so many times just to have a look and take pictures, it was so beautiful. You have to see it to believe it.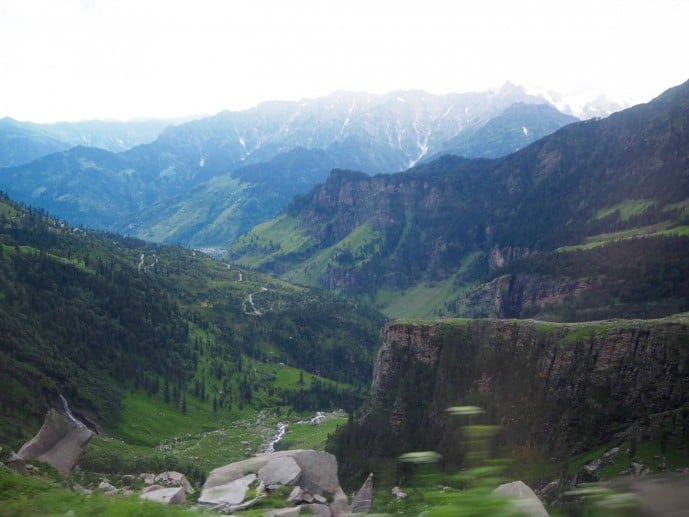 4. You'll make stops on the way up to the way to Rohtang Pass
This is the last stop before the Rohtang so best make the most of it if you want a steaming cup of chai or some breakfast before you head on up the pass.
It's quite a colourful little village in amongst the green and pretty much only consists of Dhaba's (restaurants) waiting to take your money.
But, it does have some great characters who are trying to invite you into their restaurant.
Personally, I loved their colourful temple which was perched on the hill. It provided some amazing panoramic views of Mahri and its surroundings.
After you've finished your chai, you can carry on up the hill to make your way to the Rohtang Pass!
5. You must get a photo with the Rohtang Pass sign
I guess this is anyone with a smartphone's dream to get a super tourist photo or selfie with the iconic sign as proof of your bravery in making it to the top of the Rohtang Pass.
Although you'll be queuing, it's well worth getting a photo that you made it to just over 13,000 ft by road!
Here, you'll also find people hiring manky fur coats and offering warm coffee or 'coppee, coppe, coppee' as they say.
I guess this is in India and you can make a business out of anything here – even in minus temperatures on a mountain pass!
6. Don't forget to explore the area around Rohtang Pass
When you get to the top, there is a little hillside place to explore the top of the Rohtang Pass.
I say little, it's actually massive with pretty much no signage or limit as to where you can explore.
You'll see some amazing views of the mountains here and you'll burst with amazement.
I visited here during the monsoon and luckily, the mist made way for some warm rays of the sun and clear views for an hour or so.
Of course, I came completely unprepared with sandals and a woollen blanket (what a combo!).
After a while, the mist came over and with it a cool breeze which shook my bones!
The weather can change in a split second, maybe I should have got that fur coat after all.
7. Yaks in the Rohtang Pass are SO cute
The day I explored the Rohtang pass was the day my dreams came true – I met some wild Himalayan yaks!
As we were wandering around the pass, we spotted them from afar and so decided to come and meet them.
Although they look like intimidating creatures due to their massive horns, they're actually a little shy!
My temptation got a little too great to stroke one and it flinched and ran (boo :( ). They are truly magnificent creatures and I had such a fun time hanging around with them.
But, It was short-lived as a tour group came running down the hill with their voices at full volume and chasing after them.
They got scared and decided to flee which was a shame.
This was probably my highlight of the tour and if you can see some on your journey, it's a real treat. I may have gone a little overboard with my yak photoshoot, but they're just SO cool…
So, do you think the Rohtang Pass is dangerous?
The Rohtang Pass trip, for me, was a highlight of my journey through Himachal Pradesh.
To say that I have now been on my fourth journey through (as I eventually did decide to brave the journey to Leh) is pretty incredible as I was completely against it before.
I guess that's the beauty of the unknown, don't knock it until you've tried it!
Want to read more on Himachal Pradesh? Look no further
Here are some more articles for exploring Himachal Pradesh & beyond;
Manali to Leh by road, all you need to know
What it's like to travel to Leh, the land of high passes
Off the beaten track Ladakh, Thiksay, She, and more
A guide to Manali, the hippie town in Himachal
Top things to do in Mcleodganj
A complete Bhagsunag waterfall guide
Read more on the North of India
The ultimate Rajasthan itinerary
My complete guide for Rishikesh
Visiting the Beatles Ashram in Rishikesh