The Roman baths are nearly 2000 years old and were built at the time when the city was called Aquae Sulis.
The Romans built the baths around these natural hot springs as a temple of healing and worship to the Goddess Sulis Minerva.
Today, they are an incredible museum that you can visit in the centre of the city. But, did you know that you can visit the Roman baths at night?!
On select nights in summer, the Roman baths remain open until 10 pm. It's a magical experience where you can see the baths lit up by torches under the night sky. You can even enjoy a glass of bubbly from their Gorgon's head pop-up bar.
It doesn't cost any more than a normal ticket and you get the benefit of a quieter visit too. So, you can really soak up the atmosphere of this ancient temple.
Here is everything you need to know about visiting the Roman baths at night and their torchlit summer evenings!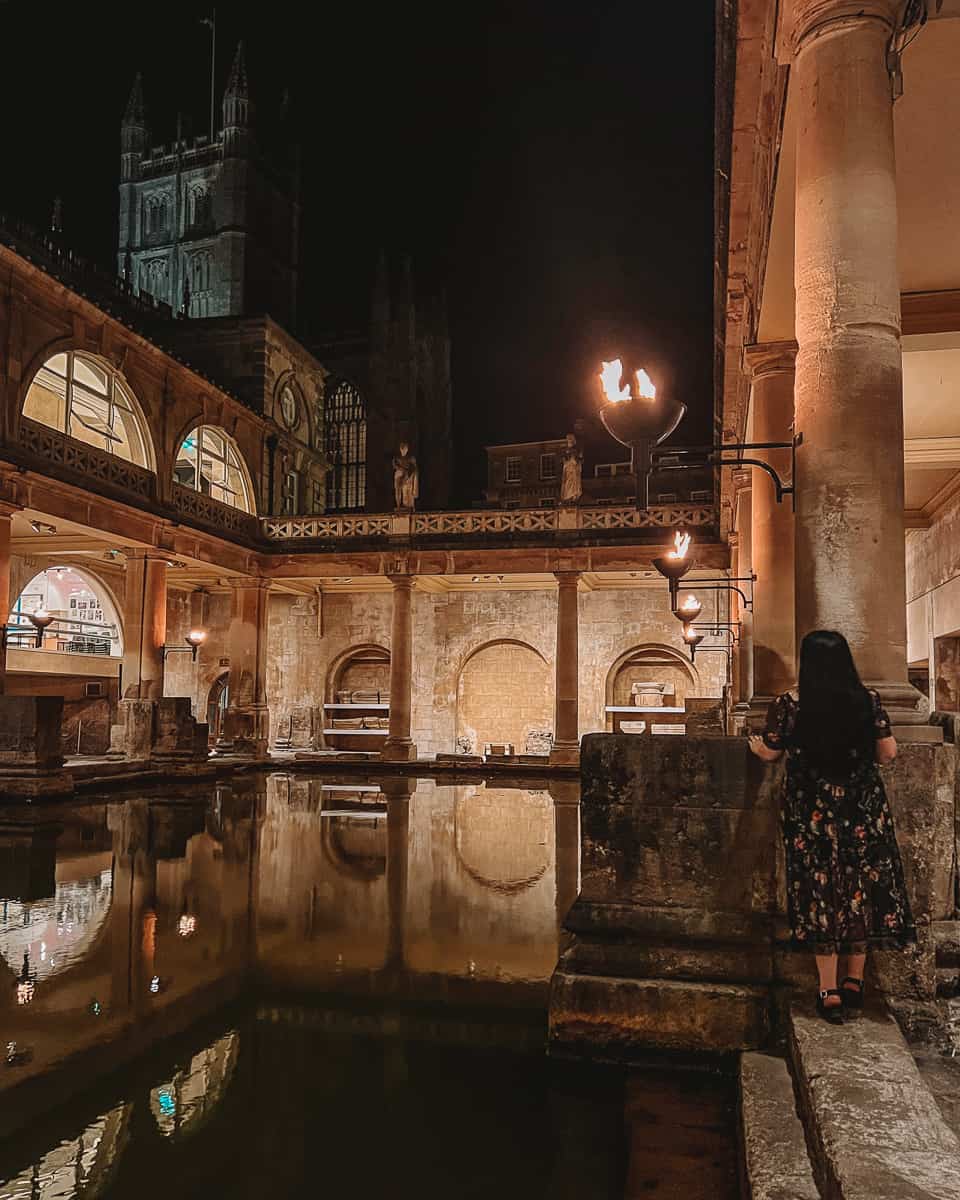 Roman baths history
It is believed that there has been human activity around the hot springs of the Mendip hills since 8,000 years BC!
The first recorded history took place when the city of Bath was founded in 863BC by Prince Bladud who was healed by the waters when he contracted leprosy.
The Romans then came to Britain in AD43 and settled here. They called this area Aquae Sulis.
The Romans created a series of bathhouses and hot springs that acted as a sanctuary and place of worship for the goddess Sulis Minerva.
Back then it was twice as big as the Roman Baths we know today. The rumours of the healing waters saw many people travel across Europe to visit Bath to seek Sulis Minerva's help with their healing, justice and protection.
They believed that this spring had a direct link with the underworld. Pilgrims would throw their offerings to the goddess in the spring in the form of money or jewellery.
Unhappy victims of robbery would write a cursed message on lead to Sulis Minerva. You could tell her who stole from you and she would punish them and get your stolen goods back!
The temple used to be a lot taller with a podium and roof. The front would have had a Gorgon's head to welcome you inside. Although this one has a moustache, the most famous Gorgons were actually female. Medusa was a Gorgon!
The natural spring waters here were 46 degrees and the Romans would travel through a series of rooms to bathe or relax.
They would use the Apodyterium or changing room first. Then, they could go through the Caldarium hot room, a warm room and a Natatio swimming pool.
Romans didn't use soap to bathe, they would rub olive oil on their skin and scrape it off using a tool called a Strigil!
The baths were also a communal area where people would chat, play games or receive massage treatments.
Roman baths through time and today
When the Romans left Britain, they abandoned this sacred temple but it still continued to be modified and used over the centuries.
By 1590, Elizabeth I made a Royal Charter that the city of Bath and the 'thermal waters should be accessible to the public in perpetuity'. In the 16th and 17th centuries, royalty were using the baths like Anne of Denmark.
Kings, Queens, and nobility were almost like our modern-day celebrities and this made the people of England want to visit Bath too!
In the Regency era around Jane Austen's time is when the spa resort of Bath was booming! Dr. William Oliver released a publication about Bath's healing waters and improvements were made around the city.
Richard Beau Nash brought about the Assembly Rooms and the Grand Pump Rooms were built to allow the aristocracy to take the waters.
But, the rise in popularity meant that the city was overwhelming. It grew much larger than just taking the waters.
There would be all sorts of distractions like balls, card games, pleasure gardens, and public breakfasts and it was more of a society than a healing trip.
After the First World War, many soldiers were brought to Bath to heal with the waters in the Spa. But, by 1978 the baths were closed due to health concerns for the public as the water had not been treated.
Today, the Roman baths are now a museum and one of the top tourist attractions in Britain. There are well over one million visitors each year!
Is visiting the Roman baths in Bath worth it?
YES! Although it's not the cheapest attraction, I would say that the Roman baths are definitely worth the price.
It's a fantastic museum with over 2,000 years of history to uncover. We do have many Roman attractions in England but none are this immersive, atmospheric and well preserved.
You can admire the Great Bath, Sacred Spring, and Roman Temple. You can explore their huge museum, see uncovered artifacts, and even 'take the waters' by sipping some for yourself (don't worry it's treated).
The only thing you can't do is enter the water but it's well worth splurging on a ticket to see the springs.
If you really want to make a visit special. I would recommend visiting the Roman baths at night time where they are lit up by torchlight!
Visit the Roman baths at night!
Every summer on select dates in July and August, the Roman baths stay open until 10 pm and it's the perfect time to visit.
Not only is this time a lot quieter so you can avoid the crowds but it's also lit up by torches just like it would have been in the Roman era! There's even a pop-up bar where you can enjoy a glass of champagne.
It's such a unique opportunity to see the baths under the stars and it honestly looked like a movie set.
When it opens up later in the summer, I would grab the opportunity with both hands as it only lasts for a short amount of time!
Things to do at the Roman baths at night
There are plenty of reasons why you should visit the Roman baths by torchlight. But, what is there to do once the sun goes down?
Here are all the magical things to do at the Roman baths at night on their torchlit summer evenings!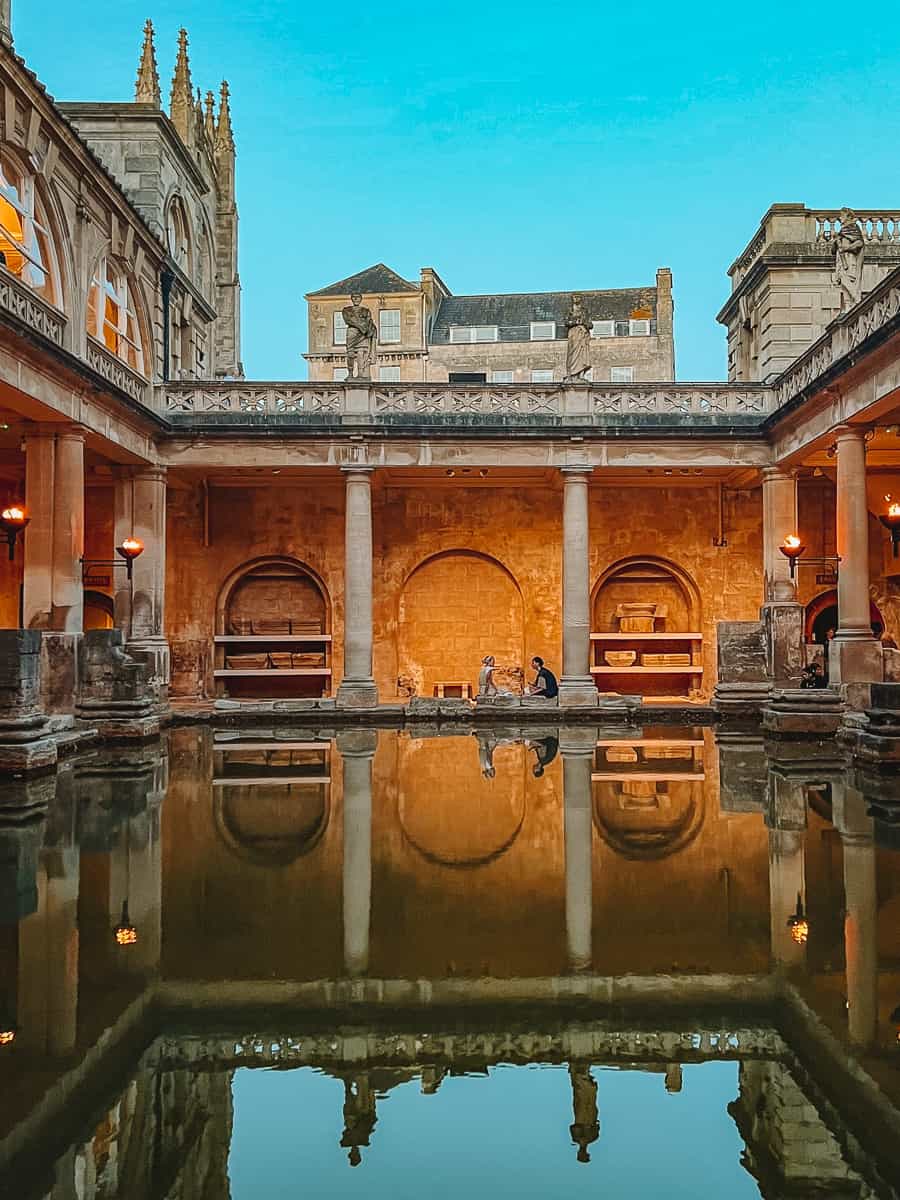 1. Visit their Roman baths museum
Beyond the central Great Bath that you have most likely seen online, there is a whole museum around the Roman baths that you can explore.
It's an amazing informative introduction to Roman Britain and the ancient settlement of Aquae Sulis.
Here, you can learn how the Romans built the baths, why they built them, how they used them, and more about daily life back then.
There are lots of recovered artifacts that were found at the baths. Due to all the offerings, they uncovered over 12,000 Denari Roman coins under the springs as well as brooches and jewellery.
You can even find a bronze head of Sulis Minvera, the goddess that pilgrims would have visited the springs to worship. The head was part of a larger statue inside the Roman temple.
As you walk around the bottom floor, you can see how they would have heated the rooms underneath with their genius hypocausts.
The springs are naturally hot at 46 degrees but the Romans were pretty advanced with underground heating for the other rooms when it got chilly!
Also, they have great projection mapping of how the Romans would have used each room like the sauna, baths, washing rooms, gymnasium, changing rooms etc.
You can hear sounds of people laughing, chatting, and even having debates in Latin. It's really immersive and gives you an interactive look into what the baths would have been like to visit during Roman times.
2. Watch a Roman baths sunset
Is there anything better than watching the sky change colour from a beautiful place? The Roman baths are the perfect location to visit for sunset.
You'll be able to see the sky turn from blue, to orange and pink above the ancient hot springs and the torches will start to be lit.
Even if you don't get to visit in the evening, the torches always light up just before sunset all year. So, I would recommend sticking around to see it.
The winter is a great time for a Roman baths sunset and you'll see the central courtyard baths steaming in the open air!
3. Meet some Romans chatting at the baths
I always think that the Roman baths look like a movie set as it has been so beautifully renovated and preserved.
I've been reading a lot of Hades and Persephone retellings lately so the fact that this spring was thought to be a direct link to the underworld gave me the shivers.
But, it looked even more like I was walking through a movie when I saw some Roman actors that were chatting around the baths. It was such a peaceful scene.
You can talk to the Roman actors and ask them any questions you have. They will be more than happy to tell you about a day in their Roman life.
4. Drink champagne from their Gorgon Head Bar
On the torchlit evenings, the Roman baths have their very own Gorgon's Head pop-up bar where you can buy a glass of champagne.
They have a great range of bubbly and you can take your drink and sip it whilst admiring the baths at night.
Many people were sitting around the edges of the baths with their drinks and it was a great chance to soak up the magical atmosphere.
It's mind-blowing to think you'll be sipping champagne on the 2000-year-old pavement!
Glasses of champagne start from around £10 per glass. You can pre-order your drink as part of buying your ticket but the lines aren't that long.
5. Watch the night sky from the torchlit Roman baths
Although in the summer we don't get very dark skies until after midnight if you did stick around until 10 pm you will be able to see the sky turning indigo.
I actually was hoping to see some stars from the baths but it just wasn't quite dark enough. I saw maybe one or two twinkle though which was lovely!
6. Visit the Pump Rooms
If you're looking for a place to grab some food or afternoon tea on your visit to the Roman baths you must visit the Pump Rooms.
The Roman baths and the Pump Rooms go hand in hand as this was a place to 'take the waters' during the Regency era! You can take a look at the King's Spring fountain whilst you're there.
Today, the Pump Rooms serve up coffees, teas, lunches, afternoon teas, and sometimes dinner on select dates.
You'll be dining under chandeliers and sometimes there is a pianist that will play some relaxing music while you dine!
Click here to see their menu and to book a table at the Pump Rooms
How long do the Roman baths at night last?
The Roman bath's torchlit summer evenings only run for a short time each year on select evenings in July and August.
This is usually every day during the summer holidays from the middle of July to the end of August.
So, make sure to mark the dates in your calendar. You don't have to buy any special kind of ticket to attend, you just pay for a normal ticket.
Although it is open until 10 pm, I wouldn't get there too late. You could easily spend a couple of hours at the Roman baths so I would plan to get there after dinner to make the most of your visit.
How to visit the Roman baths in Bath
The Roman baths are centrally located in Bath and the entrance can be found right next to Bath Abbey and the Pump Rooms.
This is less than a five-minute walk from the South Gate shopping area and the famous Thermae Bath Spa.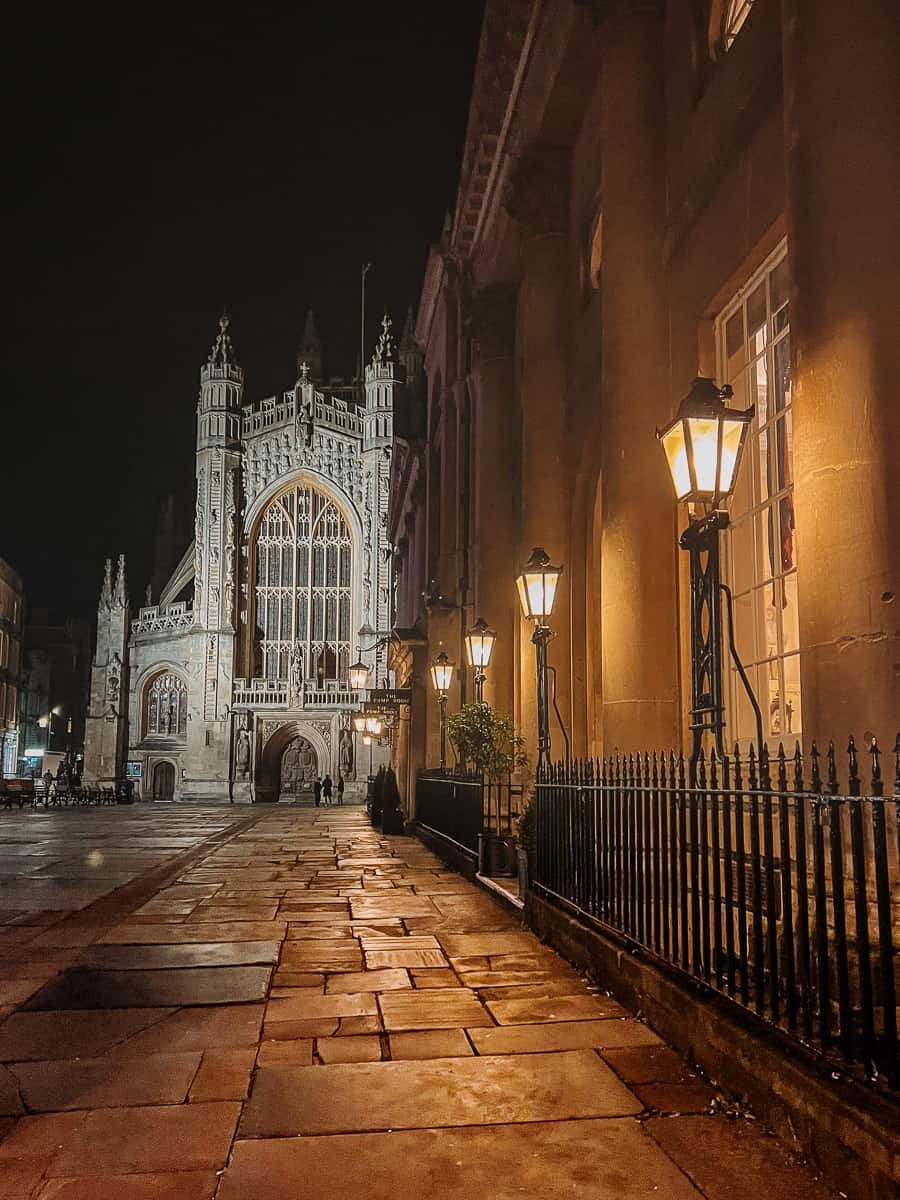 I would recommend booking your ticket online before you go to guarantee entry and to avoid long queues.
If you're going to get tickets on the day I would try to go as early as possible. As the most popular tourist attraction in Bath, it does tend to get very crowded.
The Roman baths address is Abbey Churchyard, Bath, BA1 1LZ. Click here for a Google Pin!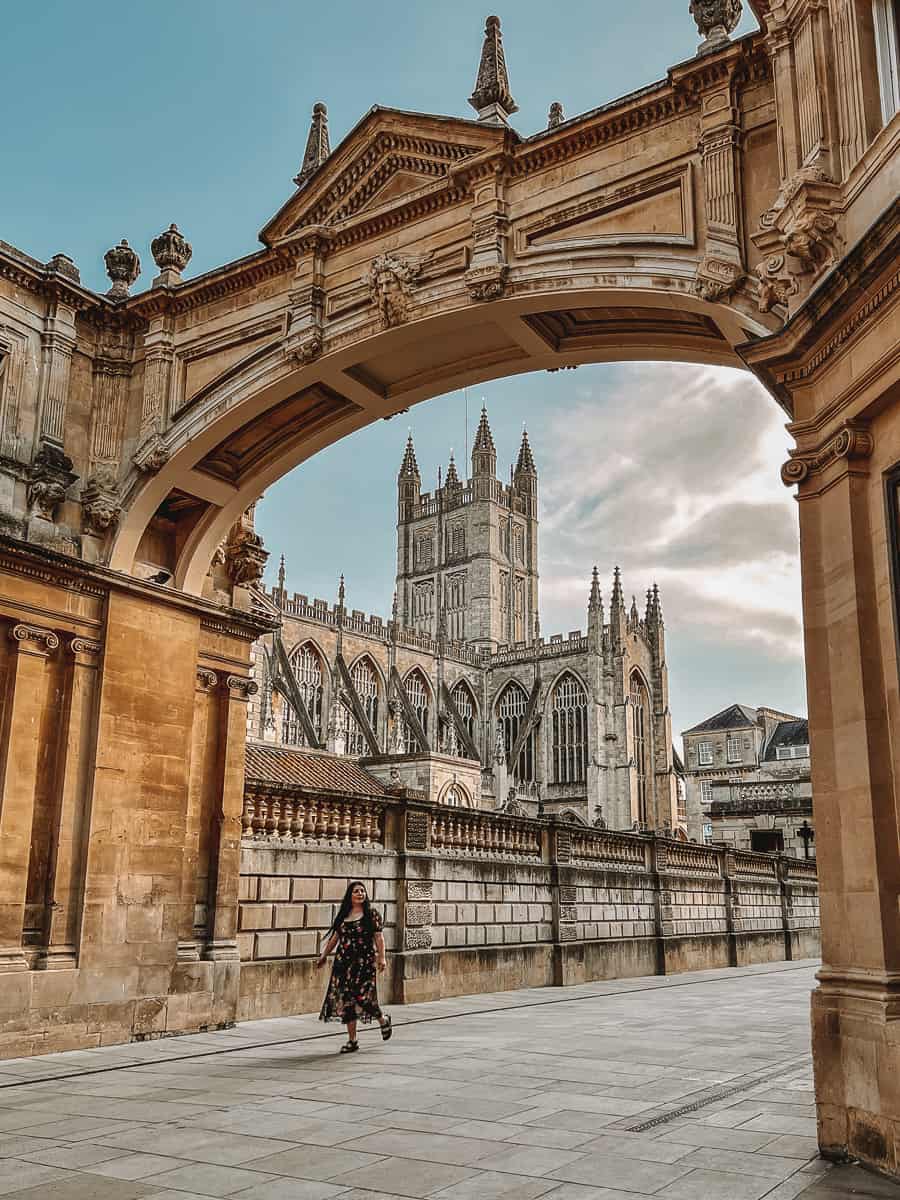 Bath Roman baths opening times and prices
The Roman baths are open every day except Christmas Day and Boxing Day (December 25-26th).
The opening times are seasonal but typically the baths are open from 9 am – 5 / 6 pm dependent on the time of year. They may close as early as 4 pm in winter.
For the torchlit summer evenings, the Roman baths will be open from 9 am – 10 pm at night. I would recommend at least 3-4 hours at the baths as there is so much to see.
Roman baths ticket prices are £25.50 for adults on a weekend and £23.00 for a weekday. For children, it's £18 for a ticket on the weekend and £15.50 on a weekday.
Students get a slight discount with a valid student card. Locals with a Discovery card and Bath Spa students get their tickets for free.
Where to eat near the Roman baths
If you're looking for the best place to eat in Bath before your visit to the Roman baths at night, I would recommend Robun.
It's a beautiful restaurant that has a celebration menu of authentic Japanese food and drinks. They specialise in Yakiniku which is the art of grilling meat and vegetables over a traditional robata charcoal fire.
They have lots of sushi and sashimi dishes along with tempura, bao buns, and gyoza! You will honestly struggle with what to choose as all their offerings sound and look so good.
I had a mix of their smaller plates which included salted edamame, spicy prawns, thinly sliced wagyu beef, and some prawn and avocado sushi rolls.
Everything was so beautifully made and presented with such care. It was a delectable meal and the perfect place to have dinner!
Click here to check out Robun's website and make a reservation!
Why not visit Thermae Bath Spa at night?
If you're heading to Bath and want a more immersive Roman baths experience then you have to visit the incredible Thermae Bath Spa.
Unlike the Roman baths, Thermae Bath Spa allows you to bathe in the thermal waters and they even have a rooftop pool with a view!
They also have cooler pools, a Minerva bath, steam rooms, starlit galaxy sunbeds, and a restaurant to eat a meal after your pampering session.
It's one of the best experiences in Bath. They are also open until 9. 30 pm most evenings so you could swim under the stars!
Click here to read my complete review of Thermae Bath Spa
Where to stay in Bath
If you're looking for somewhere central to stay in Bath, I would recommend The Roseate Villa on Henrietta Road near the Paragon.
It's a French Chateau-style building that is two Victorian houses merged into one! They have an incredible bookish staircase that joins them together.
The luxurious rooms are spacious and, although central in the city, it's tucked away in a quiet corner to provide a relaxing place to stay.
You can enjoy a sumptuous breakfast (hot tip – get the pancakes!) in their Henrietta Bar or splurge on a champagne afternoon tea with all the trimmings. I had such a lovely time there, I didn't want to leave.
Click here to read my Roseate Villa Bath Review!
Looking for more things to do in Bath?
Bath is an incredible UNESCO World Heritage city that looks like you've stepped back in time.
As well as the Roman history of Bath, you also have many buildings that have been preserved since the Regency era!
Jane Austen visited Bath and it's here she was inspired to write her Northanger Abbey. She fell in love with Bath and its many distractions.
Dances at the Assembly Rooms, Bath Buns, and social events every night of the week made for a busy season.
You can find out more about Jane Austen in Bath in my post here. Don't forget to visit the Jane Austen centre!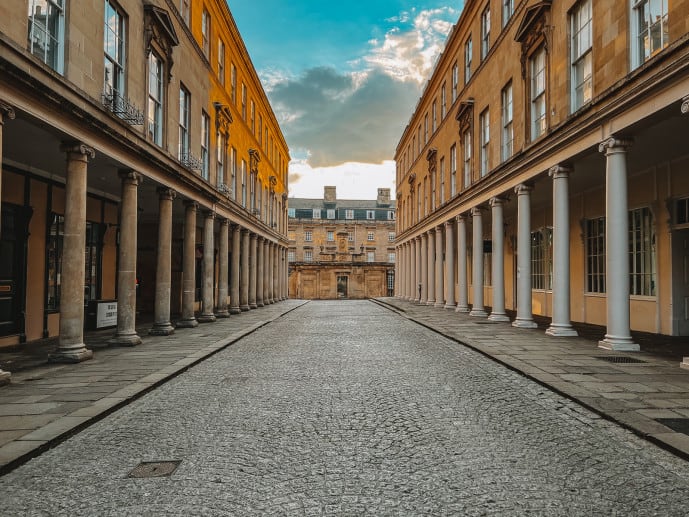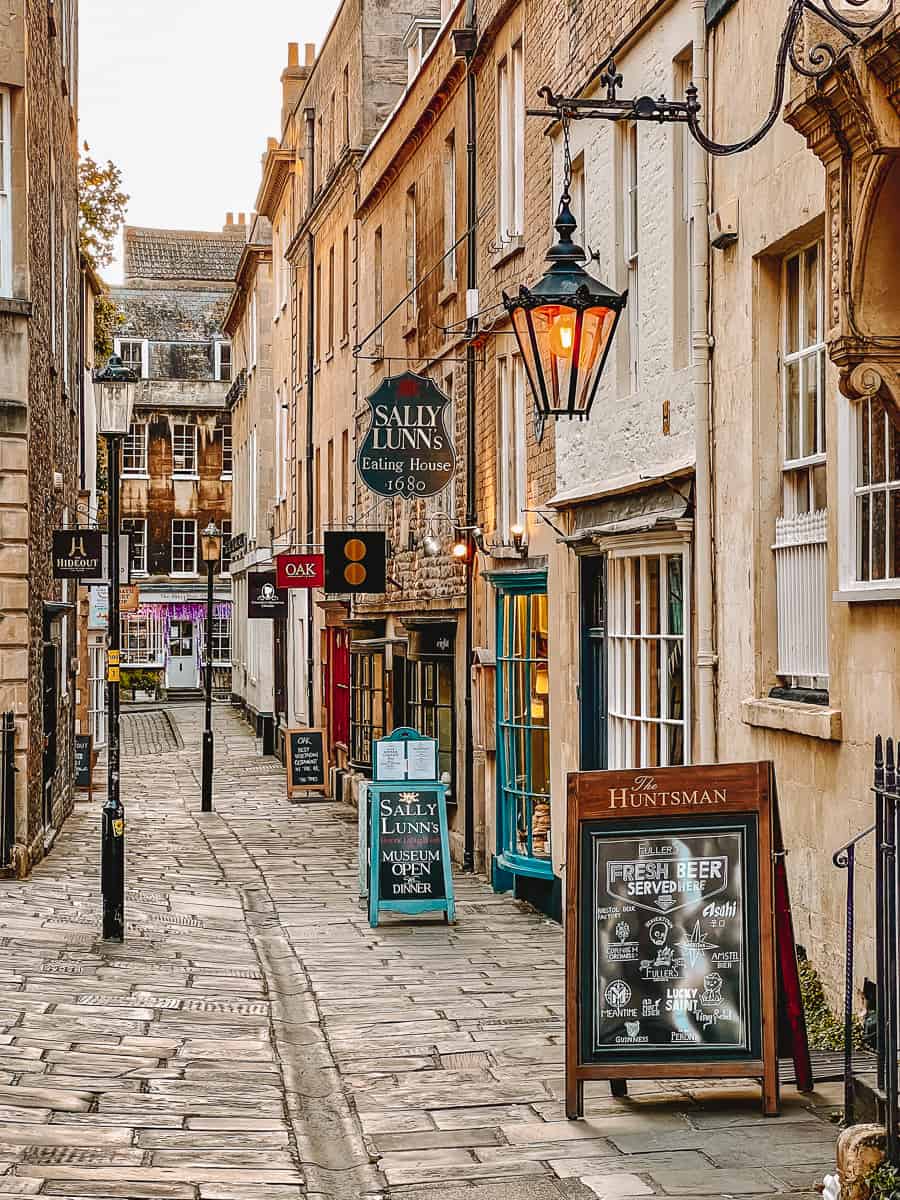 Did you know that Mary Shelley also lived in Bath? Yep, she wrote the first draft of Frankenstein whilst living at a residence next to the Pump Rooms. You can find out more in the House of Frankenstein.
You really can't leave Bath without a visit to Bath Abbey. I would recommend their tower tours where you can stand behind the clock tower, see the bells and get incredible views over the city.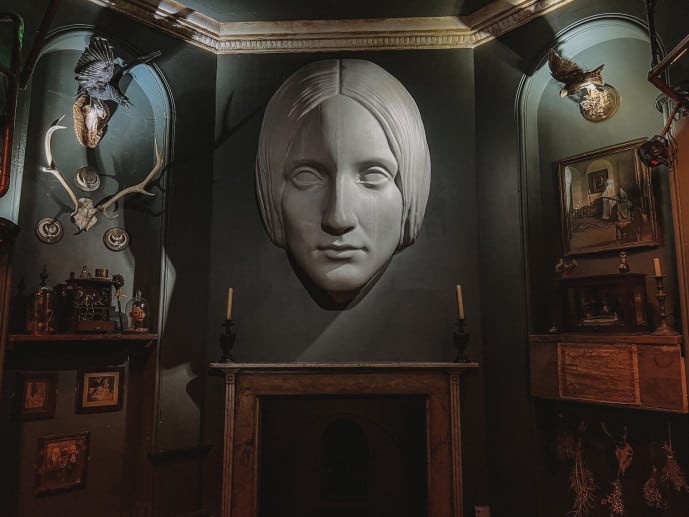 Did you know Bridgerton was filmed in Bath? You can visit many of the filming locations in the Royal Crescent, The Circus, Bath Street, and the Holburne Museum which was Lady Danbury's mansion.
Or, why not go on a stroll through the Parade Gardens and visit the Pulteney Weir? The bridge is Palladian and is one of only four bridges in the world that still has houses on it!
There are so many things to do in Bath, you'll struggle to fit them all in. I'd recommend at least 2-3 days to see it all.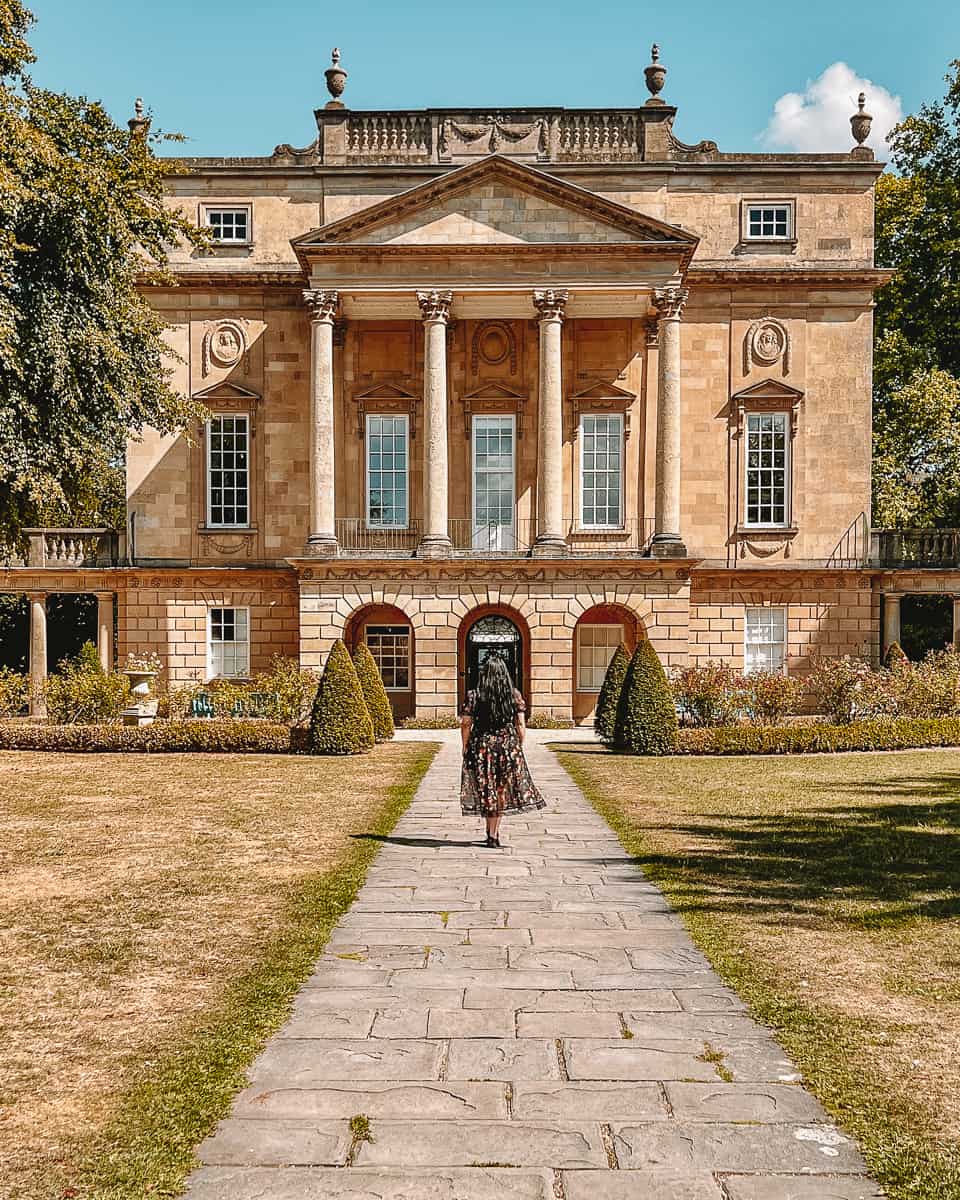 Roman baths FAQs
Are Roman baths free? No, you must pay for tickets to see the Roman baths. Free tickets are available for Bath Spa students, local Discovery Card holders, or Blue Peter badge holders.
Can you swim in Roman baths? No, it would not be safe. You can visit Thermae Bath Spa which uses the same natural spring water. They treat the water so it's safe to bathe in.
Save time and book a tour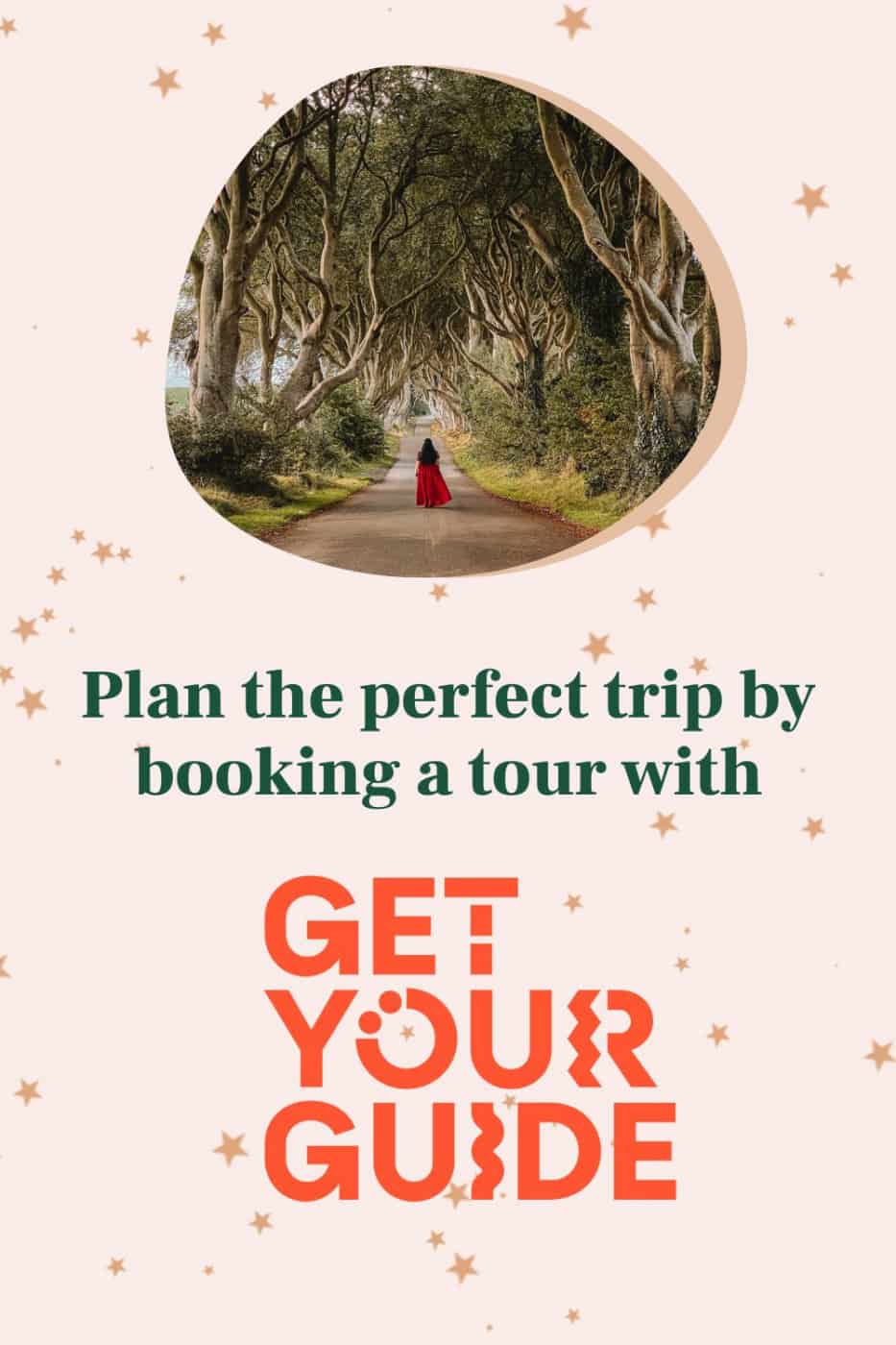 Book tours & tickets for Bath!
Save the Roman baths at night for later!
Third Eye Traveller was kindly sponsored by Visit Bath to visit the Roman baths at night. Although gifted, all experiences are my own!