There are many Outlander locations dotted around Edinburgh, but one that you may not have heard of is the Roslin Glen Country Park Outlander location from series one, episode nine 'The Reckoning'.
Tucked away in this stunning park, by the ruins of the Roslin Glen Gunpowder Mill, you can find the place where Jamie, Claire, Rupert, Murtagh, and Angus stop to water their horses.
After they rescue Claire from Fort William, Jamie and Claire have a heated argument here and Jamie demands an apology. Words are thrown and Jamie says 'you're ripping my guts out Claire!'.
All this can be found in a free country park in Roslin, just a few miles outside of Edinburgh.
Finding this Roslin Glen Country Park Outlander location can be a little tricky, so I'll also provide step-by-step instructions on how to find the Gunpowder Mills too.
Where is Roslin Glen Country Park in Scotland?
Roslin Glen Country Park can be found in the village of Roslin which lies eight miles out of Edinburgh. It's most famous today for its Rosslyn Chapel that featured in the Da Vinci Code. It's just a mile away from the park.
It was famous for being home to Scotland's largest Gunpowder Mill once upon a time, but it's now a stunning woodland that sits by the River Esk. As well as a vast and colourful history, this park has plenty of wildlife, meadows, scenic pathways, and walks that can connect you with the nearby area.
Roslin is a fantastic day out from Edinburgh as you can visit Rosslyn Chapel, Roslin Village, Wallace's Cave, and the Roslin Castle, the ancestral home of the St Clairs, too!
Roslin Glen Country Park opening times and ticket price
The great news about Roslin Glen Country Park is that it's completely FREE to the public! So, it's a great budget, family day out that provides stunning views in the countryside. It's also the perfect location for a picnic or some Outlander location hunting.
Google Maps says that the park closes at 8 pm but that's only the car park. Car parking is free in Roslin Glen Country Park but don't leave your car inside or you'll be locked in for the night!
There are (very) limited roadside spots along the main country road outside of the car park if you're stuck.
The Roslin Glen Country Park is open all hours for people to explore. It's a popular spot for dog walkers, joggers, cyclists, Highlanders, and Red Coats – you have been warned!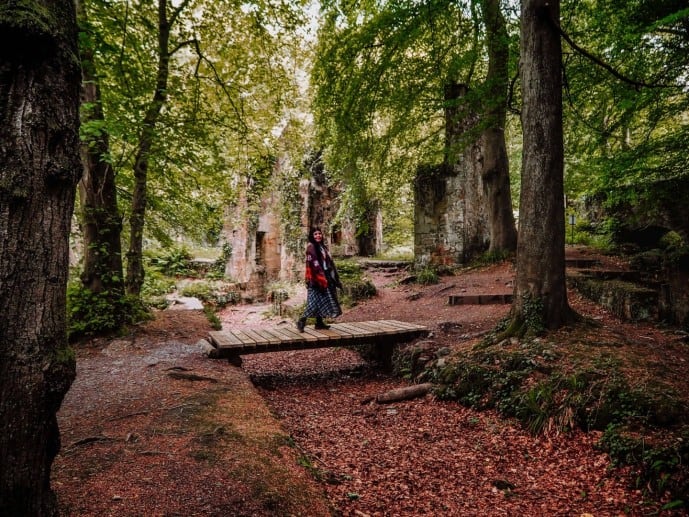 How to reach Roslin Glen Country Park
Roslin Glen Country Park can be easily accessed from Roslin. As it's so close to the city of Edinburgh, there are plenty of ways to access it;
Roslin Glen Country Park on foot: if you're the active type you can make a day of it and walk to Roslin Glen Country Park in just 3 hours. Edinburgh is effortlessly scenic as it's surrounded by the Lothian hills so you're bound to have nice views along the way.
Roslin Glen Country Park by car: this is your fastest option. The drive will take around 30 minutes to Roslin along the A701 road. A large public car park can be found here and is FREE but it shuts at 8pm. Don't get caught out. You can also use Uber or a taxi service to get there.
Roslin Glen Country Park by bus: From North Bridge in Edinburgh, the 37 bus service towards Penicuik stops in Roslin and it's a 20 minute walk from there to the park.
How to find the Roslin Glen Country Park Outlander Location
Getting to the park is the easy bit, the harder part is how to find the Gunpowder Mills or Old Mill Lade in Roslin Glen Country park.
When you reach the car park, there will be some great maps with a drawing of the area including the Gunpowder Mills, Rosslyn Chapel, the lot. So, you know the general direction you need to head.
Problem is, none of the maps provided by the park give you your current location. To top that, there are NO signs pointing you in the right direction from the car park! Not. Very. Helpful.
Scotland doesn't have the best reputation with phone service, so you can't rely on Google Maps.
So, as I have the worst orientation skills on the planet (professional traveller over here!) I ended up walking the wrong way in the stifling heat until a kind local pointed me in the right direction…THE POLAR OPPOSITE WAY!
How to find the Roslin Glen Gunpowder Mills
I got stupidly lost, so you don't have to! Here are some step by step instructions on how to find the Roslin Glen Gunpowder Mills in Roslin Glen Country Park;
If you're heading here by car, park up in the main car park. Take a picture of the maps for reference but don't rely on it for directions.
Go back outside the car park onto the main B7003 road, take a right and head towards the sharp bend heading up to Roslin Village.
When you reach the bend, you'll see the Old Mill Gates. Be careful crossing the road as it's a blind bend with no crossing and cars go quite fast.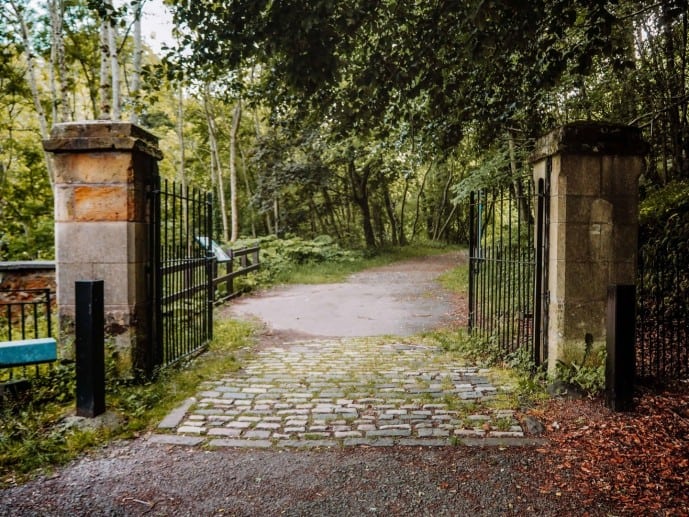 Walkthrough there Mill gates and follow the path all the way down until you see some steps heading downwards to your left.
Follow these steps down and you'll see the first of the Gunpowder ruins. Keep following the path, all the while keeping the River North Esk to your left.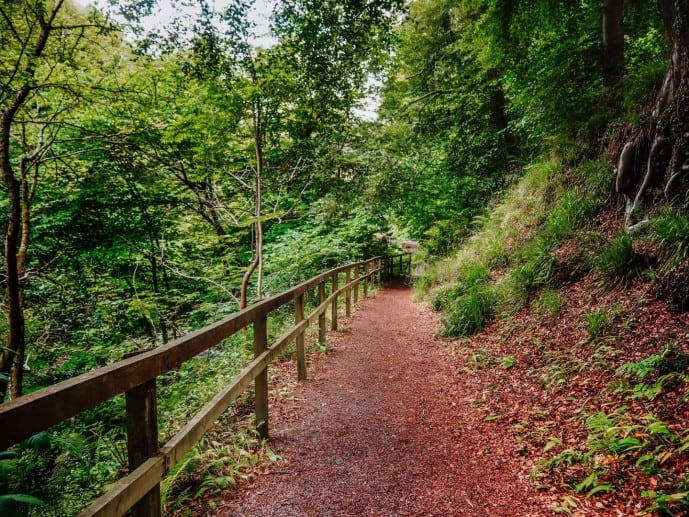 When you reach Gunpowder Mill 4 (warning NOT sign posted) you've got to the right spot. It's the largest and most preserved ruin of the lot and this is your Roslin Country Park Outlander location!
Roslin Glen Country Park Outlander Locations
You made it! Now you've managed to reach the Roslin Glen Country Park Outlander location, I'll guide you on where to find the spots that were featured in the Outlander series here.
As a girl from the West Country, I couldn't believe my eyes when I got to this spot. A stunning park, with a beautiful burn, jagged cliffside, and historical ruins for FREE?! It's even better to see it in person than on the screen.
You're free to wander around the Gunpowder Mill ruins freely. Nothing is guarded off, but be careful how you tread.
1. The river where Jamie, Claire, Murtagh, Angus and Rupert stop by
In The Reckoning, we first see this location after Jamie rescues Claire from Fort William. Jamie asks Murtagh to water the horses with Angus and Rupert.
This river is the River North Esk and you'll recognise the riverbank in front of the Gunpowder Mill ruin.
Depending on the time of year, the river flow may be higher or lower than in the series. There may also be no waterfall too. When I visited in June, the water level was low with no waterfall either as there had been little or no rainfall. Miraculous for Scotland I know!
It was also quite overgrown around the area as it was summer. It looked a lot greener than in the episode and was spectacularly beautiful.
2. The place where Jamie and Claire have their argument
If you head from the River Bank towards the Gunpowder Mill, you'll spot the location where Jamie pulls Claire to the side and demands an apology.
In the episode before this, Claire is told to stay put by Jamie but instead, she runs towards Craigh Na Dun and gets caught by the Red Coats. She ends up in Fort William at the hands of Black Jack Randall and Jamie comes to rescue her along with Murtagh, Rupert, and Angus.
It's here they have a heated argument and Jamie says 'you're ripping my heart out Claire!'. After they have their argument they are both forgiven.
You'll instantly recognise this ruin, full of mossy stone brickwork and it's a great photo opportunity too.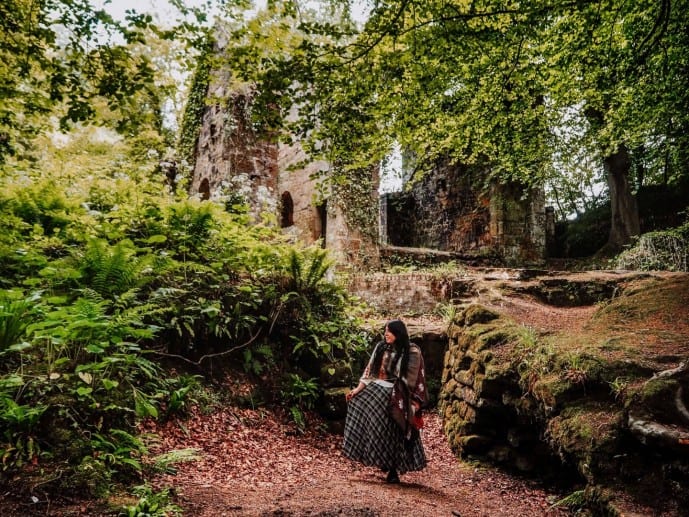 Roslin Glen Gunpowder Mills History
If you were curious to know more about the history of the Roslin Glen Gunpowder Mills, it used to be the largest of its kind in Scotland.
In 1804, gunpowder engineers Hay and Merrick established a Gunpowder Mill at Roslin Glen. In the 19th century, waterwheels were a great energy source to produce gunpowder. So, Roslin Glen with the, flowing River North Esk, provided the perfect location!
Over time the Roslin Glen Gunpowder Mill grew to be the largest in Scotland. It provided gunpowder for the mining and quarrying industries. It also provided munitions for the Second World War and others. It remained open until 1954 after 150 years.
Today, the Roslin Glen Country Park encompasses the Roslin Glen Gunpowder Mills but the remains are only a tiny part of what it once was. The most intact ruin is Gunpowder Mill 4 and featured in the Outlander TV series.
Other historical facts about Roslin Glen Country Park is that the linens worn by Queen Victoria were bleached on its bleach fields and a carpet factory was established by Richard Wytock in 1868.
This factory sold famous tapestries but again, went out of business and closed 100 years later in 1968. The carpet factory remains can be easily seen from the car park.
Looking for more Outlander locations in Edinburgh?
If you're going on an Outlander adventure around Edinburgh, make sure you check out my complete list of film sites in the city here. Or, if you're really keen I've written a whole list of over 90 Outlander sites in Scotland and beyond here.
The nearest Outlander location to Roslin Glen Country Park is Glencorse Old Kirk where Jamie and Claire tied the knot! You will have to make an appointment, but it's well worth checking out.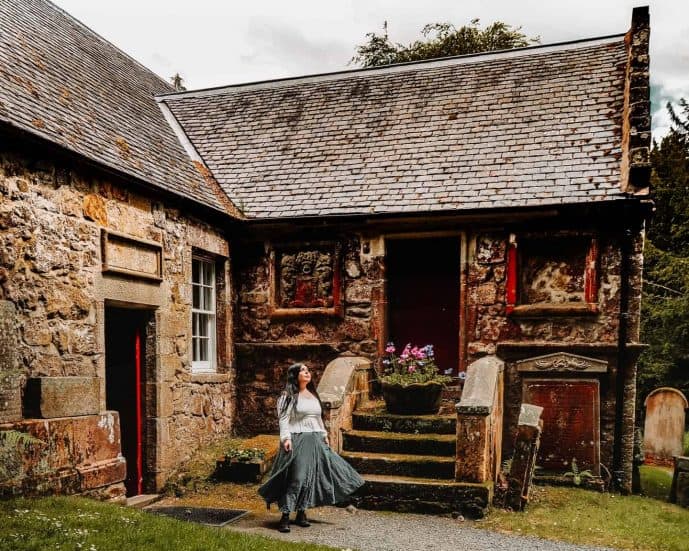 Another is Craigmillar Castle which is only a few miles from Holyrood Park! It acted as Ardsmuir Prison in series 3.
Within the city, you can visit Bakehouse Close which was where Jamie and Claire were reunited at A. Malcolms Print shop and just a few minutes from there is Tweeddale Court which acted as 18th century Edinburgh in series 3 as well.
You can also visit the Colonnades at the Signet Library to see the interiors of the Governor's Mansion in series 3 and The World's End Pub too. Or Summerhall where a lecture room was used by Claire studying in Boston.
Read more: Outlander Royal Mile Walking Tour + Map locations
Around Edinburgh, you can visit the home of Laird Broch Tuarach Lallybroch at Midhope Castle, Abercorn Church that featured in season 4, or Hopetoun House that was the Duke of Sandringham's home. Check out my guide on all the Outlander Hopetoun House locations here.
Nearby, there is Blackness Castle as Fort William and Linlithgow Palace which was Wentworth Prison. Or Bo'ness station is where Claire and Frank said their goodbyes in season one.
There's also Gosford House which was Helwater Estate and Preston Mill which is the mill at Lallybroch.
Culross played the village of Cranesmuir with its West Kirk as the Black Kirk. Finally, who can forget the iconic first episode in 1945 Inverness?
Falkland village is the place you want to go to to experience it and you can even stay the night in the same room Claire and Frank did!
Head to the seat of Clan MacKenzie, Castle Leoch, by visiting Doune Castle and Deanston Distillery nearby has Jared's wine warehouse in La Havre. Or, attend Louis's court in Versailles at Drummond Castle Gardens.
There are so many Outlander locations in Edinburgh, you'll need to leave time for them all.
Heading to Glasgow next? Check out my post about all the Glasgow Outlander filming locations dotted around the city.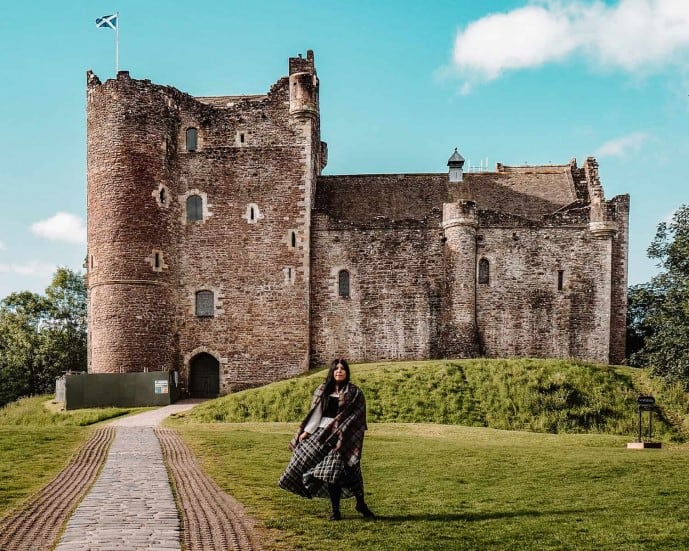 Like it? Pin it!