Did you know that you can get a spectacular view of Edinburgh Castle from Princes Street Gardens by the Ross Fountain?
Originally built in France, this gorgeous cascade showcasing mermaids and lions was bought and gifted to the city by Daniel Ross in the 19th century.
It has recently been beautifully restored and repainted making it one of the best photography spots in the city.
Here is how to visit Edinburgh's Fountain Park and the history of the Ross Fountain.
When was the Ross Fountain built?
It may surprise you to know that this cast iron fountain in the heart of Edinburgh was originally built in France.
The stunning Ross Fountain was constructed by Jean-Baptiste Jules Klagmann in the 19th century.
He made the piece in the Beaux Arts style at an iron foundry of Antoine Durenne in Sommevoire, France.
Durenne was a famous cast iron and bronze manufacturer. Statues made at his foundry can be found in many UK parks as well as in Spain, the USA, Canada, Venezuela, Colombia, and Guinea.
The fountain made an appearance at the Great London Exposition or the International Exhibition in 1862 and caught the eye of Daniel Ross.
A gift to the city of Edinburgh
Daniel Ross was so enamoured by Klagmann's fountain that he bought it in 1869 and decided to gift it to the city of Edinburgh.
As the sculpture was so heavy, it had to be split into 122 pieces and shipped to Princes' Street Gardens to be reassembled. It was a huge project that took years.
Unfortunately, Daniel Ross was unable to see the fountain completely finished. He died one year before the fountain was completed and opened to the public in 1872.
It was renamed the Ross Fountain in his memory and has remained here ever since. But, it has had a few improvements made over time.
Recently, a huge renovation project took place at the Lost Art workshop. It was again deconstructed into 122 pieces, repainted, and put back together again.
Instead of a plain brass colour, it is now a gorgeous mint green and gold which makes it pop.
It's a beautiful structure beneath Edinburgh Castle and makes a great photography location in the city.
Details of the Ross Fountain
A lot of people wonder what the wonderful details on the Ross Fountain depict and its meaning.
There are lots of ornate Beaux Arts features and symbolism you can look out for on your visit.
Cornucopia & Art, Science, Poetry and Industry
At the very top of the fountain, you'll see a lone figure holding up a Cornucopia or the Horn of Plenty.
This is traditionally a symbol and abundance, overflowing, and nourishment.
Beneath her, there are four female figures holding items that represent Art, Science, Poetry, and Industry.
Ross Fountain Mermaids
Beneath these ladies, you will see several gold faces that some pour water out of their mouths.
There are eight mermaids who sit on the fountain and pour water out of pitchers. Their tails have been painted mint green, the pitchers are in gold and the hair and upper bodies have been left in brass.
Although there are sirens on this fountain, it's certainly a popular bathing spot for seagulls! I couldn't help but be reminded of Scuttle from The Little Mermaid.
Walrus, Lion Heads, and Cherubs
In between the mermaids, you can find lots of intricate details in gold.
Look out for the cascades from lions' mouths, a walrus, and a cherub amongst other ornate pieces.
The longer you look at this fountain the more details you'll find. There were mermaid scales, grape vines, and fish.
The mint and gold paint has really brought this fountain back to life!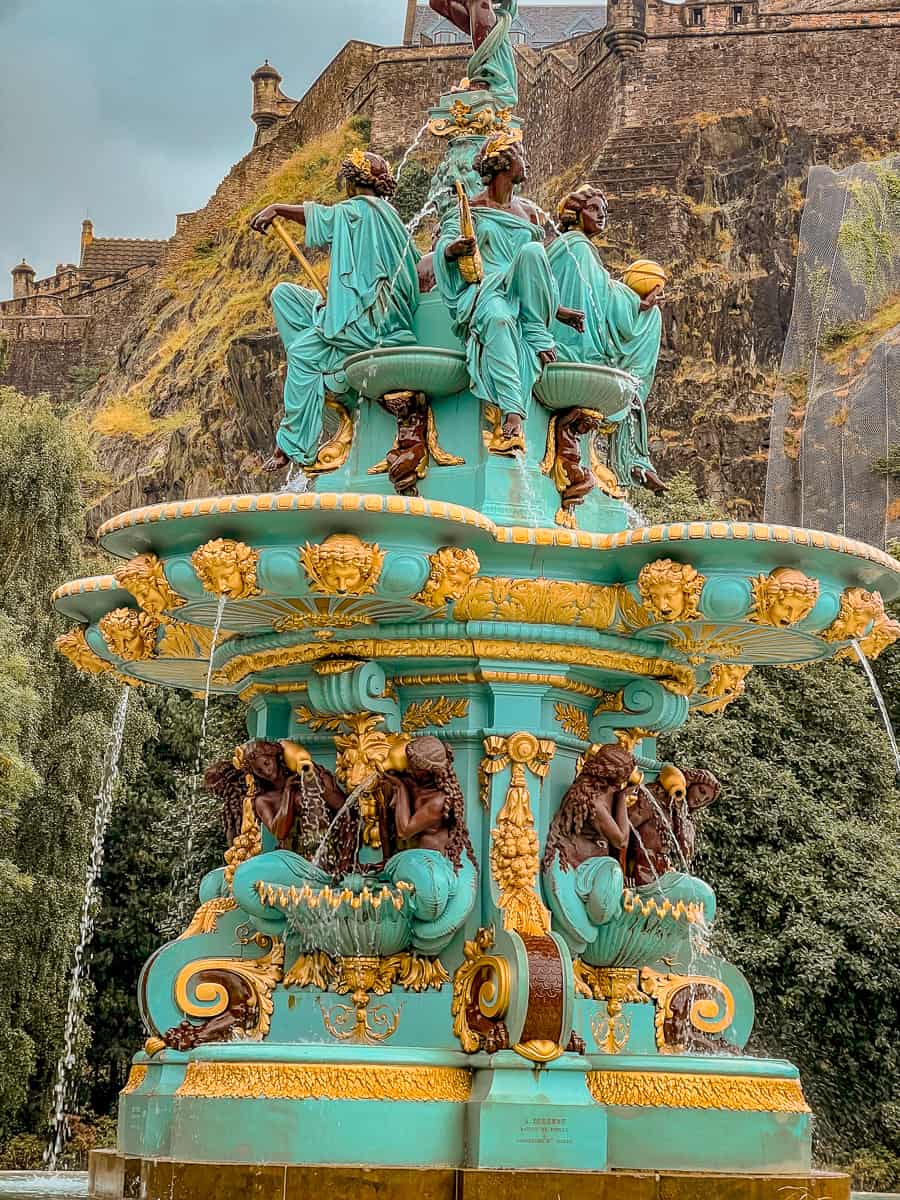 Where is Edinburgh's Fountain Park?
Edinburgh's fountain park is Princes Street Gardens and is aptly named after Princes Street, a major shopping street in Edinburgh.
It's in the heart of the city and you can easily walk here from top attractions such as the Royal Mile, Edinburgh Castle, and Calton Hill.
Edinburgh Waverley station is just near the gardens and it's a short 10-minute walk to the Ross Fountain through the park.
You can also visit Princes Street Gardens on the bus or Edinburgh trams.
How to visit the Ross Fountain in Princes Street Gardens
Princes Street Gardens is a huge park that has two sides to it that are called West and East.
You'll find the Ross Fountain in West Princes Street Gardens just inches away from the Ross Bandstand and the Play Park.
This area is where many public events take place throughout the year. You'll find events for the Fringe Festival, Christmas, and Hogmanay.
This is also very close to St Cuthbert's Steps and Kirk. Another place I would recommend visiting with a spectacular view of the castle.
If you prefer your phone to guide you, click here for a Ross Fountain Google Pin!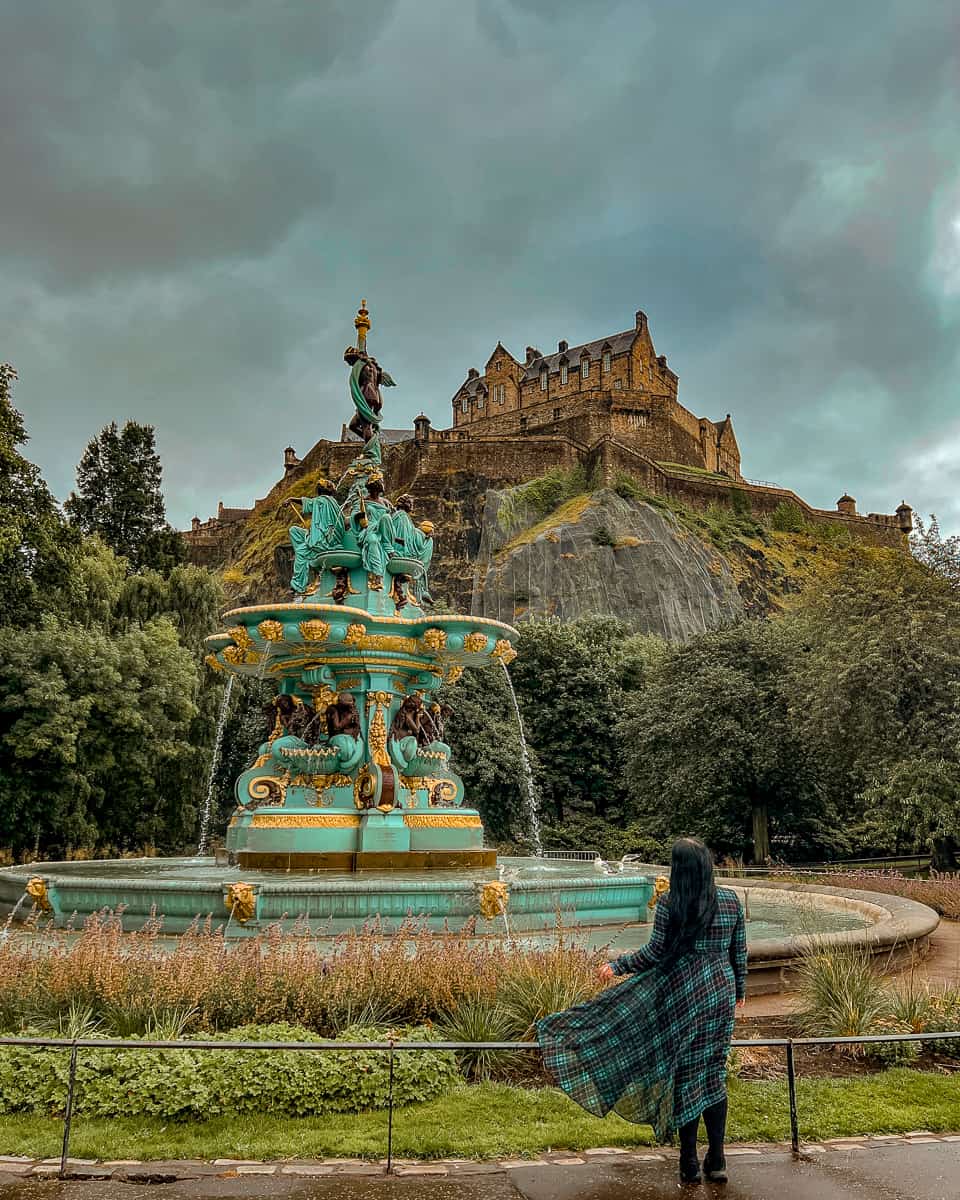 Other things to do in Princes Street Gardens
There are plenty of amazing things to do in Princes Street Gardens other than the Ross Fountain.
This park makes a great place to relax in the summertime or to stroll around with incredible panoramic views.
Fair warning, it is quite a steep park. Going down is fine but going up again can be tough on the legs.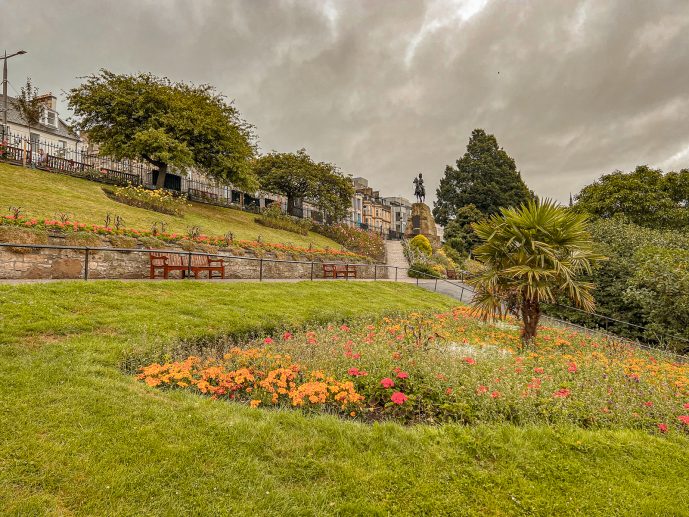 Statues & views of Edinburgh Castle
There are so many statues and memorials to find in Princes Street Gardens in between the trees and flowers.
One is of Corporal Wojtek, the Soldier Bear. He was a Syrian brown bear who worked with Polish forces during World War II and became an unlikely morale booster.
He eventually retired from the army and found a new home in Edinburgh Zoo. Former comrades used to visit him and give him gifts.
He's not the only military animal to live there. Major General Sir Nils Olav III is a King Penguin at Edinburgh Zoo who is a mascot and colonel in chief of the Norwegian King's Guard.
There is also the Royal Scots Greys Monument, the Scottish American Memorial, the Robert Louis Stevenson Memorial, the elephant sculpture by Andy Scott, and the Norwegian Memorial Stone.
You can take a wander around these scenic gardens and see lots of views of Edinburgh Castle. The historic residence of Scottish monarchs such as the notorious Mary Queen of Scots.
Gardener's Cottage
Tucked in a far corner of West Princes' Street Gardens, you'll find a storybook cottage by the Floral Clock.
It looks like a residence from a fairytale with its Victorian design and the colourful flower garden.
When the council was renovating these gardens in 1886, they built this cottage for the Head Gardener.
Today, there is a sign saying "Great Aunt Lizzie's Cottage". This is because it was featured in Teacup Travels, a CBeebies TV series.
No one lives here today but it is private property so you can only admire it from the outside over the hedgerows.
St Cuthbert's Kirk & Steps
St Cuthbert's Steps is a gorgeous view you can find next to Princes Street Gardens which has a view of Edinburgh Castle.
You can head into this evocative Kirkyard to see many historic gravestones and even more panoramic views.
Although not as famous as Greyfriar's Bobby there is another dog statue here called Bum!
Bum was a stray dog from San Diego who arrived in the city as a stowaway. He was loved by Victorian locals who fed and looked after him here. Aw.
Scottish National Gallery
The Scottish National Gallery can be found near the Scott Monument in East Princes Street Gardens in a place called The Mound.
The gallery is a free attraction with lots of historic art pieces as well as modern exhibitions.
This is not to be confused with the Scottish National Portrait Gallery which is just down the road. I actually prefer that art museum due to the architecture and the fabulous great hall.
Click here to read my guide on the Scottish National Portrait Gallery
Scott Monument
The Scott Monument is one of Edinburgh's most famous landmarks that is dedicated to Sir Walter Scott.
It was inaugurated in 1846 and is one of the largest monuments dedicated to a writer in the world at 200 feet tall (61 metres).
One crazy fact is that his statue weighs 30 tons and was carved out of a single piece of marble. It took six years to complete.
Beyond admiring the Gothic architecture and the statue from below, you can climb to the very top of the tower for panoramic views over the city.
Waverley Bridge
If you walk beyond the Scott Monument and head up the steps, you'll arrive on Waverley Bridge.
It's A listed and was built between 1894 and 1896. It was named after Walter Scott's novel Waverley.
Although it was built as a road bridge, it's now a taxi rank and pedestrianised street next to Edinburgh Waverley Station.
I know it sounds pretty standard but that's not all it has to offer. This bridge also has a beautiful viewpoint from the top.
From here, you can capture a gorgeous picture of the skyline with the cupola tower of St Gile's Cathedral in the distance.
Princes Street
Of course, no visit to Edinburgh would be complete without a walk down Princes Street.
Here you'll find lots of High Street names, department stores, and boutiques as well as cafés.
My favourite café here is the one in Waterstones bookshop. They have a section that overlooks the castle on the second floor.
It's very hard to get a seat by the window here. So, I would visit earlier or later for the best chance.
Another amazing view can be found on the upper floors of Princes Street Starbucks.
Ross Fountain opening times and ticket prices
Princes Street Gardens and the Ross Fountain are completely free to visit in the city.
It's a beautiful place to relax on a summer's day with the castle in the backdrop.
Edinburgh Fountain Park is open from 7 am. Closing times vary throughout the year depending on the season. So, always check before you go!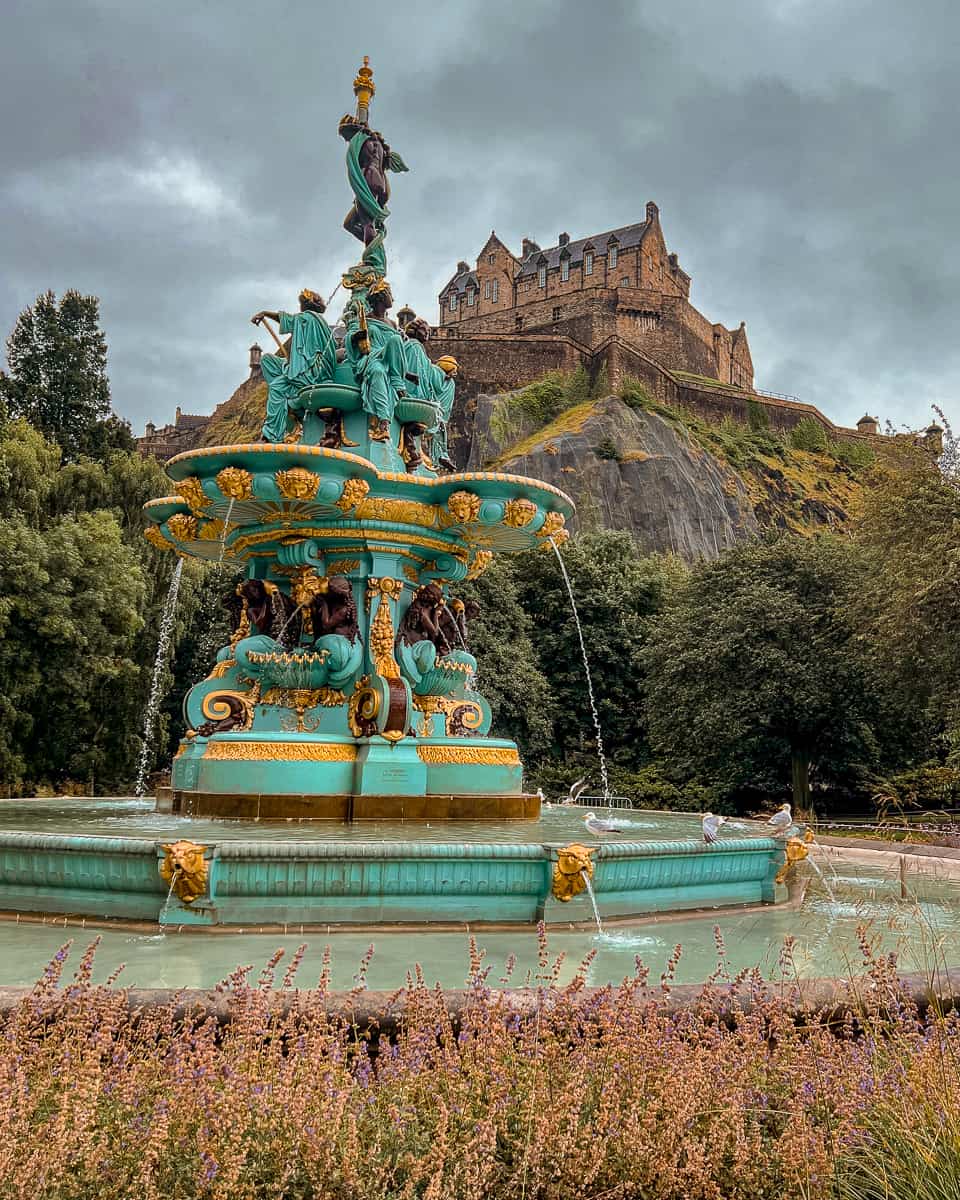 Ross Fountain FAQs
What is the fountain at the bottom of Edinburgh Castle? It's called the Ross Fountain and can be found in West Princes Street Gardens.
Where is Edinburgh's Fountain Park? It's Princes Street Gardens which can be found off Princes Street, the main shopping street in Edinburgh!
What is Ross Fountain made of? Cast iron and it was originally made in a workshop in France. It was transported to the city in 122 pieces and reassembled in Edinburgh Fountain Park aka Princes Street Gardens.
Read more of my Edinburgh guides
My complete photography guide to Edinburgh
Secrets of Queen Mary's Bath House
A complete list of Outlander film sites in Edinburgh
Why you must visit Bakehouse Close
A Complete Guide to the Vennel
The hidden gem of Tweeddale Court
Why Craigmillar Castle has to be on your list
Afternoon Tea? The Colonnades & The Balmoral are the best!
Discover Liberton Kirk in Autumn
The ultimate list of experiences in Edinburgh
Harry Potter locations in Edinburgh
Exploring the fairytale Dean Village
Toppings Edinburgh – independent bookshop
Why you must visit Lady Stairs' Close & Writer's Museum
Save the Ross Fountain Edinburgh for later!