Looking for all the Royal Mile Outlander locations in Edinburgh? This self-guided walking tour guide of the Royal Mile will take you to all the spots that feature in both the novels and the highly acclaimed TV series!
Also, I've included some extra bonus locations in the city that you can add on if you choose to.
Being a massive Outlander fan, I can tell you there is nothing more exciting than visiting some of the spots that feature in pivotal scenes in the story of Jamie and Claire. It's like being transported through time and you'll relive those moments all over again.
I would allow at least a few hours for this visit, especially if you want to pop into some of the attractions mentioned and explore the Royal Mile in depth.
Here's the 7 Royal Mile Outlander locations you can visit in Edinburgh!
What is the Royal Mile?
The Royal Mile is Edinburgh's most famous street and is the length of a Scottish mile. It runs all the way from Edinburgh Castle at the top, down to the Palace of Holyroodhouse.
Both have been home to Scottish and British royalty, hence the name of the 'road in-between'.
This road snakes through the historic Edinburgh Old Town. Years ago, the burgh of Edinburgh used to be much smaller. In fact, for centuries it only consisted of this road from the Castle to the beginning of Canongate!
Today, the Royal Mile is full of shops, museums, cafés, and attractions. It's lively with street entertainers, bustling with tourists, and provides no end of entertainment.
A visit to Edinburgh without including the Royal Mile would be incomplete.
If you'd like to see other bucket list items and things to do while in Edinburgh, see my ultimate Edinburgh bucket here.
How to reach the Royal Mile in Edinburgh
As one of Edinburgh's top attractions, it's really accessible and easy to locate in Edinburgh Old Town. As the Royal Mile is quite a steep incline, it's best to head down from Edinburgh Castle to the Palace of Holyroodhouse at the bottom on foot.
This itinerary has been put together in this order, but you can reverse it if you're starting off from Holyrood House too.
Royal Mile by Bus or Train: The Royal Mile has several bus stops including the Museum of Childhood and Princes Street. The services 31 and X37 stop here. The nearest train station is Edinburgh Waverley station.
Royal Mile Outlander references
If you're wondering when the Royal Mile features in Outlander, it plays a part in both the second and third novels and series 3 of the Outlander TV series.
In the second novel, 'Dragonfly in Amber', Jamie and Claire live in Edinburgh for some time trying to stop the Jacobite rebellion from taking place.
In the third novel, 'Voyager', Jamie returns to Edinburgh after Culloden, Ardsmuir Prison, and Helwater and sets himself up as Alexander Malcolm with a print shop on Carfax Close. Claire, after finding his records, returns through the stones and reunites with him here.
In the Outlander TV series, we first see Edinburgh in series 3. Jamie is now Alexander Malcolm and has a print shop on Carfax Close.
Claire reunites here with Jamie after twenty years apart. She's then reunited with Fergus at a market, saves Mr. Willoughby from a brawl at The World's End Tavern and they both stay at Jamie's lodging's in Madame Jeanne's brothel.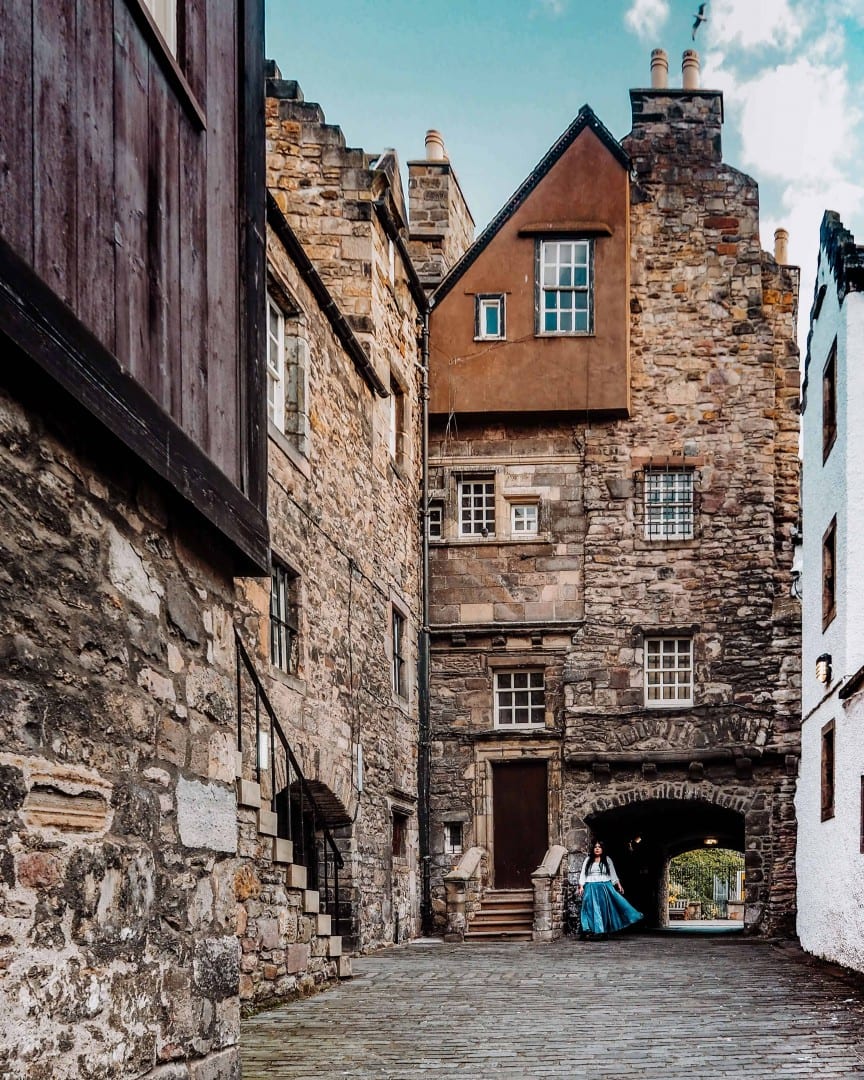 Royal Mile Outlander locations itinerary
Start out at Edinburgh Castle, which was the seat of Scottish monarchs for centuries, and make your way down to Parliament Square.
Along the way, you can stop at Gladstone's Land which is a National Trust for Scotland property and one of the oldest buildings on the Royal Mile. Inside is a shop selling all sorts of Outlander souvenirs, including MacKenzie and Fraser tartan!
Also, note St. Giles Cathedral Cathedral which is the High Kirk of Edinburgh founded in the 12th Century. Our first location is the Colonnades at the Signet Library just behind it.
1. The Colonnades at the Signet library
Series 3 Film Location
Did you know that none of the Jamaican scenes in series 3 were actually shot there? They were all shot in South Africa and Scotland!
The Signet Library in Edinburgh featured as the interiors of the Governor's Mansion in Jamaica which turns out to be Lord John Grey.
The Upper Signet Library was transformed into a beautiful ballroom full of the aristocracy with powdered wigs and lashings of champagne (which was actually Ginger ale on set!). There was also a room used here as John Grey's office too.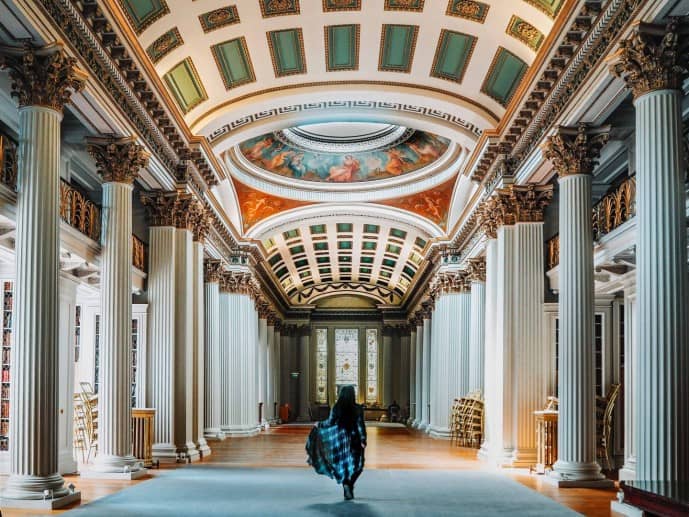 The Upper Signet Library and the 'office' is closed off to the public but you can pop in for a Colonnades afternoon tea at the Signet Library on the lower floor. The room is almost identical and you can toast a glass of Ginger Ale like the cast did too.
There was also another Outlander reference here, Ned Gowan the lawyer in Outlander, was a previous Writer of the Signet.
I was able to visit the Upper Library, so if you want to read more about it and an afternoon tea review, read my review of Afternoon Tea at the Colonnades!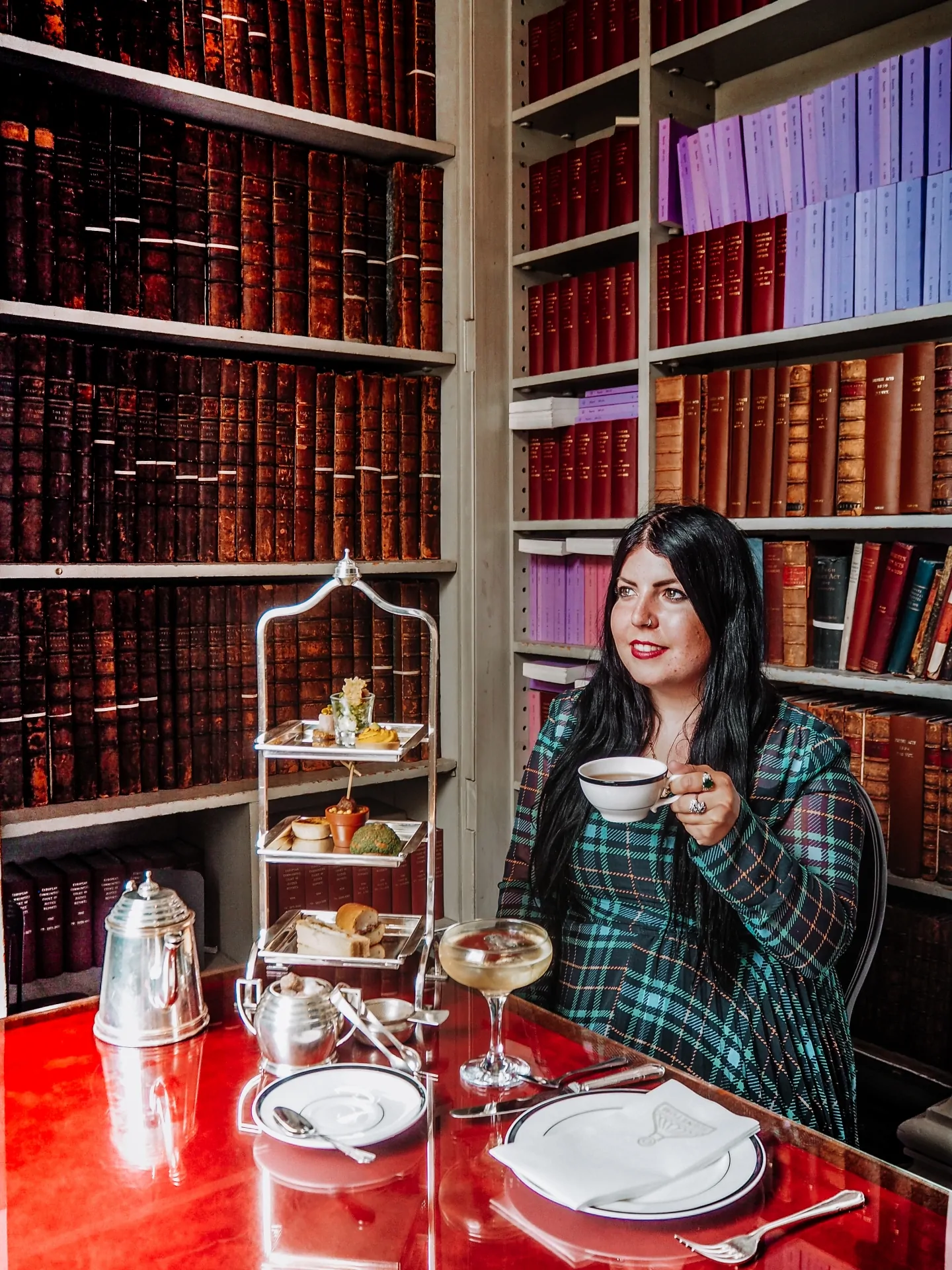 2. Old Tolbooth Jail
Dragonfly in Amber reference
The Old Tolbooth is a famous spot on the Royal Mile. Years ago, it was a notorious prison that was attached to St Giles Cathedral.
The Tolbooth did what the name says on the tin, it was a toll collection booth. It was also a municipal building where trade merchants would set rules and regulations and the Tolbooth bell used to ring out to signal when the market opened. It would also hold a court of sessions before Parliament House was built.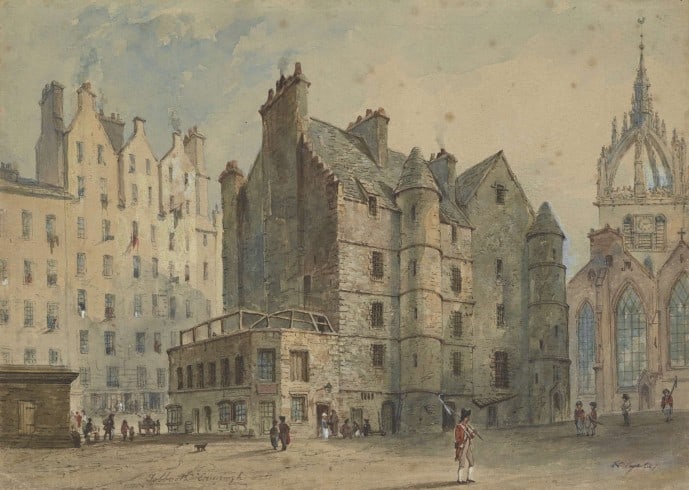 In the 15th Century, it developed into a prison. The prison conditions were hellish with gruesome conditions. Some dubbed it 'the thieve's hole' (another Outlander reference from series 1)!
One notable prisoner kept here was Deacon Brodie. A respected councillor by day but a thief by night. You can visit the famous Deacon Brodie tavern on the Royal Mile for a dram and his full story about his double life!
In Dragonfly in Amber, Claire delivers medical supplies and blankets for the men of Lallybroch who have been imprisoned at the Tolbooth Jail.
This is not to be confused with the Canongate Tolbooth & Tolbooth Wynd further down.
3. Tweeddale Court
Series 3 Film Location
After you've sipped on afternoon tea and indulged in some treats, it's time to burn off some calories. Head down the Royal Mile once more towards Tweeddale Court.
Look out for the Museum of Childhood which is close to it and the Scottish Storytelling Centre which is opposite.
You'll eventually end up at the beginning of Tweeddale Court with its ornate entrance sign and 'Tweeddale Court' at your feet. Head through the long alleyway until you reach the courtyard.
Royal Mile closes are a bucket list item when exploring Edinburgh and this particular wynd is a peaceful oasis compared to the main road itself.
In Outlander, This sleepy courtyard was transformed into a bustling 18th-century marketplace and is where Claire is reunited with Fergus.
It's one of the Royal Mile's most historically preserved streets and gives you an idea of what it would have looked like years ago.
Look out for Tweeddale House in front of you, founded in the 16th century, which also was home to the Earl of Tweeddale, a senior advisor to Charles I. It's also home to Edinburgh's smallest listed building, a Sedan Chair house!
Read my complete Outlander guide for Tweeddale Court here
4. The World's End tavern
Series 3 Film Location and Voyager reference
Next up is The World's End which is a minute walk from Tweeddale Court. After Claire, Jamie and Fergus are all reunited, they head to the World's End Tavern to save Mr. Willoughby from a brawl.
This tavern was mentioned in Dragonfly in Amber as Dougal MacKenzie's favourite inn and is featured in Voyager and Outlander series 3.
Although the World's End Tavern that featured in Outlander Season 3 was shot in a studio, there is a famous pub with the same name on the Royal Mile.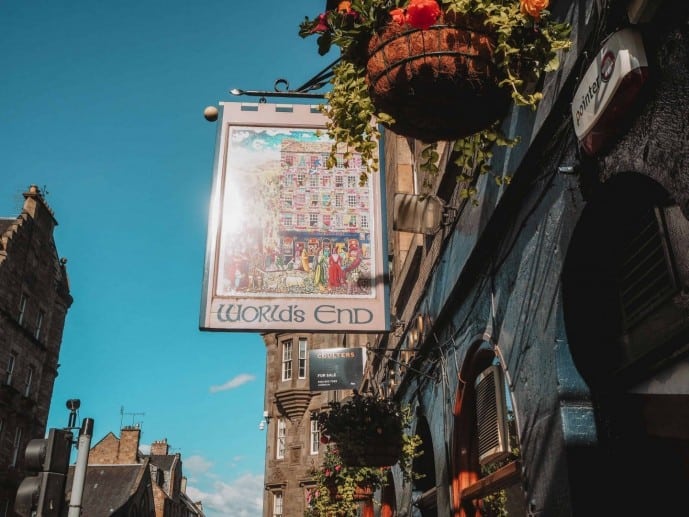 Years ago, the remit of the city of Edinburgh consisted solely of the road leading from Edinburgh Castle to the beginning of Canongate.
The Battle of Flodden between England and Scotland was one of the bloodiest battles in British history. It was a devastating defeat by the English that led to the death of James IV and 10,000 of his men. In reaction to this, Edinburgh built a wall around the city to protect itself.
The wall started at the Castle and ended at the entrance of Canongate. A gate called Netherbrow Port stood in between Canongate and Edinburgh. "Nether" means furthest and "Brow" means gateway.
People of Edinburgh would have to pay to leave the city and if you couldn't pay, you couldn't leave! This gate marked the end of the world as the people of Edinburgh knew it, hence where The World's End get its name.
Also, note opposite is The White Horse Tavern where Claire pulls up in her carriage in Voyager.
It's a must-visit while you're in the city and is a great inn with good pub food too.
Read my complete Outlander guide for The World's End Tavern here.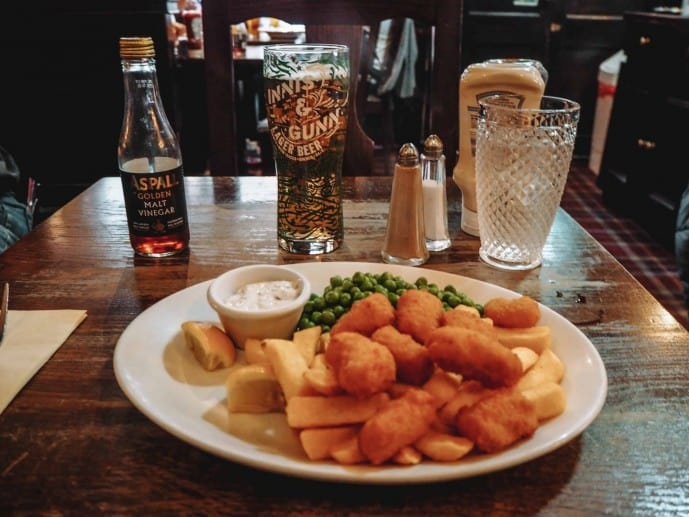 5. Bakehouse Close
Series 3 Film Location, Voyager reference
Head a little further on to Bakehouse Close in Canongate that can easily be identified next to a bright yellow building that houses The Museum in Edinburgh.
Walkthrough this alleyway and you'll travel through time to Carfax Close with Alexander Malcolm's print shop. Carfax Close was both mentioned in the novel Voyager and in series 3.
Out of all 80 closes on the Royal Mile, Bakehouse Close is the most preserved. So, you will really feel like you've been transported to the 18th century here! Of course, the A. Malcolm sign isn't to be seen or a closed stairway. But, the alleyway and the stairway are instantly recognisable.
You can walk up the stairs like Claire did and get a great photo opportunity too.
Another Outlander scene shot here were exteriors of Madame Jeanne's Brothel using the exterior building of Edinburgh World Heritage based in Archeson House.
Archeson House used to be home to a real brothel called the Cock and Strumpet, and you can still find the Cock over the Trumpet sigil above the doorway.
To read more about a visit to the Outlander print shop, see here.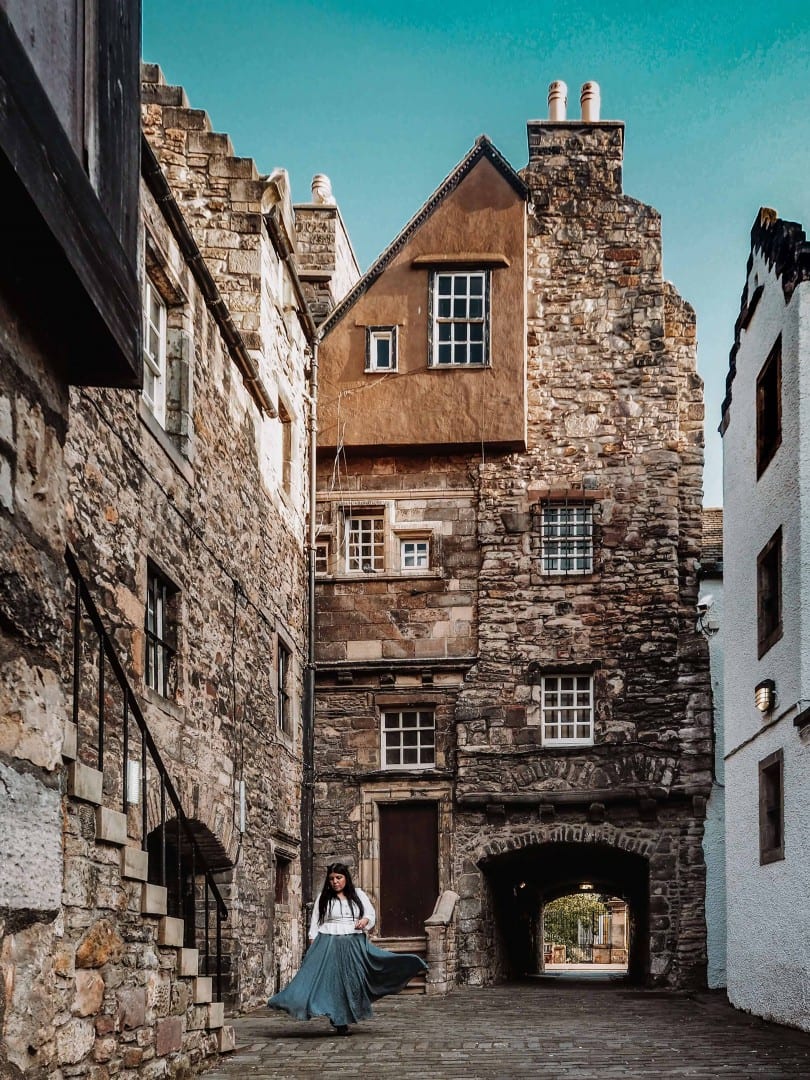 6. Canongate Kirk or The Kirk of the Canongate
Dragonfly in Amber reference
Almost opposite Bakehouse Close, you'll find Canongate Kirk which is a little church with a fascinating history. The Canongate used to be a completely separate burgh until it was absorbed by Edinburgh in the mid-19th century.
The church was founded In 1688. Previously to this, the citizens of Canongate would use the Holyrood Abbey on the grounds of Holyrood House.
But, James VII ordered for Holyrood Abbey to be made into a Chapel for the Order of the Thistle and for a new church to be built.
The Kirk of the Canongate was designed and built by Master Mason James Smith and opened in 1691. The church is Dutch in style and has had many developments and reconstructions made even until this day.
In Dragonfly in Amber, Colum Mackenzie meets Claire and Jamie to speak away from the Palace of Holyrood House.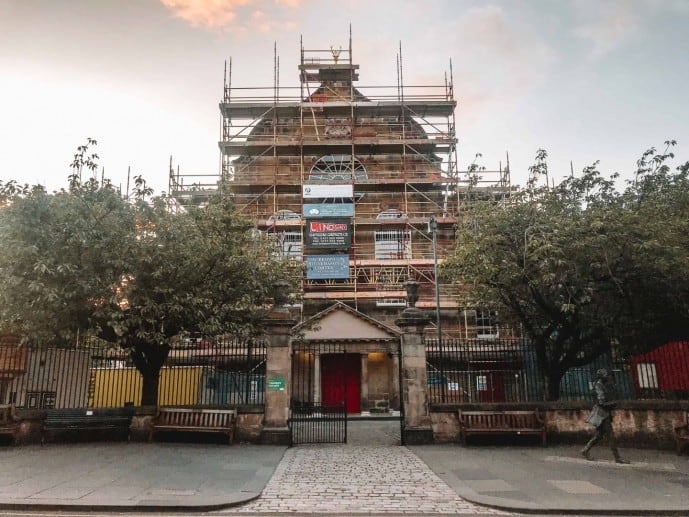 7. Palace of Holyroodhouse
Dragonfly in Amber & Voyager reference
Holyrood Palace in the Canongate was where Claire and Jamie live in Edinburgh with Bonnie Prince Charlie for five weeks in Dragonfly In Amber. He stormed through and took the city of Edinburgh.
It's here they infiltrate the high seat of the Jacobite rebellion, attending lavish parties in the galleries and trying to stop the doomed cause. Again, in Voyager, Claire visits Canongate and shivers at the memory of their stay in Holyrood House.
Today, the Palace of Holyroodhouse is Her Majesty the Queen's official residence in Scotland. You can pay a visit at the bottom of the Royal Mile and explore stunning staterooms, the ruins of Holyrood Abbey, and the royal gardens.
Historically, Holyrood Palace was the official residence of Scottish monarchs and was the home of Mary Queen of Scots during her short and turbulent reign.
I would allow a couple of hours here as there is so much to see and learn!
Click here to find out how to book tours of Holyrood House!
Outlander locations on the Royal Mile map!
You can access my FREE map of all the Outlander locations on the Royal Mile here;
Click here to access my FREE Outlander locations on Edinburgh Royal Mile Map!
Bonus Edinburgh Outlander locations in Edinburgh city centre
Summerhall
Series 3 film location
Today, Summerhall is a multiple arts village that funds hundreds of theatrical productions, provides workspaces for arts and exhibitions. It's also a major venue for the Edinburgh Fringe Festival and wins countless awards for its performances.
But, back in the day, it used to be the site of the Royal (Dick) Veterinary College as part of the University of Edinburgh.
Summerhall's Anatomy Lecture Hall, the only one left of its kind in the UK, featured in Outlander as a lecture hall at Claire's medical school.
It was here that she studies as an intern to be a medical professional is snubbed by her fellow classmates and meets a kindred spirit in Joe Abernathy. They both graduate together and become partners in medical practice in Boston.
You can visit Summerhall for free, read my Outlander guide for Summerhall here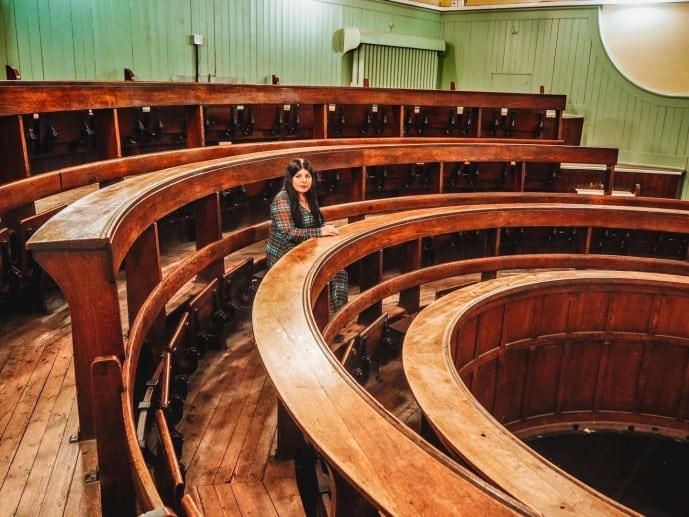 Craigmillar Castle
Series 3 film location & Voyager reference
Craigmillar Castle used to be a royal getaway for Scottish monarchs out of the city. Most famously, Mary Queen of Scots fled here after her secretary Rizzio was murdered and she plotted for the murder of her husband Lord Darnley here too.
In Outlander, Craigmillar Castle featured as Ardsmuir Prison where the Jacobite rebels were imprisoned. In the books, this was located in Coigach in the Highlands but the film location is actually only 2 miles out of the city centre of Edinburgh.
It's so much quieter here than the touristy Edinburgh Castle and you can get lost in its maze of rooms, nooks, crannies, and stairways. Even standing in the room where Mary Queen of Scots slept.
If you want to know details of all the Outlander locations at Craigmillar Castle, be sure to read my Outlander guide about Craigmillar Castle here!
Looking for more Outlander locations to visit around Edinburgh?
There is no end to Outlander locations around the city of Edinburgh, so make sure you leave enough time to explore them all! Check out my complete list in the city and beyond here.
Glencorse Old Kirk is well worth a visit and is the church where Claire and Jamie were wed and nearby Roslin Glen with its Gunpowder Mills is where Jamie says "You're ripping my guts out Claire!" in Season One.
Gosford House in East Lothian featured as the Royal Stables in Versaille and Helwater Estate in series 3. While Preston Mill featured as Lallybroch Mill in series 1.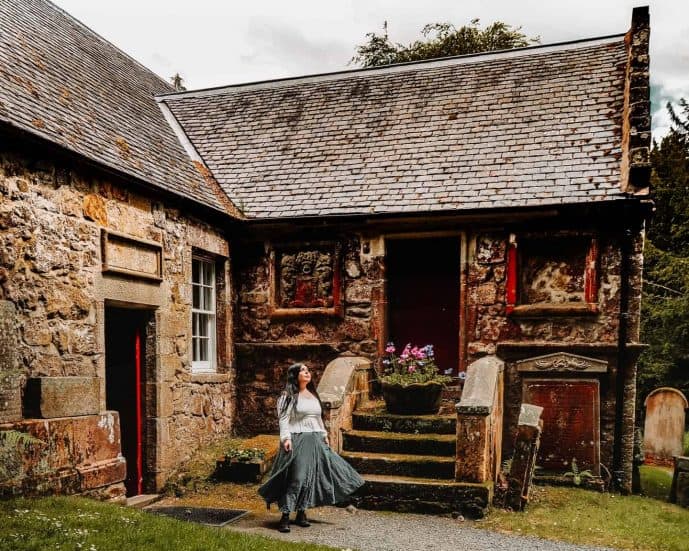 You can actually visit Lallybroch by heading to Midhope Castle, Abercorn Church where Bree says goodbye to Frank or the wider Hopetoun Estate has many Outlander locations including the Duke of Sandringham's Estate and the entrance to Maison Elise.
Blackness Castle is where Jamie was flogged in Fort William, Linlithgow Palace is the dreaded Wentworth Prison and Bo'ness is where Claire and Frank said their goodbyes in World War II.
The Royal Borough of Culross played Cranesmuir with its West Kirk as the St Nick's Kirkyard and the village of Falkland featured in the iconic scenes of 1940s Inverness! You can even stay the night here in the same room that Claire and Frank did.
Further afield is Doune Castle that played Clan MacKenzie's Castle Leoch, Deanston Distillery that has Jared's wine store in La Havre, and or get a feel for the Gardens of Versailles in Drummond Castle Gardens.
If you're really keen, you can read my post of over 90 Outlander film sites here, or check out my Outlander locations in Glasgow post full of Outlander sites in the city!
Read my Edinburgh travel guides
All the Outlander locations in Edinburgh
Harry Potter locations in Edinburgh
How to visit the Harry Potter graveyard
A complete guide for Armchair Books
Why you must visit Dean Village
A complete guide for the Vennel
How to find Bakehouse Close from Outlander
The hidden gem of Whitehorse Close
Signet Library Afternoon Tea review
Why you must visit the World's End
A complete guide for Circus Lane
The mystery of the Burke and Hare Coffin Dolls
Queen Mary's Bath House in Edinburgh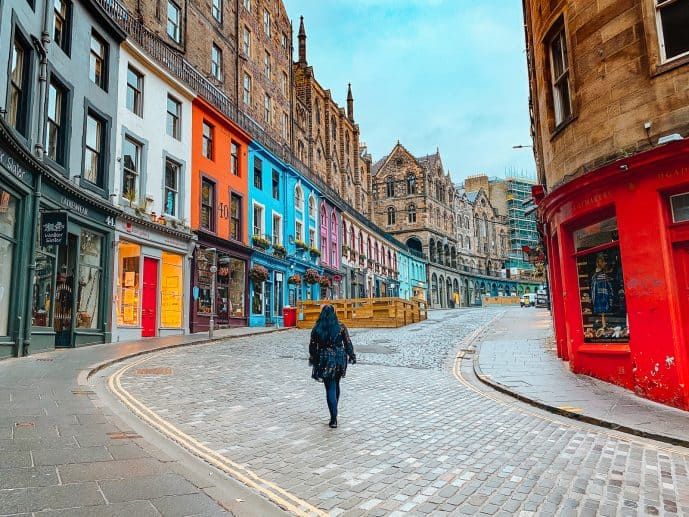 Save these Royal Mile Outlander locations for later!