A little bit of a hidden gem in the Lake District National Park is the mind-blowing Rydal Cave.
Originally an abandoned 19th-century quarry, it has since been preserved and is now open for the public to enjoy.
As well as Rydal Cave being your final destination, this scenic walk will take you on a stroll through the idyllic White Moss woods, next to Rydal Water, and finally, to the cave.
It's a fabulous and easy walk that the whole family can enjoy for a day out in nature. Plus, it has some jaw-dropping views on the way.
In this complete travel guide to Rydal Cave, I will take you through how to find it, the best walking routes, what to wear on your walk, parking options, and how long you need to!
I almost feel a little bit of an expert now as I did this walk twice due to bad weather cancelling the first attempt. So, I have lots of personal experiences to share.
Rydal Cave History
Although many caves in the UK are natural, I'm afraid to say that Rydal Cave is a man-made wonder in the Lakes.
Rydal Cave used to be called Loughrigg Quarry. The Lake District is famous for its slate and, in the 19th century, Loughrigg Fell was a Slate Mine where it would be sourced from.
The slate from the cave was used for housing and to create the famous roofs you'll see on top of buildings. A great example of a traditional slate roof is the Bridge House in Ambleside.
The track that you will be walking on towards Rydal Cave was created to enable the workers to export the slate from the quarry to the main road for transport.
Apparently, there used to be more than one quarry here years ago but they have since fallen. Rydal Cave is all that remains.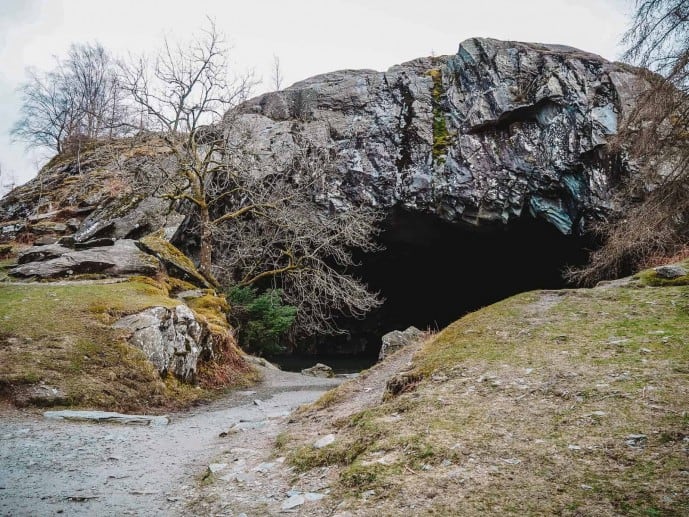 Rydal Cave Witcher filming location!
I'm a HUGE fan of The Witcher and so when I saw Rydal Cave featured in the second series on Netflix, I was over the moon that I had visited!
Rydal Cave features in The Witcher episode 7, "Voleth Meir" and this is where Geralt takes Jaskier to have a bath after he rescues him from Oxenfurt prison.
Click here to watch the Rydal Cave Witcher filming location!
You'll see where Jaskier hops along the stepping stones to bathe and change while Geralt holds onto his jacket.
Geralt then discovers that Yen has lost her magic and he believes she is going to sacrifice Ciri, his child surprise, to get her magic back!
If you did want to visit even more Witcher filming locations in the Lake District, you can visit both Hodge Close Quarry and Blea Tarn that featured in the show.
Click here to read my complete guide of all The Witcher filming locations in The Lake District!
The Witcher team also filmed around Yorkshire and Durham and you could visit these incredible locations too.
You'll see places such as Fountains Abbey wheye Yennefer save Cahir. Plumpton Rocks is where Geralt fights the Chernobog and Lower Force Waterfall is where Yen and Ciri try to cross the river.
Or, you can visit the impressive Gordale Scar where Ciri is trying to flee the Myriapod.
Where is Rydal Cave in the Lake District?
Rydal Cave is hidden away in the countryside near Rydal Water in the Lake District National Park.
There are multiple walking routes to access it from Grasmere Village, Rydal Village, Ambleside, White Moss Car Park, and Loughrigg Fell as well.
Despite it being quite remote, it's easy to find once you're on the right walking route. Plus, there are some signs inside the White Moss woodlands and Rydal Water to guide you towards Rydal Cave on the way.
Personally, I found the signs were easy to follow…until they stopped completely halfway! So, later in this guide, I'll give you some walking instructions with pictures too.
How long is the Rydal Cave walk?
This is completely subjective to where you start the walk from and your speed. But, I found that the White Moss Car Park to Rydal Cave walk took me around thirty minutes.
It may have been a little longer for me as I stopped to take a few photos! The views were simply too fantastic to resist.
Obviously, this will take a while longer from Grasmere, Ambleside, and Rydal Village. According to Google Maps;
From Grasmere – the distance is 2 miles and will take you 45 minutes
From Rydal Village – the distance is 0.8 miles and will take you 20 minutes
From Ambleside – the distance is 2.2 miles and it will take you around 50 minutes
From Loughrigg Fell – the distance is 1.4 miles and it will take you around 30 minutes
Rydal Cave opening times and prices
Like a lot of the Lake District, many of the wonders here are accessible to the public completely free of charge.
Rydal Cave is also completely FREE to visit and there are no tickets required to walk through Rydal Water and the cave.
It also doesn't have any time restrictions on visiting and it's open 24 hours a day, 7 days a week. I would definitely leave a lot of time before sunset for this walk.
Although it is completely safe to walk here at night, it will be pitch black with low or limited lighting around Rydal Water and White Moss.
The first time I attempted this walk, I got stuck in the rain and it was around 10 minutes until sunset.
So, I decided to turn back and avoid a moonlight scrabble to get back to my car!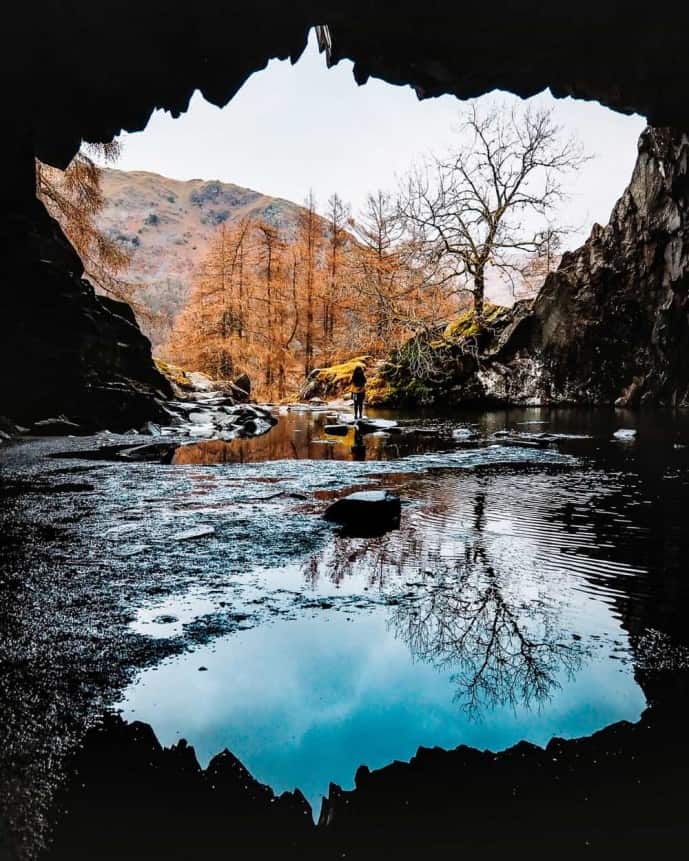 Where to park for Rydal Cave
If you're looking for the closest car park to Rydal Cave, White Moss or Rydal Water Car Park is your best bet. But, as White Moss is a popular walk, the car parking charges here are quite expensive.
I got a top tip from a local to buy extra time as the car park is camera-controlled. The Rydal Water Car Parking charges are steep:
10 minutes or under: FREE
First hour: £2.50
Additional time: is 40p for every 20 minutes (eg. 3 hours is £4.90!)
Maximum charge for all day: £8
WARNING: be careful when parking & don't outstay your limit! The car park is a camera controlled with 'Park With Ease' and tracks license plates. It can see when you park up and when you leave. So, even if you're a minute over you'll be charged for that time. A lot of people on online forums have complained about being charged late fines even when they returned on time. This is why I chose a free parking option.
Free parking for White Moss walks
I had heard some horror stories about the 'Park With Ease' parking. So, I looked for an unrestricted option. There are a lot of unrestricted lay-bys on a side road off the A591.
Unfortunately, it's an unnamed road but I'll put an aerial view map below. It's just beyond the White Moss Car Park.
Or, there's a FREE car park at the top of the unnamed road (aerial view pointer below).
These free options do pack up in the low season, so I would definitely recommend getting there early or later in the day.
Facilities at White Moss Car Park
There is a FREE toilet near the White Moss Car Park that is a few minutes away from Rydal Water Car Park.
After that, there aren't any toilets on the walk to Rydal Cave itself. So, go before you head out!
It's really clean with actual toilet seats (not just a metal bowl), toilet paper, and soap with running water although cold. I was really impressed.
Around the park, there are some benches and picnic benches to bring your own lunch. But, no cafés or restaurants here to speak of.
There may be an ice cream van set up in summer but I was here in winter. Not a soul in sight!
What to wear for your Rydal Cave walk & packing list
Although the Rydal Cave walk was relatively easy, I would still prepare with the appropriate walking gear and dressing to prepare for the weather (a mistake I learned my lesson from).
This is the Lake District after all and it does have changeable weather!
That means good walking shoes, a coat if you need it, and waterproofs if it looks like it's going to rain.
Also, the Rydal Cave is WET, whatever the weather, so it's good to have waterproof boots.
The first half of the walkthrough White Moss Woods is covered with trees but the last half of the Quarry Path leading to Rydal Cave is open air. Not great if it's pouring down.
Things I would recommend bringing with you
A day pack with a bottle of water and snacks
Lunch if you feel you're going get hungry
A coat or a warm jacket for the weather
A good book – there are so many good reading spots
Camera, pics or it didn't happen!
Rydal Water Car Park / White Moss Car Park to Rydal Cave walking route
I started my route from my free parking spot on the side road near Rydal Water Car Park (aerial view above) and walked along the A591 road towards White Moss Car Park to start my walk.
There didn't really seem to be a way to shortcut away from White Moss Car Park without climbing down a muddy slippy hill.
So, I would recommend heading over to the White Moss car park first.
Once you're here, it's easy to navigate onto the main walking path towards the River Rothay and White Moss Woodlands to access Rydal Cave.
1. Start off at White Moss Car Park and follow the trail down to River Rothay
Once you head inside White Moss Car Park, you need to head down towards the River Rothay, past the public toilets to your right. It's easy to spot the river bend floating through here straight ahead of you.
Once you reach the River Bend, follow the path towards the right and you'll eventually reach a bridge to cross over the river.
2. Cross over River Rothay via the bridge and continue straight on
Once you reach the bridge, you'll spot a sign pointing you towards White Moss Woods and Rydal Cave.
Cross over the bridge, taking in the views from the River Rothay.
Once you're over the other side of the bridge, you'll come to a fork in the pathway. Follow the left-hand walking route guiding you to Rydal Water.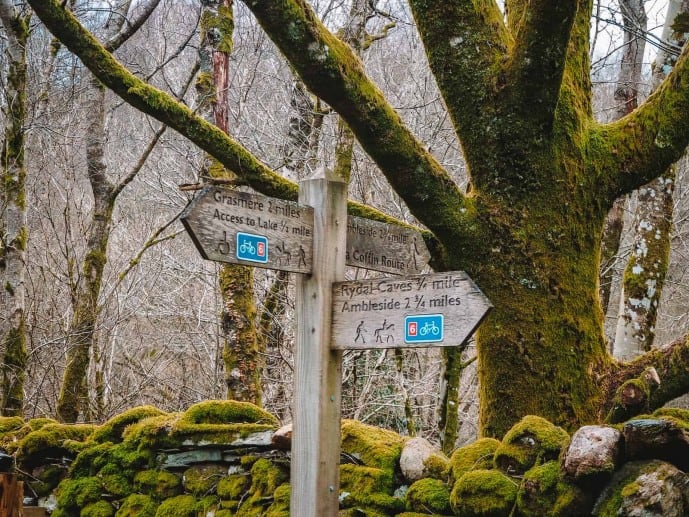 3. Once you reach the White Moss woodland area continue straight on
As you head past the signs, you'll now be on the trail through White Moss woodlands and it's almost a straight path through the woods at this point.
This was one of my favourite parts of the walk as it's really scenic with trees on either side. Green moss growing on the rocks and tree bark.
I would definitely take some time to enjoy this part of the walk.
4. Once you reach the stone ruin on your left and walk through the wall, continue straight up the hill
Eventually, you will arrive at a stone wall in front of you and to your left.
Here, you'll see an old stone ruin that looks like an old farmhouse.
Once you walk through the stone wall in the gap, this is when the signs completely stop. There is no sign telling you where to go!
Someone else who was walking guided me straight onto the path up the hill towards the caves.
From this point, there is a muddy shortcut you can take which is straight ahead of you and will take you to the cave.
Or, head to your right on the beaten path following the stone wall along and then take your first left at the pathway to avoid the mud!
I did this and I think it's the better option if it's wet.
5. Once you've reached the top of the hill, continue straight on the path the whole way around
Once you're on this pathway it will lead you on a ridgeway heading into the hills towards the cave.
Once you're on this path on the hillside, you follow the walking path straight to the cave. So, there isn't really an option to get lost!
There are also some benches along here to enjoy the amazing views of Rydal Water on your left as you walk along.
This is where I kept pausing to take photos. It's just so pretty.
6. Eventually you'll see an opening and reach Rydal Cave on your right!
In a few minutes, the path will lead you to a larger opening. Keep walking straight and you'll find the Rydal Cave on your right!
If there are other people around it's really easy to spot as everyone will be gathered there.
To get back to my car, I just headed back to the same way. But, there are lots of walking routes around the area you can take from here too if you're not ready to go home yet!
Walking route from Rydal Village to Rydal Cave
The walking route from Rydal Village to Rydal Cave is the shortest way to access it, but can be a little steeper as you'll be heading up a sharp hill.
From Rydal Village, you'll need to navigate onto the main A591 road.
From here you'll need to walk West until you reach the Glentrothay Hotel and Badger Bar.
Opposite this pub is a turning to the left heading into the Rydal Water and the River Rothay.
From here, you can choose to take either the path walking alongside the River Rothay to your right or the left pathway straight up to the caves. It just depends if you want to see the shoreline of the river.
Continue straight on until you reach a hill heading upwards, there will be a smaller cave on your way. But, head-on for the main one.
At the top of the hill, you'll reach the Rydal Cave!
Walking route from Grasmere to Rydal Cave
On a nice day, a walk from Grasmere to Rydal Caves would be really lovely. Especially if the sun is out as you could make a day of it.
I would recommend parking in the Broadgate Meadow Car Park in Grasmere which is closest to the beginning of your walking route.
From the Car Park, you'll need to head out onto the main road A591 and head towards Ambleside. The A591 has a walking path and it will take you alongside the River Rothay.
Eventually, you'll turn into a signed walking route into a woodland area on your right.
Once you continue into the woods, you'll eventually cross a bridge over the River Rothay.
From here turn right and walk on, then take a sharp left.
Continue on this path until you take a right, then continue on this path until you take a slight left (not dead left) at the intersection.
This path will lead you to Rydal Cave (screenshot of walking route below).
Walking route from Ambleside to Rydal Cave
From Ambleside, you'll need to navigate onto Rydal Road and follow it down towards the A591 in the direction of Rydal and Grasmere.
Eventually, you'll reach the stone Pelter Bridge near the welcome sign for Rydal. Cross over this bridge and head towards the Pelter Bridge Car Park in Under Loughrigg.
You'll walk past the Pelter Bridge Car Park and follow the bend around the road to your left. Passing 1 Cote How Cottages and 4 Steps End Cottages on the way.
Continue straight on the path until you reach the small caves and the hillside leading up towards the cave (screenshot of walking route below).
Once you've reached the top of the hill, you've reached Rydal Cave!
Things to do at Rydal Cave once you get here
So, now you've reached Rydal Cave, what do you do now? Well, the good news is there is actually quite a lot to do here for a short while.
It's not overly extensive but you could easily spend 20-30 minutes here exploring. Plus, leave lots of time for photo opportunities.
It's quite a popular attraction on the walks around Rydal Water. So, you may have to do a bit of a build-up to go inside the cave and out.
1. Hop over the rocks over the water inside of the cave
From all the pictures I saw online, it looked like the cave was dry and it was easy to just walk in. But, that is far from the case here.
It's actually got a body of water on the entry to the caves and there is a small stepping stone path to get inside! It's not just for the rainy/winter season either.
This small pond at the entrance to the caves stays here all year.
I would love to say that these stepping stones into the caves are easy for everyone. But, they're actually quite tricky shapes with huge gaps. Luckily, the water isn't too deep.
There are two routes inside. You can either go inside via the stepping stone route down the middle. Or head around the side on the right with some sharp rocks to scramble over.
The only reason why I was a little concerned was for my camera equipment! So, if you're worried about the water (and your balance!) I would opt for the right-hand route.
It can get busy as the stepping stones only really take one person at a time.
Is it safe to enter Rydal Cave?
Apparently, there used to be a sign here warning people to not go into the caves. I guess it was from the fear of the caves falling down around you.
As they've stood the test of time and haven't changed since the 19th century, I'd say the chances are pretty slim of any immediate danger. Plus, the UK rarely sees large earthquakes or anything like that.
You go inside at your own risk. But, I was more worried about slipping on the stepping stones and getting wet feet than the cave falling in lol!
2. Look back and see the giant teeth shape
Once you're inside the caves, many people go straight towards the back to see what's inside.
Spoiler: not much! It just leads to a dead end.
But, it is pretty cool to see the rock formations and the evidence of the slate quarry from all those years ago.
The best thing by far about Rydal Cave is the awesome reflection in the water.
When you have a look back outside at the jagged opening to the cave, the reflection in the water almost looks like teeth!
This is an awesome photo opportunity that many miss. So, make sure you capture it while you can.
3. Spot Goldfish!
Like earlier, the body of water at Rydal Cave is permanent and even inside the cave, it's pretty leaky and wet especially when it's raining.
Over the years, since the quarry is no longer here, this water has attracted many insects, birds, and even fish to make this their new home.
You can spot cavefish like minnows inside the water! Also, you're meant to look out for the Goldfish, but that seems to be more of a local legend.
I have absolutely no idea how fish were able to migrate to this cave at all. It's a stagnant body of water and there isn't a water flow from the river.
The only thing I could think of is that fish eggs somehow were attached to another animal or a bird that came here. Or, if someone brought a fish here to the water. Who knows?! It's a little bit of a mystery.
4. Bring a picnic
Although it was freezing and even raining on my visit, that really doesn't stop us Brits from going outside. Sure enough on my visit, there was a family sitting outside having a picnic on a blanket.
There aren't any picnic benches but there are a few flat walks and a grassy opening to set up a picnic situation while you're here.
But there aren't any bin facilities. So, please take rubbish with you!
5. Enjoy the spectacular views
Something that I wasn't expecting (I don't know why) was the absolutely spectacular views that you could see nearby the caves.
Although I hadn't walked any great height, or even really tried. The views from this level were amazing!
You could see the River Rothay and also the striking Nab Cottage on the side of the water.
If you were curious, this amazing home dates back to 1556 and was famously the residence of Thomas de Quincy who was friends with William Wordsworth.
Later, Hartley Coleridge lived here who was the son of Samuel Taylor Coleridge, a famous mountaineer.
It's honestly breathtaking and I could have easily spent a few hours taking in the sights and capturing them if I wasn't so cold!
Places to walk and visit after Rydal Cave
Once you've explored Rydal Cave, there are a few places that I would recommend walking and exploring afterward.
The area around Rydal Water is one of the prettiest in the Lake District.
So, make sure you plan enough time to explore in your itinerary. All of them can be accessed on foot from the Rydal Caves.
Admire the views from Loughrigg Fell
If you want to see an epic view of the area, then you can carry on and head towards Loughrigg Fell.
The easiest walking route is to head back towards the Rydal Water Car Park and turn left at crossroads to head up to the viewpoint.
It will take you around 30 minutes from Rydal Caves and it's a 1.4-mile walk along Loughrigg Terrace.
Although it's not a huge peak in the Lake District, the views are meant to be spectacular from here!
Explore Rydal Village
Rydal is extremely unassuming but is hands down one of the prettiest villages in the Lake District.
A lot of people skip this area on their way over to Grasmere or Ambleside but I would advise you not to.
William Wordsworth lived here at Rydal Mount for a large part of his life until his death in 1850. So, you can follow in his footsteps and check it out.
St Mary's Church is also a beautiful 19th-century building that you can pop inside and at the back is Dora's Field that has a blanket of daffodils.
Rydal Hall is also worth checking out with their gorgeous manicured gardens and I would also recommend checking out more of the historic homes in the area. You can check out the breathtaking Rydal Hall Waterfall from "The Grot".
Over time, this small village has been the home to many notable residents including Wordsworth and his sister Dorothy, Thomas de Quincy, Hartley Coleridge and painter, Fred Yates!
Click here for a complete Rydal travel guide with more amazing things to do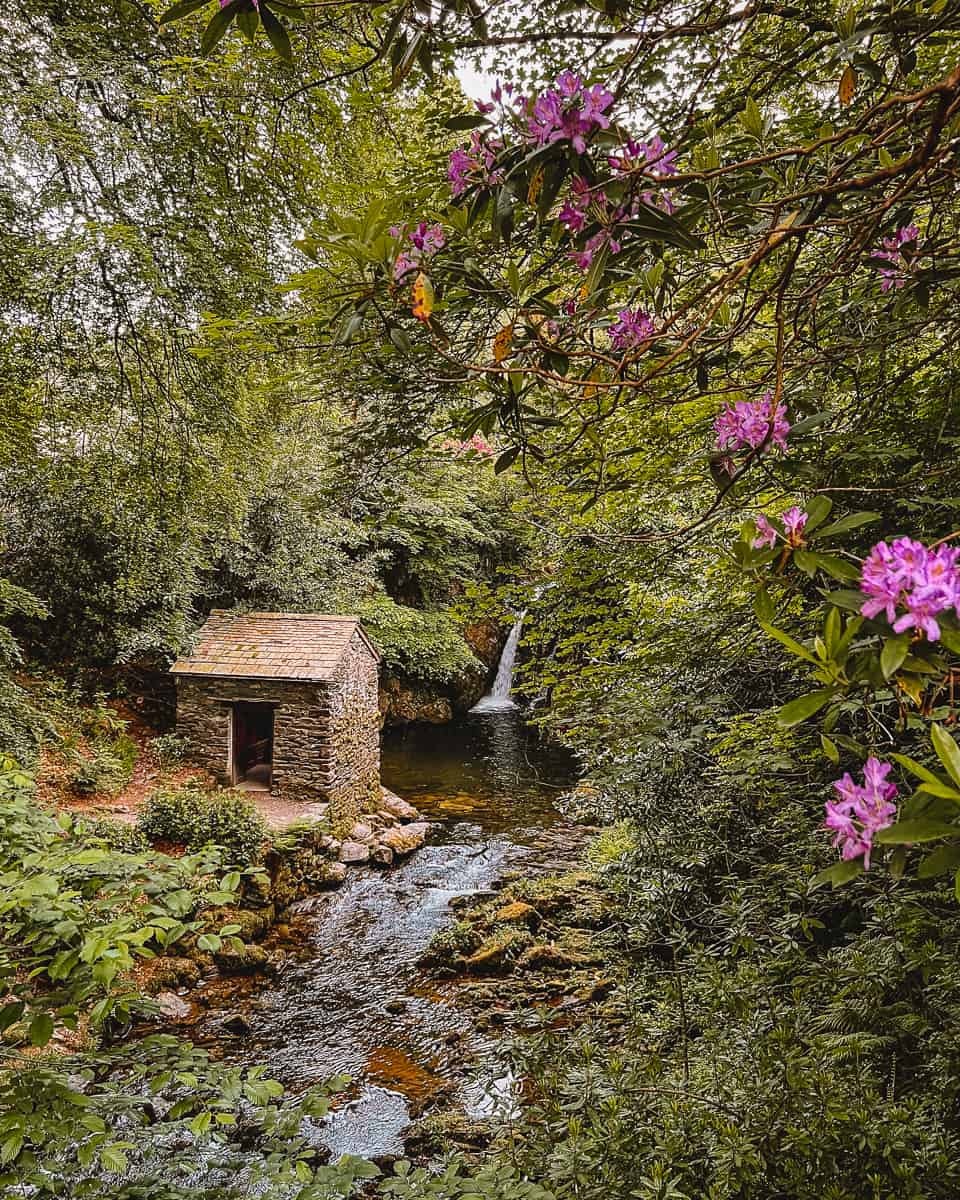 Fall in love with Grasmere
Grasmere was my favourite place that I visited in the Lake District. A famous home to William Wordsworth he called it "the loveliest spot that man hath found".
You can follow in his footsteps in two properties he lived in here. Dove Cottage, the first place he purchased with his sister Dorothy, and the Allan Bank where he lived with his wife and children.
No visit to Grasmere would be complete without Grasmere Gingerbread, a famous treat around these parts since 1854. It was the invention of Sarah Nelson and is still made and sold like it was all those years ago.
You can head inside St Oswald's church named after the 9th century King of Northumbria, or visit the Wordsworth Memorial Gardens with its many daffodils.
You can get lost in a labyrinth of jigsaws at Barney's Newsbox, stock up on art supplies at Heaton Cooper Studios, or shop at Sam Read's newsagent that's been here since 1877.
Plus, there are lots of cute cafés, restaurants to try while you're here too!
Click here to read my complete travel guide for Grasmere
Visit Ambleside
Although Ambleside is a town in the Lake District, it is actually still as quaint as the villages.
As well as having lots of shops, cafés and an endless list of hotels. It also has some fantastic attractions to enjoy too.
You can visit the famous Bridge House which is an icon of the lake district and one of the most photographed buildings in the whole of the National Park.
Click here to read my complete travel guide for Ambleside
The Armitt Museum has a brilliant collection of historic books and the Stagshaw Garden on the way to Waterhead is meant to be stunning.
Ambleside Waterhead pier is your gateway to Windermere, the largest natural lake in the whole of England.
You can get a boat ride here and take in the mind-blowing views of the peaks from the water.
One of my favourite things I did while I was here was take a short walk to Stock Ghyll Falls.
A 70-foot waterfall through an emerald gorge in the forest. It's only a few minute's walk away from Market square and it's a hidden gem.
Click here for my complete Stock Ghyll Force walking guide with directions on how to find it!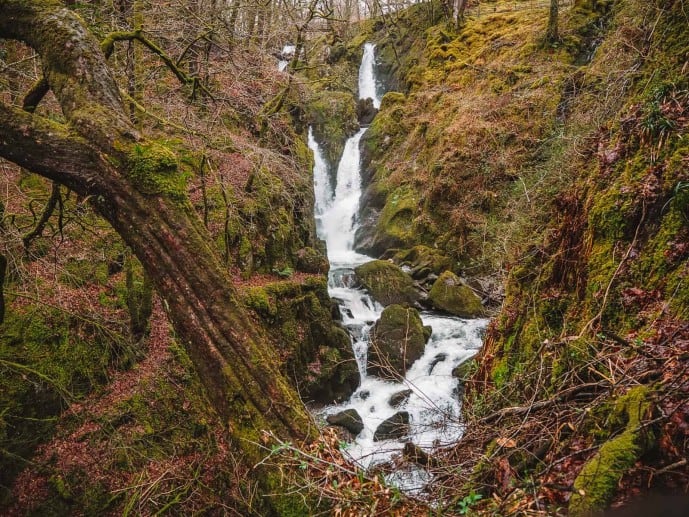 The best hotel near Rydal Cave
Ambleside is definitely somewhere I would recommend staying as it has plenty of affordable options plus lots of infrastructure with restaurants and supermarkets.
I stayed at The Ambleside Inn which is a new hotel in the area but is actually built inside an 18th-century building!
As well as clean and comfortable rooms in their inn, they have a fully stocked bar and restaurant downstairs.
It's quickly become extremely popular with the locals and it has a great atmosphere. So, you don't have to drive anywhere to get a great meal.
This is my third Inn Collection Group property now and I really rate them. I loved my stay here and will be back.
Click here to read my full hotel review and how to book your stay!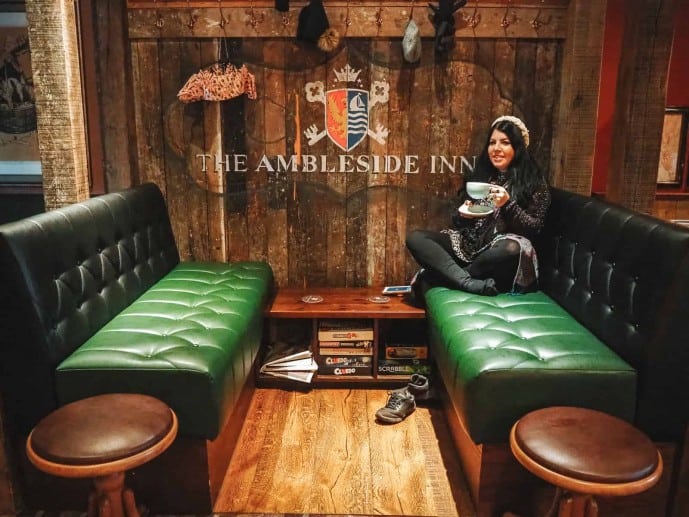 Read more of my Lake District guides
Places to visit on a Windermere Lake Cruise
A complete guide for the Blea Tarn walk
A complete Cathedral Cave walking guide
How to visit Claife Viewing Station
Save this Rydal Cave guide for later!