Rydal Hall Waterfall is truly a hidden gem you can visit in the Lake District. It's a secret and serene retreat that is now one of my favourite spots to visit in the national park.
You can get a great view of this spectacular cascade from Rydal Grot, a small grotto that was built in 1668 for tourists. It has a large window to allow a covered viewing of Rydal Falls.
It's completely free to visit and it even inspired artists like John Constable and the famous Cumbrian poet William Wordsworth. He mentions this romantic scene in his poem 'An Evening Walk' (1793).
Here is how to visit Rydal Hall Waterfall in the Lake District with walking directions to Rydal Grot.
Rydal Hall Waterfall history
Rydal Waterfall is hidden on the grounds of Rydal Hall which has a history dating back to the 15th-century. The original hall was built by Sir Thomas le Fleming.
The waterfall lies on the manicured Rydal Hall gardens just beyond "The Grot" which is a one-room building constructed by Sir Daniel Fleming in 1668.
He built the grotto specifically as a viewing station so that tourists visiting the area could enjoy the falls.
Although this seems normal today, it was unprecedented back then and is one of the first of its kind in England.
It has seen many famous people visit this spectacular retreat over the years. John Constable drew the Rydal Grot and Waterfall in 1806. You can also find a copy of a sketch inside from an anon artist.
Also, William Wordsworth was inspired by this scene when he visited the waterfall with his nephew. He references it in his poem 'An Evening Walk' (1793).
Wordsworth lived in Rydal Mount nearby and you can visit his historic residence while you're here in the village.
Today, Rydal Hall Waterfall is a hidden gem that you can visit in the Lake District from Rydal Village.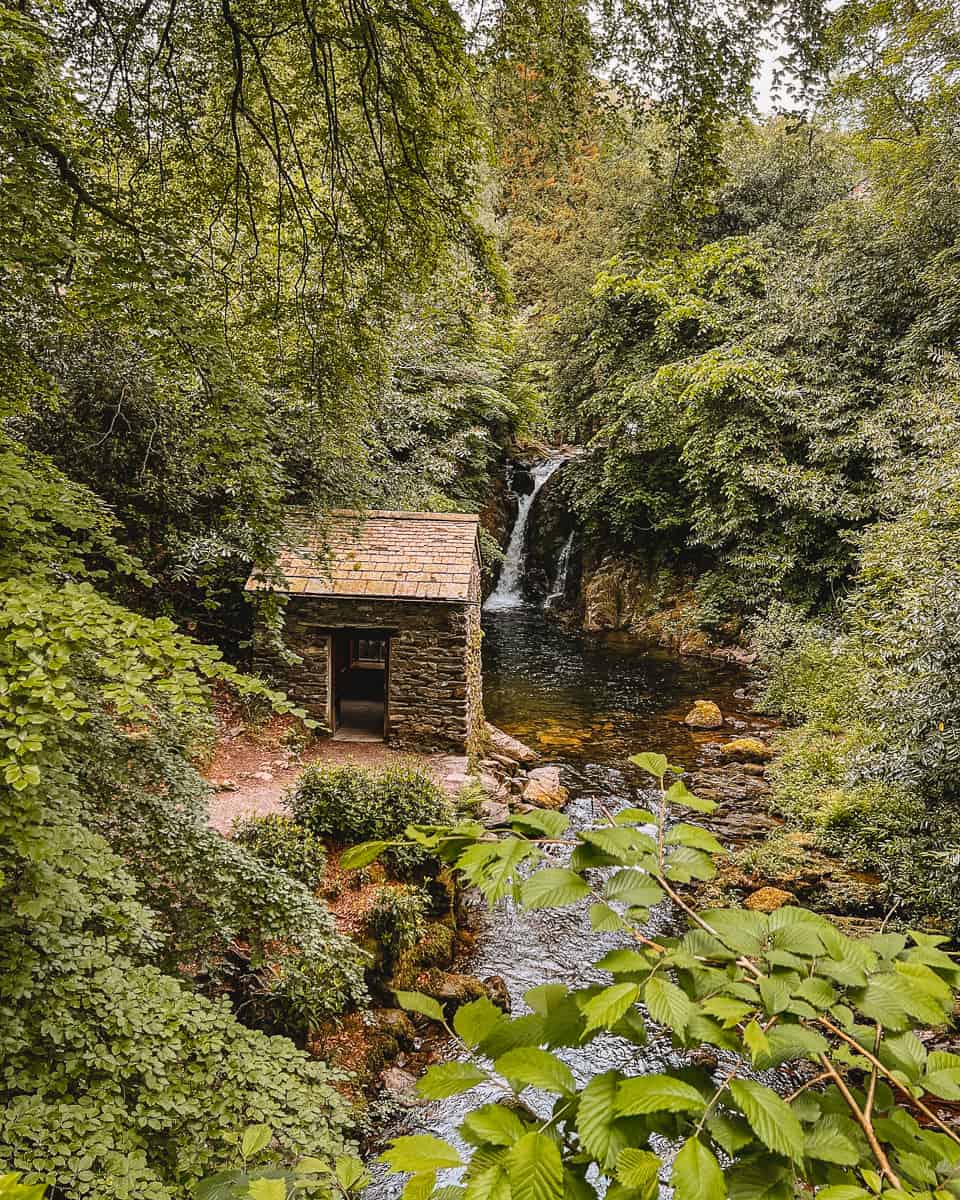 How to visit Rydal Hall Waterfall in the Lake District
Rydal Hall waterfall is located in the gorgeous village of Rydal that's sandwiched between Ambleside and Grasmere.
Many people skip Rydal but it is one of my favourite locations in the Lake District and I would recommend that you don't miss it.
The easiest way to visit Rydal is to drive and you can easily access it via the A591 road. Turn off when you see the brown tourist sign for Rydal Mount.
From here, you can drive up to Rydal Hall and visit the waterfall on a short walk through Rydal Hall gardens.
If you're not driving, Rydal has a bus stop and you can take the 599 bus service from Kendal, Windermere, Ambleside, and Grasmere to the village.
From the bus stop, the gate for Rydal Hall gardens is a 1 minute walk. Click here to plan your bus route.
Rydal Hall postcode is LA22 9LX. Click here for a Google pin!
Rydal parking
Rydal is a tiny village in the Lake District with limited parking spaces. You can park up at Rydal Hall itself but you have to buy a permit.
Rydal Hall parking is £10 which includes a £5 voucher if you purchase from their tea shop on the same day.
Alternatively, you can park up by Rydal Church on the roadside. This costs £2 by donation, just pop your coins in the box on the church wall.
Be warned that the hill to enter Rydal village is very steep and narrow. If you drive up the hill and can't find space, there is a (narrow) turning circle at the very top of the hill.
Rydal Hall Gardens opening times and prices
Rydal Hall Gardens and waterfall are open from dawn until dusk and are completely FREE to explore.
But, there is a suggested voluntary donation to help with the upkeep of the site and grounds which are a charity.
I would recommend choosing a quieter time to visit Rydal as it's a tiny village with limited parking.
I visited quite late at around 8 pm and I almost had it to myself, even on a Bank Holiday weekend!
Rydal Hall Waterfall directions
Here are some easy directions on how to visit Rydal Hall waterfall from Rydal Village.
The viewpoint is easy enough to find from Rydal Hall gardens but you may need a little bit of help to visit the inside of Rydal Grot situated below.
1. Walk through Rydal Church
Firstly, you can find the Rydal Hall gardens gate opposite the Rydal Churchyard. William Wordsworth was a Churchwarden here from 1833 to 1834.
If you're walking to Rydal from Grasmere, you may like to walk through Dora's Field on your way through.
This is a field that William Wordsworth bought as he had disputes with his landlord over rent for Rydal Mount.
He then dedicated the field to his daughter Dorathea after her death and planted hundreds of daffodil bulbs as she was fond of them. It's beautiful to behold in spring.
2. Find the gate to Rydal Hall Gardens gate
Directly opposite Rydal Churchyard is the gate to Rydal Hall gardens.
It may be shut but it won't be locked as it is open from dawn until dusk. Head through the gate and down the path to Rydal Hall gardens.
3. Walk through Rydal Hall gardens
As you walk down the path towards Rydal Hall waterfall, you'll pass a set of Italianate terraced stairs on your left.
If you head up these stairs you can catch a glimpse of Rydal Hall from the gate. Or, keep going to the very end of the main path.
4. Head to the bridge to see the Rydal Hall waterfall view
When you get to the end of the main path, you'll find a bridge and the Rydal Hall waterfall viewpoint.
Here you can see a wonderful view of both Rydal Grot and the waterfall cascading into a pool below.
The sign on the bridge will give you a bit more history about the waterfall and the building itself.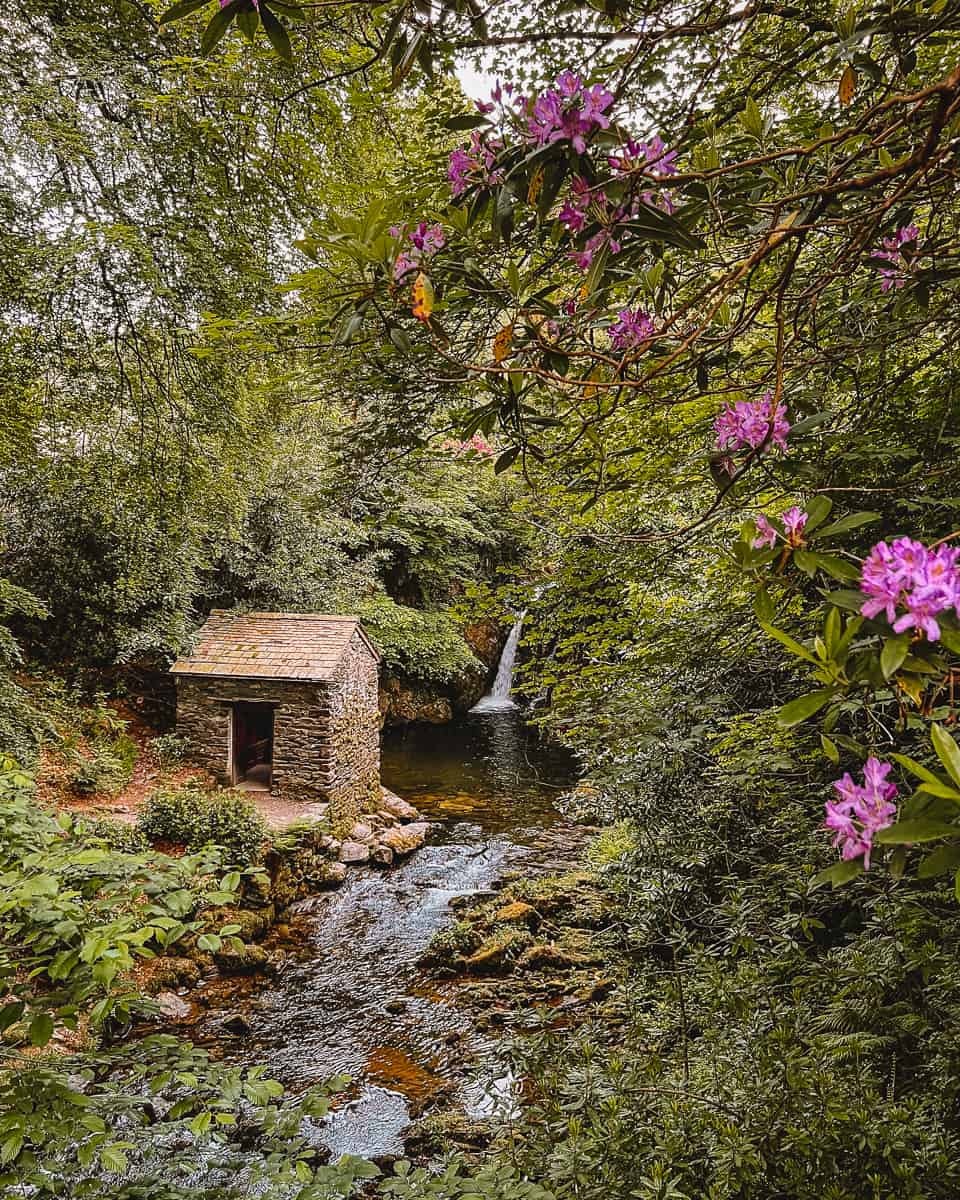 5. Head back to the quiet garden and go through the gate
To access Rydal Grot below the bridge, you'll need to turn back on yourself and find the gate to access the 'Quiet Garden' on your left.
This area is a little retreat with flowers, plants, benches, and some statues. But, to access Rydal Grot head straight through.
6. Head through the tunnel to Rydal Grot
Once you've walked through the Quiet Garden, loop around the path to your left which leads you to a path beside the river. Eventually, you will see a stone tunnel before you.
Walk through this tunnel and turn the left corner and then you will reach Rydal Grot which gives you an incredible view of Rydal Hall Waterfall!
Exploring Rydal Hall Waterfall
Once you arrive at the Rydal Grot, you can enter the small building to get an amazing view of the Rydal Hall Waterfall.
The window is large enough to see the falls cascading into the pool below. There are some seats that allow you to relax here for a while to take in the views.
On the back wall, you'll find some history of Rydal Grotto on a small sign and also a copy of a sketch of this scene from an unknown artist.
If you're visiting at night or if there is low lighting, you will find a light switch inside. Just remember to turn it off after you leave.
You can relax a while here and take in the views but note that you cannot swim in the pool!
Other things to see in Rydal Hall Gardens
The grounds of Rydal Hall are home to a Formal Garden otherwise known as the Thomas Mawson Gardens.
They were completely redesigned by Thomas Mawson in 1909 who was part of the Arts and Crafts movement. He redecorated them in an Italianate style.
You can wander around the grounds and visit the Quiet Garden which is a secluded area and has many ponds and paths to explore.
You'll find flowers, wildlife, plants for every season, and decorative statues throughout the grounds.
These pathways will eventually lead you down to Rydal Beck which is a beautiful place to reflect or have some time alone. You may even spot a Red Squirrel here as part of their conservation project!
Once you're finished exploring, don't forget to visit the Rydal Hall Tea Shop for some much-needed refreshment.
Rydal Hall tearooms
Rydal Hall also has its very own tea shop that you can stop by if you fancied a break or some light lunch.
Originally built by Sir Daniel Fleming as a schoolroom for his sons, it has now been transformed into a café on the grounds.
As well as sitting inside the tea shop, the outdoor seating area is very scenic with a small cascade outside.
You can purchase sandwiches, soups, homemade cakes, ice creams, and hot and cold drinks too.
Remember if you paid for Rydal Hall parking you have a voucher for a discount!
Rydal Hall Waterfall FAQs
Can you go Rydal Hall waterfall swimming? No, there is a sign that swimming is not allowed in Rydal Waterfall.
Is Rydal Hall gardens dog friendly? Yes, but they must be kept on a lead at all times as there are sheep grazing and precious plants.
What time does Rydal Hall open? Rydal Hall gardens are open from dawn until dusk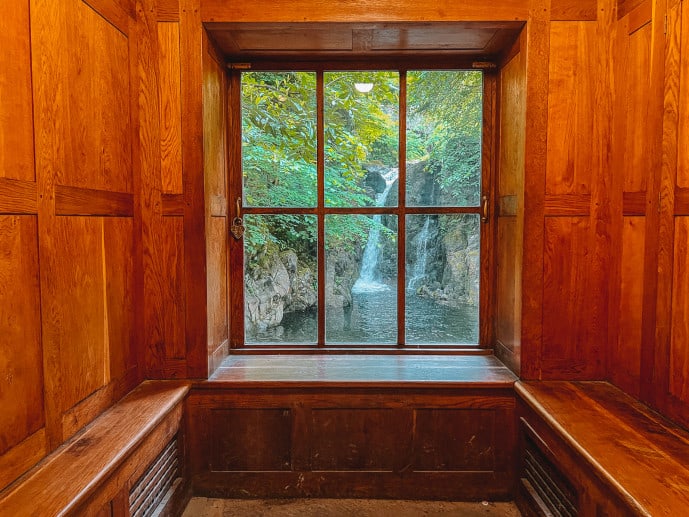 Looking for more things to do in Rydal?
Rydal is a gorgeous and sleepy village but it is also one of the prettiest in the Lake District.
A lot of people skip this area on their way over to Grasmere or Ambleside but I would advise you not to.
William Wordsworth lived here at Rydal Mount for a large part of his life until his death in 1850. So, you can follow in his footsteps and take a guided tour.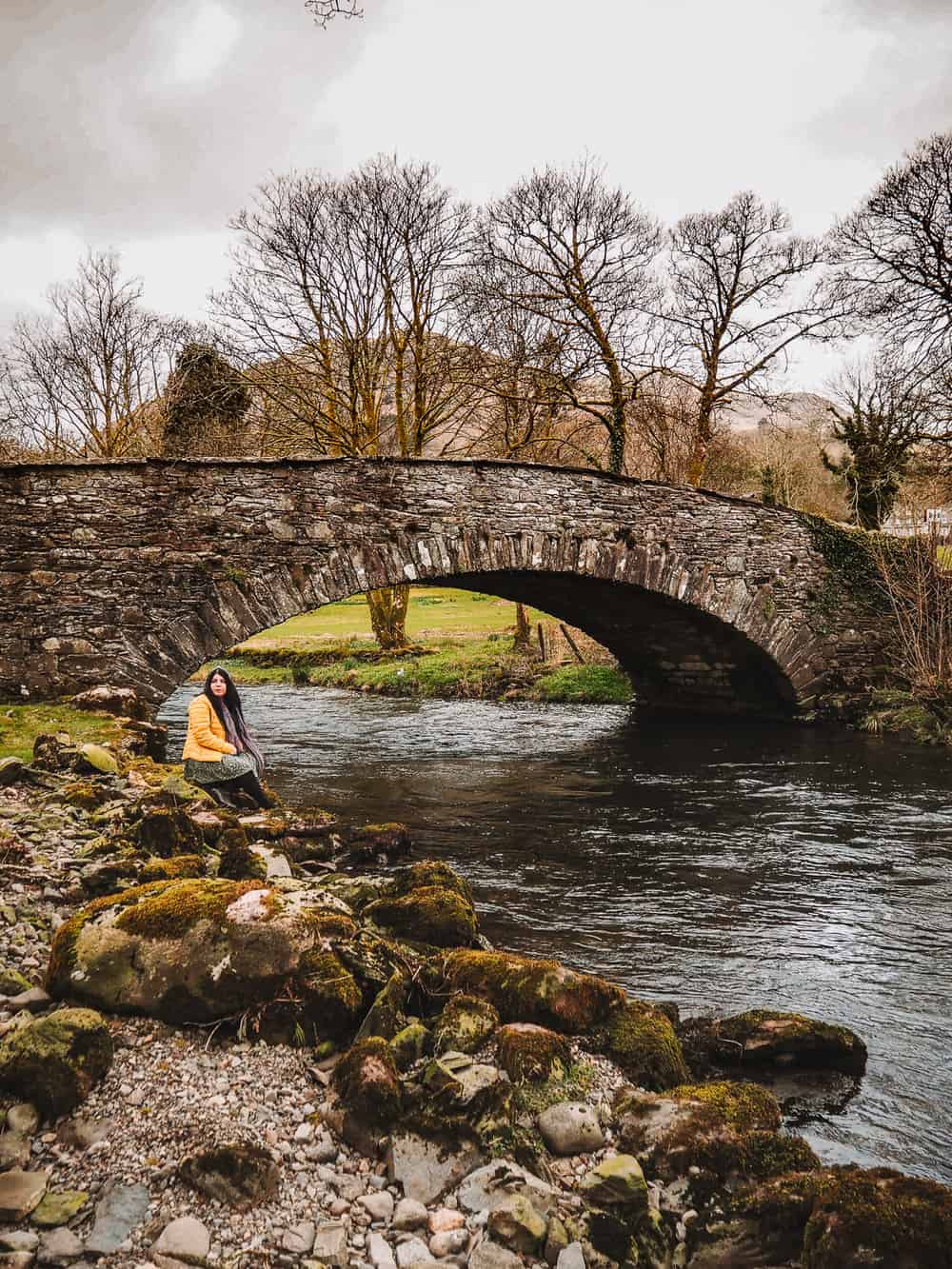 St Mary's Church is also a beautiful 19th-century building that you can visit and at the back is Dora's Field which has a blanket of daffodils.
I would also recommend checking out more of the historic homes in the area. Over time, this small village has been the home to many notable residents including Wordsworth and his sister Dorothy, Thomas de Quincy, Hartley Coleridge, and painter, Fred Yates!
Or, why not head over the Rydal Water and take a walk from White Moss to Rydal Cave? You can carry on to Loughrigg Fell for some spectacular views!
Click here for a complete Rydal travel guide with more amazing things to do
Where to stay in Rydal
If you wanted to stay somewhere quiet in the Lake District then I would highly recommend staying in Rydal itself.
Rydal Hall is a country manor that dates back to the 15th-century but has been transformed into a countryside retreat.
It has 30 en-suite rooms to book for the night and you're surrounded by 30-acres of gardens to explore as well.
You can book this on a 'Bed & Breakfast' basis or book a room that includes a 3-course dinner as well. Room prices are really reasonable and start at £64 for a standard single room or £120 for a double.
Click here to book your stay at Rydal Hall
Read more of my Lake District guides
A complete Cathedral Cave walking guide
The Skull Cave of Hodge Close Quarry
Witcher filming locations in the Lake District
Best things to do in Ambleside
Amazing places to visit in Grasmere
Why you must visit Grasmere Gingerbread
A complete guide for the Allan Bank
Places to visit on a Windermere Lake Cruise
How to visit Claife Viewing Station
Save Rydal Hall Waterfall for later!