On my recent visit to Snowdonia National Park, I well and truly fell head over heels in love with the charming village of Betws-y-Coed.
I mean, how can you not? Gorgeous Victorian buildings set in a romantic rural setting with rivers and views for days? It was like walking through a postcard.
But, while exploring, one of the hidden gems I was rather taken by was the incredibly photogenic Sappers Suspension Bridge.
This, admittedly, the rather wobbly bridge provides a convenient crossing over the Afon Conwy River and a bit of a shortcut to the village too.
But, beyond that, the scenic countryside views you get from here were absolutely stunning and make the perfect photography location!
Many people will say that this is 'just' a bridge but I think it's so much more than that and definitely worth a look in on your visit.
Here's why you should & how to find Sappers Suspension Bridge in Betws-y-Coed, Wales!
Sappers Suspension Bridge history
Unlike the neighbouring Pont-y-Pair bridge that sits in the centre of the village, Sappers Suspension Bridge is a little 'newer'. In fact, it was built two centuries later in 1930!
You see, before 1917, the locals of Betws-y-Coed could only access the village from this side of the Conwy River by traversing some rather inconvenient stepping stones. Today, you can see these on the golf course.
Around this time, an army camp was established in this area of Betws-y-Coed in World War I. So, it certainly wouldn't do for soldiers to have to hop over stepping stones all the time!
As a solution, a wooden bridge was installed over the River Conwy here in 1917 by "Sappers" or royal combat engineers. This was to provide access to the army base. But, the villagers also celebrated as they finally had a way to avoid the stones.
However, around a decade later, it was clear that a more sustainable option was needed.
Sure enough, in the 1930s a new iron suspension bridge was built by some engineers of Westminster. The name on the bridge reads David Rowell & Co Ltd.
Unfortunately, on further research, their company was liquidated in the 1970s but they built many iron suspensions in the country. Notably, in Foy and Queen's Park in Chester. But, their bridge legacy even stretches to the likes of the Falkland Islands overseas!
Although this bridge was built by a different engineering company, it still retained the original name of "Sappers" bridge out of respect for the combat engineering efforts during the war.
Today, this 'newer' iron suspension bridge is almost trapped in time and has not changed at all in the last 90 years!
It still serves its original purpose as it did then; a way to give locals and travellers easy access over the River Conwy to Betws-y-Coed.
How to find Sappers Suspension Bridge in Betws-y-Coed
Although most visitors to Snowdonia National Park have cars nowadays and we don't 'need' to cross this bridge to enter the village.
I would still say it's worth a visit to Sapper's Bridge while you're here, even if you're not going to use it for hiking.
It's a gorgeous spot by the riverside with some spectacular views and it's really fun to bounce over and wobble while crossing the bridge.
However, there is one downside. It can be quite hard to locate!
Although I did have a Google Maps pin to follow, I found this bridge quite difficult to find.
So, after asking a few locals for directions, here are some detailed steps for finding Sappers Bridge in Betws-y-Coed. So, you can visit self-guided!
1. Firstly, locate Betws-y-Coed train station
If you are planning to visit from the centre of the village near the shops. Then, I would say your easiest way to visit Sappers Bridge would be to locate Betws-y-Coed railway station.
Don't worry, you don't have to buy a ticket to enter the platform. But, you will need to climb over the platform bridge to the other side.
Make sure you have a look at some of the amazing art decorations from the gallery while you're here. It was an interesting installation that recycled some of the bottle caps and rubbish that had been left behind.
2. Cross over the platforms to Conwy Valley Railway Museum
After you've crossed over the platform, you'll arrive at the station shed and see some vintage carriages that form part of the Conwy Valley Railway Museum.
You can have a look around here if you like but to access the suspension bridge, you'll need to cross over the adorable miniature railway track!
I actually saw the little train making its rounds on my visit and it's so sweet. They even have a railway crossing warning for you as you step over ;)
3. Head on around St Michael's Old Church grounds & head downwards
So, once you're over the miniature railway track, you'll eventually face head-on with the historic lychgate entrance of St Michael's Old Church.
I would definitely recommend visiting while you're over this way (more on that later) but you cannot access the suspension bridge through the church grounds.
So, you'll need to walk around St Michael's graveyard to your right if you're facing the old lychgate.
Keep heading around until you see a footpath that almost slopes and heads downwards towards the Afon Conwy River!
4. You've found Sappers Suspension Bridge!
The entrance may be hidden away in amongst some trees and foliage, but you'll have made it to the bridge!
Now, just take in those incredible views. Although it was raining when I first got to Betws-y-Coed, the clouds made way and we finally had some sunshine when I arrived.
I couldn't believe the views you got from here. It was a perfect reflection of the river. It definitely made getting lost a few times feel worth it. That's for sure.
What to expect while crossing the Sapper's Bridge
There is a reason why this bridge has a local nickname of the wobbly bridge of Betws-y-Coed!
It really does bounce as you make your way across. But, I wouldn't worry, it's extremely sturdy and hasn't faltered in over 90 years. It's not going to come down now.
I loved crossing this bridge and of course, you have to do a few jumps up and down to enjoy the fun!
Make sure to bring your camera with you as you'll find the scenes here worth capturing.
You'll get picture-perfect views of St Michael's Old Church and the surrounding countryside.
In September, the leaves were turning and I loved capturing it in its autumnal glory.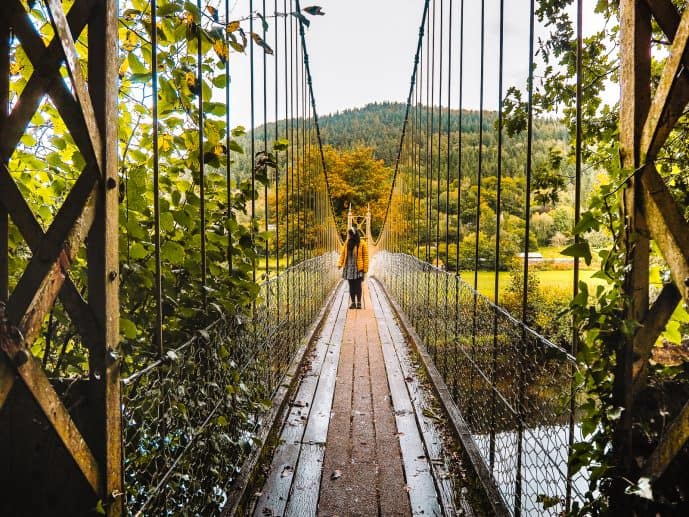 As well as simply crossing over, it's well worth stopping a while on here to see if you can spot any wildlife. You'll often find ducks, swans, and fish all swimming about.
Of course, once you're over the bridge you can carry on over to the other side and enjoy some scenic hikes around the area. You could even carry on a loop bridge walk to Pont-y-Pair, Waterloo or the Miner's Bridge from here.
But, if you're not up for a hike today. It's easy enough to turn back the way you came and explore some more of the village highlights.
Don't leave without exploring St Michael's Old Church
One of those attractions is the historic Church of St Michael which is far more ancient than its neighbouring suspension bridge!
It's thought that this site has been here since the era of Celtic Christians. So, that's any time since the 4th century. But, as it's named after St Michael, that suggests it was established just before the Normans invaded Britain in 1066.
Although nothing of that original church remains, the current building dates to around the 14th century. This makes it the oldest building in Betws.
It was an active church until around the 19th century. This was when Thomas Telford built accessible roads around Snowdonia and the increased numbers of visitors meant the parish had to find a bigger place of worship! So the 'new' St Michael's and a St Mary's church were built as a result.
Today, St Michael's is practically redundant and rarely used bar a few services throughout the year. However, it's still a beautiful place to visit in Betws-y-Coed.
Here, you can wander around the grounds or pop inside during the summer to see some of its intricate features.
The most notable is an effigy of the valiant knight, Gruffydd ap Dafydd Goch. He fought with Edward, the Black Prince at the Battle of Poitiers in the 14th century.
Looking for more things to do in Betws-y-Coed?
Betws-y-Coed is one of the most popular villages in the whole of Snowdonia National Park and for good reason!
It's incredibly quaint with some beautiful scenery. But, more than that, it has lots of facilities like cute cafés, shops and tourist attractions too.
I would always recommend starting your visit with a stroll over the historic Pont-y-Pair bridge. This really is the place to get those postcard-worthy views over the Llugwy River flowing through Gwydir Forest!
Other bridges worth noting are the Roman bridge of Penmachno, Waterloo bridge, and the scenic Miner's Bridge too.
You could pop into the many Betws-y-Coed shops and boutiques. You will find (naturally) a lot of hiking shops with an endless choice for gear. But, there are also some incredible boutiques and art galleries for those that would prefer some retail therapy and unique Snowdonia souvenirs.
There are countless café and restaurants in the town to choose from but the popular Caffi Caban-y-Pair is a traveller favourite.
Around the area there are also some fantastic attractions to explore like the attractive Swallow Falls! This was a personal favourite of mine that you can read about here.
You could hike to the nearby Fairy Glen to visit a gorge straight from a storybook or why not stop by the Conwy Falls and Cafe?
Talking of countryside cafés, I absolutely loved the Ugly House or Ty Hyll. Plus, Tu Hwnt I'r Bont is a must-stop if you're in the area.
Where to stay in Betws-y-Coed
Royal Oak Hotel – This historic coaching inn is more of an institution in Betws-y-Coed and has a history dating back to the Victorian era in 1861. It's one of the oldest hotels in the village and really put tourism here on the map! Today, it's a gorgeous cosy residence to call home for the night just inches away from the railway station.There is also a top rated restaurant onsite. Click here to book.
Swallow Falls Hotel – Another cornerstone hotel of Betws tourism has to be the Victorian hotel near Swallow Falls. Although a little further out of the main hub of the town, you can enjoy some of the peace and quiet this park has to offer. It's actually a complex with tourist suites, some having a view of the waterfall, and even glamping sheds! Plus, there's a cosy pub onsite. Click here for rates.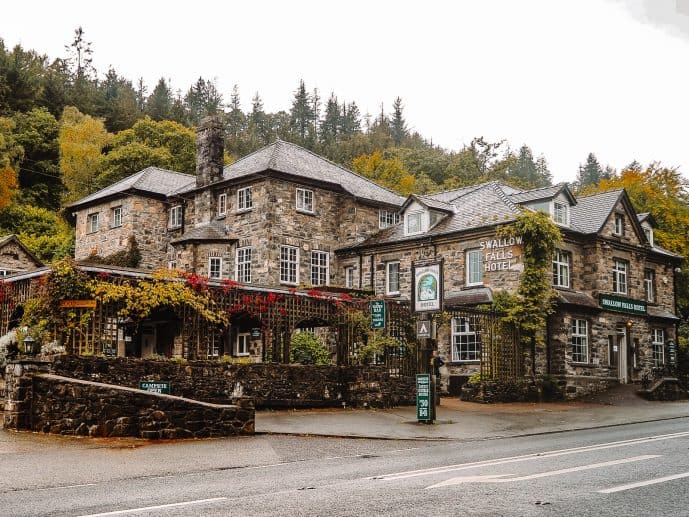 Read more of my North Wales posts
How to visit Dinorwic Quarry Wales
The legend of Gelert & how to visit his grave
The top places to visit in Beddgelert
How to find the lonely tree of Llyn Padarn
Look inside the Smallest House in Great Britain!
A complete guide for the Conwy Town Walls
How to do the Llyn Idwal Circular Walk
A complete guide for the Dinas Emrys Walk & Dragon legend
How to see the Bodnant Garden Laburnum Arch
How to visit Pistyll Rhaeadr Waterfall
Gladstone's Library – Stay in the UK's only residential library
Save this Sappers Suspension Bridge guide for later!