One of the prettiest museums in Edinburgh has to be the Scottish National Portrait Gallery. It's a 19th-century neo-gothic museum that champions Scottish heroes through art.
Here, you can marvel at their Great Hall with the famous frieze, check out their portraits showcasing important chapters of Scottish history, and have lunch in their cosy Portrait Café
For me, this was a Dark Academia dream and I couldn't stop admiring the incredible architecture and murals. You'll be blown away by what's in store for you.
What's even better is that this incredible place is completely FREE entry. So, what's stopping you?
Here is a visitor guide for the Scottish National Portrait Gallery in Edinburgh with how to visit, what to see, and my top tips!
History of Scottish National Portrait Gallery
This incredible neo-gothic gallery was founded in 1882 and opened to the public in Edinburgh in 1889. It was the world's first purpose-built portrait gallery.
It was the brainchild of Sir Robert Rowand Anderson who wanted to create a shrine for Scotland's heroes and heroines through art.
The chief proprietor of The Scotsman newspaper at the time, John Ritchie Findlay, championed the need for a museum of Scotland's heroes.
He ended up finding the building and funding the project due to the government's lack of commitment.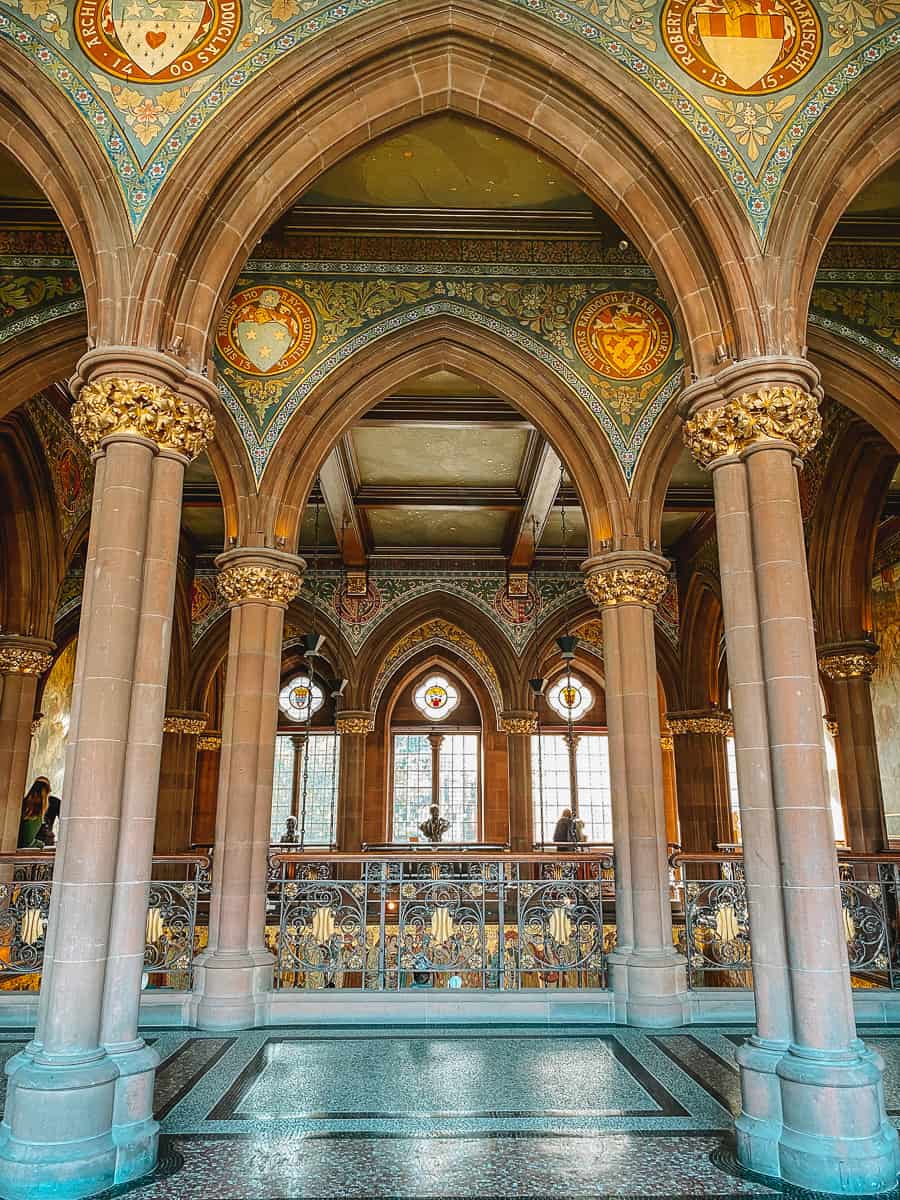 The majority of the original gallery in the 19th century was made up of the eccentric 11th Earl of Buchan's private collection.
The red-sandstone neo-gothic building was also reconstructed to champion Scottish heroes. You'll find statues of William Wallace and Robert the Bruce standing guard.
Today, there is an eclectic mix of portraits showcasing historic Scottish figures of the past well as contemporary names.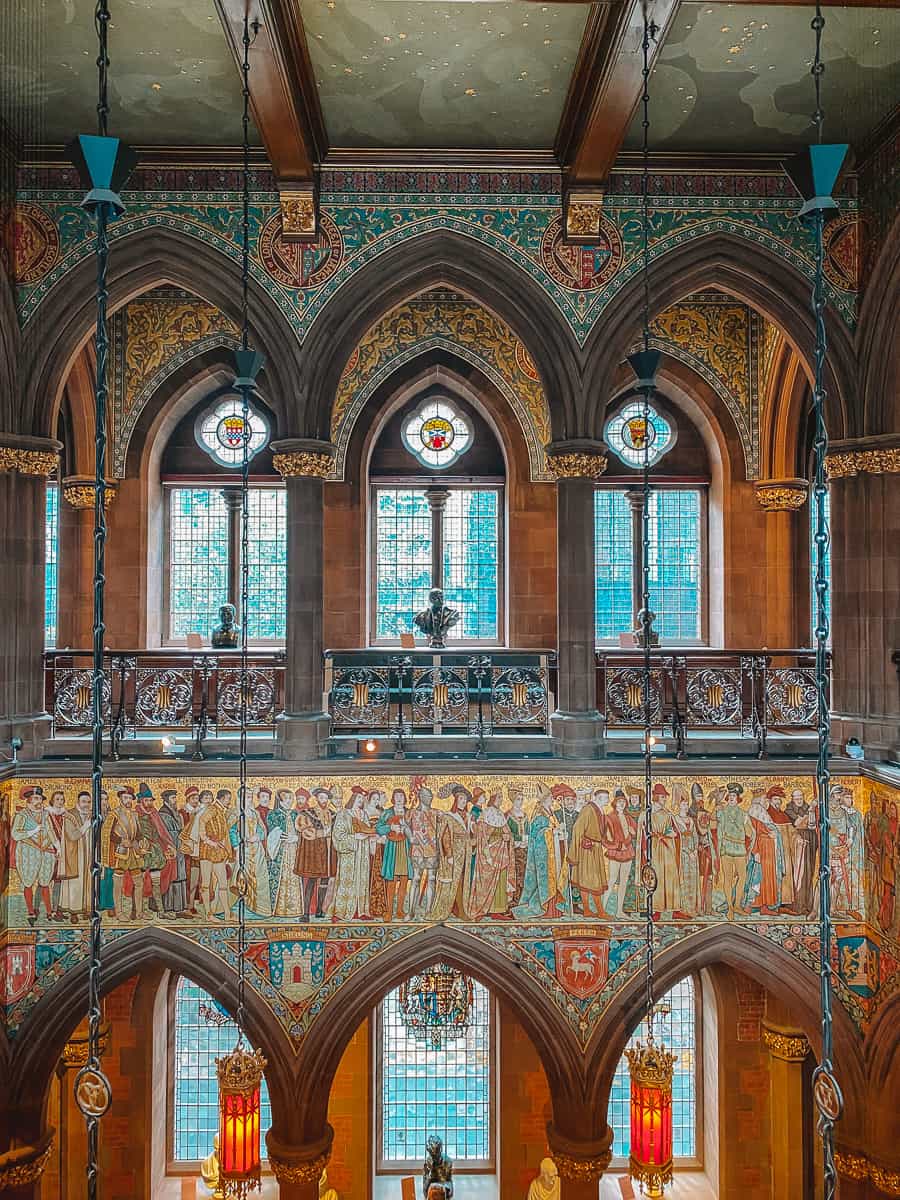 A Dark Academia dream!
I always feel like the entire city of Edinburgh is like walking through a Dark Academia movie with all the historic buildings. It honestly feels like you're living in Hogwarts.
But, the Scottish National Portrait Gallery with its glorious Great Hall is hands down one of the prettiest museums in the city.
The entire building is a work of art, inside and out, and it took many artists to build and pull the vision together.
If you haven't considered visiting on your next trip to Edinburgh, I would change that right now!
What's better is that this Dark Academia dream of a museum and gallery is completely FREE.
The Great Hall in the Scottish National Portrait Gallery
The Main Hall is the most impressive room located in the centre of the portrait gallery and is filled with beautiful symbolism and detail.
It was made to impress and inspire visitors to the gallery and give them a visual introduction to Scottish history.
You can explore the Great Hall from two floors. On the bottom floor, you'll find busts, stained glass windows, ornate portraits, and statues.
Upstairs on the mezzanine floor, you can admire even more colourful fresco paintings of important chapters in Scottish history amongst the grand archways.
If you look up you'll see the celestial ceiling with constellations and gold stars! There are also beautiful lanterns hanging by chains from the ceiling.
This room is seriously a dream and I was blown away by it. I couldn't stop admiring each detail and taking photos!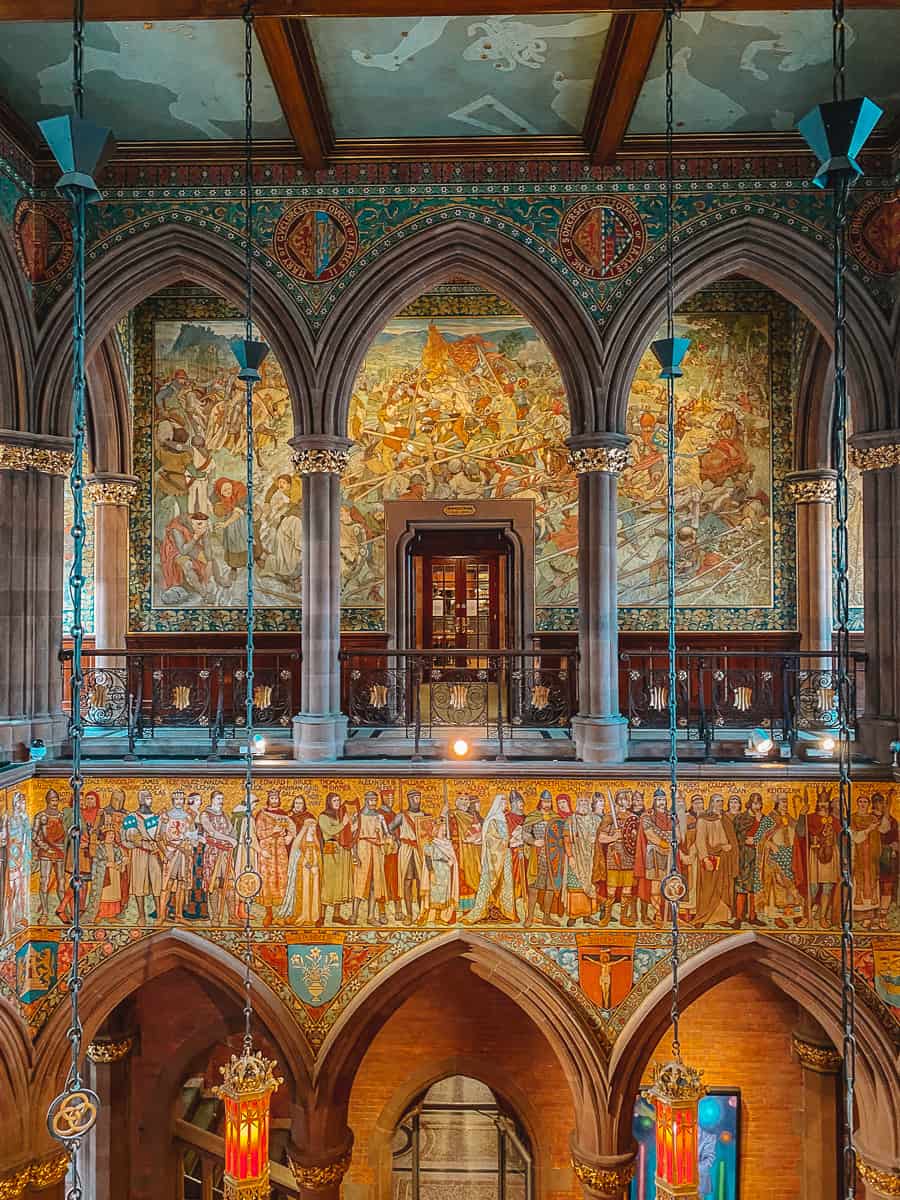 Scottish National Portrait Gallery frieze
There are 155 notable Scottish figures through history that feature on the Scottish National Portrait Gallery frieze.
Each one is placed in chronological order in a timeline from the 19th century when the gallery was built, going all the way back to pre-history.
You'll find Caledonia in the middle, the symbol of Scotland, pulling back a curtain to reveal a starry sky that matches up to the beautiful celestial ceiling.
There are big names like Robert the Bruce, William Wallace, Mary Queen of Scots, and Bonnie Prince Charlie. Even characters representing the Roman era, Pictish history, Bronze Age and Stone Age.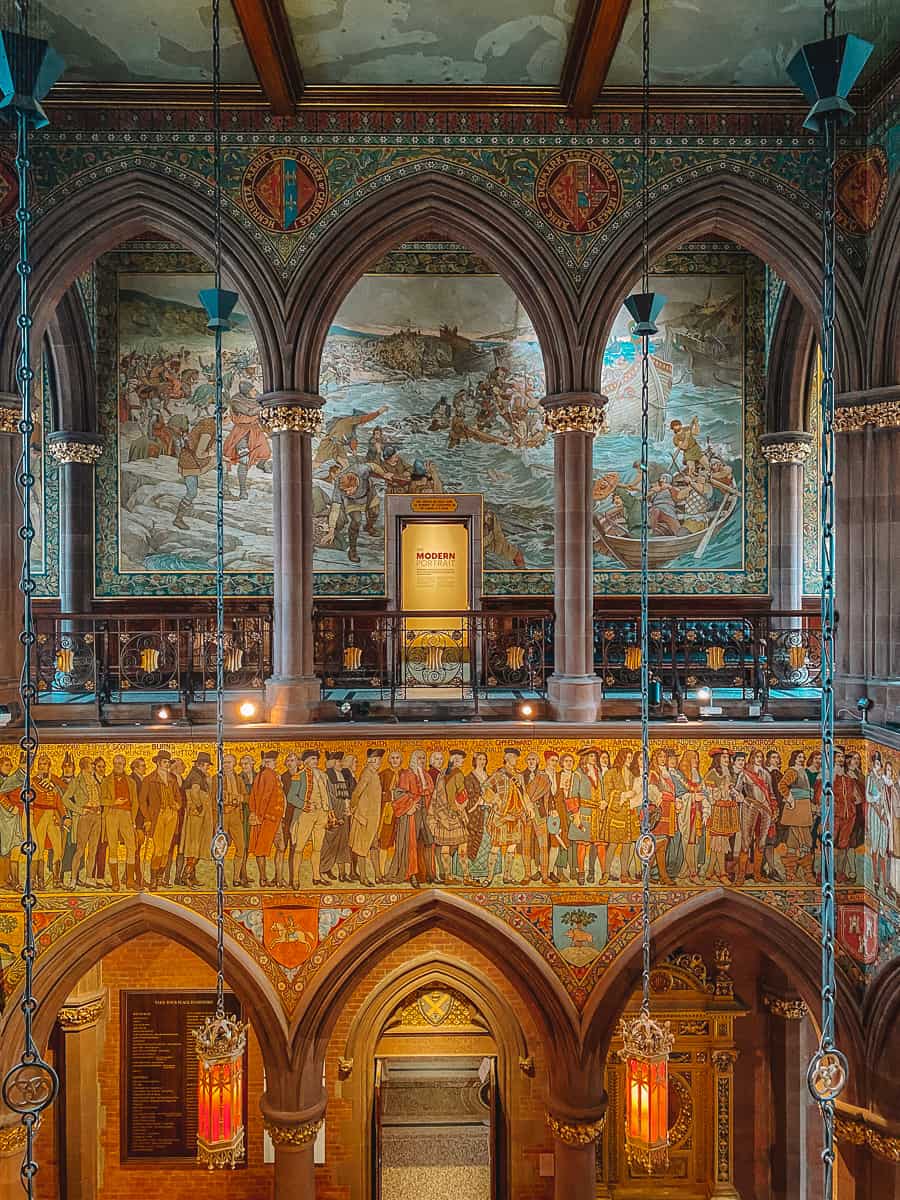 It is very male-dominated and there were probably many famous and talented Scottish women through time who could have been featured. Some characters who were in the original sketches were later removed.
It was painted by William Brassey Hole who specialised in historical paintings. He even went on a study tour to Italy and France to learn about fresco techniques before he painted it.
Hole painted the frieze in three stages and all of the figures are placed on a background of rippled gold. It catches the light (and the eye) perfectly at certain times of day and makes this frieze glitter!
Scottish National Portrait Gallery exhibits
Beyond the Great Hall, there are many other rooms and exhibits to check out after you've finished admiring the frieze. It is a large gallery of Scottish portraits after all!
Personally, I'm always more of a fan of classical artwork and portraits than modern ones. I loved seeing the portraits of Scottish royalty like James VI and I and Mary Queen of Scots.
But, there are not just face portraits here at the gallery. They also had interesting paintings of historical chapters like the execution of Charles I.
Also, there was a great Jacobite exhibition featuring portraits of events with Bonnie Prince Charlie. As a fan of Outlander, I loved seeing these.
If you're a fan of Queen Victoria, you'll find an ornate display of her portrait by Franz Xaver Winterhalter that has plush velvet curtains! It was painted in 1840, three years after she took the throne.
There are so many portraits to see here that tell a story of Scotland's vast history. They are packed with symbolism and have informative commentary.
It's a great way to learn about Scotland's turbulent past and you could honestly spend hours admiring them all.
Café Portrait
If you were looking for a spot for lunch after your visit, the Scottish National Portrait Gallery cafe is called Café Portrait and is open daily from 10 am to 4.30 pm.
It's a beautiful room where you can sip a coffee or try one of their homemade cakes in amongst a colourful gallery.
You can find also find teas, cold drinks, and a selection of light lunches if you wanted something more substantial.
If you wanted to treat yourself to something special, they do serve an afternoon tea from 2.30 pm but pre-booking at least 24 hours in advance is essential.
How to visit the Scottish National Portrait Gallery
The Scottish National Portrait Gallery is centrally located in Edinburgh close to St Andrew's Square on Queen's Street.
This is a five-minute walk from the Scott Monument, Princes Street, and the Ross Fountain in Princes Street Gardens.
The easiest way to visit would be to walk in Edinburgh as there is limited off-road parking near the gallery.
If you're taking public transport, the gallery is right next to the Edinburgh bus station and a two-minute walk from Edinburgh Waverley Station.
Scottish National Portrait Gallery address is 1 Queen Street, Edinburgh, EH2 1JD. Click here for a Google Pin!
Scottish National Portrait Gallery tickets and opening times
The Scottish National Portrait Gallery is part of the National Galleries of Scotland group and is open daily from 10 am – 5 pm.
Entry is completely free in the city and you don't have to pre-book your visit any longer to go. You can turn up anytime!
There are lots of things to see and do here beyond the Great Hall. There are many rooms and informative exhibitions to see so make sure to leave enough time.
My top tips for visiting
Don't mix this museum up with the Scottish National Gallery. Very similar names but completely different buildings! I actually ended up here first and had to rush over to the portrait gallery – oops! The staff says this happens all the time though.
I would book your visit for opening time, or visit during a weekday to avoid the crowds. As a free art museum, it does tend to get busy.
I'd recommend spending around 1-2 hours here to make sure you get to see everything!
Just nearby, you can visit the incredible Scott Monument and the Ross Fountain in Princes Street Gardens.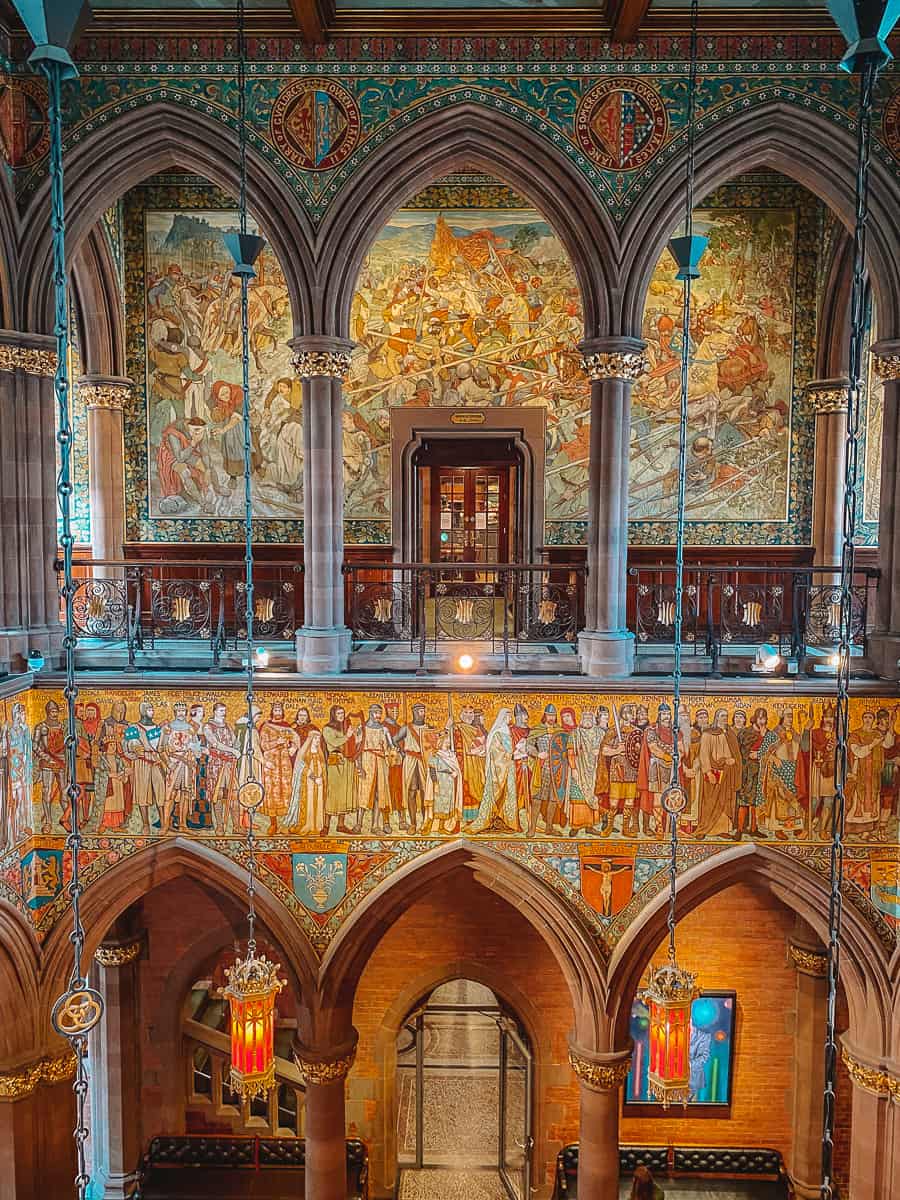 Save time and book a tour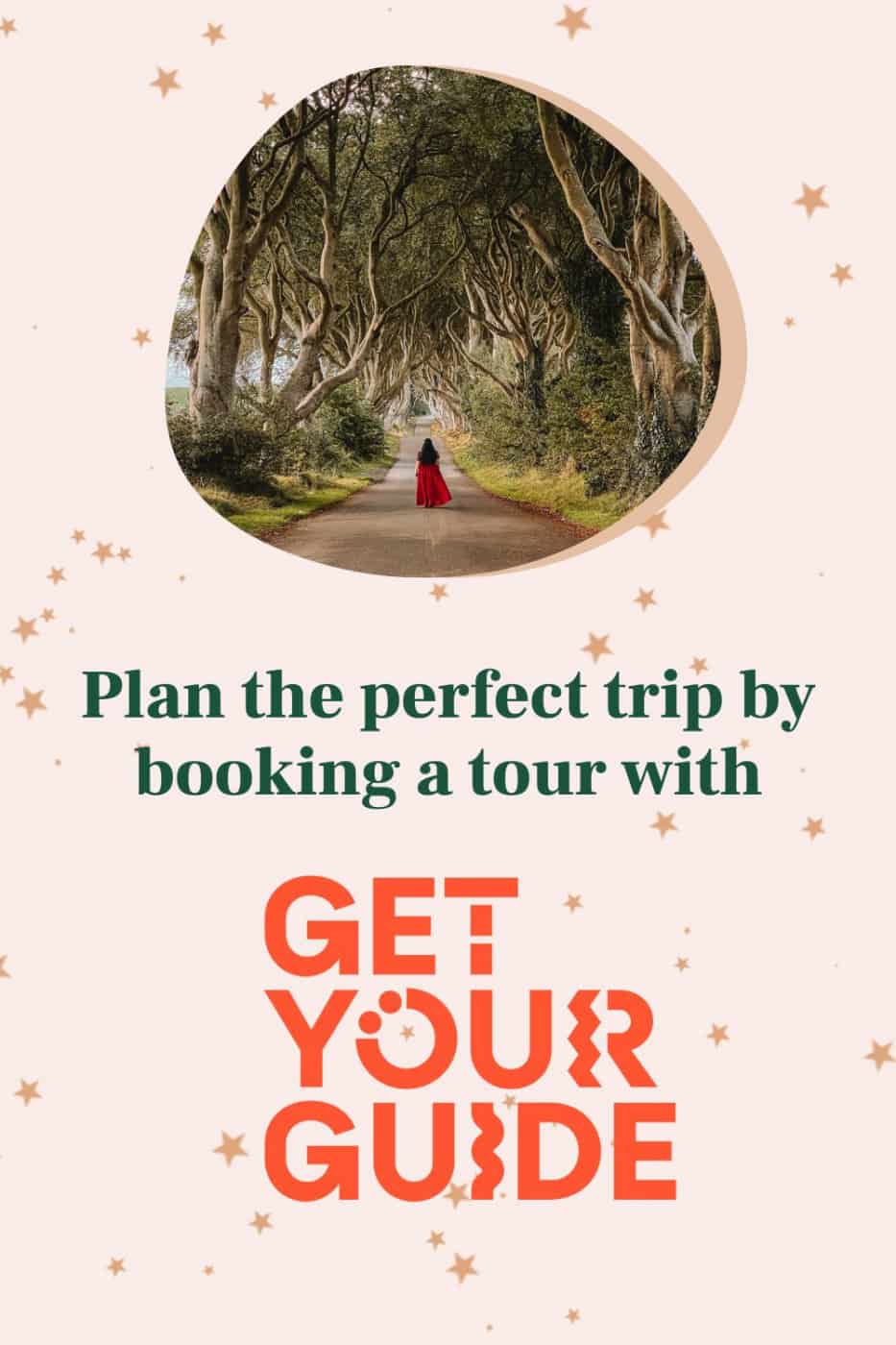 Read more of my Edinburgh guides
Harry Potter locations in Edinburgh
Discover Liberton Kirk in Autumn
My ultimate Edinburgh Bucket List
A complete guide for The Vennel viewpoint
How to visit the Ross Fountain
A complete guide for Dean Village
Why you must visit Circus Lane
How to find the Old Stockbridge Market Arch
Why you must visit Craigmillar Castle
Lunch at the Witchery By The Castle
Afternoon tea at the Signet Library
The most Instagrammable places in Edinburgh
Did Mary Queen of Scots bath in wine here?
How to see the Burke and Hare dolls
Greyfriars Kirkyard visitor guide
Topping & Company Booksellers Edinburgh review
Lady Stair's Close & The Writers' Museum in Edinburgh
Save the National Portrait Gallery Great Hall for later!