If you're a bibliophile, did you know that there are plenty of literary locations to visit in the Peak District National Park?
Authors such as Jane Austen, Charlotte Brontë, Roald Dahl & George Eliot have all been inspired by this wonderful place.
So, if you're looking for books to add to your never-ending collection then you have to check out Scrivener's Books & Bookbinding in Buxton.
It's an independent bookshop set in a gorgeous Victorian building that has a labyrinth of secondhand tomes inside.
Here is a tour of Scrivener's Books in Buxton & all the reasons why you must visit.
What is Scrivener's Books & Bookbinding?
Scrivener's Books is thought to be the largest second-hand bookshop in Derbyshire that has around 40,000 volumes in store.
Their maze of books sits over five floors and they have every pre-loved genre of book that you can think of!
There's a floor for all types of interests including children's books, non-fiction, fictional books, first editions, rare books, antiquarian, and collectibles.
It has a wealth of cosy spaces with lots of reading nooks so you can browse for your next purchase or sit down and have a peaceful read.
As well as selling all sorts of books, they provide bookbinding and restoration services too.
Plus, if that's not enough reason to visit, they even have a small Victorian museum on the bottom floor filled with classic texts, antiques, and curios.
Scrivener's Bookshop history
As soon as you look at this beautiful building, you can't help but think that this place is somewhere special.
Set in what used to be a Victorian shop, this store used to have living accommodations on the upper floors. Many of these items have been salvaged and are now in the Victorian Museum.
Although the building is centuries old, this bookshop is actually quite modern and was founded by the late Alastair Scrivener in 1997.
Since its humble beginnings, the bookshop's collection has only ever expanded and every corner is now bursting with books!
Where are Scrivener's Books in the Peak District?
Scrivener's Bookshop is located in Buxton which is a gorgeous spa town in the Peak District.
If you head to the likes of Buxton Crescent you will still find Buxton Spa Heritage Site where you can fill a bottle with their famous mineral waters that were thought to heal you!
Although Scrivener's Books & Bookbindings is in Buxton, you'll need to walk out of the centre to find it as it's located in High Buxton.
Scrivener's Bookshop address is 42 High St, Buxton SK17 6HB. Click here for a Google Pin!
How to visit Scrivener's Bookshop
Scrivener's Books is located on Buxton High Street which is near St Anne's Church and opposite the Cheshire Cheese pub.
This is a five-minute walk from Buxton Crescent, a four-minute walk from Buxton Museum & Art Gallery, and a 10-minute walk from the Pavilion Gardens.
Buxton is easy to get around on foot once you arrive at the train station but you can also arrive by car.
The closest parking would be Market Street Car Park which is just a couple of minutes' walk to the bookshop.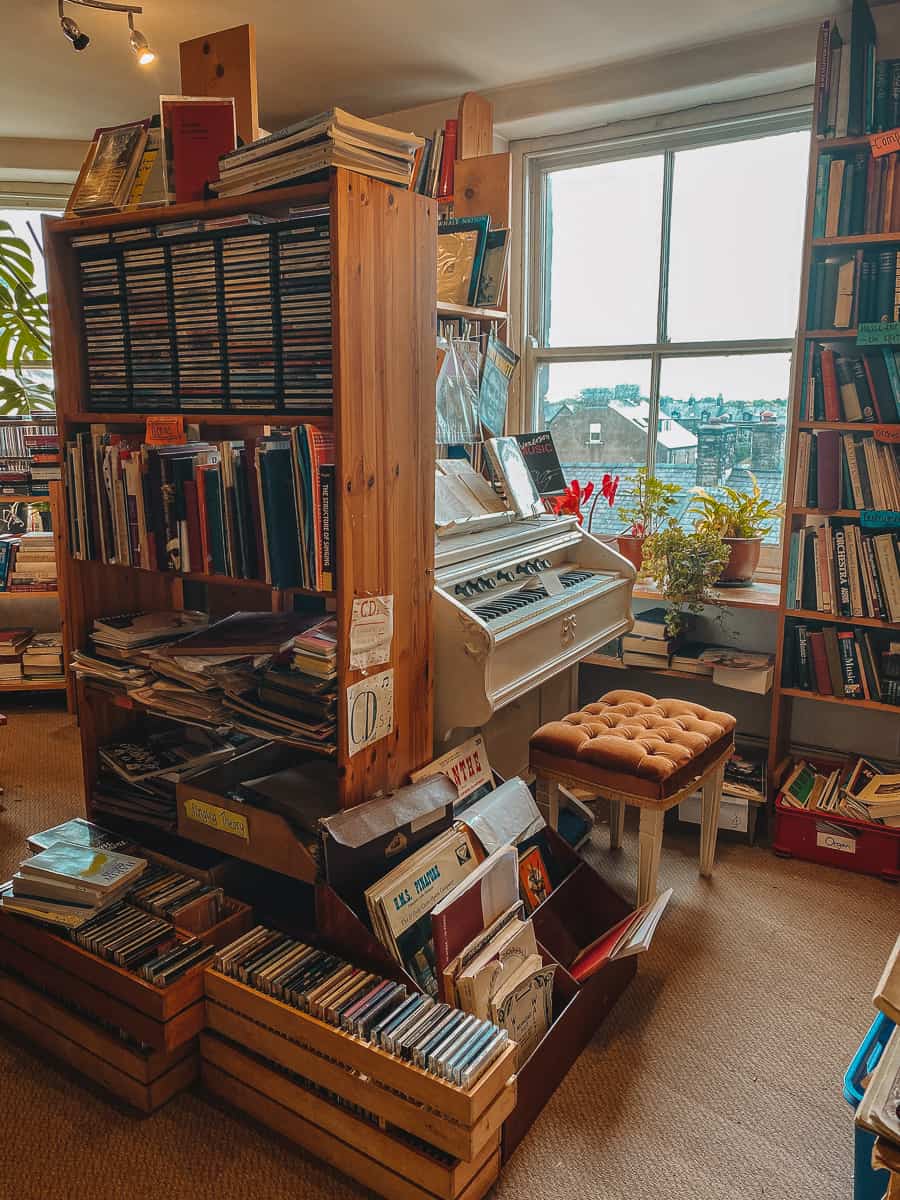 Take a tour of Scriveners Books
Scrivener's Bookshop is a bibliophile's dream as every tiny space has been filled to the brim with texts!
As you make your way up the five floors of this book tower, you can't help but feel you may never find your way out.
It's honestly a labyrinth and you can find all sorts of hidden gems between the tomes. A piano, armchairs, book nooks, and even a miniature version of the shop.
What I especially loved was that many of the Victorian features have been retained here including the comforting sounds of creaking floorboards.
You could spend an age browsing this shop and all it has to offer. Make sure to take a good look around as it's easy to miss something in this maze.
Victorian Museum
What I loved most about this Alladin's cave is that you can find all sorts of curios dotted around and so I was excited to descend down into their basement to visit the Victorian Museum.
It was a room filled with historic antiques and bric-a-brac, rather than display cases, but it was delightful.
You'll find old posters of Buxton, paintings, a cast iron fireplace, quirky glass bottles, and more. There were also plenty of antiquarian books to browse amongst the knick-knacks too.
Before you leave, make sure to check out their collection of postcards, book bags, magnets, coasters, and mini artworks in the shop – I bought a few pieces for my collection!
Scrivener's Bookshop opening times
Scrivener's Books & Bookbinding is open every day of the week so it's really easy to stop by on a visit to the Peak District.
You can visit them on Monday to Saturday from 10 am until 5 pm and on Sundays they are open from 12 pm until 4 pm.
Looking for more things to do in Buxton?
After your book shopping, you must explore the incredible delights of Buxton. If you haven't visited yet, I would highly recommend that you do.
It was a Victorian spa town and so you'll find incredible attractions like the Pavilion Gardens, Devonshire Dome, Buxton Crescent, and more.
You could also take a walk above the city to Solomon's Temple. It's a nice and easy walk in the Peak District with spectacular views.
You also have Pooles Cavern nearby which is worth seeing and you can learn more about Grin Low in their prehistoric museum.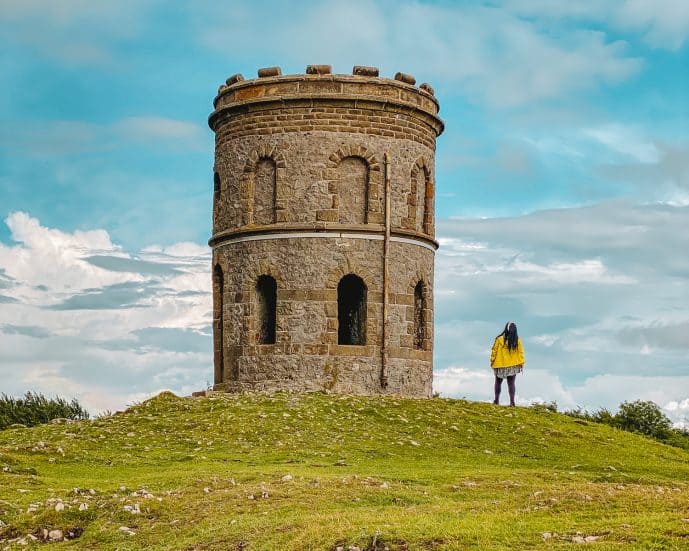 You can head down the road to the likes of Bakewell to try a Bakewell Pudding or the spectacular Chatsworth House.
Or, you can head to Monsal Head viewpoint to start the Monsal Trail Walk. You're also close to Chee Dale with the famous stepping stones.
From here, you're not too far from the Dove Valley with the Dovedale Stepping Stones, Ilam Park, and Milldale.
Also, one of my favourite walks is near here which is the route up to Thor's Cave in the Manifold Valley!
Read more of my Peak District guides
How to Visit Mr. Darcy's Pemberley aka Chatsworth House
The easiest way to find Thor's Cave
The best things to do in Milldale
How to get to the incredible Bamford Edge
How to find Robin Hood's Cave in Stanage Edge
A magical easy walk to Lud's Church
How to visit & cross Dovedale Stepping Stones
Why you must visit Peakshole Water Castleton
How to visit Little John's Grave in Hathersage
Exploring the Longnor Pride and Prejudice location
How to visit Malfoy Manor in real life from the Deathly Hallows
A complete visitor guide for Monsal Head viewpoint
Best things to do in Ashford in the Water
Things to do in Eyam Plague Village
How to visit Ramshaw Rocks from Pride and Prejudice
Save Scriveners Books Buxton for later!