The are plenty of famous smuggler's pubs dotted around the Cornish coast. These places were used to hide illegal contraband sourced from trade ships and were a hive of criminals, wreckers, and cutthroats.
The First and Last Inn at Sennen is ranked as one of the most famous and dangerous of these smuggler's dens. In fact, the whole village of Sennen was in on the smuggling trade and kept the secret.
This dangerous game of wrecking, smuggling, gossip, and betrayal ended up in arrests, hangings, and even a murder in cold blood!
Thankfully, it's a safe place to visit today where you can have a nice drink or enjoy a home-cooked meal in their restaurant.
However, some of the smuggling legacies have still been left behind and a few unsavoury characters are said to haunt the inn.
Here are all the reasons why you should visit this historic pub in Cornwall and uncover its dark past and secrets.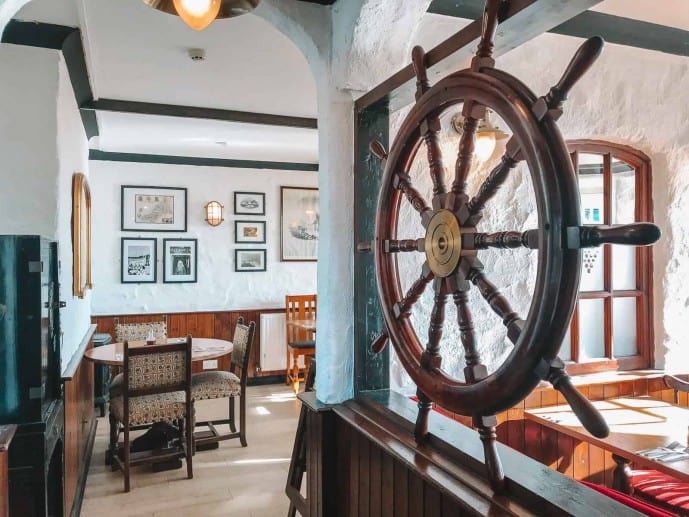 What is the First and Last Inn at Sennen?
The First and Last Inn at Sennen is a pub located in the most south-westerly part of Cornwall and the UK!
It lies just one mile from an area that is known as 'Land's End'. The name first and last comes from the fact that this is the most westerly inn in the country.
A coaching inn has sat on this spot since 1620 and has been a popular spot that welcomed smugglers and wreckers over time.
Today, the inn has a friendly pub, tasty restaurant, and 5* accommodation.
A history of Smuggling & Wreckers in Cornwall
I guess what I've said so far wouldn't make much sense if you're not aware of Cornwall's smuggling history. Well, let me change that right now!
Today, the British isles rely a lot on imported goods from other countries and this has been the case for hundreds of years.
In the 17th and 18th centuries, things like silks, rum, brandy, tea, and salt for fishermen were all imported from other countries like France.
To fund the various battles with other countries, the crown imposed huge tax levies on imported goods. Some alcohol levies were increased to a whopping 250%!
This meant that a lot of fishermen and common labourers couldn't afford the increased prices and they weren't going to survive.
Smuggling then became commonplace and this involved looting trade ships for cargo and hiding the contraband to eventually sell on.
At its peak in the 18th century, Wrecking also became common. The wreckers would guide a ship into the cove with false navigation lights, knowing it would crash upon the rocky shore.
Once the ship had wrecked on the shore, the smugglers would steal the goods and kill any survivors. As they say, dead men tell no tales.
Smuggling happened all over the coast of Great Britain but Cornwall became known as a "smuggler's haven". It's thought that over 50% of illegal brandy during this time landed on its shores.
The dark history of the First and Last Inn of England
Sennen Smuggler's
Sennen was at the centre of the smuggler's 'free trade' as it sat at the southern tip of Cornwall.
The rocky shores and coves here were the perfect spots to lure in ships, wreck them on the shore, and steal the cargo!
Local villagers were told to turn a blind eye to what was happening so they wouldn't be an eyewitness if anyone was caught.
The centre for the operations was located in the First and Last Inn that was used to store the contraband away from the authorities.
The inn was owned by Dionysius Williams at the time who was a wealthy farmer and landlord. He financed a lot of the smuggling operations that were going on in the area.
He leased the inn to Annie and Joseph George who were also his smuggling agents!
They decided to blackmail their landlord over his smuggling involvement and refused to pay him any rent.
Eventually, William's decided to kick them out as they had outstayed their welcome.
Naturally, Annie was not happy about this situation and decided to hand over King's evidence against him. The landlord was then arrested and sentenced to a long-term jail sentence.
The murder of Annie George
Unfortunately, Annie didn't stop there. She started to turn on a number of known smugglers in the village.
She handed over evidence on the Vingoe Family and Christopher Pollard of Madron who was eventually found not guilty.
Even her own brother-in-law John George wasn't immune! They fell out over a tobacco deal and in true Annie George style she ended up handing him over to the magistrates. He was convicted and hanged for his involvement.
Another trial took place in 1805 with a group of excise men who were charged for starting a riot when they were unable to move some impounded cargo.
Annie was a witness for the prosecution but she was found to be such malicious gossip by the judge that the trial was dismissed.
Annie was quickly building up a long list of enemies and eventually the villagers of Sennen had enough. Trust in their little community was a big thing and so they joined together and turned on her.
In revenge, they staked Annie on a beach at low tide and covered her in fishing nets. Then, when the water eventually rose she drowned in the sea.
After, they carried her body back to her bedroom at the inn. They left her there for a few days and then an undertaker buried her body in an unmarked grave somewhere in St Sennen church.
Annie's Shadow at the First and Last Inn
Some say, that Annie's ghost still haunts The First and Last Inn to this day. Her room is still kept open at the inn and she doesn't like anyone else sleeping there!
People who have slept in her room report having dreams of drowning and being trapped in fishing nets.
Also, some of the new landlord's pets have been found trapped in draws and wardrobes. Or, others have said they felt cold in the room with a sudden shiver down their spine. It's a hard pass from me!
Discover the First and Last Inn Smugger's Tunnel
So, how did the Sennen Smugglers manage to move their contraband from the coast to the pub?
Well, there are a series of tunnels and passageways underneath the First and Last Inn that lead directly out to the coast.
These were dug out by smugglers so that they could avoid the authorities and hide their contraband underneath here. On your visit, you must try to find 'Annie's Well' which is now covered by a sheet of glass.
This is thought to be the start of one of the old smuggler's tunnels! It's actually quite trippy when you walk around here if you're not expecting it. It looks like you could fall down the well.
Visiting The First and Last Inn today
Despite the First and Last Inn's dark and dangerous past, it's now a really popular pub that sits on the southerly coast of Cornwall.
As you walk inside the pub, you can tell that it's had a new lick of paint on the walls and renovations since the smuggling age.
However, the staff still retain some of the old features like the flagged floors, wooden bar, and the well!
They have lots of interesting etchings, portraits of the area, and even an old ship's wheel as decoration.
So, I would definitely walk around and try and learn about the pub's history while you're here if it isn't too busy.
I popped in here for some dinner after I had a good mooch around the Land's End Landmark attraction nearby. I had always wanted to visit this pub in the past so now I took my chance.
It's really cosy inside with lots of nooks and crannies to hide into. Their menu has lots of classic pub favourites and includes the catch of the day.
I had my favourite dish of scampi and chips which was delicious with a locally brewed pint to wash it down.
The service here was also fantastic and I loved talking to the barmaid about the tale of poor Annie and the smuggler's tunnel. I found the whole thing so fascinating!
Can you stay at the First and Last Inn?
YES but don't fret, thankfully Annie's room is strictly off the cards.
The Saddle and Stablerooms is the original part of the property just 20 yards away from the premises that have now been converted into a 5* guest house.
The apartments are luxury living spaces with bedrooms and kitchens for self-catering. They can accommodate 1 – 6 guests and have reasonable room rates.
As it's located in the South of Cornwall, it's the perfect base for exploring the area. Click here to book your stay!
Places to visit near the First and Last Inn
Once you've had your fill of smuggling and ghosts at the First and Last Inn, there are plenty of breathtaking places to visit in this area and South Cornwall.
It makes a great place to go for a road trip and you can stop by historic buildings, beautiful coves, landmark attractions, and quintessentially Cornish fishing villages!
St Sennen's Church
Right next door to the First and Last Inn is the St Sennen Church which was founded all the way back by St Sennin in 520 AD!
St Sennin is thought to have arrived in Cornwall from the Kilrush in Ireland as a Christian missionary. On his travels, he founded many of the churches around the area.
The church we see today, however, is from the medieval period around the 13th century but it hasn't changed much since it was built.
It's definitely worth checking out. This is also the place where poor Annie is meant to be buried in an unmarked grave.
Sennen Cove
Sennen Cove is a small, historic fishing village that still boasts a working harbour and a lifeboat house from 1853.
In this pretty village are some cute art galleries, cafés, and fish and chip takeaways to enjoy.
Along the coastal area are some of the most breathtaking views in Cornwall and I loved sitting on the promenade with ice cream!
There are so many walks that you can take along the coast and it's a beautiful beach to chill out on too.
If you were thinking of catching some waves, this is Cornwall's most westerly surf spot and is really popular.
A fun fact about Sennen cove is from 1497 when Perkin Warbeck landed on the shore and claimed to be Richard, Duke of York. One of the lost Princes in the Tower!
He convinced a load of the local fishermen to join him and take on Exeter.
He eventually was found out to be lying so he was arrested and imprisoned. Luckily, the Sennen fishermen just got a slap on the wrist, were fined, and sent home.
Click here to read my complete guide on Sennen Cove
Land's End Landmark
No visit to the south of Cornwall would be complete without a stop off at Land's End to see the very end of England.
This landmark has been attracting tourists for nearly 400 years! Nowadays, it's a whole complex that you can visit.
The Land's End Landmark attraction is FREE although many of the things inside it do come with a charge and you will pay out the nose for parking.
You can make a phone call at the end of England, send a postcard stamped at Land's End, have the most southerly Cornish pasty, take a photo with the Land's End sign and go on the wealth of pretty walks around the area.
There really is something for everyone here and it can be as cheap or as expensive as you like.
Click here to read my guide on Land' End and all the amazing things to do at this landmark!
Minack Theatre & Porthcurno Beach
Minack Theatre is one of my favourite parts of England. As a previous performing arts student, I always dreamed of being able to perform in this amazing amphitheatre along the Southern coast.
As well as holding numerous performances to watch throughout the year, it is an amazing attraction that you can visit all year round.
This theatre looks like an ancient Roman amphitheatre but it may surprise you that it's actually only 100 years old. It was founded by the wonder woman Rowena Cade.
After World War I Rowena Cade's father died and her families fortune's dwindled. So, she bought Minack headland for £100 and built a house here for her and her mother.
The local Shakespearean society would perform a play each year and one year they wanted to perform The Tempest by the sea.
Rowena offered her headland for the show. The audience would need somewhere to sit, so she started to build a small seating space.
She eventually built this whole theatre by hand, using only basic tools, and it was her life's work.
Today this theatre is famous all over the world. Nearby is the stunning Porthcurno Beach which is not only one of Cornwall's best beauty spots but also a Poldark location!
Click here to read my complete guide for the Minack Theatre
Porthgwarra
One of my favourite finds on my trip to Cornwall was the secret hidden cove of Porthgwarra.
Being an avid Poldark fan, I was on the hunt for some of the top filming locations and stumbled upon this serene cove on the southern coast.
It is a little bit of a struggle to reach along the single-track roads but it is well worth the drive as it's a gem!
You can either relax at the top of the cove and have tea in the café or head down into the cave to access the crystal clear waters on the cove. On a sunny day, the water is almost turquoise!
Click here to read my complete Porthgwarra guide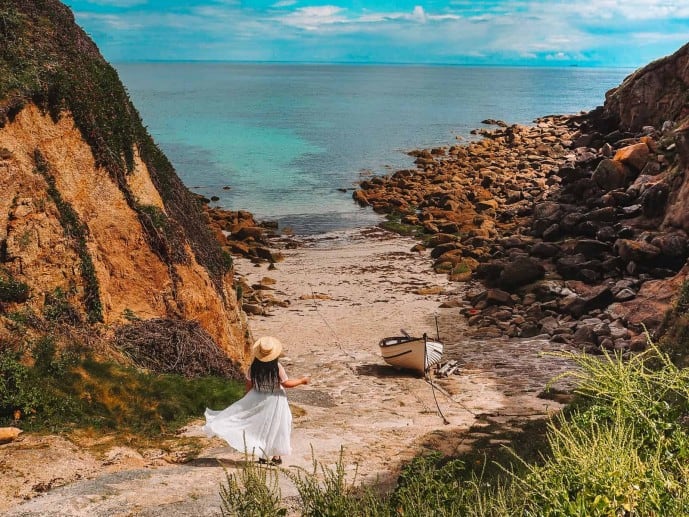 Mousehole
This quintessentially Cornish fishing village gets its unusual name from the size of its small harbour.
It's actually pronounced 'Mow-zul' to locals rather than 'mouse-hole' and there is a lot to do around here in amongst the spectacular scenery.
You can take a walk around the harbour and see the ships pull in, or you can take a stroll around the quaint houses in the village.
There are also fair few cafés like Hole Food's to have some breakfast, lunch or a coffee break and I loved The Mousehole shop.
Driving around Mousehole, with its narrow winding lanes, can be a nightmare in Summer. If you can, I would try to park just outside the village and walk in rather than parking on the main harbour.
Click here to read my complete guide for Mousehole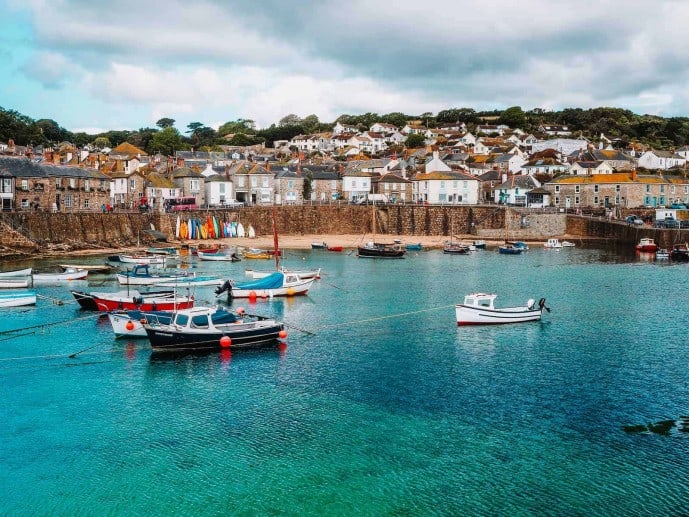 St Michael's Mount
Another spectacular spot you can visit in the area is Marazion, pronounced 'Maraz-eye-un', which is the home of St Michael's Mount tidal island!
It's a hive of myth, magic, and mystery and has the most colourful history starting all the way back in 495AD. Click here to read all about the legends.
St Michael's mount is 500 metres away from the mainland and can be walked to at low tide in the day. Alternatively, you can catch one of the many boats heading over there at high tide!
The mount has a small harbour, village, gardens, and the imposing St Michael's Castle on the top.
This is, without doubt, one of the most magical places to visit in all of Cornwall so don't forget it on your itinerary!
Click here to read my complete guide on how to visit St Michael's Mount in Cornwall!
Read more of my Cornwall guides
St Aubyn Estates Cottages review
How to visit Tregothnan Estate in Cornwall
Things to do in Charlestown Cornwall
The Museum of Witchcraft in Boscastle
How to visit the Lost Gardens of Heligan
Things to do at the Jamaica Inn
How to visit Golitha Falls in Cornwall
A complete guide for the Cheesewring Hike
Secrets of the Admiral Benbow Inn
Where is Driftmark filmed in House of the Dragon
How to visit Holywell Bay from House of the Dragon
Magical things to do in Kynance Cove
Savr the First and Last Inn at Sennen for later!