Have you heard of the Czechia Bone Church? The Sedlec Ossuary is a hauntingly beautiful and sacred space that is filled with over 40,000 real human bones.
Inside this tiny Roman Catholic temple, you'll find skulls and bones piled up and arranged in different artworks including pyramids, a chandelier, and a coat of arms.
In recent years, the 'Church of Bones' has become one of the most popular attractions in the entire country as it's really easy to visit on a day trip from Prague!
Personally, I have been wanting to visit this chapel for years and I was so happy that I finally got the opportunity.
Here is how to visit Sedlec Ossuary in Kutna Hora and the interesting story as to why there is a church bursting with bones!
A special thank you to the Sedlec team for allowing me to take photos/videos on my visit. Although I was a guest all opinions are my own.
Sedlec Ossuary history
There has been a religious temple on this site since 1142 when it was founded by Miroslav of Markvartic.
There is a legend that says one of the local abbots was sent on a mission to Jerusalem by the Czech king, Ottokar II, in 1278.
The abbot brought a handful of soil back from Golgotha in the Holy Land and scattered it over Sedlec cemetery. After that, Sedlec became a very popular site for burials.
The cemetery Chapel of All Saints was built in the 14th century and was constructed in the Gothic style with an upper chapel and underground ossuary. It was more than 3 hectares.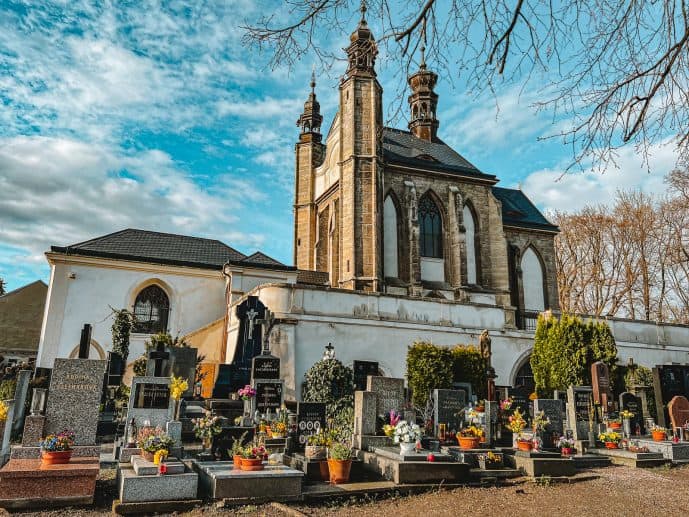 Due to the Hussite Wars and the Plague of 1348, the old graves were abolished and the bones were then stored in the bottom chapel instead.
The church was also devastated and had to be rebuilt. Many of the bodies located in the cemetery had to be dug up and the bones were stored inside the chapel instead.
There is another legend that says a half-blind monk was responsible for arranging the bones into pyramids in the 16th century. It is said that after he completed his work he got his sight back!
The architect, Jan Blažej Santini Aichel also was responsible for some of the basic skeletal decorations using a Baroque method. There are symbols of cups and monstrances dating back to 1742.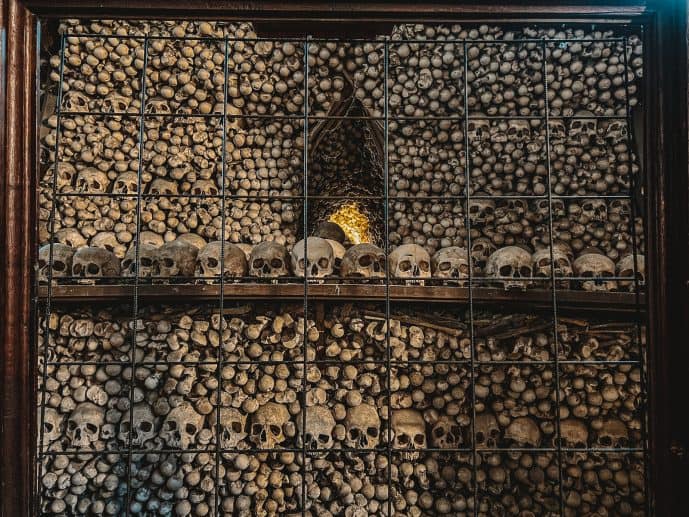 Later, after the monastery was abolished in 1783, the Schwarzenberg family bought the Sedlec land including the cathedral and ossuary and their patronage ensured its survival.
They hired a carpenter called František Rint to re-organize the bones. He decided to display them as artworks and it's his skill that made this chapel such a popular tourist attraction.
Today, it's estimated that over 250,000 people visit the Bone Church of the Czech Republic every year!
Where is the Sedlec Ossuary in Czechia?
Sedlec Ossuary is located in Kutna Hora, a historic bohemian town in the Czech Republic and UNESCO World Heritage Site.
Sedlec is a parish that is located around 2.5 kilometres from the main town and attractions like St Barbara's Cathedral and the Hradek Silver Mine.
You can walk between the historic centre and the Bone Church in around 40 minutes but it's easiest to take the local bus between the two 'UNESCO' sides of the town.
There is an 802 bus service that will stop at 'Sedlec Kostnice' near the Our Lady of Assumption Cathedral and then it's a 5-minute walk to the ossuary.
Tickets cost around 60p/$1, you can pay by cash or card and buses run every 30 minutes.
If you are driving to Sedlec, there is free street parking located near the ossuary on Zamecka road.
Sedlec Ossuary address is Zámecká, 284 03 Kutná Hora, Czechia. Click here for a Google Pin!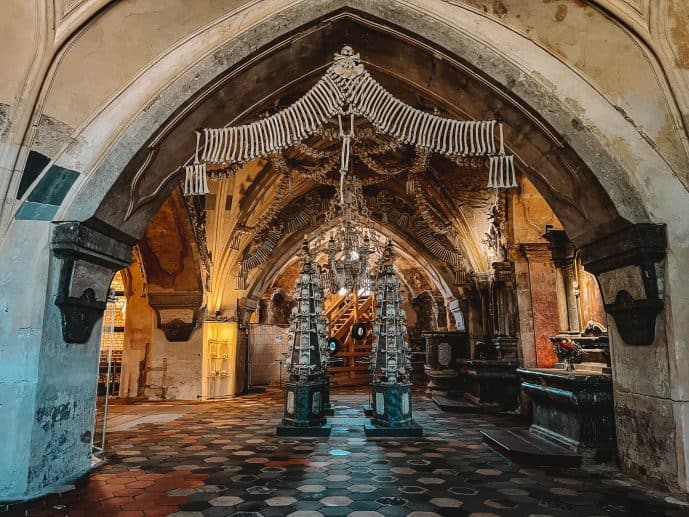 How to Visit Sedlec Ossuary from Prague
Most visitors to the Sedlec Ossuary travel to Kutna Hora from Prague and it's a very easy journey to make.
Kutna Hora is only an hour away from Prague Main Station by train and you can book tickets online via the official Czech trains website called Cesky Drahy.
I actually booked a first-class ticket as there was little price difference and it felt like I was in a Harry Potter as I got a compartment to myself!
You will arrive at the Kutna Hora hl.n station and which is actually closest to Sedlec parish with the cathedral and ossuary.
From the train station, you can either walk to Sedlec Ossuary in around 15 minutes or take the local 802 bus service to 'Sedlec Kostnice' to arrive at the Bone Church.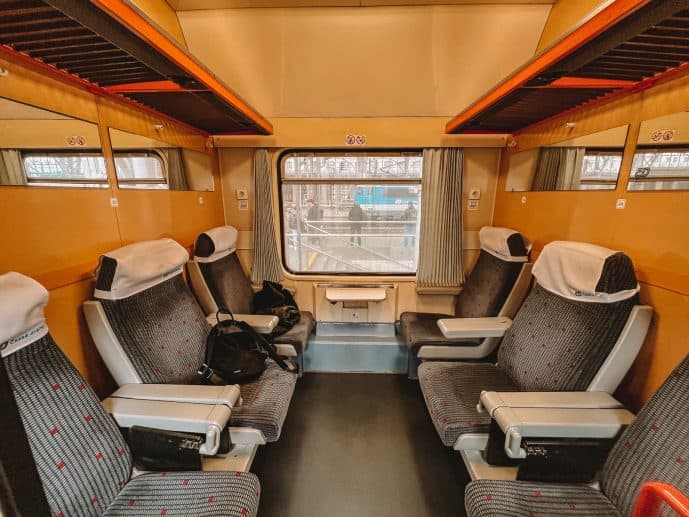 Book a Bone Church tour from Prague
Booking a day trip to Kutna Hora is pretty straightforward. But, sometimes you simply don't want the hassle of booking tickets and navigating trains on your holiday!
I totally get that and luckily there are many guided tour options to the Sedlec Ossuary available from Prague.
Most of the guided tours are a half-day experience that includes a hotel pickup, lunch, and entry fees to Sedlec Ossuary and St Barbara's Cathedral.
These tours will save you lots of time and fuss. Here are a few tour options that you can book;
Sedlec Ossuary opening times and ticket prices
The Sedlec Ossuary is open every day of the year with the exception of December 24th when it is closed for the day. But, there are different opening hours depending on the season.
From April – September, the Bone Church is open from Monday – Sunday from 9 am – 6 pm. From November to February it's open 9 am – 4 pm and in March & October, it's open from 9 am – 5 pm.
You can buy a Sedlec area joint ticket for the Cathedral and Ossuary for 160 CZK an adult. Students get a slight discount at 120 CZK and children are 50 CZK a ticket.
You cannot purchase Sedlec area tickets at the church itself. You can book your tickets online to save time or you can purchase tickets on the day in the Infocentrum (Information Centre) located at 279 Zamecka Street.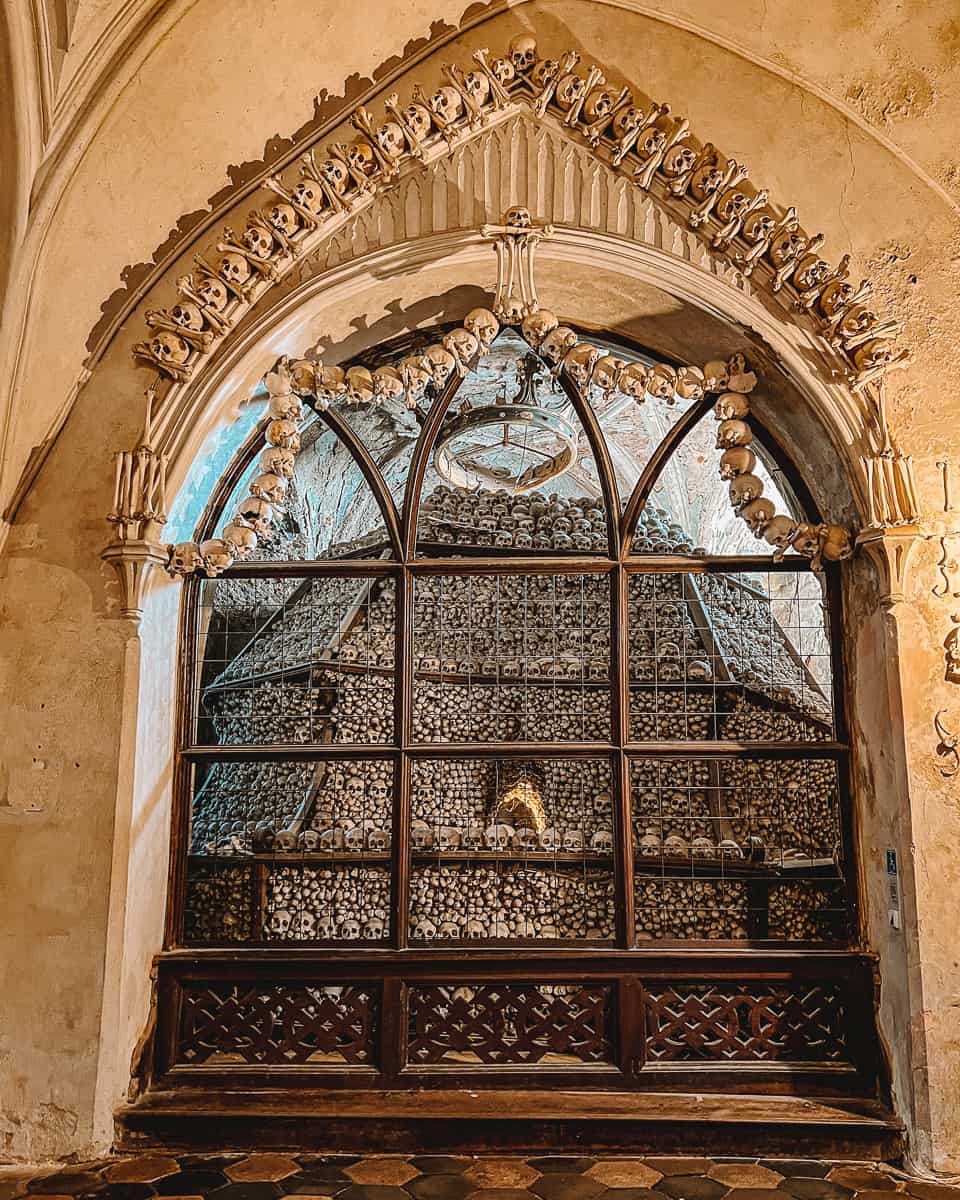 Things to do in Sedlec Ossuary
Once you're inside this sacred space, there are plenty of things to see in the ossuary on your visit. Everywhere you look there will be bones. Endless piles of bones.
There are more than 40,000 human bones that have been displayed in this church in different artworks and designs.
The motto "Memento Mori" or "Remember Death" is mentioned throughout the chapel. It's a message to not celebrate death but how death makes us equal under God.
It reminded me of the quote "Remember that you are dust and to dust you shall return" (Genesis 3:19)
Here are some of the highlights you can look out for;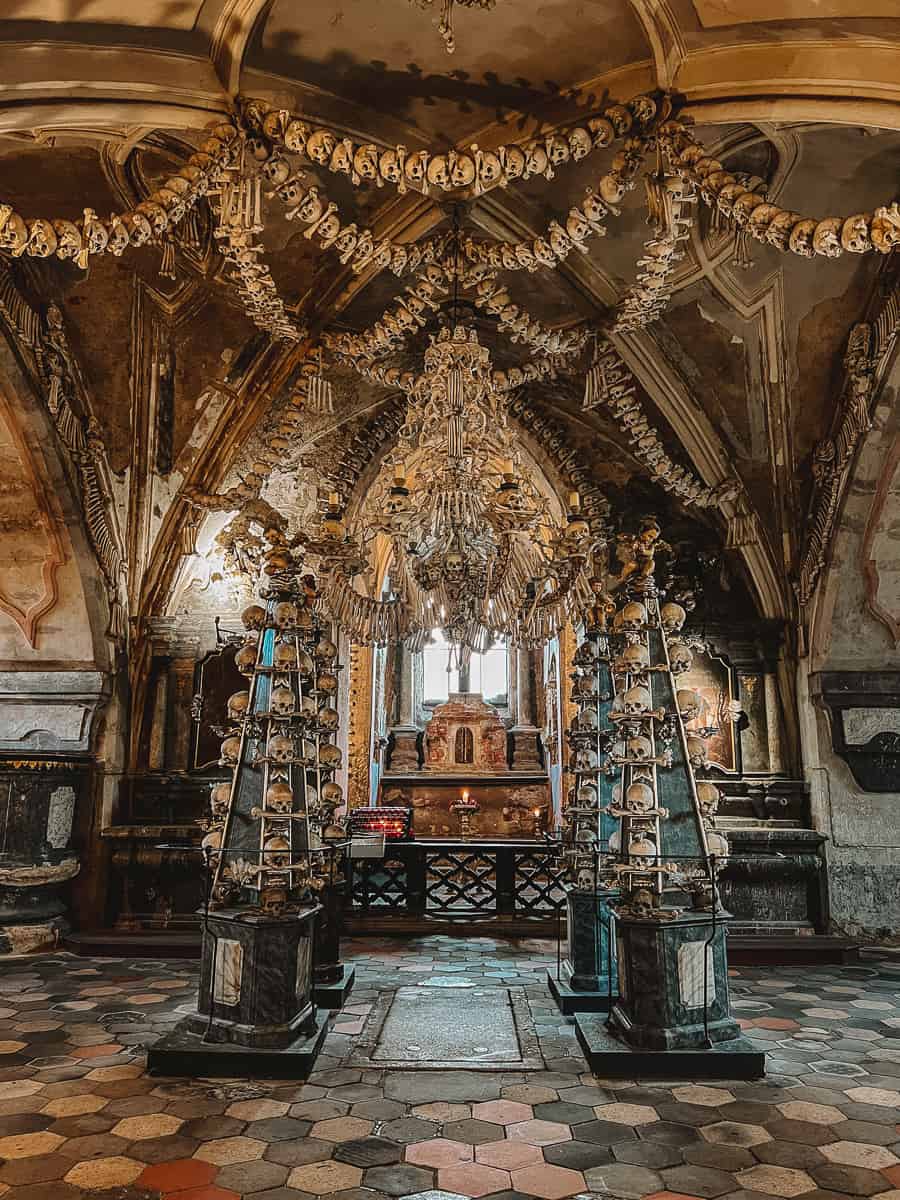 1. Entry Hall & Stairway
When you enter the church you'll be standing at the top of a staircase by the ticket desk/gift shop that leads you underground to the chapel interior.
But, make sure to appreciate some of the details that are located around the staircase as well.
On either side, you'll find skull and bone garlands and chalice-shaped structures that are made of bones.
Also, you'll find some bones that have been displayed like a crucifix and several bone monstrances.
2. Skull and Bone pyramids
There are four 'bone pyramids' that you can see in the vaults of the church. There is a legend that says a half-blind monk started to build these years ago.
But, these were redesigned by Santini in the Baroque style. At the top of each pyramid, you will see them topped with a crown.
There are piles upon piles of bones and skulls displayed here. They are located behind bars so remember not to touch them!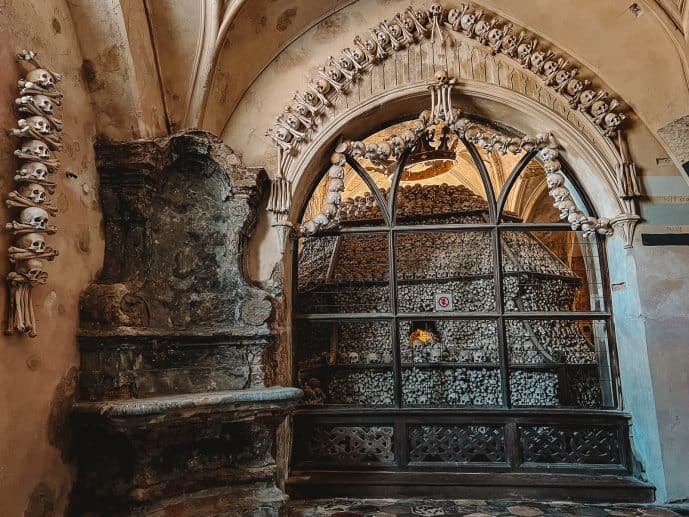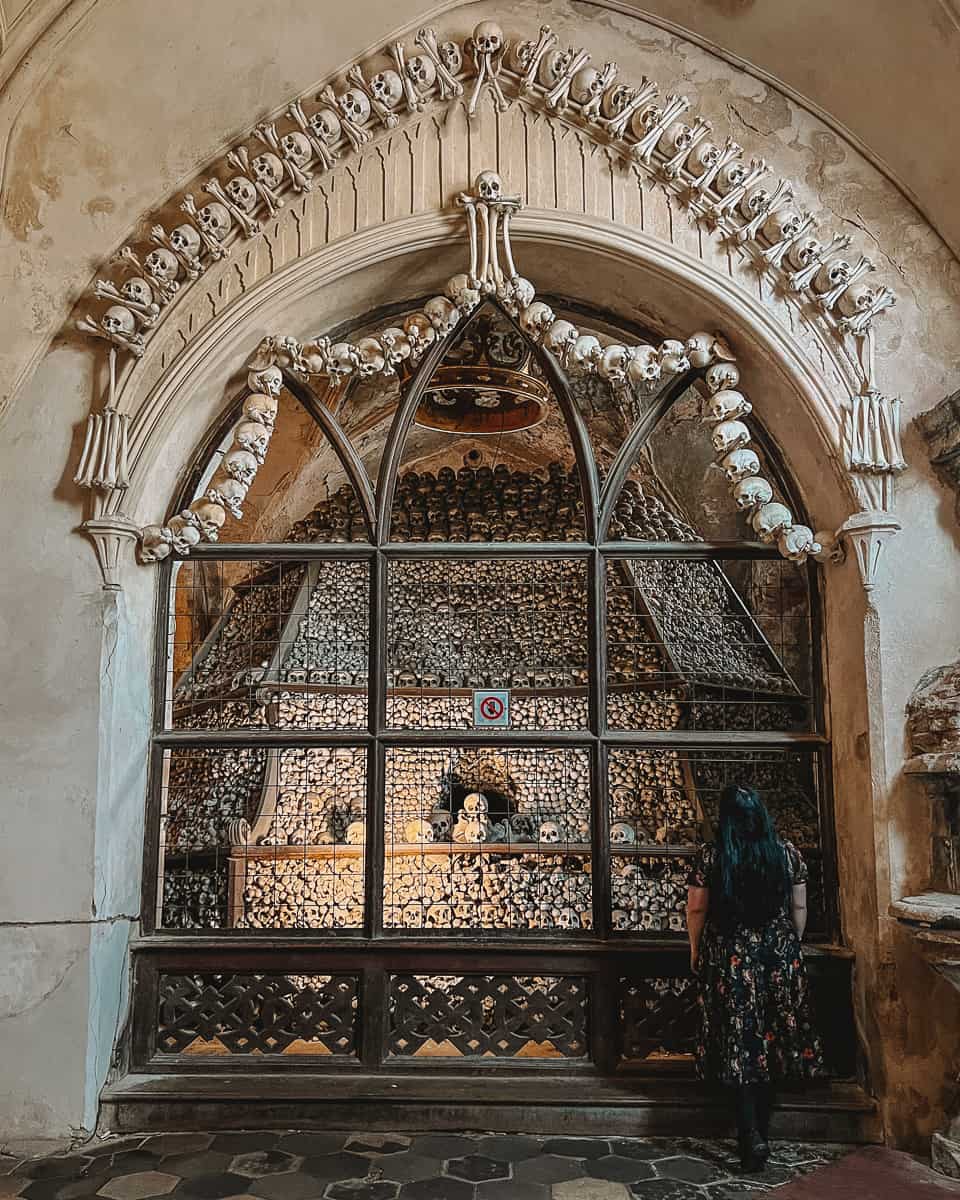 3. Bone chandelier & skull garlands
The most impressive feature of Sedlec Ossuary has to be the bone chandelier that hangs from the centre of the chapel.
Every type of bone is on display on the chandelier and you'll find several bone garlands that hang from the ceiling around it.
You'll find archways and 'curtains' of bones that surround the central vault and four pillars with skulls stacked on top of each other.
This was a feature created by František Rint in 1870. He disinfected and bleached the bones and then displayed them in a unique way.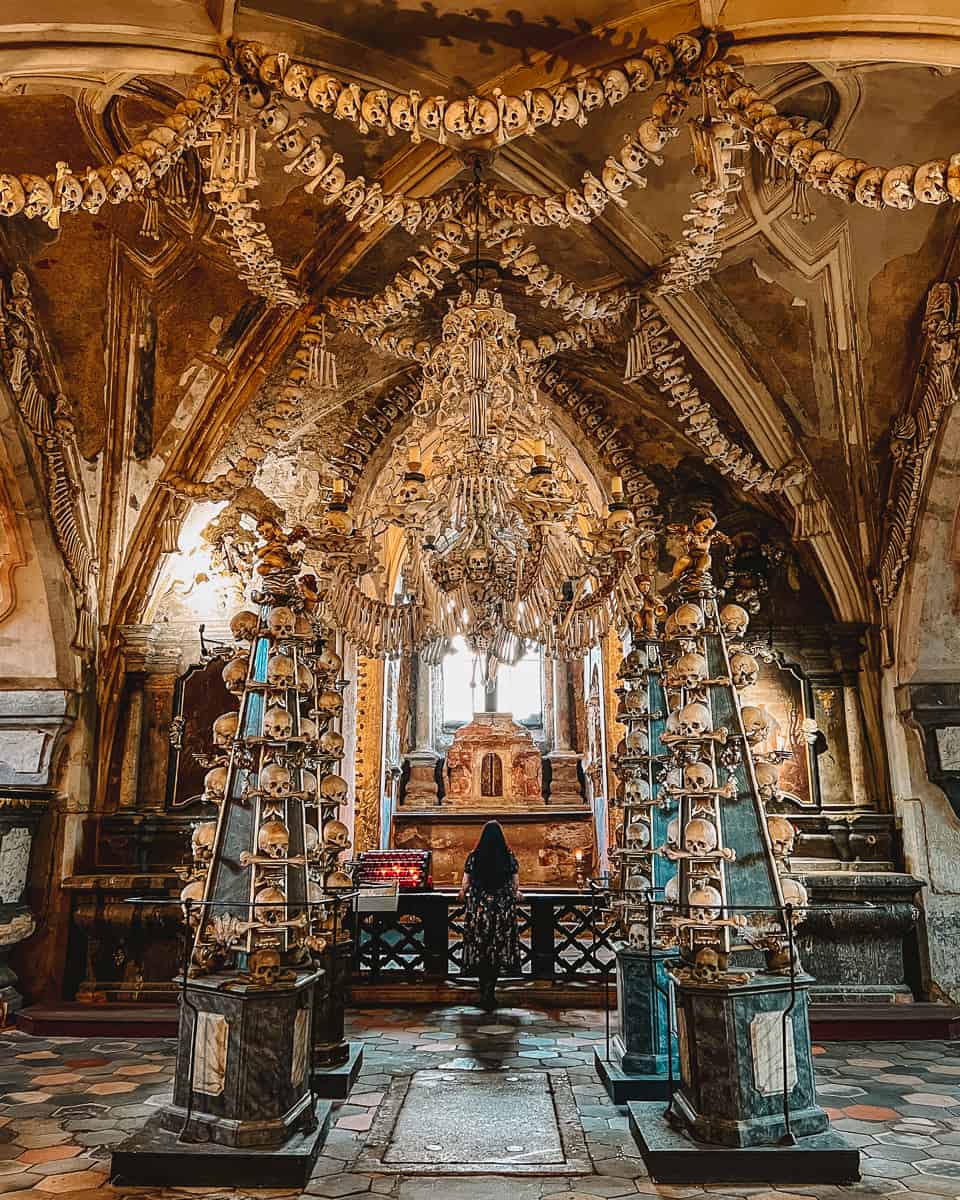 4. House of Schwarzenberg coat of arms
Another impressive feature of Sedlec Ossuary is the House of Schwarzenberg coat of arms which has been made entirely of skulls and bones. This is another feature created by František Rint.
After the Sedlec monastery was abolished by Joseph II in 1783, the property and land were purchased by the Schwarzenberg family.
They were Franconian and Bohemian and one of the most prominent European noble houses.
It was thanks to their patronage that the Sedlec Ossuary has survived all this time and we can appreciate it today!
You'll notice that the coat of arms, using the design from the 18th century, has nearly every type of bone from the human body displayed.
There are skulls, femurs, fingers, pelvis, and spinal cords that make up the designs of their emblem.
The coat of arms had four sections topped by a crown. One of silver and blue stripes, three red spikes, a burning twig, and the head of a Turk having his eyes pecked out by a raven…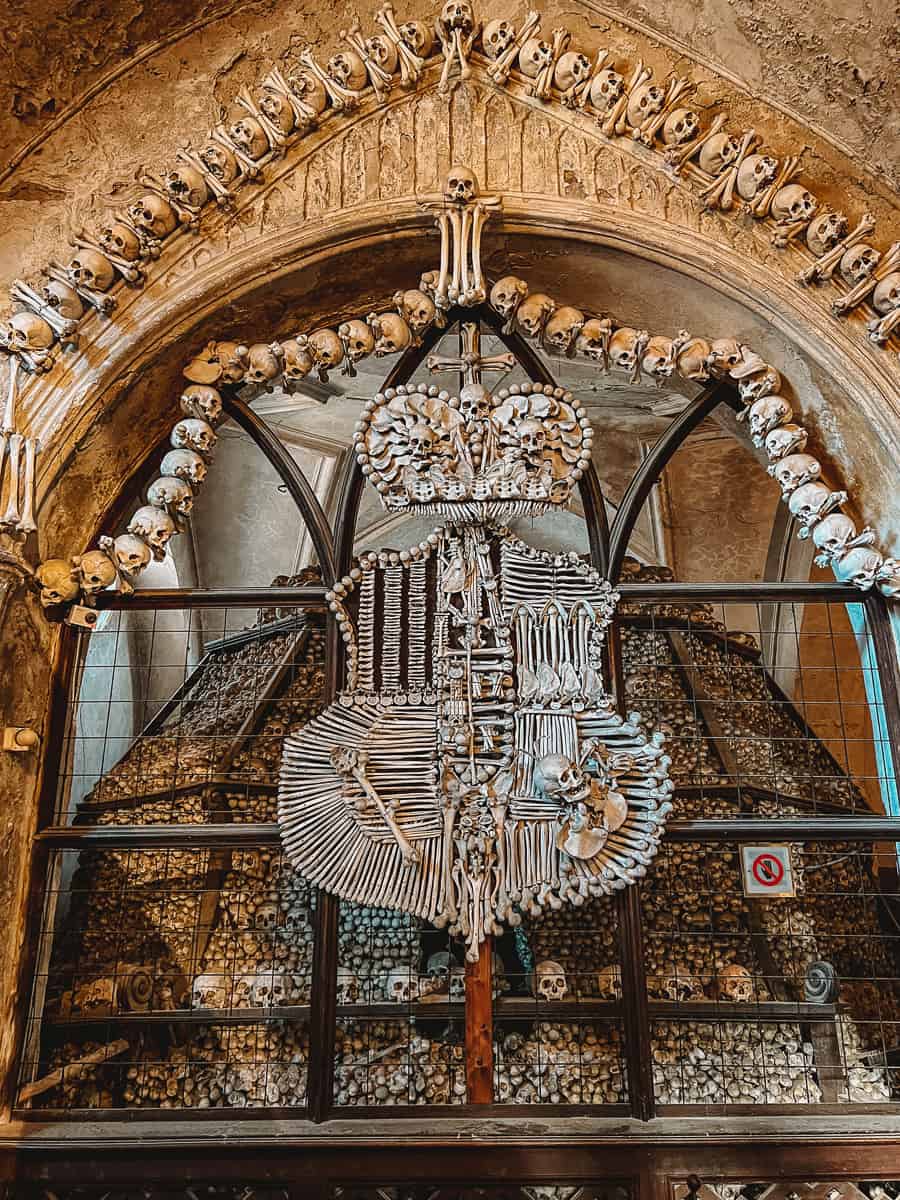 5. Bone signature of František Rint
No artist leaves their artwork unsigned and, of course, František Rint had to leave his mark in the most unique way he could; in bone.
If you look close to the bottom of the staircase, you'll find his signature made out of bones on the wall!
It reads '1870, F. Rint, Česká Skalice'. Česka Skalice was Rint's hometown in Czechia around 85 kilometres from Kutna Hora.
He was a woodcarver and carpenter by trade but was hired by the House of Schwarzenberg to organise the bones in the ossuary.
6. Sedlec Ossuary altar
Beyond the bone chandelier, you'll find the altar of the chapel which has a crucifix of Jesus Christ and his crown of thorns.
Again, the space has been lined with skull and bone garlands that almost resemble spinal cords leading up to the ceiling.
There are votive candles that you can light for prayer. Plus, there are several paintings, bouquets, candles, and statues that can be found around this altar area as well.
7. Cemetery Church of All Saints
After your visit to the Sedlec Ossuary underground, don't forget to walk upstairs to see the Cemetery Church of All Saints.
Up here, they have some information boards about the Bone Church and a television playing some documentaries about the important reconstruction work taking place.
As you step inside the chapel, you can see the altar and there is also a small outdoor platform area as well.
Entry to this part of the church is free and it's well worth checking out as part of your visit.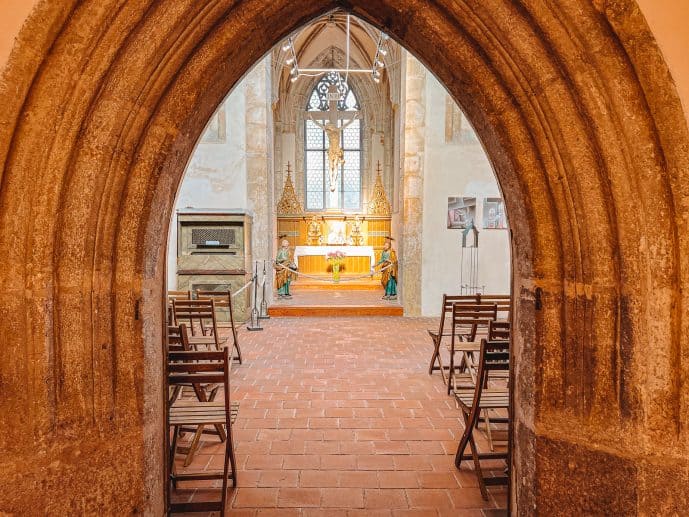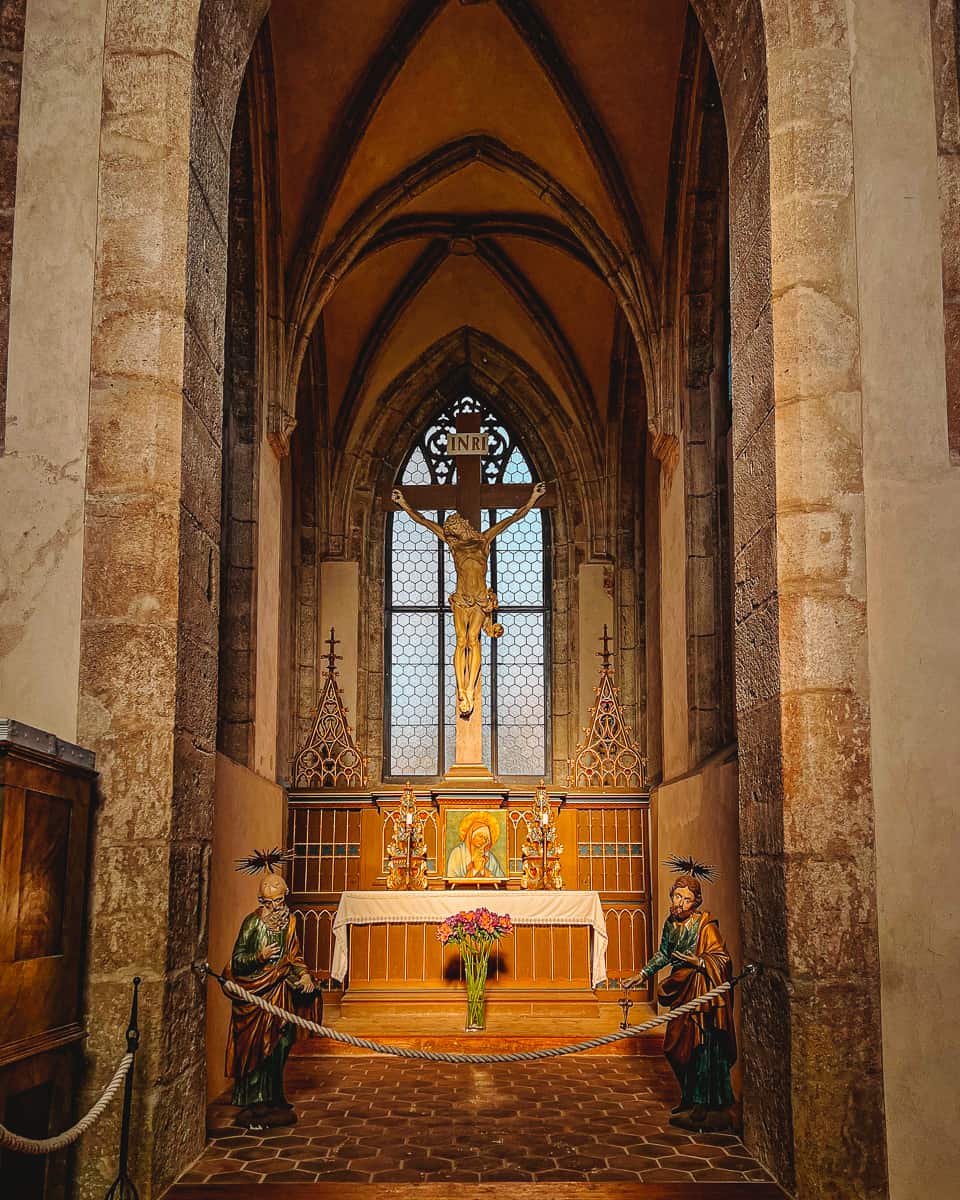 When is the best time to visit the Bone Church?
Due to the power of the media, Sedlec Ossuary is one of the most popular attractions in the Czech Republic beyond Prague.
It receives thousands of visitors every year and you can expect the Bone Church to be busy most days.
Lots of tour buses and groups visit this church on a half-day trip from Prague. So, it's best to try and avoid them if you're visiting self-guided.
For the best experience, I would try to visit as early as possible in the morning or later in the afternoon once the tour groups have left.
That way, you can explore the church in peace and truly experience the sanctity of this chapel.
The peak season in Europe would be July & August but it does get busy in Czechia around May – September. Travelling in the off-season is the best chance to avoid the crowds.
Sedlec Ossuary photography rules
Unfortunately, visitors are no longer able to take photos inside the Bone Church out of respect for the people and bones displayed here.
Too many visitors were taking offensive images and smiling selfies with the bones which were deemed inappropriate.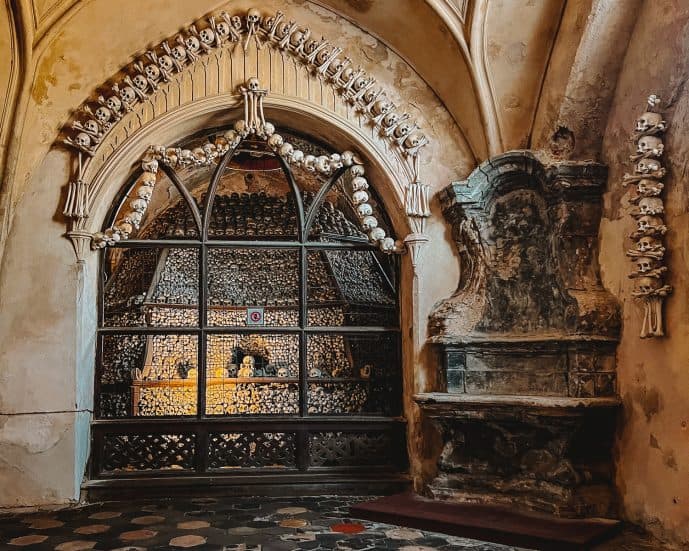 So, they had to put a stop to photography and videos in the ossuary altogether. It is a shame but I understand the reasoning for it. It's not the right place for selfies.
At least this gives you the option to be more present and enjoy taking in the haunting beauty of this place.
I had an exception as a travel blogger and I was very grateful for the opportunity to visit after hours and take photos.
Bone Church gift shop
If you wanted to purchase some souvenirs and support the church with an extra donation, then there is a selection of gifts to purchase at the ticket desk.
They have some model skulls, candle holders, magnets, and postcards on sale as well as t-shirts and hats, and other pieces.
I bought a skull for my bookshelf and some amazing magnets of the bone coat of arms on my visit. It was such a unique souvenir.
There is also another larger gift shop in the Information Centre/Ticket Office down the road. So, you could also pick some souvenirs up whilst purchasing tickets.
I was told that there is going to be an online gift shop opening soon – so watch this space
Where to eat near the Bone Church
If you're looking for somewhere to grab a coffee or something to eat near Sedlec Ossuary, there are a few café options nearby.
'CoffeeHood' café is located directly opposite the ossuary and Restaurace U Balánů serves up traditional Czech meals.
Or, you could visit the café inside MuzeumLega or the LEGO Hotel which has a small café. This is a great option if you wanted to stay near the Bone Church as it's right next door!
Visit Our Lady of Assumption Cathedral next!
Did you know that there is more to the Sedlec Parish of Kutna Hora than just the Sedlec Ossuary?
Just down the road, you can visit the Our Lady of Assumption and St John the Baptist Cathedral which is a UNESCO World Heritage Site!
Sedlec Abbey was a former Cistercian monastery and was founded in 1142, it was one of the first Cistercian religious sites in the Kingdom of Bohemia.
Unfortunately, a great fire destroyed much of the church in 1421 and killed many of the monks inside the building.
It wasn't until the 17th century, after the abbey was dissolved, that the cathedral was rebuilt in the Baroque Style and it became a UNESCO in 1995.
You can buy a joint ticket for the cathedral and ossuary at the ticket office in Kutna Hora or pre-book your tickets online. You cannot buy tickets at the cathedral itself.
They also have a selection of guided tours available that you can book during the day. This is the best chance to learn as much as possible about the cathedral and the Bone Church.
But, I'd love to experience one of their night tours one day. It must be such a magical experience to visit the Sedlec Ossuary after nightfall!
St James' Church
Another Sedlec temple that gets far less attention than the rest is the Romanesque St James' Church.
It was constructed on a hill above Klejnárka River in the middle of Jakub village in 1165 and the chapel was built in the Romanesque style.
It was consecrated by the Bishop of Prague, Daniel XIII, and King Vladislaus II and Queen Judith were in attendance. Which is quite amazing for a small church in a village at the time!
As part of your visit, you can climb up the church tower to get amazing views over Kutna Hora & Sedlec.
But, getting up to the top is quite a challenge with narrow spaces and uneven steps. So, take care.
Unfortunately, it was closed on my visit. It's only open on weekends in April & October and daily from May – September.
You can purchase tickets in advance online or at the ticket office and inoffensive photography is allowed.
My top tips for visiting the Bone Church
Be respectful & follow the rules – You are entering a tomb and a religious site. Remember to keep your voice down and be respectful of the space and authentic bones. You cannot eat or drink inside and dogs are not allowed.
Leave enough time – Although it's a small space, the Ossuary can get crowded and there is sometimes a queue if it's reached full capacity. Leave at least 30 minutes to an hour for your visit.
Dress appropriately – As it's a religious site, it's best to dress respectfully and modestly for this sacred space.
Visit early morning – Lots of tour groups visit Kutna Hora from Prague. If you wanted to see the Bone Church without too many people you should visit early morning or later in the afternoon for a more peaceful visit.
Looking for more things to do in Kutna Hora?
Kutna Hora was one of my favourite places I visited in Czechia and there is so much to see and do in this historic city.
After the Sedlec area, you should make your way over to St Barbara's Cathedral which is the patron saint of miners. It's started constructed in 1388 in the Gothic style and is another UNESCO site.
Kutna Hora is known as the City of Silver due to the prosperous silver mines that you could find underground here.
You can visit the Hrádek Silver Museum to enter some of the underground tunnels and see the working conditions of procuring this precious metal.
Right next door you have the Jesuit College constructed in 1626 or you can visit the terrace balcony that has 13 statues of patron saints lining the way.
Beyond the big UNESCO sites, there are lots of attractions to see like the Gothic Stone Fountain, Italian Court, Stone House, and Historic Centre.
If you're looking for somewhere traditional to eat I would recommend the Dačicky restaurant. It's a Bohemian tavern serving up traditional beer and food!
Sedlec Ossuary FAQs
What is the Bone Church of the Czech Republic? Sedlec Ossuary in Kutna Hora!
Why was the Sedlec Ossuary built? The Black Death and Hussite Wars meant many deaths and the cemetery was overwhelmed. So, the idea of an Ossuary was formed to store bones.
Where did the bones come from in Sedlec Ossuary? The bones were taken from a chapel located here in medieval times during the Hussite Wars. Many of the bones were stored here after the cemetery got too full.
Are the bones in Sedlec Ossuary real? Yes, all of the 40,000 – 70,000 bones in Sedlec Ossuary on display are authentic. These are the bones of Sedlec's ancestors who died in the plague and wars. So, it's important to respect the space on your visit. Beyond a tourist attraction, it's a tomb and functional Roman Catholic Church.
Can you take pictures at Sedlec Ossuary? No, photography is no longer permitted at the Bone Church due to disrespectful visitors.
Read more of my Czechia travel guides
How to see the Prague Astronomical Clock & Walk of Apostles
A complete guide to the John Lennon Wall
How to visit the Klementinum Library in Prague
The secret Infinity Book Tower in Prague
How to visit the Strahov Library Prague
Magical Cloak Bridge in Česky Krumlov
Uncover the secrets of Prague's Golden Lane
Visit the mysterious Dripstone Wall Prague
Save how to visit Sedlec Ossuary 'Bone Church' for later!