Are you ready for the ultimate self-guided Jane Austen Lyme Regis tour? Hooray! Let's get started.
I recently paid a visit to Bath to tick off my Jane Austen bucket list and found out while I was here that Jane Austen went on holiday to Lyme Regis with her family in 1803 and 1804.
Lyme Regis, a quaint little seaside town in Dorset on the border of Devon, it's also known as the "Pearl of Dorset" and the birthplace of Persuasion.
It was already a fashionable seaside resort in the 18th and 19th century but when her book was released in 1817, tourism skyrocketed!
In fact, the poet Alfred Lord Tennyson himself arrived at the town and famously proclaimed "show me the exact place where Louisa Musgrove fell!".
Jane Austen tourism in Lyme Regis has been popular since her novel hit the shelves and it is still, to this very day, a hotspot. Most likely why you're looking up this post right now!
Well, you've come to the right place. I'm going to show you how you can have your very own self-guided Jane Austen Lyme Regis tour and all the spots you shouldn't miss.
The history of Jane Austen in Lyme Regis
"The principal street almost hurrying into the water, the Walk to the Cobb, skirting round the pleasant little bay, which, in the season, is animated with bathing machines and company…are what the stranger's eye will seek." – Jane Austen's description of Lyme Regis in Persuasion
Jane Austen visited Lyme Regis twice, once in 1803 and then again in 1804.
Lyme Regis was a fashionable resort, much like the spa town of Bath, to take the air and be beside the sea for one's health. People would drink the seawater and bathe in bathing machines to cure illnesses.
She stayed here in the town with her family and instantly fell in love with the charming views;
"The scenes in its neighbourhood, Charmouth, with its high grounds and extensive sweeps of country, and still more, its sweet, retired bay, backed by dark cliffs, where fragments of low rock among the sands, make it the happiest spot for watching the flow of the tide, for sitting in unwearied contemplation…these places must be visited, and visited again, to make the worth of Lyme understood."
How do we know Jane Austen visited Lyme Regis?
We know Jane Austen visited Lyme Regis as she took many notes, which helped her later write Persuasion. She penned letters to her sister about her activities in Lyme.
In 1804, half of the family split off to visit Weymouth and Jane writes to her sister Cassandra of her days;
"The ball last night was pleasant, but not full for Thursday. My father staid contentedly till half-past nine (we went a little after eight), and then walked home with James and a lanthorn, though I believe the lanthorn was not lit, as the moon was up, but sometimes this lanthorn may be a great convenience to him. My mother and I staid about an hour later."
She also mentions trying out a bathing machine and fighting with the landlord disputing the price of a broken jug.
Although the Assembly Rooms, which would have held the balls on Tuesdays and Thursdays, are no longer here in Lyme Regis, there are still many places that Jane mentions in her letters and novel Persuasion we can visit today.
Lyme Regis and Persuasion
"A very strange stranger it must be, who does not see charms in the immediate environs of Lyme, to make him wish to know it better." – Jane Austen, Persuasion
Jane Austen was so taken with Lyme Regis, she gives the seaside town a starring role in her novel Persuasion.
She didn't often set her books in real locations but Lyme Regis was an exception. In the book, it is referred to as Lyme.
The protagonists Anne Elliott and Captain Wentworth arrive in Lyme with friends and check into an Inn.
They have dinner and then head down to the Cobb to walk beside the sea.
Jane Austen sets one of the most famous and dramatic scenes of Persuasion here. Where, spoiler alert (!), Louisa Musgrove falls off the steps of the Cobb!
"There was too much wind to make the high part of the new Cobb pleasant for the ladies, and they agreed to get down the steps to the lower, and all were contented to pass quietly and carefully down the steep flight, excepting Louisa; she must be jumped down them by Captain Wentworth.

In all their walks, he had had to jump her from the stiles; the sensation was delightful to her. The hardness of the pavement for her feet, made him less willing upon the present occasion; he did it, however.

She was safely down, and instantly, to show her enjoyment, ran up the steps to be jumped down again. He advised her against it, thought the jar too great; but no, he reasoned and talked in vain, she smiled and said, "I am determined I will:"

he put out his hands; she was too precipitate by half a second, she fell on the pavement on the Lower Cobb, and was taken up lifeless!"
Lyme also plays an important part in Captain Wentworth and Anne Elliot's rekindling. Years before this trip, Anne and Captain Wentworth were engaged but his low fortune set them apart.
Now back together in Lyme, Anne Elliott is blooming from the sea air and Captain Wentworth remarks that she looks pretty. This visit makes him reflect on what he lost all those years ago.
Where in the UK is Lyme Regis and how to get there
Lyme Regis is located in West Dorset on the coast. It's so close to the border of Devon, you actually have to cross through Devon in the town of Uplyme and back down into Dorset to reach it!
Although Jane Austen would have journeyed here by horse and carriage for a few days, thankfully, we can be here in a few hours out of London by automobile and railway!
How to reach Lyme Regis by road: if you're heading from London, take the M4 and then the M5 southbound. Come off at Taunton and then follow the country roads down to Lyme Regis. It may be easier to plug it in Google Maps or your Satnav as it's easy to get lost!
How to reach Lyme Regis by train and bus: There hasn't been a working railway station in Lyme Regis for years. So, you will need to take the train from Waterloo to Exeter/Axminster and then take a bus connection to Lyme Regis.
Let's start the self-guided Jane Austen Lyme Regis tour!
1. Take the air along The Cobb
The Cobb is the most famous spot mentioned in the novel Persuasion. It's the main harbour for Lyme Regis which dates back to the 14th century. Why it's called Cobb is still a mystery!
This is where Anne Elliot, Captain Wentworth and their party headed out for a stroll towards the sea.
Today, you can walk along the exact same route that Jane Austen would have done and admire the views of the ocean along the slanted cobbled path.
Just like in Persuasion there is an upper and lower Cobb walkway. When it's really windy, this wall can be pretty dangerous so watch how you go!
The tide also can come crashing over the upper Cobb. You don't want to get swept away.
When you head over to Victoria Pier there is an aquarium museum, the fisherman still works in the harbour and you can smell the catch of the day before you see it.
I love the old harbour house that sits proudly here as there is still a sign showing the original rates on merchandise. There were all different charges for items off ships like a barrel of tar, a score of hides, a truss of sailcloth and a chaldron of coke, charcoal and cinders!
There are benches along the Cobb to admire the views and it's the perfect pew for a punnet of Fish 'n' Chips from Lyme Fish Bar! Just watch out for the hungry seagulls as they'll be eyeing your dinner.
2. Attempt Granny's teeth a possible spot where Louisa Musgrove fell
If you're on The Cobb at Lyme Regis this spot has to be on your list.
Although the exact spot where Louisa Musgrove fell isn't described in the book, the jagged steps nicknamed 'Granny's teeth' is a strong contender.
This walkway looks simple to master, but it's actually quite a challenge to walk up and down.
The cobbled steps are quite far apart and it's easy to see how Louisa could have missed her step! I was scrabbling to hold on to the Cobb at the side.
In the TV adaptation of Persuasion in 1995, this isn't the exact spot where they filmed her falling down.
It's the one along on Victoria Pier. But, don't miss out on pretending to fall like Louisa in the book. But, also be careful to not actually fall. We don't want that!
3. Stroll along Lyme Bay
Jane Austen resided in lodgings in the town of Lyme Regis and it was only a stone's throw away from Lyme Bay.
This would have been somewhere that Jane would have strolled along frequently to take the air. Or, try out bathing machines to take the waters which she wrote of in her letters.
Although today, you wouldn't bat an eyelid at someone in a bikini on the beach or swimming in the sea. In Jane's time, this was very different! Women would venture into the sea in a 'bathing machine' to protect their modesty.
In the Regency era, a Bathing machine was a wagon with a modesty hood that was drawn into the sea by other women.
Then you would be able to swim or paddle in the sea, protected from the eyes of others.
Today Lyme Bay is one of the most picturesque walks here. As you stroll along past the colourful beach huts, you can turn left into the town high street. Or, carry on to the Lyme Regis museum and theatre.
4. Have Dorset cream tea at Jane's Café
Located in Lyme Bay, next to the Jane Austen Gardens, is Jane's Café. Aptly named after the writer herself!
This used to be Bay Cottage which stars in the novel Persuasion.
In true Regency style, you can treat yourself to a West Country cream tea and surround yourself with 360-degree views of Lyme.
5. Bask in the sun in the Jane Austen Gardens Lyme Regis
Right next to Jane's Café is the Jane Austen Gardens. It was built here as a memorial to her in 1975 and opened by Sir Hugh Smiley who was chairman of the Jane Austen society.
There used to be a bust statue of Jane here but it was robbed in 2007 during the coast development! They're still looking for who took it.
They're free to enter and a great spot to read or relax. For March, there was still only the early signs of spring and so the flowers weren't in full bloom or as colourful as I'm sure they are in Summer.
But, it was still lovely to sit and relax in the sun. A perfect spot to bring a copy of Persuasion!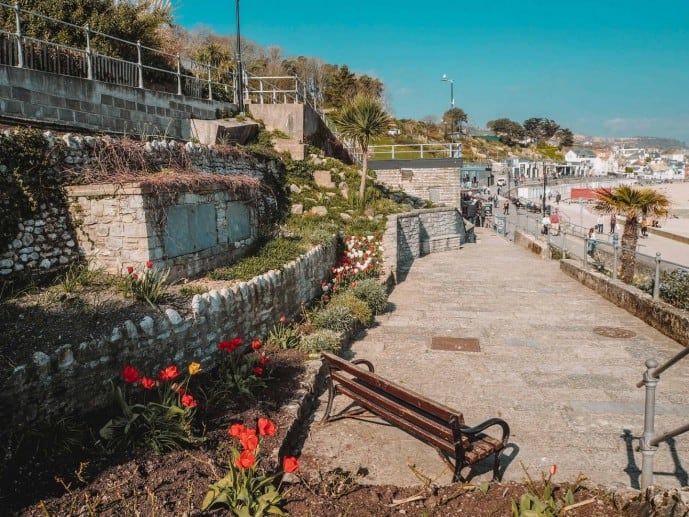 6. Look out to Charmouth and the environs on Victoria Pier
Just as Jane quotes in Persuasion, the dramatic views out to Charmouth and the cliffs from Lyme Regis are spectacular.
As it was such a clear day we could see an incredible uninterrupted view of Charmouth, the Golden Cap cliff, The spittles, Black Ven, Gun cliff and beyond.
You can get a great view like Jane would have experienced from Victoria Pier at the end of the Cobb. But, also make sure you head on over to the Church Cliff Walk.
Church Cliff Walk
Here, you can walk alongside the dramatic cliffs of the Jurassic coast and end up at the beach to go fossil hunting!
Mary Anning was from Lyme Regis and is now world-famous for discovering some of the greatest fossils of our time dating back to millions of years ago.
They were actually filming a new movie about her on our visit starring Kate Winslet. I accidentally walked on the set – oops! She was born around the same time Jane Austen would have been visiting.
The beach at the end of the Cliff Walk is where she would have gone hunting for fossils. So, don't forget your hammer, people are still discovering them all the time here.
7. Visit the Royal Lion Inn & Three Cups Inn from Persuasion
In Jane Austen's time, there weren't that many Inn's in Lyme Regis. So, there has been a discussion about which Inn the party checked into.
The Royal Lion Inn and the Three Cups Inn are both in question as they were the only Inn's of importance back then.
Historians and literary experts argue about each due to the window position and being able to see Mr Elliott's "curricle coming round from the stable yard to the front door" in Persuasion.
The Three Cups Inn became a listed building in 1952 and derelict in 1990. It's meant to be the oldest of the two so, it's the favourite option. But, the Royal Lion Inn is still on the main high street that you can see today.
Either way, it gives you an idea of the sort of place that Captain Wentworth and Anne Elliot would have resided while in Lyme.
8. Make a pitstop at Pyne House
Directly opposite the Royal Lion Inn on the main high street is Pyne House.
Above the bright blue door is a placard that states this is the most likely house that Jane Austen would have resided with her brother Henry, his wife, and her sister Cassandra in 1803 and 1804.
There doesn't seem to be much more information than that and now it has flats inside, surrounded by shops! You can't go inside the house but it's nice as a quick stop on your Jane Austen Lyme Regis tour.
9. Pay a visit to Lyme Regis Museum
Lyme Regis has a Museum in Lyme Bay which would be the perfect spot for a rainy day activity.
As well as the fossils of Mary Anning on display, and a portrait gallery, there are Jane Austen collections there too.
Many of these items on display from the Regency era have been donated by Jane Austen's descendants!
It's a small museum but is meant to be interesting. I didn't have time on my visit, plus it was so sunny I was enjoying being outside in the UK for once! But I would definitely head here next time.
10. Step on what was the location of the Assembly Rooms
The Assembly Rooms in Lyme Regis, which played a part in Persuasion and that Jane Austen visited herself in 1804, are sadly no longer here. They were demolished in 1924.
But, we do have some description of the rooms by Constance Hill in her 1902 novel 'Jane Austen – her Homes and her Friends';
"The Assembly Rooms used formerly to be thrown open to company during the season twice a week, namely on Tuesdays and Thursdays…

The ball-room is little changed since Miss Austen danced in it that September evening nearly a hundred years ago. It has lost its three glass chandeliers which used to hang from the arched ceiling, but these may still be seen in a private house in the neighbourhood.

The orchestra consisted, we are told, of three violins and a violoncello"
The location of the old Assembly Rooms has been placed from 18th-century maps of Lyme Regis to be next to Cobb Gate.
This is now Cobb Gate Car Park at the intersection, so it's not what it once was!
It's only a stone's throw away from Pyne House, where Jane Austen was thought to be staying.
11. Take a Jane Austen Tour of Lyme Regis
If you would rather have an expert show you around, why not book in for an official Jane Austen tour of Lyme Regis?
Jane Austen Tours by Literary Lyme runs many different types of trips throughout the year. You can have a Jane Austen tour of Lyme Regis & Environs and even take a tour from Bath or London with them!
This will be the best way to experience Lyme Regis for any Austen fan and transport yourself back in time through the locations of Persuasion.
That's all the stops on the Jane Austen Lyme Regis tour!
Lyme Regis is a small but beautiful postcard town on the coast, but it is definitely brimming with Jane Austen spots to enjoy on a day trip!
If you are heading to Bath after this, why not check out my Jane Austen Bath Bucket List? This has plenty more regency stops to discover.
Bath is also featured in Persuasion and Northanger Abbey.
Here, you really can visit the old Assembly Rooms where Jane Austen would have danced. Or, you can visit the Pump Room for afternoon tea and visit the King's Spring to 'take the waters'.
There's even a Jane Austen centre where you can learn all about 18th-century living and dress up in Regency costume!
I hope you enjoyed this self-guided Jane Austen Lyme Regis tour as much as I did.
I think the memories of Lyme Regis stick with you long after you've left and being by the seaside is still is good for your health today! Although, I can't see bathing machines making a come back anytime soon…
Read more of my Jane Austen guides
How to Visit Mr. Darcy's Pemberley aka Chatsworth House
Stanage Edge Pride and Prejudice Location
Chapel Street in Longnor – the real Lambton Inn
Save this Jane Austen Lyme Regis guide for later!