Ah, Stratford upon Avon. A true gem in the English countryside. Did you know that Shakespeare was born in Stratford upon Avon?
He also grew up, went to school, got married, had a family, died, and was buried here too!
So, if you're a fan of 'The Bard' there are so many Shakespeare places in Stratford upon Avon you will be really spoilt for choice!
In England, we can't really escape Shakespeare. As the greatest wordsmith of the English language that ever lived, is it any wonder it's part of the school curriculum?!
Whereas a lot of my friends despised his works, I fell head over heels in love with his eloquent sonnets.
I studied performing arts at College and Uni too, so, Shakespeare followed me for a long time. Still today, his plays are something I relish watching and reading.
I have to admit, it does take a while to understand and translate Shakespeare, but when you do, you unlock a universe of powerful words, feeling, and imagery.
Shakespeare has touched the hearts of millions around the globe through the centuries and today, we can enter his world at Stratford upon Avon.
So, if you're a fan or even just want to say you've been here, these are the 17 Shakespeare places in Stratford upon Avon you must not miss!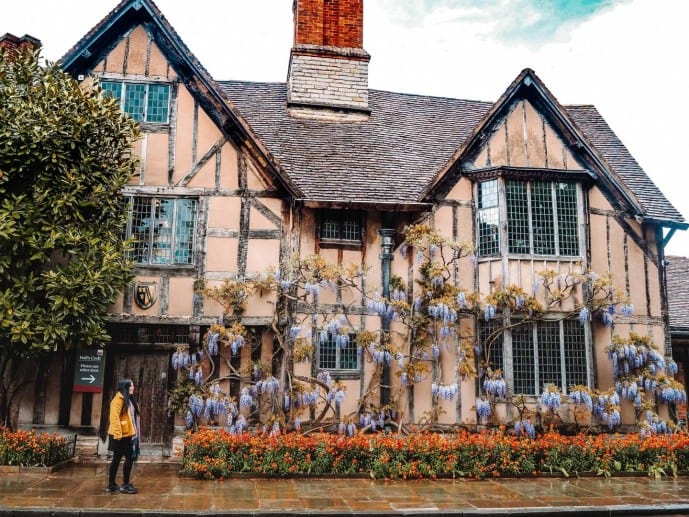 How to reach Stratford upon Avon in England
Stratford upon Avon is a market town in England that is in the county of Warwickshire. It's easily accessible from the North and the South by road and public transport.
Stratford upon Avon by car – Stratford is well connected with the Motorway networks in the UK. If you're heading here from the South, you can drive on the M40 and take junction 15 and then the A46. From the North, you can take the M1, M5, M40, and take the A46.
Stratford upon Avon by train – Stratford upon Avon has a train station with direct train routes from London Marylebone and Birmingham New Street. Check National Rail for details.
Stratford upon Avon by bus – There are National Express coaches that run from London Victoria to Stratford Upon Avon and take 3 hours. Check their website for more details. Or, local buses by Stagecoach from Birmingham and Leamington Spa run here daily.
Getting around Stratford upon Avon
The good news about Stratford upon Avon is that it's relatively compact and all the main attractions, save one or two, are easily accessible on foot. So, all you need to do is grab a map or follow the signposts to find your attractions.
To put it into perspective, Shakespeare's birthplace to the Holy Trinity Church (the furthest point in this list) is a 15-minute walk. All the rest of the Shakespeare places can be found between them.
The only exception is Anne Hathaway's Cottage which is quite a far walk at 45 minutes on foot. But, it's thankfully only a 5-minute drive from the town.
So, it might be worth starting your trip here as you drive into Stratford upon Avon or ending it here on your way home.
17 Shakespeare places in Stratford upon Avon you must not miss!
1. Shakespeare's Birthplace
If there is one attraction you should visit above all others it's Shakespeare's Birthplace! Shakespeare was born here, in this timber-framed Tudor house, on Henley Street in 1564.
Well actually, he was born in one part of this house that was owned by his father, John Shakespeare. Over the years, his father expanded the property by buying the neighbouring houses, and today we can visit all of them as one museum.
The floors in Shakespeare's house have not been replaced, so you really are following in the footsteps of The Bard here! In fact, the historian inside told me big fans actually kiss that floor knowing Shakespeare trod there, ew! It's a no from me.
Shakespeare's house tour
The first thing I loved was the gardens around the house itself. It was so bright, colourful, and smelled amazing with their own William Shakespeare plant pots!
Then, as you enter the home you can walk through the bedrooms, kitchen, and pub area. Shakespeare's home, at one point, was converted into an Inn for travellers! It was called the Swan & Maidenhead.
It was incredible to see an original glass window that had signature graffiti from famous writers like Charles Dickens who made a visit all those years ago.
You have to think, Shakespeare was a famous playwright ever since his time in the 16th and 17th centuries. He used to perform plays for Queen Elizabeth I and received a royal patent from King James I. So, he was widely known.
Another cool spot to watch out for and you should request to see, is the Witching Mark.
It was a mark made on a timber frame shaped like a map of the house, but the wrong way round so evil spirits wouldn't be able to find their way around!
As well as an informative tour of the house and gardens with local historians, you can watch Shakespeare Aloud, where the players recite some of Shakespeare's famous sonnets for you. They take requests if you're keen.
Shakespeare's Birthplace tickets
If you're planning on visiting more than one museum it's definitely worth purchasing 'the full story ticket' where you can visit all of Shakespeare's family homes.
This ticket costs around £22, whereas entering Shakespeare's Birthplace alone is £17 and the others are around the same price.
So, you save yourself a packet! It also has a 12-month entry guarantee, so if you miss any, you can come back in the next 12 months completely free!
2. Explore Shakespeare's New Place
Shakespeare's New Place was Shakespeare's family home from 1597 until his death in 1616. Although the house no longer stands here today, it's now a garden exhibition to commemorate it.
William Shakespeare became a very wealthy man in his time, he inherited his father's home and then bought one of the finest houses in Stratford upon Avon with his salary.
By then he was an established playwright and he came back to Stratford often to see Anne Hathaway and his family.
Also, when the plague hit London, the theatres closed. So, during this time, he would retreat back to Stratford upon Avon to write and relax. He's thought to have written some of his later works, including The Tempest, here!
Today, it's a garden exhibition site that gives you the scale of what his house would be like. They have beautiful sculptures here and even a chair and writing desk so you can act like Shakespeare writing with his quill and ink.
I especially loved wandering around their sunken knot gardens, which is a recreation of what it would have been like at the time by Ernest Law.
You can just imagine Shakespeare and his family wandering about them in the sunshine!
The story of Shakespeare's New Place – how did Shakespeare's house get knocked down?
So, why did Shakespeares' New Place get knocked down? Well, it's actually quite a sad and selfish tale.
Shakespeare's New Place was originally a grand Tudor home, but when his Brother-in-Law John Hall and his daughter Susanna inherited the house, it was considered old-fashioned.
So, they knocked it down to build a new one, and, since then, many homes were knocked down and rebuilt over the site to keep up with the fashionable style.
Eventually, a Reverend, William Underhill, who owned a few properties in the town, built his home on the site.
On the grounds of his home was a huge tree, something that tourists visiting Stratford upon Avon would take branches from as souvenirs of Shakespeare.
The Reverend was not best pleased and so decided to chop the tree down, much to the disgust of the town.
A few years later and the Reverend was asked to pay tax to help the poor and he refused. But, as the council demanded the money and he wasn't prepared to pay, he decided to knock the whole place down! Quite shocking really.
The only good thing we can take from the story is, that if that hadn't happened, we wouldn't be able to enjoy this beautiful space today.
3. Visit the Royal Shakespeare Theatres & Cafés
A visit to Stratford upon Avon without popping in to see the RSC is really no visit at all.
The Royal Shakespeare Company was established as the Shakespeare Memorial Theatre in 1875. Charles Flower donated the building site with the idea of creating a theatre for the town and it was opened to the public in 1879.
By 1925 it received a Royal Charter and ever since it has bloomed into a huge charity that we can see in Stratford upon Avon and London.
In 1961, the charity was chartered as the Royal Shakespeare Company and the buildings we see today are referred to as the Royal Shakespeare Theatres.
So, as you can see the RSC has a long and noble history of celebrating Shakespeare and his works here. They have two sites; the Royal Shakespeare Theatre and The Other Place theatre. Both, put on plays of Shakespeare and his contemporaries.
You can visit their Gift Shop, the Swan Café, the tower restaurant, and the Riverside Café, my personal favourite.
Here you can sip on a coffee and munch on a yummy cake overlooking the River Avon. Look out for the Clopton Bridge, a Grade I listed masonry arch bridge from the 14th century!
Related post – Top things to do at the RSC in Stratford!
4. Take an RSC Audition Tour
Of course, watching a play at the Royal Shakespeare Theatre is special, but going backstage for their behind-the-scenes tour is also amazing!
Did you know that a play at the RSC is planned four years before you see it on stage?! No? Neither did I!
We learned so much on our Audition Tour including paying a visit to their costume store. Here you can see props and costumes used on stage, for sale, and try on a few too!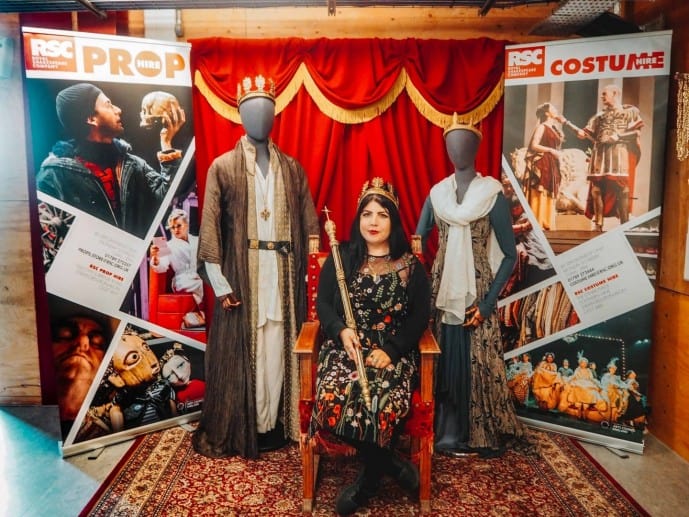 Don't worry, you don't actually have to audition on the tour but you will get to see their rehearsal rooms, backstage dressing rooms, and take a glimpse at the stage itself.
Our tour guide was so knowledgeable and helpful by answering any questions and letting us know some behind-the-scenes gossip. I loved walking backstage and seeing signatures from famous actors that have tread the boards.
Here are some theatre superstitions;
It's bad luck to say Macbeth in the theatre, you must say 'the Scottish play'
Don't ever say good luck as it's considered bad luck that's why they say 'break a leg'
It's considered bad luck to whistle on or off stage
Tickets can be booked here for the tour. They also run Behind the Scenes, Open Air, Front of House, and Curtain Call. Or, buy an explorer pass that gets you to access to the tour, Tower, and The "Play's The Thing" Exhibition. More on those later.
5. Fall in love with Anne Hathaway's Cottage
This was by far my favourite Shakespeare museum. Anne Hathaway was Shakespeare's wife and they married when Shakespeare was 18 and Anne was 26 years old.
So, it was quite controversial for the time as Anne was so much older but she ended up outliving him by 7 years!
There has been a lot of speculation about their relationship but we know Anne was already pregnant when they married, so they must have been courting a long time before their wedding!
Today, you can visit Anne Hathaway's cottage and family home which is a gorgeous Tudor thatched cottage in the countryside. It also has 9 acres of gardens to explore.
It was originally built in 1453 and Anne's grandfather, John Hathaway, was the first of the Hathaways to rent it and eventually buy it. Anne was born here in 1556.
Click here to read my complete guide for Anne Hathaway's Cottage
You can explore the beautiful gardens with these picture-perfect willow sculptures and flowers which are gorgeous! Or, head into the house to learn about life on a Tudor farm.
You can stroll through the traditional Tudor kitchens, wander upstairs to the bedroom and see Shakespeare's 'second-best bed' he left his wife in their will! All of the furnishings are traditional to the time.
I loved learning about how this place became a museum! The Hathaways lived here until 1892 when the Shakespeare Birthplace Trust bought the cottage.
The last Hathaway, Mary Baker, managed to make a huge profit by getting a salary as part of the barter deal and even became a tour guide. She herself became a tourist attraction as one of the last descendants of Shakespeare's family.
Driving here is around 10 minutes from Stratford. Parking is available at a charge and not included in your museum ticket which is quite cheeky!
6. Visit Hall's Croft
Hall's Croft is another beautiful Jacobean property that was the home of Shakespeare's daughter, Susanna, and her husband John Hall.
Susanna was Shakespeare's oldest daughter born in 1583 and died in 1649. She lived here until she inherited New Place in 1616 after her father's death.
The house is stunning with lots of blossoms and wisteria growing on the house itself and in their beautiful gardens!
Unfortunately, when we arrived it was raining heavily so we loved wandering about the house. You can see traditional furnishings and portraits of the time.
We popped into the Hall's Croft Café for a coffee and a cake stop to wait for the rain to pass.
It was a much-needed break and had a lovely atmosphere in there too. They have much-needed espresso coffee and an offering of fresh delicious cakes to choose from.
7. Pay respects at Shakespeare's grave in Holy Trinity Church
The Holy Trinity Church played a huge part in Shakespeare's life. Shakespeare was baptised here, worshipped here, was married here, and then eventually buried here along with his family and close companions.
Thousands enter the church each year to see Shakespeare's final resting place. The entrance to the church itself is completely free but you will have to pay a donation to see Shakespeare's grave.
This is voluntary but knowing that it costs the church over £650 a day to open this church, paying the £4 ticket doesn't sound so bad. It helps towards keeping it open for everyone to enjoy for years to come.
The church itself is stunning and I couldn't believe the beauty of the light shining through the stained glass windows. You can see Shakespeare's grave, Anne next to him, Susanna and John Hall in the Sanctuary.
Shakespeare actually put a curse put on his gravestone!
It reads "Good friend for Jesus sake forbeare, To dig the dust enclosed here. Blessed be the man that spares these stones, And cursed be he that moves my bones".
It was not uncommon for people to exhume bodies back then for medical research purposes and artists so it's thought this is why he placed a curse, so no one would dig him up!
8. Go back to school at Shakespeare's Schoolroom & Guild Hall
Shakespeare's schoolroom is where it all began! William Shakespeare had one of the best grasps of the English language of all time, so it may surprise you to know that he was taught in Latin at school.
He also didn't have paper, quill, and ink as it was too expensive. The students would repeat verbal phrases back to their Master and note things down on a slab of slate.
All the boys drank ale and each school day started at sunrise to sunset, even on Saturdays! They really didn't honour the idea of downtime in the Tudor era.
It was also an all-boys school back then and surprisingly the first girl to ever study here was in 2013!
Today, you can walk inside the classrooms where Shakespeare was taught and meet his Master who asks you questions, lecture you, and give you a fascinating commentary along with the chance to ask any questions about schools back then.
You can have the chance to practice your best quill and ink technique and even dress up in a Tudor dress. I decided to dress up as a school Master with my own ruff. To quote Blackadder, I looked "like a bird who swallowed a plate" haha!
Learning about the Guildhall
Aside from it being Shakespeare's schoolroom, the Guildhall itself has a fascinating past!
The Guild of the Holy Cross was where it all began, was established in the 13th century.
It was the centre of civic life in Stratford and locals could become members by paying a small fee – which would help them thrive in business and get them into heaven faster (supposedly).
The Stratford Guildhall was then built some years later and the building dates back to the 15th century.
Originally the house was made from timber frames that slotted together like IKEA flat-pack furniture! You can even see the Roman numerals inscribed today to guide them on where to put the pieces.
Then the middle white parts, or Wattle and Daub, were used to fill in the rest, made out of clay and animal dung! Nice!
It acted as a schoolroom, almshouse, and chapel. By the 16th century, around John and Will Shakespeare's time it became the headquarters for Stratford Borough Council. John Shakespeare's father went to council meetings here and Will was taught lessons.
As part of your tour, you will get to see an example of rare medieval wall paintings with scenes from the bible. It's only available for 45 seconds though so snap it quick!
9. Marvel at the Guild Chapel – a whitewash of history
Just next door is the Guild Chapel which used to be a part of the Guild Hall.
Dating back to the 13th century, the nave and tower we see today were rebuilt in the 1490s. What this has to do with Shakespeare is actually more to do with his father.
John Shakespeare was the town Chamberlain in the 1560s and, as the country had changed to protestant worship, any form of Catholicism was banned.
This is why we had the dissolution of the abbeys under the order of King Henry VIII. With many abbey's across the country being completely ransacked and destroyed.
Thankfully, the Guild Chapel building was saved, but John Shakespeare was ordered to whitewash the Catholic murals off the walls. What he didn't know at the time is that it actually preserved the paintings underneath which were then rediscovered in 1804 while the chapel was being restored.
Supposedly, Will Shakespeare paid towards restorations of this chapel as it was next door to New Place.
Today, we can pop in for FREE to see these recovered paintings in this gorgeous chapel! You can find a stunning stained glass window inside. I absolutely loved stopping in here. It's a small chapel, but good things come in small packages.
10. See spectacular views of Stratford from the RSC Tower
One of the best views of Stratford upon Avon can be seen from the RSC Tower. Standing at 36 metres high, you can see all of Stratford, the River Avon, Holy Trinity Church, the Stratford Wheel, and the rolling hills and countryside beyond.
The construction was based on the original water tower which was part of the Shakespeare Memorial Theatre that burned down in 1927.
The view only costs £3 and you can take the lift up. Don't forget your camera as it provides some fantastic photo opportunities. This also comes as part of your explorer pass!
Click here for my complete visitor guide for the RSC Tower!
11. Visit 'The Other Place'
The Other Place, from the outside, doesn't really fit Stratford's narrative.
Instead of a Tudor framed building, you'll be greeted with a tin shed! But, it's still just as big a part of Shakespeare's memory.
It was founded in 1974 as a rehearsal room and was the brainchild of Buzz Goodbody.
She had an artistic vision and mind to house experimental and alternative theatre projects in the town.
This new auditorium was much more intimate and some said you could hear the faintest of whispers in this space making performances such as the tragedy of Macbeth, all the more harrowing to watch.
In 1991 it reopened as a brick building and was used temporarily during the reconstruction of the Royal Theatres. The town didn't like The Other Place theatre too much when it opened, but when it was on the threat of closure there was an outcry to keep it.
Today, you can watch plays in their theatre and visit Susie's Café Bar which is an awesome coffee stop during the day. I loved their fun display of doughnuts!
In the evening, they provide the perfect venue for pre-theatre dining with their own stage hosting local musical artists and poets.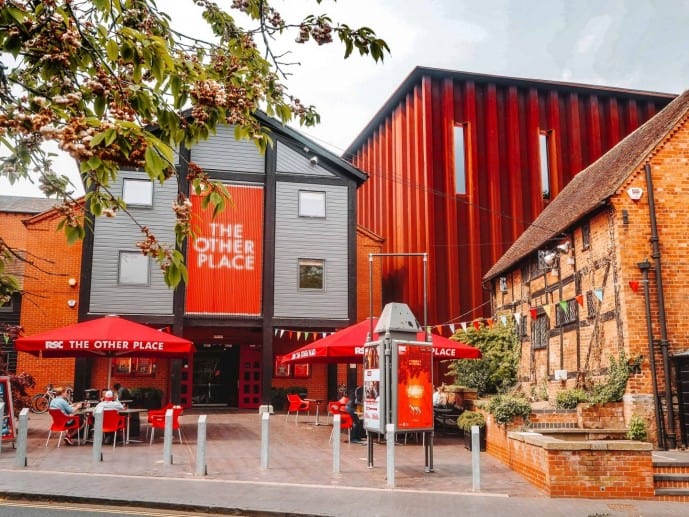 12. Visit Susie's Café Bar for delectable pre-theatre dining
It's always awkward when you have to watch a play at Stratford upon Avon as they almost always start over dinner time.
You certainly can't eat during and after it's far too late. That's why you should go for a pre-theatre dining experience before the show!
As well as the RSC Tower restaurant, Susie's Café Bar in The Other Place provides a fantastic pre-theatre dining menu starting from 4 pm.
The venue is adorable inside with fairy lights, bunting and I even got to join Puck and a fairy from A Midsummer Night's Dream!
My mum and I were about to watch The Taming of the Shrew in the Royal Shakespeare Theatres and so it was convenient it was only a 5 minute walk away.
My mum and I pretty much chose the same things to eat but the whole menu was tempting!
To start we had baked falafel, then the main course of Coq au Vin with mash, and then a sweet ending of indulgent chocolate cake! Everything about the food was delicious and their Rosé was the perfect accompaniment.
We certainly didn't leave hungry and it was an ideal pre-show dinner to await the performance later that evening.
Click here to book and see the full menu!
13. Watch a show at the RSC
Thousands of people flock to Stratford upon Avon each year to enjoy a performance by the Royal Shakespeare Company at their theatres.
I absolutely love to watch the theatre at Stratford, but rarely get the chance to go, I think the last time was to see Romeo and Juliet over 10 years ago! So, I was really excited to see the RSC's latest offerings.
My mum and I got fantastic stall seats overlooking the stage for a rendition of The Taming of the Shrew.
If you're not familiar with the story, it's a comedy that explores the deeper themes of marriage, materialism, the patriarchy, and the effect social roles have on individual happiness.
Traditionally the main plot follows Katherina, the headstrong subordinate shrew, and Petruchio who tries to wed or "tame" her, hence the name of this tale.
This time around the RSC switched the gender roles and made it a Tudor matriarchy instead, where women have all the power! Making Kate a man and Petruchio a woman.
It was such a powerful switch in roles but, it was also seamless as if the roles had always been switched. In Shakespeare's time, women weren't allowed on the stage, so to see a cast of so many powerful women really was spine-tingling!
Shakespeare is always a hard language to master for even the most seasoned reader but the actors on stage had such a good grasp of the words you could easily understand the story and it was downright hilarious.
The plays at the RSC are prepared four years in advance, way before the actors rehearse and they always have outstanding entertainment.
It's a must while you're here, click to see what's on during your visit!
14. Visit The Garrick Inn for a Shakesbeer
Haha, Shakesbeer…okay, okay, bad joke, but I got it from the sign outside! So, I can't take all the credit or blame.
The Garrick Inn is Stratford upon Avon's oldest pub, with parts dating back to the 1400s, and so it's almost criminal not to pay a visit.
Originally, it was called The Greyhound but was renamed in the 18th century, after David Garrick, a famous Shakespearean actor. He played a part in keeping Shakespeare's plays alive back then.
Whether Shakespeare drank here or not, we will never know. But it was a public house constructed in the 1590s, so Shakespeare would have definitely seen it! It's also said that the outbreak of the 1564 plague started here.
You can visit today for a drink (or Shakesbeer) or try a tasty pub meal from their menu.
We tried to visit here for lunch, but it was packed out with three pre-booked coach tour groups and the waiting time then was over two hours for food! I would recommend booking in advance or going at an off-peak time.
15. Visit the Play's the Thing exhibition
As part of your RSC explorer pass, you can visit "The Play's The Thing", an award-winning interactive exhibition that takes you on a journey of 100 years of theatre and stage.
The exhibit starts downstairs with a short film by the entrance to the Swan Café and then continues upstairs.
Don't miss a peek at their For all time sculpture, by artist and designer Steven Follen. It's meant to be Romeo's face made out of stars from folded steel!
Inside you can see stunning costumes of actors that have taken the stage and even an original portrait of William Shakespeare. But, it's not just peering through glass cabinets, it has loads of interactive displays too.
You can learn and practice costume changes, how the theatre uses a pulley system, play games and quizzes, try on virtual costumes and discover all sorts of secret stories about Shakespeare too!
16. Check in to the Arden Hotel for the night
If you're looking for a place to rest your head for the night after sightseeing or watching a show then The Arden Hotel is a perfect choice.
It's in an unrivalled location, slap bang opposite the Royal Shakespeare Theatres on The Waterside. So, you're only a stone's throw away from your bed after the show.
Lots of celebrities have walked through these doors such as Judi Dench and David Tennant who have not only taken the stage but have spent the night here too! The rooms are truly fit for royalty with luxury boutique rooms and suites.
If you're after another spot for dinner or pre-theatre dining they've recently reopened their No 44 Waterside Brasserie with some delectable dining choices and a Champagne Bar. It's only over the road from the theatre!
To see a full review of The Arden Hotel, you can read about my experience and review here.
17. Visit Anne Hathaway's Tea Rooms
This building dates back to 1610, the year Shakespeare moved into his retirement home on New Place.
Back then, it was known as the George Inn and has switched hands many times since. It was a bookshop, an apothecary, then a bootmakers until the early 1900s.
Finally, it became Anne Hathaway's Tea Rooms in 1931 and still stands today.
This cosy tea shop is located in a gorgeous timber frame building and serves up scrumptious breakfast, lunch, and afternoon teas!
My Mum and I decided to pop in for lunch and treated ourselves to one of their yummy jacket potatoes! I had the prawn in Marie rose sauce and the portion was super generous.
They also do a wide selection of loose leaf teas and you can treat yourself to a traditional afternoon tea with all the trimmings. Click here to see their website with menus.
With thanks to the RSC for providing me with my RSC Explorer Pass and Theatre Tickets, The Arden Hotel for hosting my stay, and the Shakespeare schoolrooms for my visit. As always, although I was a guest, all opinions and photos are my own unless credited.
Save this Shakespeare Stratford Upon Avon guide for later!