Yes, Sherwood Forest from the stories is real and if you're looking for all the amazing Sherwood Forest Robin Hood locations you can visit, keep reading this post.
Sherwood Forest is one of the worlds most famous woodlands. Not only because it's home to the Major Oak but it's also the legendary Robin Hood's hideout!
The green man, outlaw king, talented archer, and hero who stole from the rich and gave to the poor.
Although he only lives on in legend through tales and songs, the story is now world-famous and has been made into books, Disney, and Hollywood movies.
As the story goes, Robin Hood was a nobleman turned outlaw who used Sherwood Forest as his hideout with his band of Merry Men.
Ever since I watched the Disney cartoon as a kid and the TV series on the BBC, I've been fascinated by the story.
So, on my second visit to Sherwood Forest (I first visited about 10 years ago!), I spent some more time here finding all the Sherwood Forest Robin Hood locations.
Here is everything you can do in Sherwood Forest to find the legend of Robin Hood!
Who was Robin Hood?
So, if you don't know who Robin Hood is we need to change that right now! Robin Hood is mentioned in ballads, folklore tales and songs as a legendary heroic outlaw who was skilled in archery and sword fighting.
In the tales dating back as far as the 14th century, he is meant to have robbed from the rich and given back to the poor and downtrodden.
He was famous for fighting battles and protecting villages from tax hungry nobleman like his arch-nemesis the Sheriff of Nottingham.
Although the stories and ballads are the only evidence of him existing, there are many theories that he was a real nobleman of Loxley born in 1160. He becomes an outlaw (there are too many theories why to mention here) and recruits a band of merry men to help him.
Although there were thought to be over 150, the main Merry Men we hear about in the tales are Little John, Will Scarlet, Friar Tuck, Much, Alan-a-Dale and his sweetheart Maid Marian.
Together they plot to take money from the authorities, help villagers and hide out in Sherwood Forest.
Whether you believe him to be real or not, Robin Hood is most of all a symbol of hope and the force of good over evil and justice over corruption.
The legend of Robin Hood's Sherwood Forest
Although there are plenty of places in England that stake a claim in being a place where Robin Hood visited, Nottinghamshire is known as 'Robin Hood County'.
We know that Robin Hood roamed in and around Sherwood Forest because it is mentioned most of the tales and ballads written about his heroic deeds.
The most famous is from the Lincoln Cathedral Manuscript which has the first recorded Robin Hood song.
Back then Sherwood Forest was much bigger at around 100,000 acres compared to the 450 acres today. Robin Hood is meant to have been an outlaw and was essentially a fugitive.
He used Sherwood Forest as a hideout from the authorities. He would hide in the Major Oak, set up camp with his Merry Men in the woodlands and hunt in the area too.
Although Robin Hood is a legend from a life lived almost a thousand years ago, he still lives on today.
As they say, "The spirit of Robin Hood lives forever in Sherwood Forest and in the hearts of those who seek him".
10 amazing Sherwood Forest Robin Hood activities
1. Start out at the Sherwood Forest Visitor Centre
When you arrive in Sherwood Forest, it's a good idea to pop into the Sherwood Forest Visitor Centre to get introduced and find out what you can do around here.
A piece of good news is that it's recently had a £5.4 million pound refurbishment. The bad is that it's now an RSPB visitor centre.
Okay, I know, I know it's not all that bad. But, having been before, I certainly think it's lost a lot of its charm from the old visitor centre that was centred around Robin Hood.
When I first visited the Sherwood Forest visitor centre, it had so much to do and learn about him with lots of awesome activities, cut-outs, shops, even a trail of the history of Robin Hood.
Now, it's mainly just boring facts and scientific displays about the woodlands, bird population, insects, and ALL trees in the area.. yawn.
Also, they just try to get you to join the RSPB and sell you bird feed. Robin Hood is pretty much why any tourist visits here, so I don't understand why they've made it so…clinical, factual, and not about the legend anymore.
It must be pretty disappointing for kids or tourists that have flown from different countries.
Despite this, they are making improvements and adding in more Robin Hood-themed displays from the numerous complaints received (check on TripAdvisor for a giggle). So, fingers crossed they do it soon! It would be a major improvement.
Anyway, if you did want to see some Robin Hood in the visitor centre, I would make your way over to the café on the bottom floor.
There is a nice display of posters from all the books, TV shows, and movies made about Robin Hood over the years!
2. Buy some Robin Hood themed souvenirs at the gift shop
There is a small shop inside the Sherwood Forest Visitor Centre if you were eager to get your hands on a few Robin Hood souvenirs.
Inside they sell Robin Hood hats and Maid Marian hennin headdresses. Bows and arrows, wooden swords, and little Robin Hood and Friar Tuck teddy bears.
I fell in love with the little teddy bear of Robin Hood they had on display so I made the shameless purchase…he still sits on my desk now haha!
As well as Robin Hood souvenirs there are lots of locally made products to get your hands on like crockery, bags, candles and conserves too.
It was quite small on my visit but has since been expanded (again, from more complaints). So bring some extra change!
3. Follow the Sherwood Forest Robin Hood Statue Trail
The one relief around the new Sherwood Forest Visitor Centre is that they have thankfully protected and preserved the Robin Hood statues that are located around the area.
So, you'll find Robin Hood aiming his bow and arrow and also a scene of Robin Hood fighting Little John on a bridge outside!
I think it's meant to be over a pond here, but, when I visited in April it seemed to have dried up.
I know I sound bitter, but I really think they could do more here about the legend than just those two statues. Maybe create a Robin Hood statue trail throughout the forest? Gah.
Other notable Robin Hood statues that you can visit are the famous Robin Hood statue in Nottingham outside of the castle and the Robin Hood and Maid Marian statues in Edwinstowe. More on that later…
Read more – how to find the Robin Hood Statue in Nottingham!
4. Visit The Major Oak – Robin Hood's hiding place!
Although Robin Hood is Sherwood Forest's most famous resident, the Major Oak is a strong contender just behind him.
It's the biggest oak tree in Britain, has been voted as Britain's favourite tree and is famous around the world.
No one knows how old the Major Oak really is but they estimate that it's 800 – 1000 years old!
It weighs 23 tons, has a 33-foot wide trunk and its branches reach 100 feet. It was named after Major Hayman Rooke who was a famous antiquarian.
He published his sketches of the oak tree in his book 'Remarkable Oaks in the Park at Welbeck' in 1790.
This and the introduction of the railways in the UK, contributed to The Major Oak being a huge Victorian tourist attraction and it still attracts over 350,000 visitors every year.
The legend goes that Robin Hood actually used to hide inside the gaping holes of The Major Oak. They used it as shelter, to hide their loot, and even slept there!
You can walk to the Major Oak on the Sherwood Forest Major Oak trail which is around 15 minutes from the visitor centre. It's signposted and is along a mostly flat trail.
Here you can read more about the legend of Robin Hood and the many theories of who he was. There are also some picnic benches opposite if you wanted to stop for some lunch too.
To find out more amazing facts about this veteran oak tree, see my guide for the Major Oak here
5.
Attend a Major Oak talk

Throughout the summer season, half term, and on weekends, the Sherwood Forest team regularly holds talks throughout the day outside The Major Oak.

These are completely free and they will tell you all about the legend of this mighty oak tree and how the tree came to be.

For example, this tree and all of its gnarled branches have survived through the Viking era, the Norman conquest, The Battle of Waterloo, Shakespeare, Dickens, and over 50 monarchs.

It's also survived fires, storms, and even major deforestation. As I said before what we see today is a fraction of what it was.

A long time ago, you could actually climb, touch, and go inside The Major Oak but around 1975, they put a fence around it to protect it. So, you can only admire it from afar.

The chains you see were placed there in 1908. Although it used to provide shelter to Robin Hood, it now provides shelter to lots of animals, insects, birds, and even bats!
6. Take one of the many Sherwood forest walking trails – look out for Robin Hood signs!
Sherwood Forest has over 450 acres to explore and there are some well-laid out walking trails that you can take around the forest depending on your interests.
I went on the Major Oak trail here which will take you around 45 minutes to complete the whole thing. It's relatively easy at 1.5 miles and takes you round a loop from the Visitor Centre and back.
If you're visiting Sherwood Forest for Robin Hood, then I would recommend this trail.
Not only is there the Major Oak but there are also some cool signs and Robin Hood-themed things along the way which is pretty cool.
Sherwood Forest walks
Depending on your energy levels and time, there are even more walking trails that you can take.
If you wanted an even shorter walk you can head on the Giants Trail which is 0.7 miles. This will take around 30 minutes and you'll pass 997 ancient oak trees. In fact, Sherwood Forest has Europe's largest collection.
There is also a Greenwood Trail that takes around an hour where the foliage changes seasonally, or goes for gold on their 4-mile Wildwood Trail. This will take you around the forest past many of its highlights.
7.
Try your hand at archery!

In the peak tourist seasons and school holidays, there are some major events that take place here throughout the year.

You can meet some of your favourite Robin Hood characters outside the centre. They will teach you how to make a bow and arrow and you can even try your hand at archery!

These events are completely free of charge and are fantastic for children and big kids alike.

You can have a look at the Sherwood Forest visitor page here with their full list and dates of events throughout the year.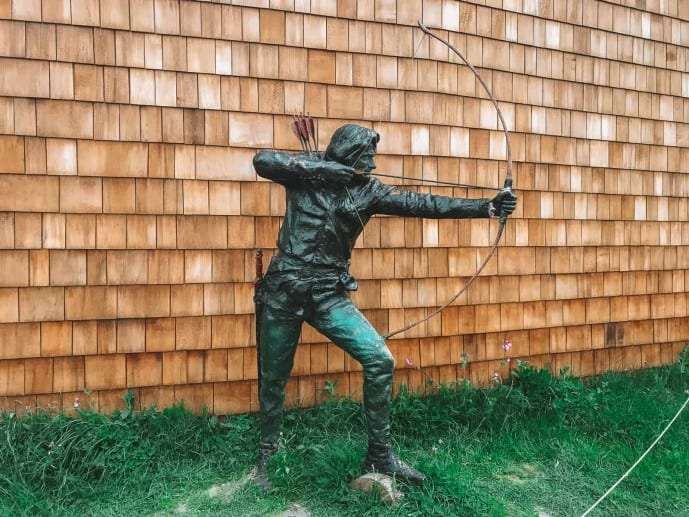 8.
Visit the Sherwood Forest Robin Hood Festival

A place where the legend of Robin Hood is brought alive each year is the annual Robin Hood Festival at Sherwood Forest.

It's been running for well over 30 years now every August. It's a week of re-enactments of famous stories, ballads, storytelling, sword fighting, dancing, and adventures with the Merry Men.

There are plenty of awesome food and drink stalls, craft centres, and places where you can join in the merry-making and have some fun.

The festival is popular with children but it is aimed at all ages, so don't be shy. You could even meet Robin Hood himself while you're there!

It's one of the busiest weeks of the year for Sherwood Forest, so make sure you get there early enough for parking.
9.
Explore St Mary's Church in Edwinstowe

So, that pretty much sums up all the Robin Hood Sherwood Forest activities.

But, there are a few places just a few minute's walk nearby that are perfect for those on the Robin Hood trail.

Edwinstowe has the nickname of Robin Hood Village and it's worth popping into the beautiful St Mary's Church there. This place of worship dates back to 633 BCE.

This is supposedly the spot, according to the legend where Robin Hood and Maid Marian were married!

Many thousands of tourists visit each year on the search for Robin Hood, so the church has an amazing display that explains the history and what life was like in his time.

This is an excellent alternative to the visitor centre if you feel a bit disappointed. It's less than half a miles walk away from the Sherwood Forest Visitor Centre.

Click here to read more about visiting Edwinstowe and where Robin Hood and Maid Marian were wed!
10.
Find the Robin Hood and Maid Marian Statues in Edwinstowe

If you carry on into the quaint village of Edwinstowe, you'll find another amazing statue. This time it's a life-size version of Robin Hood proposing to Maid Marian!

It was made by British sculptor Neale Andrew and they were unveiled in 1998.

It's close to St Mary's Church and is located just outside the library in the centre.

I don't know why but I love this statue most of all, it's quite thought-provoking and tells more of a story!

After their wedding at St Mary's Church, Marian joined Robin in Sherwood Forest. Aw.

If you were thinking of skipping Edwinstowe, I would say DON'T. There are so many amazing shops and quaint buildings here to fall in love with.
Where is Sherwood Forest in England?
Despite the TV programmes and films making it look like Nottingham is a hop, skip and a jump away from here… Sherwood Forest is actually a 40-minute drive north of Nottingham in the countryside!
By Car: If you're arriving by car you can use the postcode NG21 9QB on your SatNav. From Nottingham or the south navigate to the A614. From the North, take the A1 motorway to the A614. Turn onto the B6034 and follow the brown tourist signs.
By bus: There is a dedicated Sherwood Arrow service run by Stagecoach that runs from the Victoria Bus Station in Nottingham. It runs on the hour and takes around an hour to reach. It will drop you directly outside the Sherwood Forest visitor centre.
By train: there are no train stations in Edwinstowe. But, you can hop off at Shirebrook, Mansfield or Mansfield Woodhouse and take a bus/taxi from there.
When does Sherwood Forest open?
Technically Sherwood Forest is open 24 hours a day, 7 days a week for anyone to enjoy all year round.
But, the visitor centre is only open from 10 am – 5 pm from March to October and 10 am-4.30 pm from November to February.
So, if you didn't want or need to visit the visitor centre you could pop along any time!
I would personally recommend the minimum time of an hour to visit Sherwood Forest to visit the Major Oak.
How much does it cost to visit Sherwood Forest?
Entry to the forest, the visitor centre, and the many walking trails are completely FREE.
The only price you need to pay is for parking if you're arriving by car which is quite steep.
Parking at Sherwood Forest
Another pet peeve I had with the new visitor centre was the parking situation.
Whereas before you could park up right outside the Sherwood Forest Visitor Centre, the new RSPB car park is opposite a busy main road.
This is okay for access and driving in, but not ideal if you're visiting with kids, have pushchairs, or need an accessible walking route.
Also, after you've parked up, it's a little bit like playing chicken to cross the road to reach the visitor centre!
There is also an all-day fixed fee of £4 to pay, regardless of whether you're here for 5 minutes or 5 hours.
Personally, I found this pretty steep. Especially if you're not planning to spend hours here.
There was also no discount or offers for those spending in the gift shop or café which is kind of stingy.
Parking is free for RSPB members, so I took that as a little bit of a sales tactic.
Sherwood Forest accommodation
If you're planning to spend a little longer in and around Sherwood Forest or you are backpacking through England. You'll be glad to know that there is the Sherwood YHA youth hostel right outside the Forest.
So, you could spend as long as you like and access the many beautiful rural walking trails around Nottinghamshire.
Another hotel near Sherwood Forest is The Forest Lodge Hotel in Edwinstowe that's nice and cosy and just a few minute's walk away.
Are you on the Robin Hood Trail?
On my recent visit to Nottinghamshire, I followed the famous Robin Hood Trail and my adventures took me all over the county following in the footsteps of Robin Hood and his Merry Men.
I started off in Nottingham at the Robin Hood Statue and paid a visit to the Ye Olde Trip to Jerusalem, one of England's oldest pubs!
Click here to see all the amazing attractions in Nottingham involving Robin Hood.
I then drove up to Sherwood Forest and headed on to Edwinstowe, checked out the ruined King Johns Palace, Robin Hoods Pot where he kept his treasure, Thieves Wood, and even to Will Scarlet's gravestone. I even saw Little John's Grave in the Peak District.
Click here to read my complete guide on The Robin Hood Trail with even more places to visit!
Like it? Pin it!