I had big expectations when I was going to visit Meghalaya. As the most popular stop for tourists in North East India, I knew it just had to be amazing!
I saw these pictures of green forests, waterfalls, hills, and the living root bridges.
So when I landed in the bustling city of Shillong, I have to admit that it wasn't the 'Scotland of the East' I had envisioned.
Although it is technically a hill station, to me, it was just another congested city. I did see some pretty cherry blossoms on the way up, but that was about it!
But, that doesn't mean to say that I didn't have a good time or I wouldn't go back. I actually ended up having the best time there!
The busy market places for Shillong shopping should be on anyone's list visiting Meghalaya.
They are so diverse, entertaining, and even mind-blowing.
Through the labyrinth of stalls, you'll meander through clothes, meat, vegetables, spices, natural sponges, and interesting fruits.
Here is the ultimate Shillong shopping guide with top tips for exploring the bustling bazaars here.
Do I need a permit for Meghalaya?
No, tourists are no longer required to buy a permit to visit Meghalaya. You also don't need to inform a police station of your arrival.
Although in the past North East India has been very strict, they are making the rules more relaxed to encourage more tourism here.
Plus, there are so many tourists that come through Meghalaya that the police station wouldn't have enough time to check them all!
So, relax in the comfort that you can explore here freely.
How to reach Shillong in North East India
There have been some massive funding into the roads which lead to Meghalaya due to the mass tourism.
I was so shocked at how good quality the roads were to tell you the truth.
There wasn't even a bump and it was almost too good to be true. There are easy links to get to Shillong from Guwahati along with the main National Highway 6 (NH6), it takes around 2 hours.
If you have your own transport, it will be an easy drive with some toll roads in between.
To get here via public transport, you can grab a sharing jeep or sumo from the main Paltan Bazaar. These jeeps usually fit 10 people inside.
Usually, you wait for the jeep to fill up before it takes off. So, if you're the first in the jeep come prepared with a distraction. It could take up to an hour or more for a full car of 10 people.
Alternatively, if you have a little extra cash you could take a sharing car near Paltan Bazaar.
This way you only need 4 people to fill it up. These fill up way quicker as the taxi drivers literally chase tuk-tuks when people arrive to hustle them in!
A ticket to Shillong in a sharing car cost me around 300 rupees and I only had to wait 10 minutes.
Be warned though, they will drop you at the centre of Shillong. If you want to be taken to your hotel you'll pay a premium of anything up to 300 rupees.
My driver was trying to charge me 300 but I got stubborn as it's just as much as the fare from Guwahati to drive a few kilometres! Such a scam.
If you're not willing to do this, city taxis in Shillong are super cheap. For a sharing taxi (4 of you) it's around 20 rupees a journey.
For more Public transport tips in Meghalaya, see here
Where to stay in Shillong
When I was looking for places in Shillong, I was after a place that may have some fellow travellers to hang out with. Luckily, I came across the Isabella Hostel.
Hostels are a new concept in India and pretty much non-existent in North East India. So, when I saw it was here and the other hotels in the area were so pricey a booked a night in.
When I got out of my taxi, I bumped into some other travellers who were staying there!
It was pretty new when I arrived in 2017 and being honest, was a building site as they were extending. But, for the price, I was paying I couldn't' complain.
The hostel has a place in my heart for many reasons, at the top were the amazing travellers I met there.
We went to the markets, sang songs, and had a drink to keep warm. It was an awesome stay and I kept bumping into people from there throughout my whole trip in North East.
Top Tip: Bring warm clothes or a sleeping bag. In winter, it's freezing in Shillong. For dates and rates, click here.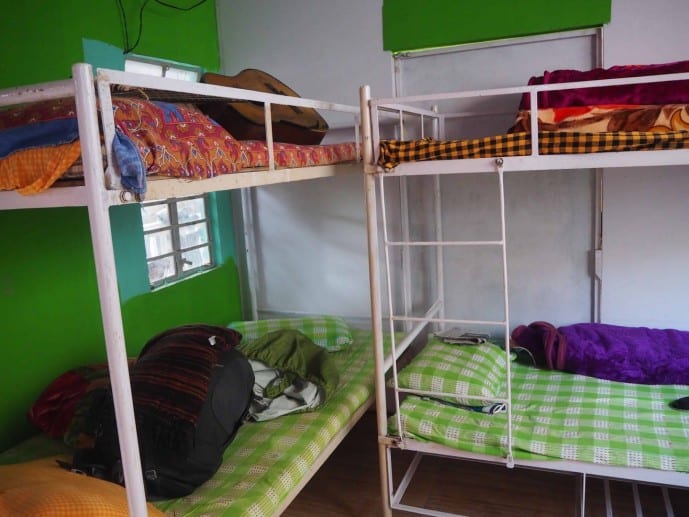 If you're looking for a more up market place. There's a resort called Polo Towers which is a luxury hotel.
You can find their brand all throughout Meghalaya and Cherrapunjee.
It's definitely the place to stay if you have the budget. For available dates and rates, click here.
Transport options in Shillong – how to travel around Shillong
I LOVED the transport networks in Shillong. There aren't many rickshaws in the North East of India or Meghalaya.
Usually, it's public city taxis. But, don't worry they were so cheap.
We used taxis to get to each attraction/market/bazaar in Shillong and it cost us anything between 10-20 rupees a single journey.
Obviously, it depends on how many of you are in the car so make sure you fill it up to get the best price.
In Shillong, the taxis are mostly black and yellow. They drive all around the city so when you see one just hail it over, say 'sharing?' to the driver, and if it's a yes, hop on in!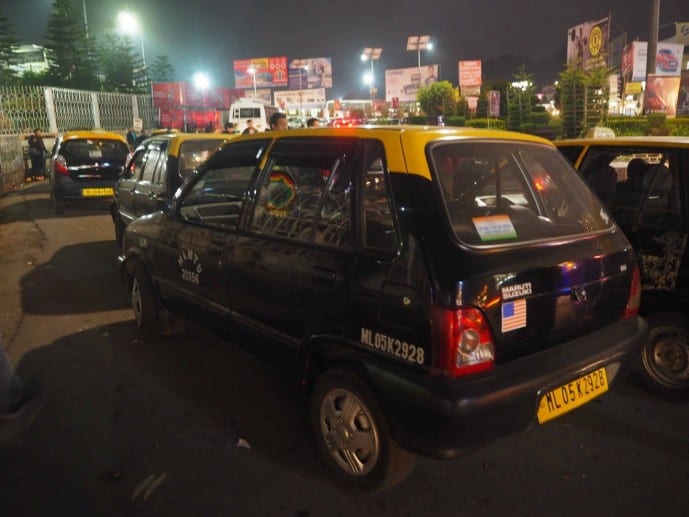 Where to go Shilling Shopping!
First stop, Police Bazaar
Police Bazaar is probably the most famous in Shillong and I would start your market tour here.
It's called Police bazaar as it's by the Traffic Police box.
This is essentially the main clothes market. If you're feeling the chill of winter, I would highly recommend you stock up on winter clothes here!
They sell everything from hats, coats, fluffy pyjamas, gloves, etc. You'll be all stocked up and snuggly.
We arrived in the late afternoon and I would say that it's a perfect time.
I was there on a weekend and it was packed out! Aside from rip-off clothes, there are also other things to keep your eyes peeled for.
You'll also find bags, toys, purses, belts, jewellery, watches, guitars, photography shops, and more. It's a hive for any sort of thing you want to buy!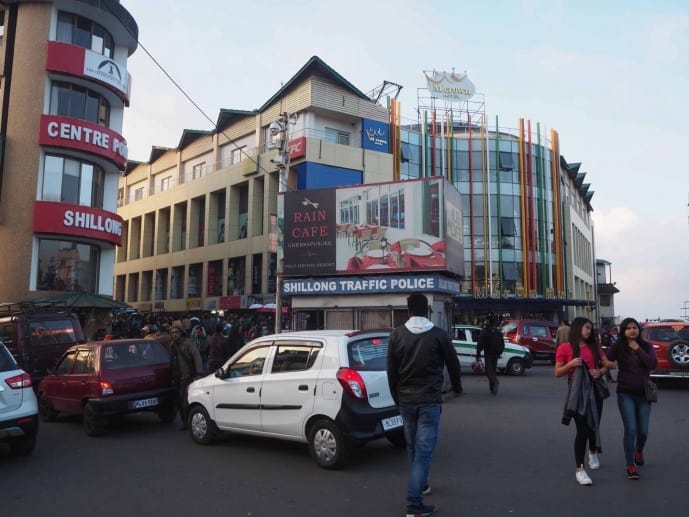 The thing that most caught my eye however was all the interesting street stalls selling food.
You'll find local fruits, vegetables, pan (tobacco rolled in a leaf), and pani puri here.
If you haven't tried pani puri, it's a hollow egg-shaped crisp. You put pani (spicy/sweet water) inside and eat it. These usually come with chickpeas and masala inside before you eat!
Personally, I don't eat these off the street due to the water not always being clean.
I prefer to buy in sweet shops and would recommend that to people coming to India for the first time.
Second Shillong Shopping stop, Bara Bazaar
Although Police Bazaar is the most popular, Bara Bazaar is truly where the fun begins.
The majority of this market is a food market and so it brings some interesting sights and smells!
If you're claustrophobic you may struggle here. The space between the stalls is so small, crowded with people and the smells you receive in your nose are unholy!
It's honestly like a labyrinth to navigate. We lost our friends twice in these market stalls so stick together or take a number.
The first thing I noticed is how much meat there was on many of the stalls.
In mainland India, the majority are vegetarian and meat markets aren't common. But here, meat was on show everywhere!
I loved seeing all the different stalls selling fruit, dried fish, spices, lentils, and tobacco by the pound.
It was colours, sights, and people at every angle!
You could honestly spend hours in here, just window shopping and watching the locals haggle and buy their food for the day.
Top tips for the bazaars and Shillong shopping
Watch your language: Khasi is a popular language in Shillong as you're near the Khasi Hills in this side of Meghalaya. Hindi is recognise but English not so much so make sure you try and haggle another way. I found just showing my notes easier sometimes.
Get taxis in between markets: Shillong is big, it's freezing in winter and once it gets dark the city is twice as hard to navigate. Get the city taxis. By each market place there is a taxi rank. Sharing taxis are 10-20 rupees a single journey dependent on the distance.
Don't lose each other: The markets in Shillong are an absolute maze. It can be so easy to get distracted by a stall and then completely lose your group. Trying to ask the locals for directions can be a challenge with English so definitely take numbers to call each other.
Ask before you take photos: Although the majority of people here love the fact you're capturing their stall. Some are shy and really don't like photos. So, just ask politely or show them your camera before you snap!
Leave enough time to explore: As before, Shillong and the markets are vast. I couldn't believe the time it takes to look around. Beyond the main streets, there are a few centres and underground clothes markets to dig around in. I would say you need a good part of an afternoon to explore. Luckily, the markets run through the evening.
Look out for Shillong festivals and events
When I visited here, I was lucky enough for my visit to coincide with the Saras Fair.
As it was nearby the centre street we decided to have a walk and visit. I was amazed that as I was walking around Shillong there were posters for art galleries, festivals, events, and concerts.
Shillong was a really happening place!
There's actually a university here where students visit from all over and you can definitely tell it's influenced the progression of the city.
The Saras Fair was awesome as it had traditional entertainment, local Khasi food to try such as smoked meats, and souvenirs to shop for like bamboo products.
A lot of these products were made by local tribes and it was so lovely to see their wares and buy a few.
Where to eat in Shillong
Whereas you hardly ever see pork being stocked in central India, so we end up having those anaemic-looking chicken sausages and the like, pork is a local delicacy here.
Smoked meat is popular, especially in the Khasi tribe and a local favourite is pork with bamboo shoot.
In the UK, we eat bamboo shoots quite a lot with our Asian-inspired dishes.
But, when I visited with one of my Indian traveller friend from the hostel, he had never tried it before! I couldn't believe it.
When asking locals for a great place to eat, we were recommended a cute little place called The Hut which is a Chinese restaurant.
Although it was positively freezing as it was slightly open air, it was beautifully decorated. All the walls were made from bamboo and it made such a great vibe.
The food was cheap, delicious and they delivered a massive portion so we shared! The waiters spoke really good English and were really friendly. I would highly recommend it.
There is also a Dylan's café inspired by Bob Dylan, which is meant to have a great traveller vibe. I didn't make it there but heard awesome reviews at the hostel.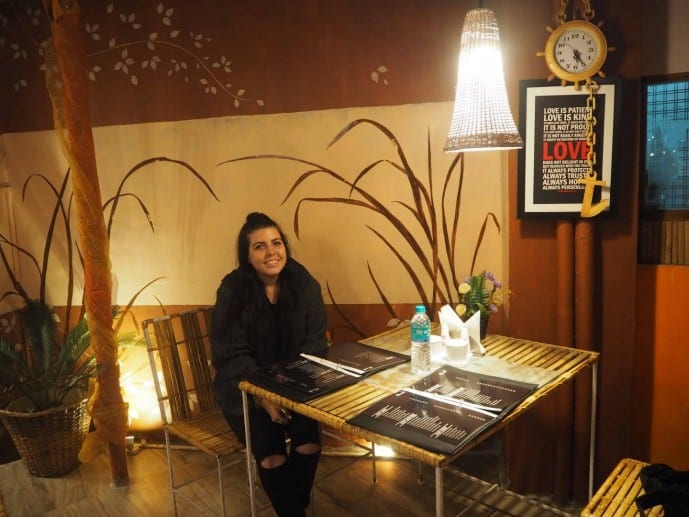 Scotland of the East
Although this is Shillong shopping guide centred around the main city, it's actually a massive district with lots of scenic sites to explore.
Outside of the city, you'll see much more of the 'Scotland of the East'. If you have your own transport, this is perfect.
You can go and see some of the viewpoints, the elephant waterfall and so much more on the outskirts of the city! Getting taxis here will be costly, so maybe pick one site.
For me, my next stop was Cherrapunjee to see the Double Decker Root Bridges, which is totally one of a kind in the world.
Shillong's Bazaars are definitely worth some of your time when you find yourself in North East. Don't skip them and go Shillong shopping!
For more information on Meghalaya, make sure you read these posts…
Meghalaya Photos that will inspire you to visit!
An epic step by step trekking guide of how to reach the Double Decker Living Root Bridges of Cherrapunjee
11 awesome reasons why you should visit Cherrapunjee: Scotland of the East
Read more of my North East India articles!
Top things to do in North East India
A complete guide for Hornbill Festival
Best places to visit in Arunachal Pradesh
My ultimate Tawang travel guide
A complete travel guide for Guwahati
A complete Kaziranga Safari guide
My top North East India travel tips
Like it? Pin it!