There are plenty of places to visit in Shimla, a popular Indian holiday destination, especially for Delhiites. Shimla provides the perfect break from the city heat.
Nicknamed the Queen of Hillstation's and previously the 'Summer Capital', it is perfectly placed up in the hills of the Himachal region.
The first thing I noticed about Shimla was the cool breeze and the rare occasion in the Indian summer season where I felt, dare I say it, COLD.
I was loving the goosebumps on my arms and the cool breeze in my hair, I had surely found nirvana! The 'Summer Capital' was a nickname given to Shimla all those years ago and with good reason.
When I left Delhi, it was a scorching 43 degrees celsius. Sweat rolling down my back and two showers a day is just part of everyday life and I jump from A/C to A/C trying to avoid the sun.
But now, it was almost like summer in the UK…with more monkeys, curry and chai of course! Here are some of the top places to visit in Shimla.
When is the best time to visit Shimla?
By far the best time to visit Shimla would be in the Indian summer season of April – June.
This is when the heat is unbearable in the North of India. So, Shimla is the perfect escape in the mountains.
Although the hotel prices go up three-fold in the summers months and the quality of those hotels is not the best value – the real money you're paying for is the beautiful views of the mountains.
When I arrived, it started to rain. I don't know about you, but there is something so mystical about the rain hitting the mountains and that fresh smell from the ground after. Maybe it's just me!
Luckily, this let up after 10 minutes and the clouds made way for beautiful sunshine!
This was pretty much a standard weather forecast in Shimla each day, so come prepared for all seasons.
The town itself is completely overcrowded with buildings literally stacked on top of each other and every square inch is being used for tourism to grab the last rupee cent. But is it worth it? Hell yes!
How to reach Shimla from Delhi
There are multiple ways you can reach Shimla.
If you have the extra time or you're backpacking, you can catch a bus from Delhi, Chandigarh or Rajasthan and wind your way directly up to Shimla and the journey can take anything from 10-12 hours.
If you're in a rush and just visiting for a short weekend, like me, you can catch the newly released direct flight from Delhi via Air India but this only flies on Wednesdays and Sundays.
So, I decided to take a flight to Chandigarh and grab a taxi up the hill!
How to travel from Chandigarh to Shimla
A cab from Chandigarh to Shimla should cost you no more than 2500 rupees (not the best option if you're on a budget).
You can book online through One Way Cab or there are many other travel sites with competitive rates you can book through. It will all depend on what sort of car you want.
The best way to reach Shimla is via the toy train from Kalka, but it's booked up months in advance.
This is something I was dying to do but it's not a great option unless you're super prepared (which I wasn't)!
It's supposed to be one of the most beautiful train journeys in the world so if you can nab a seat – great!
You may get lucky with a last-minute ticket but you will have to be prepared to sit on the floor or stand.
8 AMAZING places to visit in Shimla
1. Shimla Mall Road
Unbeknown to me Shimla itself is a huge area, with the main part centred around the famous Mall Road.
Be sure to check where your hotel is located before you book as you may find you'll be far away from the action. Unless that's what you want, then go for it!
To avoid paying for cabs every day, I decided to place myself here. One of the things I LOVED about the Mall was that no vehicles are allowed on it.
Living in the city, it's hard to escape the honking of cars and pollution so to have fresh clean air and a quiet (ish) area was a welcome prospect.
To get up to Mall Road from the main through the road below where you'll arrive by cab, you have to grab the Tourism Lift.
I would love to say that it was a great experience but I would be lying to you. It costs around 10 rupees for a one way ride and it's the typical 'Indian queue' where, quite frankly, there isn't one.
The lift was a tight squeeze, especially if you have luggage with you. I tucked myself in the lift along with the other Indian family with me.
Luckily, It was only a minute and I was out. Sweet freedom! But then, to my horror, there was another lift. So, I got in the throng again and made my way up to Mall.
Everything you need is placed here, shops, street food vendors, restaurants, travel companies. It's the main through road for tourists who are staying here.
When I visited in the summer, it was pretty crowded but as everyone is on holiday having a good time, it has a nice vibe to it.
2. The Heritage Walk
There isn't a great deal to do in Shimla, as in tourist attractions, which allows you to just take in the breathtaking scenery all around you.
One of the ways to do this is to take their Heritage Walk from Scandal Point.
It's around a 2.5km walk one way which ends up at the Institute of Advanced Studies or Viceregal lodge as it was named when it was first built.
It doesn't take very long, but if you're a slow walker and would like to take breaks to enjoy the views, it will take an hour.
3. The Viceregal Lodge
The Viceregal Lodge, also now known as Rashtrapati Niwas is a beautiful building which was originally built for the British Viceroy of India.
It was also famously home to many of the discussions which led to the Indian Independence and, after that, summer home to the President of India.
You can take a tour inside for 80 rupees but it's nothing to write home about and photography is prohibited.
If you'd rather just see and snap it from the outside and enjoy the beautiful gardens with colourful flowers, it'll cost you next to nothing at 20 rupees.
There's a cute little fire station cafe to grab a drink or a snack before you walk back.
4. The Ridge
The Mall Road will lead you up and around to the Ridge ground.
It's a beautiful wide-open space and it's where you can relax and take in the atmosphere.
Families take photo's and selfies with the view and children eat ice-cream and take pony rides around the square.
Christ Church itself is very pretty and worth a peek inside. I didn't spend a lot of time here, but it was a lovely place to walk around.
From here, you can head around for some budget souvenir shopping at Lakkar Bazaar. Or start your trek to the famous Jakhu Temple.
5. Climb up or take the cable car to Jakhu Temple
From all over Shimla you can see the famous bright orange Hanuman statue.
It definitely has a presence which towers over everything and is said to be one of the biggest in the world.
The statue guards the famous Jakhu temple and many pilgrims take the worthwhile walk up to the top.
There are three ways in which you can reach Jakhu Mandir;
1. Grab a shared Government taxi to the top of the hill which will cost you around 20 rupees
2. Make your way up the hill by trekking it which is completely free but will leave you breathless
3. Or, get the newly opened Jakhu Ropeway.
I decided to have a ride on the Jakhu Ropeway as it would save me walking.
It's not a cheap option at 550 rupees return but if you'd rather save the energy it's worth its weight in gold!
The ride was short but provided some spectacular aerial views of Shimla and a view of the tops of the trees with Hanuman poking his head over.
6. See the Hanuman Statue in Shimla
When I got to the top of the mountain, I made my way over and I just couldn't take my eyes of it. It was a mammoth of a statue. So, although it was busy, I just took a moment to take it all in.
A warning: even if you merely whisper the fact you're planning to visit the temple, any local will warn you about the monkeys (or Bandar in Hindi) which live there.
As Hanuman is the Hindu monkey god, it is natural that these pesky friends will be waiting around for temple offerings.
I had read up on this before I went and had these awful visions of hundreds of monkey's coming to attack me, in which I would need to use my 'monkey bashing stick' to ward them off but I got lucky.
When I reached the temple, there was a festival going on and there was a huge crowd of people at the foot of the statue, so the monkeys were kept at bay.
That's not to say that they weren't causing havoc though, so be warned! Don't carry food in your bag and keep your sunglasses and loose items hidden.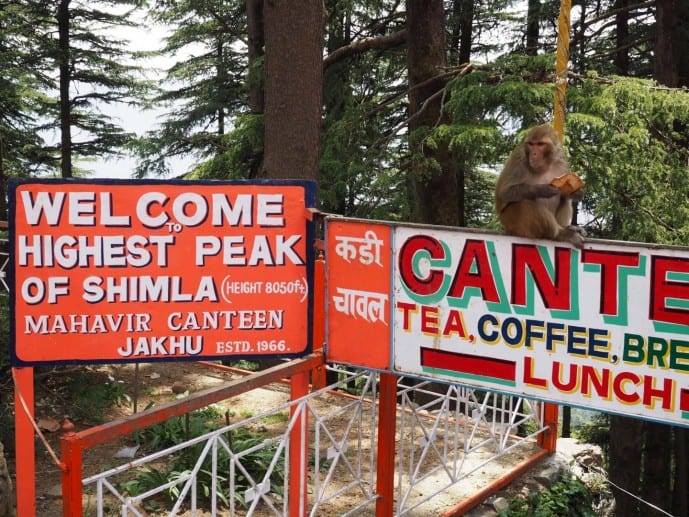 The festival was in full swing and the temple was providing free food for everyone that was there. Noodles and Ice cream to be exact.
At first, I didn't take any of the ice creams as I felt bad taking it. But a kind old lady saw me drooling over it and literally dragged me by my arm into the queue.
Lesson learned, when life hands you free ice cream, grab it with both hands!
The temple itself, due to the festival, was crowded so I gave it a miss to check out the inside. But the views from the top are stunning.
I have a habit of finding these tacky but awesome Indian costume photo opportunities and as there was one there – it would be rude not to follow tradition!
Usually, these include dressing up in a traditional Indian dress of the state you're in.
It will cost you next to nothing and is a great souvenir to take home. Here's me in traditional Himachal dress. Can I just be Indian now?
7. Stay at the Willow Banks Hotel in Shimla
After all these places to visit in Shimla, you'll need a place to stay!
As mentioned earlier, the hotels are really not the best value for your money in the summer months but there are some Luxury, mid-range and budget ranges to choose from.
Make sure you check out a competitive booking website or call the hotel directly.
Due to the peak season, negotiating a rate will be a pretty hard task. I stayed at the Hotel Willow Banks while I was in Shimla which had an amazing view of the town and beyond.
What I love about India is they always do rooms for single occupancy, so if you are a solo traveller you'll find some rates to suit your budget.
Don't fret, it will have a double bed and pretty much be like a normal room if there were two of you, but they just charge less – magic!
Click here to book your stay at Willow Banks!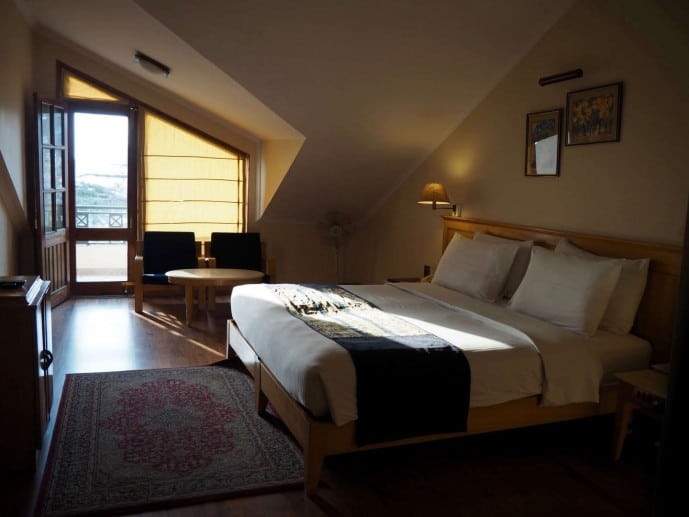 The backpacking magnet in Shimla is the YMCA, which has the cheapest room rates in town.
To get the YMCA, you'll need to take the tourism lift (or walk from the bottom) and walk up to the ridge.
You'll be sharing a bathroom, but you'll be saving lots of money!
8. Sip a virgin Mojito at Wake and Bake Shimla
There are plenty of restaurant and cafe choices. By far, my favourite cafe was the Wake and Bake.
It's situated on The Mall Road opposite the Gaiety theatre, just lookout for the bright yellow shutters.
It's a perfect choice, no matter what your budget as they sell pizza by the slice (Margherita is as little as 110 rupees).
It was just a really nice chilled out place to relax after a long day whatever you're up to.
You can sip an Americano or Virgin Mojito and watch the world go.
Clean and Green Shimla
I almost laughed when I saw the sign which said 'welcome to India's most progressive state' but when I got here, they honestly have a good thing going on!
Spitting, Smoking and Littering (all the things I hate) have a hefty fine attached to them.
The positive messages around keeping the town safe, clean and green really goes to its credit.
I absolutely loved this attitude and the way the town wants to protect its medal of responsible tourism.
What I would have done differently in Shimla
Personally, I found it too overpriced and overcrowded in May.
That's not to say I wasn't grateful for a few days in the cool air, not at all, but I think if I were to visit again – it would be in the winter months.
That way, you can enjoy the scenery without the crowds and if you're really lucky, see some snowfall which just looks magical!
Saying this, I will definitely miss the cool breezes here in Shimla once I hit the searing heat of the city (sigh).
There are plenty more places to visit in Shimla
So these are just a few of the places to visit in Shimla. Being a Delhiite myself and suffering the heat, I can see why people quite literally want to run for the hills!
It truly is one of India's finest jewels in her crown and if you haven't yet, you should be adding this as priority stop on your itinerary.
Heading around Himachal Pradesh?
If you're travelling around Himachal Pradesh in India, make sure you to read some of my informative travel guides on the North of India;
Manali to Leh by road, all you need to know
What it's like to travel to Leh, the land of high passes
Off the beaten track Ladakh, Thiksay, She and more
A guide to Manali, the hippie town in Himachal
Top things to do in Mcleodganj
A complete Bhagsunag waterfall guide
The ultimate Rishikesh travel guide
Visiting the Beatles Ashram in Rishikesh