A Signet Library afternoon tea is a must while in Edinburgh and one of its best-kept secrets. If you're looking for a civilised respite in the city, The Colonnades at the Signet Library is just your ticket.
You can escape from the busy streets of Edinburgh and be immersed in a Georgian paradise of delectable cuisine, a relaxing atmosphere, and a library full of historical books. It's like a fairytale!
It may also surprise you to know that The Signet Library was featured as the Governor's mansion in Jamaica in Outlander season three!
The upstairs of the Signet Library was transformed into a Jamaican residence, filled with aristocracy, powdered wigs, and lashings of ginger ale (as Champagne)! But, you don't need to wait for a cordial invitation, just book in for an afternoon treat.
Here's a complete review of the Signet Library afternoon tea and why it's perfect for Outlander fans. In this guide, I'll not only go over the scrumptious high tea on offer but also what Outlander locations to look out for there too!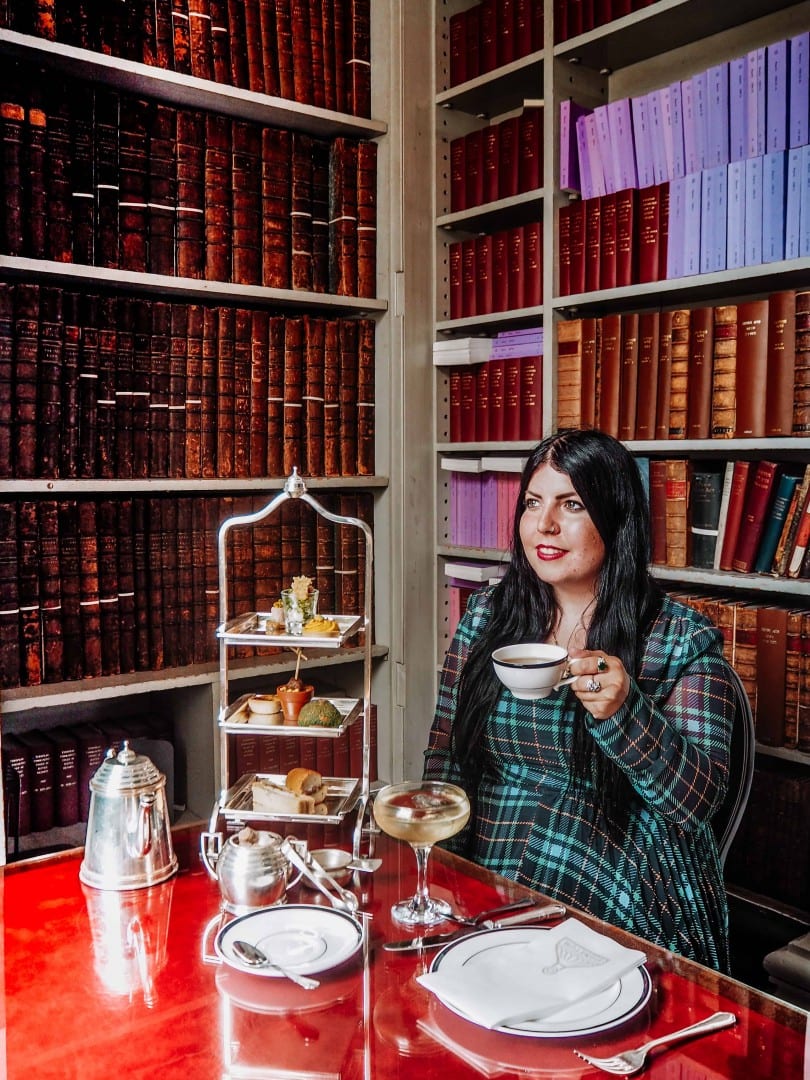 What is the Signet Library in Edinburgh?
The Signet Library is home to the Society of Writers to Her Majesty's Signet. It's an association of Scottish lawyers and one of the oldest professional bodies in the world.
The Signet was the royal seal of old Scottish kings and queens and only the Writers of the Signet were authorised to use it.
It's currently over 500 years old and today the Writers to the Signet, or "WS", society provide law firms and solicitors with research and a network.
To be a Writer of the Signet, you have to take a special oath before an officer of the state and they belong to the College of Justice.
The Signet Library is in Parliament Square on the Royal Mile and sits next to Parliament Hall where Scotlands' supreme courts are located. It's used as a law research centre for learning and for networking. Most of which is centuries of knowledge sitting on its Signet Library bookshelves!
It's also home to the luxury dining restaurant The Colonnades where you can treat yourself to afternoon tea or dinner.
Outlander's Ned Gowan and the Signet Library
Hardcore Outlander fans will also recognise The Signet society from the Outlander novels! Ned Gowan was previously a Writer of the Signet before he gave up his office and moved up to the Highlands.
When I had afternoon tea here, I sat in one of the book alcoves in the library. I was surrounded by some of the oldest literature held by society. They ranged from the 18th century all the way up to the 1970s!
Signet Library History
The use of the Signet first occurred in 1369 and the Writers of the Signet were first recorded in the College of Justice when it was established in 1532.
But, the "WS" Society truly took shape in 1594. It was then that the King's secretary, or "Keeper of the Signet", granted permission for the deputy keeper and 18 other writers to use it.
The Signet Library came a few years later and was opened in 1822 in preparation for George IV's famous visit to Edinburgh.
It was the first time a British monarch had visited Scotland since Charles I, two centuries later! The upper library was described by him as "The finest drawing room in Europe".
The building was designed by architect Robert Reid and the interiors by William Stark.
The furniture made for the inside was designed by the famous furniture maker William Trotter and the interior mural paintings in the upper library cupola were painted by Thomas Stothard.
How to book a Signet Library afternoon tea
It's not only Outlander fans that love this place. As one of the most popular spots to have afternoon tea in Edinburgh, it's recommended to reserve away in advance. I tried to do this a few days before, but the system doesn't allow you to book this way.
To guarantee your booking, I would book at least one week in advance, especially for large parties.
I came in early around 1 pm and managed to get a table on the day without booking. But, bear in mind it was a Wednesday and it's busier on weekends.
The receptionist did say that they keep a few extra tables free so it's definitely worth asking!
Click here to book your Colonnades afternoon tea online!
Signet Library afternoon tea times
The Signet Library Afternoon tea times are different depending on the day. Always check beforehand before you visit;
Monday to Friday from 1pm – 5pm
Closed on Saturdays
Sundays from 11am – 5pm.
Signet Library afternoon tea prices
An exquisite Signet Library afternoon tea at the Colonades will cost you £50 per adult.
Admittedly, this is quite expensive compared to other high teas on offer in the city. But, The Colonnades cannot be beaten on quality, has an artistic flair and a fairytale setting to boot!
I mean, when else can you say you've sipped afternoon tea in the library of the Writers of the Signet?!
The £50 covers the basic afternoon tea price but you can add champagne on if you choose for an extra fee. This includes two massive cake tiers of scrumptious food and unlimited cups of the finest loose leaf tea!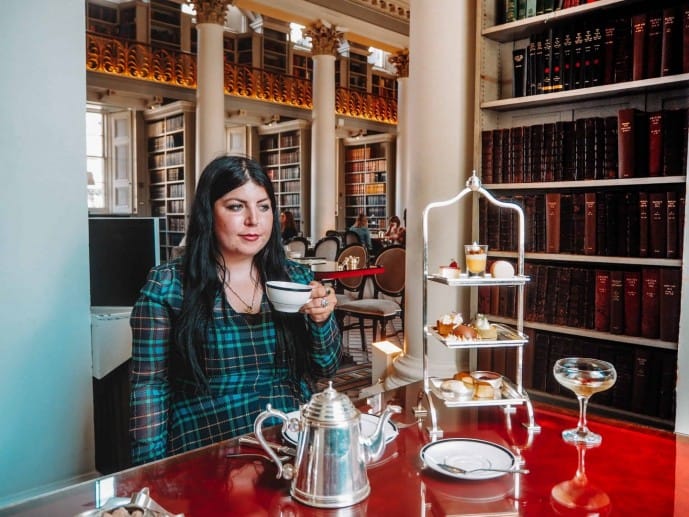 How to reach the Collonades at the Signet Library
The Colonnades at the Signet Library is easy to locate in Parliament Square off the Royal Mile.
A great landmark to look out for is the famous St Giles Cathedral, The Signet Library is just behind it.
At first, I had a hard time trying to find the right entrance door, but just look for a menu that sits outside!
It's easiest to access The Signet Library on foot, but you can get the number 35 bus service to drop you off nearby.
Parking is extremely limited on the Royal Mile, but Holyrood Park has some large car parks which are around a 15-minute walk away up the hill.
The Collonades at the Signet Library afternoon tea setting
As soon as you enter the Signet Library from the bustling and touristic Royal Mile, you'll find peace and tranquility in its walls.
The Signet Library has a welcome reception and they will guide you to your seat for the afternoon. I didn't book beforehand but showed up early and managed to get one of the best seats in the house.
The Colonnades is stunning from head to toe with its tall columns, decorate the high ceiling, and ornate furnishing. But, for me, the best part was their table set in fairytale alcoves with old books on the shelves.
I had some of the oldest literary works in the library with me for company including some of the 18th century 'British Acts'. Maybe Ned Gowan had a gander of an edition when trying to exonerate Jamie? ;)
Did you know they also hold weddings here?! It must be so magical for your special day.
Collonades at the Signet Library afternoon tea menu
The afternoon tea menu for the Signet Library afternoon tea changes seasonally.
As I was here in the summer months, I was impressed by their excitingly refreshing menu. On my visit to Edinburgh, it was scorching and so lots of stodgy items wouldn't be the best idea.
I was excited to receive my amuse-bouche to start which was a tomato soup to prepare the palate. I also fell in love with their sterling silver which was labeled Signetum along with their fine crockery and napkins. Super posh!
Savoury
A highlight of this afternoon tea was that you received not one but two cake tiers full of offerings. Usually, traditional afternoon tea comes with some finger sandwiches underneath the sweets but not here!
To my delight, there was a whole cake tier with twelve savoury bites!
From traditional Scottish haggis, salami, and freshwater salmon, to yummy quiche, couscous, and choux buns; the whole course was a sumptuous savoury delight!
Although each piece was small, they are mighty and full of flavour. They were also so creative in their presentation. My couscous with miniature haggis was served in a plant pot and a shot glass had a mini Ceasar salad inside!
Desserts
My favourite part of any afternoon tea and came served on its own cake tier! Twelve puddings and I couldn't wait to dig into each and every one.
Crunchy Macarons, citrus tarts, moreish mousse, carrot cake, a passion fruit shot, and scones with lashings of jam all went down a treat. But, I have to admit when I got to the last scone I was struggling.
Just when I said no more to food I was served up a refreshing Elderflower sorbet to finish. It was so good that from that day, I vowed that the only sorbet I will ever eat again would be Elderflower. True story…
Is the Signet Library afternoon tea worth the money?
Afternoon teas are a weakness of mine when I travel. I've had them in India, The Ritz in London, and parts of Europe. The Colonnades at the Signet Library afternoon tea is one of the best I've had and that's saying something from an afternoon tea addict!
Not only was the setting stunning and almost like a fairytale, but the food was also expertly prepared and creatively presented.
It's expensive but well worth the money if you want to enjoy a luxury dining experience in Edinburgh.
Signet Library Outlander location – Governor's mansion in Jamaica
I was rather shocked to find out that the Governor's mansion in Jamaica in Outlander season three was actually shot in Edinburgh!
The Outlander team really does make the interior and exterior shots of buildings utterly seamless, don't they? It's extremely clever!
In episode 12, The Bakra, Jamie, and Claire are invited to a party at the Governor's house, which we later find out is Lord John Grey.
The same John Grey who inadvertently saved Jamie's life after Culloden freed him from Ardsmuir Prison, found his work at Helwater Estate and is guardian to Willie, Jamie's son.
Related post – an Outlander guide for Gosford House aka Helwater Estate!
The Governor's Mansion
The interiors of the Governor's mansion were shot in both the lower library downstairs in the Colonnades and the upper Signet Library.
The rooms were filled with tropical plants, residents of 'Jamaica' in their finery and wigs, servants offering glasses of Champagne or Ginger Ale, and a band playing for guests
Of course, all of that won't be there when you visit. But, you'll instantly recognise the setting.
I had the pleasure of going into the private Upper Library at the Signet and the room was honestly spectacular.
You could see the sky-high columns, rows of books, and the stunning ceiling with a painted cupola. I could almost imagine how amazing it would have looked while filming.
If you were curious as to where the exterior of the Governor's mansion in Jamaica was shot, then it was in the University of Stellenbosch in South Africa.
Governor's Office
Apparently, there is another room at the Signet Library that was used to film Lord John Grey's office at the mansion. I did put in a request to enter but, unfortunately, it was strictly off-limits.
As the Signet Library is a law office, it's no surprise that top-secret meetings take place there!
This is the room where Jamie and John Grey talk in private and Jamie enquires after Willie and again after Jamie is arrested by Captain Leonard.
Have a glass of Ginger Ale
One thing you can do at the Signet Library to feel like you're at the party is to have a glass of sparkling ginger ale. The cast drank ginger ale as champagne while filming on set!
Sure, it's not at a party at the mansion in Jamaica, but you can toast a glass for simply being here! It is an amazing place after all.
Can I see these Signet Library Outlander Locations for myself?
The Upper Library and the room that featured as the Governor's office are strictly off-limits to the public. You can ask, but don't be disappointed when the answer is a firm 'no'.
The Signet Library is a workspace of law firms and solicitors and you need to be accompanied while inside.
However, you're certainly free to book an afternoon tea or a lunch a the Colonnades downstairs in the lower library.
The two libraries almost mirror each other and you still have the signature columns on either side. Plus, there's no food or drink served in the upper library anyway and that's no fun lol!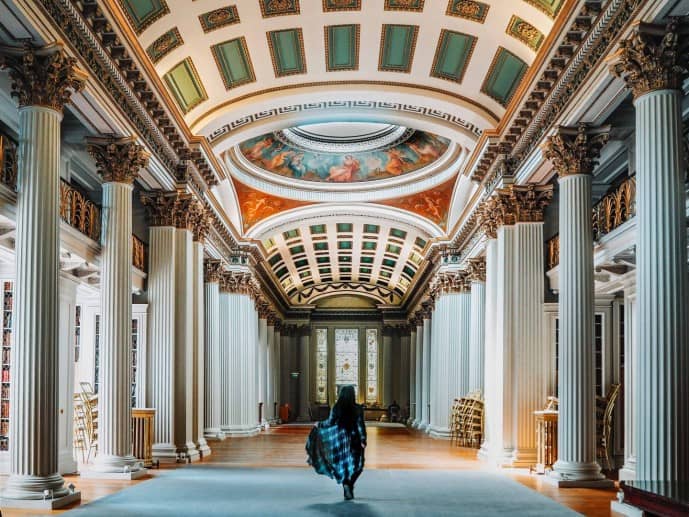 Looking for more Outlander locations nearby?
After you've gorged on your Signet Library afternoon tea, it's only a short walk to more Outlander locations that featured in the series!
As you stroll down the Royal Mile pop into Tweeddale Court. This quiet close was transformed into an 18th-century market street where Claire was reunited with Fergus. You can read my complete Outlander guide for Tweeddale Court here.
Related post – Outlander filming locations on the Royal Mile!
The most famous location is Bakehouse Close just a few minutes walk from Tweeddale. It featured as Carfax Close that was home to Alexander Malcolm's print shop.
Here, you can relive that emotional and gripping scene where Claire walks up the stairs to finally be reunited with Jamie after all those years apart!
To read more, make sure you see my ultimate guide for Bakehouse Close!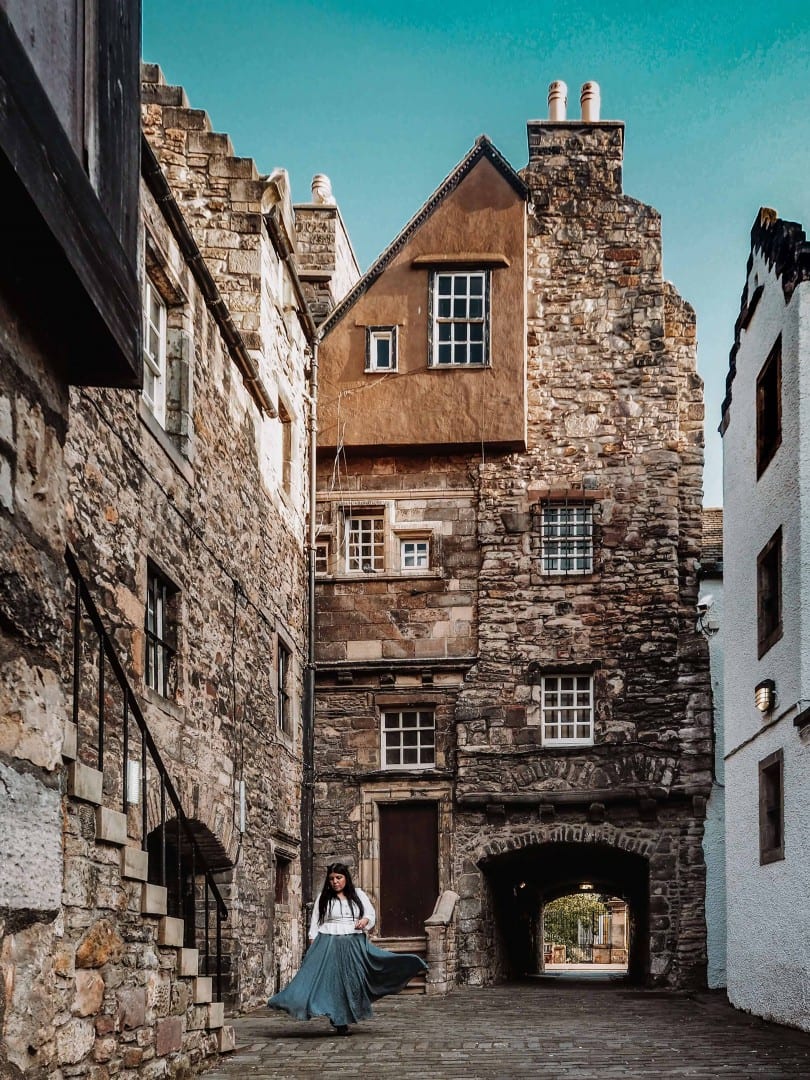 If you're also curious to visit some locations mentioned in the novels you can visit some more Outlander spots on the Royal Mile.
The World's End pub that was Dougal Mckenzie's favourite haunt is in Canongate along with Canongate Kirk where Colum meets Jamie and Claire and Canongate Gaol.
Or, head further down to Holyrood Palace where Jamie and Claire try to stop the rebellion.
Outlander locations around Edinburgh
If you're spending a few days in Edinburgh, there are plenty of Outlander locations to visit in the city and around the area.
In the city centre, you can visit Summerhall that was used as a lecture room by Claire in Boston, or Craigmillar Castle that doubled up as Ardsmuir Prison in season three.
Or spend a day out at the Roslin Glen Gunpowder Mills that featured in season 1.
Check out my ultimate list of over 90 film sites of Outlander around Scotland to visit!
Gosford House in East Lothian featured as Helwater Estate and the Preston Mill with its heritage water wheel was used as Lallybroch Mill.
You can also visit Lallybroch in real life by visiting Midhope Castle. Abercorn church is nearby or Hopetoun Estate has the Duke of Sandringham's Home as well as 17 other Outlander locations!
Or, visit Fort William at Blackness Castle and Wentworth Prison which featured Linlithgow Palace.
Visit the seat of the Clan MacKenzie, Castle Leoch, by heading up to Doune Castle.
Bo'ness is where Claire and Frank said their goodbyes, Deanston Distillery has Jared's wine store in La Havre and Drummond Castle Gardens is where you'll find the gardens of Versailles.
Culross featured as Cranesmuir, with its palace being the gardens of Castle Leoch and their West Kirk doubled up as a Black Kirk.
Or, go back to where it all began in Inverness which is in the village of Falkland. Visit the fountain where the ghost of Jamie stood or stay in the Covenanter Hotel that played Mrs Baird's B&B.
Heading to Glasgow? Don't miss this complete list of Outlander locations in the city!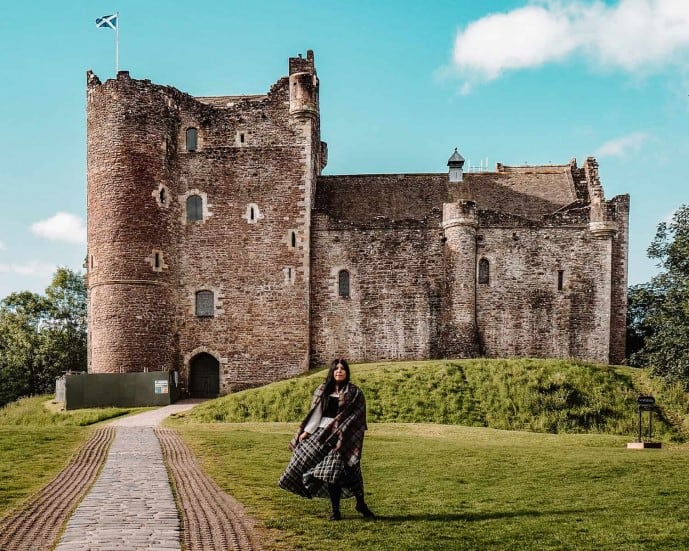 Read my Edinburgh travel guides
All the Outlander locations in Edinburgh
Harry Potter locations in Edinburgh
How to visit the Harry Potter graveyard
A complete guide for Armchair Books
Why you must visit Dean Village
A complete guide for the Vennel
How to find Bakehouse Close from Outlander
The hidden gem of Whitehorse Close
Why you must visit the World's End
A complete guide for Circus Lane
The mystery of the Burke and Hare Coffin Dolls
Queen Mary's Bath House in Edinburgh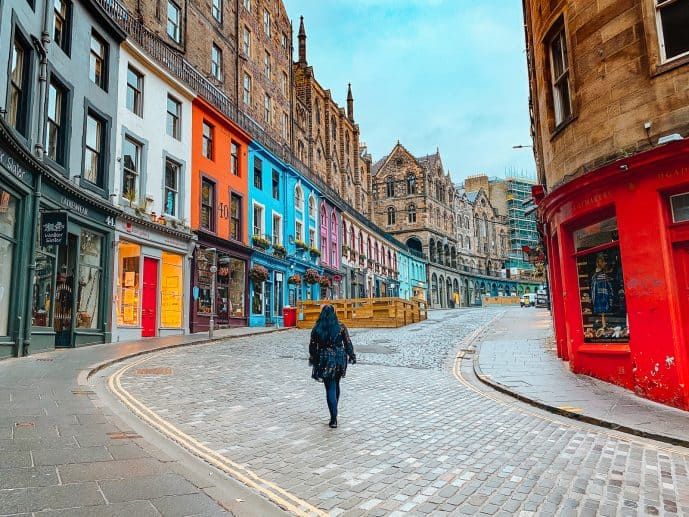 Save this Signet Library afternoon tea review for later!