One of the most breathtaking attractions in the Northern Highlands has to be the magical Smoo Cave & waterfall.
It's a natural beauty spot on the coast and one of the most popular things to do on the Scotland NC500.
Smoo has the largest sea cave entrance in Britain and is quite unique as it was formed by both seawater and freshwater.
It has so much history, legends, and myths associated with it and it looks like something from a fairytale. I would highly recommend adding this to your Scottish road trip itinerary.
Here is a complete guide for the Smoo Cave walk and waterfall in Scotland including the history, how to visit, and what to expect!
What is Smoo Cave?
Smoo Cave is a beauty spot in the northwest Scottish Highlands. It's both a sea cave and freshwater cave and is one of the most popular stops on the NC500 road trip.
There are three chambers that make up this beautiful cave. A large main cavern that you can walk inside and explore and a smaller cavern that contains a gorgeous cascading waterfall.
There is also a third, inner chamber, that you can only access by boat. You can arrange a Smoo Cave boat trip and geological cave tour to explore this in summer!
It's near the village of Durness and is accessed via a steep stairway down the cliffs and a footbridge.
Why is Smoo Cave called Smoo Cave? It's thought to be a Norse term originating from the word 'smjugg' or 'smuga' meaning a hole or hiding place.
How was Smoo Cave formed?
Smoo Cave is a natural wonder in Scotland and was formed by both seawater and freshwater over the course of thousands of years.
It's part of the Durness Group and was created from natural erosion in the Early Ordovician dolomites. The cliffs are made of limestone and so the main cavern was formed by seawater erosion.
It's the largest sea cave entrance in Britain and it's a whopping 40 metres (130 ft) wide and 15 metres (49 ft) high!
Smoo Cave is quite unique in the UK because the inner chambers, where the waterfall is located, were formed through freshwater rainfall erosion.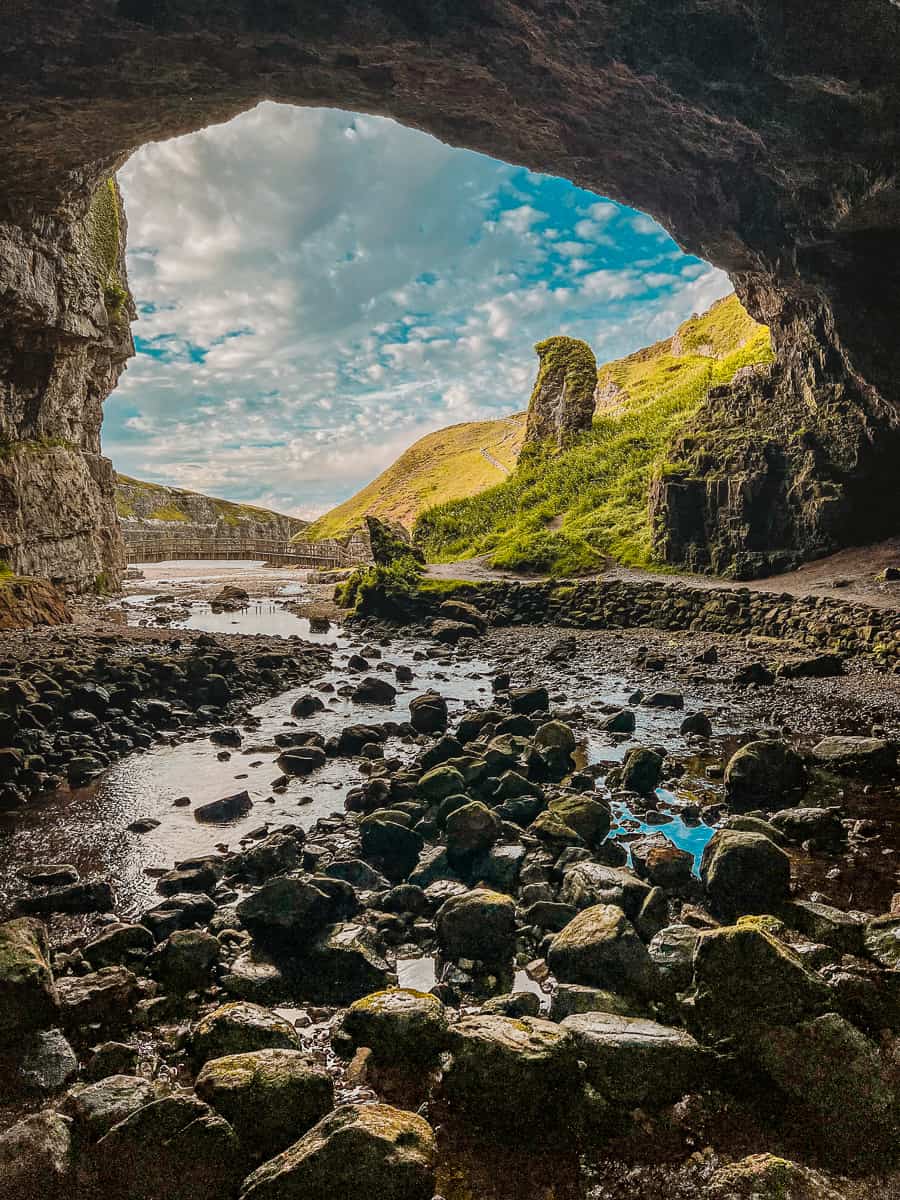 Smoo Cave history & facts
It is believed that some of the first human settlers at Smoo Cave were from the Stone Age almost 5,000 years ago.
The large cavern and easy access to the sea provided the perfect shelter and food source for early communities.
Later, the Vikings chose this secret place as a location to fix boats or fish for herring. They would sail down the small inlet to remain undetected.
The name 'Smoo' is thought to originate from the Norse term 'smjugg' meaning hiding place.
There are many myths and legends about this cave. Some say that it was a gateway to the Faerie world whilst others say it was associated with the Devil.
It was also the location of a number of Highwayman murders in the 16th and 17th centuries. It has been proven that Donald McMurdo used to throw his victims down the blowhole! You can visit his grave in the churchyard at Balnakeil.
Sir Walter Scott visited the cave in 1814. He was both intrigued and disturbed by the glistening stalactites and the dark water in the chambers.
In his diary, he wrote, "A water kelpie or an evil spirit of aquatic propensities could not have chosen a fitter abode".
Today, Smoo Cave is a popular tourist attraction in Scotland, and thousands visit every year as part of the NC500!
Where is Smoo Cave & how to get there?
This magical sea cave is located next to Durness village which is quite a remote area of Sutherland in the uppermost north west Highlands of Scotland.
It's easiest to drive to Smoo Cave and many people include this incredible beauty spot on their NC500 road trip itinerary.
Durness is a 2 hour and 30-minute drive from John O' Groats. It's also a 2-hour drive from Thurso and a 2-hour drive from Ullapool.
Once you enter Durness via the A838, Smoo Cave will be easy to find as it's the highlight visitor attraction. There are multiple brown tourist signs for it.
Smoo Cave address is Durness, Sutherland, IV27 4QB. Click here for a Google Pin!
Is there a bus to Smoo Cave?
You won't find any railway lines here, the nearest is in Thurso or Lairg on the 'Far North Line' which you can access via Inverness.
But, there is a bus company that stop at Durness in the summer (May – September) called the 'Far North Bus' (previously called Durness Bus).
The Durness Bus has services from Inverness, Lairg, and Ullapool. They often run at full capacity in the peak months (June – August) so I would try to book as far in advance as possible.
Note: If you plan to take public transport in the Highlands, forward planning is essential! I always recommend Traveline Scotland.
Smoo Cave parking
There is free and convenient Smoo Cave parking which is located right next to the steps down to start the Smoo Cave walk.
These also have some free public toilets to use which I would recommend visiting before you head down to the sea cave. There are no facilities once you're down there.
Right next to the car park you'll find some information panels about Smoo Cave's history. You can read about how it was formed, the history and the wildlife found here!
Smoo Cave opening times
I was amazed to see that Smoo Cave is open 24 hours a day to visit and is open all year. This makes it far easier to plan a visit into your NC500 itinerary.
Personally, I arrived around 8 pm in summer and found this was a fantastic time to visit as I had it to myself.
I think I met one family the entire time I was here which was well over an hour. I wasn't planning to spend so much time at the cave but the cave, waterfall, and cliff walk really are breathtaking so I extended my visit.
There are some artificial lights inside the cave so even if you visit a little later at night it will be lit up – the chamber with the waterfall had lighting too! It looked so dramatic.
Although it is a sea cave, Smoo Cave remains accessible even during high tide. But, sometimes heavy rainfalls, melting snow, or storms can mean it gets flooded occasionally.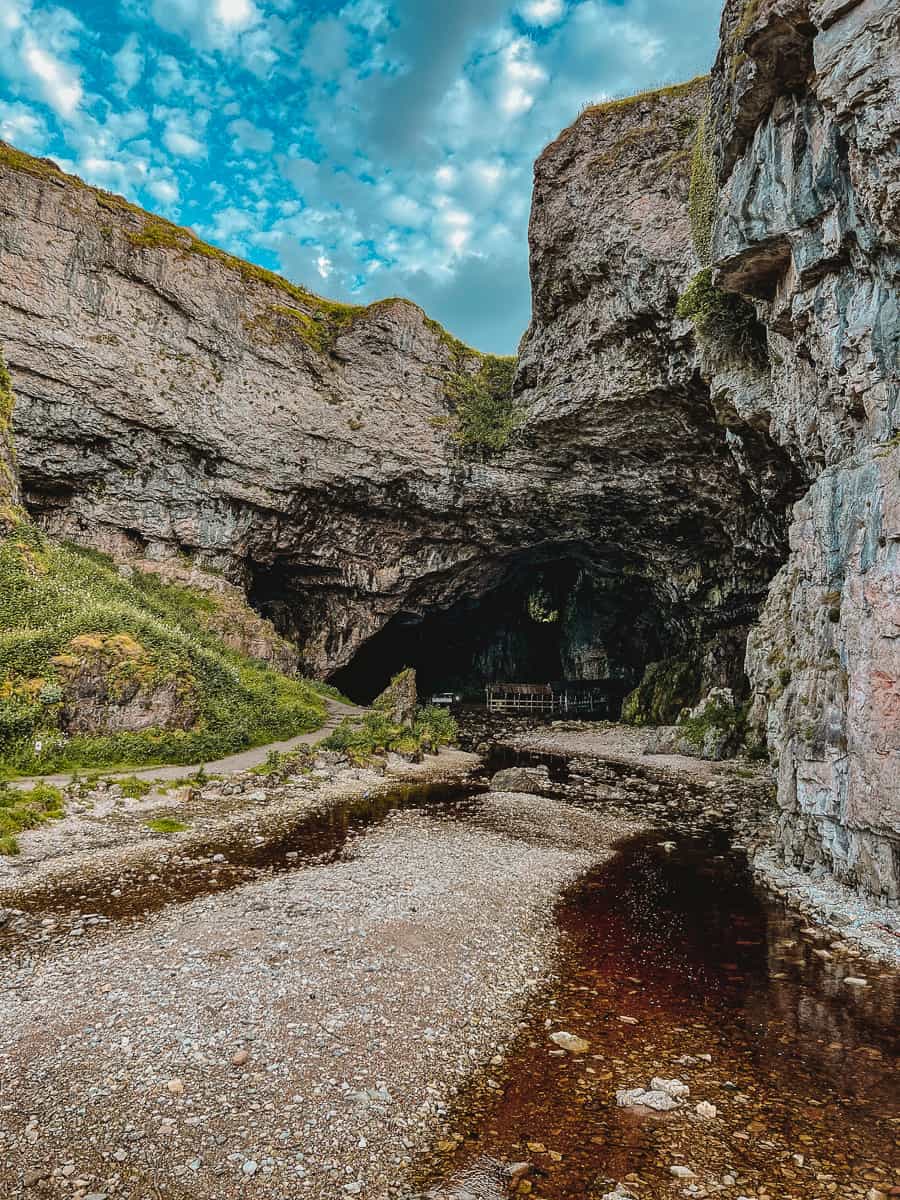 Is Smoo Cave free?
Yes! I also couldn't believe that Smoo Cave & even the spectacular waterfall was absolutely FREE to visit. It's almost unheard of in Europe for something as breathtaking as this beauty spot.
Saying that donations are always appreciated in their visitor box located inside the cave to help with the upkeep.
There are guided tours & even Smoo Cave boat trips that take place throughout the day but these are chargeable. See below for more details.
How long do I need to visit Smoo Cave?
You can spend as little as 20-30 minutes visiting Smoo Cave or 3 hours here. It completely depends on what you want to get out of your visit.
If you just wanted to pop in and out of Smoo Cave as quickly as possible, this is definitely doable.
I would take the shorter set of steps to the left of the car park down (directly behind the public loos) to the cave. Cross over the bridge below, visit the waterfall and then head back the way you came to the car park.
If you wanted to do the entire Smoo Cave walk, including the panoramic walk over the cliffs, I would recommend planning at least 45 minutes to an hour.
This allows enough time to head down to the sea cave, see the waterfall, head up the long set of steps to the cliff to capture the spectacular coastal views, and then loop back around to the car park!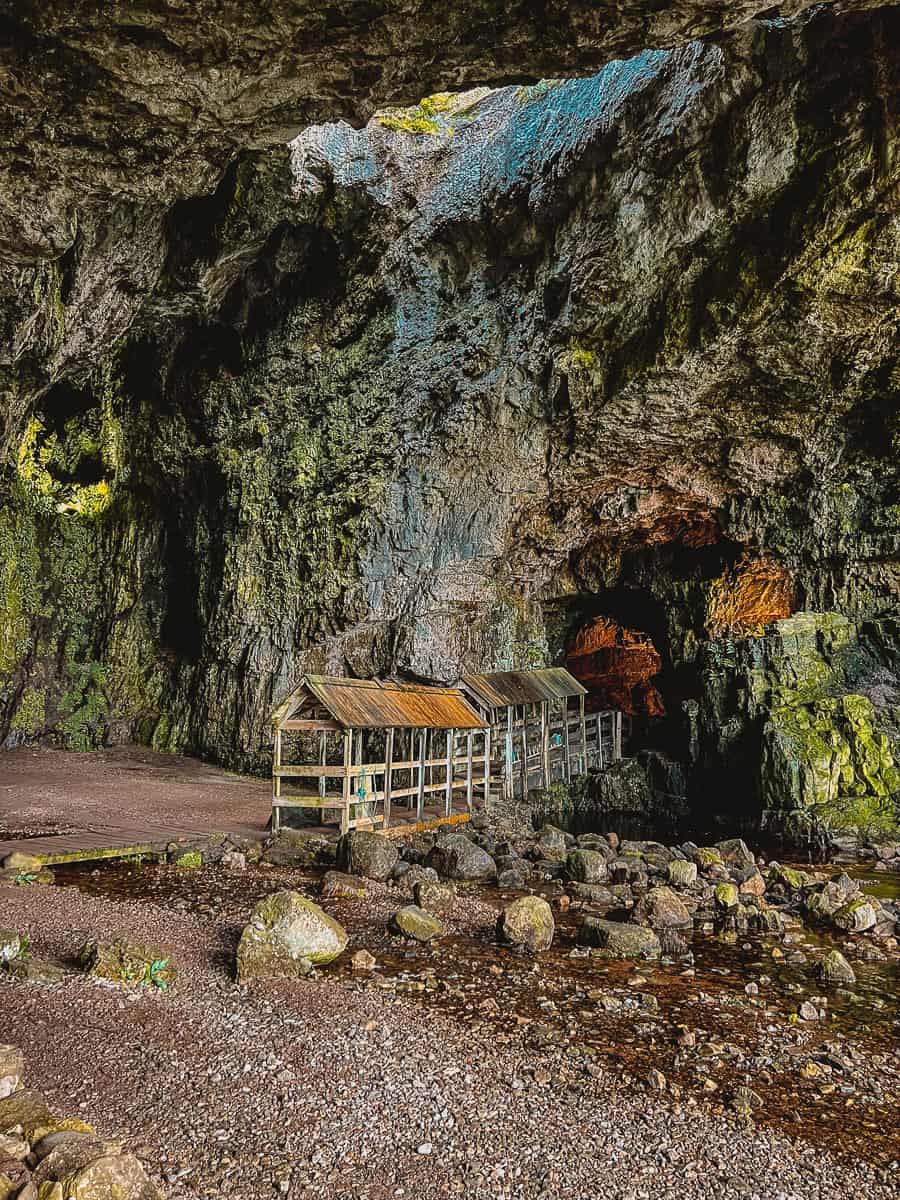 Smoo Cave walk directions
So, here are some directions for the Smoo Cave walk in Durness, Scotland.
It's very easy to make your way around the cave and waterfall but these directions should help you to know what to expect on your visit.
1. Park up at the Smoo Cave car park
When you enter Durness village, you'll be driving around a mile on the A838 road in the direction Thurso / John O' Groats.
You'll find a brown tourist sign for the Smoo Cave car park and there are free public toilets here.
Parking is free and just next door you'll find some signboards with more information about Smoo Cave.
Note: use the loo before you head down as there are no toilets inside Smoo Cave!
2. Head down the cliffs via the steep steps
As the Smoo Cave walk is a loop, you have the choice to go in either direction around the cliffs to the cave.
The shortest way would be to take the steps directly beside the public loos down the cliffside to the bottom.
These are steep steps to get down so take your time. Once you're at the bottom, you can head over to the wooden footbridge.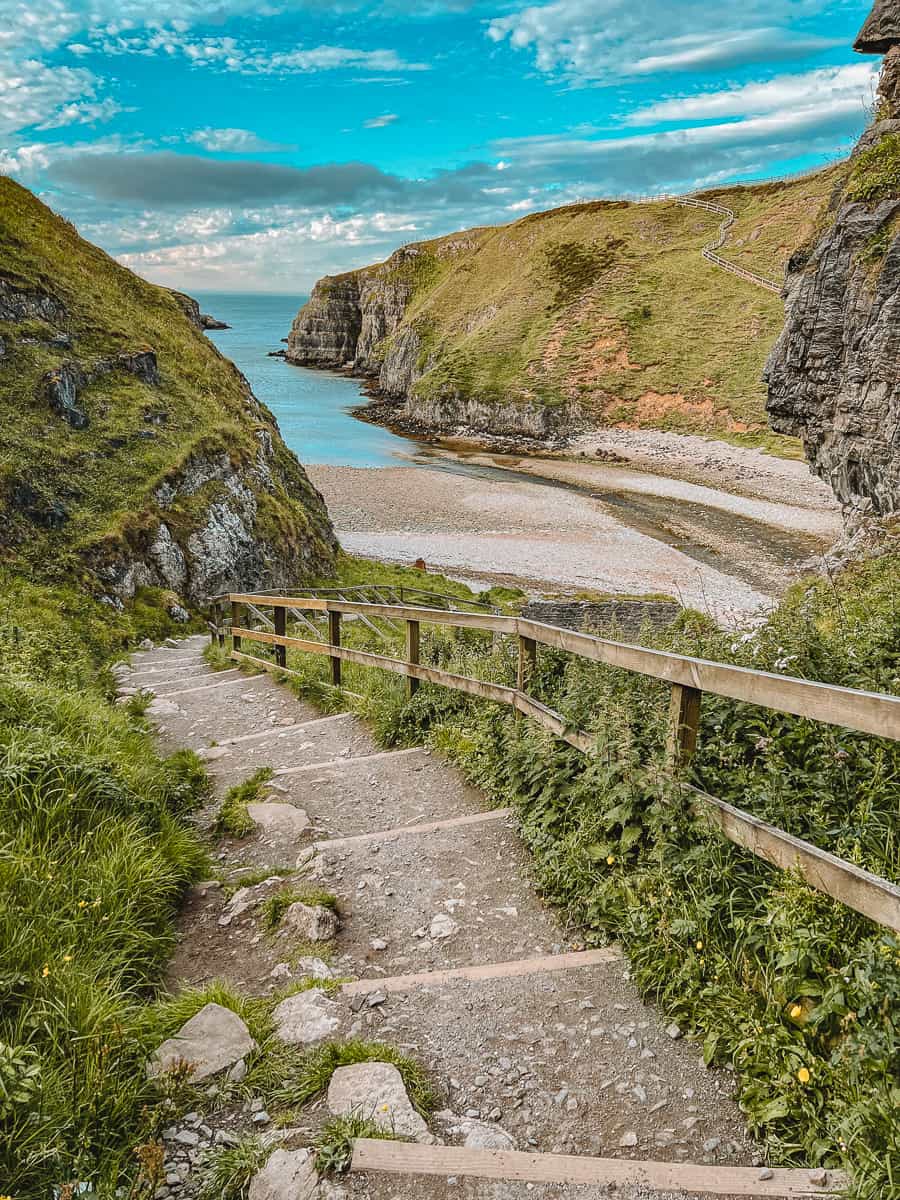 3. Walk over the bridge to Smoo Cave
There is a long wooden footbridge you can take to walk over the water to access Smoo Cave.
From here, you get an incredible view of the largest sea cave opening in Britain so make sure to have your camera ready.
On the other side of the footbridge, you'll see a small hut where you can organise your Smoo Cave tour if you're visiting during the day and in summer.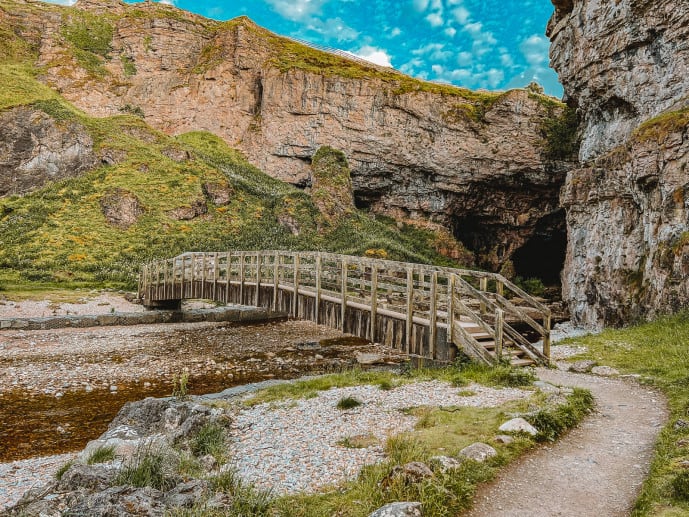 4. Enter the cavern & visit Smoo Cave waterfall
After you've crossed the bridge, turn right and head straight into Smoo Cave. The main cavern is absolutely massive!
You'll see lots of 'skylight' openings here and smaller chambers that you can explore. There is some lighting if it's a darker day. You may see (or hear) lots of birds and bats that make a home here.
Head to the wooden walkway or bridge in the middle to access the second chamber. Walk to the very end to visit the spectacular Smoo Cave waterfall.
The cave is well lit, even at night, and the waterfall has a skylight opening so it looked midnight blue on my visit.
I didn't do much research and I honestly wasn't expecting to see a waterfall at all. I actually gasped as it was a lovely and unexpected surprise for me!
The amount of water that cascades through the cavern completely depends on the amount of rainfall. It can get super wet if it's been raining.
This waterfall makes a mighty roar and the spray here can be fierce so make sure you pack a raincoat.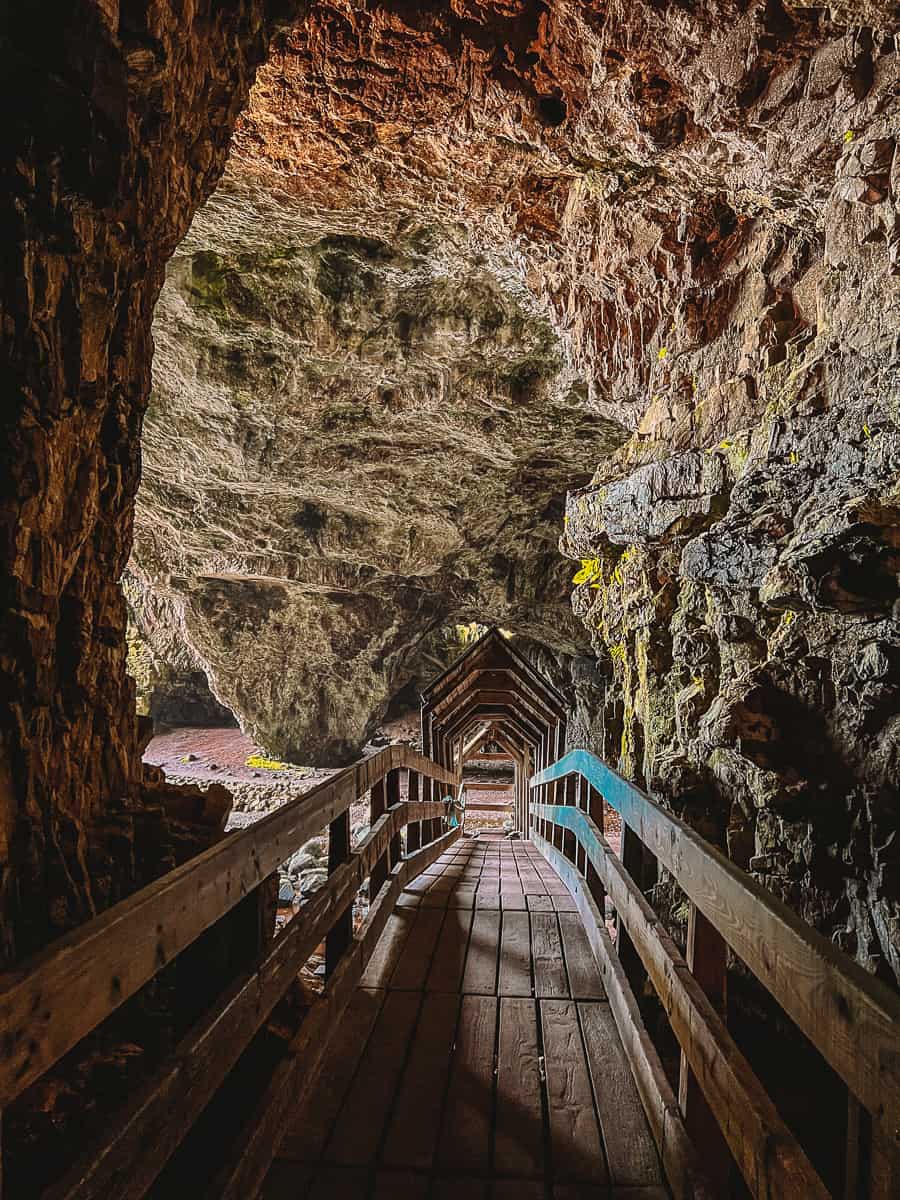 5. Exit the cave and take the steep steps up to the right
Once you've explored Smoo Cave and the waterfall, exit the way you came through the main chamber opening.
As you pass the hut, keep straight on the path. You'll eventually see a longer set of steps directly in front of you that takes you back up to the cliffside.
If you have the time, I would highly recommend taking this route as these provide the best views of Smoo Cave!
Once you reach the top you'll be greeted with panoramic views over the coast.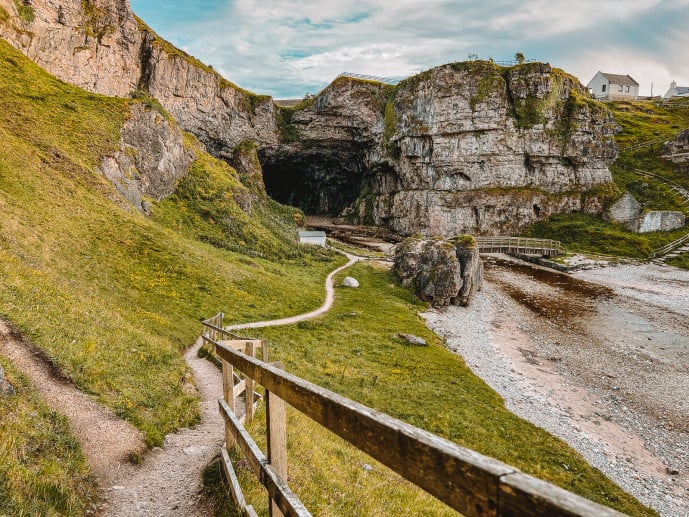 6. Walk back around the cliff to the car park
This section of the walk back to the car park was exceptionally beautiful, especially on a clearer day.
There are many bridges and viewpoints where you can look out over the cliffs to the sea. So, again, I would have your camera ready for a photo.
Then, you'll end your Smoo Cave walk at the car park where you started! It's a lovely wee loop.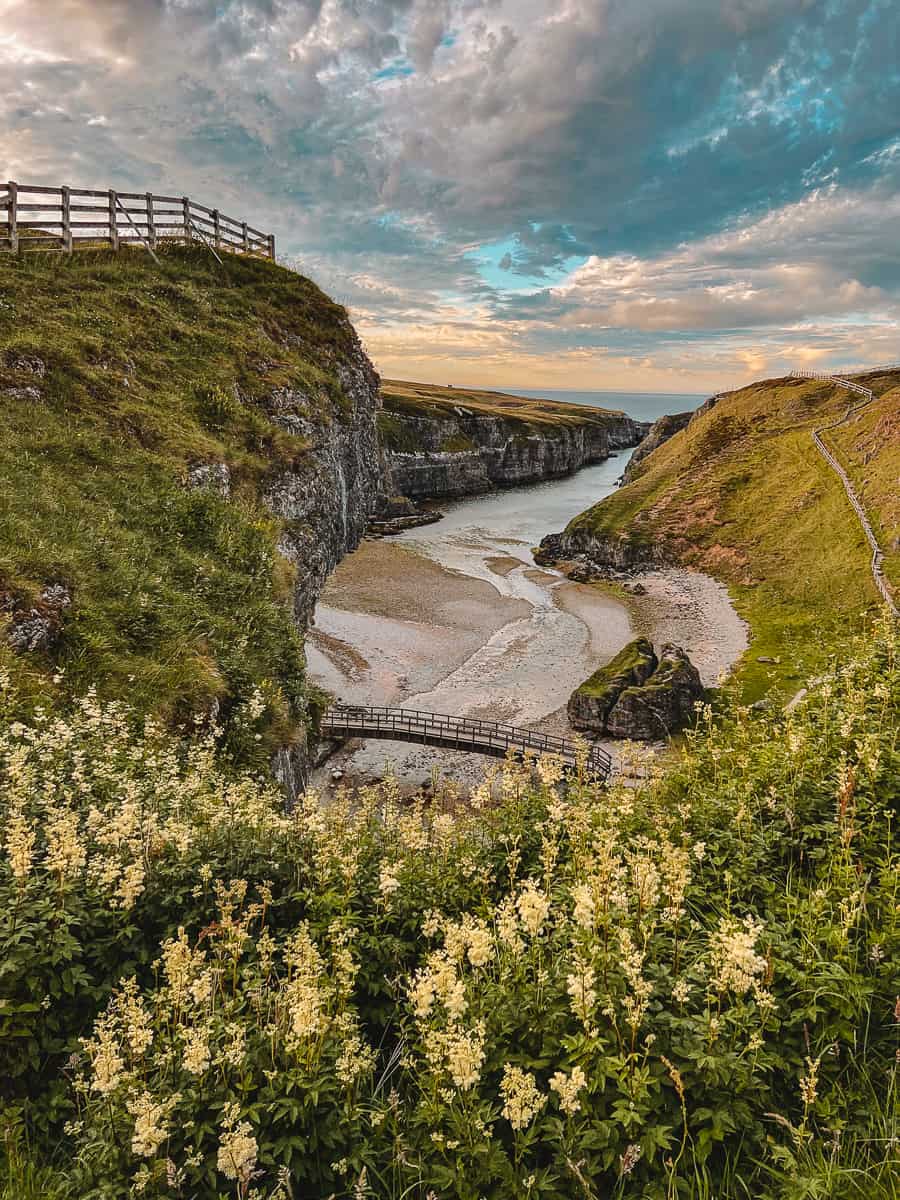 Smoo Cave boat trip & guided tours
Although Smoo Cave is free to visit all year, there are some guided tours you can take from April – October. At the time of writing Smoo Cave tours are £10 per adult and £5 per child.
The guided tour takes you deeper into a third chamber not accessible most of the time. To get to this hidden chamber, you will be travelling by boat past the waterfall.
You also get the chance to see the famous Scottish Piranha! Yep, to my surprise, there are piranhas in Scotland.
Although part of the tour is taken by boat, it is not solely a 'Smoo Cave boat trip' – so, don't expect a leisure ride.
You'll be walking over uneven, wet, and rocky ground and there are some stepladders. So, come prepared with some suitable footwear and waterproof clothing for exploring the caves!
Advanced bookings are not possible due to possible flooding when there are heavy rains. Click here for more information.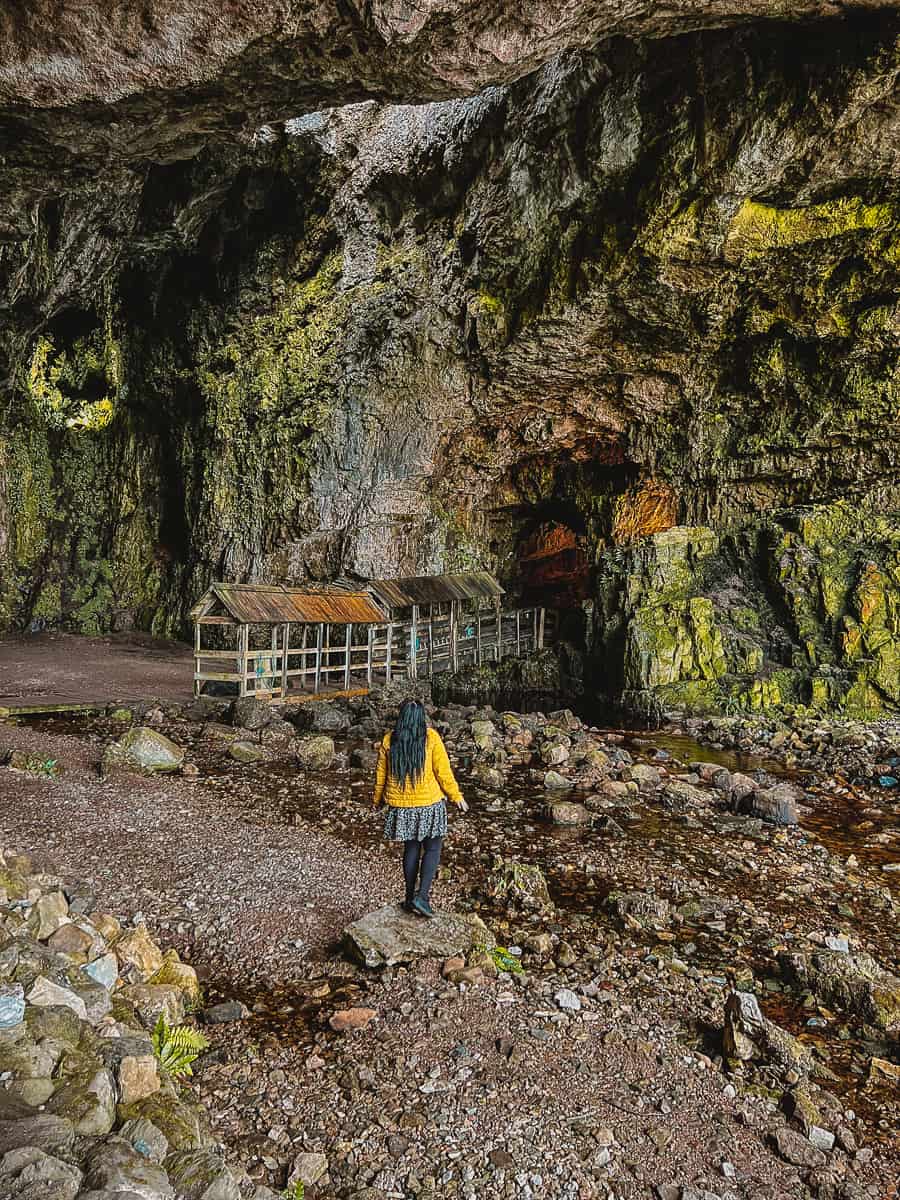 Is Smoo Cave worth visiting?
100% YES! I actually drove an hour out of my way to visit this cave as I just knew it was going to be spectacular and worth the detour.
You can plan a visit into even the shortest of NC500 itineraries and I would definitely make it a priority whilst you are here in the north-westerly Highlands of Scotland.
It's free, easy to access, the views are stunning, the cavern is spectacular and there's even a fantastic waterfall at the end – what's not to love about that?!
Honestly, there are no photos or videos of Smoo Cave that can really do it justice! You must visit for yourself to truly admire its natural beauty.
My top tips for the Smoo Cave walk
Wear suitable footwear – although an easy walk, there are lots of steps and the cave can become slippy. This is important if you're doing a cave tour!
Pack a coat – if it's raining, inside Smoo Cave can get very wet. Also, the spray from the waterfall can be really fierce!
Bring snacks and water – there are no café facilities at the cave. But, there are some cafés in Balnakeil like Cocoa Mountain.
Wear bug spray – midges can be rife here if there is low wind! Wear Smidge to protect yourself from bites.
Smoo Cave FAQs
Are there bats in Smoo Cave? Yep, and I LOVE bats so I was so excited seeing them fly around. But, that does mean you should stay alert. Bats in the UK pose no harm to you but in the unlikely case you get bitten call 999 immediately.
Can I take my dog to Smoo Cave? Yes, but keep your furry pals on a lead. Dogs cannot go on boat tours.
Are there piranhas in Smoo Cave? Yep, on a boat trip, you get the chance to see the Scottish Piranha!
Can you swim in Smoo Cave? No. The water is too shallow in the main chamber and the waterfall chamber is closed off! Would you want to swim with piranhas?
Where to stay near Smoo Cave
If you're not travelling in a motorhome, there are a few hotels in Durness where you can stop over to visit Smoo Cave and explore the local area.
Here are some of the top recommendations;
Smoo Cave Hotel – the original hotel in Durness. It's a traditional crofting house, so the rooms are traditional and made with character. Click here to book.
Where to next in Scotland?
If you're on the NC500 this part of the trail on the coastline is one of the highlights of the road trip.
In Durness, you can head over to the Golden Eagle ZipLine which is an adrenaline junkie's dream! You can zip line or free fall over the cliffs.
Tongue is worth a stop and you can visit Castle Varich and Moine House and the Flows. There are also lots of pretty beaches nearby with a view of Ben Loyal.
If you're heading towards John O' Groats, you must make a stop in Thurso. You'll find the Castle & Gardens of Mey nearby.
John O' Groats is always worth a stop. It's not the most northerly point in Scotland but it's the furthest distance on the British mainland from Land's End in Cornwall.
There's a pretty harbour and you can get a photo with the sign there! You can also drive to Duncansby Head with the lighthouse & stacks.
If you have a day spare, I would highly recommend a trip to the Orkney Islands. I did the Orkney Island Maxi Day Trip with John O' Groats Ferry and it was fabulous!
We visited the Italian Chapel built by Italian POW along with the Churchill Barriers.
Kirkwall, Stromness, Scarra Brae pre-historic village, Skaill House, the Ring of Brodgar, and the Stones of Stenness in just one day.
If you're heading towards Inverness, you can visit Wick, Lairg with The Wee Hoose and Dunrobin Castle!
Read more of my Scotland articles
Where is the pink castle in Scotland?
How to visit the Kelpies in Falkirk
Edinburgh Harry Potter locations
Outlander locations you can visit in Scotland
How to visit Lallybroch from Outlander
Visiting the Fairy Pools on the Isle of Sky
How to visit the Corpach Shipwreck
Magical Kilchurn Castle viewpoint
How to Find Balmoral Pyramid in Scotland
Things to Do in Gearrannan Blackhouse Village
How to visit Castle Stalker in Scotland
How to visit Dunrobin Castle – Scotland's fairytale chateau
Why you must visit Leakey's Bookshop Inverness
How to visit the Callanish Stones on the Isle of Lewis
How to visit the Green Loch Aviemore
How to visit the Pink House on Loch Glass
Visiting the Puck's Glen Fairy trail
Save the Smoo Cave walk for later!