Varanasi was my first stop in India as a solo female traveller. I'm not gonna lie, I was terrified!
I made sure I had a nice hotel as an 'oasis' to stay in and was almost tempted just to remain inside its walls and not leave save a boat ride on the river Ganges!
But, I'm so happy that I gave myself a little pep talk and I went outside and embraced this crazy, awesome, roller coaster ride that is Varanasi – the Hindu city of Nirvana and eternal life!
A lot of women are worried for their safety when travelling to Varanasi and I can see why. It's a pretty insane place.
Open Cremations happen daily, it's hot, busy and it's out of this world.
But, although it's not easy as a female travelling solo here, it is doable and this guide will show you how!
Don't worry cause you've got this girl. Here's an honest solo female travel guide to Varanasi!
Is it safe visiting Varanasi as a solo female traveller?
This is probably the burning question, so I'll cover this one first.
Yes, it is safe to travel to Varanasi as a solo female traveller as long as you take the right precautions like you would in any other place you travel alone.
Don't go off with strange guys offering direction or drinks, don't go out at night alone, make sure you have a means of transport.
Don't try the 'special lassi' by yourself – all box standard things we girls need to remember in any country (obviously the special lassi isn't in EVERY country but you know what I mean).
Of course, it's not deniable that this is India and the media paints it as a dangerous place but this is a holy city where most people come as a pilgrimage or for a families funeral.
So, respect the place and what it represents and you shouldn't have any issues (I'm going to go into these points below).
10 tips for solo female travel in Varanasi
1. Avoid a visit during festival times
Festival times like Dev Deepawali, Diwali, and Holi can be where borders are crossed.
Indian boys hang around in large groups and feel that it's okay to cop a feel in the name of the festival.
When I celebrated Holi, it was almost like a competition for boys to want a foreign girl to celebrate with.
Obviously, this is NOT okay and not a justified reason but it does happen.
Boys will touch your ass or boobs as a dare or to muck about.
Don't feel shy in causing a little scene when this happens, shout, holler and tell them to back off. I find this works 90% of the time.
You shouldn't have to deal with anything less than what makes you feel comfortable.
I would personally not recommend celebrating these festivals in Varanasi as a woman alone, Rajasthan is a much safer place for that.
To see my female safety tips for Holi festival see here. I celebrated in Pushkar alone and had the best time!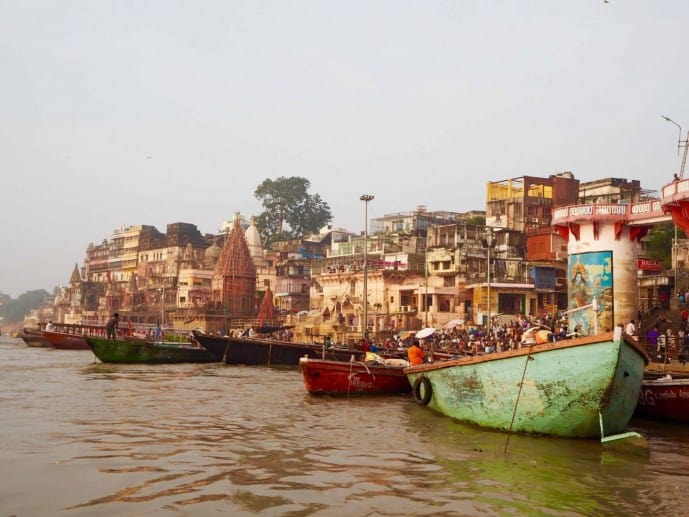 2. Don't make this your first stop in India
On reflection, it was a crazy decision to make Varanasi the first place to visit in India.
It's literally throwing yourself in the deep end and could scare you. It's pretty much a big slap in the face of the 'real india' for sure.
Open cremations, bulls, dogs, monkeys, sadhus, and the constant scams can get overwhelming.
But, It's not the end of the world if it is. Just come with an open mind, do some research, and put a game face on.
3. Dress conservatively
In India how you dress is pretty important and a deciding factor in how much attention you will get.
In Varanasi, wearing revealing clothes is a big no!
Shorts, skirts, strappy tops, and revealing outfits are not appropriate.
When you're passing the burning Ghats on the Ganges river, you're pretty much attending someone's funeral. So, dress conservatively.
Also this way, fewer guys will stare and think you're asking for attention (not my opinion, but it's now Indian men think – trust me).
4. Guys will approach you
This is a given anywhere in India. If you're alone, it's like an invitation to them.
Like you have a big 'talk to me' neon sign above your head.
It can get tiring and now after 12 months of being here, if I'm not in the mood, I just ignore instead of being polite.
Some days, I just can't be bothered with the same questions.
"Where you from?
What's your name?
How long are you here for?"
Ugh.
I love meeting local people and do it everywhere I go. But, you will just know when it's seedy.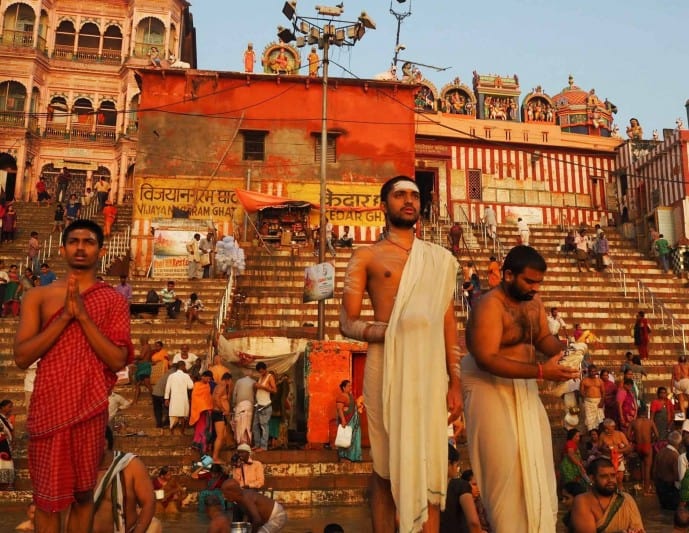 5. Watch out for scams
Something like 40% of people in Varanasi has permanent employment so poverty, pickpocketing, and scams are everywhere.
My advice would be to use common sense, organise your own tours and shopping and haggle hard.
Obviously, as you're alone the price will be higher for boat tours and transport so it may be worth buddying up with someone here.
Plus, being more hardball with your negotiating skills is imperative to getting a good price.
I cover a lot more detail about scams and how to avoid them in my article '13 travel safety tips for Varanasi you need to know before you visit'.
6. Don't try Bhang alone
Bhang or Bhang Lassi (also known as special lassi) is edible cannabis mixed into a yoghurt drink.
A mind-altering drug that can cause hallucinations. Some solo travellers have told horror stories of trying it and getting a bag or money stolen.
I would be hesitant in trying one unless you're in a group.
Always go to a government-approved shop. If you even have any doubt or fear before trying it, I wouldn't bother. It could have a lasting effect.
7. Be careful going out at night alone
An obvious solo female travel tip but a time-old way to keep safe. Don't go out at night alone.
The dark, narrow alleyways in Varanasi are a labyrinth in the day and even more confusing at night. It can be so easy to lose your way.
I also found by the riverside there were so many hawkers offering hash, tours, and stopping me for a chat. It just felt dodgy.
After the Ganga aarti in the evening, I headed back to my hotel as it felt a lot safer.
8. Consider a tour guide
The only reason why I finally started to enjoy my trip to Varanasi was because of my tour guide Ravi.
At first, when I was heading outside I flat out refused to even talk to him fearing the worst.
But, then I dropped something, he picked it up, we got talking and he ended up showing me around.
He knew all the places I wanted to go, explained to me what Varanasi was about, protected me from charging bulls, got me a front-row seat for the night aarti, and introduced me to all sorts of fortune-tellers, babas, and sadhus!
I just felt safer and more relaxed.
Although you don't necessarily need a guide, I would highly recommend one. Even just to have someone to talk to, ask questions, and share the experience.
This way you'll remember the trip and have someone to take photos of you to prove you did it!
Update: You can contact Ravi on +91 6394134742 or babu@hotmail.com for tours
9. Don't forget – this may turn out to be your favourite stop of all
Although I was terrified of visiting Varanasi alone, it was a feeling of liberation after I did it.
I travelled here as a solo female traveller, survived and I ended up having the best time.
It ended up being one of my favourite stops in India and I will and have kept coming back.
I think people hear about cremations and seeing bodies and just totally discount Varanasi.
But, I think that if you arm yourself with an open mind, you will find it's not so scary.
It's actually quite spiritual, enlightening and an experience you will never forget.
10. And finally…You've got this!
Never forget that you are stronger than you think. Be brave, bold, and open to new experiences.
See the beauty and inspiration in Varanasi and it will repay you with the most awesome memories.
Don't worry, don't overthink, just accept this weird and wonderful city for what it is.
Namaste. Om Nama Shivay!
Want to read more on Varanasi?
Amazingly, I now have a total of four honest and informative travel guides and tips for Varanasi!
You can read more by clicking on the links below;
Travel tips for Varanasi, the oldest holy city in the world
What it's like visiting the Varanasi cremation ghats
13 Varanasi travel safety tips, important things to know before you visit
Heading to India? Read more of my articles
The ultimate Rajasthan itinerary
A first timers guide to Jaipur
A photography guide for Jaipur
My complete guide for Rishikesh
Visiting the Beatles Ashram in Rishikesh
Save this solo female travel in Varanasi guide for later!