Solomon's Temple Buxton is an incredible folly and viewpoint which provides some of the best views of the High Peak in the Peak District.
But, many people don't know how to get to it as it's located on a remote headland above Buxton town.
So, if you're looking for the easiest way to get to Solomon's Temple Buxton and where to park, keep reading this post!
A lot of people suggest walking from Buxton town or Poole's Cavern but there is actually a car park close by which makes it even easier to access.
Here's the shortest & easiest Solomon's Temple Buxton walk with how to get there, where to park, and my top tips!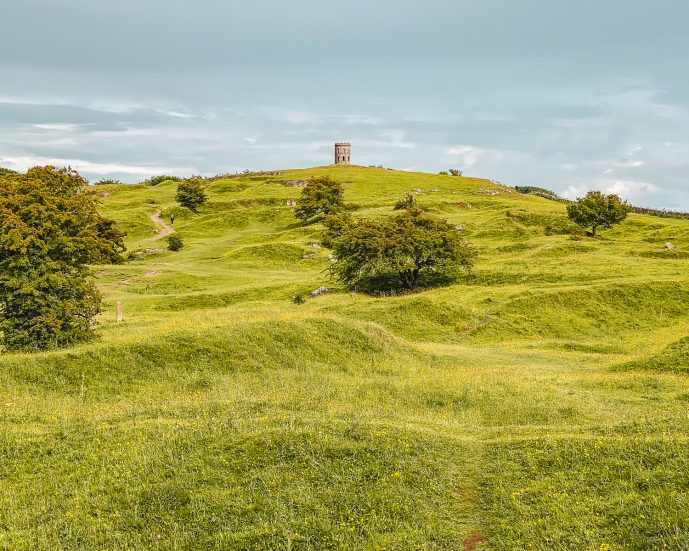 What is Solomon's Temple Buxton?
Solomon's Temple is a Victorian folly and viewpoint which stands above the historic spa town of Buxton.
The tower has two storeys and measures around 20 feet in height. It's is located on a headland called Grin Low which used to be a Bronze Age burial site and the location of early limestone quarrying.
Grin Low Hill is approximately 1,440 feet or 438 metres above sea level so from the top you get some spectacular views of Buxton and High Peak!
Solomon's Temple Buxton History
The history of the area around Solomon's Temple in Buxton starts way before this folly was actually built on the headland! In fact, it started thousands of years ago.
The land that you're standing on is called Grin Low which is an early Bronze Age barrow that dates back to over 3,500 years ago. This is why this tower is often called Grin Low Tower.
If you didn't know a barrow is an ancient burial ground and it's where prehistoric humans would have laid their ancestors to rest.
Excavations in 1894 by Micah Salt revealed four skeletons here which included burials and cremations.
Archaeological investigations around this area revealed many weapons, tools and fragments of pottery were found here buried with the dead.
You can learn more about this and see some of these items on display in the nearby Buxton Museum and Pooles Cavern museum.
Buxton Limestone Industry
Grin Low hill was also the main location for the early Buxton limestone industry and that's why you can see so many gorges around here!
The 1st Duke of Devonshire gave permission for limestone quarrying and lime burning to take place in 1662.
You'll also notice around 100 huge dips in the landscape which look like huge carved out bowls. These are called lime 'pudding pie' kilns which were built from the 17th-19th centuries for burning lime.
In the Industrial Revolution, the demand for limestone increased dramatically and so the 6th Duke of Devonshire built the 'Grin Plantation' to shield the smell and smoke from the visitors of Buxton.
The introduction of the Cromford and High Peak Railway in 1831 meant that the railway passed Grin Low and so limestone could be shipped easily to the canal ways.
By the 1850s, the quarry moved and by 1890 it is thought it has extracted over 90,000 tonnes of lime! The original Grin Low quarry is now a caravan park.
Why was Solomon's Temple Buxton built?
In the 1830s, Solomon Mycock decided to lease the land on top of Grin Low hill. He was a local farmer and landlord of the Cheshire Cheese Inn nearby.
He decided to build Solomon's Temple to provide much-needed work for the unemployed people of Buxton. It was then built in 1840 on behalf of the 6th Duke of Devonshire.
It has no practical purpose at all but it became a favourite of Victorian tourists who would visit the spa town of Buxton to take the waters.
Unfortunately, the temple fell into ruin in 1896 and so the 8th Duke of Devonshire rebuilt the two-storey Grin Low Tower we see today on the hillside.
It was designed by the architects W. R. Bryden and George Garlick and the building was funded partly by public subscription.
Again, 100 years later, it fell into ruin in 1987. So, the council and the residents of Buxton paid in contributions to save the tower.
It's now a focal point of Buxton and Grade II listed so it will be here forevermore.
Fun Solomon's Temple Buxton facts
Solomon's Temple has two-storeys and is 20 foot high
It stands on Grin Low hill which is a Bronze Age burial ground dating back 3,500 years
Solomon Mycock built the original tower to give work to the unemployed of Buxton
Solomon's Temple in Buxton has no practical purpose whatsoever but it provides an amazing viewpoint
Victorian visitors loved this viewpoint while taking the waters in Buxton spa
The tower has been rebuilt 3 times since 1840 but now is Grade II listed
From the top of the tower you can see over 15 miles towards Kinder Scout and Castleton
Four prehistoric skeletons have been found under Grin Low and lots of artefacts including weapons, tools and pottery
From what I can find, this tower has no relation to the biblical Solomon's Temple. It's just called Solomon's Temple due to its founder Solomon Mycock.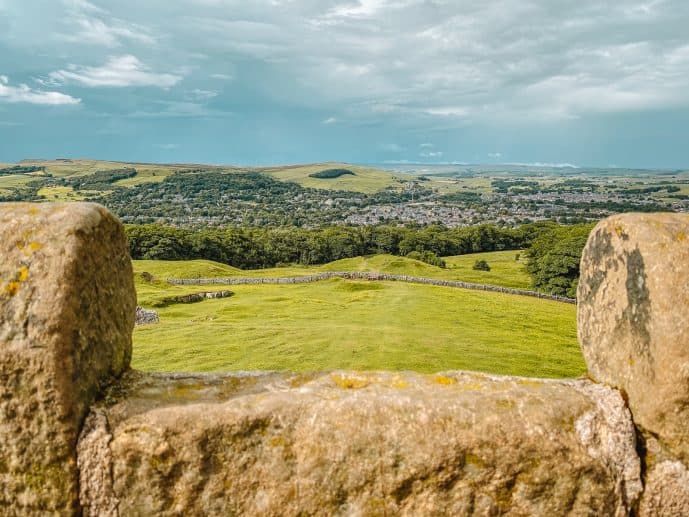 How to get to Solomon's Temple in Buxton
Solomon's Temple is located on a headland above Buxton town and so you have to walk a while to access it.
There are a couple of ways to get to Solomon's Temple Buxton:
Visit from the Pooles Cavern car park which is around 20 minutes
Take the Buxton to Solomon's Temple walk from the town which is 30 minutes
Or, park up nearby and walk there in around 10 minutes!
All are great options but if you're looking for the closest place to park for Solomon's Temple I would recommend parking in Grin Low & Buxton Country Park.
This is the closest car park to Solomon's Temple and, in my opinion, the best place to start the Solomon's Temple Buxton walk.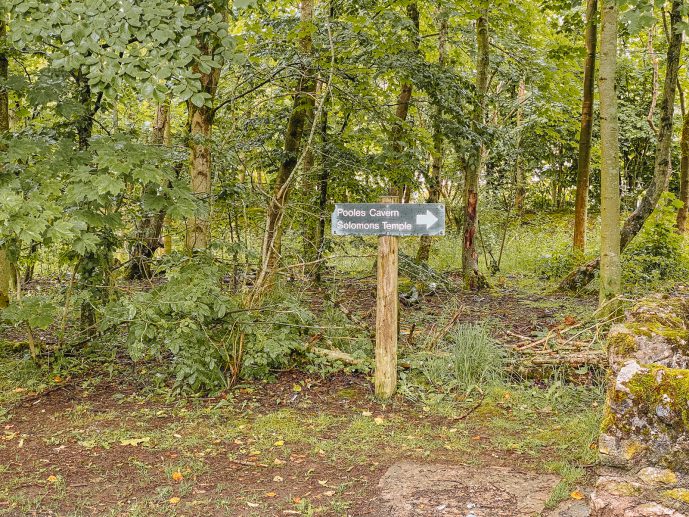 The Easy Solomon's Temple Buxton Walk
Of course, you can easily walk from Buxton to Solomon's Temple in around half an hour from the town on a gradual uphill stretch.
Also, many people decide to walk from the nearby Pooles Cavern but that usually requires you having to pay to go in there for parking. Plus, they close at around 6 pm.
However, if you're stuck for time, have little children or just don't fancy walking that long, you can easily walk to Solomon's Temple in around 10-15 minutes from a car park that's nearby it.
That's right, it couldn't be easier to visit Solomon's Temple. So, this is a really short and easy walk in the Peak District but you'll still get to see some of the best panoramic views in the national park!
As I always say that there is no shame in wanting to see some amazing views with little effort.
However, it will still be a walk through the countryside and there is uneven ground around the Bronze Age burial mounds that can get muddy and slippy which means you'll need to bring some decent shoes.
Solomon's Temple Parking – Grin Low & Buxton Country park
So, firstly you'll want to park up in the Grin Low & Buxton Country Park which is a short uphill drive from the gorgeous spa town of Buxton.
Grin Low & Buxton Country Park postcode is SK17 9DH on Grin Low Road, or you can use this Google Pin here.
This is a large gravel car park that is located in a picturesque gorge and nearby a popular caravan site.
There are plenty of spaces here and larger spaces for those travelling with camper vans. But, there is no overnight parking permitted as they lock it up at night. The caravan park would be the ideal location if you wanted to stay over.
Grin Low Car Park parking charges & opening times
The car park runs on an honesty system and it costs a £2 donation to park your car all day in the country park. You'll need to bring cash and there is no card option available.
It used to be free but they have raised their prices now and so you just pop your money in the honesty box at the small visitor building near the entrance of the car park.
This building has some public toilets here which you can use for free as part of your parking fee.
There are several maps and information boards here if you wanted to find out more about the area and Solomon's Temple. Also, some maps if you're planning on heading out for a longer walk.
The Grin Low & Buxton Country Park opening times are 8 am – 8 pm in summer. It may close earlier in winter, always check as you drive in. The gates are locked at 8 pm sharp, so make sure you're back in time to pick up your car!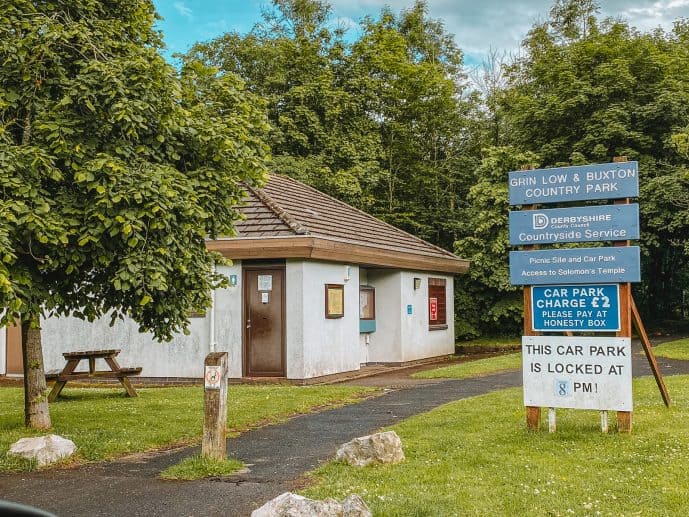 Head up through the gorge to a kissing gate
Once you've parked your car and paid the parking charge, make your way through to the public pathway leading up the gorge.
When you get to the top of the small incline, head left on the path leading towards the country park.
You'll eventually reach a fence. There will be two gates. One will be a permissive pathway leading towards Buxton straight in front of you.
The other is a gate to the right leading to the Solomon's Temple field. Head through this gate.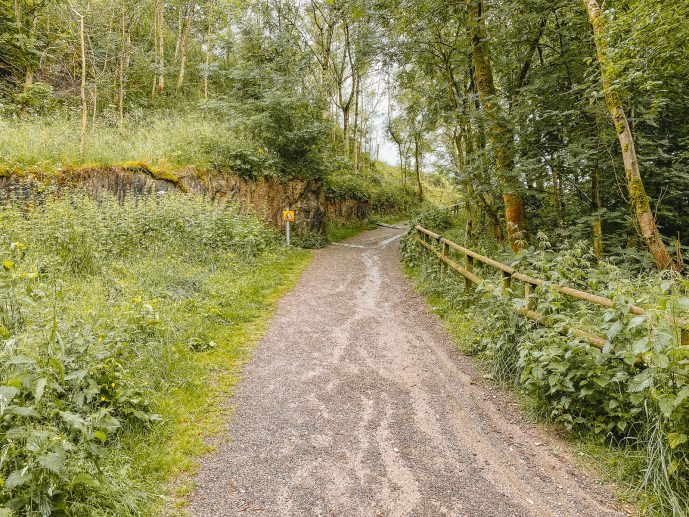 See Solomon's Temple Buxton in the distance
Once you have walked through this gate and walked over up the stairs to the ridge you should see Solomon's Temple in the distance before you.
There are some benches here where you can enjoy the views for a while. It's a great photo opportunity as the burial mounds on the landscape are so dramatic!
Here, there is a small information board about the history of the Solomon's Temple folly and the ancient land and burial site you're going to be walking over.
Note: there are cows that graze in this field so proceed with caution and don't disturb them. Solomon's Temple walk is dog friendly but dogs should be kept on a lead at all times!
Walk over Grin Low Hill Barrow to Solomon's Temple Buxton!
Once you've read the sign and taken in the views, all that's left is to walk up Grin Low Hill and up to Solomon's Temple.
Although it looks relatively flat it is a deceiving incline, so don't be surprised if you're out of breath climbing up here.
You'll be walking over the Bronze Age burial mounds and these can be uneven and slippery if it's been raining. So, make sure to have a good pair of shoes on for the walk.
As you approach, you'll find it's extremely scenic as the ridges on the hill make the temple look even more dramatic in the distance. From the sign, it will be around five minutes walk and then you'll have made it!
At the bottom of the temple, you'll get some amazing panoramic views but the best views to be had here are from the top of the tower.
Can you go inside Solomon's Temple Buxton?
YES! And this is the best part about visiting as you get some fabulous views from the very top of the folly!
There is no door that's locked or windows. So, you can simply walk inside and then make your way up the curved staircase to the top.
You'll then get some of the best panoramic views of the peak district and some mesmerising views of High Peak!
Note: these steps are quite old and worn down. Also, there is no roof on the temple so it can get really wet inside. Be careful when climbing up and down. Luckily, there is a barrier to help you!
What can you see from Solomon's Temple in Buxton?
The Solomon's Temple Buxton views are exquisite, to say the least. My favourite part was the spectacular views you get to see of Buxton town which is the highest market town in England!
From the skyline, you can easily see the impressive Devonshire Dome which is a historic monument and the largest unsupported dome in the country! Although it's now part of the university, you can usually visit Buxton and it's full of cafés and shops.
You can also see glimpses of the Buxton Crescent and the Pavilion Garden structure too!
If you look around, you can see some of the incredible views of High Peak, you can get 360-degree views and on a clear day, you can see for up to 15 miles!
You may even spot Kinder Scout, the highest point in the Peak District National Park, and Mam Tor near the amazing village of Castleton.
You may also hear some engines going like the clappers while up here and that's because there is the Buxton Hitmen Speedway nearby.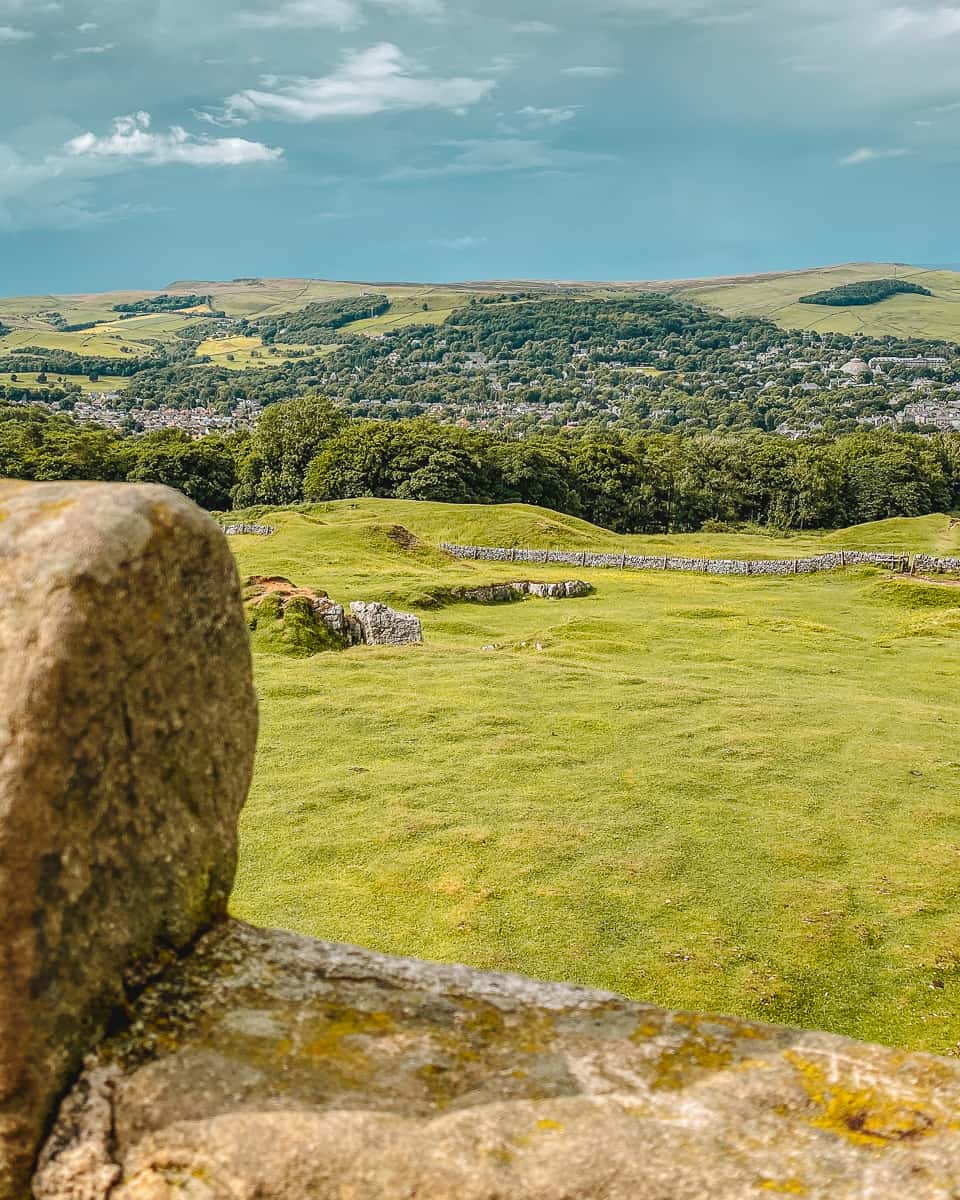 Solomon's Temple Buxton opening times & prices
Solomon's Temple is open 24 hours a day due to the fact that it is located on public land which has permissive pathways.
If you're walking from Buxton this is ideal but be mindful that the Grin Low Car Park shuts at 8 pm.
There is also no charge to enter Solomon's Temple. The only thing you have to pay for is parking nearby which is £2.
What to wear for the Solomon's Temple Buxton walk
As you're in the North of England the weather is likely to be changeable and this headland is located on a hill in the High Peak!
So, you'll need to make sure that you pack a spare layer like a light waterproof jacket in case of adverse weather.
Even in July, I found it extremely cold up at Solomon's Temple due to the wind up on the headland. So, make sure to wrap up warm.
Although this is a relatively short walk, the pathways are uneven and can get slippery if it's been raining, so have a good pair of shoes with you for this walk!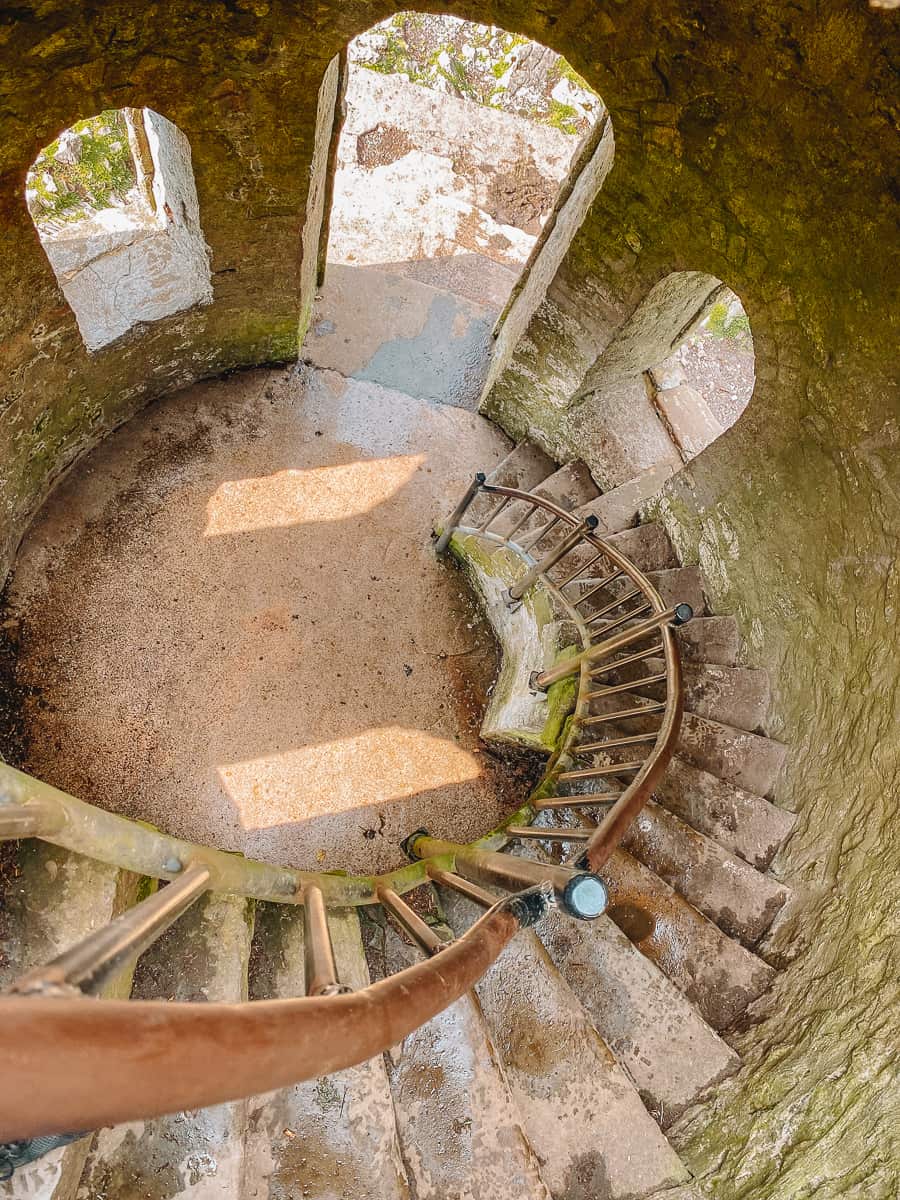 A quick packing list
Water – There is no shop or facilities up at Solomon's temple so make sure to bring water with you if you're walking.
Snacks – There is no shop here at Solomon's Temple. There are picnic benches in the Grin Low Country Park. But, it may be windy for a picnic up at the temple!
Camera – Pics or it didn't happen! These views are fabulous and well worth taking photos of.
£2 Change – This car park only takes donation in cash so make sure you have some change on you!
Where to next in the Peak District?
From here, you're only a short walk away from the incredible historic town of Buxton. If you haven't visited yet, I would highly recommend that you do.
It was a Victorian spa town and so you'll find incredible attractions like the Pavilion Gardens, Devonshire Dome, Buxton Crescent, and more.
My favourite place in Buxton has to be Srivener's Books & Bookbindings you can find opposite The Cheddar Cheese. It's an incredible labyrinth of 40,000-second hand tomes.
You also have Pooles Cavern nearby which is worth seeing and you can learn more about Grin Low in their prehistoric museum.
You can head down the road to the likes of Bakewell to try a Bakewell Pudding or the spectacular Chatsworth House.
Or, you can head to Monsal Head viewpoint to start the Monsal Trail Walk. You're also close to Chee Dale with the famous stepping stones.
From here, you're not too far from the Dove Valley with the Dovedale Stepping Stones, Ilam Park and Milldale.
Also, one of my favourite walks is near here which is the route up to Thor's Cave in the Manifold Valley!
Read more of my Peak District guides
How to Visit Mr. Darcy's Pemberley aka Chatsworth House
The easiest way to find Thor's Cave
The best things to do in Milldale
How to get to the incredible Bamford Edge
How to find Robin Hood's Cave in Stanage Edge
A magical easy walk to Lud's Church
How to visit & cross Dovedale Stepping Stones
Why you must visit Peakshole Water Castleton
How to visit Little John's Grave in Hathersage
Exploring the Longnor Pride and Prejudice location
How to visit Malfoy Manor in real life from the Deathly Hallows
A complete visitor guide for Monsal Head viewpoint
Best things to do in Ashford in the Water
Chee Dale Stepping Stones walk
Things to do in Eyam Plague Village
How to visit Ramshaw Rocks from Pride and Prejudice
Save this Solomon's Temple Buxton walk for later!