One of the most unusual attractions in Kolkata is the abandoned South Park Street Cemetery.
It's a hidden secret amongst the bigger attractions and you would totally miss it if you weren't looking for it.
This gothic graveyard was established in the 18th century and was used for British officers and their families. But, it was closed off just a few decades later.
Although this cemetery has stopped receiving the dead, thousands of the living visit each year, and many believe that it's haunted.
It's also been named the most haunted place in Kolkata. So, if you're into your dark tourism, this place will be right up your street.
Here's a complete guide for visiting and if it really is possessed by ghosts!
The history of South Park Street Cemetery in Kolkata
South Park Street Cemetery is one of the earliest 'non-church' graveyards that exists in the entire world and, at the time it was founded, was the largest outside of Europe and America.
The cemetery originally opened in 1767, around the time that the British Empire started to develop in Bengal.
It was built as the old burial ground was getting full and was receiving too many bodies.
Back then, the area was called 'Burial Ground Road'. Many of the British and European colonial residents in Kolkata caught 'tropical diseases' which couldn't be cured back then. So, a lot of them died very young.
If you look around the graveyard most of the graves say they were only in their early 20s or younger.
The first person to be buried here was John Wood a writer at the Customs House.
But, the oldest gravestone at South Park Street Cemetery is Mrs. Sarah Pearson who was buried here in 1768 and the 'youngest' grave says that an anonymous 'virtuous mother' died in 1825.
Burials took place after dark by oil lanterns save for military members who would have a ceremonial gunfire salute.
The marble plaque on the gate says that this graveyard stop being used in 1790 but it was completely abandoned in 1830. When it closed there were over 1600 graves and tombs.
Today, it has been preserved as an Archaeological Survey of India site.
Is South Park Street Cemetery haunted?
There have been many people who have South Park Street Cemetery horror stories, many blame ghosts of people who are buried here. It has even been called the most haunted place in Kolkata!
Some claim that when they have visited this graveyard they fainted or felt suddenly very ill. Others say, that they have felt vexed with chills up their spine, couldn't breathe, or have a weird feeling.
There is a legend that during monsoon, the Dennison family tomb bleeds and oozes blood. So, it now has the nickname of the 'bleeding tomb'.
The Dennisons all died within a week of each other with unknown causes.
But, in terms of finding anyone who had a sighting or photos of ghosts, spirits, or spectres. None!
Even when you were searching for this article, I'm sure you saw the videos with 'ghosts'. But, they are just clickbait really.
However, that doesn't mean it isn't haunted..
You can't visit at night as it's locked off to the public and no one (I don't believe) has had permission to trace for paranormal activity.
If you're visiting during the day, I'm sure the veil of the spirit world wouldn't be thin enough for them to pass through. I found the whole place extremely calm.
The only heavy feeling I got was reading the gravestones and finding out so many of the people here died way too young. Many were children.
Tours of South Park Street Cemetery
If the thought of this haunted cemetery doesn't spook you, visitors are welcome to roam around the site every day.
It's a popular area in the city for locals and tourists and it's actually really serene. In the hot weather, it provides lots of shade from the trees.
When we arrived and paid for our tickets, some of the volunteers at the cemetery offered a guide service. This isn't charged but as our guide was so good we tipped him for his time in the end.
Our guide had worked at the cemetery for over five years and knew the names and backstories of a lot of the people buried here.
He also knew the location and pointed out the most notable graves like Charles Dickens Son, Walter Landor Dickens.
Although it isn't necessary to have a guide, it really brought it to life for me (bad pun, forgive me).
So, if they are offering the service on your visit, I would grab at the chance. It made the visit more enlightening.
What to expect while walking around the graveyard
There are over 1600 tombs in this graveyard packed inside quite a small area of the city. So, you'll see many interesting and gothic tombstones while you're here.
There are small gravesites, busts of the dead, and even huge tombs that tower over the site. Some even look like Roman temples!
Most of the tombstones will have the name of the person buried, the year they were buried, and their age. Some even have a backstory about them and remarks from friends.
One British officer, Charles Hindoo Stuart, requested that his grave be made in the 'panchyatana' style as he embraced the Hindu culture. So, you'll his grave with Hindu Gods, such as Vishnu, carved on it.
The thing that really adds to the aesthetic here is the green moss that grows all over the tombs and the floor.
Add in some of the ferns that shade the area and it does look beautifully spooky.
You could honestly spend hours exploring the laneways, admiring the tombs, and reading the gravestones. But, in terms of seeing any ghosts, you may be sadly disappointed.
Notable tombs and famous people buried at South Park Street Cemetery
Similar to Pére Lachaise Cemetery in Paris or Highgate Cemetery in London, there are a lot of notable tombs that you can find in South Park Street Cemetery.
Luckily, we had a friendly tour guide who pointed out the main ones to us, without him, I don't think we would have found them all.
There isn't really a map to follow If you get stuck finding them, ask the staff to show you, they're really friendly;
Henry Derozio
An Indo-Portuguese poet who was a radical thinker and assistant head teacher at the Hindu College.
He was the first to teach Western learning and science in Bengal. There are colleges and streets named after him.
He was only 22 when he died of cholera.
Rose Alymer
Rose Alymer was the star-crossed lover of Walter Savage Landor. She moved to India with her mother in 1788 and died two years later from Cholera.
She loved pineapples so her grave was shaped like a pineapple core. Many say she died from eating too many! Walter was so sad at her passing, he wrote a poem for her on her tomb.
Walter Landor Dickens
Charles Dickens's second son is buried here. He was a cadet in the British East India Company army.
Sir William Jones
Jones first came to India in 1783 as a Supreme Court Judge. Later, he the Asiatic Society that can still be found on Park Street today.
He was so good at languages he translated many important Hindu texts from Sanskrit to English!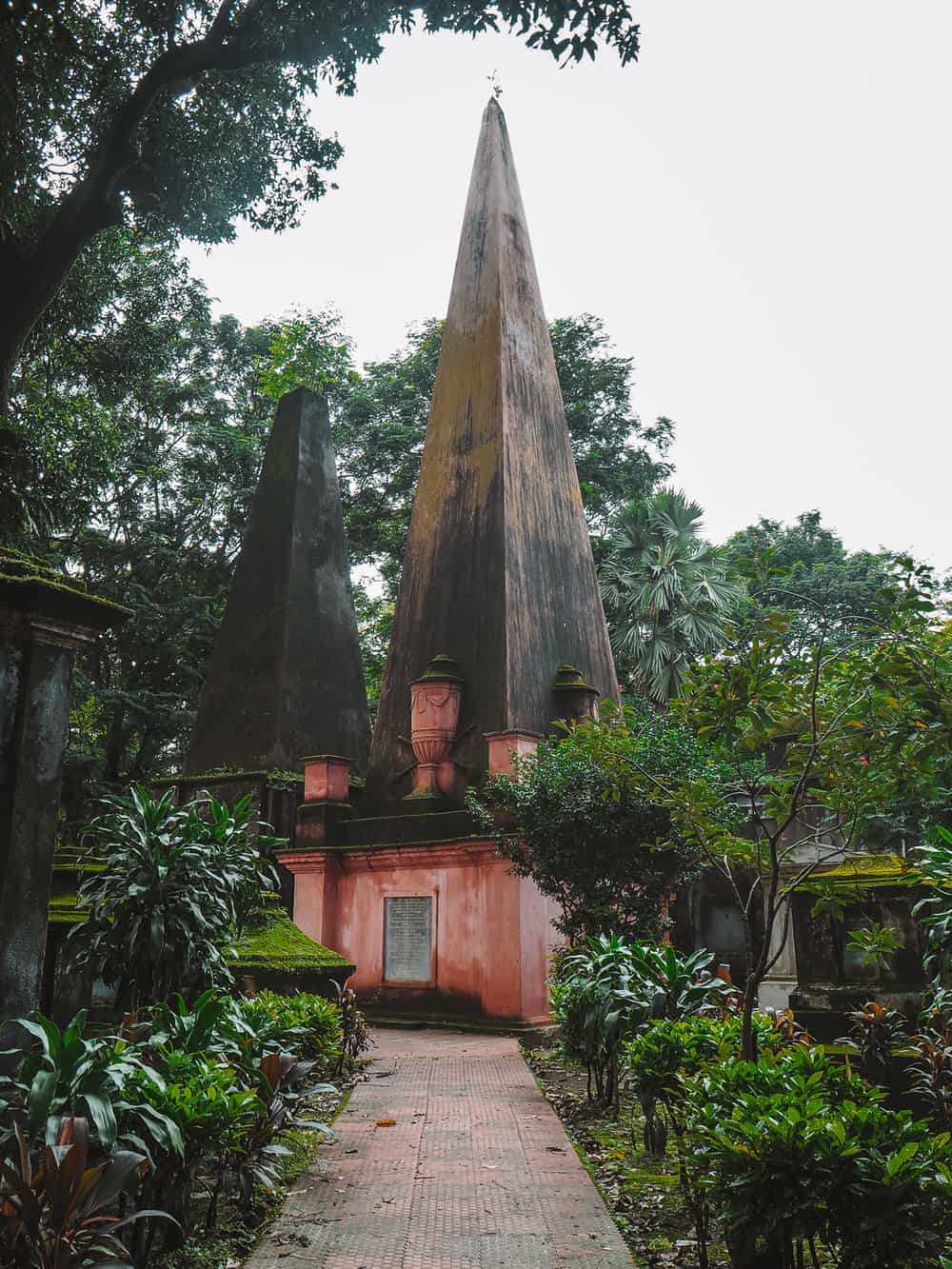 Charles 'Hindoo' Stuart
A cadet in the Bengal Army, Charles embraced Hindu culture and married an Indian woman.
He even wrote a book about his take on Hinduism and an article convincing the army to start wearing Indian attire!
Top tips for visiting South Park Street Cemetery
Flooding – While we were here just after the monsoon in October a lot of the cemetery was flooded. So, some you can't access. Although the park seems to be well maintained there are cracks and uneven floors. So, watch your step! Also, the grassy areas have hidden potholes.
Moss – There are flat walking routes to explore the graveyard and most of the tombs are numbered. Some of the the floor had a lot of moss growing on it. So, if it is monsoon season some areas be flooded and super slippy.
Dogs – There were a lot of dogs that use this as their home. Some will be sleeping in the tombs. Just be careful not to annoy them! One starting chasing us and I freaked out.
Photos – Photography is allowed here but remember to be respectful of the dead. This is not the place for a wedding photo shoot, selfie or your next Instagram post.
Couples – sorry to be 'that' person, but this isn't a place to come and make out guys! I saw a couple here doing it here and was pretty grossed out. It's a cemetery. I could think of far more romantic places for a date…
Don't forget to support the graveyard
The graveyard is an archaeological site but it relies on work from volunteers, tour guides, and donations to keep running.
So, when you're here, make sure you sign their guidebook, buy a book, or even just a small bottle of water (20 rupees) that they have for sale.
Any support you can give would be a big help and make sure the place keeps running for all.
Where is South Park Street Cemetery located in Kolkata?
The graveyard can be found on Park Street in Kolkata near Mother Teresa Sani.
You will have to be on the lookout, but when you turn down Park Street you'll see the pink entrance gate quite easily.
We decided to walk over here from the main shopping area of Park Street as we were nearby. But, it's easy to access all over the city using taxis and public transport.
How to reach South Park Street Cemetery
By Metro
The underground subway system in Kolkata is really cheap and efficient. The nearest stop is Maidan and it's a 20-minute walk from there.
The trams are more convenient (more below). You pay by the kilometre and it starts at 10 rupees for 10 kilometres. Anything over 25 kilometres is 25 rupees and that's the max.
You simply buy a token to ride and then look out for your stop. I've been told there is now air conditioning inside!
By Tram
The nearest Tram stop for this would be Mullick Bazaar. From here it's just a few minute's walk.
You'll be dropped off at the Lower Circle cemetery, which replaced the one on Park Street!
By Taxi
If you didn't fancy navigating the public transport systems in Kolkata, it's really easy to get a taxi to take you here directly.
The yellow ambassador cabs around the city are a good way to travel but make sure you request for them to turn on the meter. Or, you'll pay sky-high prices!
Uber works really well in this city. If you're not sure how to use the app in India, I have a whole blog post here with a special discount code for your first ride!
Opening times and ticket prices for South Park Street Cemetery
Opening times and ticket prices for South Park Street Cemetery The cemetery is open daily from 10 am – 5 pm.
Beyond that time it is locked, so you can't visit at night time, unfortunately, to look out for ghosts.
Although we did see in guidebooks it used to be free of charge, they do charge for entry now.
South Park Street Cemetery ticket prices are 20 rupees per Indian and 50 rupees for a foreigner.
If you wanted to provide a bigger donation, you can purchase one of their awesome guidebooks for only 100 rupees. I bought one as a souvenir and it had lots of lovely photos in print.
You will have to sign a visitor book before you go in. This will ask you your name, country, and the reason for your visit.
Other dark tourism attractions in Kolkata
If South Park Street Cemetery has piqued your interest and you want to visit some more dark tourism sites in Kolkata there are plenty to choose from.
From the Alipore Jail to the infamous Fort William, the Black Hole of Kolkata, and some memorials of famous figures.
Kolkata has a colourful, twisted, and dark past that is waiting for you to uncover it.
The Black Hole of Calcutta memorial at St John's Church
I've always heard of the Black Hole of Calcutta but never really knew what it meant. So, on my guided tour of Kolkata, I got the full story from a local.
Long story short the Nawab of Bengal took over Fort William which was controlled by the British. He then locked British prisoners of war in the infamous Fort William Dungeon for three days.
It was a tiny confined space (around 14 × 18 feet) that held many men and women who died from heat exhaustion and suffocation.
There are differing accounts from many historians as a lot of the story was 'beefed' up in the British newspapers.
A lot of accounts were overestimated to encourage the British army to go to war with the Nawab of Bengal, which they did a few months later.
Some say 100 people died. Others say 64 people were imprisoned and 21 survived. Others say 43 men died.
Either way, it was a tragedy. In 1899 a memorial was made in the graveyard of St John's Church that pays respects to the 'smothered' of the Black Hole.
According to the memorial, there were 123 people in total held at Fort William. British, Dutch and Portuguese.
You can visit Fort William in the city today and the remains of the 'Old Fort William' can be found at the GPO (General Post Office).
The Mother Teresa Memorial
Mother Teresa or Saint Teresa, was an Indo-Albanian Catholic Nun. She moved to Calcutta and taught in a convent for many years.
She was so upset by the poverty and illness in Calcutta that she decided to start her medical and charity work. She worked tirelessly until her dying day and even on the morning of her death she attended mass.
She was awarded the Nobel peace prize and even met Gandhi. You can visit her original room that she slept in at the Mother Teresa Home and pay respects to her grave.
The Victoria Memorial – Presidency Jail
Did you know that the Victoria Memorial was built to honour the then Empress Queen Victoria after her death?
But, previous to this, the memorial site was the home of the Presidency Jail. This is where political prisoners were held.
After the memorial was built, the prison was moved to Alipore and it is now known as the Old Alipore Jail.
Unfortunately, it has recently closed off. It was over 100 years old and held many famous prisoners including Subhas Chandra Bose an Indian nationalist.
Related post – amazing facts about the Victoria Memorial in Kolkata!
Tours of Kolkata
If you would rather go on a tour to explore the city, there are many options that you can book including guided walking tours, sunset cruises, and more;
Read more of my Kolkata travel guides
My ULTIMATE Kolkata bucket list
Taking a Ganges River Cruise in Kolkata
Visiting the Biggest Banyan Tree
Visiting Kumartuli – the potters quarter
Why you must visit the Victoria Memorial
Where to stay in Kolkata
I stayed at the Oberoi Grand in Kolkata which is an attraction in itself. It's the second oldest hotel in the city and is like an oasis after a busy day of exploring!
Many celebrities walk through its doors, so you may spot some famous people walking around the corridors or in the bar.
My room was huge, decorated in Art-Deco, and had a four-poster bed. I loved relaxing in their bathtub after walking around in the rain.
Their breakfast and afternoon tea at ThreeSixyThree was incredible and they have a refreshing pool for a dip.
I felt like royalty here and the service was excellent.
Click here to book your room at the Oberoi Grand for the night
Save this South Park Street Cemetery Kolkata guide for later!