There's no doubt about it, Bath is the perfect place if you love all that is Jane Austen.
She wasn't born in this city, but there are countless places that remain to experience Jane Austen in Bath and the Regency era in its prime.
Jane Austen resided in Bath for many years, falling in love with the city and its many distractions.
Afternoon tea at the Pump Room, balls and courtship at the Assembly Rooms, shopping for new fashions, strolls in the Somerset countryside, guests to entertain, and parties almost every week.
In fact, she could hardly pick up a quill and ink during her time here there were so many occasions to attend!
Jane Austen references Bath in her novels that were written almost ten years after she left. In the last decade of her life, she concocted star-crossed lovers like Mr. Darcy and Elizabeth Bennet and penned classics like Northanger Abbey.
While writing, she recalled Bath with all her fond memories using her acquaintances here as inspiration for the heroines and villains of her books.
Today, there are many spots in Bath to experience the legacy of the Regency Era and what life would have been like during Jane Austen's time. Here are the 17 spots you must visit if you love Jane Austen in Bath!
Where is Bath in the UK and how to reach Bath?
Bath is located in the South West of England and is the largest city in the county of Somerset.
It's a UNESCO world heritage site and famous for its Roman Baths and the healing properties of its natural springs. In the 17th and 18th centuries, many people of high birth and low visited Bath to 'take the waters' as they were meant to heal you.
There are many easy ways to access Bath;
How to reach Bath by car – There is a connection for Bath off of the M4 motorway if you heading here from London. Then, follow the country roads down to the city. From Bristol, you can be in Bath in 20 minutes.
How to reach Bath by train – From London Paddington, you can get a train straight to Bath Spa train station in ninety minutes . From Bristol, it's only twelve minutes! See the National Rail website for a schedule and prices.
Where to stay in Bath
There are so many historic and luxurious properties that can be your home away from home in Bath for the night. The Bird in Bath is a great choice, a boutique, colourful hotel right in the heart of the city centre with free parking.
As soon as I walked in, I fell in love with the spectacular bright decor inside. My spacious bedroom had a comfy double bed with a spectacular view of Bath Abbey, Bath hills, and beyond.
My favourite part was the bathroom which came fitted with a rose gold bathtub! A steamy dip in here with some bubbles was calling my name after a stormy rainy day in the city.
Their Roost Restaurant serves up hearty buffet breakfast in the morning including The Bird full English which was just the ticket for all that walking. I would highly recommend them.
Click here to read my full review of the Bird Bath Hotel!
The history of Jane Austen in Bath
Jane Austen's first visit to Bath took place in 1797 and after that, she arrived with her family to live there in 1801 once her father retired.
At this time, Bath was a fashionable city and spa retreat for the wealthy. Ladies and gentlemen would enter society, with notable families fishing for connections and, more importantly, marriage partners for their children.
Bath was in its prime a city of distractions and new fashions; there would be events every day of the week. Balls, card games, tea appointments, theatrical performances etc.
The Master of Ceremonies, Richard 'Beau' Nash, even wrote 'The Laws of Bath' to keep nobility in check when out and about as it had become so full of people!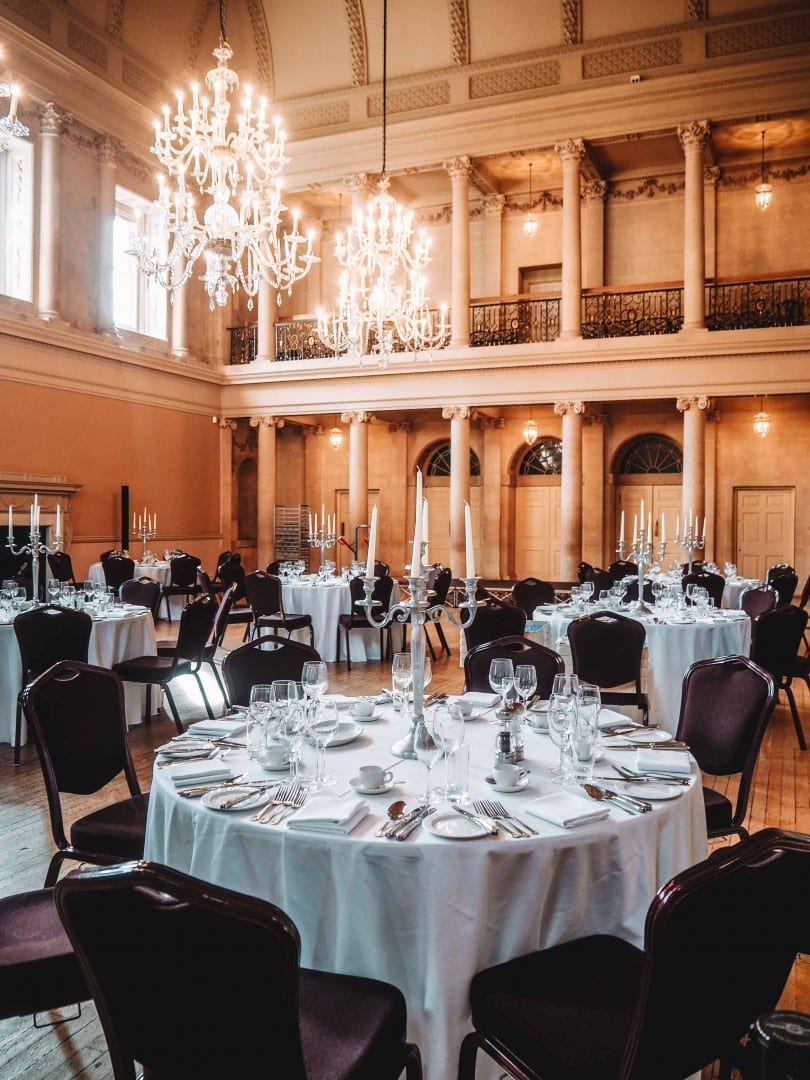 Where did Jane Austen live in Bath?
Jane Austen resided at a few properties during her time in Bath; The Paragon, Gay Street, Trim Street, Queen's Square, and Green Park buildings.
But, the one that is most famous and has a placard outside of it is Number 4 Sydney Place.
Jane actually met suitors there and one of them, Harris Bigg-Wither, asked for her hand in marriage!
However, she was engaged for less than a day. She broke off his proposal on the basis that she didn't love him.
How different her life would have been if she had married and I wonder if she would have written her famous romance novels we enjoy to this day?!
Jane Bigg-Wither doesn't quite have the same ring, does it!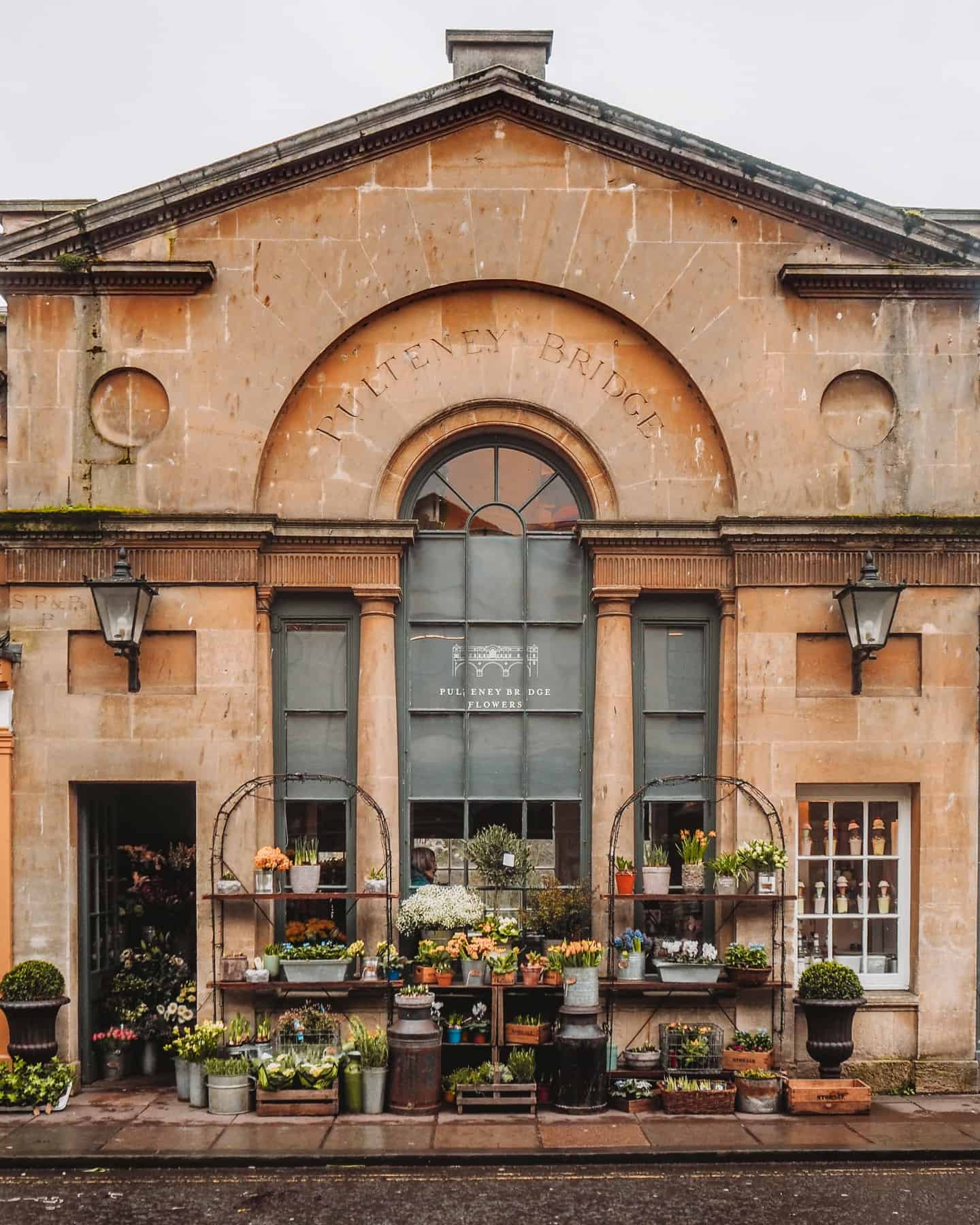 Which Jane Austen novels feature Bath?
"I really believe I shall always be talking of Bath, when I am at home again – I do like it so very much…. Oh! Who can ever be tired of Bath?" – Jane Austen, Northanger Abbey
Northanger Abbey and Persuasion are the two classic novels that mention Bath.
Northanger Abbey
Northanger Abbey is a coming-of-age satire, part of the gothic novel series. Charlotte Morland is the young heroine that arrives for the winter season in Bath. A season in those times meant weeks of balls, tea, and socialising.
Here, she discovers society and all of its highs and lows. Gentlemen out to ruin women and girls wanting to rise through the ranks of nobility through marriage. Eventually, she is invited to the mysterious Northanger Abbey.
Persuasion
Persuasion follows Anne Elliot whose family move to Bath after they come into debt and rent out their manor house, Kellynch Hall. The new tenants are an admiral's family and, his wife has a brother, Captain Wentworth.
Wentworth was engaged to Anne a decade before this. But, it was broken off due to his uncertain prospects and low fortune. Now, they meet again in Bath, in their late twenties still unattached.
Did Jane Austen hate Bath?
Some argue that from reading her novels, Jane Austen actually hated Bath! A lot of the positive quotes are from characters like Catherine Morland in Northanger Abbey who is meant to be young and unwise.
Anne Elliot in the novel Persuasiondescribes the city as gloomy and oppressive which some believe is Jane's opinion trying to come through the pages.
Either way, Jane spent years here and paints a descriptive portrait of Bath and its characters during the Regency era.
You can always read a history textbook, but Jane brings this age to life through her stories and characters.
It's a priceless journey into the past that describes social etiquette, women seeking marriage, risking ruin, being victim to gossip, and the pressures of family life in those times.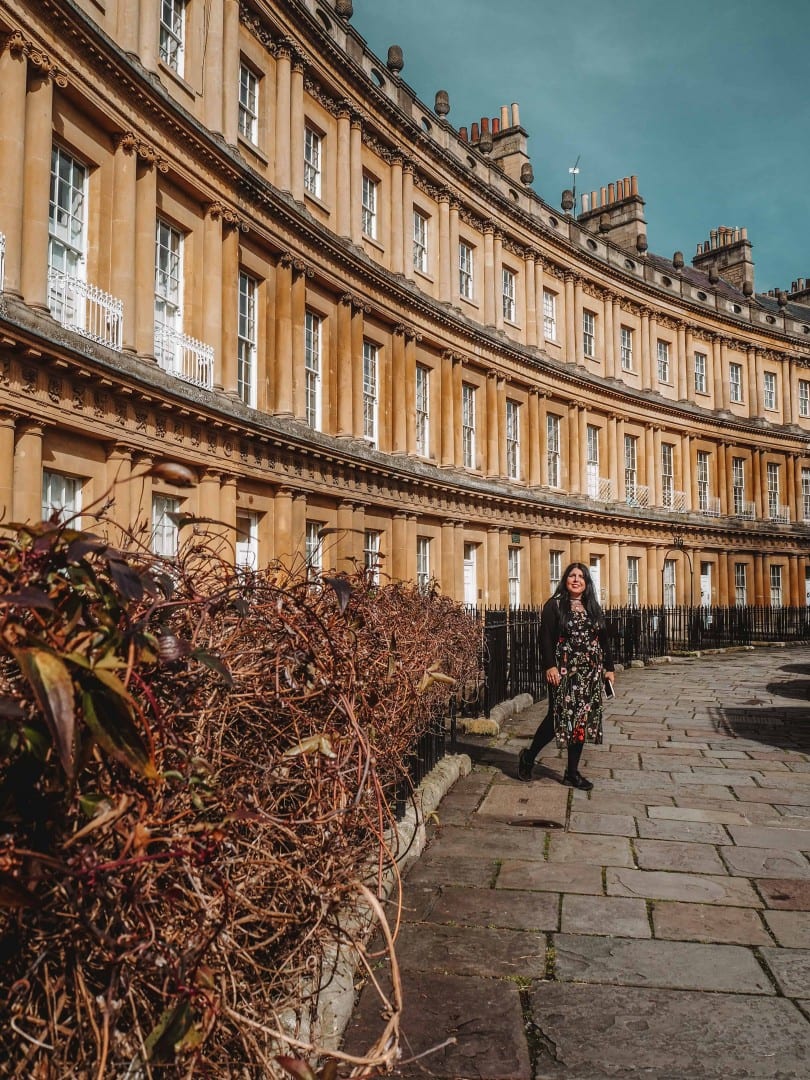 The ultimate Jane Austen bucket list in Bath
1. Visit the Jane Austen Centre
Having studied at Bath Spa University, I'm actually shocked at how long it took me to visit the Jane Austen Centre.
I had always seen the cheerful Martin Salter out the front, which I later found out was the most photographed man in Britain, in 18th-century livery! Welcoming all who enter with a sunny countenance, rain or shine.
Learn about 18th Century life
I always thought it was just a museum and so was surprised when it was actually an interactive tour!
Set in an 18th-century house, you start your tour in the parlour room as you await your guide, who will be in full Regency costume.
Our tour guide was Captain Wentworth, and all the staff here at the centre have character names from Jane Austen's novels!
We found out about Jane Austen's (rather large) family and the fact there are still disputes about her likeness!
Did you know there are six portraits of Jane, but only two are proved to be authentic to her appearance?! The most authentic was actually sketched after her death and is the one you can now see on a British ten-pound note.
As I made my way through the centre, I learned all about 18th-century life. The fashion, what perfumes people wore, and even how much a yearly fortune was worth in those days.
You could also try Doctor William Oliver's famous Bath biscuits which, I'm sorry to report, were rather dry.
These were usually taken with 'the waters' during this time to help with your health.
Don't forget to dress up in Regency costume!
Don't forget to try dressing up in Regency costume and pose with Mr. Darcy! I tried on the lady's and gents' clothing and preferred the gents.
Or, try your hand at quill and ink writing. As I'm left-handed it rarely goes well but I didn't end up with inky hands and was pleased with my work.
I was really impressed with the Jane Austen Centre and this is a must for any fan.
Their gift shop also has lots of Austenesque souvenirs and even copies of 'The History of England' that Jane wrote when she was just fifteen.
The Jane Austen Centre is located at 40 Gay Street and is open seven days a week. In Winter it is open from 10am – 4pm, spring 9.45am – 5.30pm and in summer 9.30am – 5.30pm each day. Adult tickets are £12 with an early bird offer of £11 before noon.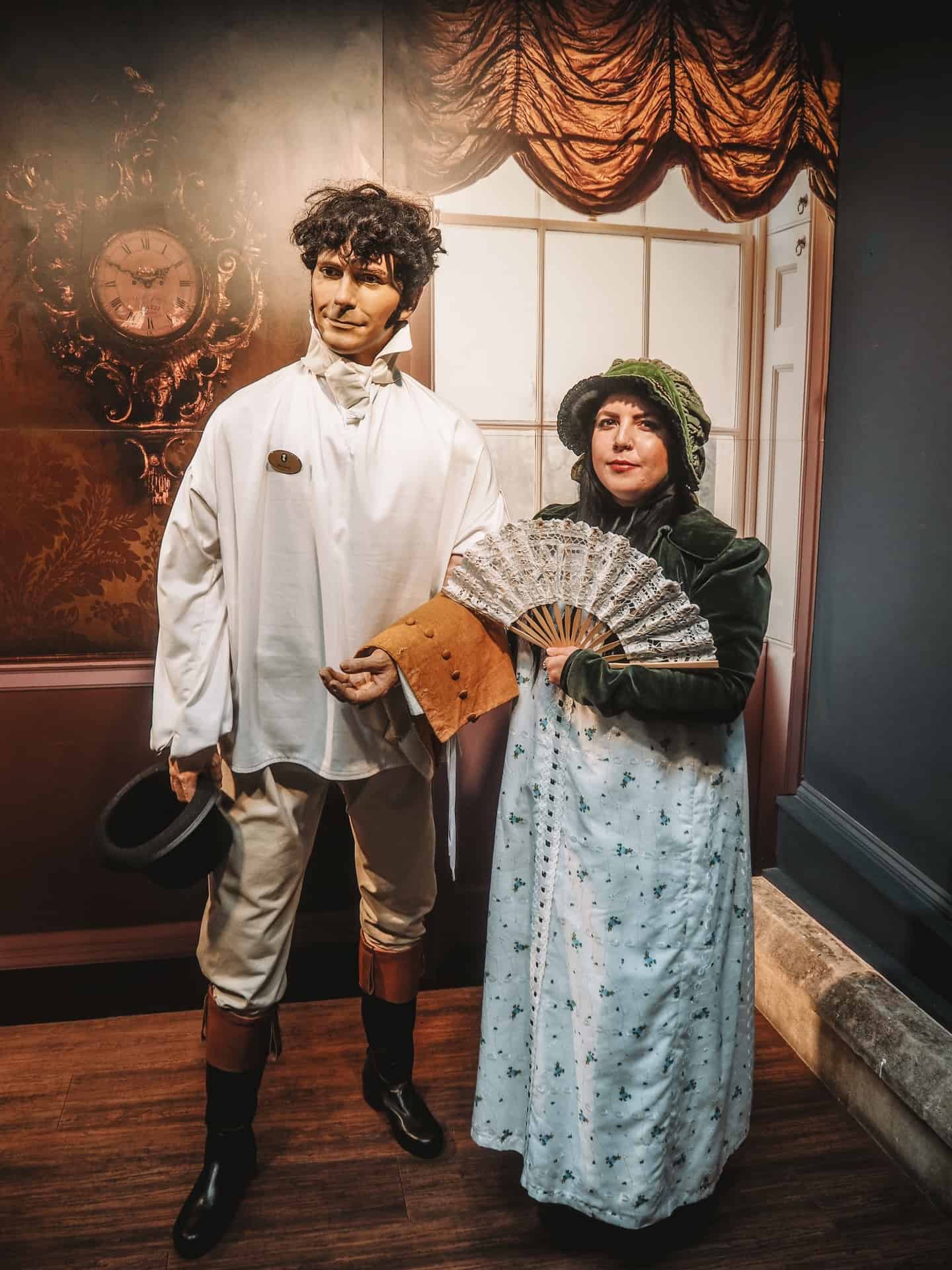 2. Take tea at the Regency Tea Rooms
A separate item in its own right, the Regency Tea Rooms are a fabulous escape.
Located at the top of the Jane Austen Centre you can immerse yourself in the chinking of Willow china teacups and a regal afternoon tea fit for a Lady.
A portrait of Colin Firth as Mr. Darcy hangs proudly over the fireplace with editions of Pride and Prejudice and the lull of classical music fills the air.
I decided to treat myself to the Lady Catherine which was a pot of loose leaf tea with two home-baked scones. One was fruity and one plain with lashings of clotted cream and jam preserve. But, you can go for a Mr. Darcy afternoon tea on a cake tier with all the trimmings including finger sandwiches and dainty cakes.
In true English fashion, it was raining cats and dogs outside and so a hot cup of Jane Austen blend tea was a welcomed distraction indeed.
The award-winning Regency Team rooms are free to visit and you don't need to visit the Jane Austen exhibit to take tea. Opening times are 10 am-4.30 pm. Call 01225 443000 or email: tearoom@janeausten.co.uk to reserve.
3. Wander down Great Pulteney Street & Laura Place
Great Pulteney Street is the widest street in Bath measuring 30 metres wide and 355 metres in length!
In the 1800s, the east side of the River Avon was the most fashionable part of the city and, if you had a house here, you were very wealthy.
Commissioned by Sir William Pulteney and constructed by Thomas Baldwin, at the time of building each house cost over £300!
As Jane Austen lived at the end of Great Pulteney Street in Sydney Place, this would have surely been a route she took often.
Laura Place is located at the end of the street and has a beautiful fountain at the centre. Back in the day, this street had trees lining the roads.
The Sydney gardens that Jane would have wandered through are located at the back of the houses.
Don't miss a visit to No. 15 Great Pulteney, an old townhouse now converted into a modern swanky bar and hotel!
4. Visit Jane's residence in Bath – Number 4 Sydney Place
If you head down Great Pulteney Street towards the Holburne Museum and turn left you will find yourself on Sydney Place.
Number 4 Sydney Place was Jane Austen's residence for her first three years in Bath with her family.
It's actually the only building in Bath to have a placard with her name on it to say that she lived there.
Today, you can't enter the building as its private property but you can take a look from the outside!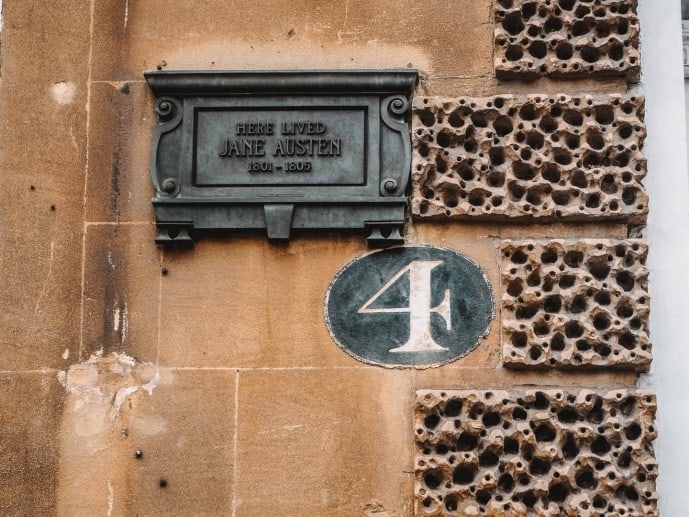 5. 'Take the waters' at The Roman Baths
In true 18th century style, why not take a visit to the Roman Baths to take the waters?
Of course, nowadays we cannot bathe in the water anymore, but you can try some at the end!
The history of the Baths
The Roman Baths are one of the finest remains of a Roman bathhouse in the country.
Bath was named by the hot springs it was founded upon and the history of the Roman Baths can be traced back to over 2000 years ago.
In 836 BC it was a Celtic place of worship to the goddess Sulis.
In 43AD, the Romans invaded Britain and put it on the map by making a spa complex on the site called Aquae Sulis.
They created a series of chambers containing plunge pools, heated rooms similar to a sauna, and bathing spots.
This soon became famous and people from all over the country would visit.
Related post – Why you must visit the Roman Baths at night!
Spa water in Jane Austen's time
Fast forward to the 17th century and doctors were prescribing the spa water as a remedy to heal all sorts of illnesses and the spa regained popularity once more.
There was a new Queen's Bath built on the site and the King's spring was housed in what we now know as the Grand Pump Rooms (more on this below). This is where Jane Austen would have had afternoon tea.
In 1878, Major Charles Davis discovered the Roman remains and work began to convert them into a museum. It reopened to visitors in 1897 with the addition of the terrace and the statues placed there.
Although too late for Jane Austen's time it is an important part of the spa resort Bath used to be and worth a visit!
The Roman Baths are open from 9 am/9.30 am depending on the season and have varying closing times throughout the year.
6. Have afternoon tea in the Pump Room
In 1704, John Harvey built a small Pump room by Bath Abbey for the aristocracy to 'take the waters'.
Drinking Bath Spa water was well known for its healing powers and many flocked to the city to sample it here.
By the end of the 18th century, business was booming and the tiny room wasn't big enough to cater to everyone wanting to visit.
So, the Grand Pump Room was rebuilt and reopened in 1795 by Thomas Baldwin and Samuel Palmer as a tea salon.
Neoclassical in design, it houses hundreds of people at once and musicians were employed to entertain guests.
Jane Austen and the Pump Room
Jane Austen would have visited these very rooms for socialising and afternoon tea.
She mentions the Pump Room in Northanger Abbey when Catherine Morland visits awaiting Mr. Tilney who didn't show. It was described as busy with;
"every creature in Bath, except himself, was to be seen in the room at different periods of the fashionable hours; crowds of people were every moment passing in and out, up the steps and down" – Jane Austen, Northanger Abbey.
The decoration has not changed much since it was built and musicians still play today while you dine on afternoon tea!
At the back of the room is the original long case clock and statue of Richard Nash as a polite reminder to keep to the 'Laws of Bath society'.
Just like in Jane Austen's era you can pay to sample the spa waters here. It is said to contain 43 minerals! I tried it myself and found it to be pretty gross; lukewarm with an aftertaste.
The Pump Room restaurant is free to visit and is open from 9 am – 5 pm daily. Reservations are recommended.
7. Learn about the famous Assembly Rooms and Fashion Museum
Another hot spot in Regency society was the Assembly Rooms in Bath designed by John Wood the younger.
In Jane Austen's era, there were two assembly rooms in the city. The Lower Rooms which are no longer around and the Upper Rooms which you can visit today.
Each room would have a Master of Ceremonies present to ensure that everyone behaved.
This was the place to be in the evenings where there would be dancing, courting, gossip, card games, concerts, and all sorts of entertainment.
There would also be tea served at supper time where everyone would eat together.
Jane Austen and the Assembly Rooms
Jane mentioned the Assembly rooms in Northanger Abbey and Persuasion.
In Persuasion, Anne Elliot would like to visit the rooms to find her Captain Wentworth, but is prevented from doing so by the Elliots wanting to attend private parties. But, then later attends a concert in the hopes of meeting him with Sir Walter and his family.
In Northanger Abbey, Catherine Moreland visits the Upper and Lower rooms often and encounters Mr. Tilney there.
The Fashion Museum
Included in your ticket is the fashion museum, which takes you on a journey through hundreds of years of style.
Here, you can see all sorts of dresses that nobility would have worn from the medieval period, all the way through to Jane Austen's Regency era and Victorian times.
I particularly loved the royalty exhibit which had on display some of the present Queen Elizabeth II's vintage dresses!
The Assembly Rooms and Fashion Museum are open from 10.30 am – 6 pm.
8. Fall in love with Royal Crescent & No. 1 Royal Crescent Museum
The Royal Crescent is a jewel in the crown of Bath's architecture completed by John Wood the younger in 1775.
Jane Austen was born in that year and her mother's sister, Jane Cooper, lived at number 12 in 1771. Some say that it was the first-ever crescent in the world to be built and as you walk around it will take your breath away.
The Georgian buildings curve around the vast gardens outside and you can see spectacular views of the Avon Valley. Again, you had to be quite rich to live in this area at the time.
No. 1 Royal Crescent Museum
Number 1 Royal Crescent, the most sought-after property, has now been converted into a museum to give us an insight into what an 18th-century house would have been like at the time.
First occupied by Sir Henry Sandford, you can meander through the parlour room, ladies' bedroom, gentleman's study, and the servant's quarter and kitchens.
Historians are in each room to answer any questions you may have about it!
Don't miss a visit to the top floor where you can get a birds-eye view of the crescent below.
This view alone was why this particular house was worth so much more. I also loved the courtyard at the bottom.
I've always wanted to sit in one of those gardens in Bath and with this visit I had my chance!
The 2007 TV adaptation of Persuasion was filmed here along with the Duchess movie starring Keira Knightly.
The No.1 Royal Crescent Museum is open daily
9. Walk around The Circus & Georgian Garden
The Circus, otherwise known as the King's Circus, is another architectural masterpiece in Bath.
It was first started by John Wood the elder who laid down the foundations in 1754. His son, John Wood the younger took over after he died and completed the Circus in 1768.
I always wondered where the name circus comes from and later found out it is the Latin word meaning ring. The houses here are built in a perfect circle with road access on all four sides.
Famous residents include Thomas Gainsborough, a famous painter, who lived at number 17 and used part of it as a portrait studio.
Jane Austen lived at number 25 in the adjoining Gay Street, so this would have been somewhere you would have passed by in the city.
Don't forget to stop off at the Georgian garden, at the back of Number 4 circus, to see a fine example of where Jane Austen would have spent her time.
10. Be wowed by Bath Abbey
Located next to the Roman Baths, the Bath Abbey has been in the city for over a thousand years since Anglo-Saxon times.
The first king of England, King Edgar, was crowned here and his coronation started the ceremony of all future coronations including the current Queen Elizabeth II.
in 1539 after King Henry VIII started the dissolution of the monasteries, Bath Abbey was left in ruins for more than 70 years. In the 17th century, it was repaired and used as a parish church.
Although Jane Austen doesn't mention the abbey in her novels or letters, this is certainly somewhere she would be known well and may have attended services here with her family.
In 1830, after Jane Austen's passing, George Manners restored the church even further so it doesn't look quite the same as Jane would have known it inside. But, the courtyard remains very much the same.
Today, you can enter the Abbey on a donation basis which is recommended at £2. Don't forget to see the view from the top! I would have, but it was stormy weather and heavy rain that day.
Bath Abbey is open from 9.30 am – 5.30 pm Mondays, 9 am – 5.30 pm Tuesday to Friday, 9 am – 6 pm Saturdays, and limited opening times on Sundays. Entry is by donation which is suggested at £2.
11. Stroll along the Pulteney Bridge, Wier and Parade Gardens
At the end of Great Pulteney Street is Pulteney Bridge and Wier.
Completed in 1774, the architecture is based on the Rialto bridge of Venice in Italy. It's in fact one of four bridges in the world to have shops on both sides of it.
You can walk down the staircase on the bridge to the Pulteney Wier which has a beautiful towpath to stroll along providing great views of the city skyline.
Then make your way up to the North Parade bridge and along to the Grande for a visit to the Parade Gardens opposite the Bath Abbey.
The Parade Gardens, originally known as St James's Park, are a Grade II listed property and it was built in 1709 as an addition to the Lower Assembly Rooms.
Richard 'Beau' Nash encouraged these gardens to be built for wealthy visitors who were 'taking the waters' and entry was strictly by invitation.
In these gardens, there are floral centerpieces as a memorial to Jane Austen. A must for any fan!
You need a ticket to visit The Parade Gardens in the peak season (May – September) but they are free in winter (October – April). Opening times are subject to season and weather conditions.
12. Gaze at the art galleries in The Holburne Museum & visit Sydney Pleasure garden
If you head down Great Pulteney Street, you can see the Holburne Museum in a statement Georgian property.
It's a Grade I listed building located in Sydney Pleasure Gardens which is almost opposite 4 Sydney Place, where Jane Austen resided.
In Jane Austen's era, the house was built by Charles Harcourt Masters as The Sydney hotel for visitors to the pleasure gardens in 1799.
All visitors to the gardens would walk through this hotel on visiting and Jane Austen would have attended Public Breakfasts and events here.
Pleasure gardens were fashionable in the Regency era as a place of entertainment and distractions.
There would be concerts, rides, zoos, and menageries – almost like what we know now as a theme park! Although fashionable, they did sometimes have a reputation for lewd behaviour.
The Vauxhall pleasure gardens in London are the most famous, but the Sydney Pleasure Gardens have been protected. They are now the only remaining 18th-century pleasure gardens left in the country!
The Holburne Museum
Today, the hotel is now the Holburne Museum which houses Sir William Holburne's collection of art and curiosities.
It was his wish that after his death, his collection would be left to the city of Bath to enjoy. In 1916 it became the museum we see today.
The Holburne Museum is £11 per adult, if you find yourself here on a Wednesday afternoon there is FREE entry between 3 pm-5 pm. The Sydney Pleasure Gardens are free to enter. It's open from 10 am – 5 pm daily and 11 am – 5 pm on Sundays and Bank Holidays.
13. Eat a Bath Bunn at Sally Lunn's tea room
A visit to Sally Lunn's Eating House for a Bath Bunn is a staple stop in any Bath visit. It's located in Bath's oldest building dating back to 1482.
Sally Lunn lived in the house in 1680, a French Huguenot refugee, who found employment with a local baker in Lilliput Alley.
Sally Lunn brought her knowledge of making French festival bread to Bath and so the Sally Lunn Bath Bunn was born.
It has long since been a tradition of Bath to have a Bath Bunn for Public Breakfasts and Afternoon Tea.
In fact, Jane Austen wrote a letter in which she quotes she was "disordering my stomach with Bath Bunns". So, you must treat yourself to one if you find yourself here. You will be queuing on weekends so get here early.
I popped in here for a mid-morning treat and ordered The World Famous Sally Lunn Cream Tea.
This came with half a Bath Bunn toasted and buttered to perfection with strawberry jam and lemon curd on the side.
I actually swapped my cream for curd (a game-changer) and it was delicious! This also came with a steaming pot of Jane Austen blend loose leaf tea.
Visit the Sally Lunn Museum below (free)
Don't forget to visit the free museum below for some more history and their gift shop.
If you didn't want to dine inside, you can buy a Bath Bunn for £2.80 from the shop. They come in the cutest gift boxes to take home as a fab souvenir!
Sally Lunn's Historic Eating House is open from 10 am – 10 pm daily. You can reserve tables but only for dinner. Getting there early is best.
14. Go back in time in the North Parade buildings
As part of the Palladian vision for the city, The North Parade buildings were built as a terrace in 1741 by John Wood the elder.
Many of these historic properties are now Grade I listed.
Many famous residents lived on this terrace including John Palmer, who owned the Theatre Royale.
Somewhere Jane Austen in Bath would visit frequently to watch performances. I also found out he created mail coaches which led to the creation of Post offices!
Number 9 is where William Wordsworth used to live and Number 11 is where famous literary club members Edmund Burke and Oliver Goldsmith resided in 1771.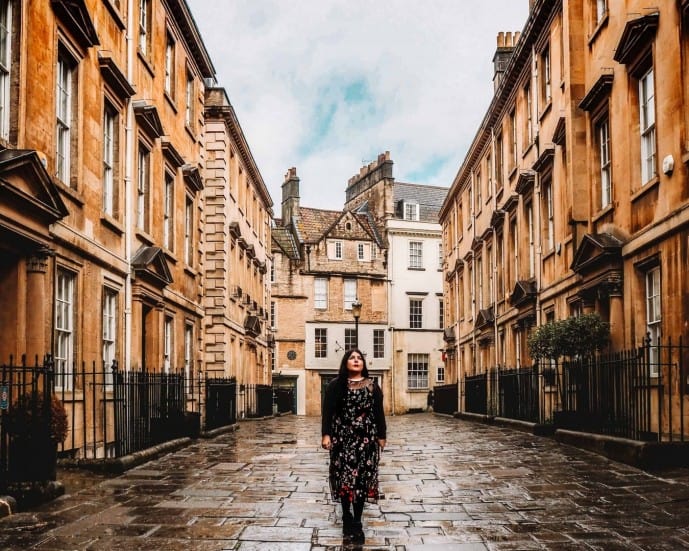 15. Take the air in Bath on its many walks and Bath Skyline
Taking the air was a fancy word for a walk or going outside for one's health in the 18th century!
There are many walks that Jane Austen would enjoy around the city;
'Yesterday was a busy day with me, or at least with my feet and stockings. I was walking almost all day long; I went to Sydney Gardens soon after one and did not return till four, & after dinner, I walked to Weston.' – Jane Austen in a letter to her sister Cassandra Austen
Jane Austen was a country girl at heart and her favourite walk was to Weston Village, but she also enjoyed a visit up Lyncombe Hill and Widcombe.
She would also walk up to Beechen Cliff regularly, which is now known as Alexandra Park, to take in the views.
Another popular walk that is accessible nowadays is the National Trust Bath Skyline Walk.
This takes you on a stroll for panoramic views of the whole city. On my walk, I also found the Grade II listed 'Sham Castle' folly built-in 1762. Although it's on a golf course, it was a pretty amazing find.
16. Attend the Jane Austen Festival
Did you know that Bath currently holds the record for the biggest gathering of people in Regency costume? Well, you do now!
Now in its 19th year, the Jane Austen festival takes place annually in September and provides ten days of Regency-themed events.
There will be Regency dancing, regiments on parade, afternoon teas, games, and all sorts of Jane Austen-themed fun.
The festival takes place inside many of the historic buildings ad landmarks in this post. For more information about buying tickets, see the official festival website here.
17. Download the free 'in the footsteps of Jane Austen' walking tour!
If you're after more information and commentary while you're wandering around, why not download the FREE 'In the footsteps of Jane Austen walking tour' straight to your phone?
Provided by Visit Bath, this audio guide will give you a map of all the Jane Austen spots and tell you about them as you go!
Here you can be guided to all the Georgian hotspots and residences that Jane Austen stayed in Bath;
Number 13 Queen's Square was where she resided with her mother and Brother Edward.
Number 25 Gay Street was where she rented rooms with her mother and sister after her father died.
A Stroll along Trim street will bring you to her final residence.
See the Visit Bath official website for more information.
That's 17 ways to experience Jane Austen in Bath but there is so much more!
These Regency spots in Bath are just a portion of the many places that Jane Austen would have visited or experienced in her time. But, there are plenty more to visit in the city and around if you want more!
You can catch a performance at the Theatre Royal, walk along Union street to catch a glimpse at the Royal Mineral Water Hospital, and even visit St. Swithin's church where Jane Austen's parents were married in 1764. Her father is also buried on the grounds.
It felt good to finally tick off my Jane Austen in Bath bucket list. Bath really does transport you back a few centuries so you can feel what life would have been like.
It makes the stories of Jane Austen come alive and you can imagine the characters like Captain Wentworth, Anne Elliot, and Catherine Morland passing through these very streets and buildings.
If you're a Jane Austen fan, I would highly urge you to make a visit to Bath a priority. Bring a novel (or two) of hers along and follow in her footsteps.
Save time and book a tour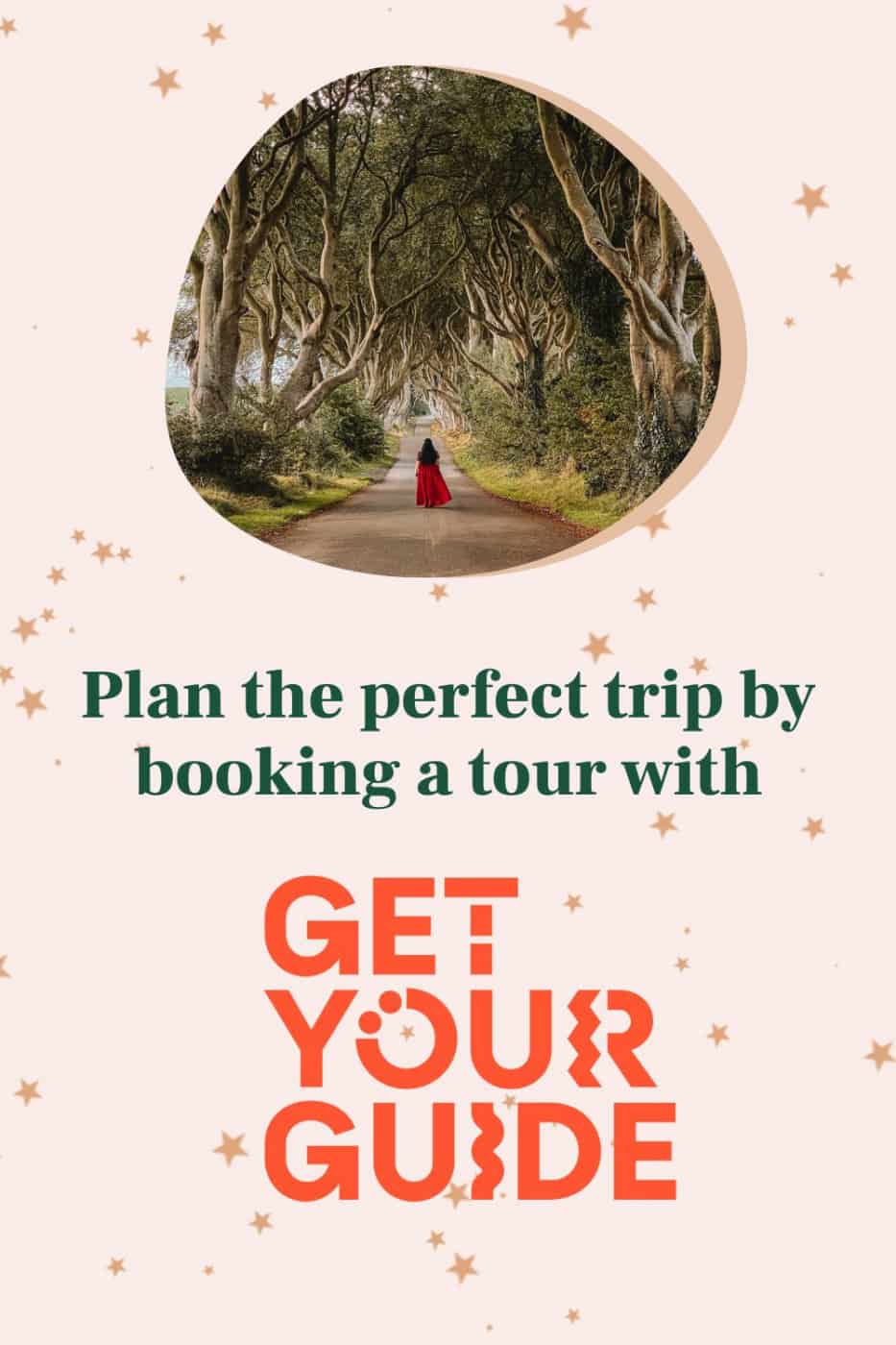 Book tours & tickets for Bath!
Read more of my Jane Austen guides
How to Visit Mr. Darcy's Pemberley aka Chatsworth House
A Jane Austen Guide to Lyme Regis
Stanage Edge Pride and Prejudice filming location
Chapel Street in Longnor – the Lambton Inn
Save this Jane Austen in Bath guide for later!
Third Eye Traveller was kindly hosted by Visit Bath and The Bird in Bath. All opinions, photos, and thoughts are entirely my own.