Sri Lanka is the ultimate holiday destination in Asia. For such a small island it packs a hell of a lot in!
You'll wonder if you're in the same country as you travel from sandy beaches to tea plantations, jungle to ancient cities. It's really quite amazing.
Now, if you're just starting to plan your trip or are looking for some inspiration, you've come to the right place.
This is my Big Fat Sri Lanka Bucket List, full of the essential things to do in Sri Lanka to make sure you get the best out of your travels here. So, what are you waiting for? Here we go!
The Ultimate Sri Lanka Bucket List – Top things to do in Sri Lanka
1. Have a coconut.. or two… or three
My new blood type is: coconut water?
I don't think I've ever drunk or eaten so much fresh coconut as when I was in Sri Lanka.
There's honestly nothing better than drinking fresh coconut on ice or cutting it straight from the tree.
You can buy them everywhere in Sri Lanka and it's almost criminal to go without trying one!
Don't forget to get yours cut open and scoop out the jelly with part of the shell, it's utterly divine.
2. Wonder why the hell you ever spent time in Colombo?
I usually give capital cities a chance but Colombo was really.. boring?! Sure there's a beach part but it's so not worth staying more than one night if you arrive late.
I would head on out to your end destination straight from the airport if I were you! Don't waste time in the capital.
The only good things were a mass of familiar branded western shops and fast-food restaurants (lol).
3. Eat breakfast with elephants in Pinnawala
My number one reason for visiting Sri Lanka! I loved having breakfast with elephants and it was a highlight of my trip.
Although you can do this in many places across Sri Lanka, I'd say Pinnawala is the best!
For a mere £40 per night, you can wake up to elephants outside your window! Christmas has come early.
For more on this experience read: 'The ultimate guide of how to have breakfast with elephants in Sri Lanka'
4. Take a palm tree swing
It's just got to be done! A palm tree swing has to be up there on your list.
For a short girl, it was absolutely terrifying but exhilarating at the same crime.
Swinging over the ocean is something I won't forget.
Again, there are so many palm tree swings to choose but my personal favourite was in Dawalella near Unawatuna. It's so effortlessly picturesque.
Here's my complete guide of my Instagram vs. reality experience of Dalawella Beach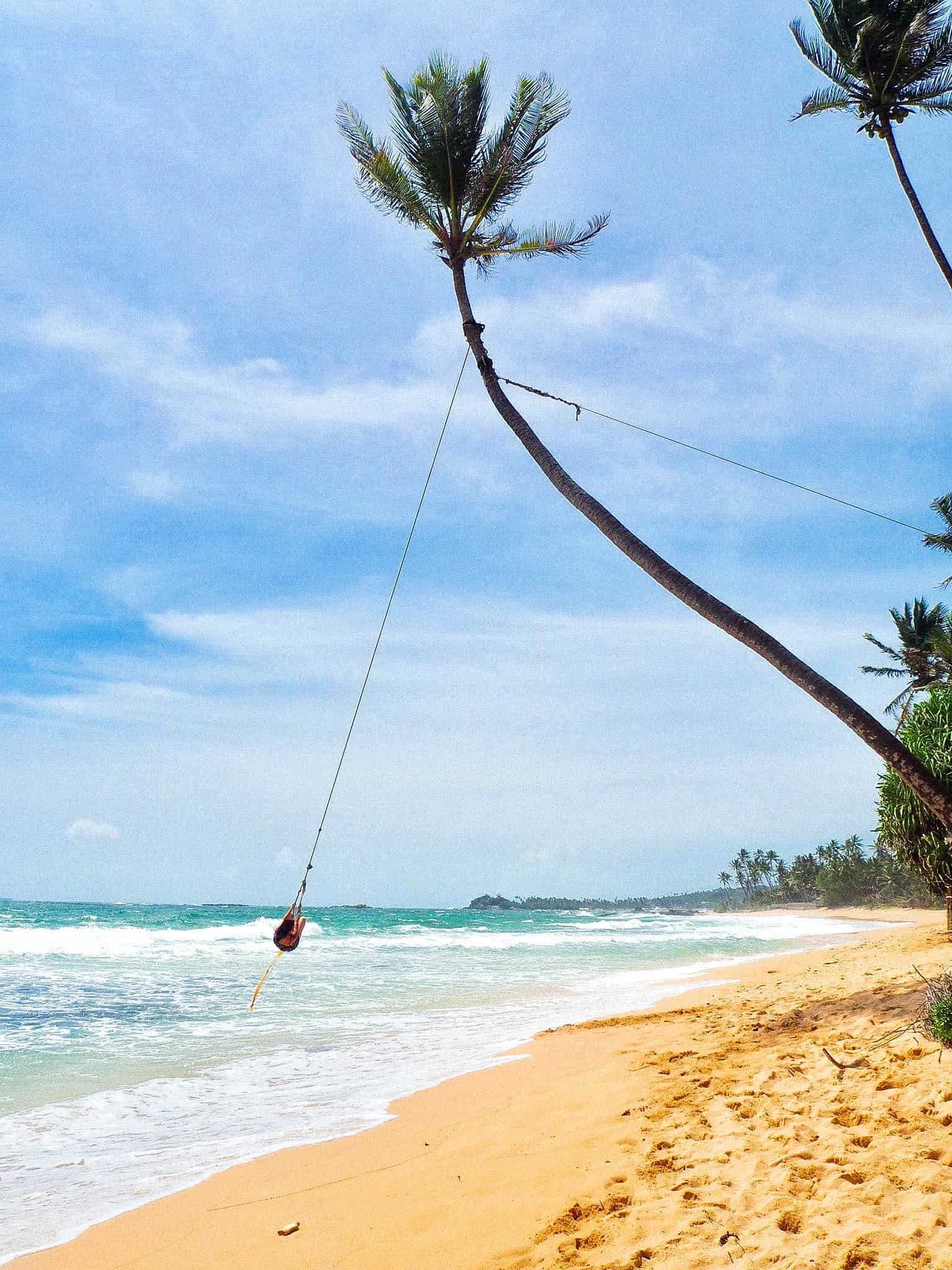 5. Release a baby turtle into the ocean
Probably the cutest little pipsqueak I've ever met was this gorgeous baby turtle!
To help save them, you can release them into the ocean. But a word of caution, please pick a good hatchery to do this!
There are a lot of places that run it as a business and not as a conservation centre.
The turtle conservation project in Harabaduwa is doing good work. They rescue turtles who have had accidents and protect turtle eggs which many locals eat as a delicacy!
You'll pay a small fee to enter the conservation centre but it's so worth it to meet and contribute to saving these cuties.
6. Try hoppers
Hoppers are a real treat when in Sri Lanka. It's like a pancake made out of rice and coconut milk!
There are many different types to choose from but egg hoppers were by far my favourite. Best served at breakfast time.
7. Take a bike ride around one of the ancient cities
In the cultural triangle in Sri Lanka, there are 4 ancient cities worth checking out; Polonnaruwa, Anuradhapura, Kandy, and Sigiriya.
All four provide amazing journeys of ancient temples, statues, and history coming alive while you explore.
The best city to visit though, in my opinion, is Polonnaruwa.
Although not as popular, it has some of the finest Sinhalese temples and carving work on offer today.
Grab a bike and set your own itinerary, it's much more fun that way. I'm actually terrified of riding bicycles, but this one made me want to go ride more!
For more read: Insightful guide to the ancient city of Polonnaruwa in Sri Lanka'.
8. Try roti at Dewmimi roti shop
Dewmimi Roti Shop was probably one of the best places I ate in Sri Lanka. Run by the cutest soul and her beautiful family, you really can't miss a visit.
There are many rotis on offer of all different kinds. I started drooling when I saw 'Avocado Roti' and it was so tasty I ordered two!
Beyond the restaurant, the family also runs cooking classes if you want to learn the art of preparing Sri Lankan dishes. It's popular, so book early!
9. Get lost between the palm trees
I think Sri Lanka should just be called the land of palm trees. They were everywhere on the south coast!
Mirissa was definitely the place to be though for the most picturesque beaches.
I actually shamelessly book a hotel that was near this Insta-famous location (sad, I know) but it was ideal.
If you'd like to do the same, make sure you book Maison D'hotes Sanda Beach – it's owned by the most helpful owners!
10. Catch a magical train ride in the hills
Sri Lanka holds one of the most beautiful train journeys you will ever take in your life!
If you're only going to take one, make sure it's from Ella to Kandy.
The journey will take you past hills, tea plantations, waterfalls, quaint villages, and more.
Top tip: don't book first class, second or third is better where you can hang out of the door.
For more reading see: 'Top 10 tips for the famous blue trains in Sri Lanka, everything you need to know'.
11. Play with death on the Nine Arches Bridge
Ella is home to the world-famous Nine Arches Bridge. Well, it's actually in a place called Demodara!
So, you need to walk a fair bit from Ella to reach here. You can't miss it when you land in Ella off the train.
Make sure you go at sunrise for the first train if you want the best picture opportunities.
Once I had taken a few shots from above, it started to rain. Then, I had a mudslide down to catch this shot!
#sorrymum, but it's not as scary as it looks – there's even a little step to climb on ;)
To read more see: '10 reasons why you will fall in love with Ella'.
12. And again, dice with it on the crazy buses
The bus journeys were dirt cheap in Sri Lanka, but I quickly found out there was a reason for it. Not gonna lie, they were crazy!
You'll wind through what feels like 100 mph, taking over vehicles in the tiniest gaps all while this obnoxious Sri Lankan music is making your ears bleed.
Make sure you watch the music videos to avoid looking out the windows. It's better that way.
Oh, and hold onto the handlebar… you never know when the driver will hit the brake! Lol.
All jokes aside, I learned to love them in the end, it's all part of the journey.
13. Have a close encounter with elephants on a safari
I LOVED my elephant safari in Sri Lanka. Udawalawe is one of the best National Parks to get a chance of seeing an elephant!
There are 250 wild elephants in the park, so you're almost guaranteed to see one – even if it's the amazing Rocky who sits on the side of the road and waits for food lol.
I ended up seeing around 30 elephants on my safari and even saw little babies! It was the most epic adventure seeing elephants in the wild.
For more see: 'a complete guide to taking an elephant safari in Udawalawe National Park'
14. Take it easy on the south coast
I started in the South Coast of Sri Lanka as it was the only place that had the sun in the rainy season of October!
But, in hindsight, I should have relaxed there at the end. The beaches are so stunning here.
The blue waters, swaying palm trees, clean sand, and coconuts all make the perfect location to just simply relax.
Fill out your calendar with sunbathing, surfing, turtle watching, and palm tree swings!
For more read: Your guide to beach hopping in Sri Lanka
15. Visit some famous colourful buildings
Although there was a Tsunami in 2004 and many of the buildings were affected by the devastation on the coast.
It's created an almost bitter-sweet beauty about them.
I loved exploring all the colourful buildings in Sri Lanka, but Stylo Tailors and Textiles really caught my eye. What a place!
Make sure you get here early for photo opportunities, it is Insta gold after all.
Read more in my complete guide for Galle
16. Walk between the Lion's Paws at Sigiriya Rock
It may be $30 USD to get in but you haven't visited Sri Lanka if you didn't climb Sigiriya rock.
Get there as the ticket booth opens and try and get it all to yourself!
It's honestly on another level. Don't underestimate the walk-up mixed in with the humidity of the jungle; bring supplies of water and suncream.
For more tips read: 6 simple but genius hacks for climbing
17. …And become a ninja for this view at Pidurangula rock
When people said I would need a 'reasonable' level of fitness for this climb, I was expecting some difficult steep stairs.
Instead, I was greeted with a clamber and needed Tarzan-like moves to make it to the top!
However, once you do make it, you'll be treated to the most awesome views!
Who needs a drone when you've got Pidurangula? ;)
18. Meet Buddha facing forward
There are many Buddha statues in Sri Lanka, but by far my favourite was the Big Buddha statue in Kandy. Or, locally known as Bahiravokanda Vihara.
Did you know it's illegal to take a picture with your back facing Buddha in Sri Lanka?!
That and sitting idle in his presence or wearing a T-shirt or a tattoo of him. They could all get you arrested!
So, always face Buddha when taking a snap!
19. Leave an offering at the Temple of the Tooth
The famous Tooth relic of Gautama Buddha has had many homes over the years all over the island. But, now it resides in the famous Temple of the Tooth in Kandy.
The best time to see it is with the opening ceremony known as Tevava first thing in the morning.
Then, make your way upstairs with the locals and have your offering in hand.
Top tip: take flowers (buy them in the temple, not from the hawkers outside) and enter the queue closest to the Tooth to take a good peek! You'll be moved on super quick, but it's the only way to properly see the Tooth!
Read more in my complete guide for Kandy
20. Try Ceylon tea.. in bucket loads
Ceylon was the name of Sri Lanka during the British occupation but the tea that's exported from Sri Lanka still holds the name.
Ceylon tea is one of Sri Lanka's biggest exports and is probably in a lot of the tea bags you drink back home! You must try a cup while you're here.
There are so many different types! White tea was my absolute favourite. Have you tried it? It's so refreshing.
21. Visit a tea plantation.. and have more tea
If you'd like to visit tea plantations in droves then definitely put Nuwara Eliya on your itinerary.
A convenient stop-off in between Kandy and Ella, it's a world of tea leaves, waterfalls, and nature.
It's coined Little England as unfortunately, it sees wet and cold weather! But, the climate is perfect for tea.
Fortunately, it was sunny when I arrived and so I headed straight out to Labookellie tea estate (previously Mackwoods).
Once you arrive here, you'll be whisked away on a magical mystery tour of the tea factory and how they prepare the leaves for packaging.
Then you exit through the tea shop and enjoy a complimentary cup of Cha! Make sure you add on a piece of chocolate cake for 100 rupees, it's scrummy.
Other famous tea estates in the area include Pedro and Bluefield's estates. All come with limitless free tea samples. I ended up with the tea shakes, there is a thing as too much tea – even for a Brit!
For more read: Top things to do in Nuwara Eliya, Sri Lanka's little England!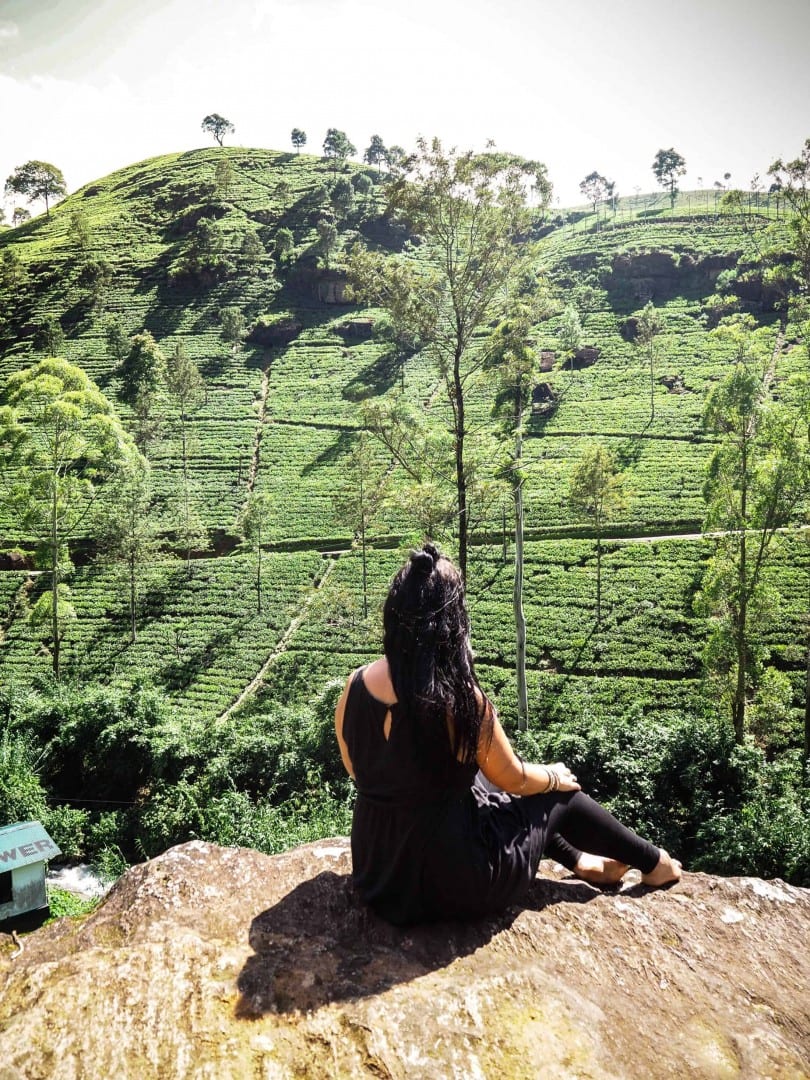 22. Do go chasing waterfalls
Waterfalls seem to be everywhere and appear out of nowhere in Sri Lanka, so why not chase some of them!
I saw many a waterfall whilst I was travelling here but my most memorable one was the Ramboda falls in Nuwara Eliya.
Having hurt my ankle, I wasn't prepared for a 40-minute hike up the wonkiest and uneven stairs!
Luckily my Tuk Tuk driver was on hand as a crutch to lean on. He held my hand the whole way – I felt like 90! Lol.
But, it was SO worth it for these spectacular views!
23. Take high tea at the Grand Hotel Nuwara Eliya
To add a touch of luxury to your stay in Nuwara Eliya, look no further than the Grand Hotel!
It has some of the best restaurants and coffee houses in town. But, the cherry on top of the cake is the High Tea on offer in their tea lounge.
Serving one of the largest ranges of teas I've ever seen, you can pretty much drink it to your heart's content – depending on your budget of course!
Fruit tea, smoky tea, white tea, English Breakfast, and even tea mocktails were on offer!
The high tea is pretty reasonable at 550 rupees per head. But, if you just fancied a tipple and a slice of cake that's okay too.
I loved it so much here, I actually visited twice. It was like a classy retreat. Perfect for a backpacker in need of some home comforts.
24. Visit the heights of Little Adams peak
Ah, the most popular hike in Ella. A word of warning, the walk up to the peak is no joke.
You'll climb what seems like a million stairs to reach the top. But, the breath lost is so worth the panoramic views you'll get at the summit!
Make sure you pick a sunny clear day for this hike as you'll be able to see the hills around Ella and beyond.
Don't forget to take a peek into the swanky 98 acres hotel as well.
The guests are jetted in by private helicopter. For us mere mortals, there is an overpriced bar and spa for outsiders. So, if you fancy a treat, go for it!
25. Try Kottu Roti
You're guaranteed to hear the beat of knives chopping Kottu Roti in Sri Lanka.
It's a famous dish which is eaten every day by locals all over the island.
Kottu Roti can be found in most restaurants but by far the best I had was at the Muslim Hotel (not a hotel, just a restaurant) in Kandy.
It had budget-friendly food and the most eccentric waiters lol.
26. Take a walk down royal palm avenue
The Royal Botanical Gardens of Peradeniya near Kandy are a wonder. It's full of flora and fauna and beautiful walks in nature, an oasis from the busy city streets!
Although the price is a little steep at 1500 rupees ($15), it's worth it for the strolls in paradise.
You'll also pick up a few botanical facts. For example, did you know that there are 2600 species of Palm trees? Me either.
Read more things to do in Kandy
27. Watch a Kandyan dance
You can't visit the cultural capital of Kandy and not watch a Kandyan performance.
It's an amazing spectacle of sound, dancing, colour, noise, and even fire breathing!
There are many venues to watch it in the city but the Red Cross is by far the best. Watch the show and feel good about supporting a good cause.
28. Stay in Negombo to avoid Colombo
On my way back out of Sri Lanka, I decided to skip Colombo and head to the happening beach town of Negombo.
As it turns out, it's actually closer to the airport than Colombo, winner!
Negombo has a gorgeous coastline and a great range of restaurants and bars to suit every budget! So much better to spend your last night here, than in the concrete jungle capital.
I stayed at Heritance Negombo which was a splurge. Not only did it have a fridge full of free booze and chocolate, but it also had the comfiest bed and a balcony view to die for!
To check dates and rates for Heritance Negombo, see here.
29. Get ripped off by a Tuk Tuk
The rickshaw drivers drove me insane here. As a solo traveller, they were constantly hassling me and I had no one to keep me distracted!
They seemed to try and do anything in their power to get me to ride, even if the location was three hours away!
I never knew how much I should really be paying, so I just started to get the buses. Although, according to the rickshaw drivers there 'weren't any heading that way' tut-tut.
Top tip: Don't tell the tuk-tuk drivers your plans if they ask, say you don't know. That way, you won't have one turn up at your hotel doorstep unexpectedly the next day. It's on another level.
30. Explore Galle fort
I'm a bit of a history buff and so I loved the historic fort of Galle. As soon as I arrived off the train, I knew I was going to love it there.
You can explore the lighthouses, the old churches and temples, go shopping in the boutiques and eat at the numerous amazing restaurants.
Although you'll pay a premium to stay and eat inside the fort, it's worth it.
Galle has some of the best cafés and eateries on the island, serving dishes from all over the world.
Click here for the top experiences in Galle
31. Try curry baked in a banana leaf
A local dish you have to try. In Sri Lanka they mix rice and a handful of colourful curries into a banana leaf and then bake it till it's piping hot!
When it's served and you open it, you'll get a burst of flavour from inside.
Compared to India, I found the curry to be quite dry as it didn't come with the traditional 'gravy'.
But, it was still super tasty. The photo below doesn't do the taste justice!
32. Cry when you leave
I don't think anyone is particularly happy to leave an awesome holiday, but I was especially upset to leave Sri Lanka!
It's honestly one of the most diverse islands I've ever visited in Asia.
Beaches, Palm Trees, tea plantations, temples, elephants, UNESCO world heritage sites, National Parks, and the rest.
It's enough to make you fall in love with the place and live there forever.
Make sure you tick all of these things off my Big Fat Sri Lanka bucket list to get the best out of your travels there!
Thanks for reading! If you would like to check out more posts on Sri Lanka then check out my Sri Lankan archives here.
Save my Sri Lanka Bucket List for later!