Did you know that London has a secret garden that even the locals don't know about?
Sandwiched between the sky-high buildings of the capital is a secret oasis, lying in wait for you to discover it.
This hidden gem is called St Dunstan in the East church garden and it has over a thousand years of history with many secrets to tell.
When you enter, it's hard to believe that you're only inches away from the Tower of London and the River Thames.
You'll escape from the big smoke into a realm of gothic ruins and a lush botanical garden. It's eerily quiet and a great place to escape the noise.
Here's a complete guide for St Dunstan in the East with the astonishing history of why there is a ruined church right in the heart of London!
The history of St Dunstan in the East
The chapters in St Dunstan in the East's history are like an epic tale with black magic, the Devil, buildings ablaze, and the casualties of war.
This structure has stood on this spot for well over 900 years, going on a thousand, and it's survived through most of London's turbulent history.
The Viking invasions, Saxon settlements, the Dissolution of the monasteries, The Black Death, The Great Fire of London, and The Blitz. It's been here through it all!
St Dunstan's Church in The Saxon era
St Dunstan's Church was built in the year 1100 during the Anglo Saxon Era. It was named after St Dunstan who was a tenth-century monk.
If you're wondering at this point where the 'in the East' part comes from, it's because there is also a St Dunstan in the West in London. But, I digress…
…back to St Dunstan who was no ordinary brother of the order!
He had an extremely colourful past. Even as a child he fought the odds over fatal illness and made a miraculous recovery.
Famously, he was summoned into the court of King Athelstan but he became embroiled in a plot to take him down.
His enemies were accusing him of using black magic and witchcraft and he was thrown out of court and thrown in a cesspool.
Later, he became covered in boils all over his body which many thought was down to contracting leprosy from the pool.
After his miraculous recovery again, he took it as a sign from above and decided to take the vows and live a celibate life of a hermit.
According to legend, the Devil himself tempted Dunstan into sin but his divine purpose kept him true.
Finally, he then went on to become the Archbishop of Canterbury!
The church was built in his honour in the 12th century but many repairs were carried out in the 14th and 17th centuries.
The Great Fire of London
In 1666, a fire that started off at the bakers on Pudding Lane went on to destroy 16,00 houses and 87 parish churches in London, including St Dunstan's Church.
It became known as the Great Fire of London and it consumed around 1/6th of London at the time.
Even the historic St Paul's Cathedral wasn't immune, it was burned to the ground and had to be completely rebuilt.
What we see today isn't the original building, it's almost the 'new' St Paul's.
The architect who stepped in to revive these destroyed churches was Sir Christopher Wren. As well as being an expert with planning structures, he had anatomist, astronomer, geometer, and mathematician-physicist on his CV!
He was responsible for reviving 52 of the 87 parish churches that were destroyed here in London after the Great Fire.
A band-aid solution was given for St Dunstan in the East and instead of completely rebuilding, he added a gothic style steeple and tower.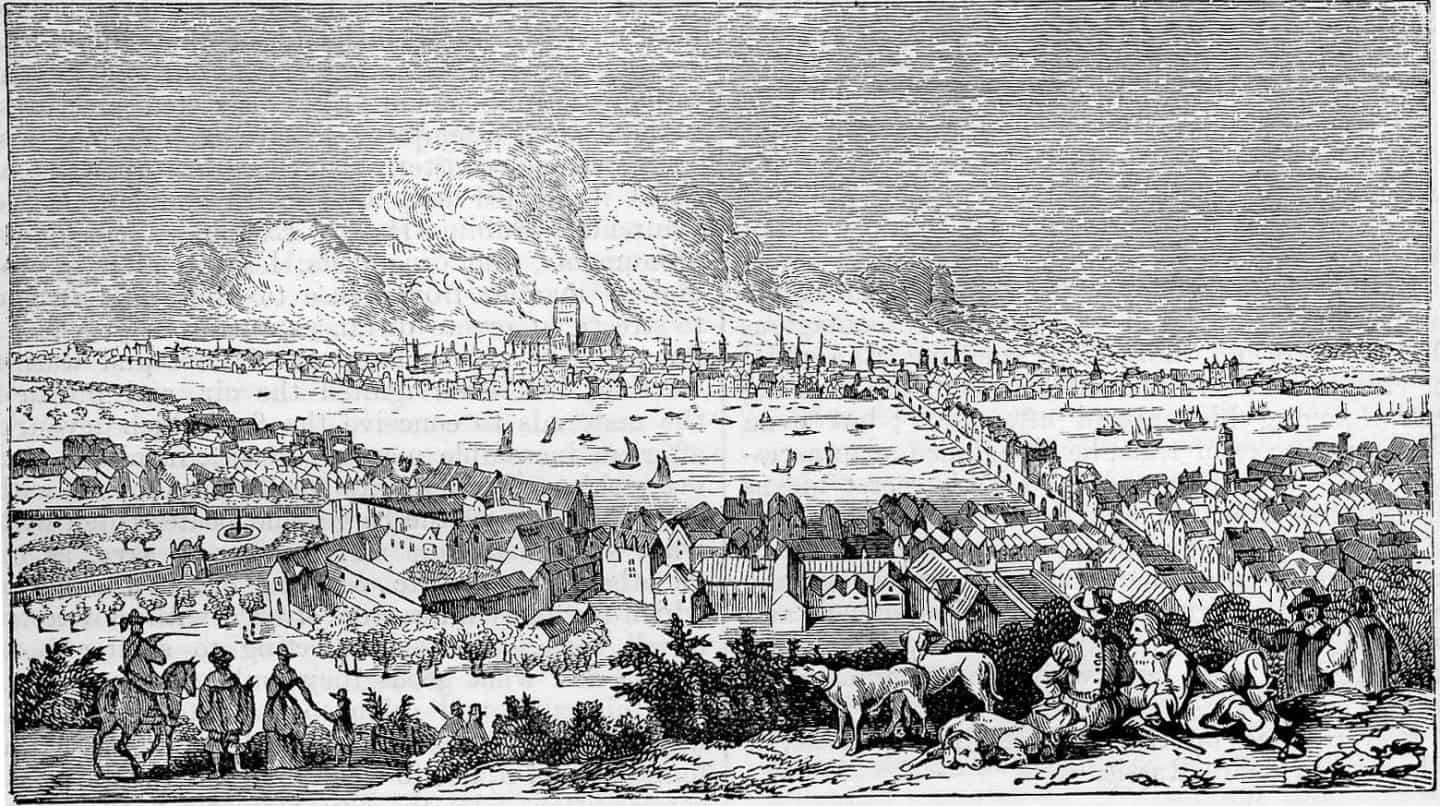 The Blitz
During the Second World War, Germany unleashed a bombing campaign on the UK called The Blitz in 1940 and 1941.
Approximately 2 million houses and buildings were destroyed during this time and thousands of lives were lost.
60% of those houses were based in London and St Dunstan in the East suffered huge damages throughout.
Christopher Wren's Steeple and Tower miraculously survived but the rest of the church structure was largely destroyed.
After the end of the war, the City of London decided not to rebuild the church but open it up to the public in 1971.
St Dunstan in the East church garden was born and the rest was history! It's now a Grade I protected building so it can never be destroyed again.
Why visit St Dunstan in the East church garden today?
It's always great to visit some of the big tourist hotspots in London like Big Ben, Tower Bridge, the Tower of London or Buckingham Palace.
They're all standard bucket list places. But, they also see a lot of crowds!
St Dunstan in the East church garden is an oasis from all the hustle and bustle. It's also a testament to London's history.
Sure, you may see some suits sitting here on their lunch break or on noisy conference calls during the week but come the weekend it's serenely empty.
It's a secret garden, an enchanting oasis that you can escape in. Bring a picnic, a good book or simply your thoughts and lose yourself for a while.
Oh, and I did I mention it's completely free? Yep! Usually, you have to pay to leave your front door in London but this hidden gem doesn't cost you a penny.
Things to look out for while you're here
I don't want to give away too much about the church garden before you visit, it's much more fun to discover it and explore for yourself.
But, I always hate it when I miss something important and only realise it after my visit. I get serious FOMO.
So if you were curious, I'll take you through a few things to keep an eye out for in the gardens;
Ruined arch windows with a surprise view
Of course, the ruined arch windows which once held the gorgeous stained glass will be painstakingly obvious.
They will catch your eye as soon as you arrive and will have beautiful plants and overgrow snaking around them.
However, it's the views from these windows which may very well surprise you on your visit. If you catch it at a certain angle you can just see The Shard's pointed tower poking out in the skyline.
It's the perfect juxtaposition of London's old and the new coming together. So, make sure you grab your camera as this is a shot not to be missed.
Talking of photos, this scenic place is also a popular Instagram location. Is it any wonder? It's incredible!
So, you'll often see photographers or influencers climbing all over the walls to get 'the shot'.
It's also a wedding venue, party location and sometimes magazines will come here to shoot their front covers.
Curious Botanicals, Fountains & Sundials
If you're particularly green-fingered, you may be wondering what type of plants grow here in amongst the gothic ruins.
There are plenty of trees that grow here through the windows and their vines manage to wind themselves over the walls, through the windows and the cracks. There are even tropical palm trees here!
In the lower garden is winter's bark of Drimys winteri. It's rich in Vitamin C and was once eaten to cure scurvy. There are also plenty of plants and shrubs in amongst the climbers grow.
Look out for cute features such as the old sundial clock on the walls. Or, the old fountain sits on point of the original nave. It's now surrounded by benches to perch on.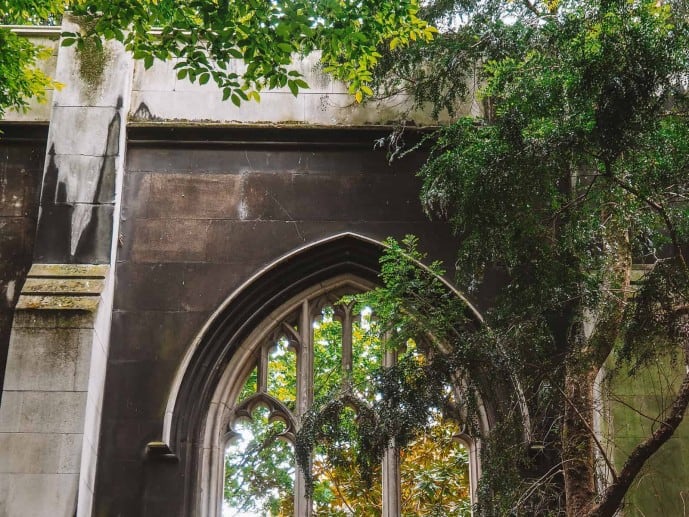 The All Hallows in Christopher Wren's Tower
If you have ever wondered what Christopher Wren's Tower is used, for now, it's home to the All Hallows by the Tower.
When there were no plans to resurrect the old church after The Blitz, it became part of the adjoining Hallows House and is now a private residence.
All Hallows by the Tower are a parish and Anglican Church located on St Dunstan's Hill. You could even visit them as well after St Dunstan's Church garden.
Are services still held in St Dunstan in the East?
Although the last indoor service was held here before the Blitz, there are still some open-air services that take place on the grounds by All Hallows by the Tower.
They usually hold a procession at All Hallows which will run along with St Dunstan's Hill on Palm Sunday. Afterward, they will finish at St Dunstan in the East and hold the service.
You can look up their events calendar here, if you were interested in attending
St Dunstan in the East entry fee & opening times
Entry to St Dunstan in the East church garden is completely FREE to visit all year round. So, it makes an awesome activity for London if you were on a shoestring budget.
The church garden is also open all year from 8 am – 7 pm. This is apart from Christmas Day, Boxing Day, and New Year's Day where it's completely closed off to the public.
How to get to St Dunstan in the East Church Garden in London
St Dunstan in the East is located in the London Bridge district of London. You can find it on St Dunstan's Hill in EC3.
It's easily accessible from London Bridge over the River Thames;
Find the ruined gardens on foot: If you were on a walking tour of London along the Thames around Tower Bridge, you could easily add St Dunstan in the East on your itinerary. From the Tower of London, you just need to step in a little way in and it will take you 6 minutes.
The nearest tube to St Dunstan in the East: There are a few to choose from. Monument on the Circle and District line is the closest and from here it's a 4-minute walk. Tower Hill is also a stop on the Circle and District line which will take you 10 minutes to walk. London Bridge Underground on the Jubilee and Northern Lines is also a 10-minute walk. Click here to plan your journey.
Where to stay near St Dunstan in the East
Staying in central London is never cheap. However, if you do have some cash to splash, you will find some of the most iconic places on the strip here;
Cheval Three Keys at the Tower of London – This place is located right next to the Tower of London, so you can spy on the tower's goings-on from your hotel window! Views to die for but you'll be crying for your wallet. Click for rates.
Shangri-La at The Shard – Again, The Shard of glass is an iconic property where you can have a bubble bath overlooking the highlights of the River Thames. Imagine having breakfast while swooning over these views?! Click to book.
Four Seasons Hotel at Ten Trinity Square – This place is like a 21st-century palace resort with suites, multiple restaurants boasting Michelin star chefs and a holistic spa. Four Seasons never disappoint on quality and service. Click here to enquire.
What is near St Dunstan in the East?
If you're exploring the area of London Bridge, there are lots of exciting places that you can visit. This also includes many hidden gems just as fabulous as this one.
Sky Garden is London's highest garden which are FREE to visit in their sky tower. It provides some of the best views of the area. But, you do have to book tickets in advance or have a reservation at one the restaurants. Click here for details.
No visit would be complete without a visit to the Tower of London, one of the most famous strongholds and prisons in the entire world!
Here, you can learn about the legend of the Ravens, the lost Princes of the Tower, and also see the prison where Anne Boleyn was held.
Tower Bridge is another gem on London's skyline and it's just inches away from St Dunstan's Hill.
Or, you can journey up The Shard, the tallest building in all of London, to see birds-eye views with a glass of bubbly.
If you want to find more hidden gems around the area, click here to read my full guide for the London Bridge district
Read my London travel guides
How to cross the Beatle's Abbey Road in London
How to visit Word on the Water – London's Bookbarge
A complete guide for the Greenwich Foot Tunnel
Jurassic World Exhibition in London review
How to visit 221b Baker Street – Home of Sherlock Holmes
How to visit The Hardy Tree in London
Why you must visit God's Own Junkyard
How to visit Platform 9 3/4 at King's Cross Station
How to visit 12 Grimmauld Place in London
Leadenhall Market – Home of the Leaky Cauldron in London!
Is Goodwin's Court a real Knockturn Alley?
Visiting a magical Harry Potter Cocktail bar in London
Cecil Court – Visiting a real Diagon Alley in London!
Magical reasons to visit the Harry Potter Photographic Exhibition
Why you must visit the only Butterbeer Bar in London
How to visit the Millennium Bridge Harry Potter Filming Location
Visit the House of MinaLima in Soho!
The secret Anne Boleyn symbols at Hampton Court Palace
Hogwarts in the Snow Review at Harry Potter Studios Londo
How to visit Highgate Cemetery in London
Dark Arts at Harry Potter Studios London
How to visit the Hogwarts Divination Stairwell at St Paul's Cathedral
Why you must visit Daunt Books Marylebone
The best London Christmas lights and displays to visit
A complete Mr. Fogg's Tavern review
Like it? Pin it!