On my recent visit to Sherwood Forest, I decided to venture into the charming historic village of Edwinstowe nearby.
Nicknamed the village of Robin Hood, it's home to the ancient place of worship, St Marys Church Edwinstowe.
This historic church from 600 BCE is the legendary spot where the heroic outlaw Robin Hood and Maid Marian were wed!
If you're on the Robin Hood Trail in Nottinghamshire, then this spectacular building has to be up there on your hit list.
Here's a complete guide for visiting St Marys Church Edwinstowe and finding the exact spot where Robin Hood and Maid Marian were married.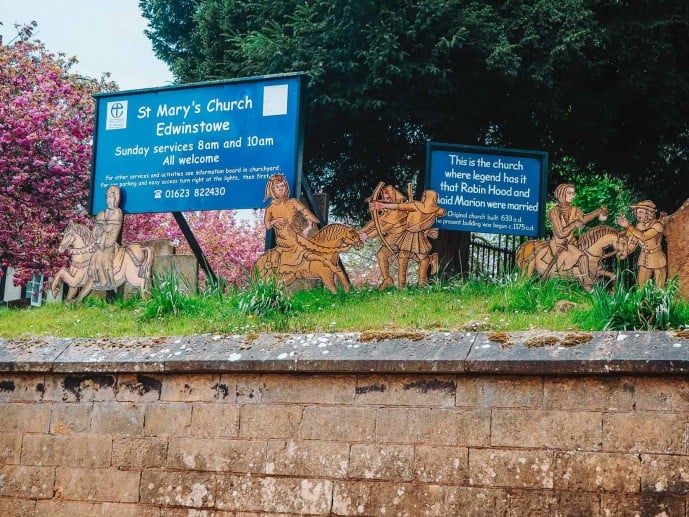 The history of St Marys Church Edwinstowe
A place of worship has been on this site ever since 663 BCE, this is around the time that Christianity planted its roots in England.
King Edwin of Northumbria became a Christian in 625 BCE and he died in the battle of Hatfield against Pends of Mercia.
He was then buried by his soldiers in a clearing in Sherwood Forest, this is how Edwinstowe got its name.
Later on, he was buried in York but people still came to visit his first grave of St Edwin here and a wooden chapel was built on the site.
It was later made into stone on orders by King Henry II, so that's why the building technically dates back to 1175 AD. Further improvements were made in the 14th century.
Apparently, in the 14th century, the vicar of Edwinstowe John de Ryston was arrested for poaching a deer. It was a major crime back then as it was a royal hunting ground! Ooops.
Today, the church very much remains the same and tourists visit each year as this is the legendary spot where Robin Hood and Maid Marian were married.
Were Robin Hood and Maid Marian real people?
The legendary tales of Robin Hood didn't surface until around the 14th century, which is around 200 years after his death.
Although many people believe he only lives in stories and ballads, there are many theories that he was a real person too. But, who remains a mystery.
According to the tales, Robin Hood was a nobleman born in Loxley in 1066. Others believe it was more than one man who took over the title for many years and some say it was an alias.
There are also theories that he was a mythological character similar to the Green Man or a symbol of hope, a fable teaching of good over evil.
There are also debates about where he's from, some say Nottinghamshire, others Yorkshire, even Derbyshire. Throughout the ages in the ballads, novels, and even TV shows, he's changed massively over time.
But, I believe there is a good chance that Robin Hood was a real person and Maid Marian too.
Maid Marian in the later tales is often described as a confident, smart, and strong noblewoman. That's how many have come to know her in recent times.
But, in some of the earlier ballads, she was described as a damsel in distress, shepherdess, a commoner, and a childhood friend of Robin's too.
One thing we do know however is that the two fell in love and were married in St Mary's Church Edwinstowe.
The exact place where Robin Hood and Maid Marian were married
So, according to ancient practices, if you were outside the law like Robin Hood was you were not allowed to get married inside the church.
Years ago in England, having your banns read by the church and receiving permission from the woman's father were pretty much paramount. Or, no wedding would have been able to happen!
The legend goes that Robin Hood and Maid Marian actually got married by a priest (some say Richard the Lionheart) just outside the church under the archway of the door.
So, although you can go inside and explore the beautiful building, you'll find two signs of Robin Hood and Maid Marian outside the door marking the spot where they wed.
Stepping inside St Marys Church Edwinstowe
As well as visiting the spot of the archway where Robin Hood and Maid Marian were married. The church has a delightful display that takes you through the legend and history of Robin Hood over time.
It will also give you a bit of an idea of what life was like in the 12th century and it wasn't like Hollywood that's for sure. It was pretty dark, dirty, and dangerous.
The visitor centre at Sherwood Forest used to have an incredible display, but since that's been removed, St Mary's Church is a great alternative if you're looking for more information.
As well as the Robin Hood display, this ancient church has a lot of amazing features inside its walls too.
You can find colourful stained glass windows, pews, and an organ that dates back to the 19th century on the National Pipe Organ Register (who knew there was such a thing!?).
You can get married here too if you were keen, but one of you must be baptised here or be a member of the parish. Plus, you need to be in attendance for 6 months or more.
Exploring the Churchyard
Outside on the church grounds is a really beautiful sight in spring, because they have these incredible blossom trees!
So, there is almost a blanket of pink blossoms that have been cast off by the wind that dance along with the floors.
I always find graveyards quite peaceful, so you can wander around here and explore a while, or see the ancient boundary wall and steps by the entrance gate.
Guided tours of St Marys Church in Edwinstowe
If you were on the Robin Hood Trail and were interested in going on a guided tour of St Mary's Church. The team does run small group tours on request.
You can contact them in advance by emailing; office@stmaryt.org.
St Marys Church Edwinstowe opening times
The Parish of St Marys Church is open for tourists in summer, some weekends and during school holidays too for events.
But, their official website does advise tourists to check if they are open in advance if you're coming from far away.
The church is also completely FREE to visit, but like most old churches donations are appreciated for conservation.
Finding Robin Hood in Edwinstowe village
Edwinstowe is a very charming village with a long mining history that has a small population of around 5,000 residents.
It's nicknamed Robin Hood's village as it sits right next to Sherwood Forest which is the legendary stomping ground of Robin Hood.
As well as St Mary's Church, you can head over to the library in Edwinstowe and find an amazing life-size statue of Robin Hood proposing to Maid Marian.
It was made by British sculptor Neale Andrew and they were unveiled in 1998.
It's really close to St Mary's Church. This is a really popular spot with tourists and you'll see people throughout the day stopping for a photo.
Explore Sherwood Forest – the famous hiding place for Robin Hood!
The legend of Robin Hood really lives on in Sherwood Forest which is less than half a miles walk away from St Mary's Church.
This was the place where Robin Hood camped out with his Merry Men, hiding away from the authorities.
The RSPB has recently taken over the management of the forest and has built a modern multi-million-pound visitor centre here.
Although it doesn't have too much in the way of a display about Robin Hood, there are some statues of him and his merry men like Little John outside of the visitor centre.
Their gift shop also sells some fun souvenirs including Robin Hood hats and bows to dress up and their café overlooking the forest also has some nice references too.
Although Robin Hood is Sherwood Forest's most famous resident, you should visit the old veteran oak tree that was his hideout too.
Read more – All the Robin Hood things to do in Sherwood Forest!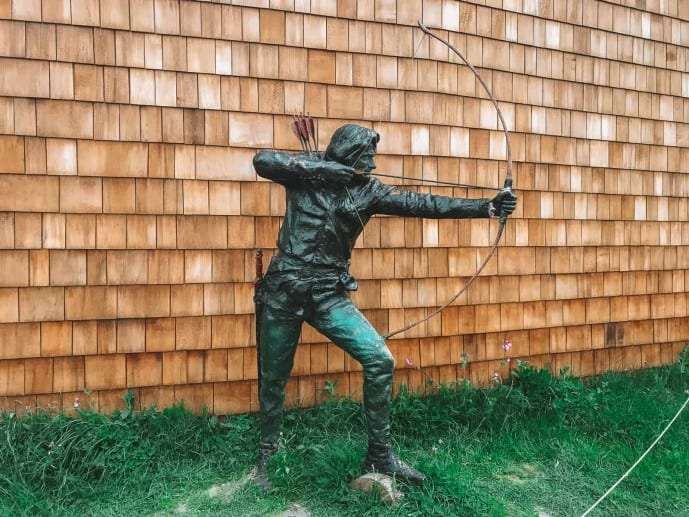 Find The Major Oak
The Major Oak is officially Britain's largest oak tree. It's thought to be 800 -1100 years old and has constantly been voted as Britain's favourite tree.
It's a whopper with a circumference of 33 feet, a canopy of over 100 feet, and weighing in at around 23 tons.
According to legend, Robin Hood used to hide inside the hollow trunk of this tree and his merry men used to sleep here too. So, if you're on the Robin Hood trail, you must visit this amazing place!
It's really easy to access from the Sherwood Forest Visitor Centre and will take around 15 minutes to walk. Follow their Major Oak Trail straight to it.
Read more – Fun facts about the Major Oak!
Edwinstowe Accommodation
If you're planning to spend a little longer in and around Edwinstowe, there is a Sherwood YHA youth hostel right outside Sherwood Forest.
So, you could spend as long as you like and access the many beautiful rural walking trails around Nottinghamshire.
Other hotels in Edwinstowe are The Forest Lodge Hotel that's nice and cosy and just a few minutes walk away from the church.
How to find St Marys Church Edwinstowe
St Marys Church Edwinstowe is just a few minute's walk from Sherwood Forest. It's easiest to navigate here and walk over.
By Car: If you're arriving by car you can use the postcode NG21 9QB on your SatNav. From Nottingham or the south navigate to the A614. From the North, take the A1 motorway to the A614. Turn onto the B6034 and follow the brown tourist signs.
By bus: There is a dedicated Sherwood Arrow service run by Stagecoach that runs from the Victoria Bus Station in Nottingham. It runs on the hour and takes around an hour to reach. It will drop you directly outside the Sherwood Forest visitor centre, from here the church is a 5-minute walk.
By train: there are no train stations in Edwinstowe. But, you can hop off at Shirebrook, Mansfield, or Mansfield Woodhouse and take a bus/taxi from there.
On Foot: From Sherwood Forest Visitor Centre, St Mary's Church is less than half a mile away and you can easily find it in less than 5 minutes walk. Or, from the visitor centre car park it's a minute walk down the B6034 road.
Are you on the Robin Hood Trail in Nottinghamshire?
On my recent visit to Nottinghamshire, I followed the famous Robin Hood Trail and my adventures took me all over the county.
I started off in Nottingham at the Robin Hood Statue and paid a visit to the Ye Olde Trip to Jerusalem, one of England's oldest pubs!
Click here to see all the amazing Robin Hood attractions you can find in Nottingham
I then drove up to Sherwood Forest and headed on to Edwinstowe, checked out the ruined King John's Palace, Robin Hoods Pot where he kept his treasure, Thieves Wood, and even to Will Scarlet's gravestone.
I recently went even further and visited Little John's Grave in the Peak District. Which is only an hour from here.
If you wanted to read more about this trail and all the spots on the Robin Hood Trail, see my guide here.
Like it? Pin it!