One of the most spiritual, sacred, and magical places in the UK is St Nectan's Glen in Cornwall.
An ancient woodland that surrounds the River Trevillet and a holy site that has connections to Celtic Christianity, King Arthur, faeries, piskies, nymphs, and the veil into the otherworld.
Its name comes from a holy man, Saint Nectan, that dug a hermit's cell into the rock here 1500 years ago!
The main attraction is St Nectan's Kieve which is a 60 ft waterfall that cascades through a hole in the rocks.
It's known as one of Cornwall's best-kept secrets and provides an area of peace and tranquility in nature.
Here is a detailed guide on how to visit St Nectan's Glen, a mystical place in Cornwall!
St Nectan's Glen history
This ancient woodland is named after a holy man called Saint Nectan or Saint Nectan of Hartland.
He was originally from Ireland but moved to Wales. He then spent some time in Trethevy as a hermit.
It is believed that Saint Nectan carved his hermit cell above the waterfall here in the 6th century.
According to legend, he rang a silver bell in times of stormy weather to warn people of danger in Rocky Valley.
Some believe that Saint Nectan is actually buried here under this waterfall with a great treasure! Pilgrims have been visiting this holy site ever since.
His hermit's cell is still here today in The Hermitage and now acts as a meditation room and chapel in the St Nectan's Glen attraction.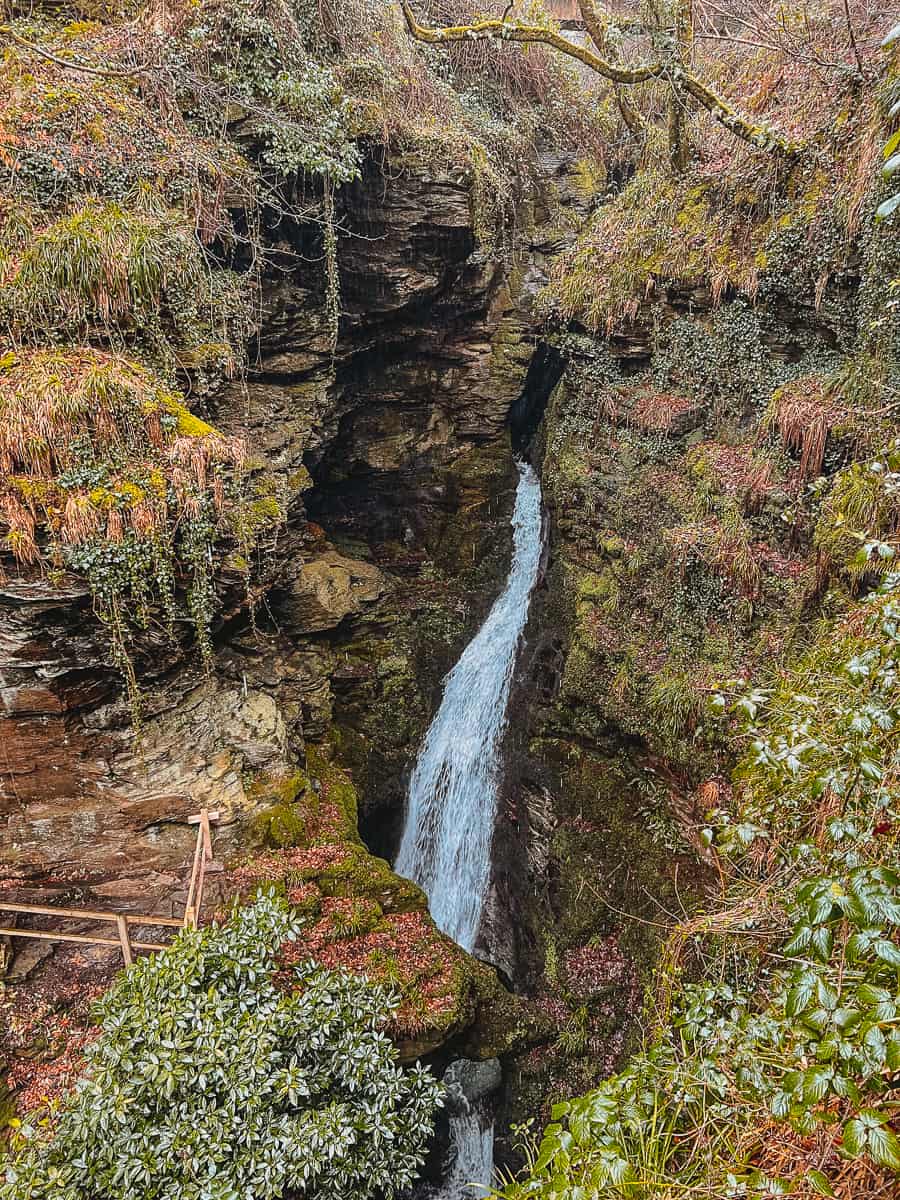 St Nectan's Glen legends
Being so close to Tintagel you can't escape tales of King Arthur and his Camelot Castle around this part of Cornwall!
Indeed, there is a legend that this holy site was where King Arthur and his Knights of the Round Table were blessed by Saint Nectan before they set out on their quest for the Holy Grail.
Many Pilgrims have been visiting this site for 1500 years to feel closer to their ancestors and deities. It is believed that this body of water is where the veil is the thinnest to the otherworld.
Others believe that faeries, nymphs, and piskies live in the valley and so you'll find lots of wishing ribbons and faerie stacks all over this sacred site.
Whatever you decide to believe, you cannot deny that there is a magical vibe to St Nectan's Glen and it feels like you've stepped into another world entirely!
Where is St Nectan's Glen waterfall?
St Nectan's Glen can be found in the county of Cornwall which is in the very south of England.
It's near the village of Trethevy which can be found midway between the popular villages of Tintagel and Boscastle.
The waterfall can be found near an ancient Hermitage in a rainforest on the River Trevillet and the only way to access it is by walking.
St Nectan's Glen address is Trethevy, Tintagel PL34 0BE.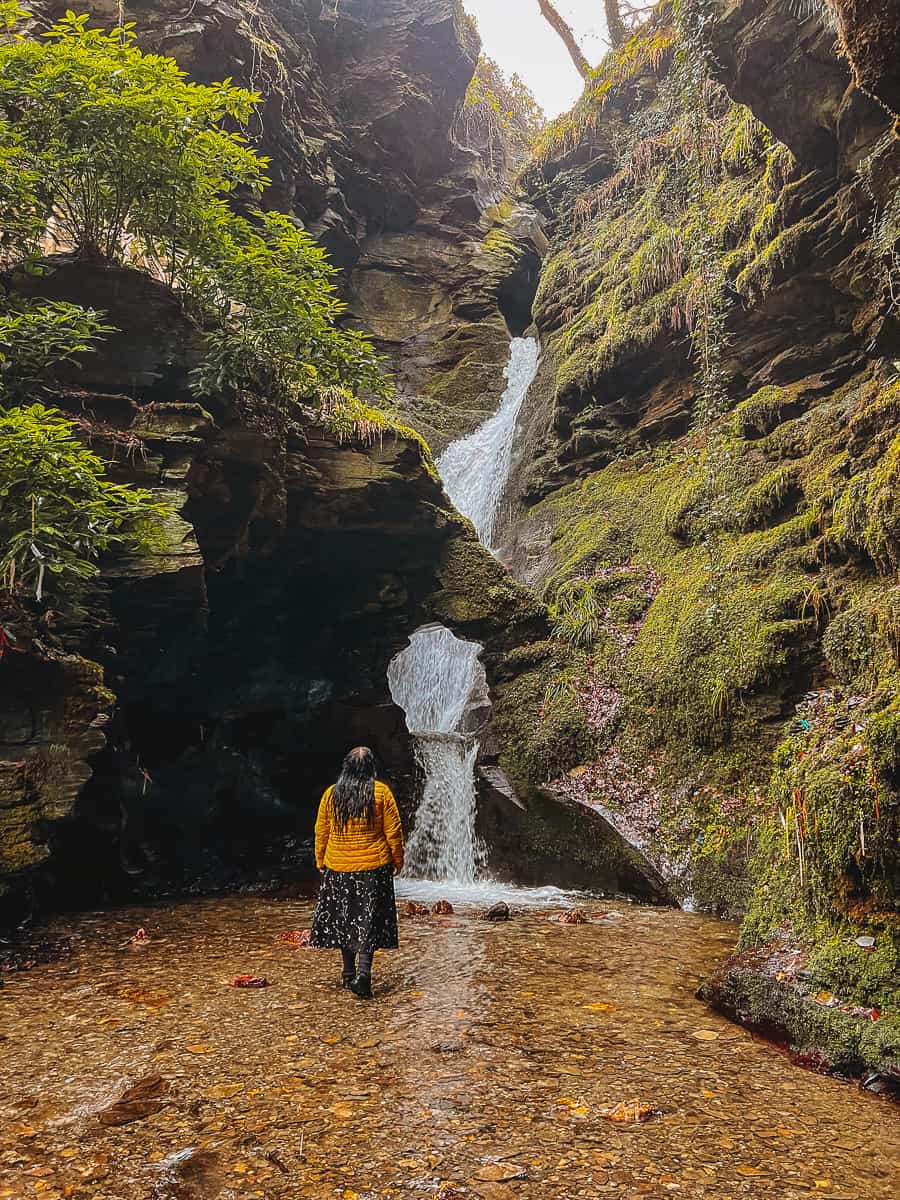 How to get to St Nectan's waterfall
You cannot directly drive to St Nectan's Glen in Cornwall. The only way to access the waterfall is by walking from the village of Trethevy.
It's around a mile away from the village and parking area and you'll be walking through a gorgeous woodland trail beside the river Trevillet to access the ticket office.
You can travel to the start of the walking trail on foot from Tintagel, cycling, taking a bus, or driving to the visitor car park.
St Nectan's Glen by public transport
If you're not driving in Cornwall, it is possible to take the bus to St Nectan's Glen from either Tintagel or Boscastle.
The number 95 bus service by Transport for Cornwall will pick you up at Tintagel Visitor Centre and drop you off at the bus shelter beside the St Nectan's Glen car park.
The journey by bus will take 20 minutes and then you can start your mile walk to the waterfall from there.
You can also take the same 95 bus from Boscastle, Bude and as far as Newquay. It will drop you off at the same bus shelter.
If you would prefer, you could walk from Tintagel village to the waterfall and it will take around 45 minutes to an hour.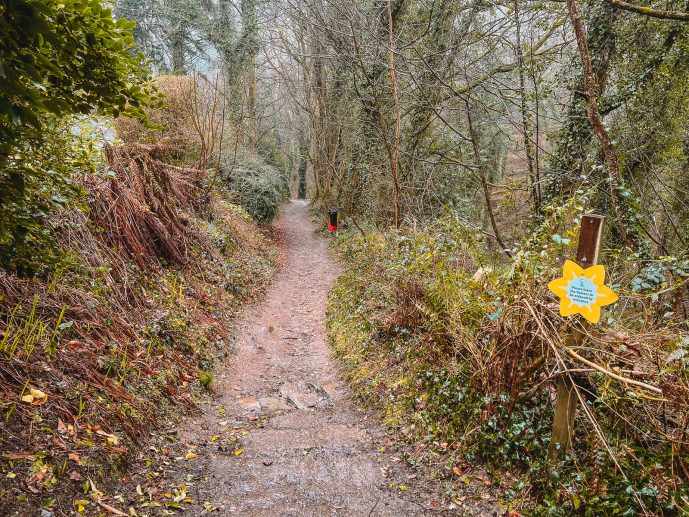 St Nectan's Glen by car
By far the easiest way to access St Nectan's Glen would be by car and it's an 8-minute drive out of Tintagel village and 10 minutes drive out of Boscastle village.
You will access St Nectan's Glen on the B3263 road which is quite steep, winding, and narrow in places so proceed with caution.
You must park up at the St Nectan's Glen parking area and then walk around a mile through woodland to the access the waterfall entrance from there.
Click here for a Google Pin to the St Nectan's Glen waterfall parking area!
St Nectan's Glen parking
St Nectans' Glen has a visitor car park that is located in Trethevy. As you're driving out of Tintagel village you'll see a sign next to the car park for the waterfall.
Although there is a sign here, this car park is privately owned by a local farmer. The trust does not own it.
The car park is a gravel one that can get very muddy and is very small with limited parking spaces.
So, I would try to arrive here earlier rather than later to guarantee a space. All-day parking here is charged at £3.
Note: the car park is CASH ONLY so you will need 3 x £1 coins to pay for all-day parking here! There is no card payment or pay-by-phone app option.
How long is the St Nectan's Glen walk?
The distance from the St Nectan's Glen car park to the waterfall area is around 1 mile. So, I would allow at least 30 minutes to walk to the waterfall through the woodland.
You can then spend around 30 minutes to an hour (or two hours) exploring the waterfall area and then you will need 30 minutes to walk back to your car at Trethevy.
There are lots of facilities around the waterfall like a café, meditation room, and gift shop so I would leave lots of time in your day so you're not rushing!
I would recommend around 2-3 hours total to visit St Nectan's Glen in Cornwall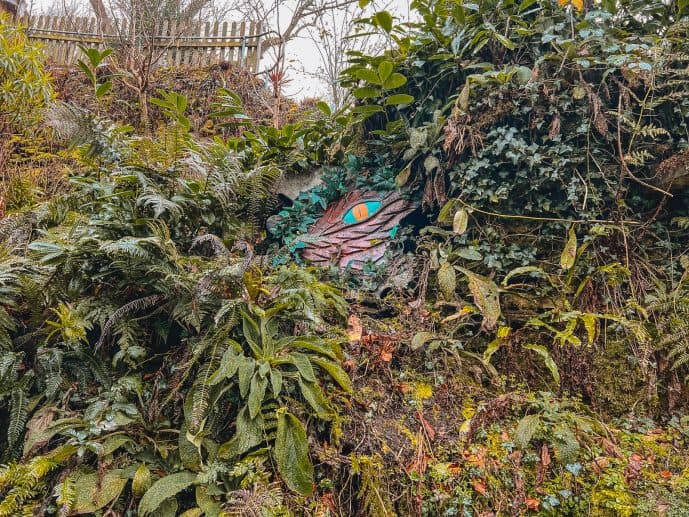 Is the St Nectan's Glen walk difficult?
This is always subjective depending on your circumstances but I would say it's an easy to moderate walking route to the waterfall.
The walk through the woodland to access the St Nectan's Glen entrance is relatively flat with bridges and boardwalks until the end when there are steep steps to get up to The Hermitage.
As the woodland and waterfall area is a Site of Special Scientific Interest (SSSI), the pathways are left very natural. So, think uneven surfaces, muddy terrain, jagged rocks, tree roots etc.
The walk down to St Nectan's Kieve is the hardest part as there are lots of steep steps down to the waterfall and then steep steps back up to The Hermitage.
There are also stepping stones over a river that you will need to cross over. But, I ended up just walking in the river as I'm too much of a calamity for them and I knew I would fall.
I struggle a lot with my hips but I found that the steep steps weren't too bad as there was a railing the whole way down and up to hold onto. Remember to take your time and don't feel pressured to rush!
I would say if you require accessibility this may not be a suitable walk for you, unfortunately.
Prams or wheelchairs can't access the waterfall and those who cannot traverse steps and uneven pathways will struggle a lot.
St Nectan's Glen walking directions
There are technically three parts to the St Nectan's Glen walk;
1 ) Is the walk you need to take from the parking area to the waterfall entrance
2) Is the walk to the waterfall itself from The Hermitage ticket office
3) Is the walk back to your car or bus stop at Trethevy and there are two exit options!
I'll provide some detailed walking directions from the parking area to the waterfall below so you know what to expect.
Then, I'll provide more details on what to expect when you walk down to the waterfall and Kieve and the options for returning back to Trethevy later on.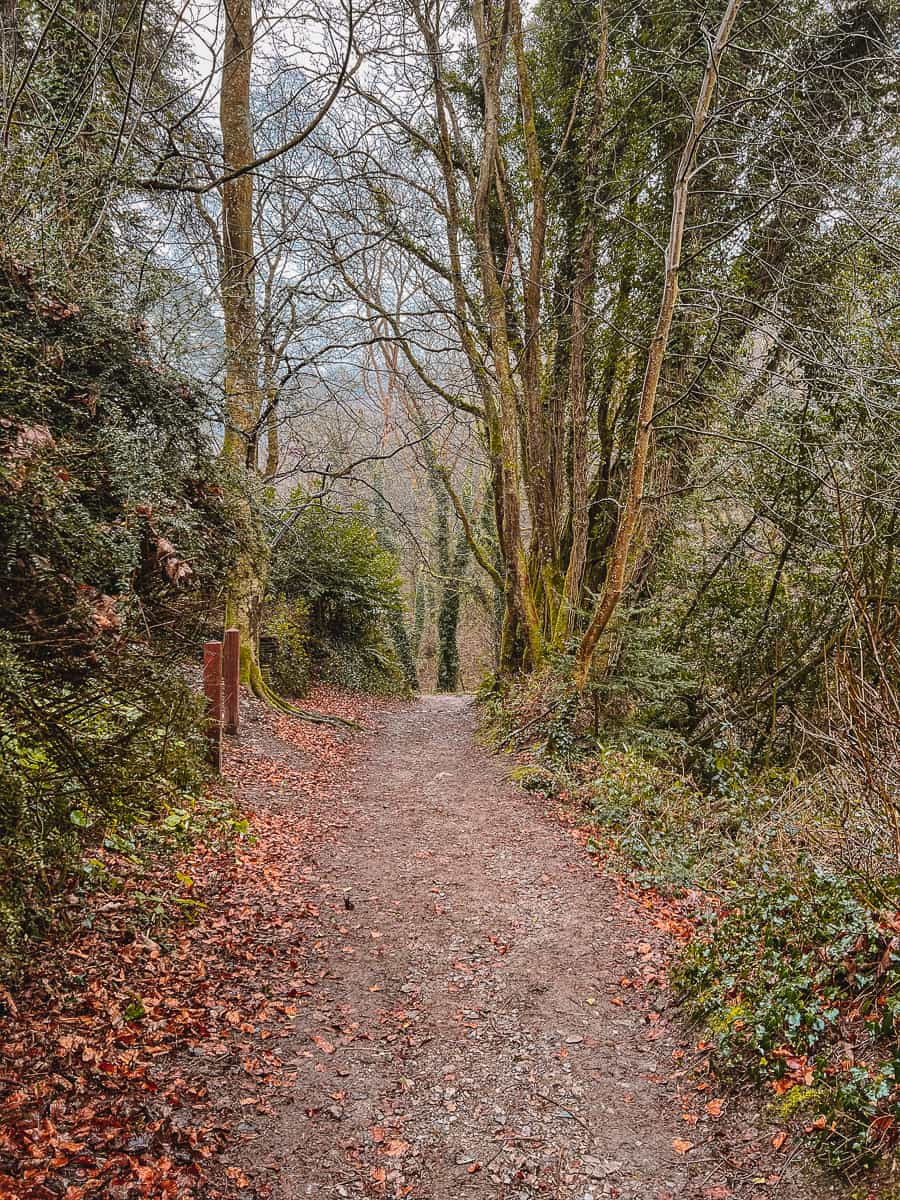 1. From the car park, head up the pathway toward the church
Once you've parked up your car or have been dropped off at Trethevy bus shelter, you will need to cross the road to head up to St Nectan's Glen waterfall.
There is no official road crossing here and cars drive quite fast down this road. So, be careful and look both ways before crossing.
There is a sign on the pathway pointing upwards to start the trail. Eventually, you will reach St Piran's church at the top of the hill.
2. Turn right at the church and follow the tarmac path
Once you've reached the church, you'll see another sign with the St Nectan's waterfall opening times on your right.
Walk past the sign and follow this tarmac road all the way down until you see a fork in the road. Then, take the right-hand path towards the woodland and river.
3. Enter the woodland and follow the river Trevillet
This is when the walk starts to get really pretty and there are lots of moss-covered trees, lichens, and bridges to experience.
You'll be following the river Trevillet upwards towards the glen and it's a fabulous opportunity to breathe in nature!
It was so peaceful and, as it was raining on my walk over here, I loved hearing the pitter-patter of raindrops in the trees.
4. Take the boardwalk and climb the uneven steps
Although the path here is relatively flat, you'll be crossing over some bridges and eventually, you'll reach a boardwalk.
Climb up the wooden boardwalk and then you'll find a series of uneven steps that will leave you towards The Hermitage.
It can be quite slippy and muddy if it's raining. But, keep heading straight forwards towards the glen.
5. Climb up towards The Hermitage
Eventually, you'll climb some more steps and walk over a thin path with an ivy-clad wall. Climb up the last set of steps and you'll see the welcome sign for St Nectan's Glen!
This is where you'll find The Hermitage, a gift shop, a meditation room, the Tree of Life café, and toilet facilities.
St Nectan's Glen opening times
St Nectan's Glen is open 7 days a week all year round. So, you can visit anytime that you're in Cornwall but it's good to note that the waterfall and facilities have opening times.
From April – October the waterfall and facilities are open from 9 am – 5 pm with a last entry at 4.30 pm.
From October – March the waterfall and facilities are open from 10 am – 4 pm with a last entry of 3.30 pm.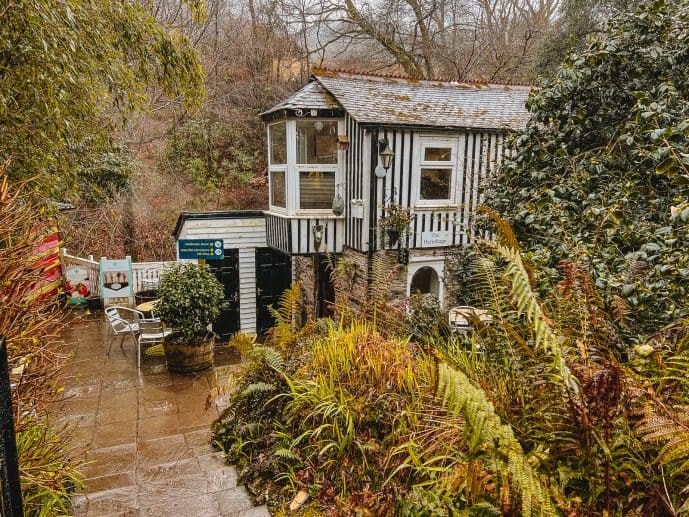 Do you have to pay to go to St Nectan's Glen?
Yes, if you wanted to get close to the waterfall, you do have to pay to access St Nectan's Kieve.
The ticket office is located in The Hermitage and the gift shop. Then, you'll be led to the start of the trail behind the counter.
Tickets are £7.45 per adult and £5.45 per child (5-15) and you can pay by cash, card, or contactless payments.
There are student, concession, and family options available. Or, if you plan to come back more than once they do have membership options that get you access for an entire year!
Heading down to St Nectan's Kieve
So, once you've paid for your ticket to St Nectan's Glen waterfall, it's a one-way path down to the kieve.
It's mainly a steep staircase down to the falls with some gorgeous viewpoints of the waterfall along the way.
There are actually a few cascades that you can spot along here. So, make sure to take your time and look around.
There is a handrail to hold onto as some of the steps are quite uneven and can be slippy if it has been raining.
But, the woodland trail and waterfall are SO worth the effort!
Beautiful statues & magical things
What I loved about this woodland trail was the number of magical statues and beautiful things you could spot on the walk.
You'll find statues of buddha, stags, faeries, wells, toadstools, and angels! I also loved the dragon's eyes and wood carvings too.
You'll see lots of ribbons tied to trees and these are called wish ribbons. Make sure to purchase one in the gift shop before you head down.
Don't forget to tie a wish ribbon or make a faerie stack!
On your walk, you'll find lots of colourful ribbons or cloth that has been tied to wishing trees here. This is a Pagan tradition you will often find at Celtic sites near holy wells.
I see them all over the West Country, especially around ancient mythical sites like Avebury. It has a connection to the ancient festival of Beltane or May Day.
Traditionally Pagans believe that Hawthorne trees guard the entrance to the faerie realm and bodies of water, or holy wells, are where the veil was thinnest.
Each ribbon represents a wish. Legend has it that if you tie your ribbon to the tree, the faeries, nature spirits or deities will grant it!
The same goes for faerie stacks. These are piles of stacked stones that people leave in the stream by the waterfall. Others choose to leave offerings for the faeries.
You could also bring your spare pennies as you'll find some logs where you can make a wish and bash your coin into the wood.
Stepping stones to St Nectan's Kieve
Once you reach the river at the bottom, you'll see some stepping stones to cross over to the other side.
DON'T climb the steps up straight away, make sure to turn right and follow the river around the corner to see St Nectan's kieve.
This is where you can get close to the 60 ft waterfall where the water travels through the hole in the rocks.
Depending on when you visit, it can get quite busy here. But, most people stop just to get a photo and leave.
If you wait a while, there will be a moment when you can get the waterfall to yourself for some time. I had it to myself for at least 20 minutes but it was February!
It's a beautiful place to relax and reflect and be closer to nature. The early Celts believed that this waterfall was a place where the veil was the thinnest between this world and the afterlife.
The glen was a place to feel closer to their ancestors and those that have passed over and this is still something that is practiced today.
So, you'll see lots of offerings and memorials to loved ones and wish ribbons around the kieve. On that note, don't disturb or take anyone's offerings, and don't move any of the rocks in this area!
Facilities at St Nectan's Glen
Once you've made your way back to The Hermitage, there are many facilities that you can enjoy around the St Nectan's Glen waterfall area.
There's a lovely gift shop, café, ice cream parlour, meditation room, woodland trail and so much more!
The Hermitage / Meditation room
Did you know that The Hermitage here is thought to be well over 1500 years old?!
It was originally home to a hermit cell and chapel that was established by Saint Nectan and was carved into the rock face.
Today, the cell is a meditation room that you can use as a quiet space for reflection, meditation, or worship.
You can explore the space, sign their visitor books, light candles, leave tokens for a loved one, or just sit in silence. It's completely up to you.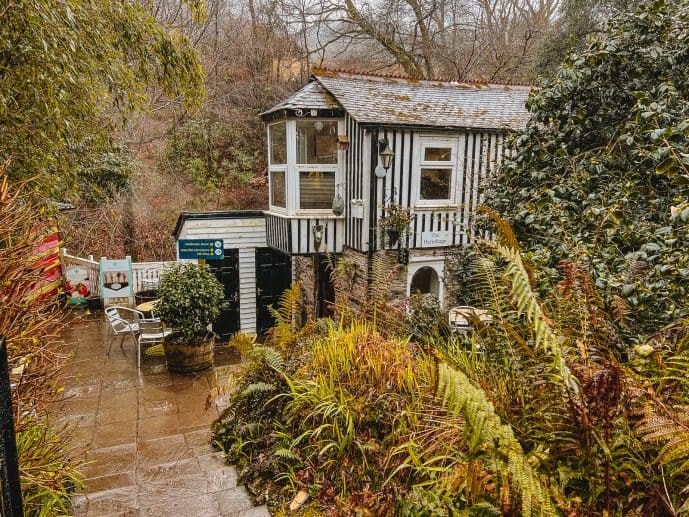 St Nectan's Glen gift shop
I absolutely loved the St Nectan's Glen gift shop and they had a wonderful stained glass window of the falls inside.
You'll find crystals in all different types, tarot cards, dragons, faeries, and books about paganism and witchcraft.
They also had lots of St Nectan's Glen souvenirs like coffee mugs, t-shirts, and keyrings. This is also where you can buy your wish ribbon.
It's well worth having a look around the shop as they have some beautiful gifts you can buy for loved ones.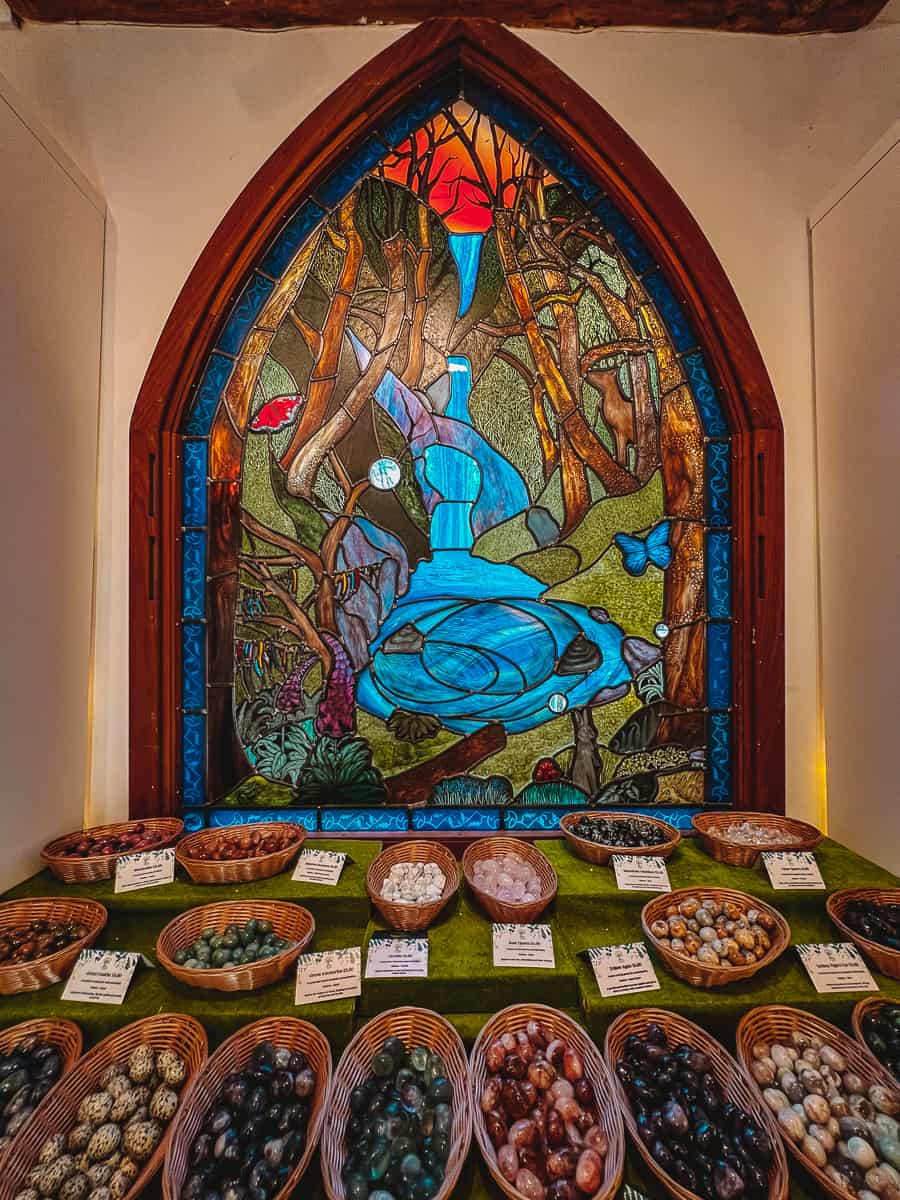 Tree of Life Café
If you were looking for a pick-me-up coffee or a spot of lunch when you're visiting St Nectan's Glen then I would head to their gorgeous Tree of Life café.
It's above the Hermitage so you don't need to pay to use the café facilities if you were just taking the woodland walk.
They serve up hot and cold lunches throughout the day as well as drinks, homemade cakes, and local preserves.
It's a beautiful area with lots of faerie lights, chandeliers, statues, and gorgeous portraits. I particularly loved their butterfly wing bench!
They also have an ice cream parlour that serves up tubs of locally made Cornish ice cream! It's so refreshing when the weather is warm.
St Nectan's Glen toilets
There are some unisex toilets when you reach St Nectan's Glen that are beside the Tree of Life café.
I would make sure you use them before you head down to the waterfall or before you head back to the car park.
The parking area has no toilets at all and the nearest public toilets would be in either Tintagel or Boscastle.
Retreat accommodation
Did you know that you can book retreats at St Nectan's Glen? They have some wonderful accommodations where you can spend a few nights in this mystical place.
It's the ideal place to stay for a week or to hold some workshops that you had planned.
The accommodation is split into two buildings of The Retreat and St Cleder and can sleep up to 15 people.
It must be such a peaceful escape into nature. You can get in touch with the trust for details and prices!
Heading back to the car park
Once you've finished exploring St Nectan's waterfall and facilities, you can make your way back to the car park in Trethevy.
There are two exit paths that you can take. Either you can walk back the way you came through the magical woodland by the river.
Or, there is a 'non-steps' option of a farmer's track that will lead you back. But, this is an access road so mind out for vehicles.
Both exit routes take the same amount of time and personally, I think the woodland walk back is a lot prettier!
It's also shaded if it's a warm day and shelters you from the rain. The farmer's track can get very muddy if it's raining.
My top tips for visiting St Nectan's Glen
Wear sensible/waterproof footwear – This area is SSSI so it's left very naturally. So, think jagged rocks, tree roots, and uneven surfaces on the walkways. Also, although there are stepping stones you walk through the water to access the waterfall.
Leave at least 2-3 hours – The walk to get to the glen is 30 minutes minimum and you'll be walking the same way back. Then, you need to make your way around to the kieve. I'd leave an hour to explore the waterfall area or more!
Wear layers and pack a waterproof – the waterfall can be very strong and can spray you! I'd have a waterproof with you if you don't want to get wet.
Bring cash – you will need cash to pay for parking – 3 x £1 coins.
Take water with you – Although there is a café, you'll need it for the walk from the parking area to the waterfall!
St Nectan's Glen FAQs
Can I swim in St Nectan's Glen? Yes, you could swim but the water can be quite low. On my visit, it barely reached my ankles! It's okay for a paddle though.
Is St Nectan's Glen dog friendly? Yes, I saw lots of furry friends. But, make sure to keep them on a lead.
Who owns St Nectan's Glen? This magical place is privately owned by the St Nectan's Glen trust. They conserve and protect the area. Your entry fee contributes to their amazing work.
Where to next in Cornwall?
So, once you've spent some time exploring the magical St Nectan's Glen, where to next?
Well, thankfully there are plenty of magical and mythical sites to visit nearby. Here are some I would highly recommend.
Rocky Valley
Close by this area are some magical sites worth seeing. The first is the Rocky Valley Labyrinth stone carvings.
The labyrinth symbol that is carved on the rocks has often been associated with fertility and is used in pagan rituals.
You can find the famous carvings behind a derelict mill on the east banks of the river Trevillett.
Boscastle
Boscastle is a magical harbour town just three miles away from Tintagel and is well worth exploring.
There are plenty of art galleries, cafés, and gift shops to explore, plus you can access many walks along the coast here.
Thomas Hardy fans will also love Boscastle for the fact that this was the spot he met his wife Emma. He also used the location for his 'A Pair of Blue Eyes'.
The highlight of any visit is the mystical Witchcraft Museum which has been here since the 1960s.
The Pixie house was one of my favourite shops as a child that is set in a quirky 300-year-old cottage. It's now been transformed into Harbour Light Tea Garden.
A stroll along Boscastle Harbour to the headland is a must and from here you can see the Devil's Bellows which is a blowhole on the cliff!
Click here to read my guide of magical things to do in Boscastle!
Tintagel Castle & Merlin's Cave
Tintagel Castle is easily one of the most famous historic sites in all of Britain due to its links with the Arthurian tales.
According to legends, this was the place where King Arthur was conceived by King Uther Pendragon and Lady Igraine with the help of Merlin the wizard.
It is also believed to be the legendary location of Camelot Castle and the Knights of the Round Table!
Whether you believe the legends or not the ruined castle on top of Tintagel Island is well worth visiting. The views from the top are spectacular.
Click here to read my top tips for visiting Tintagel Castle!
Most of the fortification was destroyed years ago but English Heritage has done a great job in recreating what the castle and grounds would have looked like in medieval times!
You can also get a picture with King Arthur as there is a statue of him on the headland.
Recently, they have revealed a brand new footbridge that connects the two sides of Tintagel Castle for the first time in 500 years.
After, make sure to pay a visit to Merlin's Cave. According to the legends, this is where Merlin lived beneath Camelot castle. It's FREE.
Read more of my Cornwall posts
St Aubyn Estates Cottages review
Things to do in Mousehole Cornwall
How to visit St Michael's Mount in Cornwall
Things to do in Charlestown Cornwall
How to visit the Lost Gardens of Heligan
Things to do at the Jamaica Inn
How to visit Golitha Falls in Cornwall
A complete guide for the Cheesewring Hike
How to visit Tregothnan Estate in Cornwall
A complete guide to Porthgwarra
Magical Things to do in Lands End
Why you must visit the Minack Theatre
Secrets of the Admiral Benbow Inn
Where is Driftmark filmed in House of the Dragon
How to visit Holywell Bay from House of the Dragon
Magical things to do in Kynance Cove
Save how to visit St Nectan's Glen waterfall for later!